I would have never imagined that we would have finished the dining room before so many others (master bedroom, Greyson's room, living room, etc.). Things just fell in to place and from there; I just had to finish it. Let's talk sources and prices.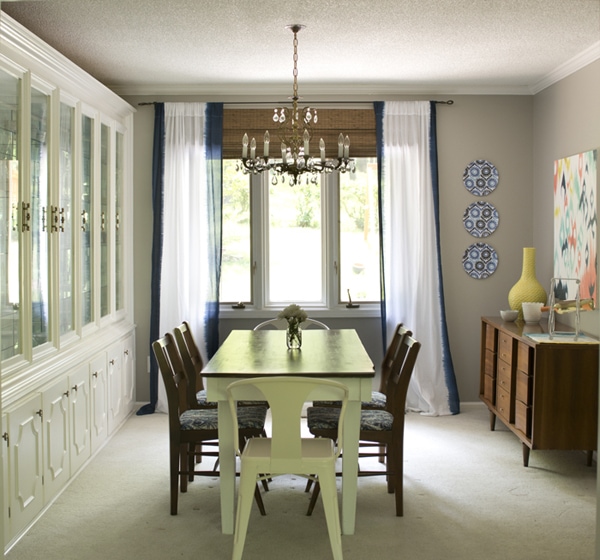 Table – Goodwill $10
Chairs – Craigslist $10 (plus $8 for fabric to reupholster them)
White Garden Chairs – Overstock $130 (used a coupon and they were cheaper at the time)
Dip Dye Curtains – West Elm $52
Roman Shade – Home Depot $71
Hanging (PLASTIC) Plates – Marshals on clearance last year $.92
Placemat – Target (only sold in sets online) $3.49
Wine Rack, Vase, West Elm Bowl and Antique glass cup – all already owned
Credenza – Craigslist $100
DIY Ikat Painting – $40
Striped Art Frames – already owned (used to be mirrors, but I covered them with wrapping paper)
Brown wicker vase – bought at Target years ago
Pillow – already owned (made with West Elm napkins)
Paint – Free (had all of it on-hand)
Total = $425.41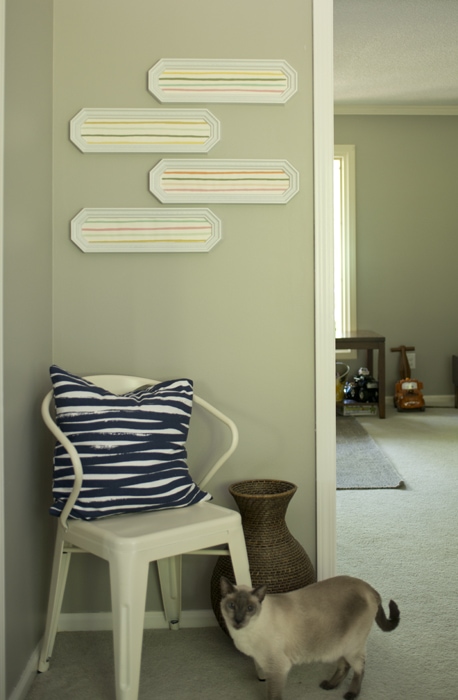 So, I think I did pretty well on everything price-wise. One way I always save money is to buy gift cards online before I shop at Home Depot and Lowe's. I generally buy from Plastic Jungle (although they just stopped their services) and Cardpool. I like the electronic gift cards because you can use them almost immediately. The usual rate of savings is 7%.
I always shop on the clearance isles and will buy something months ahead of time if I think it will work in our house.
I saved quite a bit of money in this room by buying off the shelf roman shades. You would have never guessed it, but the roman shade is about three inches too big on both sides. Since I was layering the shade with curtains, I knew no one would ever know that the shades didn't fit perfectly.
Do you have any other money saving tips?