We are still working on the patio spruce-up. Today, we are talking about Landscaping with Rock instead of Mulch. If you missed the first installment of the patio spruce-up, or the DIY Scrap wood rolling planter, make sure to check those out!  Or if you want to check out my recent shade garden update – you can find that here. Basically, we are working on sprucing up the patio over the next month or so… on a serious budget! So, let's chat about our decision to go with rocks over mulch and what that entailed.
Two years ago, we spruced up the patio with mulch.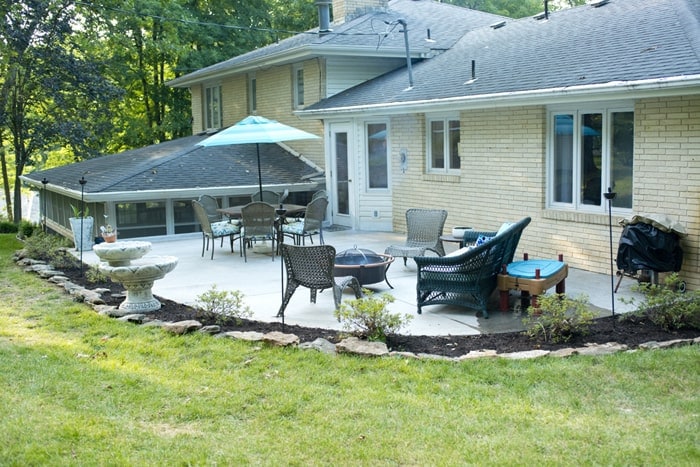 Actually, we spruced up all our planter areas with mulch. They all looked great and the patio was no exception. But, at over $600 in mulch to get all the areas looking nice, it was just too much. It would have been ok if that $600 lasted a few years, but really the mulch in our area needs to be done yearly. We have tons of trees on our property and on the property all around us. So, between the branches and leaves that constantly fall, we are out there with a leaf blower trying to keep the spaces cleared. Well, the leaf blower not only takes care of the leaves but it also moves the mulch around. So, about six months after we put in all that mulch – it went to looking pretty bad.
Some areas in our yard can look more 'organic' or less manicured. The patio area definitely pulls traditional and needs the mulch areas to look nice.
Luke and I finally came to the realization that we just couldn't keep up with all the flower bed areas and we had to start making some changes. One of the changes we made was to replace all the mulch around the patio with river rocks.
My step-brother and I did this update last fall and it's been working well for us. I wanted to wait a bit to share because I wanted to give my honest opinion on the change and how the rocks looked over time.
The first thing we did was to rip out all the old plants. The plants looked ok in the photo above but two of them were dead and only two had flowered (when they were all the same type of plant to begin with). So, we ripped those out and then started raking off the excess mulch.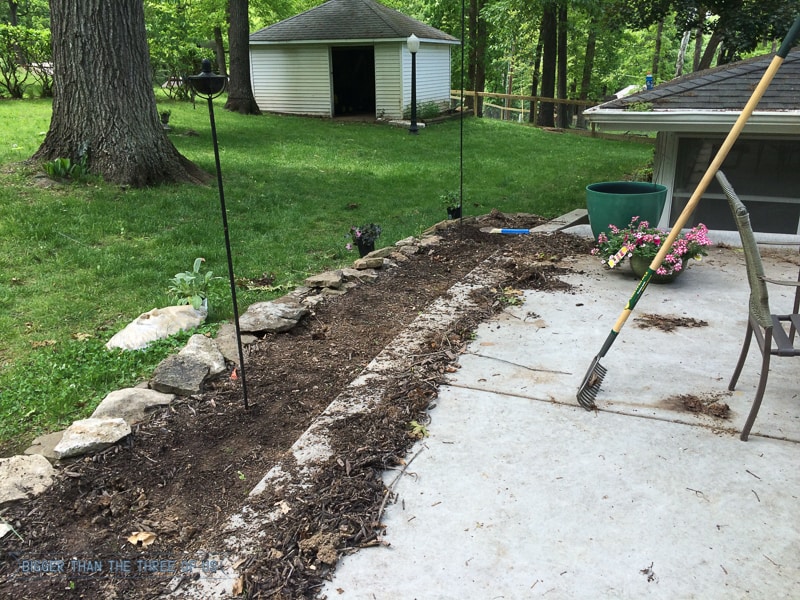 …