I've got something amazing for you today! First off, I'm helping you get a great start on your present buying by helping you with a Christmas Gift Guide for Your Family. Secondly, I'm teaming up with a great group of girls (over 25!) to bring you giveaways all week long including my giveaway of $50 to Anthropologie. So, make sure to stick around to get all the details on how you can enter all the giveaways!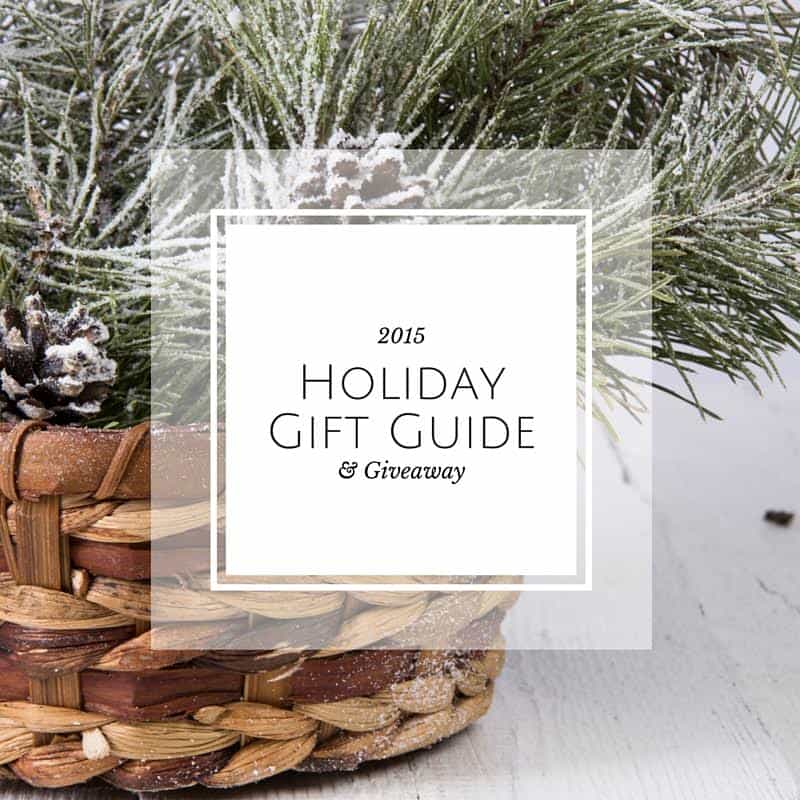 Ready to get inspired and buy some presents? The gifts on my gift guides are things we actually own (and LOVE) or things that are actually on our gift wish lists. I figure, if you follow and like Bigger Than The Three Of Us then you may have the same taste and love what we love.
*This post contains some affiliate links. Click here to read my disclosure policy. 
Ready, to see? Let's start with mine first. Because, come on… Mom's the most important, right?!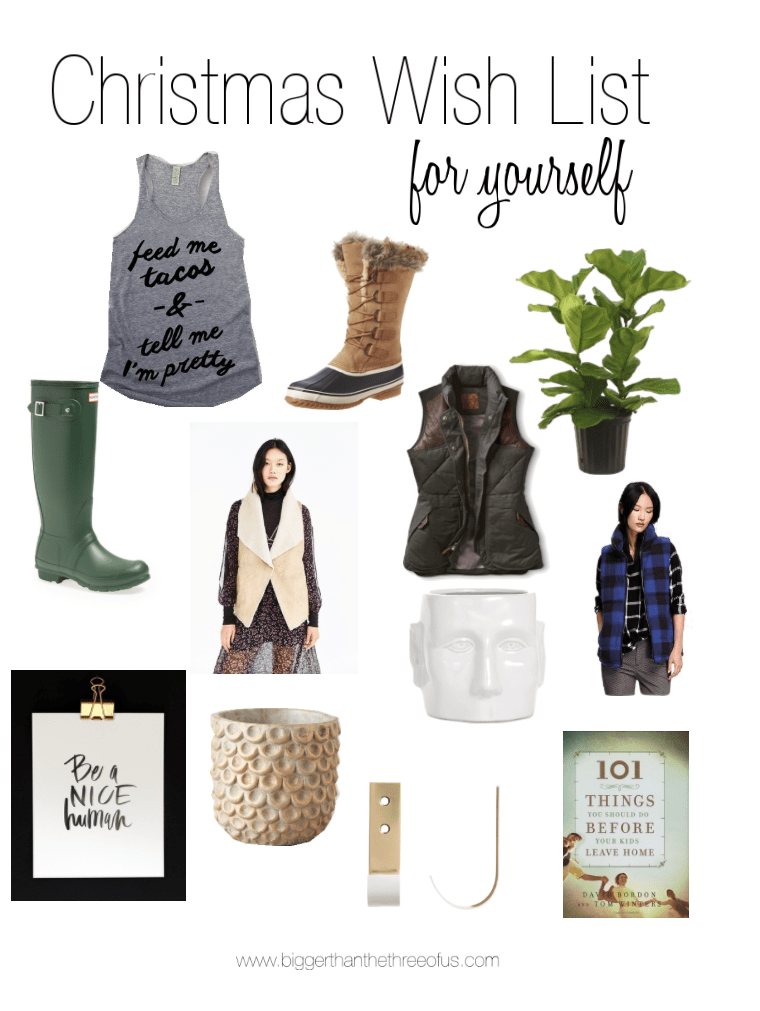 Do you see anything that grabs your eye? Let's chat about each individual thing.
 (1)  How cute is that tank? Seriously, I'm all about the tacos (and margaritas). This is the perfect tank for me and, if it's not quite your thing, no worries. The same shop has some adorable other ones with different sayings.
(2) Fur Snow Boots – Yes, please! Actually, I did say yes last month and bought these. At $60, they were a steal and they are super comfy. I know they are going to be great this winter.
(3) It's the unspoken rule that if you are blogging about your house, then you have to have a fiddle leaf fig tree. Guess what, I don't have one! That's why it's on my list this year. lol. Home Depot and Amazon have these online.
(4) Hunter Boots. Should I say anymore? Yep, really want these. No, seriously, they get amazing reviews. It's the type of purchase that you invest a bit in but you'll have them forever.
(5) Sheepskin vests are the total thing right now. They go with just about anything. Get her this, she'll love it.
(6) How adorable is this hunter utility vest? It's pretty steep, but it's another one of those things that will never go out of style.
(7) Yep, I need another head planter. This one is freaking amazing (and such a talking point!).
(8) Want a super cute puffer vest at an amazing price? This blue plaid vest might just be the perfect fit (they also have it in red).
(9) I love this "Be a Nice Human" print. We have it in our bathroom and it's so quirky and fun. It's also a great price!
(10) What's not to love about this unique vase. The price point isn't bad and I could see it going anywhere. Plus, they have it in cement as well. LOVE both of them.
(11) Gorgeous utility hooks that would be perfect as a stocking stuffer and under $10. Yes, please.
(12) This book has been on my wishlist for awhile. Just think of the fun memories that it could inspire.
Ready to see the the Gift Guide for Your Man?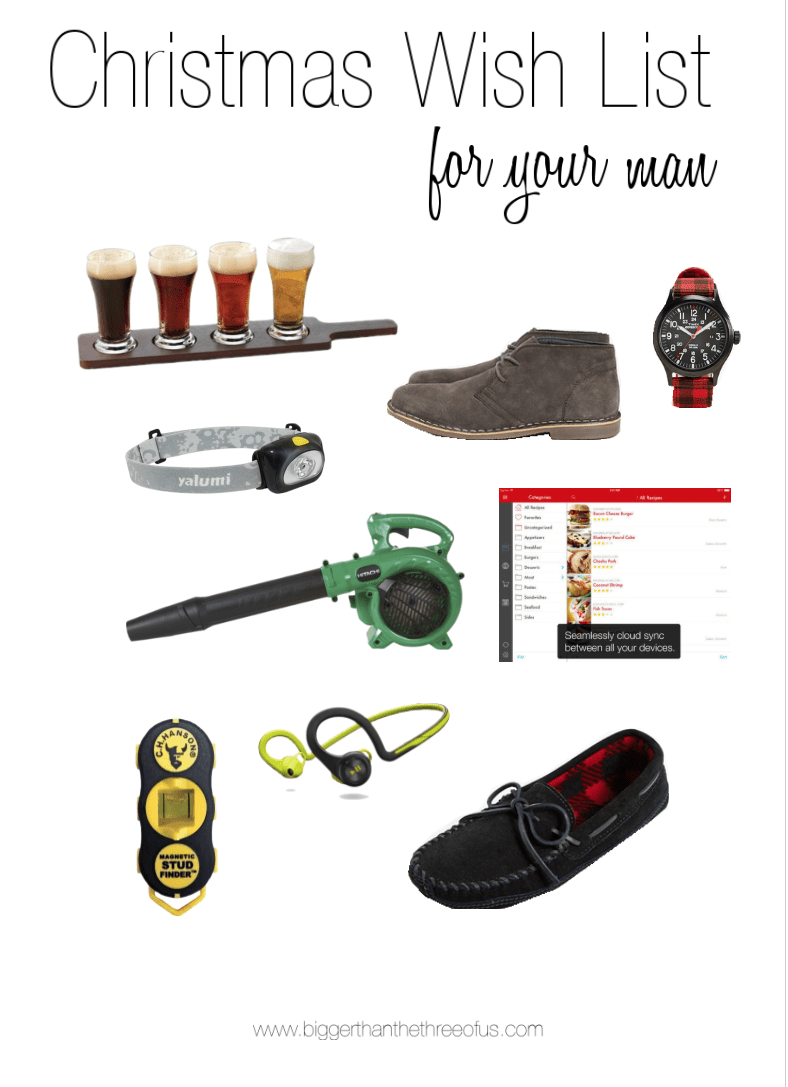 (1) How adorable is that Craft Beer Flight set? Instantly up the ante at home with this set.
(2) Luke needs some boots to wear with rolled skinny jeans…. and these might just be the perfect thing. Also, boots that come in under $70? Yep, I'm all about that.
(3) A plaid, manly watch? Need I say more? *Unfortunately, I don't think my hubby would actually wear this, but a girl can hope, right?
(4) If you have a runner for a hubby, as I do, then he might be interested in this head lamp. Luke has it and likes it. Although, he's not winning any style awards with it. lol.
(5) We've had this leaf blower for 2+ years and highly recommend it. If you are in the market for one, definitely check it out.
(6) We have this app, Paprika, and it syncs recipes from the computer's browser to the phone and the iPad. Another plus, is that it has a recipe organizer that's really good and keeps the recipe open (keeps the iPad awake) during the whole time the app is open. Go buy it, it's cheap ($2.99)!
(7) Are you sick of that regular old stud finder, I know we are! This magnetic stud finder is on Luke's Christmas list this year (perfect for a stocking stuffer!) .
(8) If you have a headphone nut (like I do) then you can't possibly understand why someone would need 5+ pairs of headphones, but these are apparently well-liked for running. It's husband-approved over here.
(9) House shoes never seem to last a full year over here. Luke always gets the same kind. I love the plaid inside on these. Cute, functional and pretty stylish for house shoes.
Alrighty, congrats if you are still with me! Next up, is the gift guide for the little guy. Make sure to stick around though, because I have one more after that!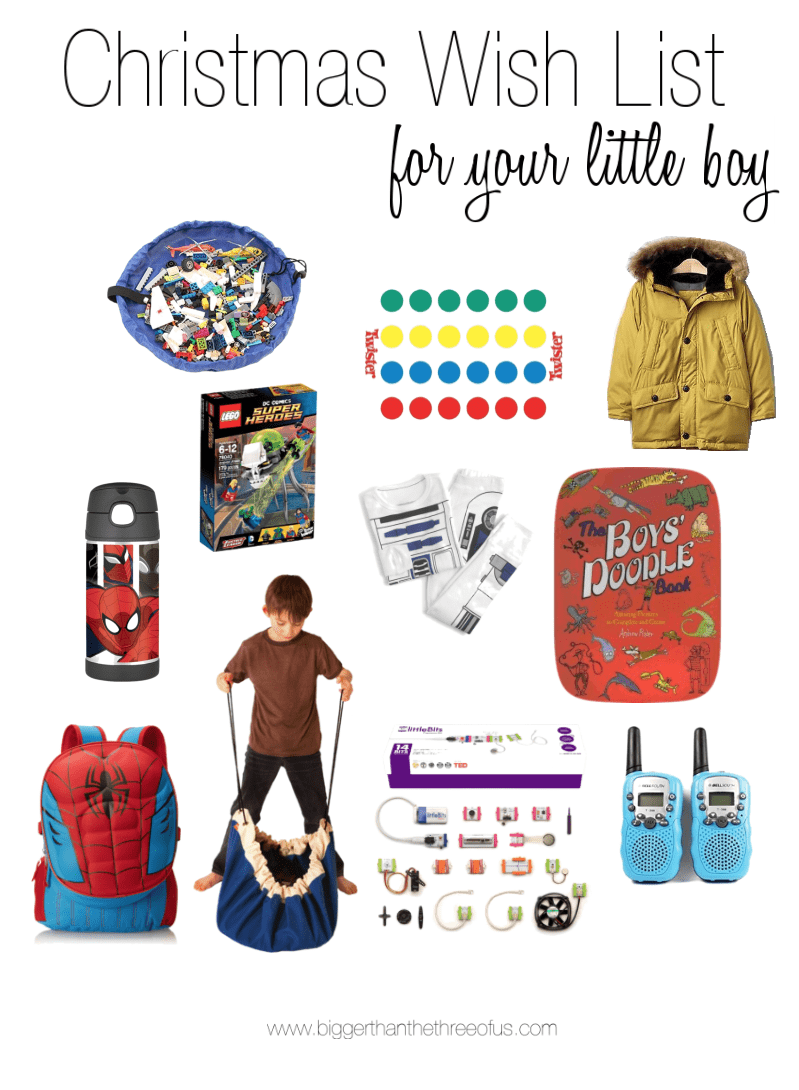 We have a lot of the items on this list and really love them.
(1) Mini Tidy Buddy Toy Organizer – This little bag is perfect for taking Legos with us on trips (we bought it originally for our Hawaii trip) but we have used it daily since then. We pack it up and take it in the car, to restaurants, and other places that we need to entertain our little guy for a bit. It could be used for much more than Legos but it's perfect for little Legos. *This is the off-brand of the bigger bag that I will be talking about in just a bit.
(2) I picked this game up at a garage sale last year and our little man LOVES it. Like, it's his favorite game ever. For $12, buy Twister and have fun.
(3) I'm a huge fan of Gap clothes for my little man. They are stylish and they fit him so well. We've had this coat (or a very similar version) the last two years and really love it.
(4) It's all about the Super Hero Legos at our house. This set is pretty amazing as well as this one. Really, you can't go wrong with any of them.
(5) What 5-6 year old wouldn't love glow-in-the-dark pajamas? We have a pair of transformer pajamas that glow and our little man thinks they are the coolest thing.
(6) The Boys Doodle Book – I picked this book up at Walmart the other day and am really impressed. Each page has a sentence (with a drawing area) that tells a story continuously through the book. It's modern, simple and looks like it will be a huge hit. Also, $10?! Yep.
(7) This isn't just a water bottle, it's the best water bottle ever for kiddos. Seriously, it keeps ice frozen most of the day, it doesn't leak at all and it's easy to clean. Also, you can get it with or without characters. Trust me on this one, buy it.
(8) Have a Spiderman fanatic? This muscle backpack is a huge hit. It's adorable and perfect for a kiddo aged 5-9.
(9) If you are wanting a large play bag, I highly recommend the Swoop bag. We use it (for Legos) but you could use it for quite a bit of things. It's worth every bit of the price tag! The quality of this bag is much higher than the travel bag up above, so for the every day use bag of this size, I would definitely buy this brand. We LOVE it.
(10) This electronic set is a bit pricey, but looks amazing. There are also add-ons for it that could be gifted at later dates. We aren't getting this for him this year, but it's on our list for a gift for him soon. The recommended age is 8+ but I think our little guy would love it now with some help from daddy.
(11) What kiddo wouldn't like to play "spy" or have fun with their friends with walkie talkies? We have these on our little man's Christmas list this year. I think he'll love them. For under $30, the price point is great as well.
One last Christmas Wish List to go… the list for the home. Occasionally, Luke and I will forgo getting each other presents and just buy something for the house. We've done that for our anniversary as well and I've heard other people do that. So, I thought I'd round up a few things that would be perfect for the home. A few of these we have (and LOVE) and a few (or the rest of them) are items that I'd love to have.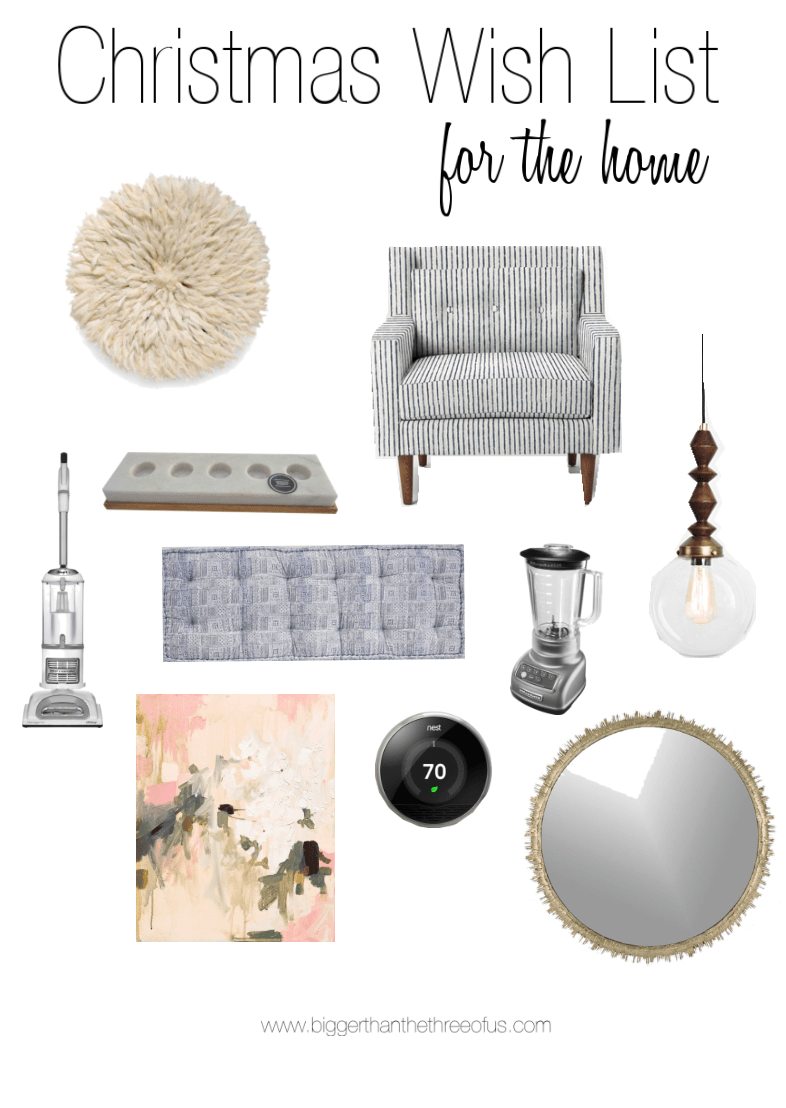 (1) Are you in love with JUJU hats like I am? I just adore them and want one pretty badly. This store on Etsy seems to have some great ones. For me, I love the cream one because I think it would go anywhere.
(2) These West Elm chairs have been on my wishlist for like 2+ years. I love them, every single thing about them. And, don't even get me started on how many fabric choices they come in.
(3) This marble and wood candle holder is so adorable. Target really killed it with this line and it's super affordable!
(4) Our $100 vacuum that we've had for 9 years (we got it as a wedding present) quit last month. We just bought this Shark vacuum and, to say that I love it is an understatement. I'm so impressed with this vacuum. Like to the point that I'm vacuuming just to get entertainment.
(5) This tufted cushion has my heart. I tried so hard to make it work for our kitchen bench seat but the dimensions just didn't work. I adore it and now, need to find the perfect space for it. Do you see a DIY bench coming your way? Maybe.
(6) Want an affordable blender perfect for making margaritas in? This is the one. It's been a great appliance for us.
(7) We've had this hanging pendant light for about a year and just put it up last week. #slowmovers It's really adorable in person. Just an FYI – it comes as a plug-in (perfect for some spaces) but it's easy to convert to hard-wired (which we did for our kitchen – see the sneak peek).
(8) I love to get art for special occasions. Seriously, I think the last two Christmas and birthdays, I have asked for art and just love what it brings to our space. This piece is a print (a super affordable print) that we have and love. See it on our gallery wall.
(9) We'd love to have the Nest thermometer. I don't think it needs an introduction… it's plain amazing and high up on our list.
(10) You have to check out this mirror. It comes in two different sizes and is just gorgeous. It would have made the eat-in kitchen reveal but it's been on backorder for awhile so I had to go a different way. But, it's still on my list because I heart it so much.
Ready for the giveaway? Enter for a chance to win a $50 Gift Card to Anthropologie.
Don't forget to hop around to see what my fabulous bloggy friends have gathered for you ALL WEEK LONG and be sure to enter each and every giveaway for your chance to win a ton of AHHHMAZING prizes!!! Each giveaway will be open for one week from it's start date. Keep in mind that these links will only work as the posts go live on their scheduled morning. Good luck my friends!!!
Monday
Table & Hearth
Making it in the Mountains
Little House of Four
Bigger Than The Three Of Us
Delineate Your Dwelling
Petite Modern Life
Tuesday
Brepurposed
Average But Inspired
Paper & Fox
Canary Street Crafts
Hawthorne & Main
Wednesday
Lemon Thistle
Seeking Lavender Lane
Fresh Crush
Elizabeth Joan Designs
Addison Meadows Lane
Friday
The Summery Umbrella
Houseologie
Little Red Brick House
Kenarry: Ideas for the Home
Dwell Beautiful