I hope you are inspired by the projects that we show, but I also never what you to think that we are perfect. Because, every.. single.. project.. has some sort of a fail in it. Most of the time, the project doesn't "fail" completely. Most of the time, the fail is more of a "hindsight is 50/50" kinda of thing. For example, most everyone loved our DIY hanging planter. Do you remember? Here it is if you are new here.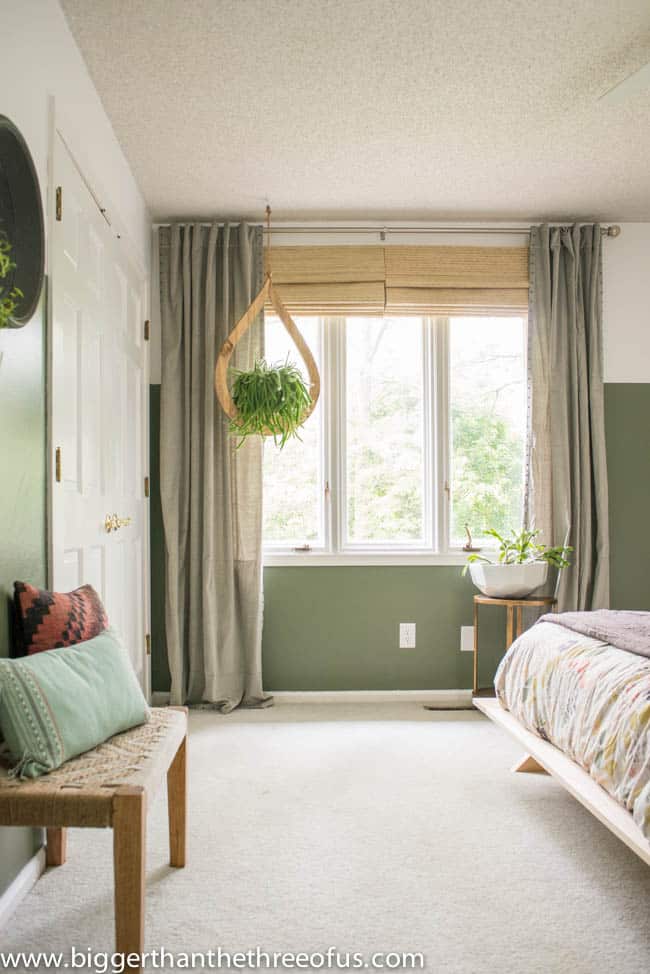 When I shared that tutorial (or in the comments – I can't remember), I remember saying that you can skip cutting the wedge out of the shape. If you leave it in, then you save yourself some work. So, most of the time, our mistakes are just small mistakes and can be fixed. But, sometimes, you (I) can get so upset and frustrated by a mistake that you scrap the whole damn thing. So, that's kinda what happened with this project.
Let me back up though. Throughout this past year, I've been on a team of contributors for a blogger's site. Every 3-4 months, I have a project that I have to pitch and then create and post on her site. So, I pitched this idea of a astroturf, lighted outdoor Christmas wreath. Seriously, I've had this idea for awhile and Luke thought I was completely nuts, but I really loved the idea. Anyways, she liked the idea as well and I was ready to work on it. Fast forward 6-8 weeks and she contacts me saying my project is late and asking me about it. Well, crap, I had the project wrote down as due the following week and, me being a procrastintor, I hadn't finished the project. So, I made my apologies, and got further into the project.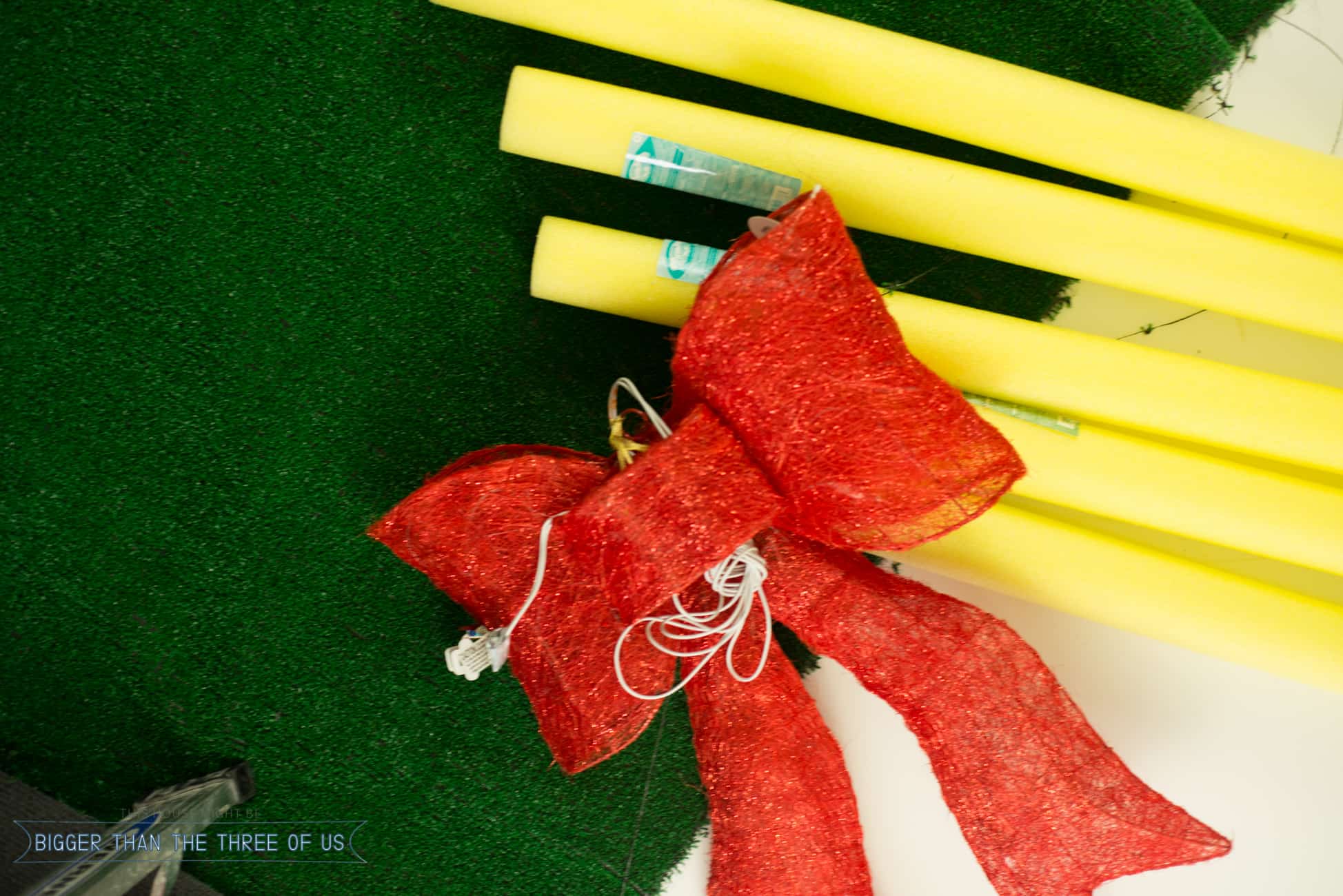 As you can see, the wreath form was made out of pool noodles.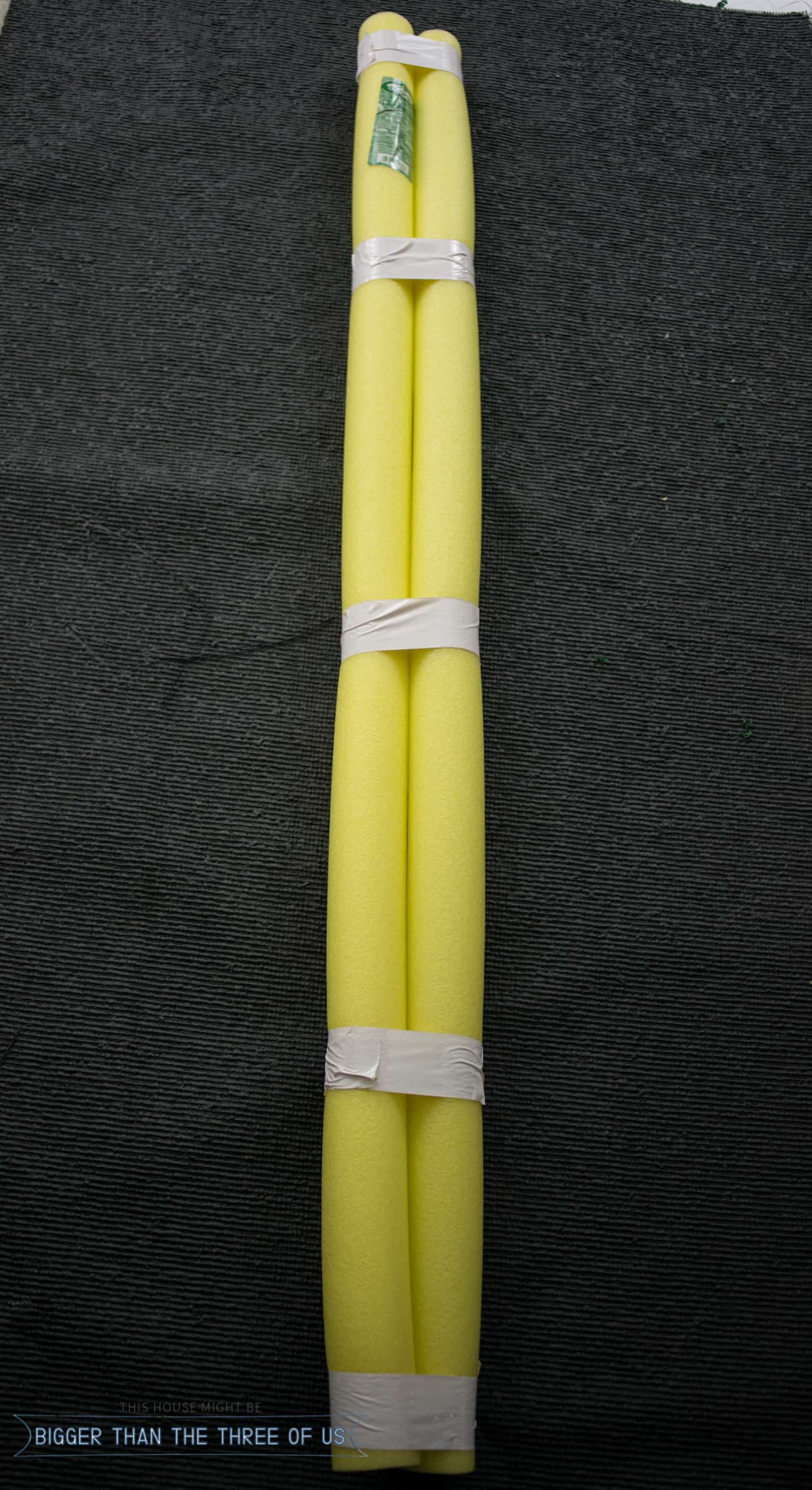 I was about at this stage when she contacted me asking me about my project and where it was at. Well, fast forward a few hours and I realize that I can't get the astroturf to stick to the pool noodles. I was using construction adhesive, which is heavy duty stuff, and it was just not happening. So, I got out my upholstery needled and hand-stitched the turf. This took about an hour. Seriously, it wasn't fun.
Once I got it stitched, I used construction adhesive, duct tape and the upholstery needle/stitching again to make the noodles into a wreath. Now, this wreath isn't a danity thing. Nope, It's two pool noodles taped together to another two pool noodles taped together. Think about a 5ft by 5ft wreath (or there abouts). Well, yep, the weight of the astroturf and my ($25) lighted bow was not creating the circular wreath that I had imagined.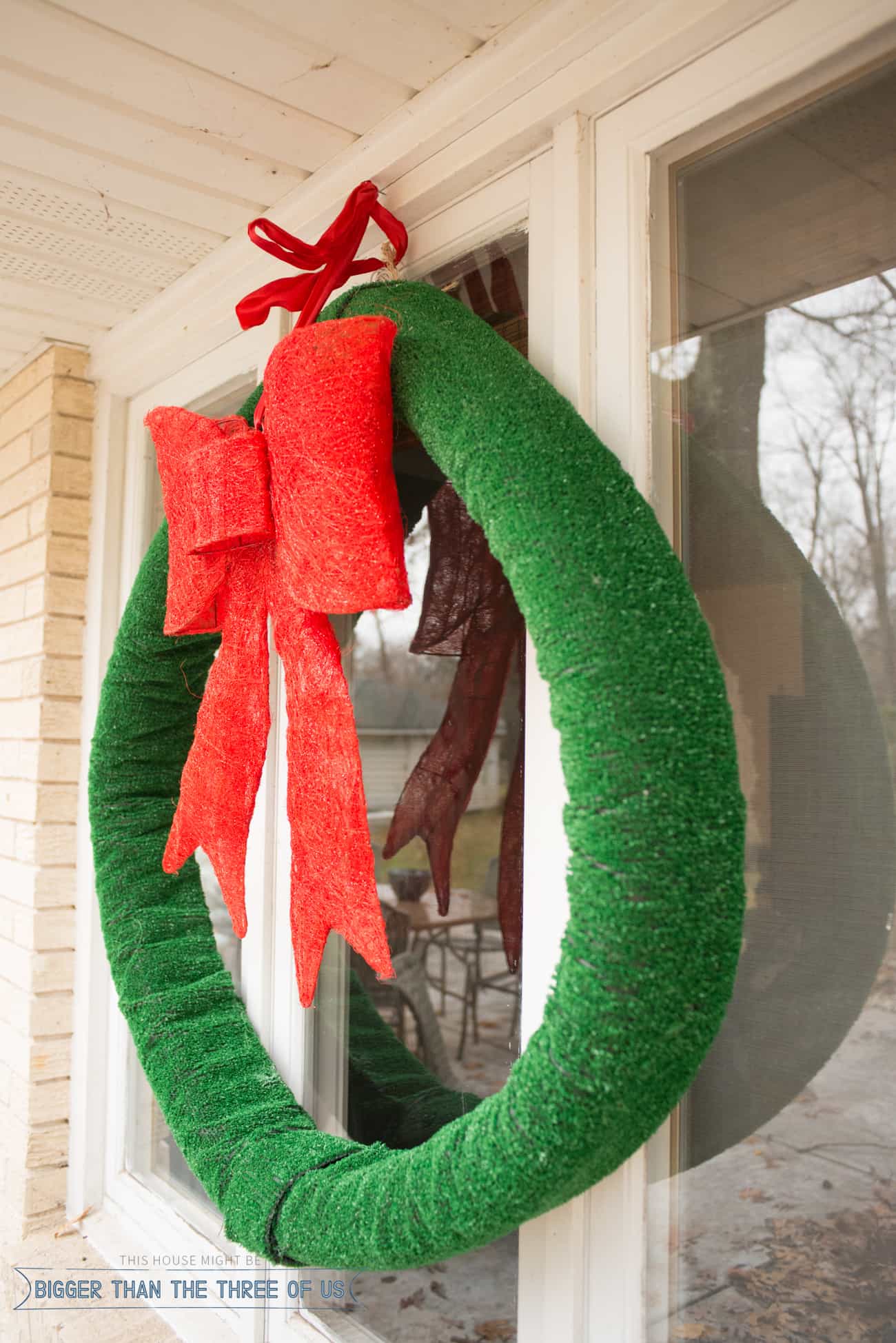 Not even after I had put nails in the wreath in the window to keep more of a circular form. I just couldn't get it figured out. Basically, it was a classical project fail.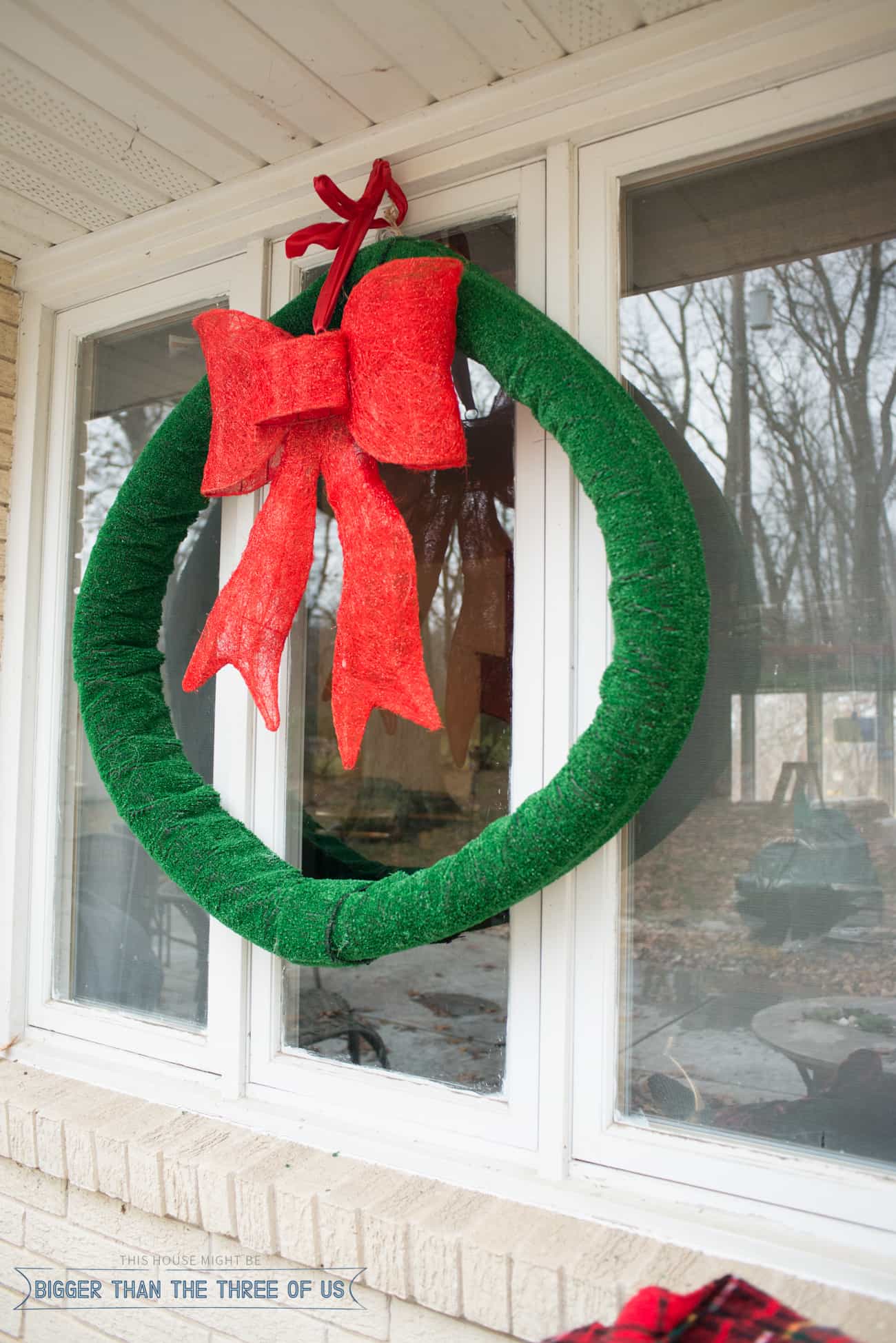 These bottom two pictures make it look so much better than it did in person. Seriously, I was getting super creative with it. Hoping, just hoping, that the project photographed all right so I could share it… with some adjustments of course. #fulldisclosurepeople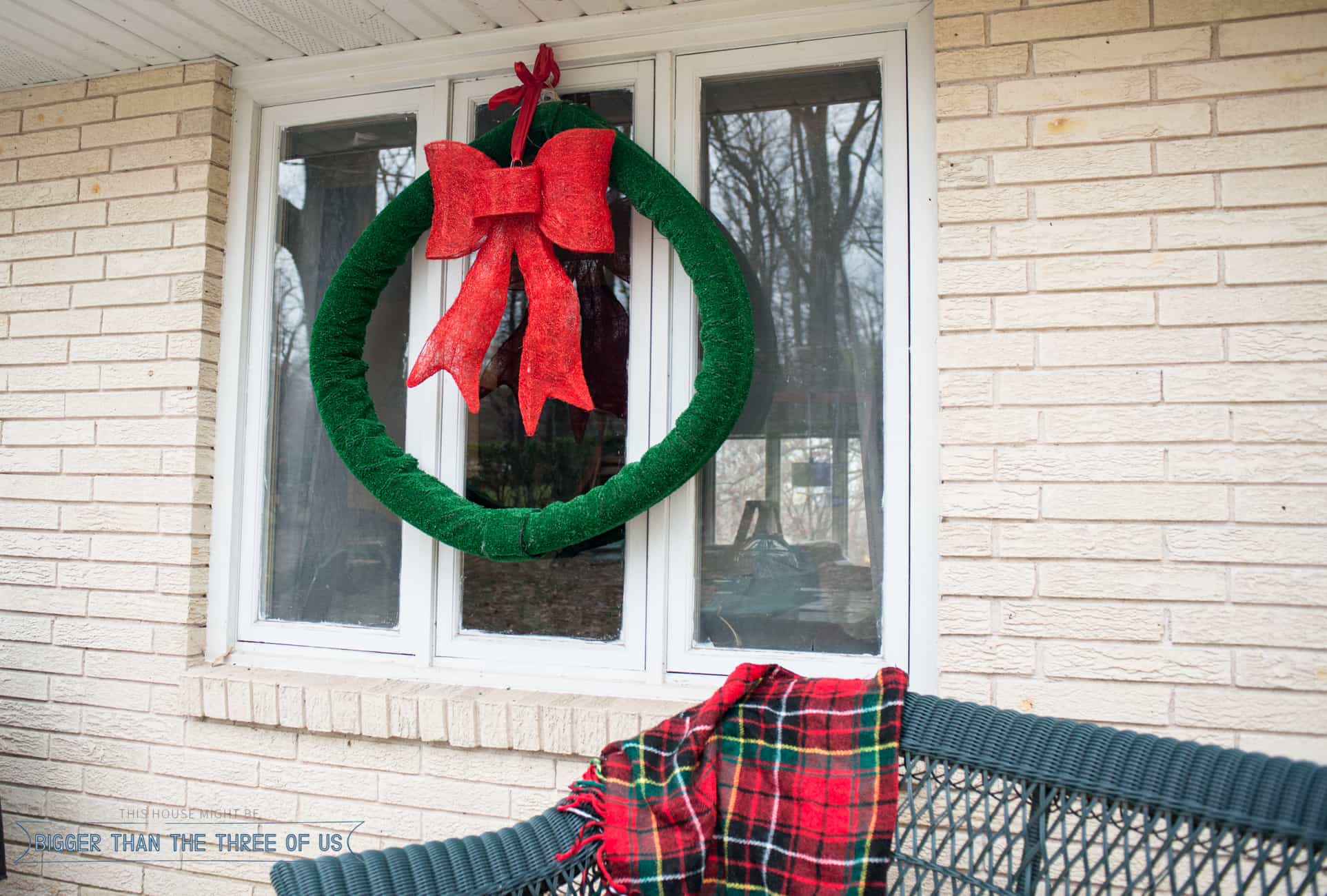 So, I wrote the tutorial up… word by word. You see, at this point, I figured out how to make the wreath work. Well, I think anyways. I would have used a heavy-duty bendable piping or dryer venting. So, I talked about all of that in the tutorial and submitted it. I was so mad at myself for completely dropping the ball on time but also on this failed project. I felt like I had to submit something but, to be honest, I didn't want to.
How did the story end up? Well, I emailed my contact and said that I wrote the post and that it had failed and that I would totally understand if it wasn't accepted as a post for her site. She didn't end up accepting it and I totally get why.
You're here because you like our projects, my writing style (ha!) and/or the choices that we make on things. Through all of these things, you have gotten to know me a bit. It's hunky dory to share successes and failures here (in my safe place). When I'm supposed to put my best foot forward on another blog or platform (on someone else's site) their readers don't know me. The project fails from someone they don't know aren't a good fit. Does that make sense? Hope I'm not talking in crazy land here.
Anyways, all of that is to say that I'm striving to remain authentic. Lots of times things don't go as planned but can be fixed. Sometimes, they can't be fixed and you lose money or time. It happens to all of us… it happens here.
And, because I'm a quote person: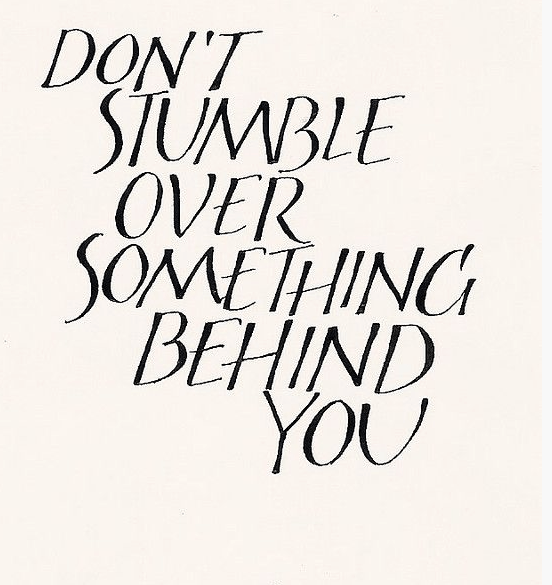 Anyways, I hope you have a very Merry Christmas. I'll see you guys next week.