Happy 2019 friends! Hope you had a lovely NYE if that's your thing. We hosted a dinner party (Mexican food, of course) and had margaritas and yummy desserts. It was fun! But now that 2019 is here, I wanted to share my goals for the house. I'm always planning this in my head but I do love to put it out there in the universe to, because I think once you verbalize something, then it's more likely to happen! Whether we get parts of the list done or all of it, that remains to be seen but at least we have a starting point.
House Project List 2019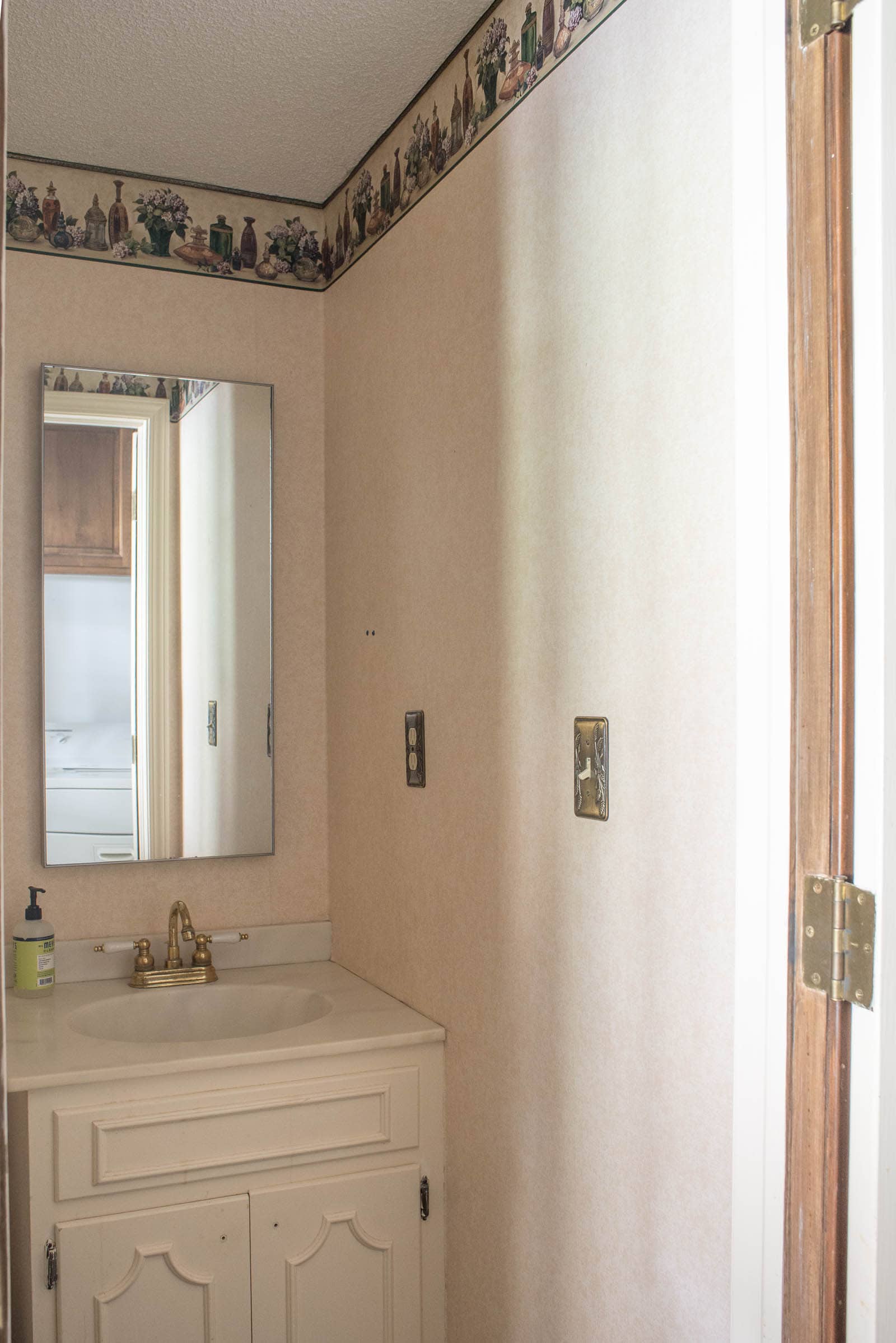 Let's go with five goals for this year. It seems like an easy way to keep track of things and to stay motivated!
House Project List
1. Powder Bathroom
Our powder bathroom was on last years' list and just didn't get done; but this year, it's getting done. I owe you guys an update on the powder bathroom because we've made some major (well, maybe not MAJOR but SOME) progress on the space since this photo. We've gotten all the demo work done, installed a pocket door, and started laying all the tile. It's looking drastically better. I can't wait to see the end result!
Next up on the list is…
2. Laundry Room
The laundry room is attached to the powder room so it's getting new tile. I know that I'm not going to be happy with keeping all the old features in the space with the new tile. Plus, you have to walk through the laundry room to get to the powder bath. So, it really doesn't make sense to not update the laundry room with the powder bath. All of that being said, I have pretty big dreams of NICE built-ins for the space to help organize our cleaning supplies and just make the space more functional and I'm not sure all of that is in the cards for this year. Let's put "make more progress on the laundry room (more than just the floor tile)" to the list for this year.
3. Coat Closet
This was another one on my 2018 project list that just didn't get done.  It's annoying to not have a clothing bar or storage options in our entryway that actually work for us (especially during winter) so this one is going back on the list.
The funny thing about the coat closet is that it's really just a few days worth of work. It's always humorous to me that I can push projects off and off again when they aren't that hard!
4. Wood Flooring Installed Upstairs
When we decided on our oak flooring a few years ago, we really couldn't afford to add more rooms to what we were having installed. On top of that, I wasn't sure I would love the wood flooring in our bedroom. Both of those things caused us to not get the oak wood flooring installed in Greyson's room or the guest bedroom.
After living with the wood flooring in our bedroom and throughout the majority of our house, we absolutely love it. So, our goal this year is to have the same wood flooring installed in Greyson's room and the guest bedroom. At the same time, I also thought that I would have it patched in our living room where we have that weird corner cabinet.
5. Basement Renovation + Egress Windows
Last but not least – and really, this is by far the most expensive, most time-consuming project but probably the one that will have the most impact on our lives – is the basement renovation. We have SO MUCH WORK and SO MUCH MONEY to invest to do this project. I started collecting ideas and bids this year for the renovation and, to be completely honest, the bids (for just the egress windows) were so much more than we'd expected. I don't want to start on the basement until we have the cash to pay for the windows but we are looking at $10,000-$16,000 for the window situation alone. So, that's a downer for sure.
My hope this year, is that we save for the window installation and by the fall are able to afford the trench work, egress windows and all the weather proofing updates that we need to do. Finished drywall on the walls and ceilings would be a bonus. All in, I'd say the basement renovation will come in around $40,000 and it's unlikely that we could do all of that in 2019.
So, to sum up, we are hoping for progress in the basement with the hiring out portion but not necessarily a livable, playable, finished space.
As I'm looking back on my list, I'm feeling pretty good about it. We are in the midst of the powder room and the coat closet is an inexpensive and easy project. I'd be happy to just make progress with the laundry room. The wood flooring installation would be hired out (we buy raw wood, they install and stain on site) but is not going to cost all that much just for the two rooms, so really, that just leaves us to save, save, save for the big project of the year… the basement.
I'll try to check back in at the 1/2 year mark and see how we are doing. What are you planning to do this year? Or, do you not make a list and just start a project once one pops up? I kinda wish I was like that!