Kids' stuff organization and storage is not always high style, and kids can be messy. But they live in our homes, too, and we want to make them feel happy and welcome! We're answering your questions on handling toys, artwork, big plastic things, kids' messes, and more.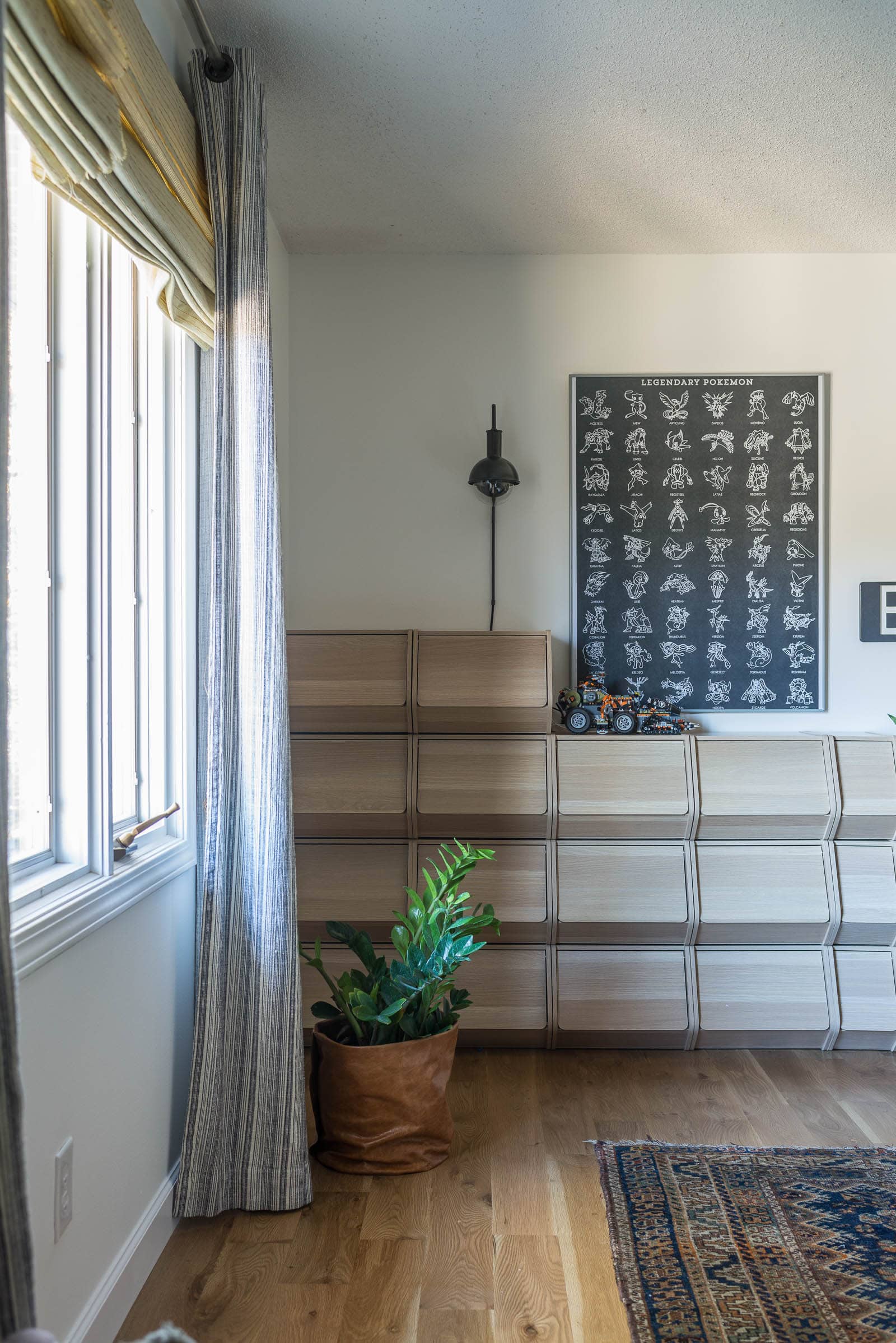 Listen below or find us on your favorite podcast app: iTunes, Stitcher, Spotify, GooglePlay and Overcast
Kids' Stuff Organization and Storage
I reached out on Instagram stories to find out what you were really struggling with when it comes to kids' stuff organization and storage. We couldn't answer all the questions on the show, but we were able to get to some of them.
Here are some of the questions we got on Kids' Stuff Organization and Storage.
@jkimsold: "So many books, so many tiny toys, so many misplaced parts. Do I rotate them? Donate them? Hide them away? Throw them away? We are moving next year and will have more space and a dedicated playroom, so hoping to create a better system so we can actually maintain.
I used to rotate toys every month and I love this method. It keeps the toys feeling new. I just kept enough to put in two baskets and then hid the rest. I did this with books and puzzles, too. With little toys that were the crap toys, I'd either donate or pitch. With "little people" or wood toy parts, I'd put them in a basket and then, once the basket was full, I'd find their homes. With little kids, a bit of grace is needed with toys. As they get older, it's easier to manage.
Suzannah shared that she has two baskets plus books. She likes NOT having a playroom because Otto just plays around them and there's not a designated space that's always overflowing with toys. She feels like it's just easier to clean up the living room after Otto goes to bed instead of having a playroom to clean up.
Various: Big toys. Ugly, don't hide well. Where to store?
I used to be a HUGE fan of rotating toys in and out. I don't do this anymore because my kiddo is out of the toy stage, for the most part, but I always rotated when he was younger. And for that big stuff... try to buy pieces that go with your decor. The play kitchen, for example, if I were buying one for my house, I'd try to buy a wooden one that wouldn't stick out like a sore thumb.
Suzannah mentioned to dedicate a coat closet floor space as a place where you can stash the big things. She does this with her stroller.
@ksinghass06 "Hi, my kids love art and create new paper art projects daily. What is your suggestion on how to best store all the arts and crafts stuff?"
I LOVE our office paper organizer! I got mine from my Dad's CPA firm. It's not cute but it works amazingly well. Also, a friend of mine stores art project supplies in a basket under a kitchen cabinet. That way, it's quick and easy to get out and put away. They rotate their supplies so that each month, the basket has something different in it.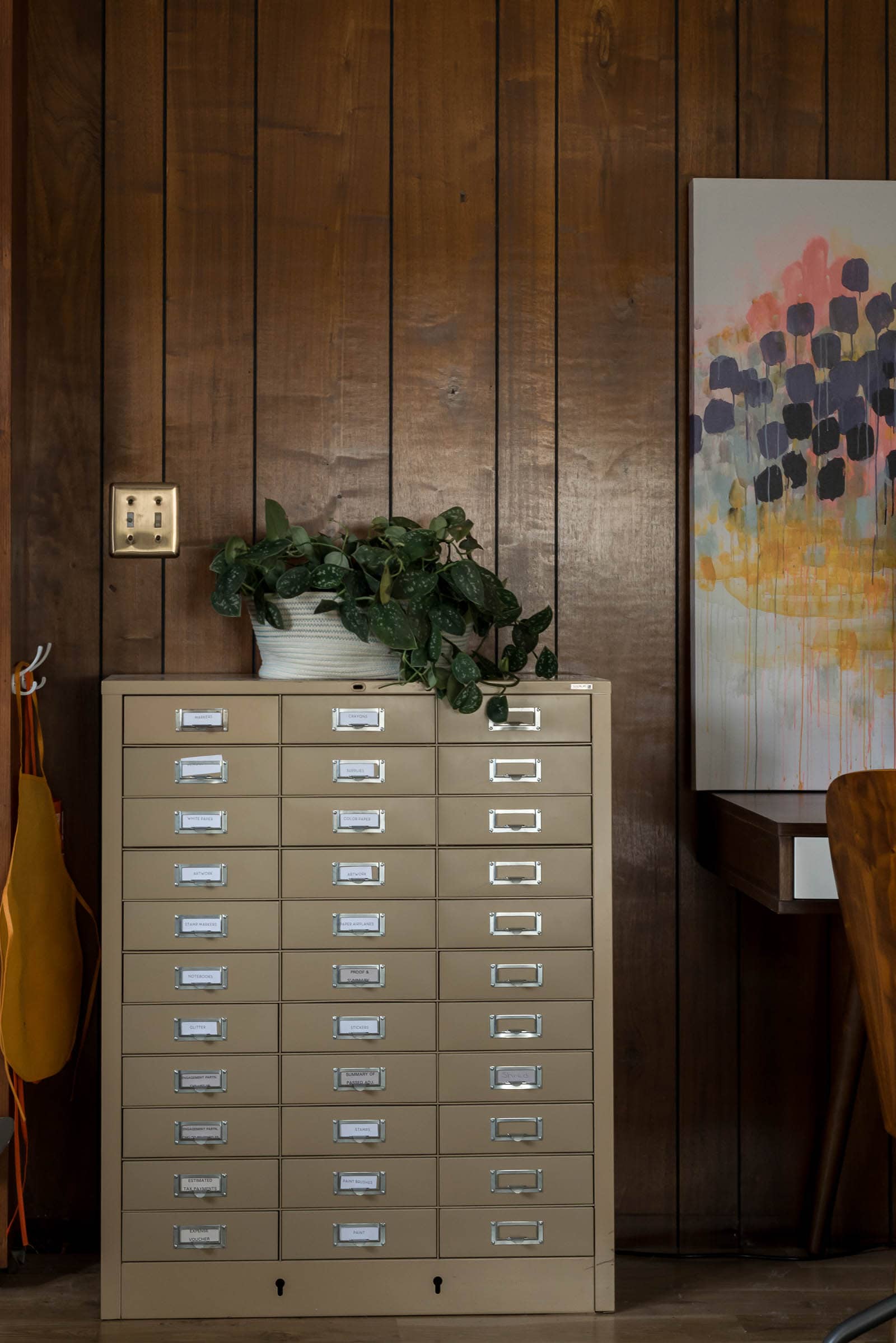 @eurekadots: "Love your kid's bedroom. My two struggles with my kids room is he saves EVERYTHING. Every shelf and surface is jam packed with stuff and no longer looks clean or cute. Not a lot of room or extra storage over here though either. The second is he wants to tape every piece of paper or photo that is special (spoiler: they are all special) to the walls. I'm losing it over here. "
Greyson does some of these same things, or has in the past. Here's what I do. He has a large nightstand with two closed drawers. I never touch anything in there. If it fits inside and he can close the drawers, then he's free to hoard anything he wants in there. On top of that, his dresser has a wire basket and that's another place where he keeps all his treasures (sticks, rocks, paper crafts, etc.). Those are his "safe places" and once those are full… we edit.
With "special artwork" I hang it and then once he makes another we make a decision together on which one we have to "let go" (a.k.a… put in the trash). I will say that he has never liked me throwing things in the trash in front of him so when I say "let go"… he knows where it's going but I wait until he leaves the room to toss.
@brickendhaus: "My son is 13 and our struggle is that he never puts anything away. Clothes, shoes, bath towels, backpacks, etc. HELP. It goes on the floor."
Add hooks! To be honest, if it's a joint space then I'd go to battle and make it clear that he needs to pick up for everyone to enjoy it. But, if it's just his bedroom... I remember when I was that age. My mom didn't like it but she let me just keep my door closed. I appreciated that and I think I'll do the same as my kiddo gets older. I will say that we had rules which I think are good… no wet towels on the floor and no food. A few rules to follow are always a good idea. Hooks though, are easy and something that I would definitely do. If he has a place in front of his face for his stuff (coat, backpack)... it's almost easiest to just put it there than on the floor.
I'm sure it depends on the kid a ton but rules help a lot of people. However different rules in their room vs common areas. Eventually they'll clean it...?
Resources/posts we talked about:
You can find us on our blogs or connect with each of us on Instagram:
And you can join our Facebook group here to connect with other listeners and ask questions!