Our Kitchen Renovation with Dark Cabinets featured DIY open shelving, painted cabinets, wall tile and more! See how this budget kitchen remodel turned out.
Oh my gosh guys, today is the freakin' day! I'm so excited to show you the whole DIY kitchen remodel. You know what else? Today, marks the 40th time I've posted about our kitchen. There are 39 posts linked at the bottom of this post that round up all the DIYs and design boards that went into this small kitchen renovation. So, if you want some of the nitty gritty how-to's for the space, stay tuned and click on below.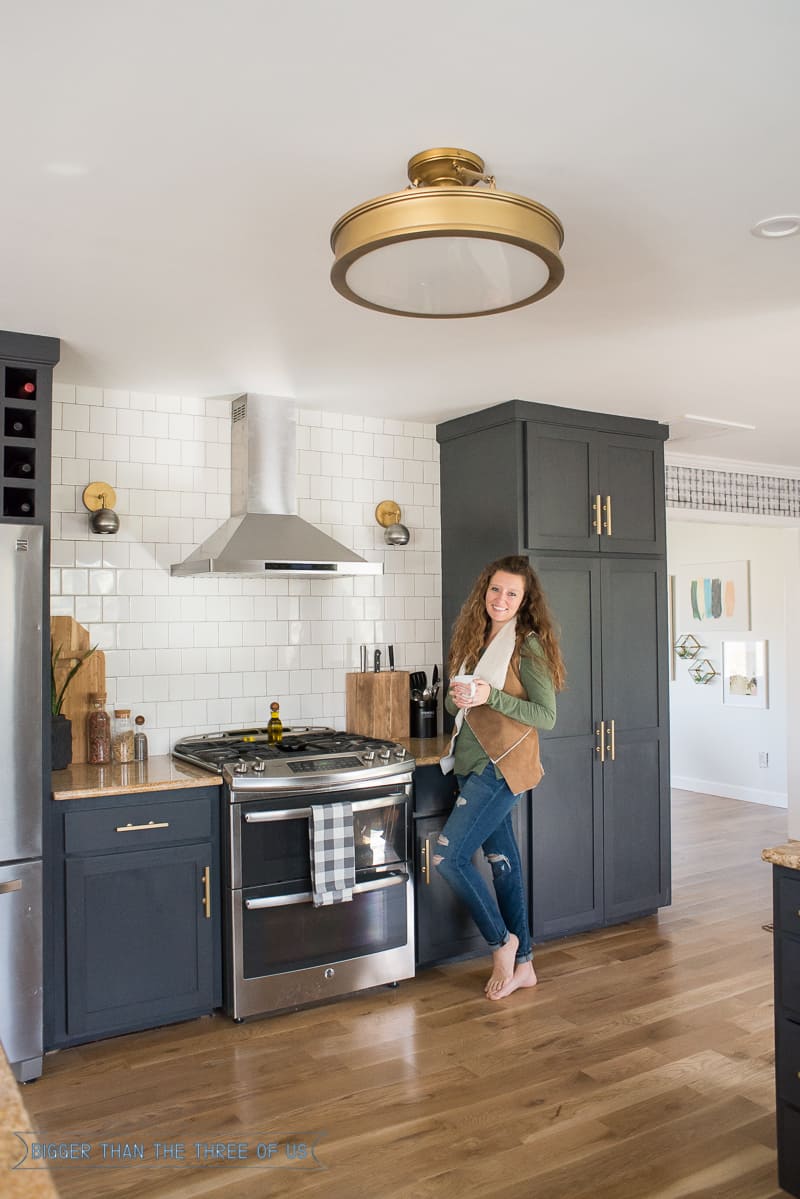 Kitchen Renovation with Dark Cabinets and Open Shelving
The backstory of our budget kitchen renovation in a nutshell is this... We decided that we were going to lightly update the kitchen about three years ago. "Lightly" meaning, take down wallpaper, paint, add new lighting... you know, that type of thing. Well, we did a few of those things and then started tacking on a few more. Then, all of sudden, Luke came home from work one day and I had taken the kitchen cabinets off the wall. I just knew that I wanted kitchen shelves instead of cabinets! BUT, to be completely honest, we had not saved for a kitchen renovation because we weren't planning on doing a kitchen renovation. As we kept doing or dreaming about projects, we realized that we could have a pretty fantastic (it might not be my dream kitchen, but it's close) kitchen if we took it slow and just paid for products as we had the cash for them. So, that's why this project has been the longest project ever. I think the next time around (for example, our basement remodel) we will have a more clear picture of what we want to do beforehand and how much it's going to cost. I can totally live through a one year project but I don't want another project to span over the course of a few years. Live and learn, right?
Now that we have finished, we absolutely love it and would probably do it all over again if we had to. =)
Without further adieu, grab a cup of coffee with me and let's chat about the kitchen.
** Posted 10/10/19: This post was originally posted on 11/23/2016. I refreshed the post with more details and new links to all the tutorials. After you read the reveal, if you are curious to see what the kitchen looks like today and to see if we still love everything including that open shelving... click over to see Kitchen Updates and What We Love About Our Kitchen.
If you're a recent reader, then you may not have seen the kitchen before the renovation. So, I'm going to back up and share a few pictures of the before and then we can get into the nitty-gritty of what we decided to do and why.
Kitchen Renovation BEFORE and AFTER
This was the view standing in our eat-in kitchen and looking into the kitchen.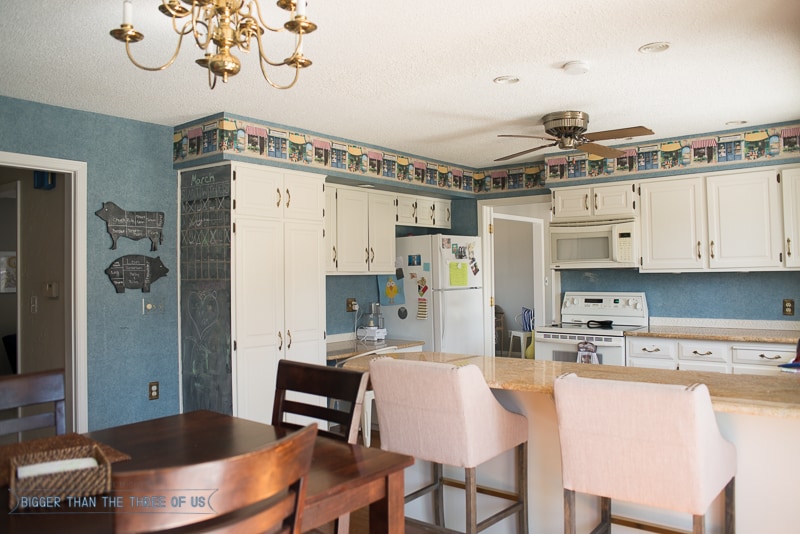 A small pantry sits inside that vertical cabinet but it had a separation between the two sides which made it awkward to store things in. The desk was just a clutter trap for us. There was a small doorway between the kitchen and the formal dining with two mini doors. The doors seemed to add to an already awkward space and made the formal dining seem much too formal for us.
We decided to get rid of the desk, move the oven to where the desk was and reconfigure the wall that would house the oven. That would enable us to open up the wall between the formal dining and the kitchen.
Here's a very similar angle of where we are now: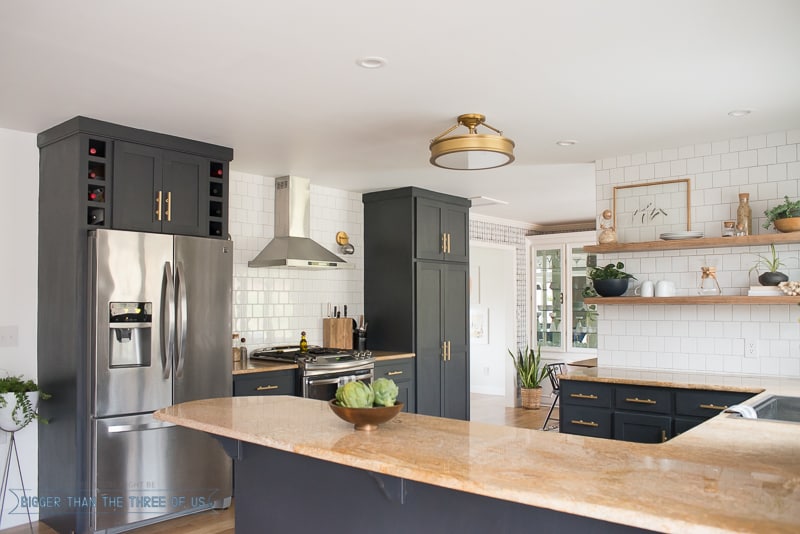 We gained about two more feet by opening up that wall, but you would have thought it was six feet! It made a huge impact!
I knew from the previous pantry that I wanted a pantry that would be more usable. We don't have a ton of kitchen items. We are more of the mindset to have a few amazing knifes and pans instead of having just tons of both. So, of course we needed storage, but I didn't feel like we needed to have storage everywhere.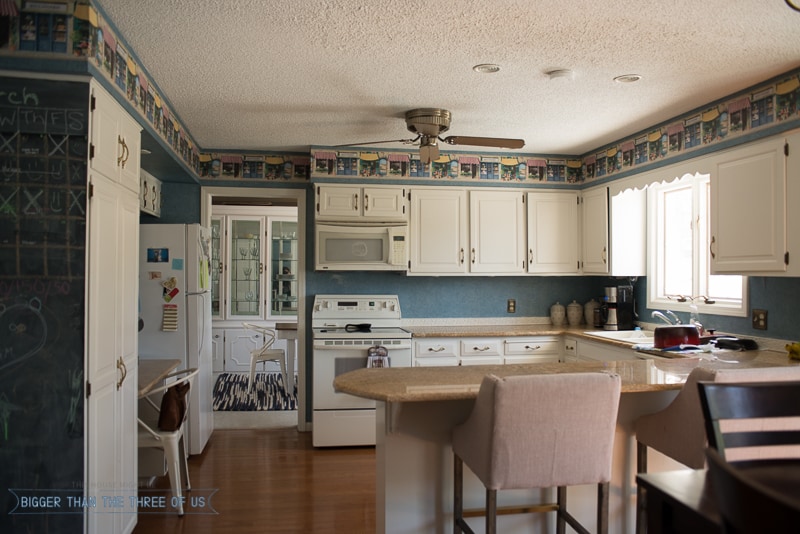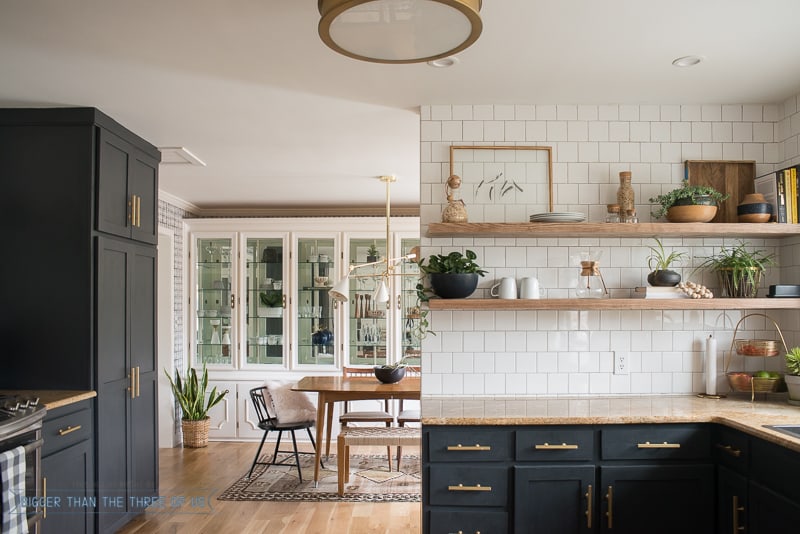 Let's chat about some of the specifics on why we chose what and what was original that we kept.
Kitchen Remodel on a Budget
Like I mentioned earlier, we didn't know we were going to do the whole kitchen remodel until we were in it. So, we really had to do one thing at a time and make one decision at a time.
The first thing that we did was take down all the upper cabinets and remove the bunkhead. Once the cabinets were down and the bunkhead removed, we realized that our kitchen could feel so much more inviting if the window above the sink was larger. Enlarging a window is a decent investment but really changed the look and feel of our kitchen.
We opted to put in a five foot window. It's so nice to see more of the backyard and enjoy the yummy light that streams through the window.
Before the renovation started, we knew that we had asbestos in the popcorn ceiling. When we took down the upper cabinets, we had to put in new drywall because there wasn't any drywall above the cabinets. We love the look of a smooth ceilings but didn't want to shell out the money to have the asbestos abated. My grandpa had a popcorn sprayer (from the old days when he was a home builder). We sprayed popcorn and tried to match the color that was there but it just wasn't working. So, a few months passed and we were able to afford the asbestos abatement and drywall install. It was a pretty big investment, but totally worth it.
Budget Kitchen Cabinets
We kept the original cabinets (in the peninsula) as well as the granite countertop. Neither one would be my choice, but we were trying to save where we could. I get lots of questions on what kitchen colors work with dark cabinets and, really, I feel like warm tones and cool tones both work. We have cooler tones on our ceiling and wall tile and warmer tones with the wood shelving and the countertop color.
For the base cabinets, we painted them Cracked Pepper by Behr but color-matched that to Benjamin Moore Advance. The BM advance line is fantastic on wood. If you want to hear in-depth about cabinet painting, I did a whole podcast episode about how to paint cabinets and everything I'd recommend.
My grandpa and I built the base cabinets that flank the oven, the fridge enclosure and the pantry. It was quite the job. I learned so much through the process and am so grateful that I got to do that with my grandpa. During the process we went back and forth on the cabinet doors. We finally decided to buy them from a cabinet shop in town and it made sense to buy them for the whole kitchen and not just the new pieces. If you want to hear more about half custom/half DIY cabinet doors, then definitely check out that post.
We saved the leftover piece of granite from the old desk that was in the kitchen and had a granite store cut it in half. We used that measurement for the base cabinets that flank the oven. We saved a ton of money by making the dimensions of the cabinets fit the exact dimension of the granite piece that we had from the desk. I believe it cost us about $100 at the stone fabricator to have the granite countertop cut to size and polished when it was all said and done.
We saved a ton of money using the old kitchen cabinets that were in the peninsula. They aren't fancy with pull-out drawers but they work. Adding the new doors and cabinet hardware really changed the look of the cabinets. The new doors allowed us to change to hidden hinges which instantly make a kitchen (or bathroom) feel fresher.
*Affiliate links below, click to read my privacy and disclosure policy. Thanks for supporting this blog.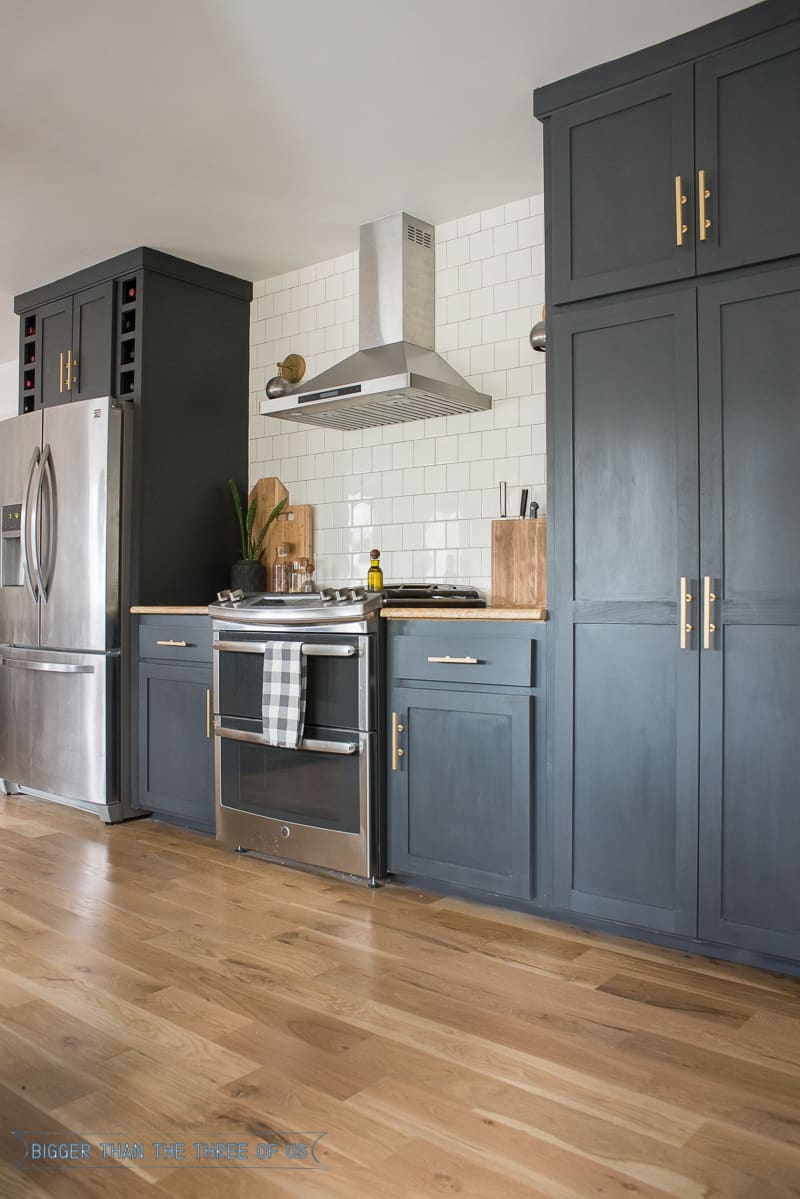 Kitchen Shelves Instead of Cabinets
I knew I wanted floating shelves in the kitchen. I wasn't scared of the dust that might accumulate or the lack of having upper cabinets, I knew the open shelves would be gorgeous and functional. I have a HUGE DIY Open Shelving Kitchen guide that explains exactly how we hung them, how high off the countertops they are, what type of wood (ash wood stained with weathered oak stain), hardware we used, etc. Take a look, if you are thinking about adding open shelving in your house. In a nutshell, we hung steel mounting brackets for the open shelves before we tiled.
We tiled around the open shelf brackets and then took the brackets down for grouting. Once the tile was completely done, we installed the floating shelves.
Tiling the kitchen wasn't hard but since we tiled from countertop to ceiling on three big walls, it did take us quite a while. We used very inexpensive 4x4 white tile. The square tile is a play on the timeless look of subway tile but just a bit different. The grout color is "oyster gray." I like the look of dark grout with white tile in other people's homes, but didn't want the starkness in my home. I honestly didn't think a taupe-type color of grout would look good, but I really love the slightly warm, but gray color that it adds to the tile.
We opted to buy pre-mixed grout so we could tile a bit at a time. It's way cheaper to mix your own grout but if you only have small pockets of time to work on tiling, then the pre-mixed grout is a good way to save time.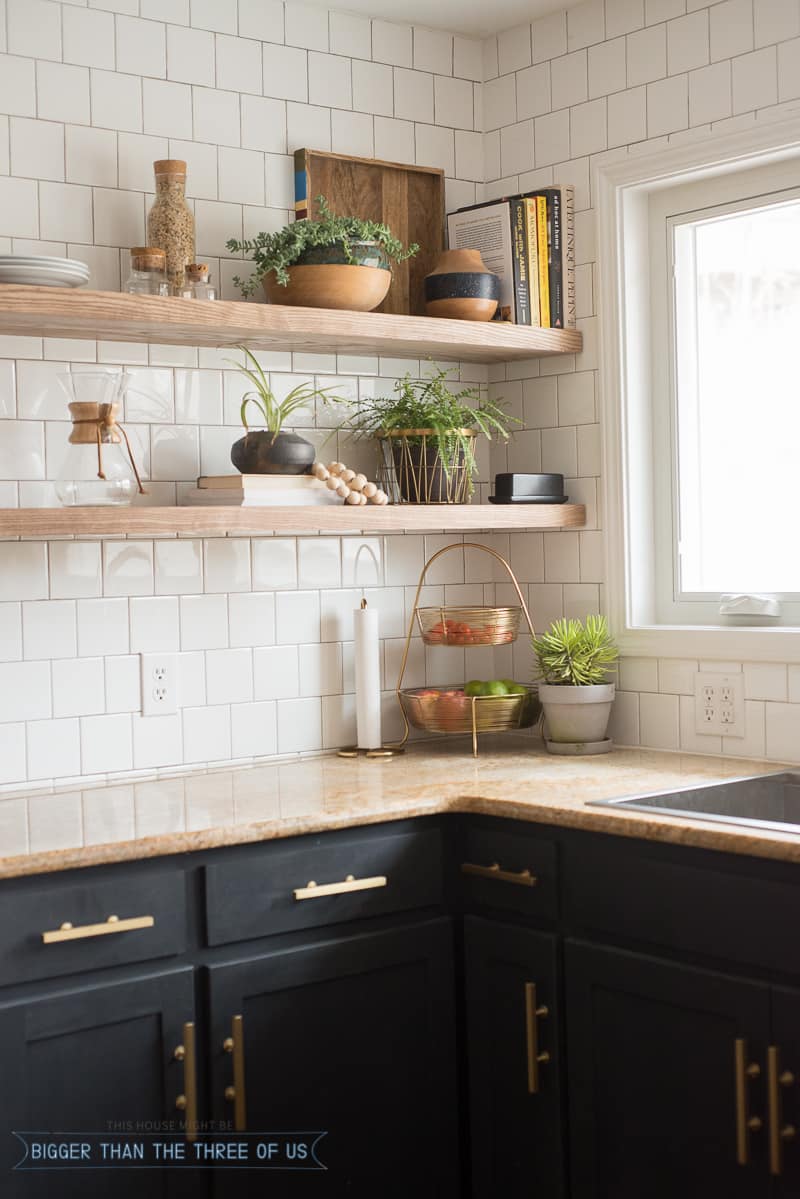 Wood Flooring Decision
I guess the last "big" expense or project for this kitchen renovation was adding the wood flooring in the kitchen. We had 3" red oak wood floors originally in the kitchen and the eat-in kitchen but not throughout the rest of the house. The flooring difference between these spaces made each space feel closed-off from each other. Since we opened the wall between the dining room and the kitchen, we knew we either needed to patch the floors or have new flooring installed. We opted to have new flooring installed throughout most of the house. We went for 5" white oak and I just love how it turned out.
Other than that, we did a bunch of smaller upgrades. Our DIY pantry now has a built-in coffee bar and also houses our microwave. It's not the biggest space but it's mighty. I made a spice drawer organizer for one of our small cabinets and it was the easiest DIY!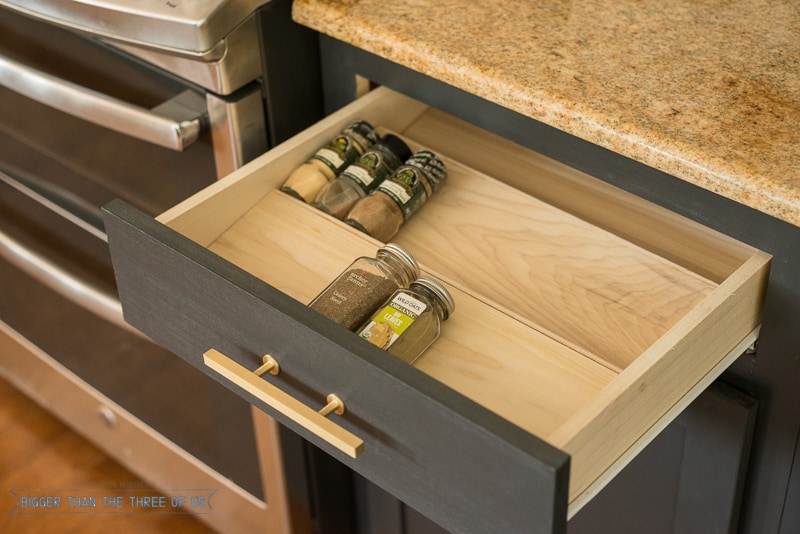 For our sink, we went with a stainless one-basin sink and absolutely love the one-basin. I splurged on the automatic faucet. You can run your hand over the top and it will stay on for thirty seconds or underneath and it will stay on for ten seconds. I really love that!!
I couldn't find a specific art piece that just felt right for us so I decided to make one. "It's Always Taco Tuesday" is such a perfect piece for us. I'm selling them in my Society 6 shop if you love it too!
Kitchen Renovation Cost
We did most of the work on the kitchen ourselves, but did hire out the asbestos abatement, gas line, wood flooring and window enlargement.
I know you all will ask "how much did it cost"? To be honest, we didn't keep a tab. We started the process and didn't know we were going to do a whole kitchen renovation. I think we spent in the ballpark of $15,000. With all new appliances, the asbestos/drywall work, new flooring and a new window... that all came to around 12,000. I think we spent the rest on all the other little things that go with a renovation. I will have to say that the total includes the eat-in kitchen too.
Check out the original reveal of the eat-in kitchen if you missed that last year or check-out the newly updated modern eat-in kitchen as it looks today.
I'm so happy to have this remodel behind us. It was the biggest job we have ever taken on and we are just absolutely thrilled with how it turned out. Really, we are pinching ourselves that it turned out as well as it did!
Before and After Photos
All the Sources for The Kitchen Renovation

All the Kitchen Posts
Gorgeous Eye Candy | Yes, We have a Kitchen | Hello Kitchen Remodel | Kitchen Lighting Cabinet Removal / Wallpaper Removal | Cabinet Removal in the Kitchen | Kitchen Lighting Take 2 | Kitchen Inspiration Black Windows and Doors | Kitchen Update Enlarged Opening | Bunkhead and Soffit Removal | Bold and Dark Trim | Framing the Kitchen Doorway | Kitchen Progress & More Bunkhead Removal | French Casement Window | Tips for Installing Baseboards | How to Install Drywall | Knife Block DIY | How to Mud Drywall | All the Details On Enlarging a Window | Eat-In Kitchen Reveal | How to Install Interior Window Trim | The Farmhouse Sink Dilemma | How to Install a Ventless, Ductless Rangehood | Affordable Storage Options for the Kitchen | How to Wire and Install Sconces | How to Create a Coffee Station Within a Small Pantry | How to Organize a Small Pantry | Custom DIY Kitchen Doors and Cabinets - All the Details on the Cost | Tiling Part One | Modern Barstool Round-Up| Asbestos Removal and Drywall Install (all the details including cost) | DIY Spice Drawer Organizer | Wood Flooring Decision | Finishing Tile with Grout and Electrical Extenders | How to Install Heavy-Duty Floating Shelves - For the Kitchen | Simple Feather Art | DIY Attic Access | DIY Wood Bead Trivet
How about a few more pictures?
Kitchen Renovation with Dark Cabinets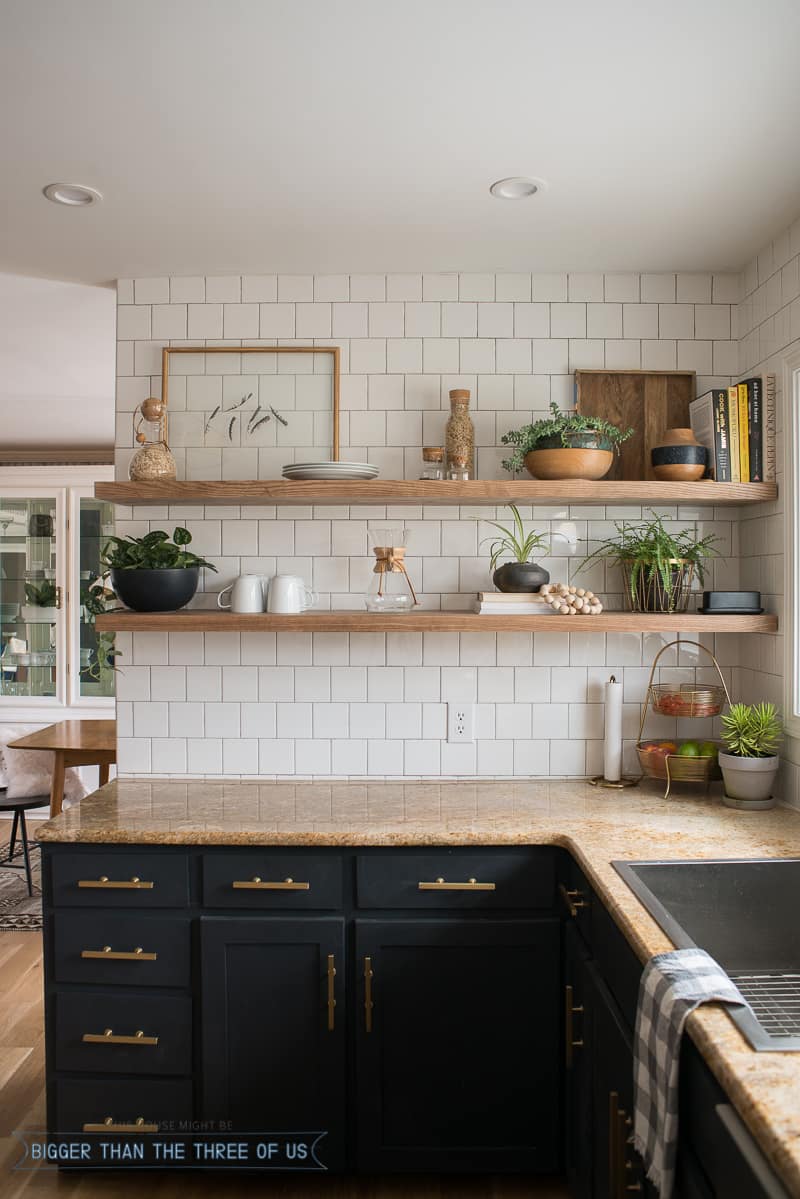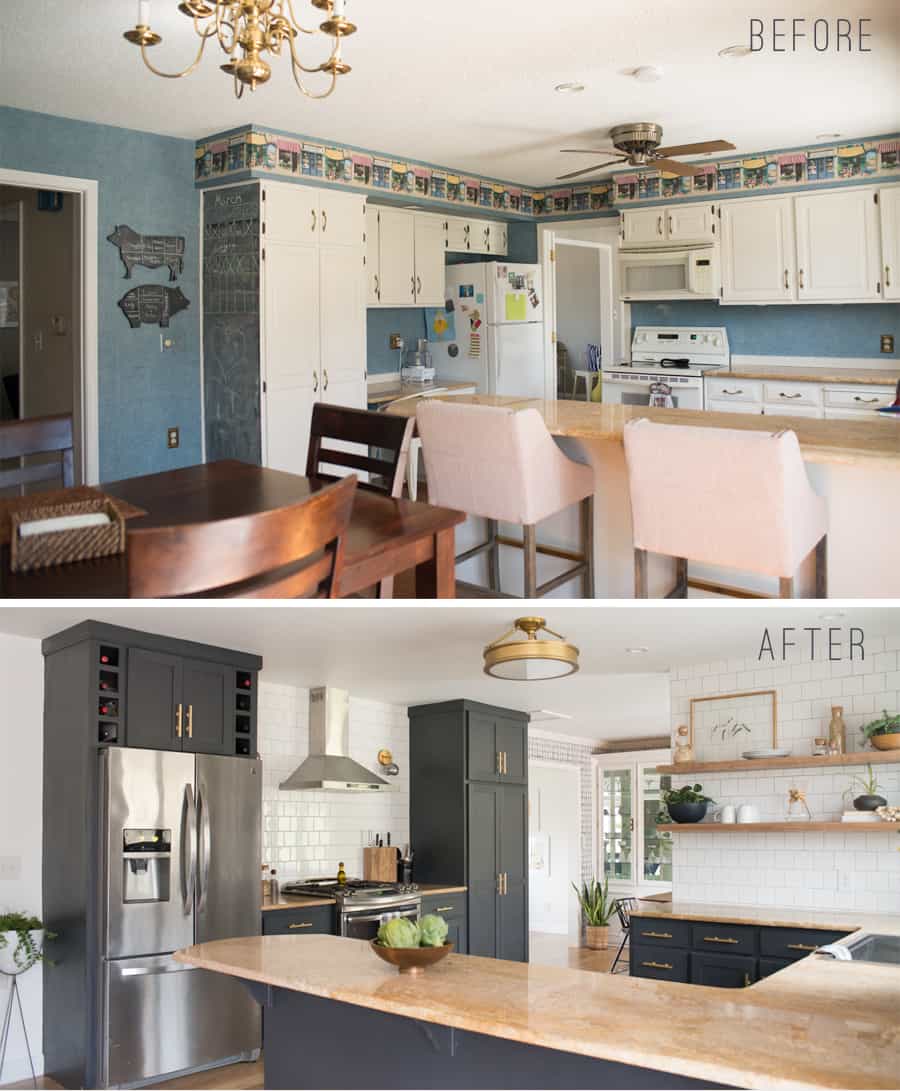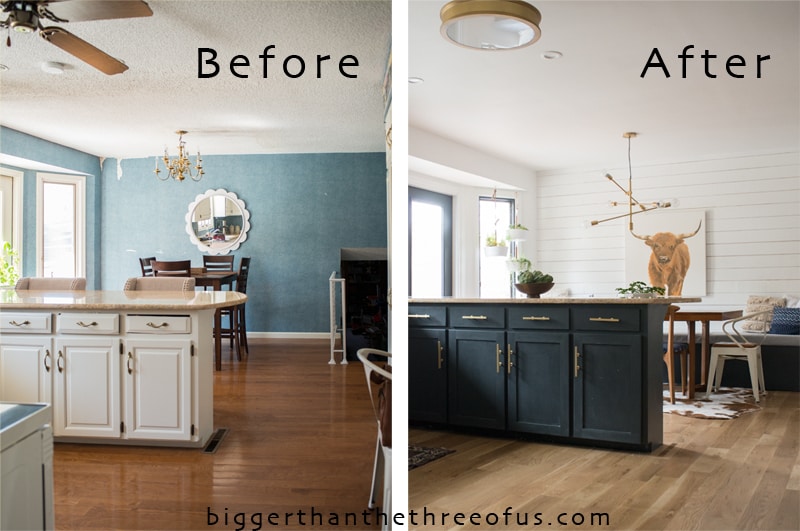 Thanks for following along! I know a kitchen renovation with dark cabinets isn't everyone's cup of tea but we are still completely smitten. Come over and say hi on Instagram and see it styled today!
Pin for later: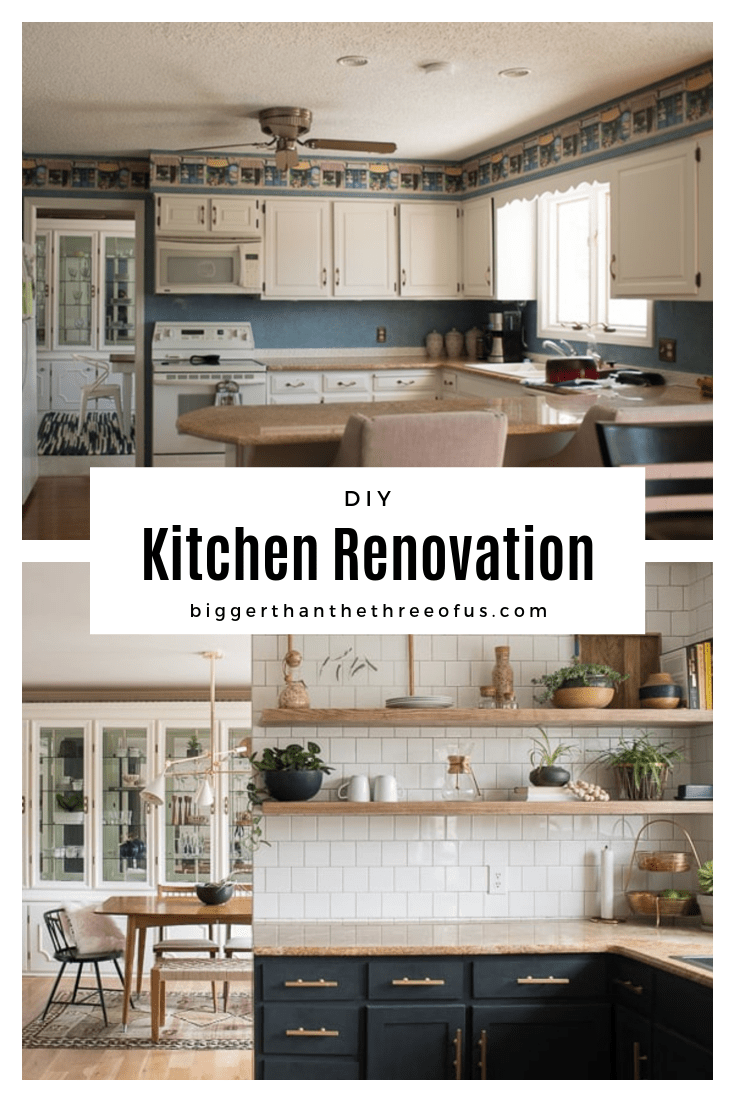 SaveSaveSaveSave
SaveSave