I'm sharing our feminine Mid Century Modern Bedroom with the West Elm Arne Bed and other MCM furniture pieces to give you mid century bedroom ideas.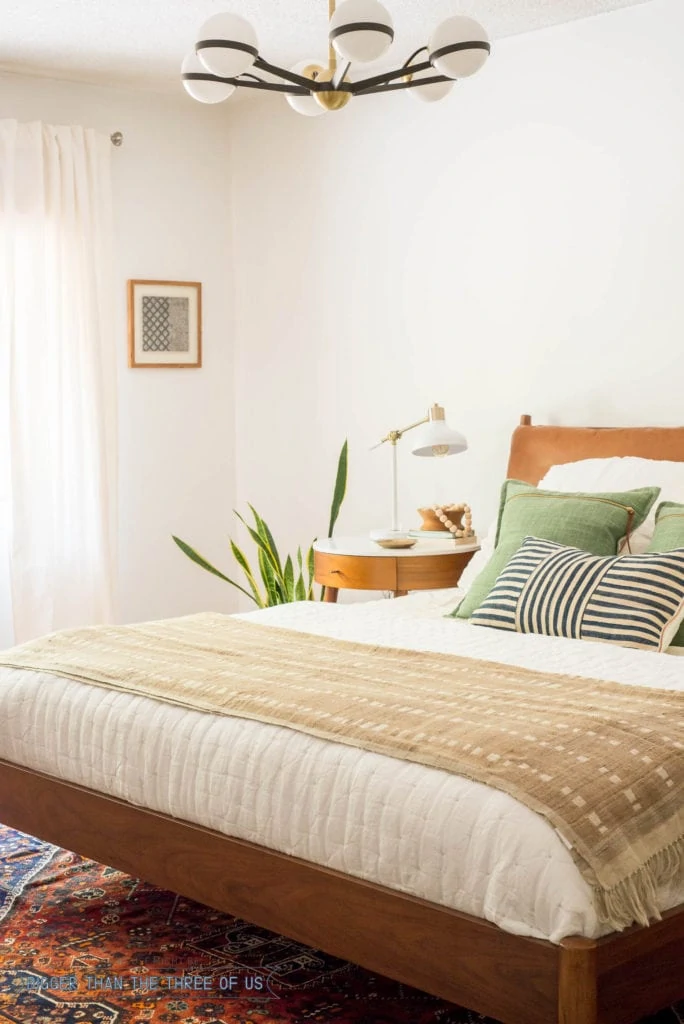 Mid Century Modern Bedroom
If you are a current follower here, then you know that I painted my bedroom black. Check out my newer post, Tricorn Black Master Bedroom Reveal, to see how the black paint totally pops in our vintage, mid century modern bedroom.
With most spaces in our house, and especially our bedroom, the spaces evolve over time and each iteration seems to be perfect for the time that I'm in. I shared the mid-century eclectic bedroom (this same room but different look) back in Feb 2017. Fast-forward a year and you have the look that I'm sharing with you today.
Affiliate links below. Thanks for supporting this blog. Click to read my privacy and disclosure policy.
Upgrading to a West Elm King Bed
The refresh started happening, this time around, because Luke and I decided to upgrade to a king bed. I'm a light sleeper and I realized, after sleeping in hotels on vacation, that I sleep better in a king bed.
I've had my eye on the West Elm Arne bed for quite some time but just couldn't justify it because, up until this point, we didn't need a bed. But, when we decided to upgrade from a queen to a king, we needed both a mattress and a bed frame. So, I went ahead and made the purchase on the West Elm mid century bed.
West Elm Arne Bed
Since I've had this bed for years and often get asked about it, here's my review on the West Elm Arne Bed. I love that it has removable leather cushions on the headboard. The one thing, on the cushions, that could be better is if they were reversible (only one side is leather). Other than that, they are absolutely great and we have had no issues with them. So, even though this isn't technically an upholstered bed, it's as comfortable as one for sure!
As far as the MCM bed frame goes, it's sturdy and high quality. We've had multiple pieces of West Elm furniture and if you do too, then you know that the quality varies. Well, this MCM bed is great. I'd buy both the the MCM bed and the leather cushions again, in a heartbeat.
For the mattress, we partnered with Lucid Mattress. One of my friends has a mattress from Lucid, so I felt good about ordering online with them.
I knew I wanted a combo of plush and firm and a mattress that wasn't going to be hot. After looking through their options, I ended up going with the 10" latex hybrid mattress. We've now had the mattress for four years and would definitely recommend it!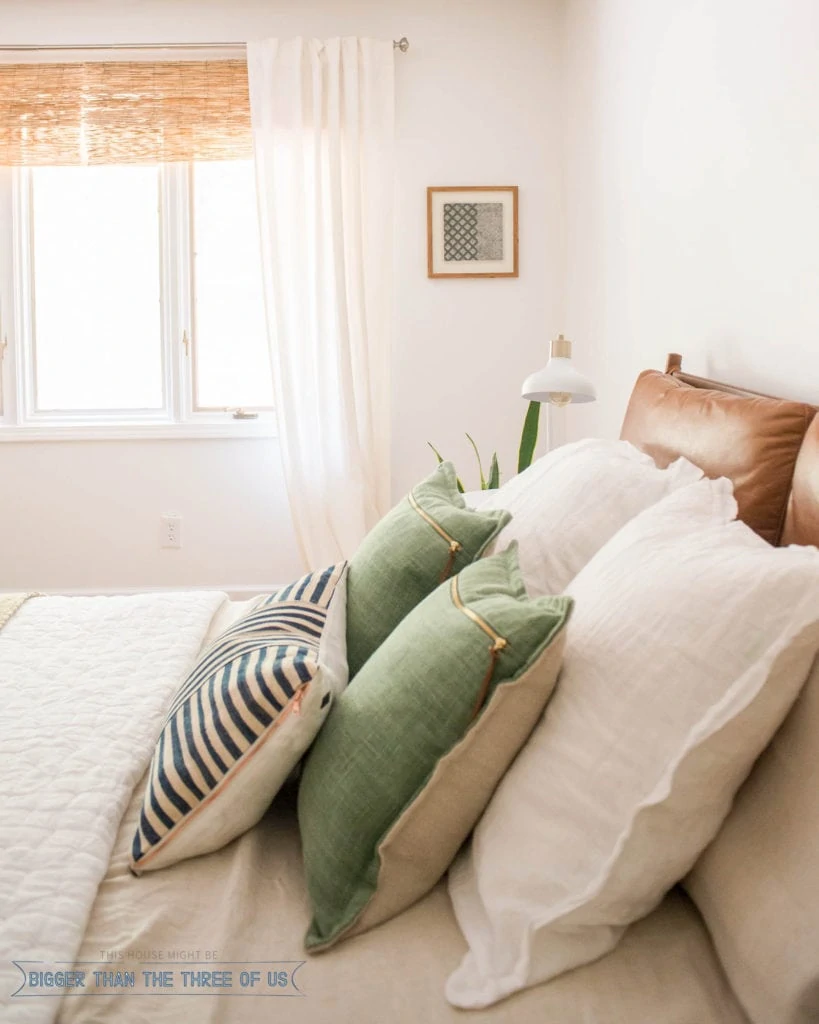 Mid Century Bedding
Since we've never owned a king sized bed before, we needed all new bedding as well. I hadn't bought bed linens in a long time so it felt nice to shop for some pieces for our bed. I was looking for a pop of color with pillows but overall, a nice neutral palette to make the room feel more calm and airy.
Check out my post on great linen sheets if you are in the market for new sheets. =)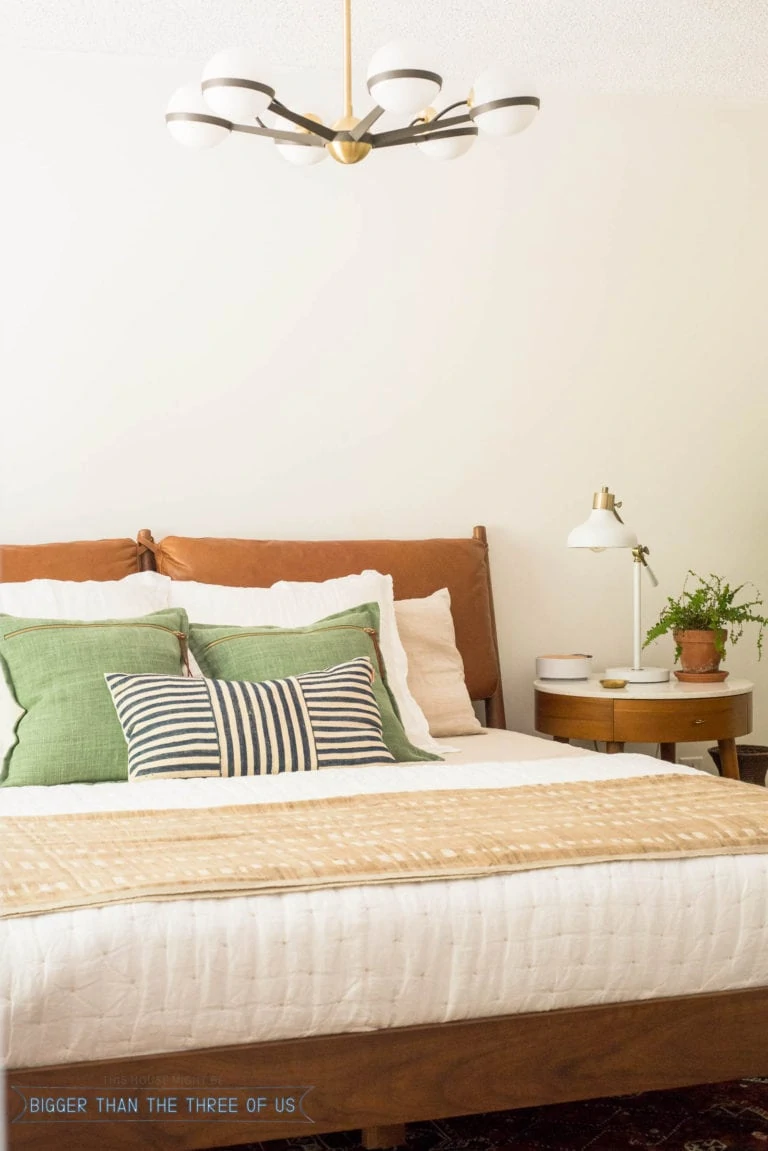 My bedroom doesn't get a lot of natural light, but the goal is for the modern bedroom design to make you feel like you don't miss it.

Mid Century Bedroom Ideas
For a feminine bedroom, I think it's great to mix in a bit of airy texture. To keep costs down, I was able to create a faux bamboo shade for $10! I love the look of layered windows but don't love the cost of buying both bamboo shades and curtain panels.
Another idea to really up the appeal in your bedroom is hiding the TV cords. I have an easy tutorial for you to teach you how to hide the cords. It's worth it to spend just a bit of time to run the cords behind the wall for a more seamless look.
Adding in Mid Century Modern Bedroom Furniture
Some of the other changes, were just switches from around the house. We recently thrifted a vintage media cabinet so we moved the mid century dresser from the living room to our bedroom to give us some extra storage.
In our bedroom, we don't have a mid century modern bedroom set that matches and that's what I prefer. We have two vintage dressers, the West Elm headboard and frame and two new round nightstands (bedside tables).
In my opinion, mixing and matching bedroom pieces instead of buying a whole set really gives you the collected vibe in a space (plus, it saves you money generally too!). If you want one of my interior design tips, it's definitely to get out of the habit of buying sets of furniture. Let your personality show in how you pull together pieces of furniture in a room.
With the dresser switch, you could really see the cables underneath the dresser that the TV sat over. I recently did a whole post on how to hide cords under a media cabinet but I do love the look of stacked books under the dresser, too!
On another note, I didn't do a great job "hiding all the cords" in this space but I have worked on it before and wrote a really great tutorial for hiding the cords. If you struggle with that, make sure to pop over and check it out.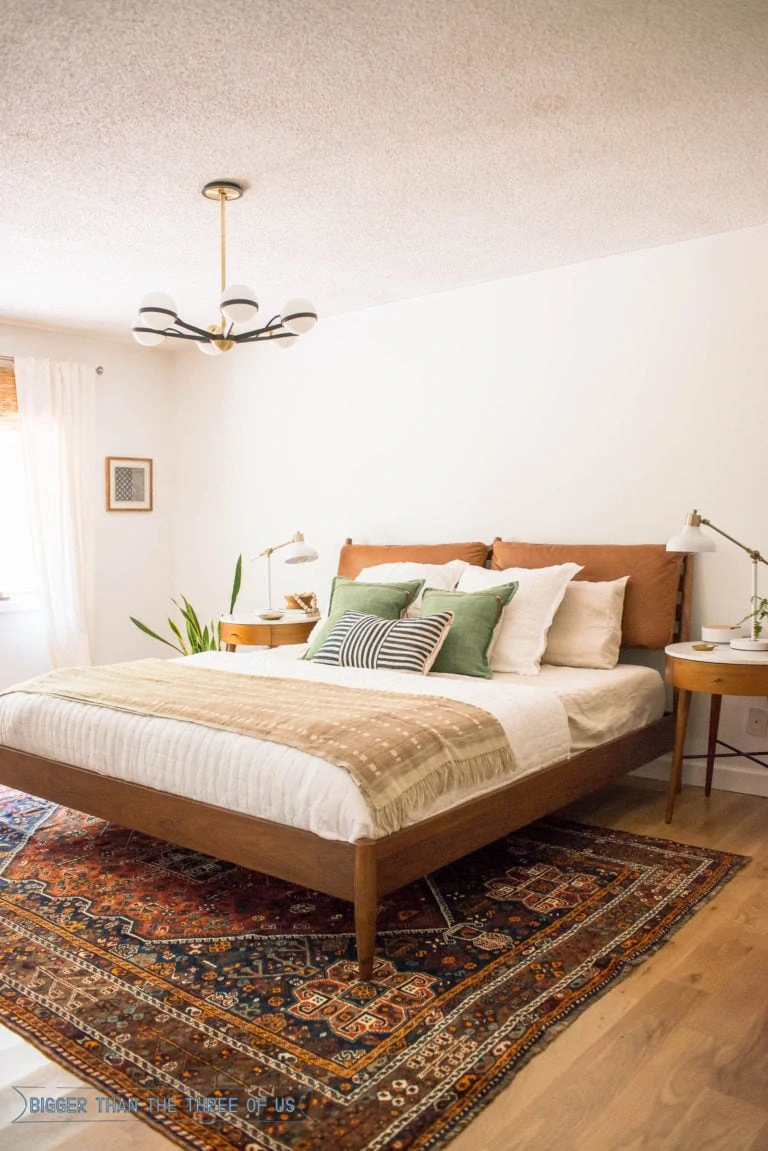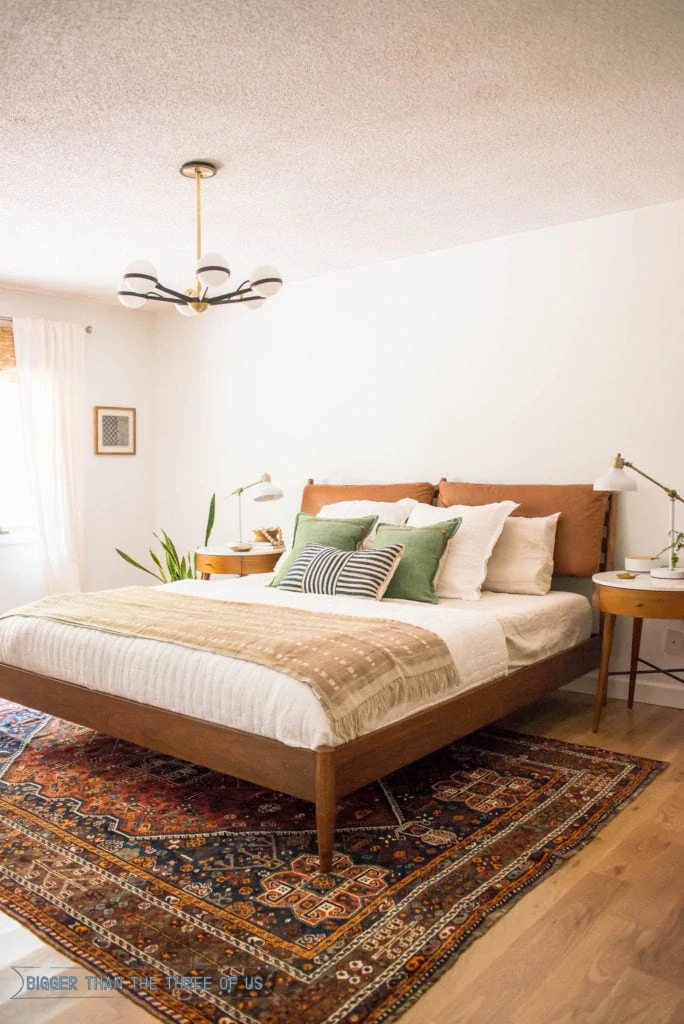 I bought the rug awhile ago and have had it in the living room. I really loved it in the living room but it's way too small for that space. On a whim, I brought the Persian Rug up to the bedroom. Low and behold, I ADORED it in the bedroom! Yay!! I used my post on how to search for cheap vintage rugs to find that one, so if you are in the market... click over to read!
So, what do you think of our Mid Century Modern Bedroom? Do you like this look (the warmer, fall-like tones) or do you like how it looks today (the tricorn black bedroom)? I think the white walls definitely make this look feel more feminine but I love both spaces for sure. If you are interested in paint colors, check out my post on my favorite paint colors in my house.
Mid Century Modern Bedroom : Shop The Look