Suzannah is chatting all about her Kitchen Remodel Design Plans in this episode of the Your Home Story Podcast. No matter what the size and scope of the kitchen renovation, there are always hurdles to jump. She ran across a few snags already when it comes to planning, but you'll have to tune in to hear what those were.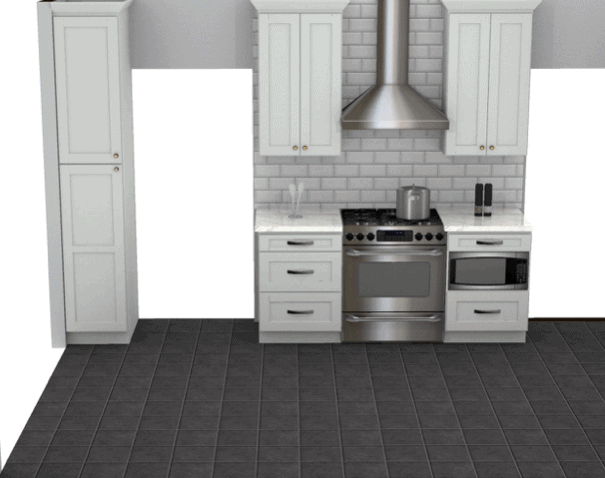 Listen below or find us on your favorite podcast app: iTunes, Stitcher, GooglePlay and Overcast.
Suzannah's Kitchen Remodel Design Plans
Suzannah is tackling a big project in June and I'm so excited to get to talk to her about it. She's tackling transforming her dated kitchen with new cabinets, flooring, plumbing, tile, and more. With the curveball that this isn't going to be her forever house, we are chatting about what types of updates and finishings she's choosing while also keeping in my mind resell.
With all designs, you pull information and sources to really cull what you love. Some of the inspirations that Suzannah keeps coming back to are:
The Grit and Polish

: Example of the marble backsplash and beautiful, timeless pieces.

Cary Ray

: White cabinets, black countertops, mixed metal hardware, and open shelving.

Design Shop Interiors

: Marble slab backsplash and white cabinets with edgy black accents.
Here's the mockup of the sink side of her kitchen. What are your thoughts on the open shelving? Would you consider doing open shelving on the left of the sink? I threw that out there as a possibility during the podcast today. I think it would look good but I don't know if it's any better than having beautiful cabinetry. Are you guys sick of seeing open shelving? Would you consider buying a house with open shelving? These are all to be considered since this isn't Suzannah's forever house.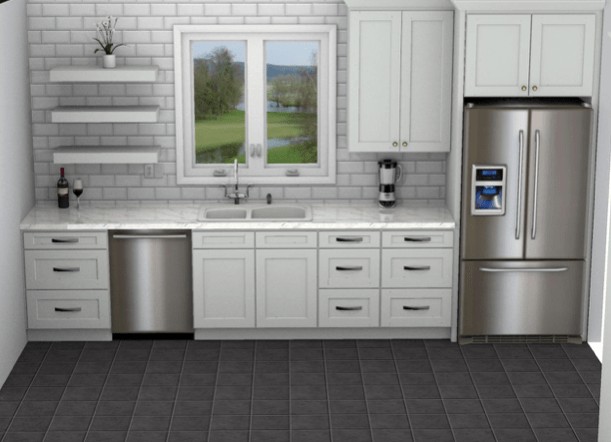 p.s. If you need help with open shelving, I have an open shelving guide.
You can find us on our blogs or connect with each of us on Instagram:
And you can join our Facebook group here to connect with other listeners and ask questions!