I've been holding onto a secret.  A few months' ago, Jenna Sue (a blog that I love…go check it out) reviewed a custom slipcover for her Ikea sectional. As a part of the review, Comfort Works decided to give one of her reader's a $150 credit for their own custom slipcover. I bet you know where I'm heading with this. Well, I won! Seriously, I did a happy dance and then repeated it for the next day or so. =) You see, we have this living room which is the unfortunate owner of a beige microfiber couch. The color is not something that works well for us with the direction we want to take the room. But, more than that, the couch has been professionally cleaned and still sports disgusting spots in many places. It has just seen better days. Between a cat, a husband, and a kid…you get my drift.
I'm not showing you the stains, but here is the sad couch (which looks much better in this picture than it does in person).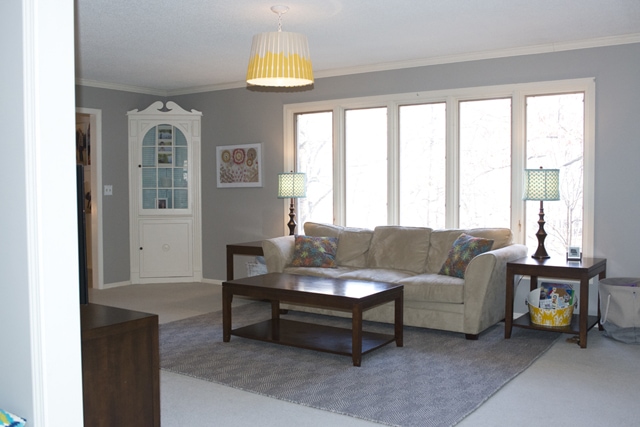 So, I was put in contact with Rachel at Comfort Works to start my custom sofa cover. The first thing she did was ask me to go ahead and pick some fabric samples. I knew I wanted gray and I was pleasantly surprised to see how many gray swatches they had.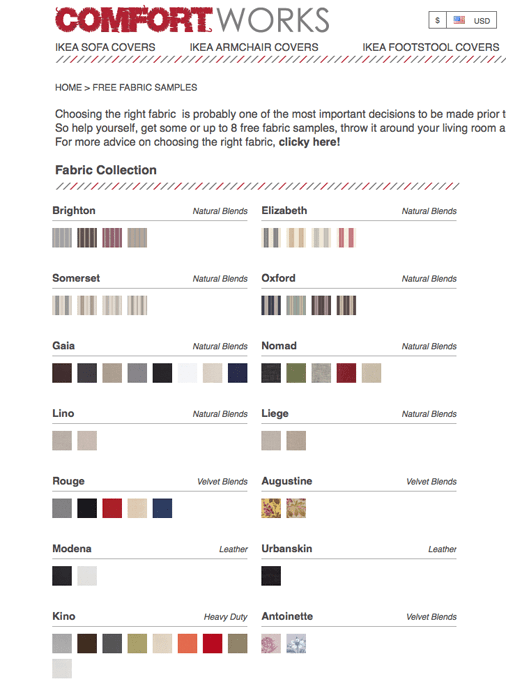 Once I received the swatches, I had quite the time trying to figure out which one I liked best. I liked the weight and feel on all of them, but ended up liking the Kino Charcoal color the best.
From there, the process was measurements. I sent them pictures of my sofa (which is not an Ikea sofa) and then they sent me a drawn figure with exactly which measurements they wanted.  This part of the process was a bit more stressful for me. Since my sofa is not an Ikea sofa, I needed to provide them with exact measurements of everything. I didn't count but I'm going to estimate about 35 different measurements were needed (that included the frame and cushions). I was scared to death of making a mistake.
I used their guide for measuring and then sent the measurements off. Rachel double-checked with me a few times on a few different measurements. I was off on one or two, but they caught it. After getting the measurements down, we talked about tufting the couch cushions. I love tufts and I was totally game with doing that. So, on to the really hard part…waiting for it to arrive.
It arrived in a cute bag. I pulled it out and started putting it on the sofa. I got it completely on the sofa (by myself) in about ten minutes. I tweaked it a bit here and there until I felt like I got the fit perfect.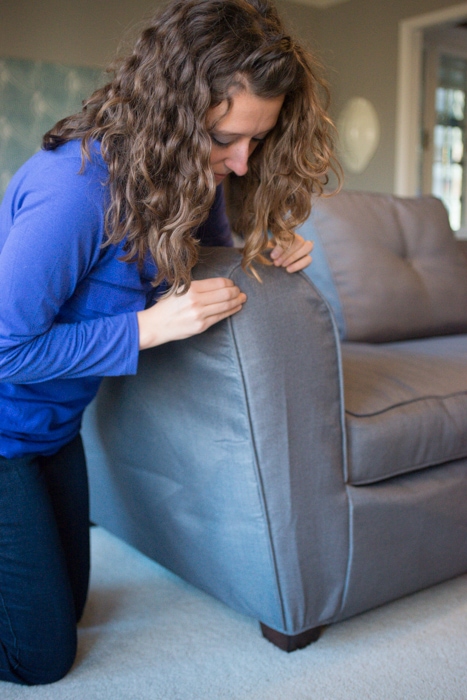 Then, I realized that I didn't have the tufting kit. It was mailed in a separate package and it didn't arrive till the next day. When it came, this is what it looked like: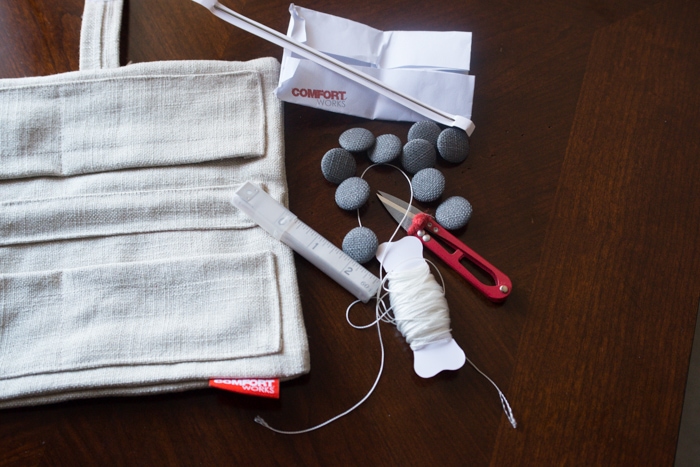 How cute is all of that? I'm a sucker for good packaging and I thought Comfort Works did a great job with this part. I love those little scissors.
Once I saw the button size, I freaked out a bit. I had originally thought I would do three buttons across each cushion, but when I got the buttons I thought they were too big for that. So, then I freaked out because I thought the buttons might be too small for just one button on each cushion. I took a step back for a day and decided that one button would look really good.
Luke and I measured out the placement of the buttons and then went to work. If you want to see the process of this you can watch the video that we made and Comfort Works edited for us:
So, our new sofa looks like: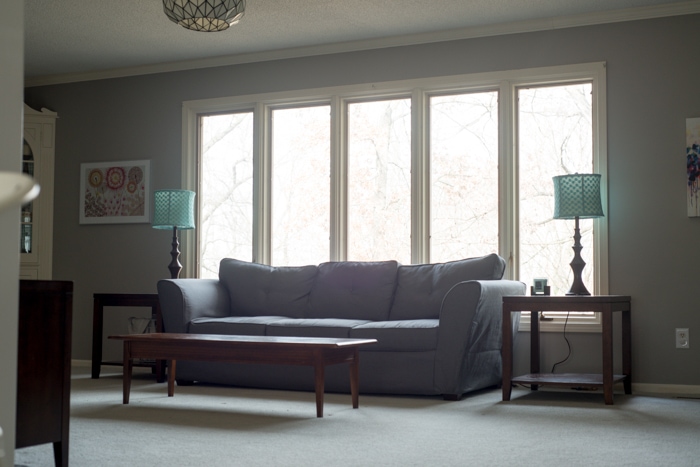 We are incredibly happy with the slipcover. It doesn't look like a slipcover. It looks like a new couch and everyone who comes over can't believe that it's a slipcover. The fabric, seams and zippers are all immaculate. I was worried a bit about the piping, but it's gorgeous. Seriously, I'm in love.  I would definitely go this route again.
As far as the tufting goes, I loved being able to have that option. I love how the packaging came and that I had everything needed to do the tufting. My one recommendation would be to have "sample" button sizes that can be sent (like the fabric samples). I think having two or three options for button sizing would be amazing. Other than that, I'm extremely pleased.
I thought I would share one more picture (we put up our Christmas tree, so I had to do a bit of rearranging in our living room):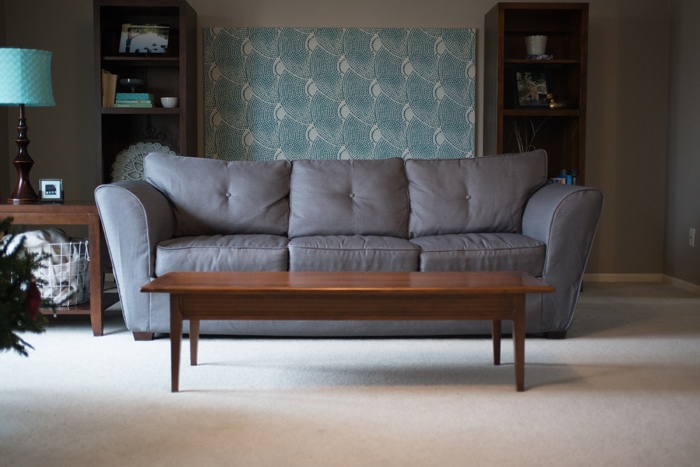 Disclosure: I was provided the entire slipcover by Comfort Works to review. I was not compensated and I was not told how to review it. My thoughts and opinions are completely my own.