I'm almost finished (for now) with our travel gallery wall. I don't want to fill the whole hallway with personal photos and memorabilia from past trips, I want to leave open space for our future trips. I would like to be on a trip in the future and spot something that we just think would be be perfect for the hallway. Plus, open wall space inspires us to take more family trips, right?
I have two more DIY travel wall updates that I need to finish up and I'm waiting on two art prints that I ordered. Let's revisit the art options that I came up with awhile back.
After printing photos and adding 
DIY
 frames, I was able to narrow down what prints I wanted to invest in. I kept coming back to number 1. I just love the laser cut look. The screen print is by 
Famille Summerbelle
 and the one I ordered is of San Francisco. I decided to skip the pink version and order it in blue. I can't wait to see it in person.
We've been to New York twice and I don't have anything that I love to represent those trips. I was considering two of the options on the board up above, but I just couldn't pull the trigger on either one. I knew I wanted something with taxis (the first time I had ever ridden in a taxi was in NY and b/c taxis are everywhere there).
I browsed Pinterest, Etsy, and finally Society6. I found one that I loved and Luke really liked it too.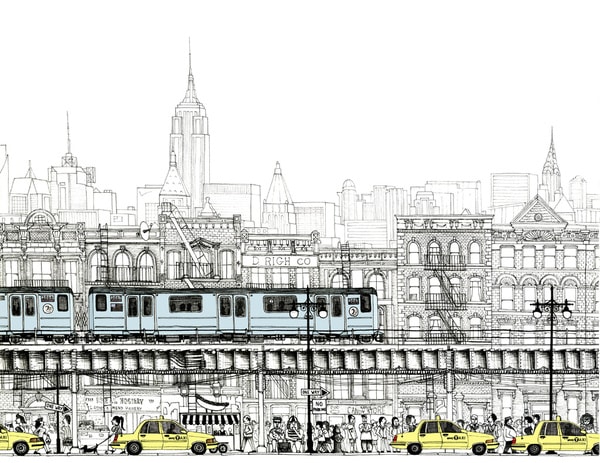 By Paul Imrie for Society6
I went cheap and bought the small one, but I'm still excited.
As soon as I get those two prints, I will do a final reveal (or the final reveal until our next trip). =)