I just got back home from the Better Homes & Gardens Stylemaker Event in New York City and wanted to share with you all a bit about the event and some things to do in NYC in general.
First of all, it's such an honor to be named as one of the "Stylemakers" of the year by Better Homes and Gardens. This is the third year that I've had the opportunity to be invited to the event and my third year going. The event is always held in an amazing location in NYC and it's great to be able to mingle with the editors, hear the inspiring speakers and hug my blog besties in person. There's nothing like IRL connection. Seriously!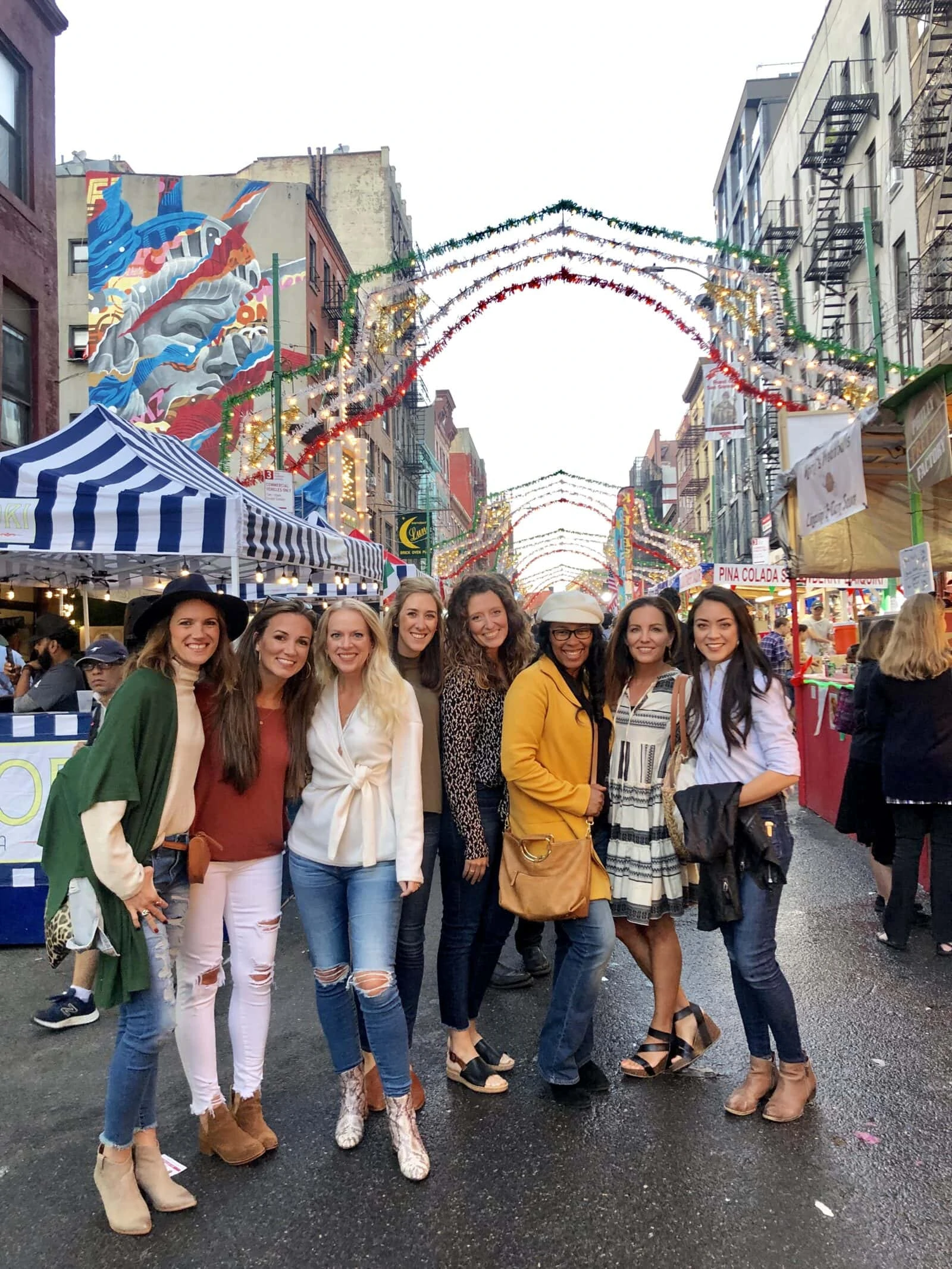 Blogging Friends from left to right: Aniko | Katie | Beth | Bre | Me | Ursula | Julia | Jen
We all flew in on Wednesday afternoon and, hilariously enough, arrived at our airbnb (which by the way, if you are looking for a HUGE airbnb in NYC, we've stayed here twice and it's been great) with the San Gennaro festival going on right on our doorstep. Loads of people, lots of color and so much fun to just take it all in.
By the way, my shoes that I'm wearing are SOOOOO comfy. Find them on the shop my closet page.
We hung out in the airbnb for a bit and then walked to dinner. I can't remember where we ate that night, but I know we weren't wowed by it. It was fine but fine in NYC isn't exciting. =)
The next morning, we had the Stylemaker event. We had to get our annual event photo before we walked in.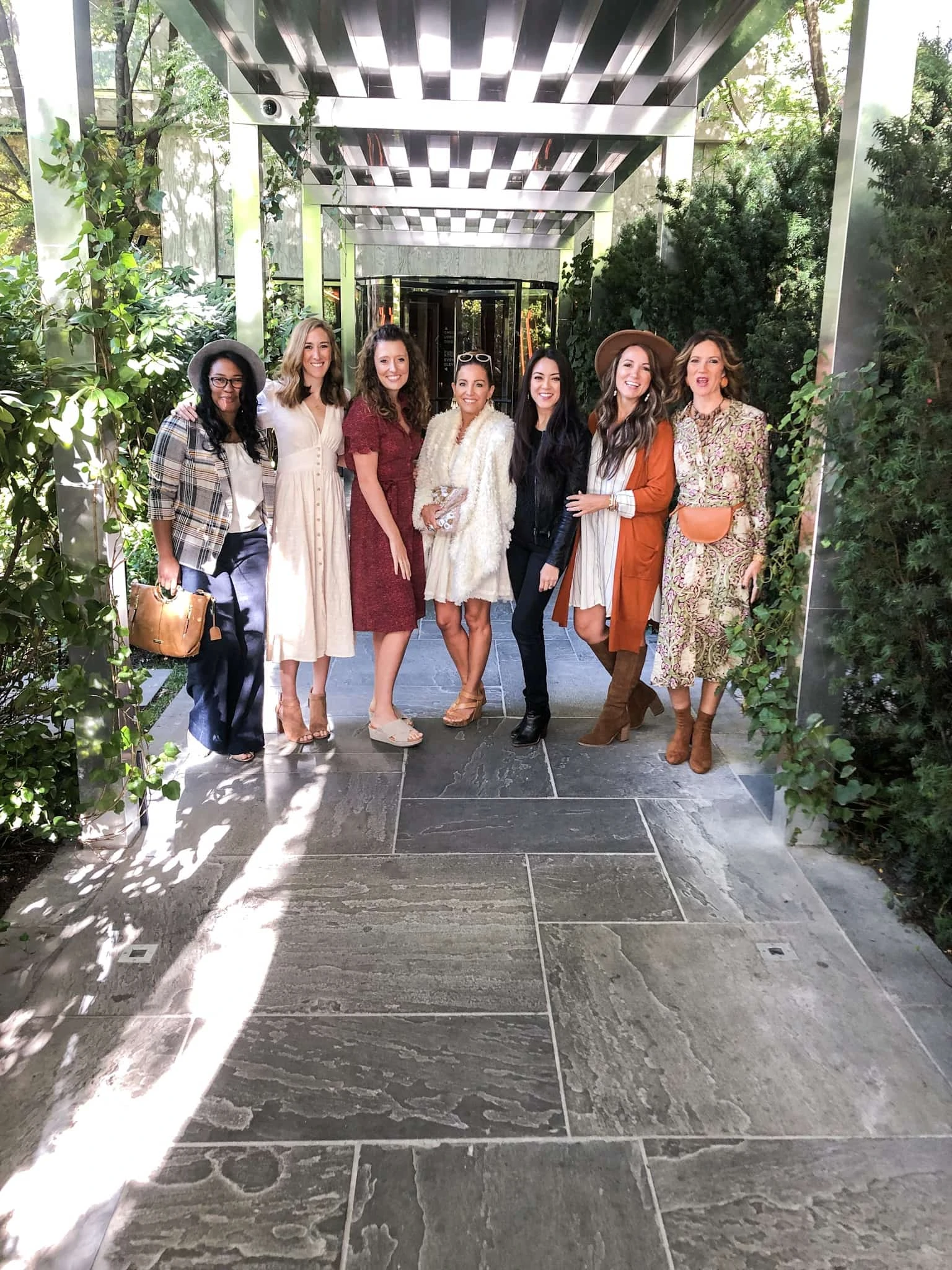 This year, the Stylemaker event was held again at The Public in NYC. It's a beautiful hotel with views of Manhattan in every direction.
Most of the photos below from the event are from the event's photographer, David Keith Photo.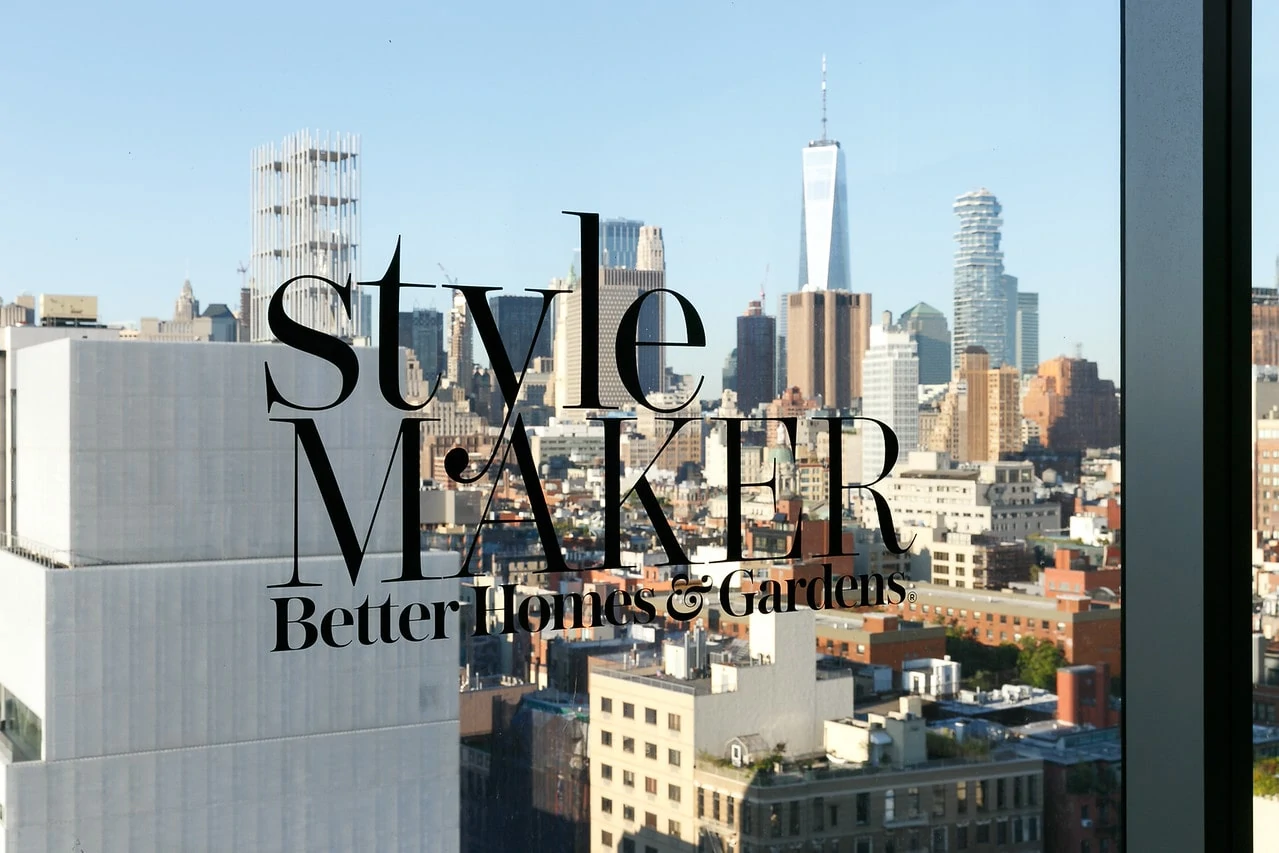 We mingled in the lobby for awhile before heading upstairs to get our name cards and event itineraries.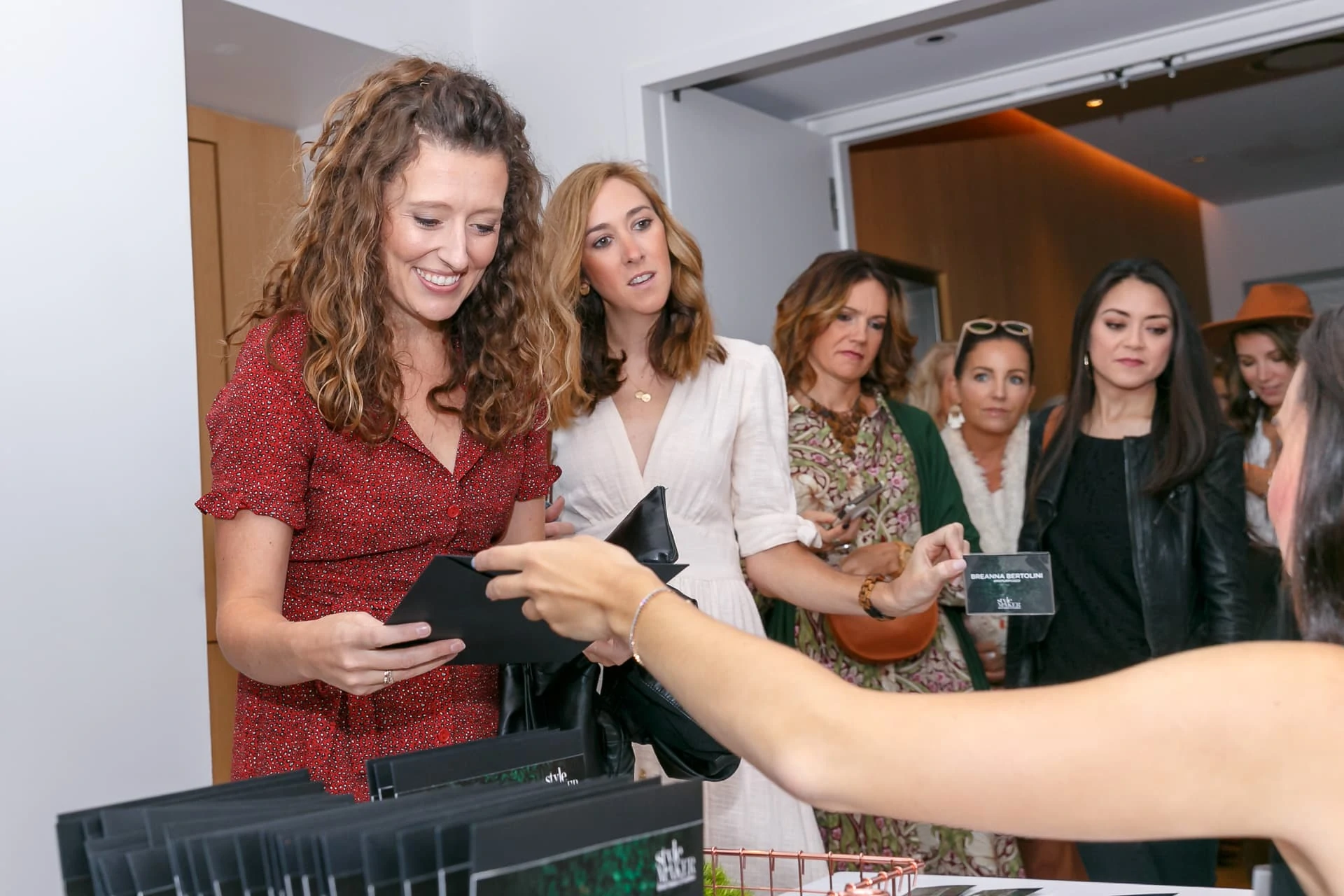 Before the event got started, there was lots of time for breakfast, more mingling and photo ops.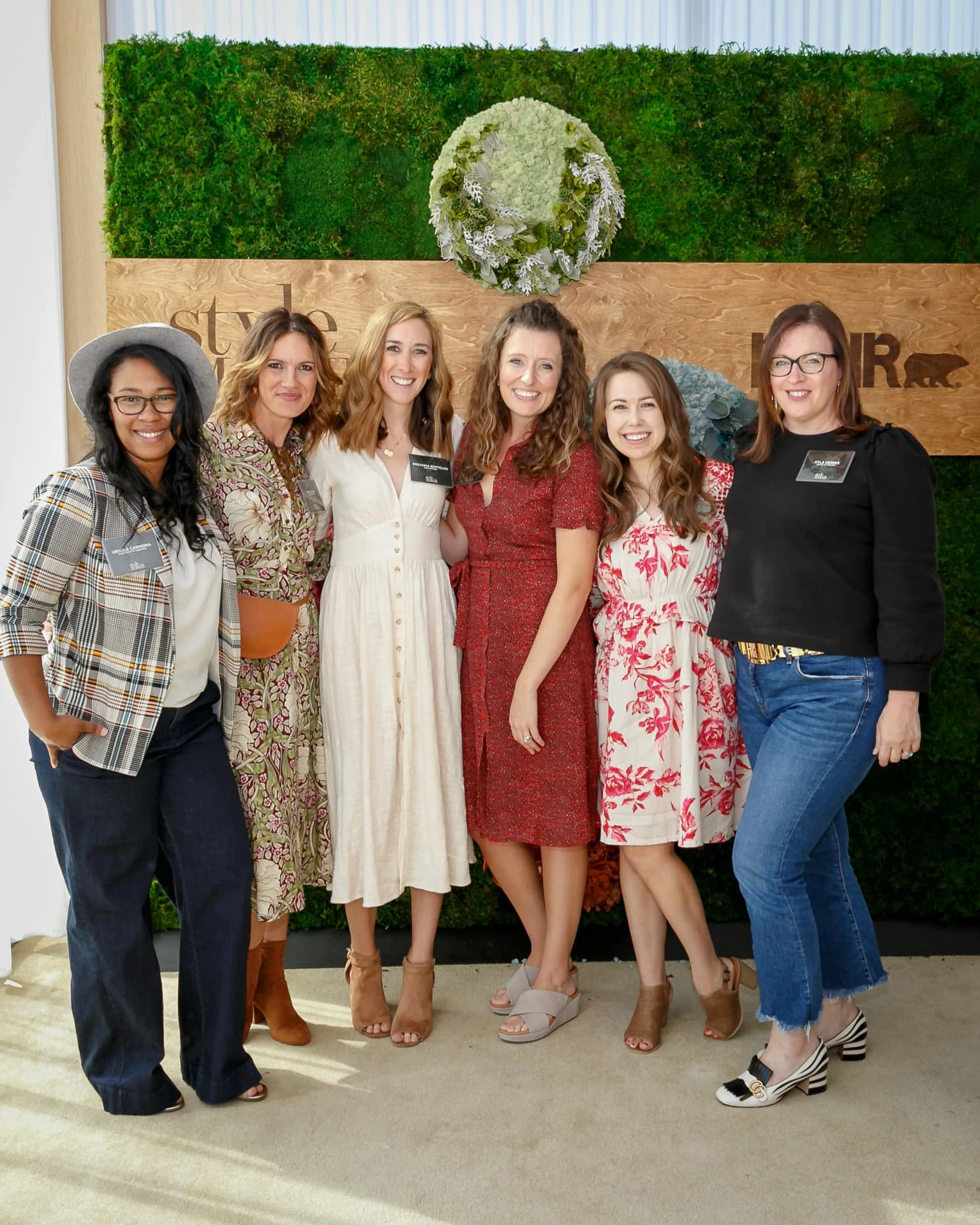 Blogging friends: Ursula | Aniko | Bre | Me | Erin | Kyla
The sessions kicked off with Patty Morrissey who is Certified KonMari Consultant. She spoke about finding your why and decluttering your life. I kept nodding my head yes to most of what she had to say. I went into that session thinking that I was going to leave with tips for decluttering my house, but it was WAY more than that. I've been on a mission to find what makes me happy with work, family and general life pleasures and the her talk totally echoed some of my reasons for changing my focus this year.
Behr was one of the sponsors this year and I thought their interactive paint display was so much fun. Adult coloring minus the coloring pens and with paint. It was such a cute idea.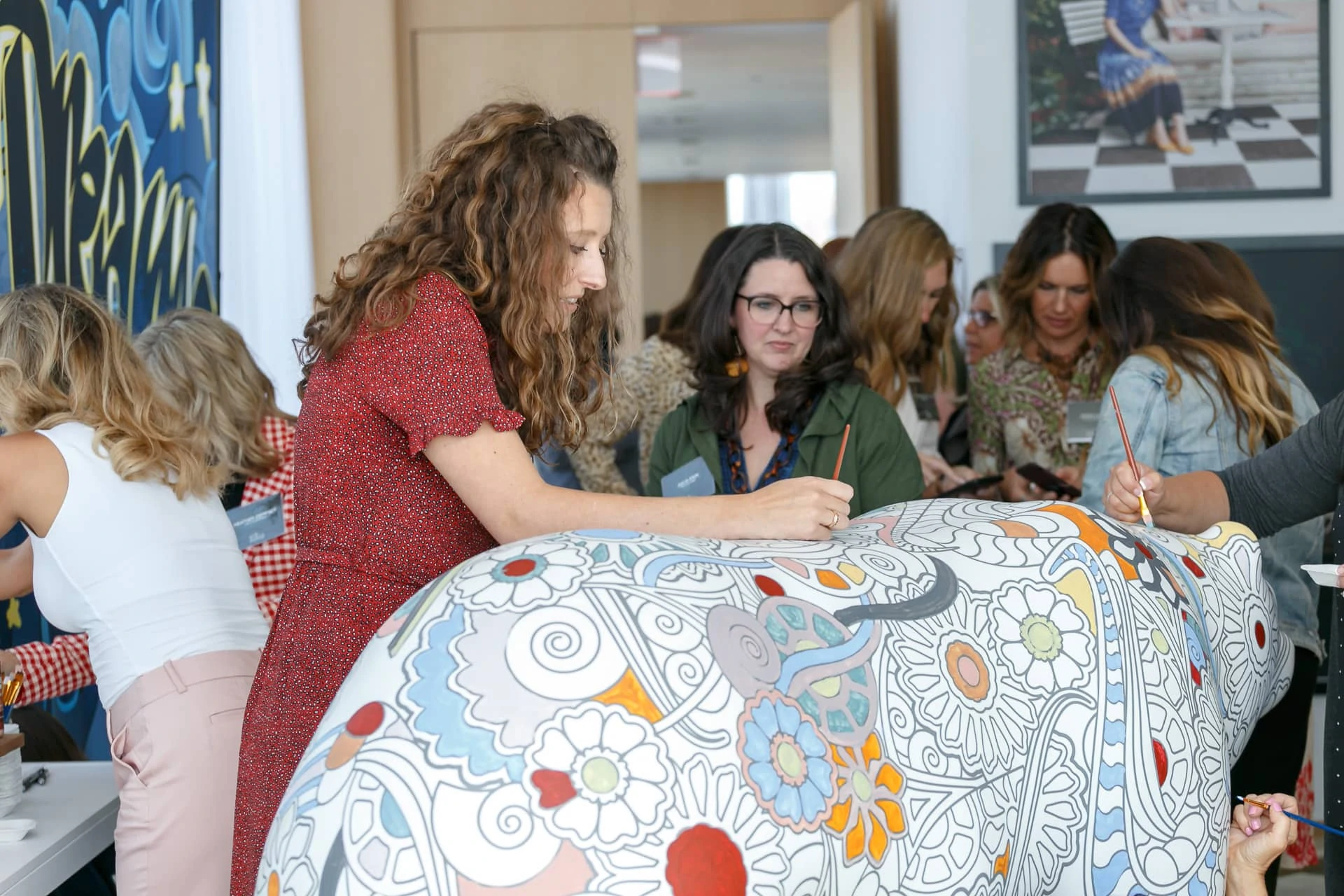 The next session was a conversation with Stephen Orr (who is the editor of Better Homes and Gardens) and Marian McEvvoy (who is an editorial icon). Hearing about her passion and what drove her in her career as well as her home style was great. I left the session feeling inspired, plus, she's hilarious and is a "no holds barred" type person so I just enjoyed the banter between her and Stephen as well.
We headed downstairs for lunch and when you get a bunch of bloggers together in a a beautiful space, this is what happens: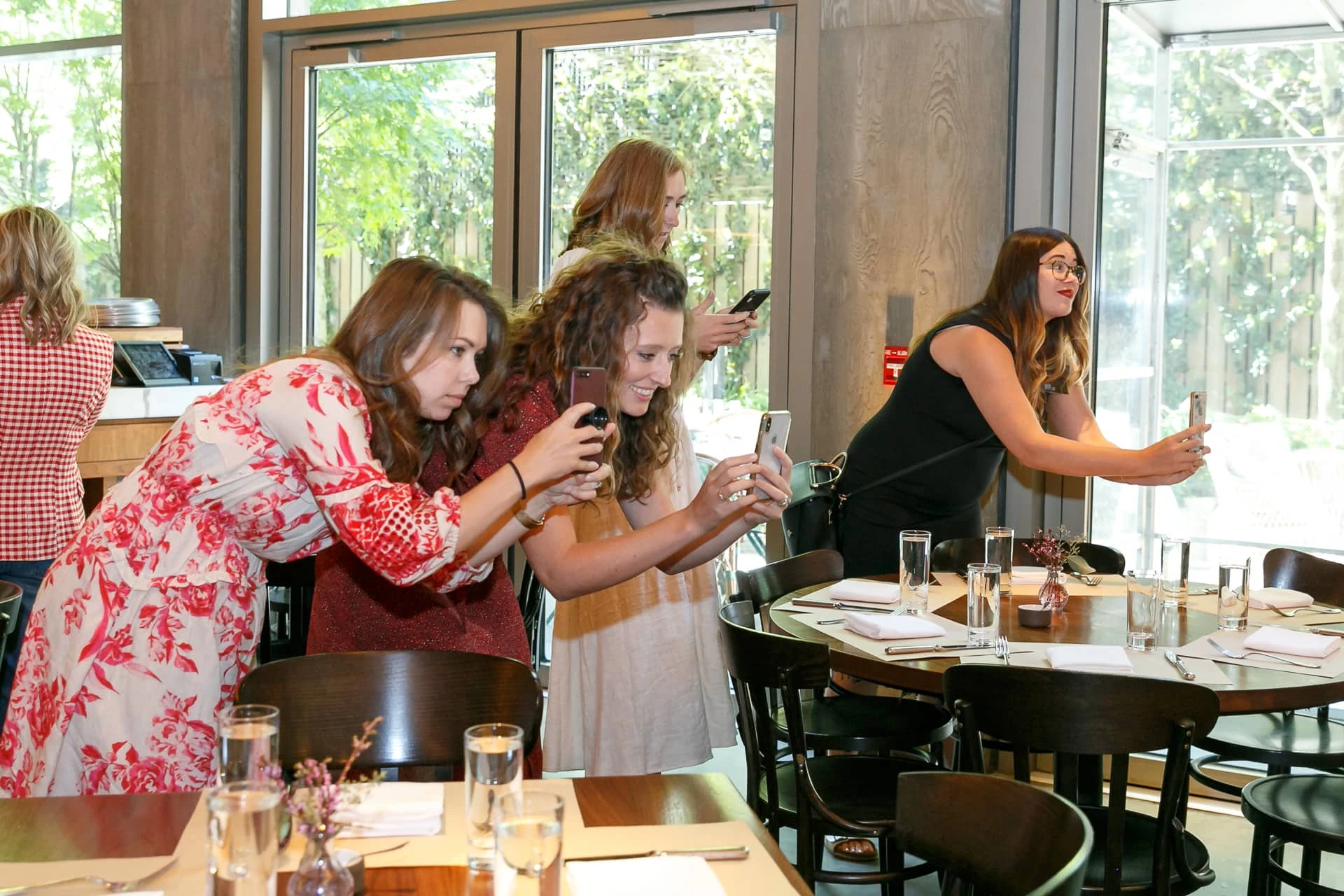 Here's what we were taking a picture of: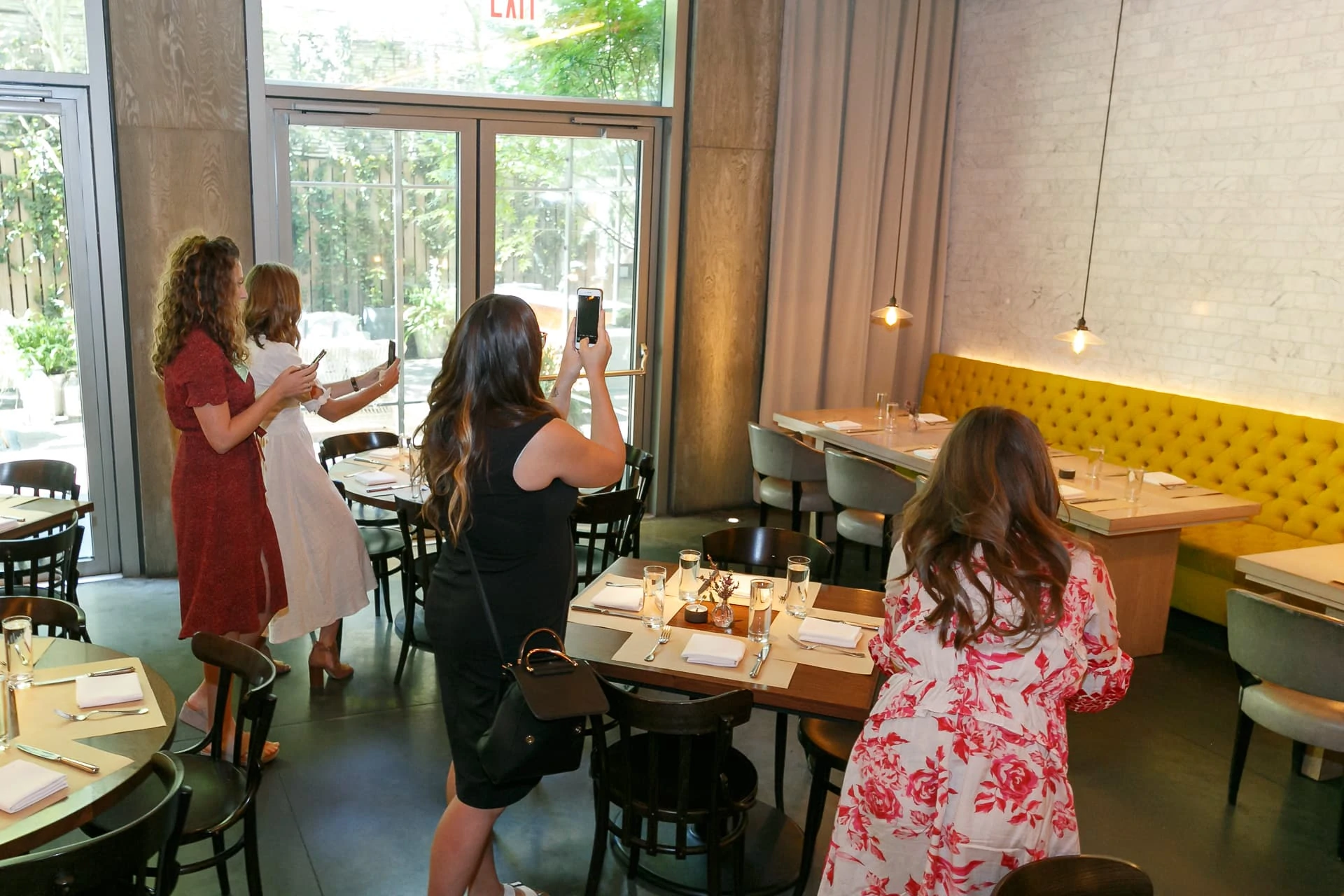 Those hanging pendants were on point. Seriously, we all oooh'd and aaah'd over that space. But then we turned and saw the outdoor area and that was even better.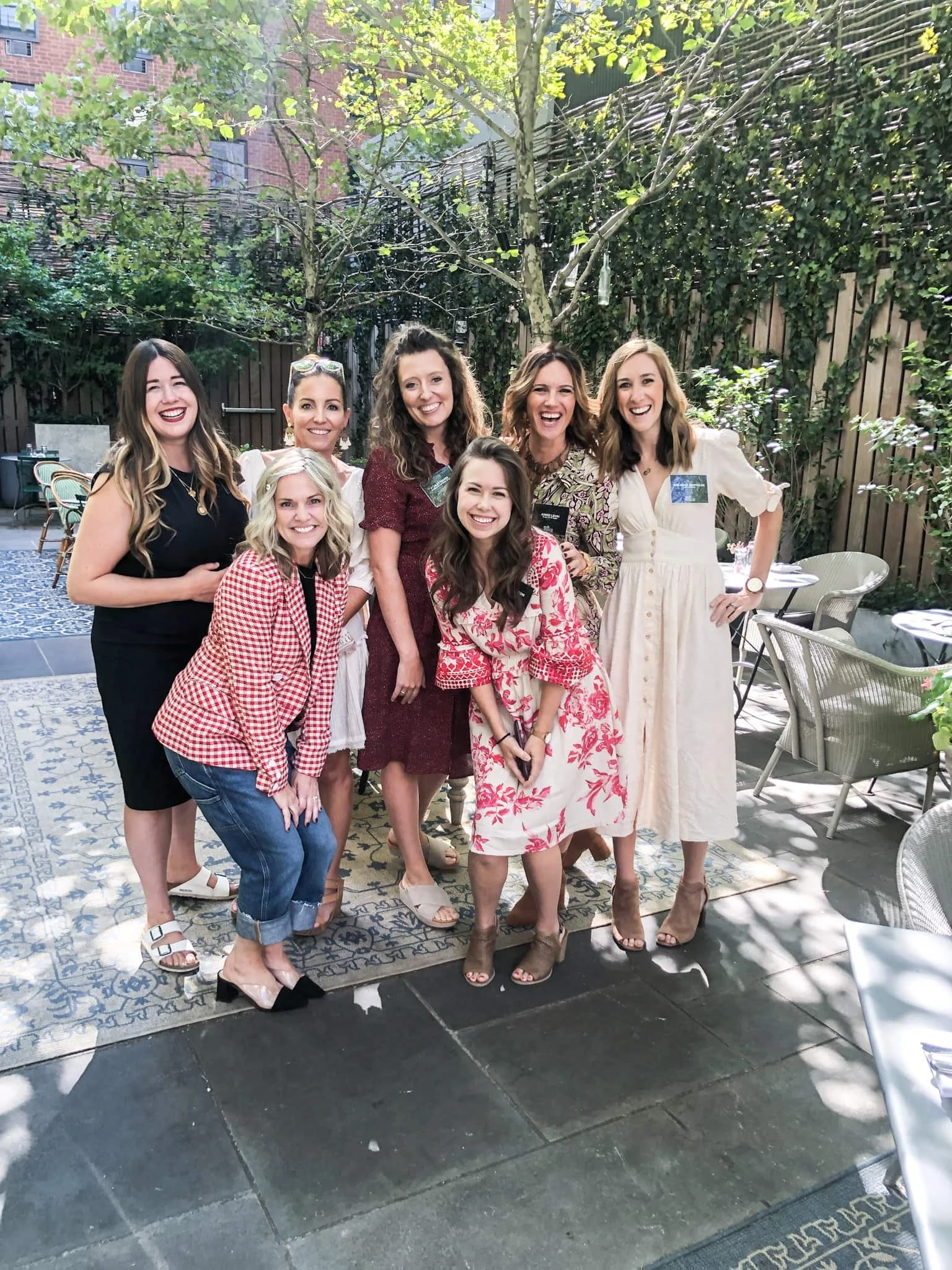 After lunch, my favorite session started. It was "So, You Want to Start a Podcast" and had an amazing panel of speakers, including Scott Brody from Sports Illustrated.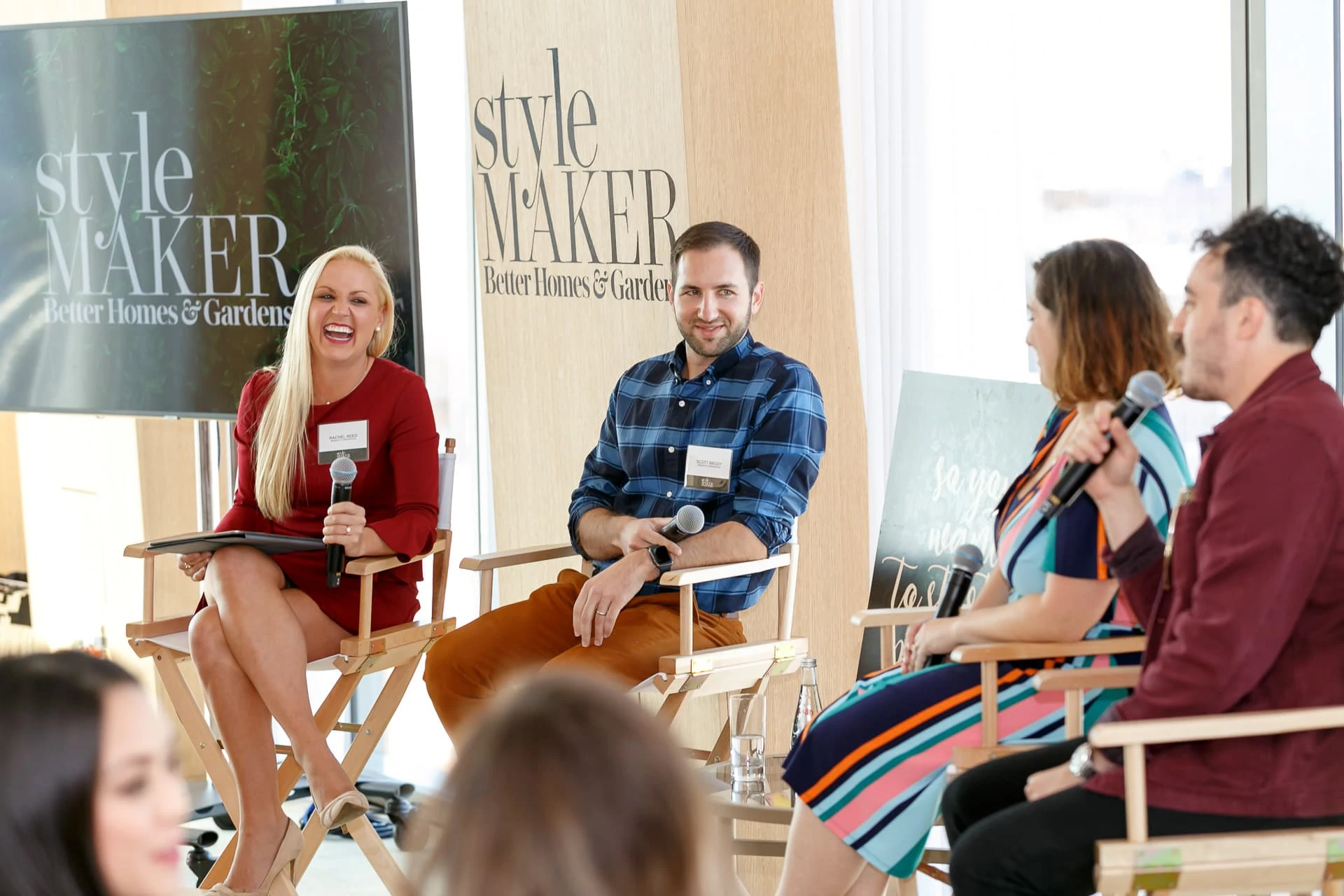 As you all know, I already have a podcast but I was so interested in hearing more on what they thought about the industry and hoped to get to ask some questions about podcast growth and analytics in general. I actually randomly ran into Rachel Reed, who moderated the conversation (she works for Meredith Corporation), at the coffee bar before this session started. I didn't know who she was but we were the only ones at the coffee bar, so I introduced myself. It was such a happy coincidence to talk to the moderator of the podcast session for a few minutes before the session. She had some questions for me about my podcast and I got to pick her brain about what she sees for podcasting in the home decor industry. It was such a chance conversation!
During the podcast session, they opened the floor up for questions. I definitely jumped in with a few.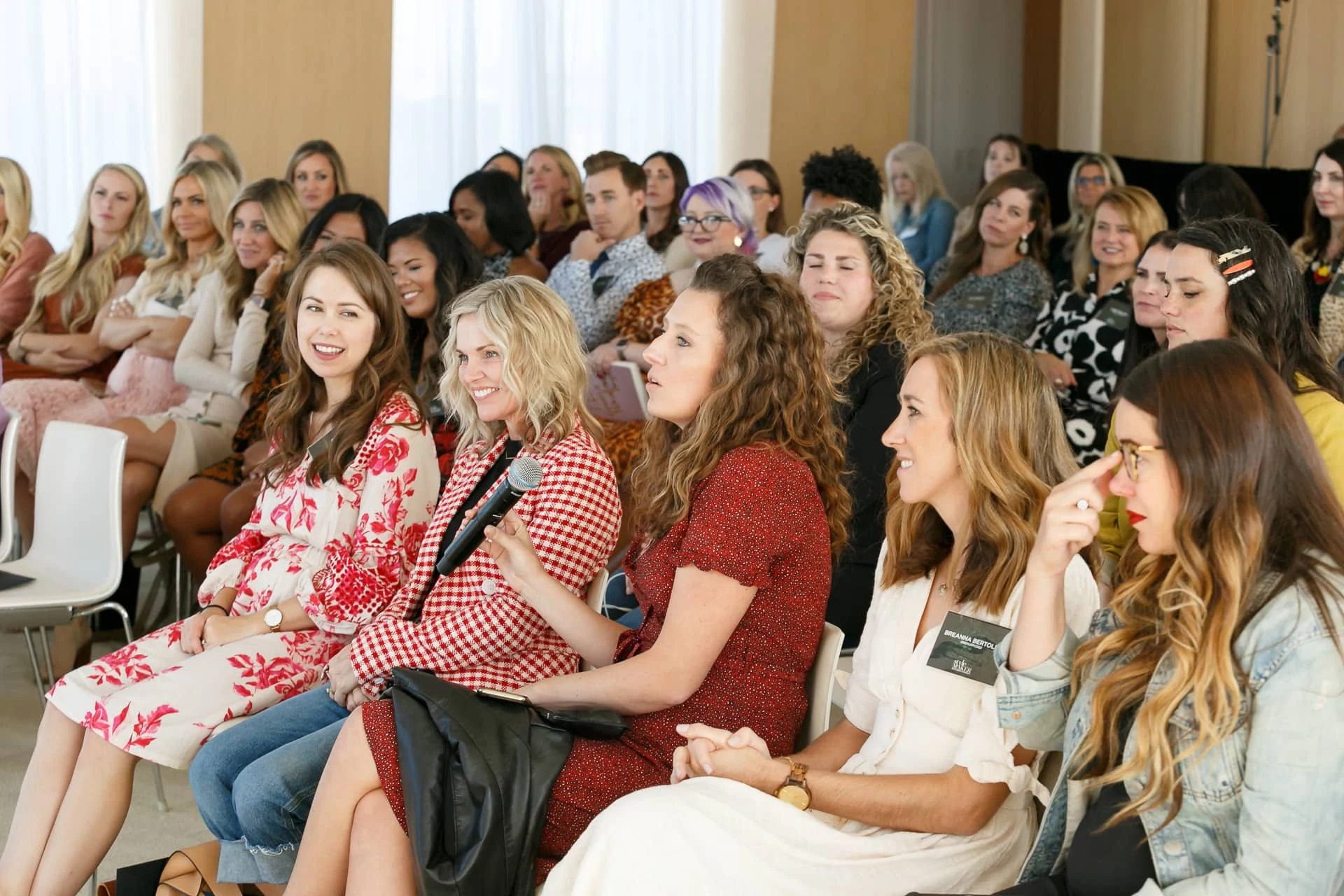 After a few more networking breaks, the event ended with a keynote by Bobby Berk. He was such a personality and from my hometown! It was interesting to hear his perspective on growing up in the midwest, moving to the big city and how his life pivoted until he became the star he is today. He was amazing to listen to and as gracious as could be at the cocktail party.
The event was amazing and I left feeling great about the connections that I've been making and cultivating. It's so inspiring to be around people who get what you do.
The next day, we had a scheduled work day. We stayed in our lounge wear and talked blogging, what is working, what we need to improve and tips for each other.
We did sneak out for a pickup order of Vietnamese (which I had never had) and sesame balls (Chinese) which were new to me too. Those sesame balls were amazing.
After a few hours of brainstorming, we called it a day and decided to venture out into the city. Of course, we shopped but my favorite stop was a store that I had saved and was waiting to visit. We went to Argosy Bookstore which is a used bookstore but also a print shop with tons of vintage prints. I could have stayed there for hours! Seriously, they had prints of just about every place in the world as well as on every topic. I picked up a few prints that remind me of our trip to Iceland as well as Spain.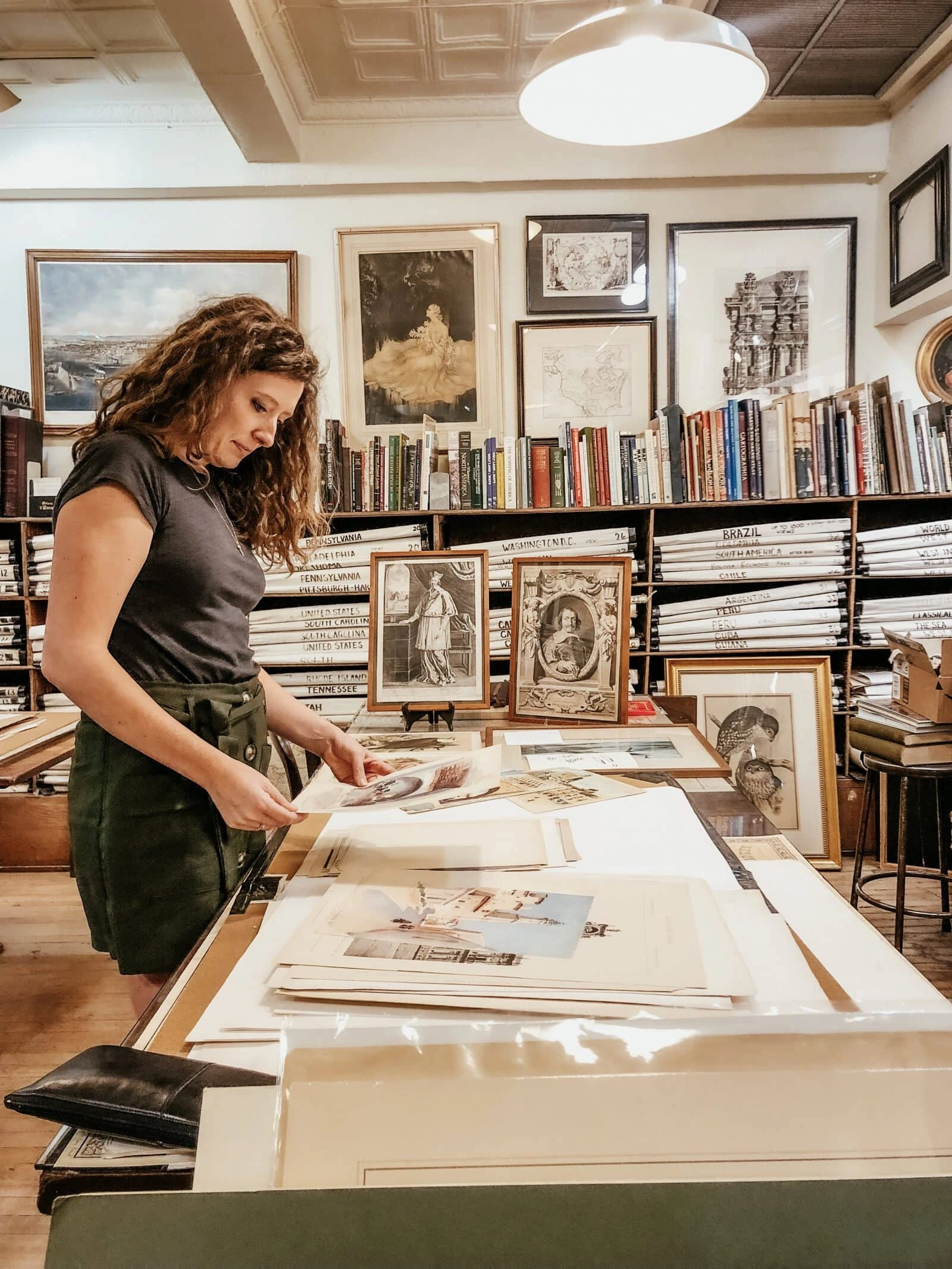 Then, we did what bloggers do best... make a nuisance of ourselves with a photo shoot on the streets in the Upper East Side.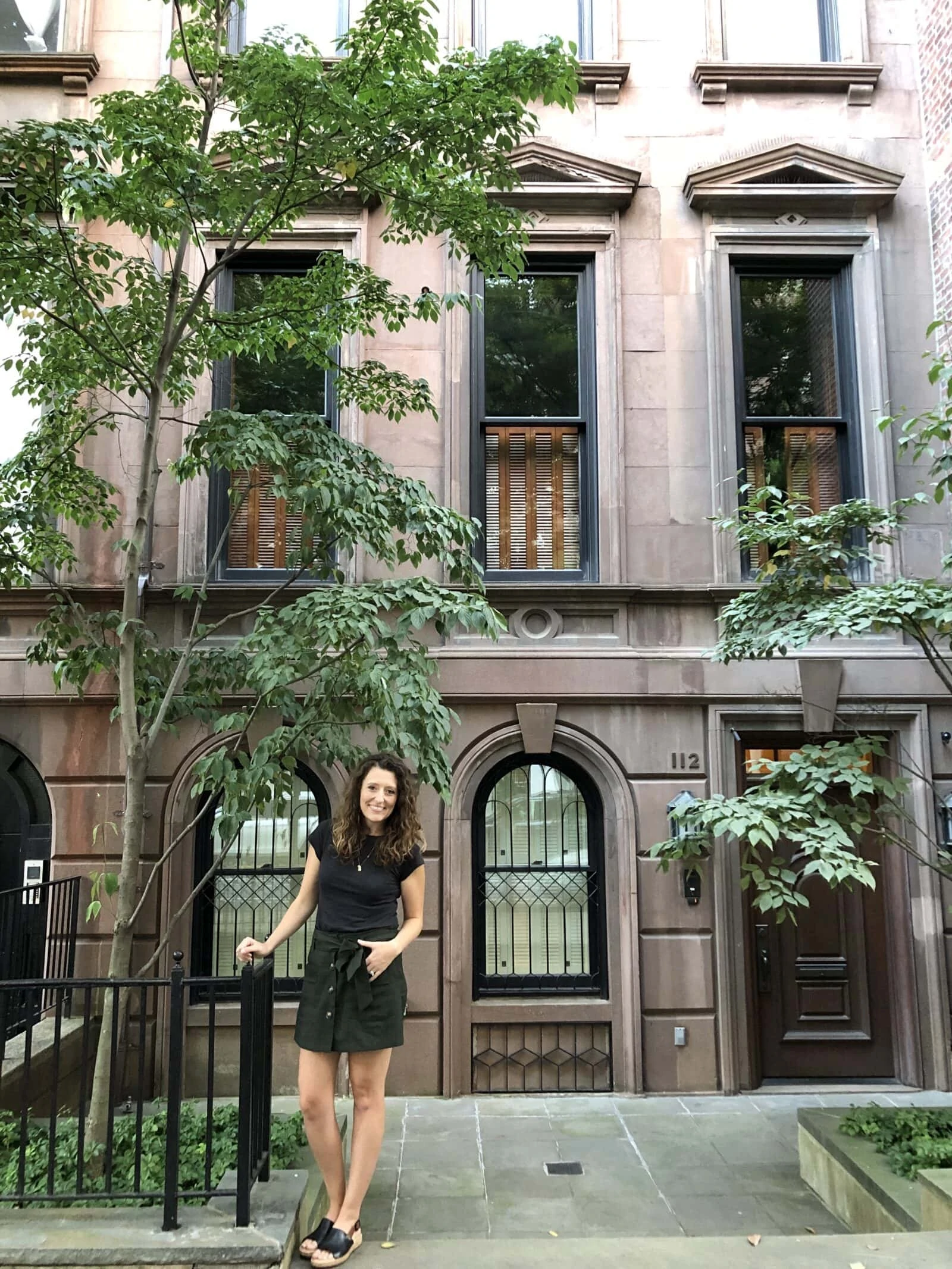 At one point, a New Yorker stopped us and said that we were taking pictures in front of Woody Allen's house! Crazy, right?!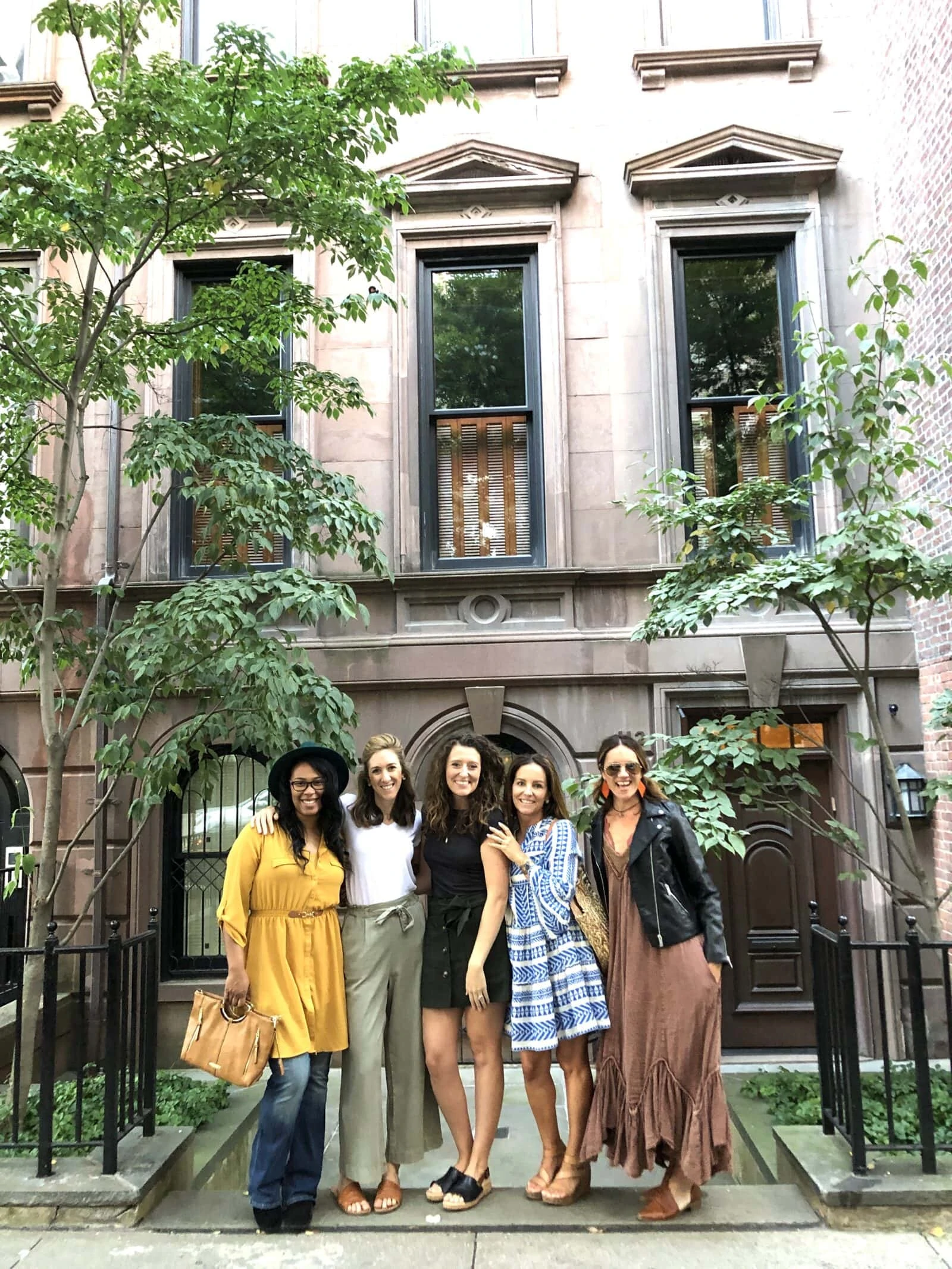 We ended the night eating at this random place called Jane Restaurant. We all freaking died over the gnocchi. A few of us ordered it originally and then we went for FIVE plates of it for round two!! It was the best gnocchi of our lives, we all agreed.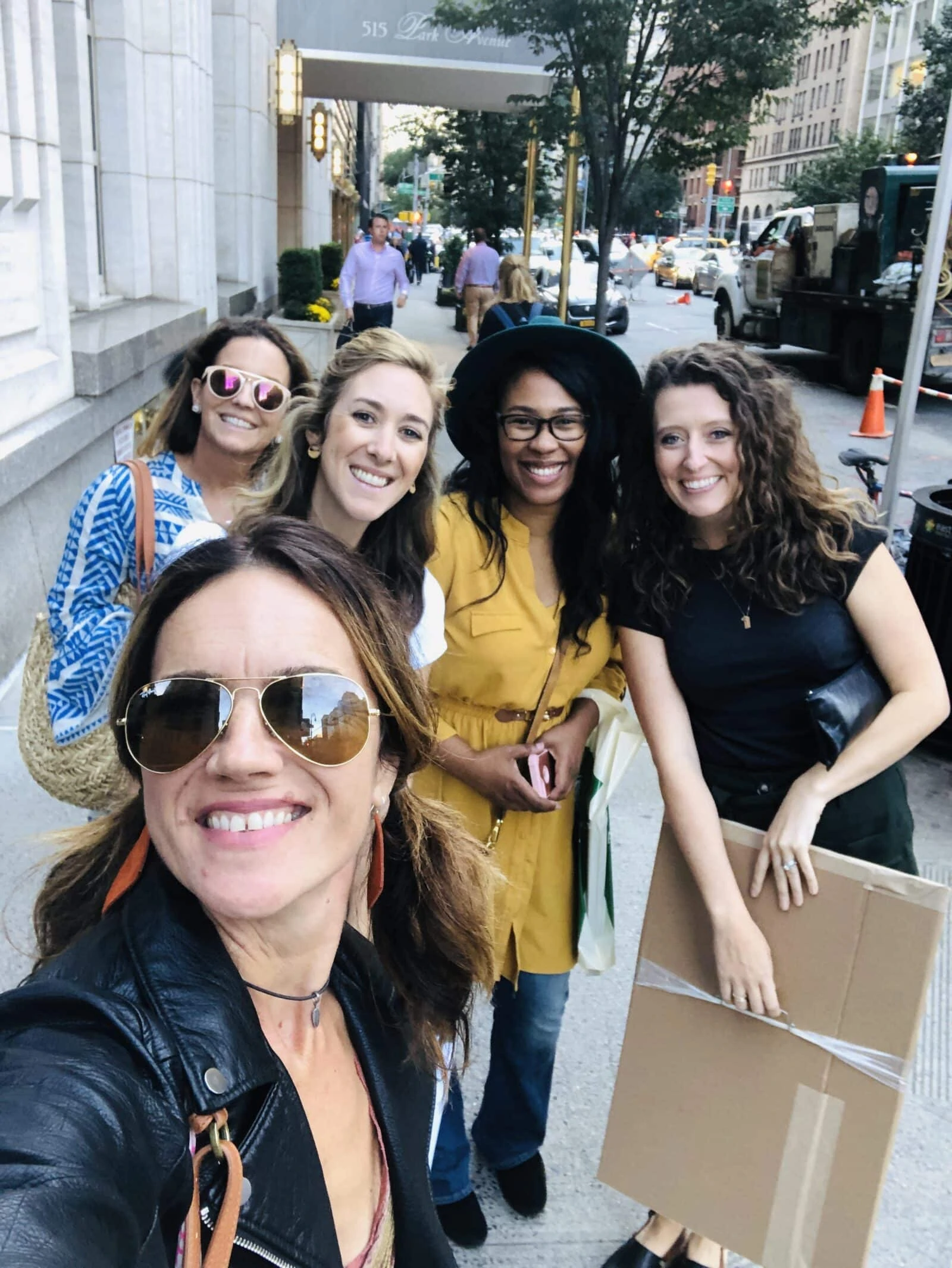 We called it a night after that. On Saturday, we went to brunch in Brooklyn and then went to the Brooklyn Flea. I found some cute carved beads but other than that, it was a bit disappointing. It was a pretty dinky outdoor flea so I wasn't that impressed. All in all though, we had a good time.
The rest of the girls stayed another night, but I flew home after that. It was a whirlwind of a trip, but so much fun. Hope I can go again next year.