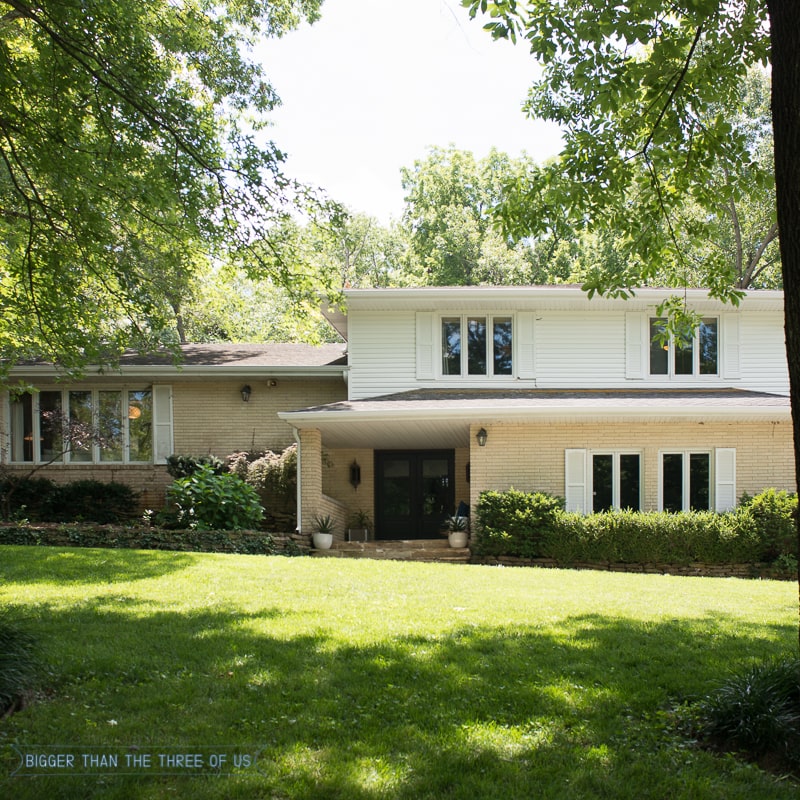 Outdoors (FRONT):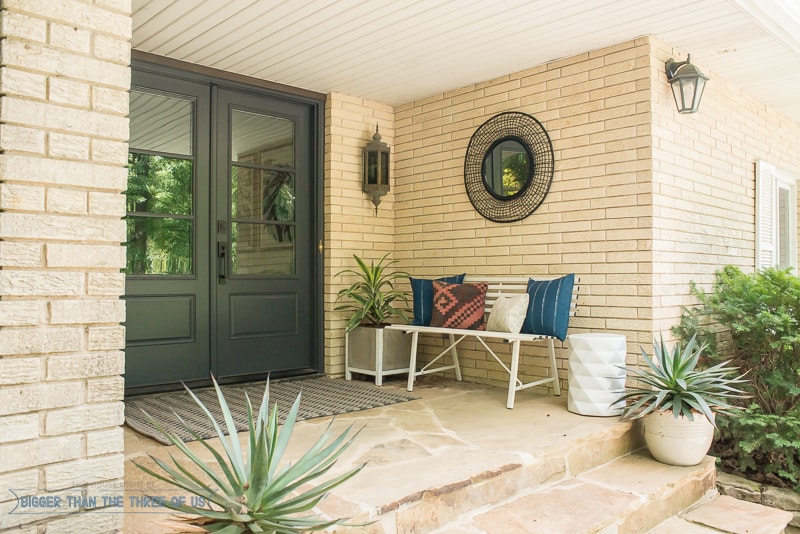 On our front porch, we haveDIY Concrete Planters and recently gave the front porch some love on a budget. The biggest change to the space was having new doors put in (although we did research on just having the glass replaced and that can be a great update for some doors!). Check out all the details on replacing your front doors or enlarging the glass. Another thing that helped the space was having new gutters installed. If you are curious about the cost of new gutters, I outlined our research for you in the gutter replacement post!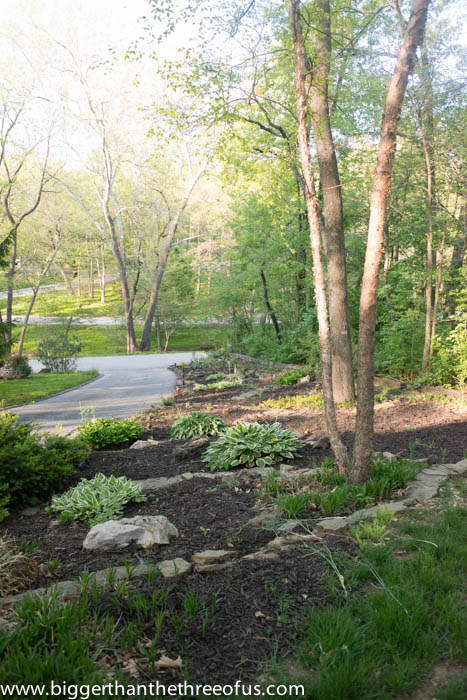 We brought in tons of gravel to level off the front of our yard and added all new mulch this past year. Over the next year, we hope to trim all branches and landscape differently in the front yard.
Outdoors (Back): In Progress
Our backyard has gone through some changes over the past few seasons. We lost our beautiful 140 year Oak tree due to root rot and that's changed the whole look of the space.
Two years ago, we added new mulch and river rocks around the patio. This year, we revamped the patio on a tiny budget. See the budget-friendly patio reveal for more details! We have lots of ideas for the backyard space and I'm sure it will continually evolve over the seasons.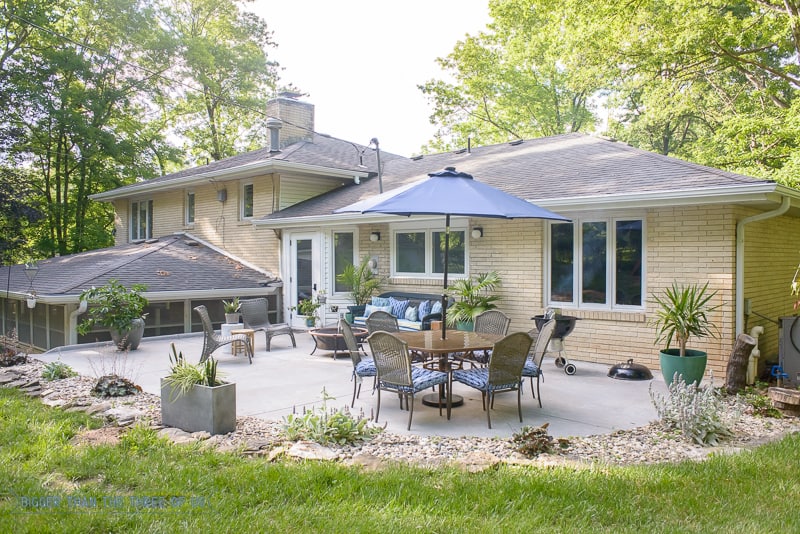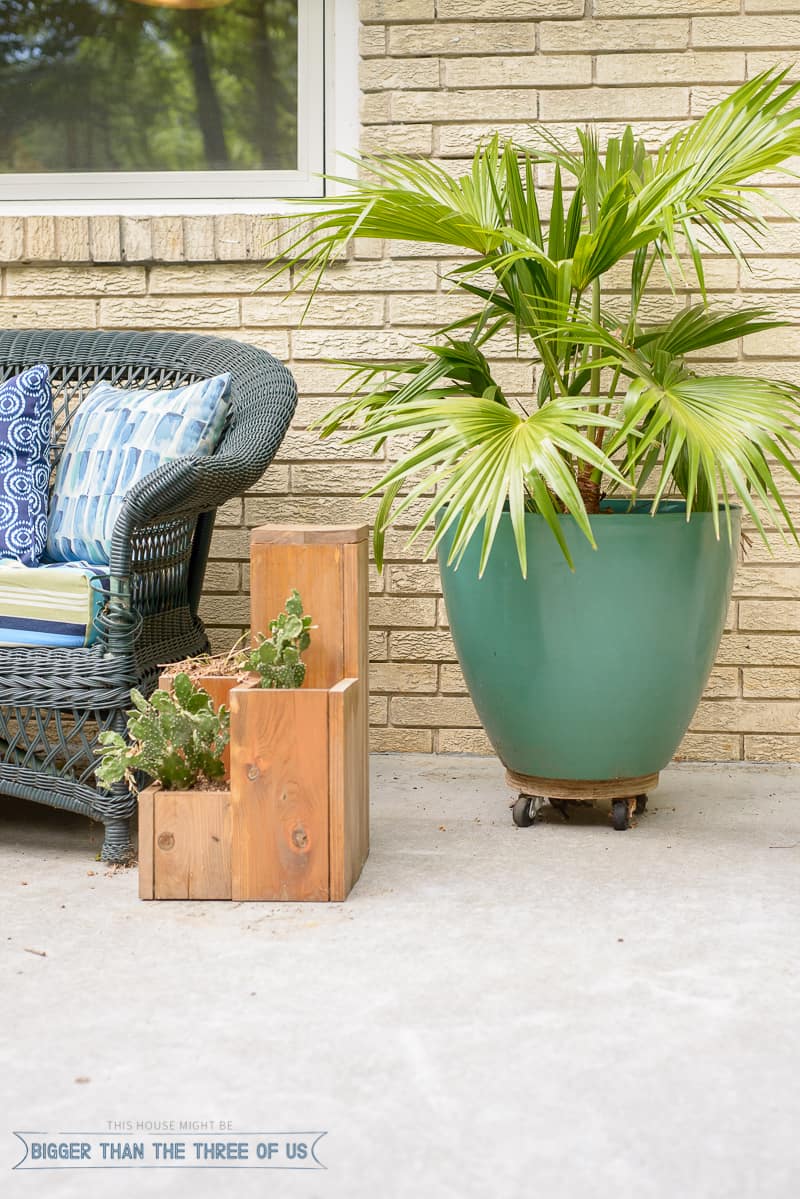 Interior: 4 Levels 
(Entry Floor, Main Level, Upstairs and Basement)
Entry Floor: Entryway, Laundry Room, Playroom, 1/2 Bath and Sunroom
Entryway: Complete
We had a whole different look in our entryway (see our Bright and Modern Entryway if you want to see more) but realized that our style had changed. It evolved over time, but finally was given a whole new look during the One Room Challenge.
I really love how the DIY Stair Rail Makeover changed the space as well as the new front doors. The light that streams in just makes my day, everyday!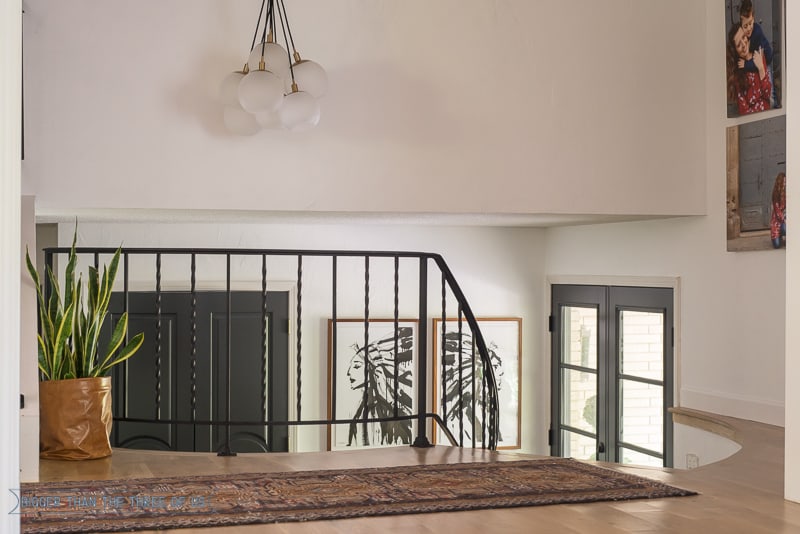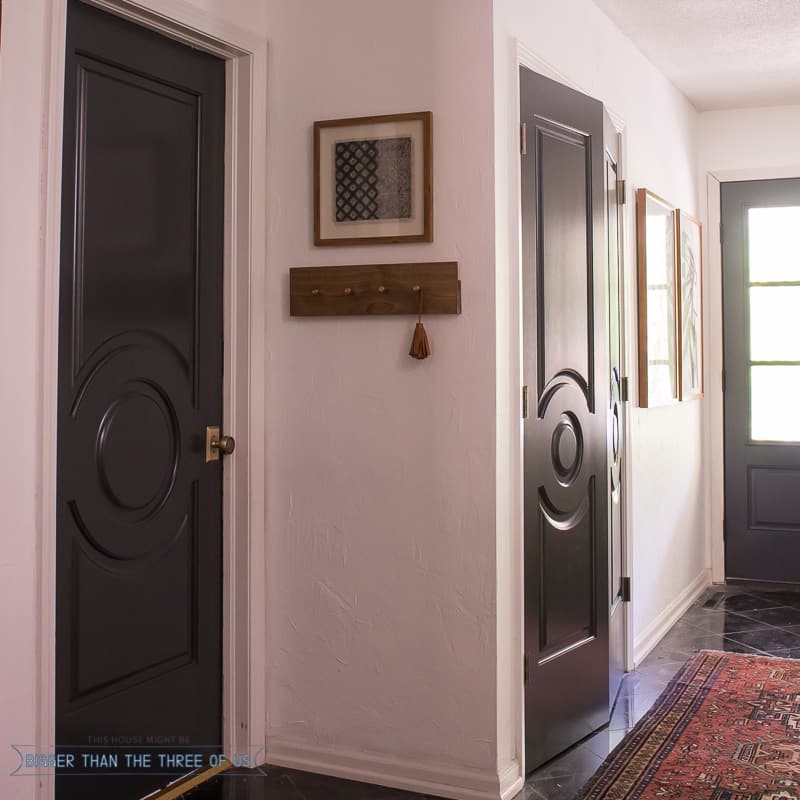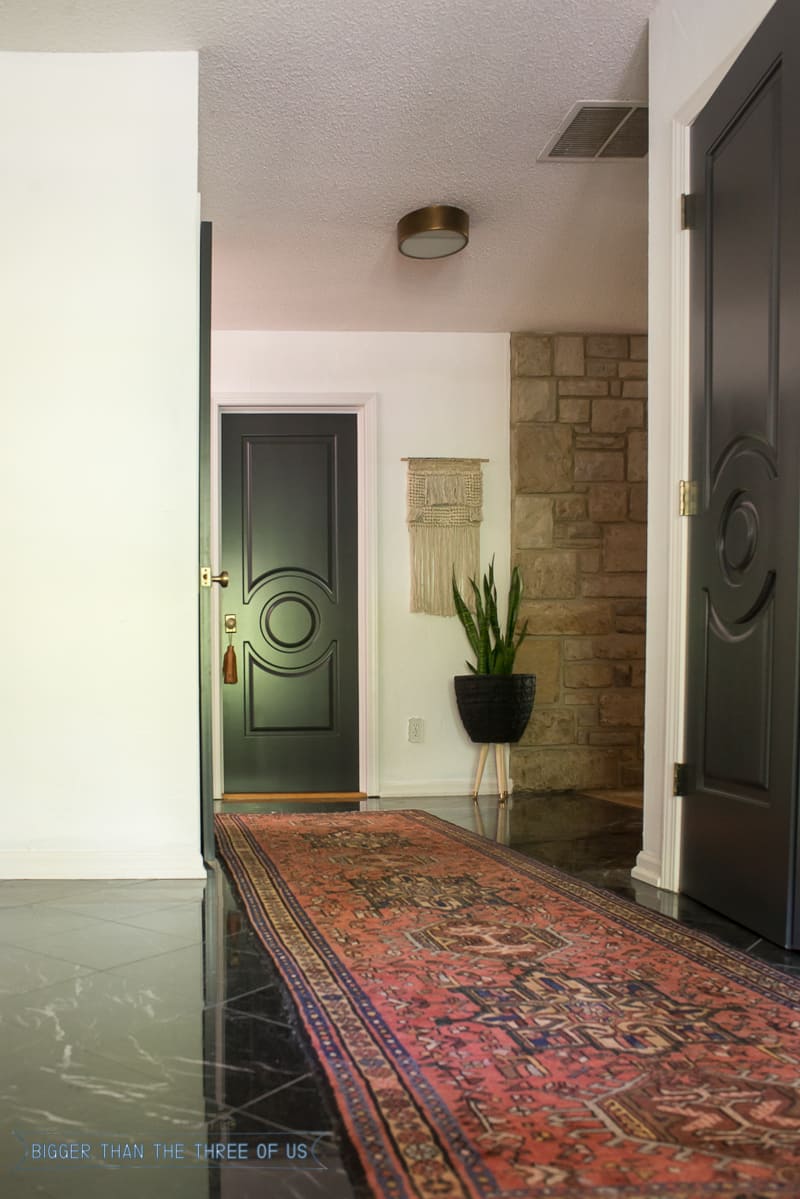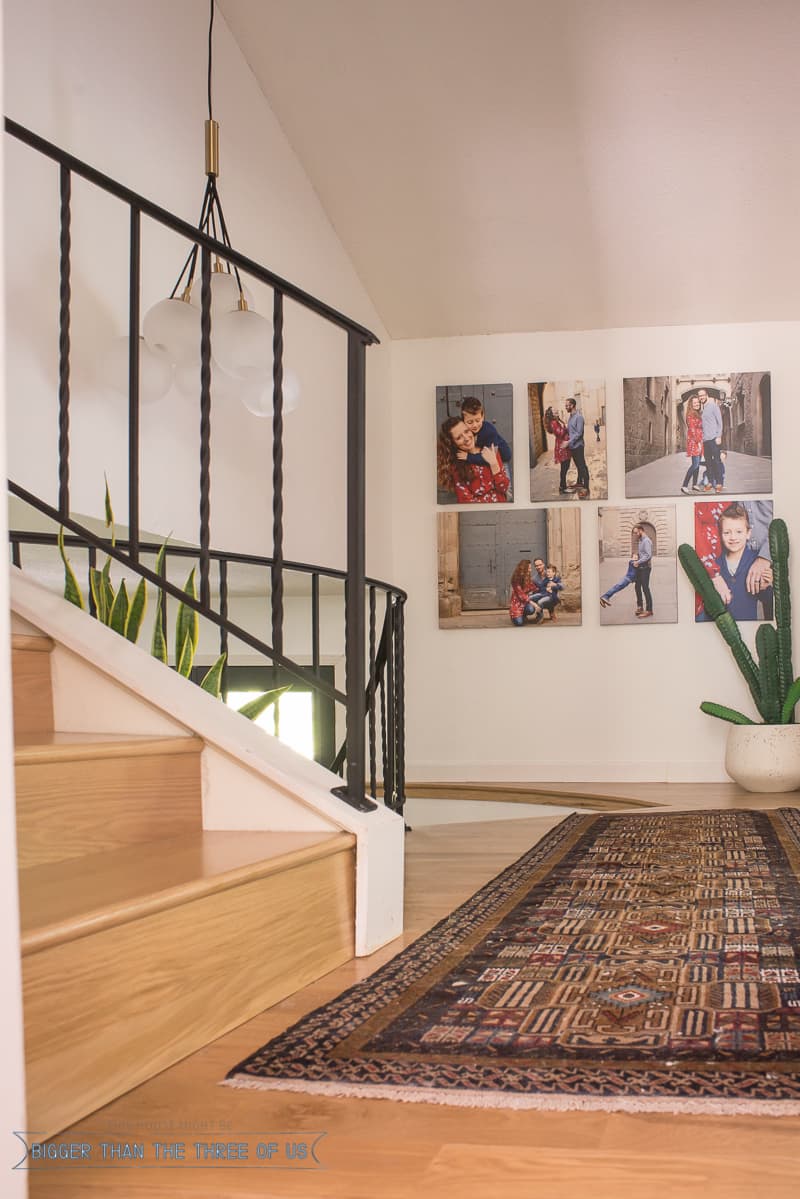 The gallery wall got updated and I gave a how-to for creating a great gallery wall.
Make sure to check out the entryway reveal for more details.
Playroom/Office: 50% Complete
We recently refreshed this space with lots of clutter control, the start of a kid's art wall and by moving things in/out and to/from other rooms.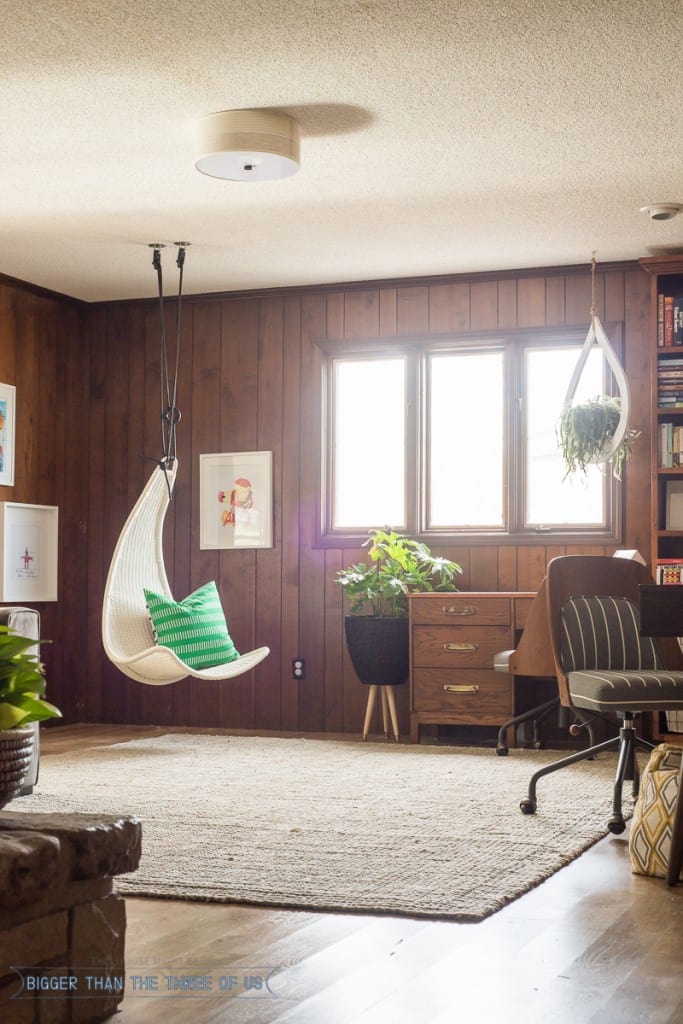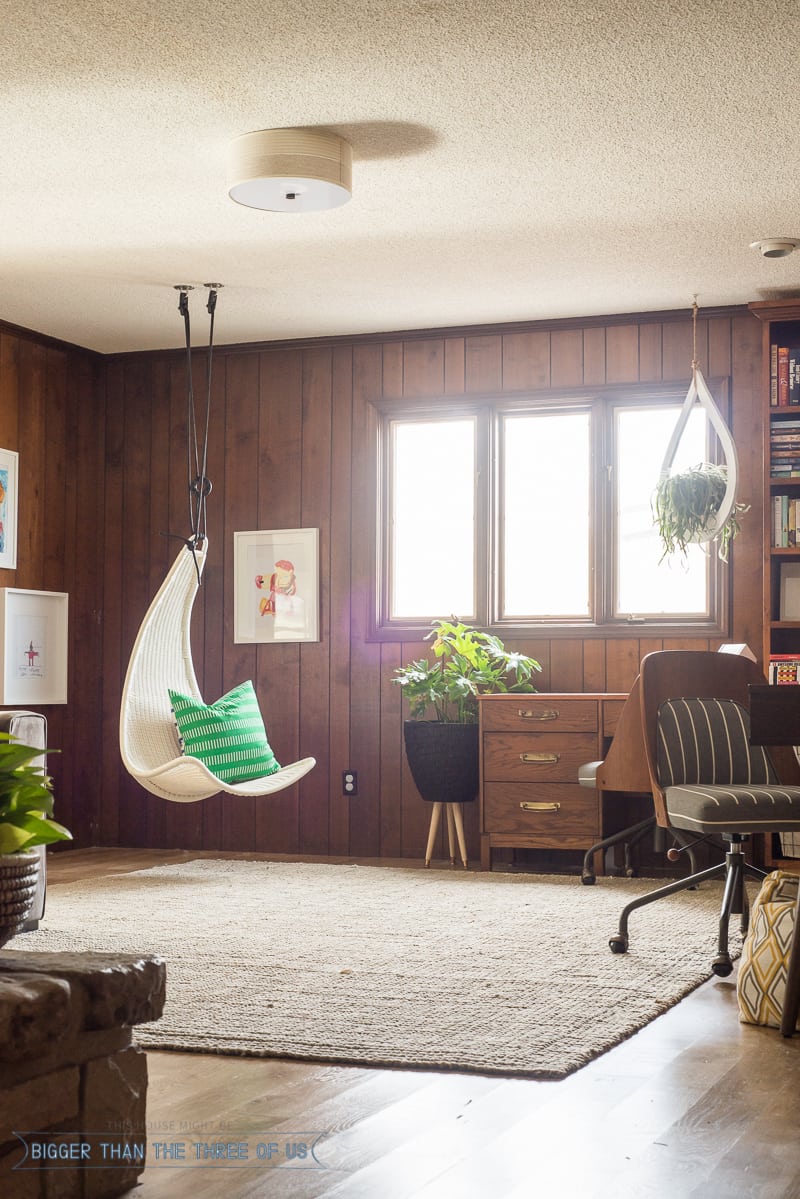 Eventually, this room will probably turn into a full-on library/office. That's the dream anyways.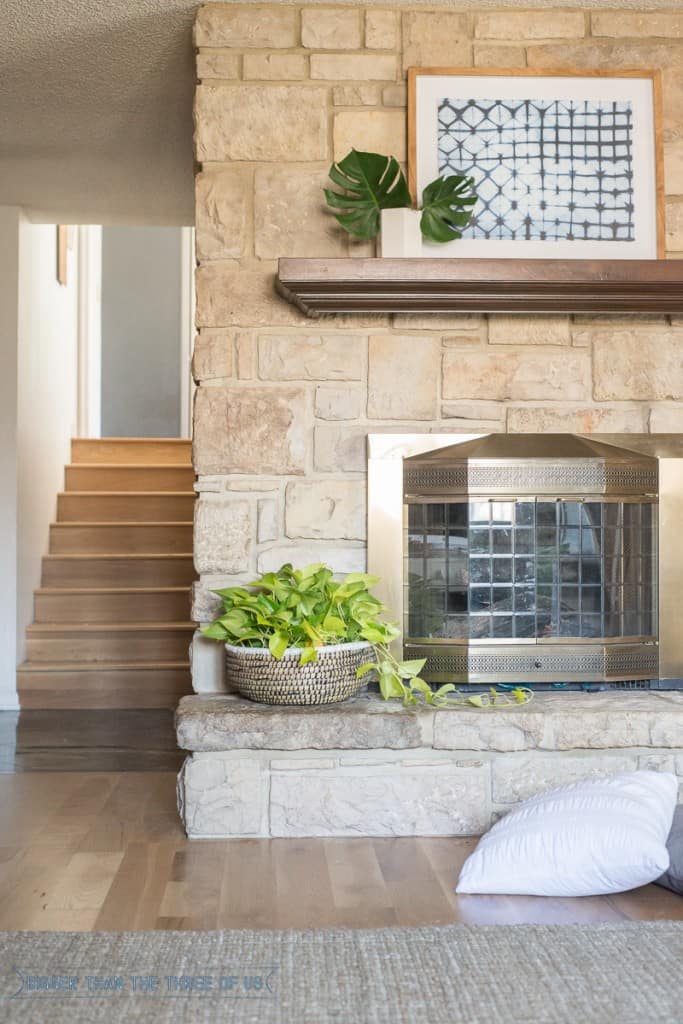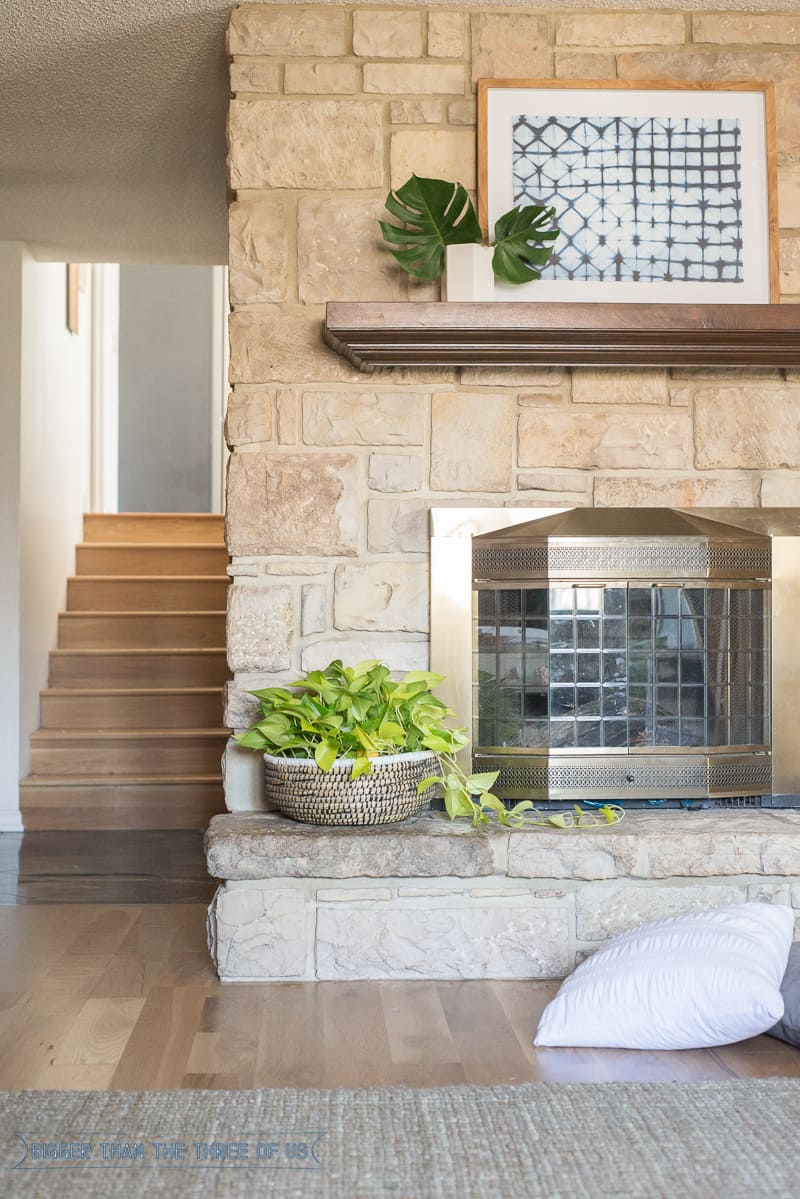 Sunroom : Progress 30%
I just recently took part in a $100 room refresh challenge and tackled the sunroom. The goal was to get the sunroom to a place where I could decide if it could be a usable office space for me. We gave it a good cleaning and painted the space.
There's a ton more to do but I'm excited about the possibility of this space.
Main Living Floor:
Kitchen, Eat-In Kitchen,  Formal Dining, Living Room and Loft Hallway
Eat-In Kitchen: Completed 
We planked the wall, installed a new light, made leather cushions, reupholstered chairs, built a banquette, changed the banquette to a leather cushion, sewed lots of pillows, and installed a small gallery wall.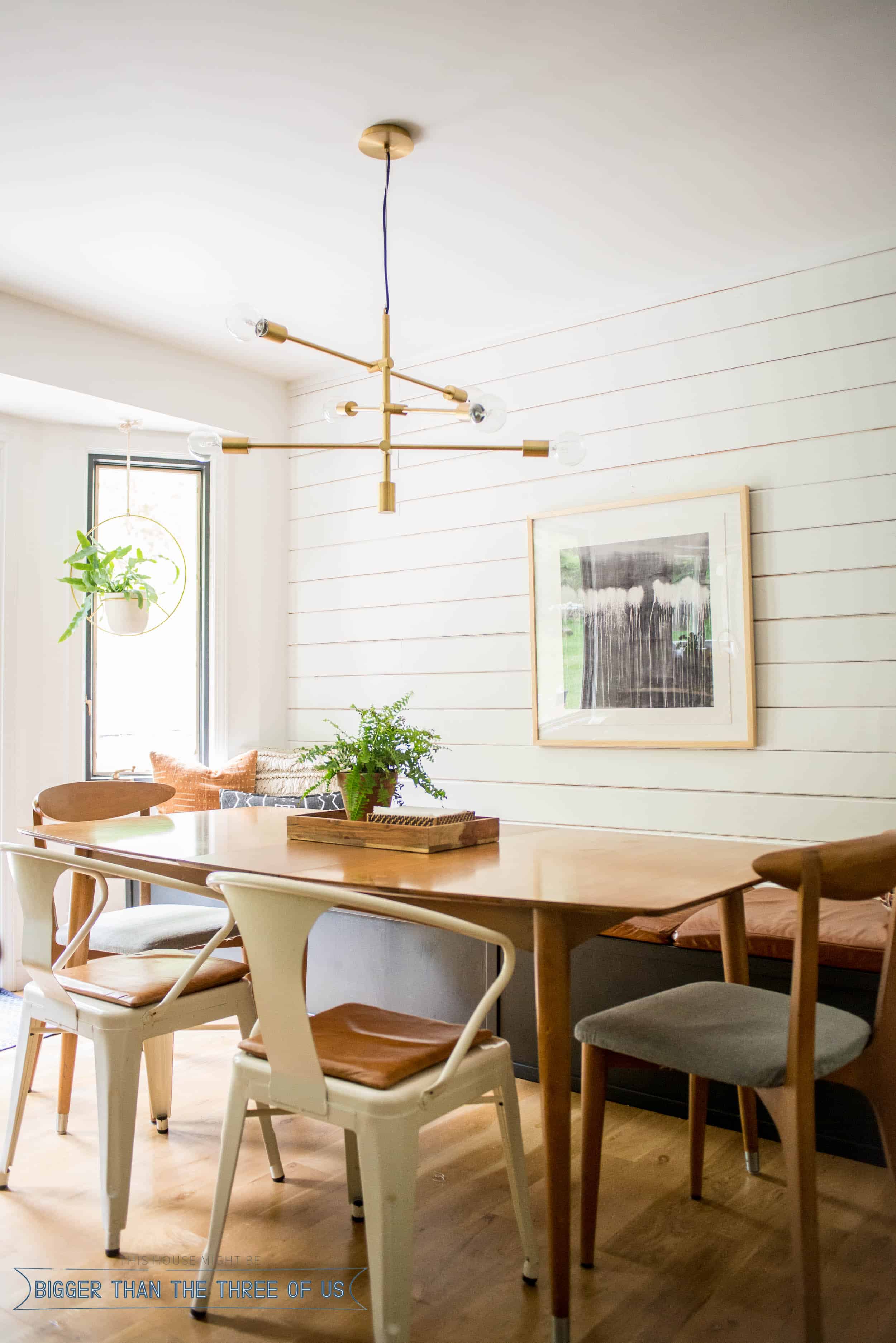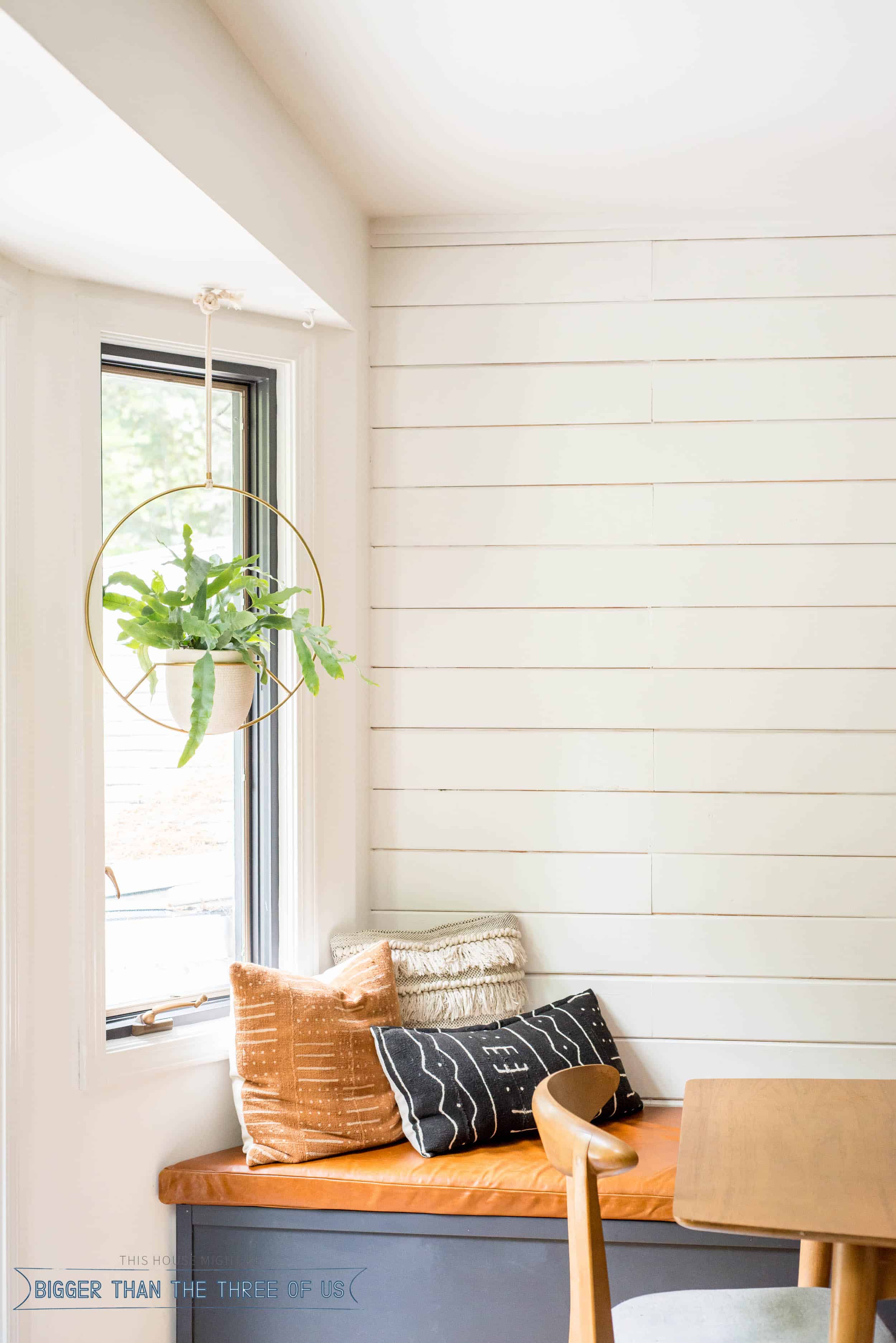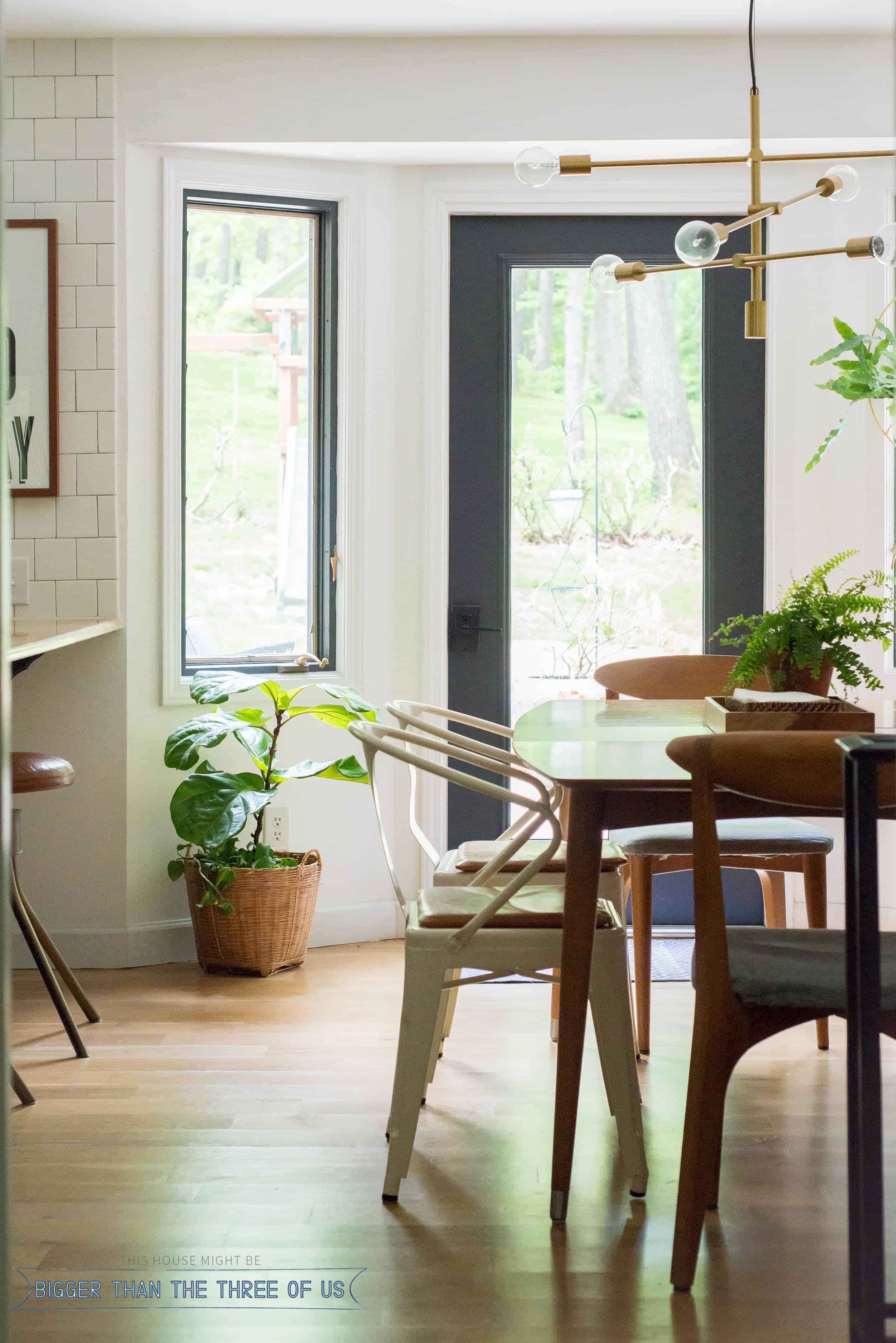 Kitchen: Completed
We DIY'd almost everything in our kitchen and you can see all 40 posts for all the how-to tutorials in our Kitchen Reveal post including the how-to for installing heavy duty floating shelves!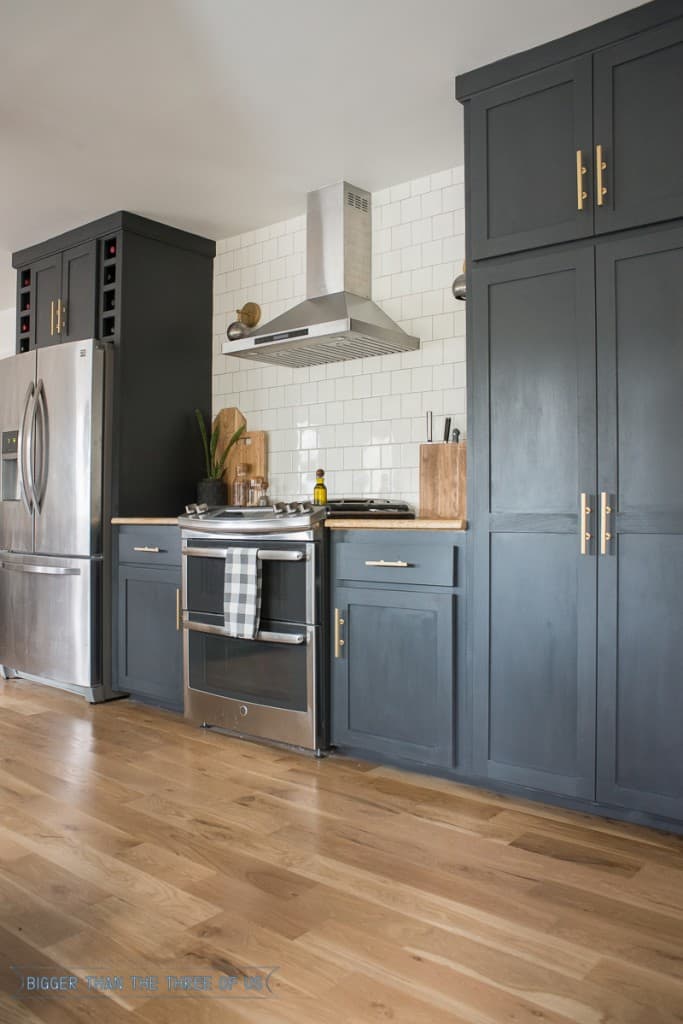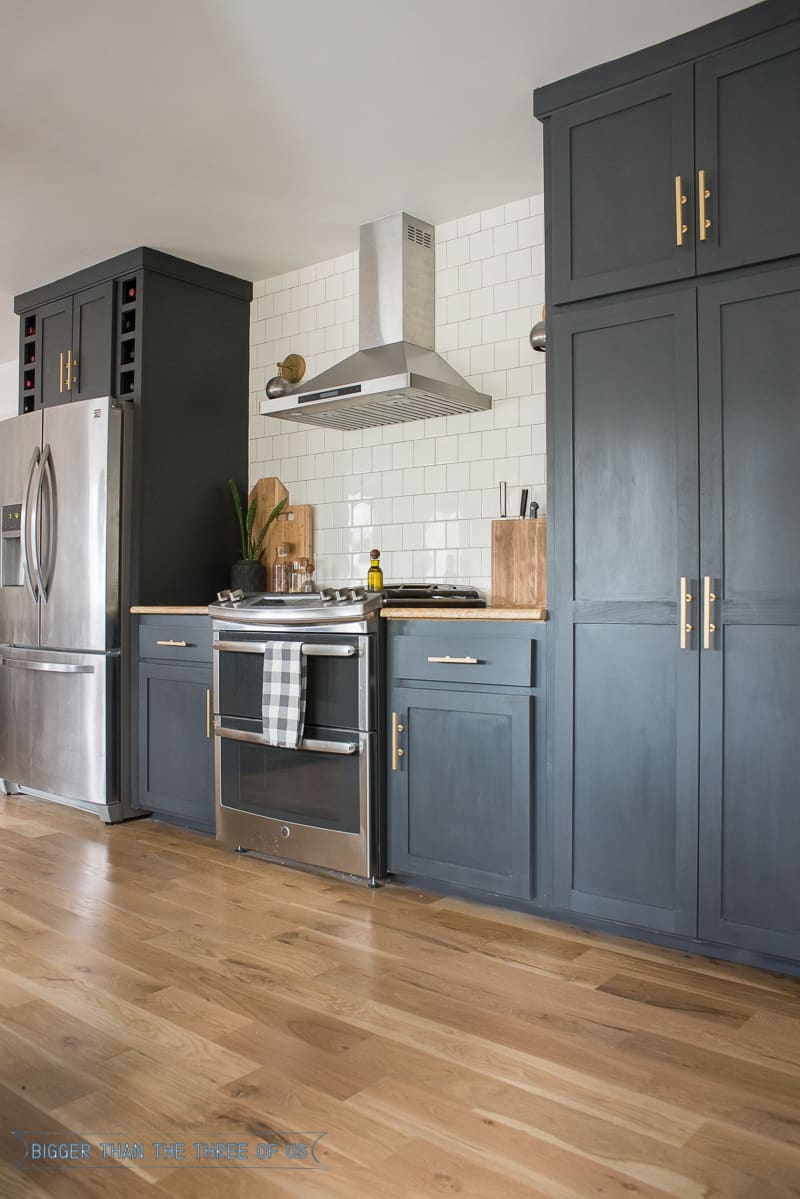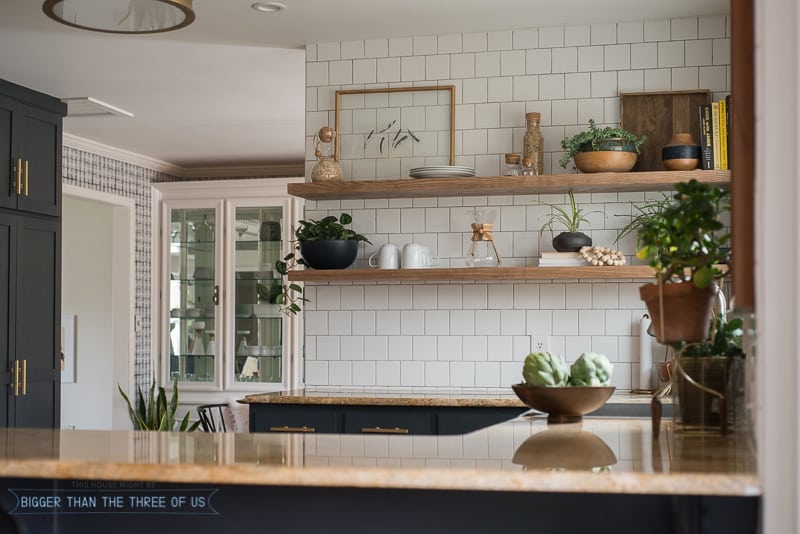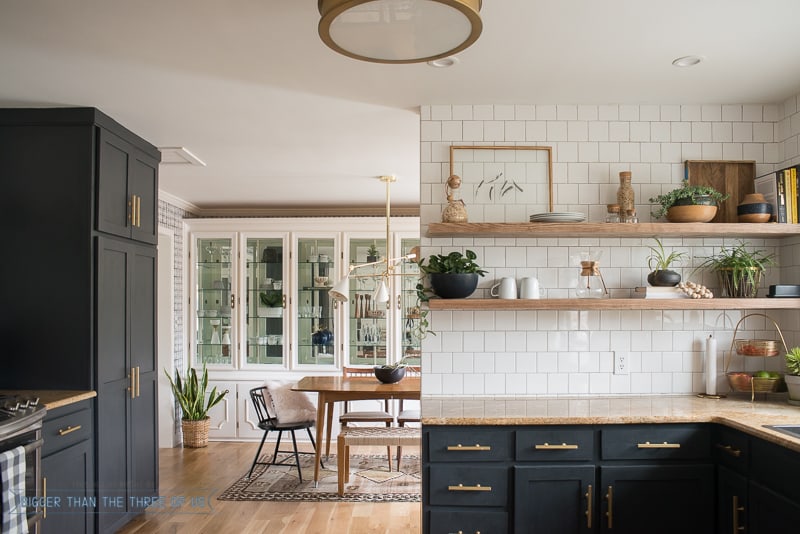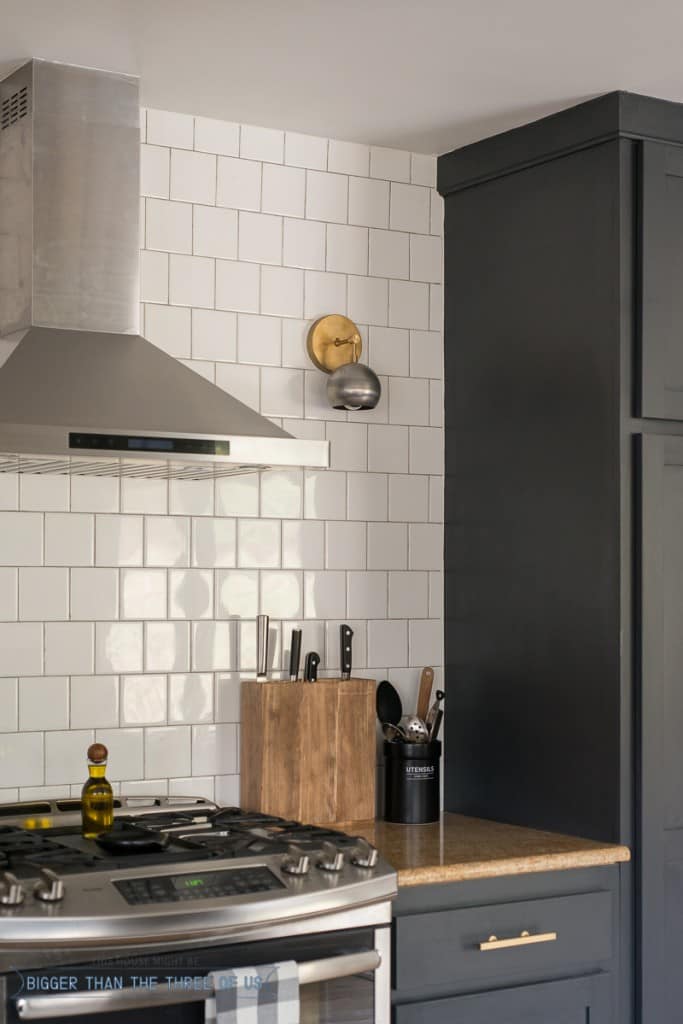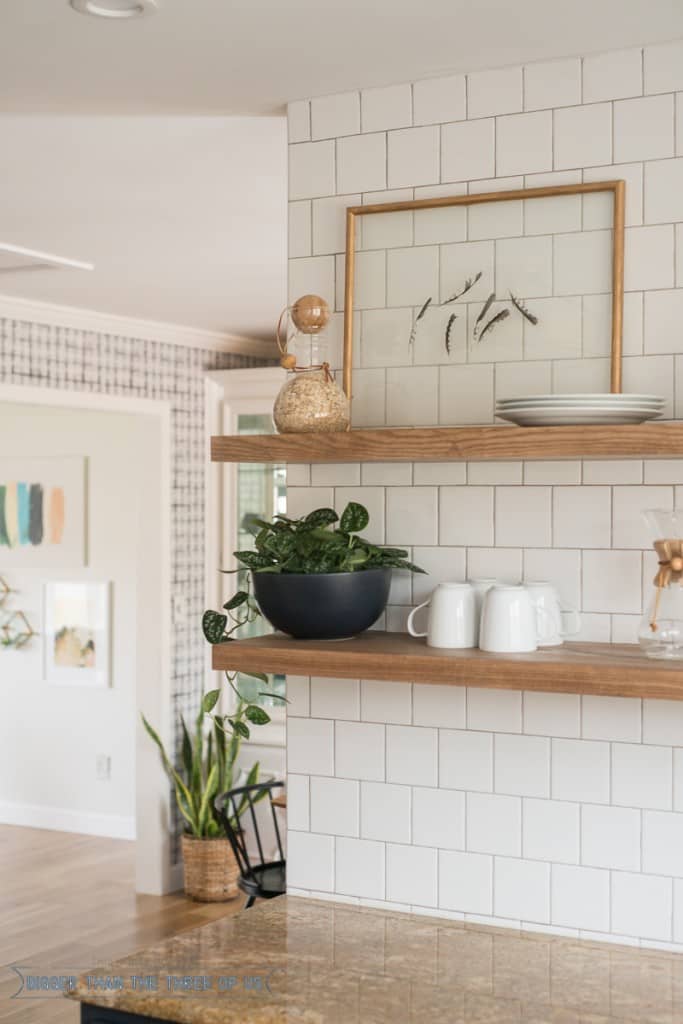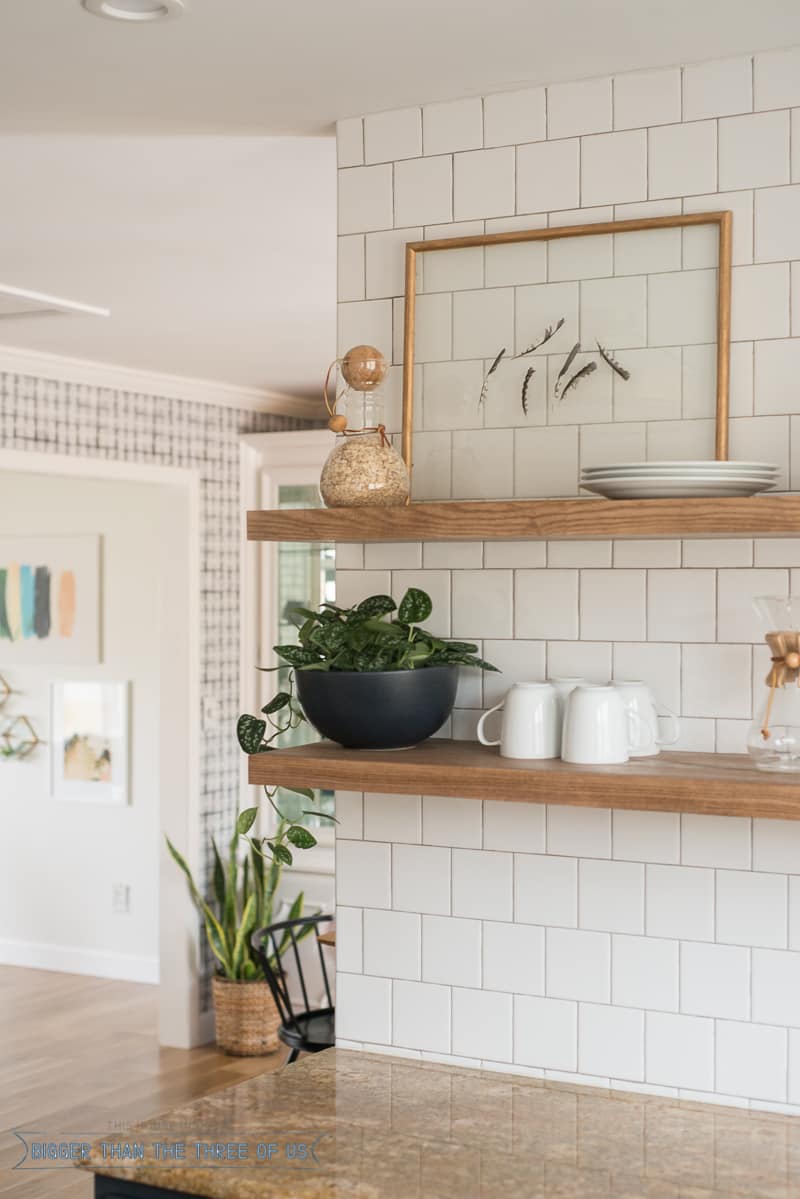 Formal Dining Room: Completed
We recently finished the formal dining room (see how we originally had it – The Eclectic Blue and White Dining Room) and love how it now pairs with our kitchen. We changed out the light, installed wallpaper and added lots of character with plants.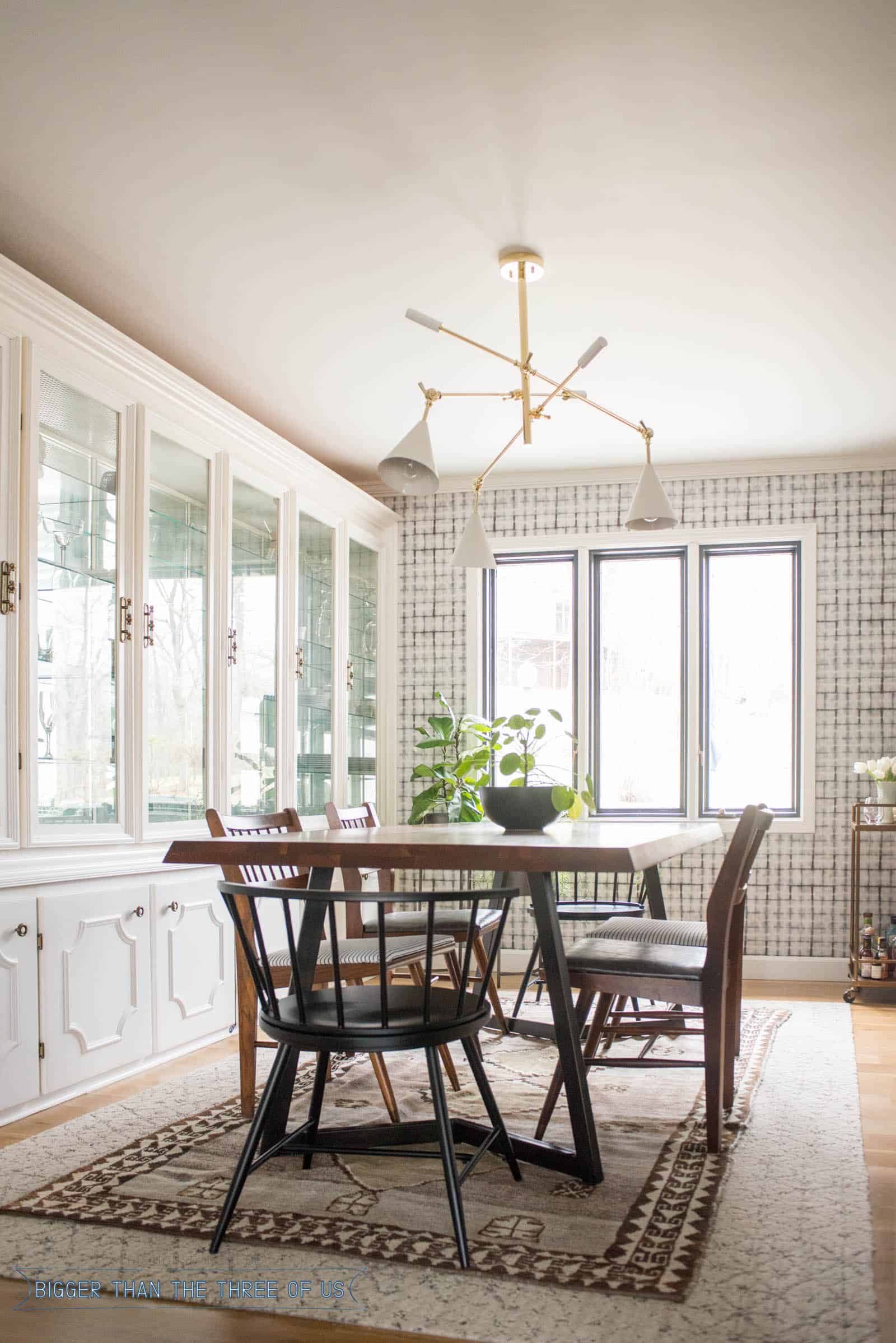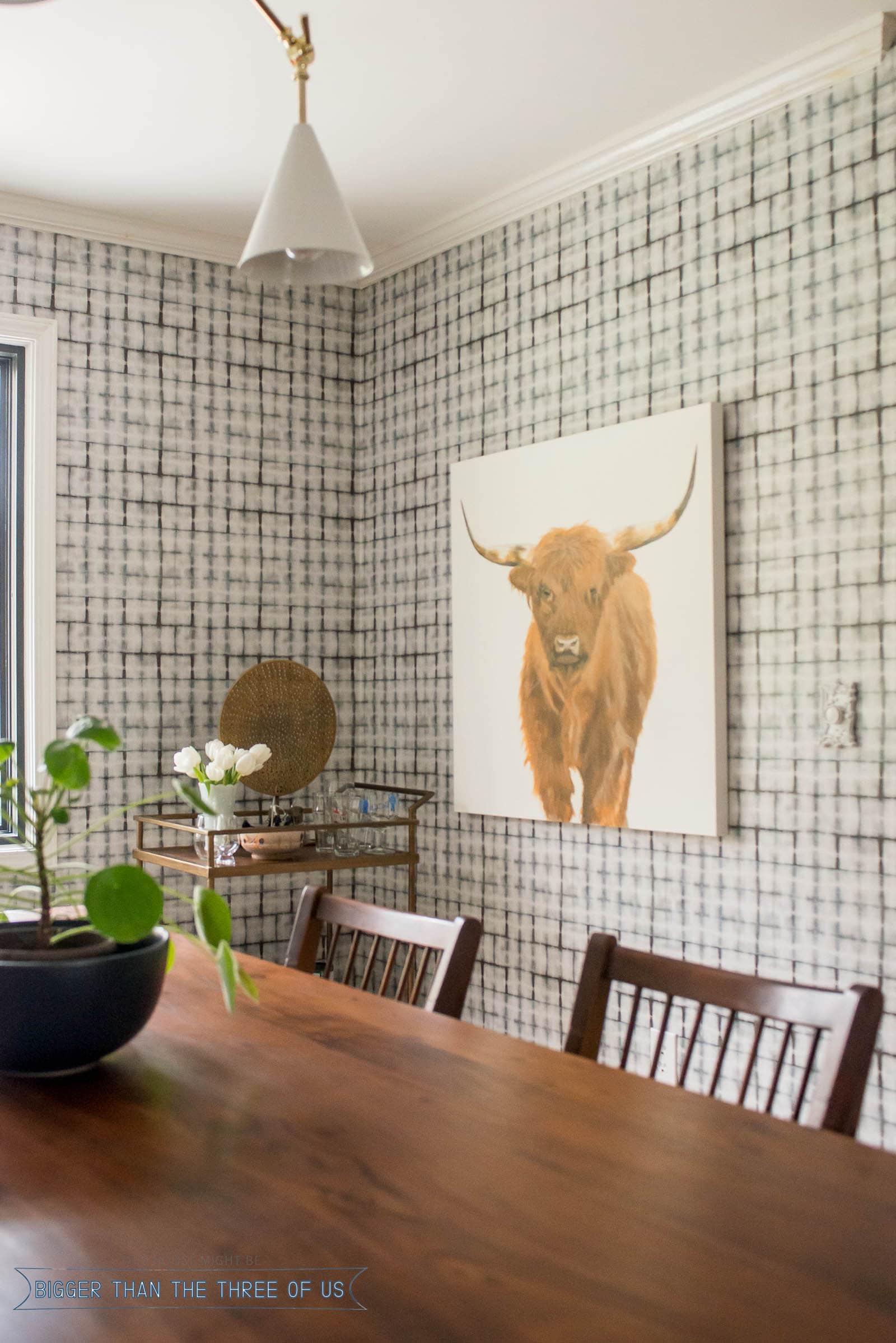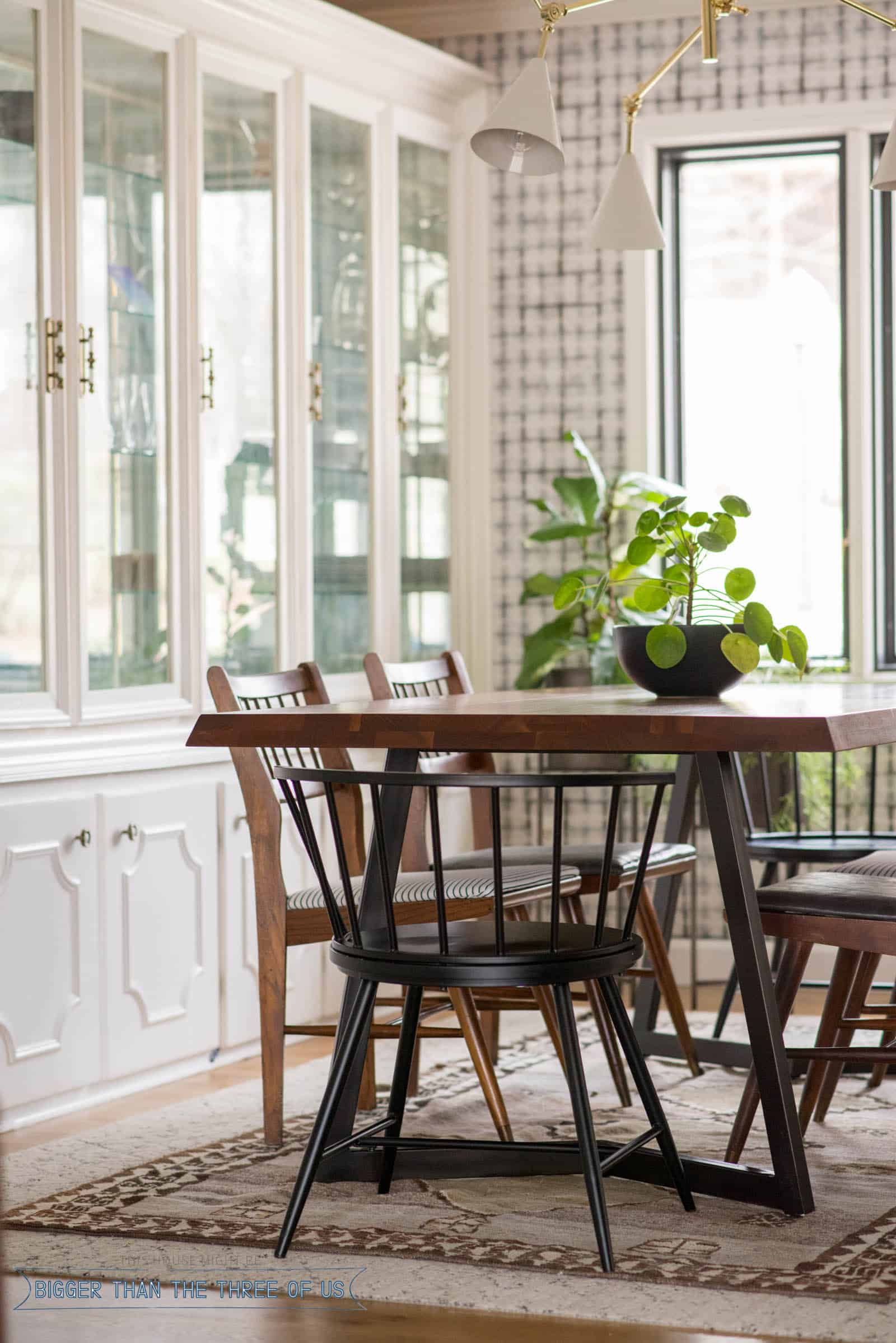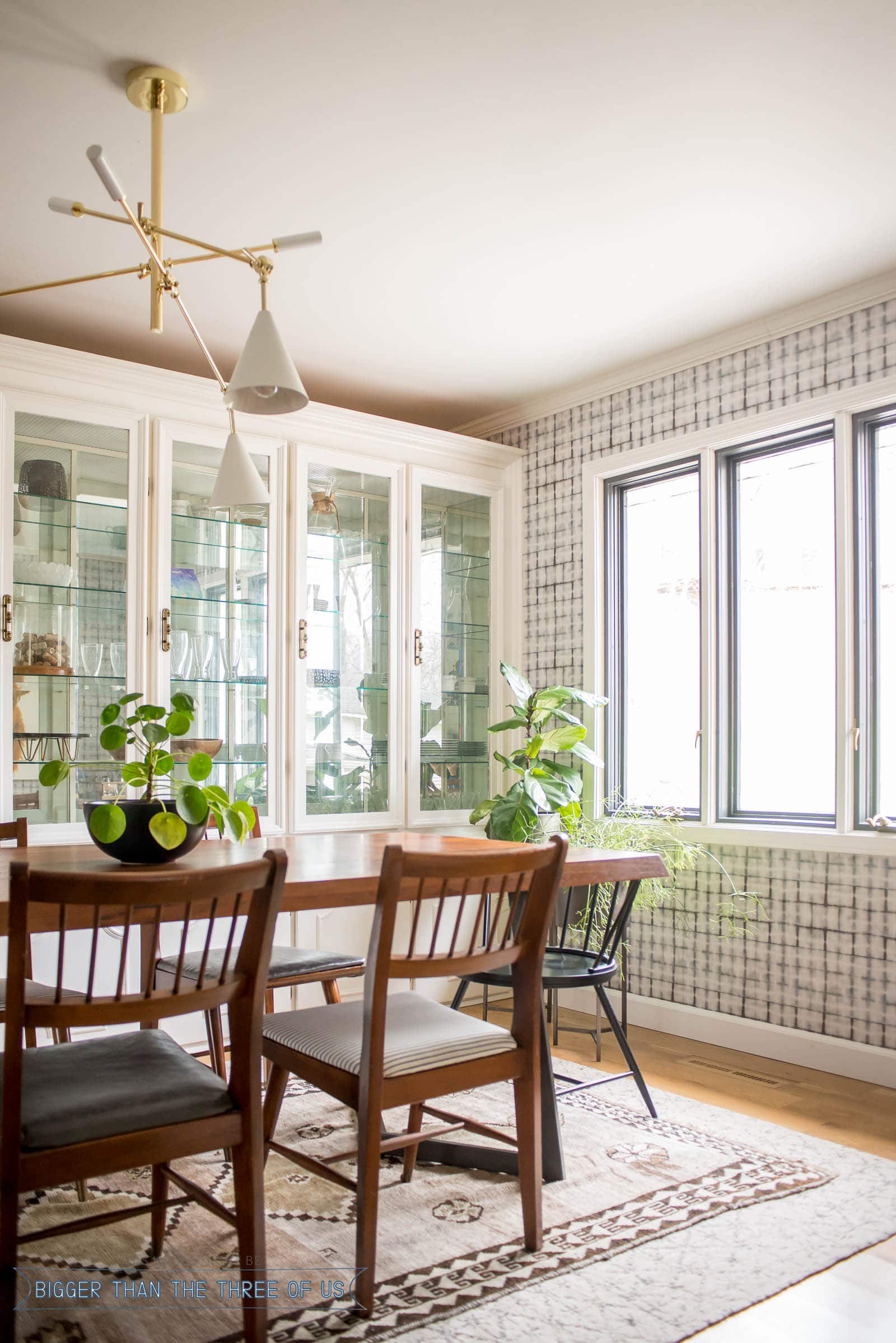 Living Room: 65% complete
We've painted the walls, updated the crown moulding, added a new light, modernized the built-in, added a gallery wall, and moved the furniture around a ton!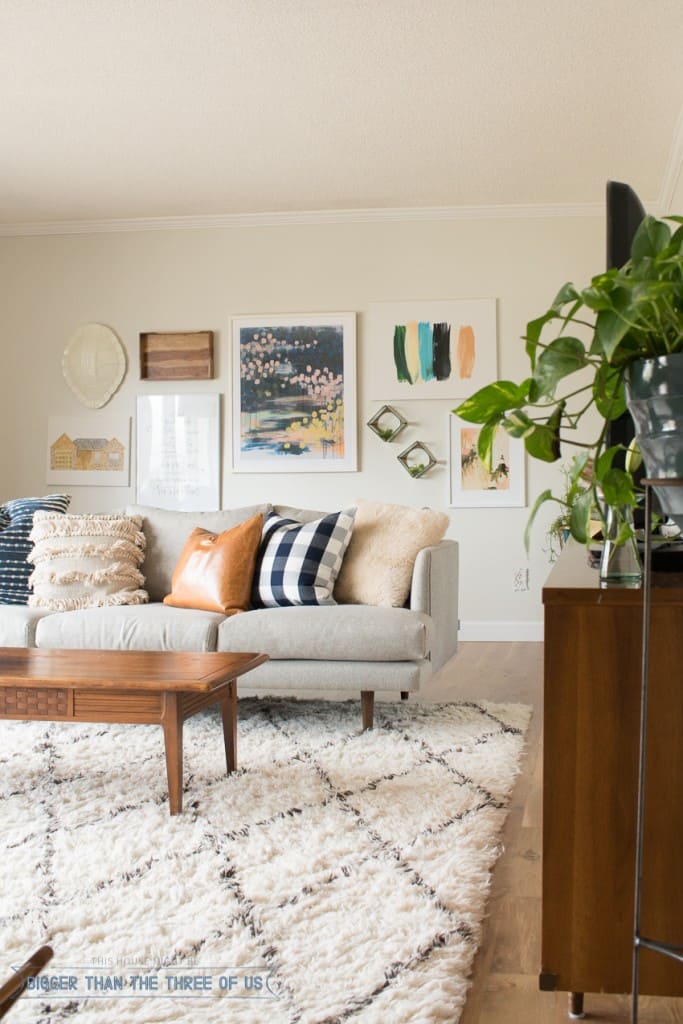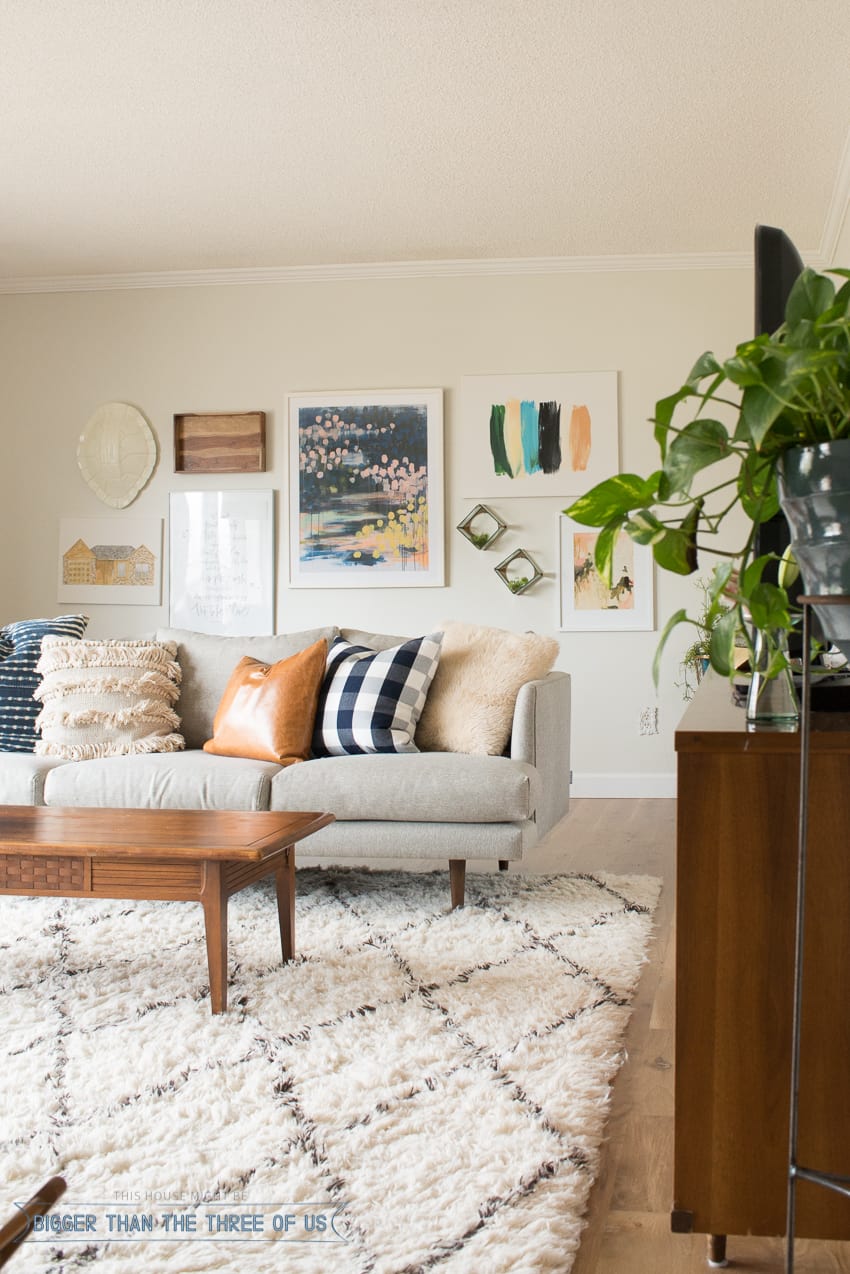 I painted the living room AGAIN and this time went for a white living room. We got a new leather sofa and a few other new decor pieces.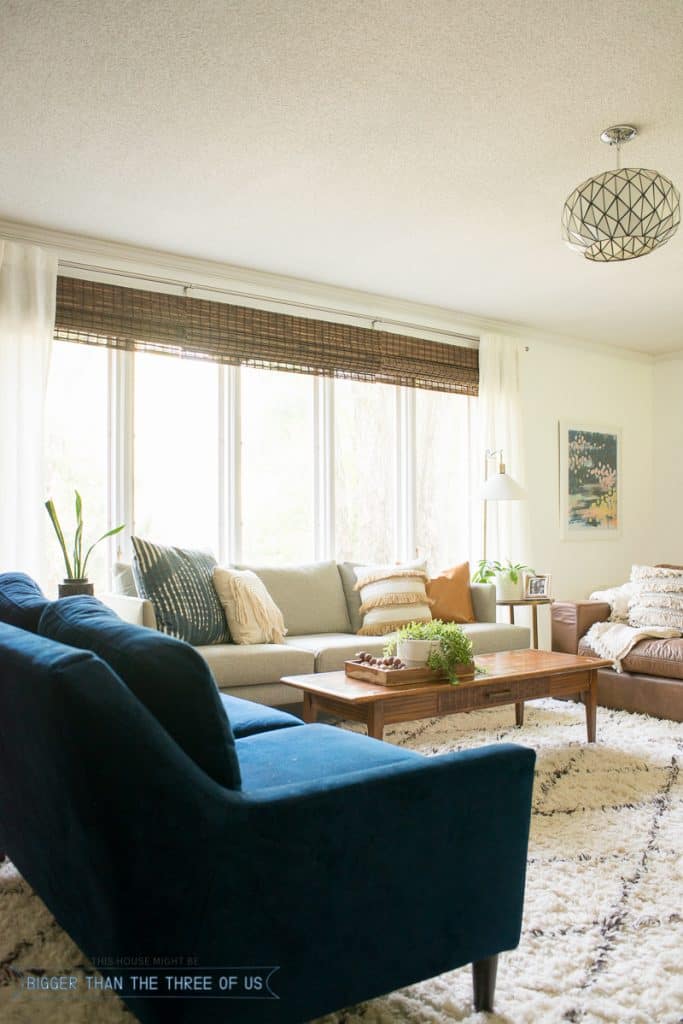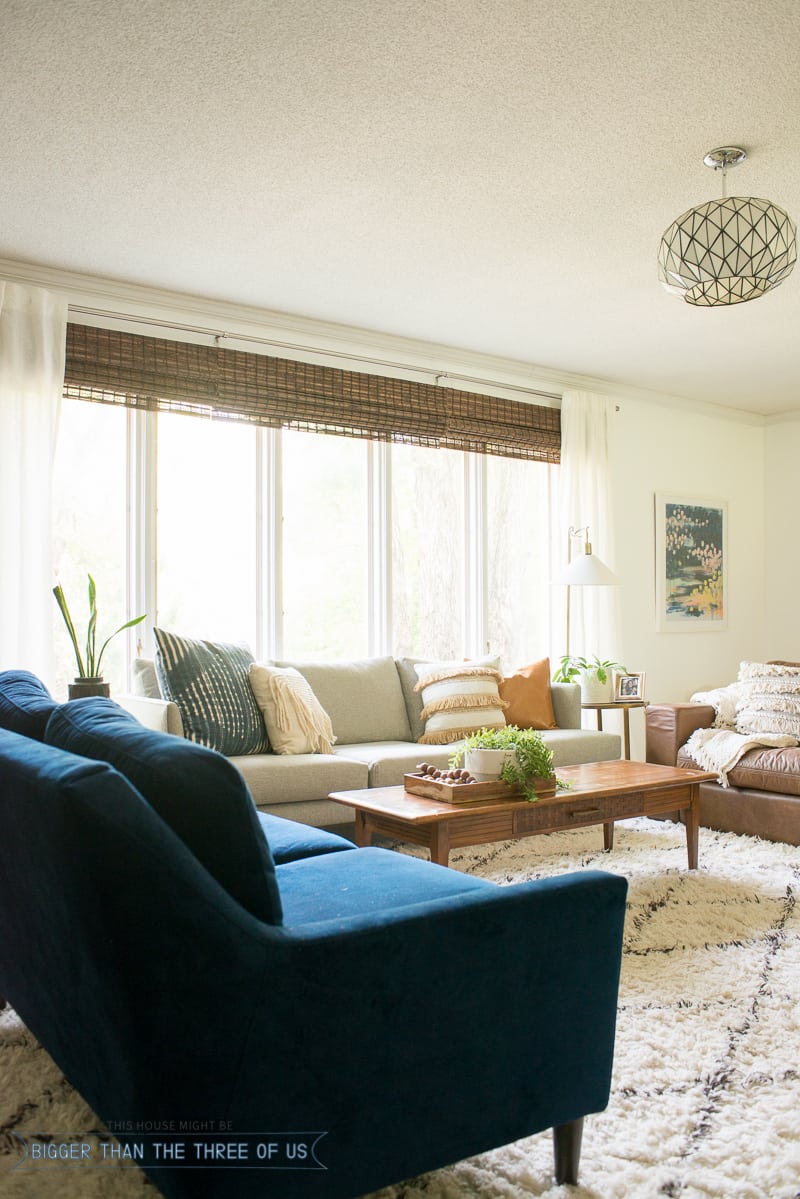 We also used our handy tutorial for running cables behind the wall and then styled the tv console.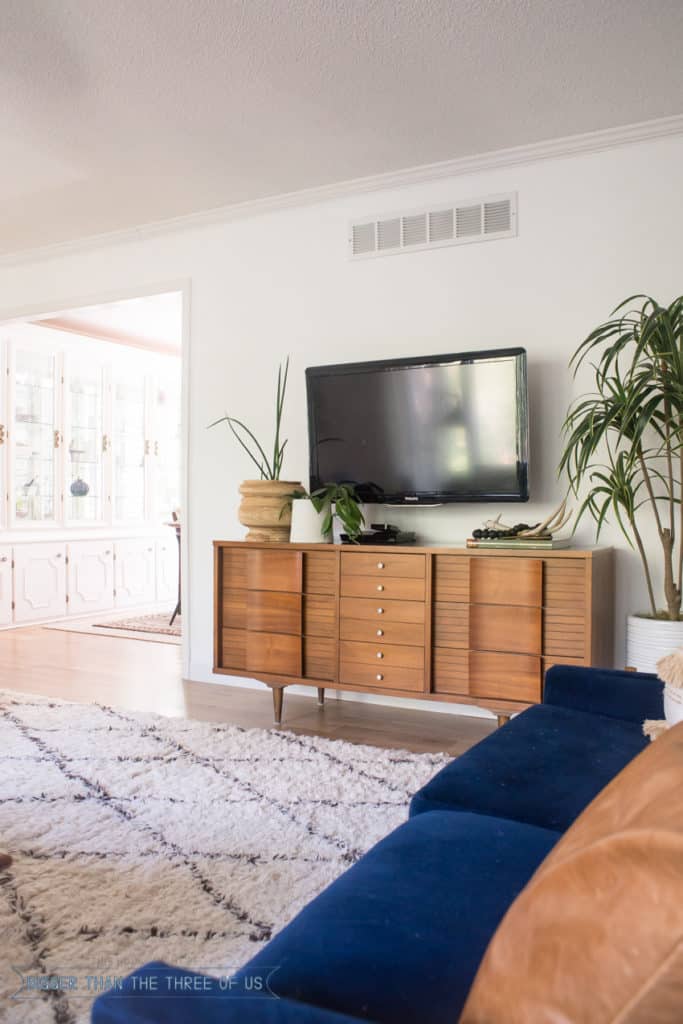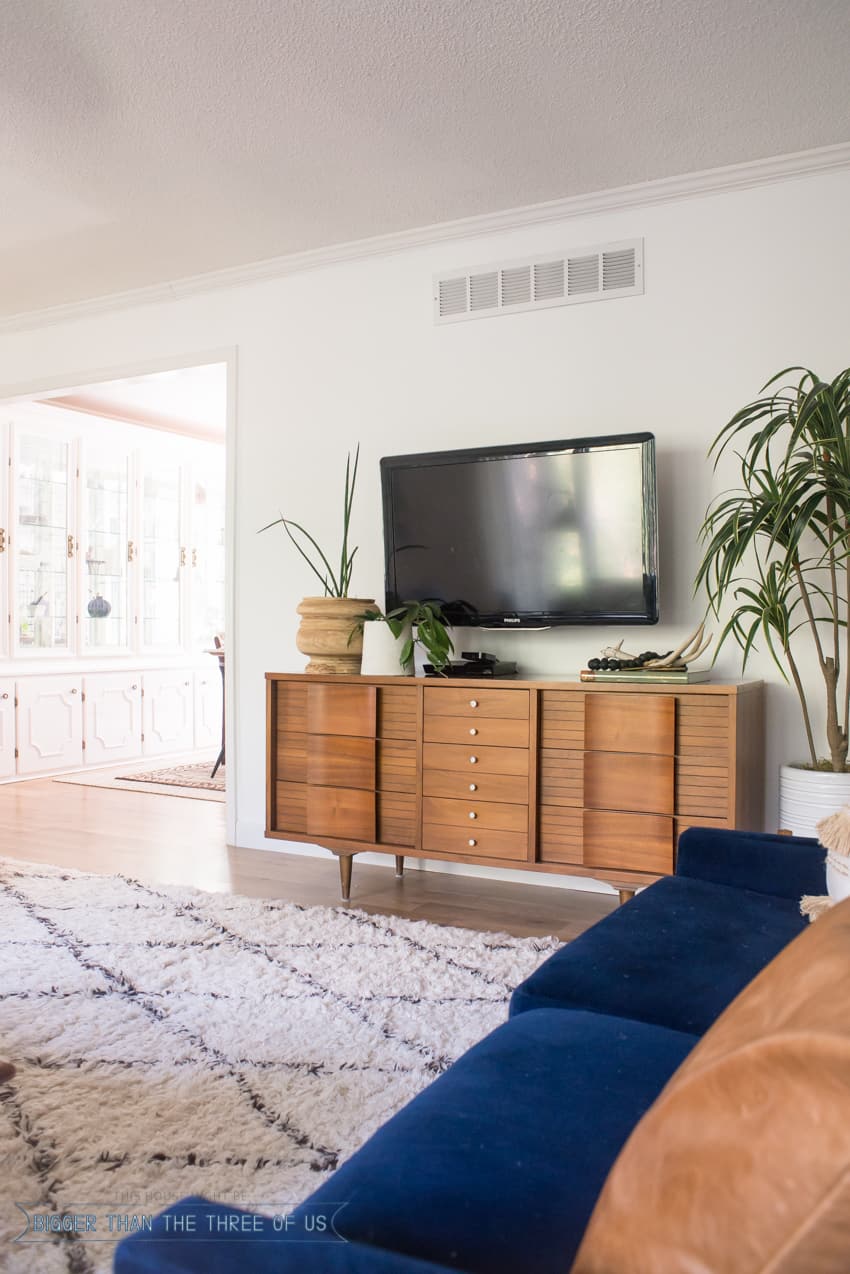 I'd love to have a built-in fireplace surround and actually finish the baseboards but we will save that for another day.
Upstairs:
Upstairs: Master Bedroom and Bath, Greyson's Room, Guest Room and Main Bathroom
Master Bedroom: Completed
We actually finished our bedroom a few years ago but decided that we didn't love it anymore. So, we transformed that space again. See our original Rainwashed Bright and Fresh Master bedroom.
02/17: We completed the Mid-Century Modern Master Bedroom and we absolutely love it.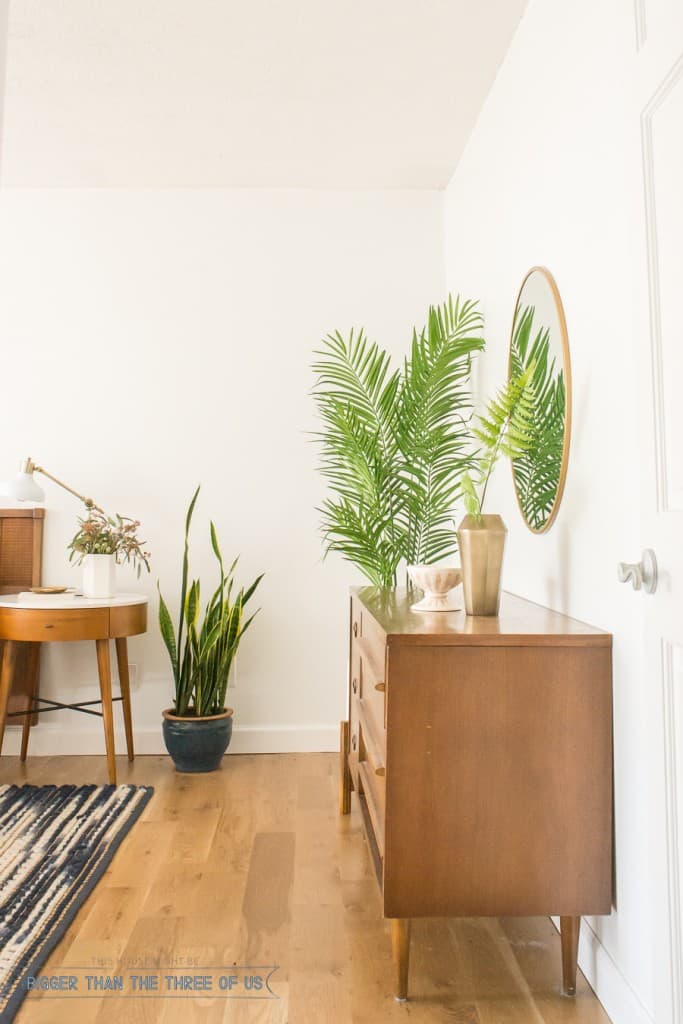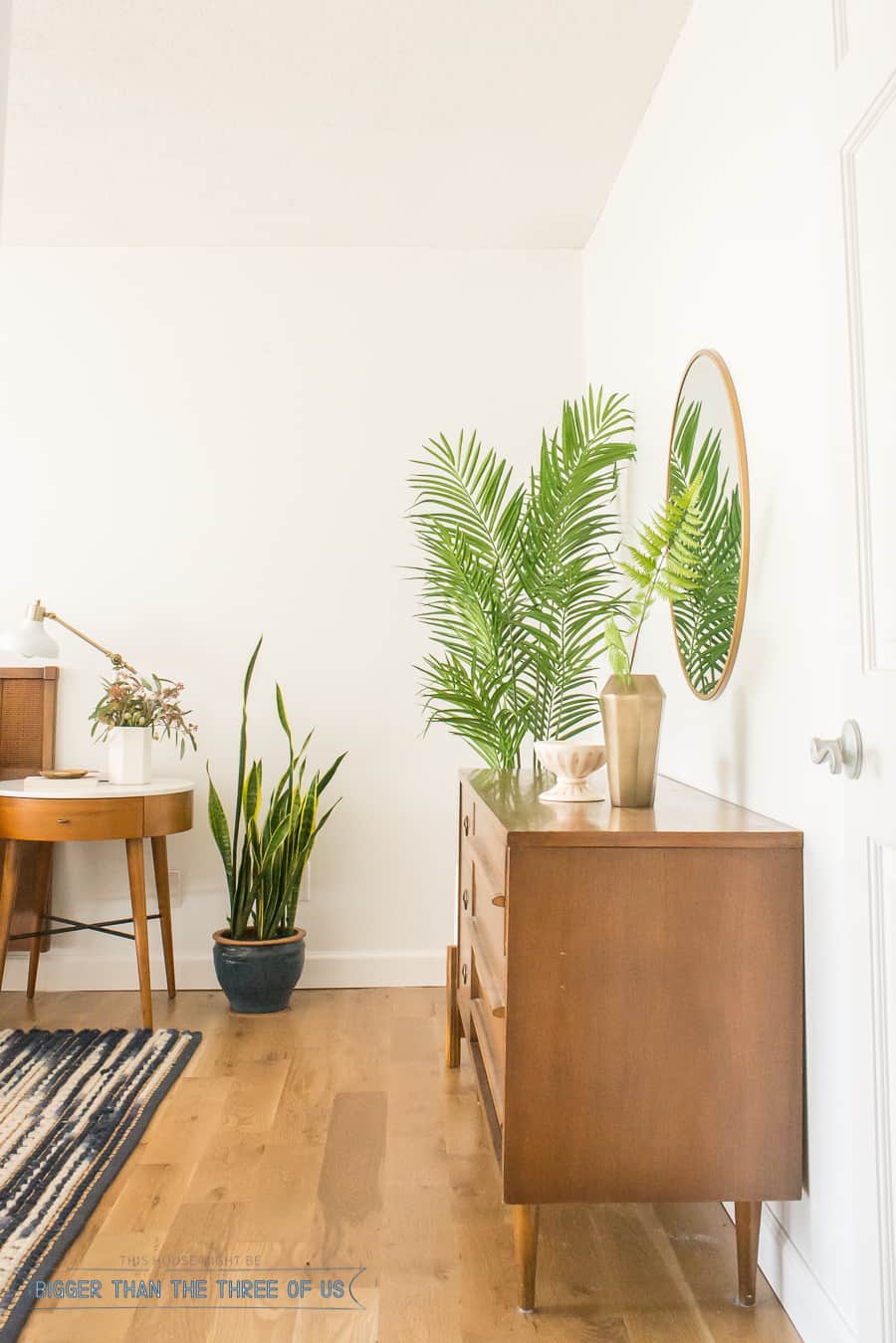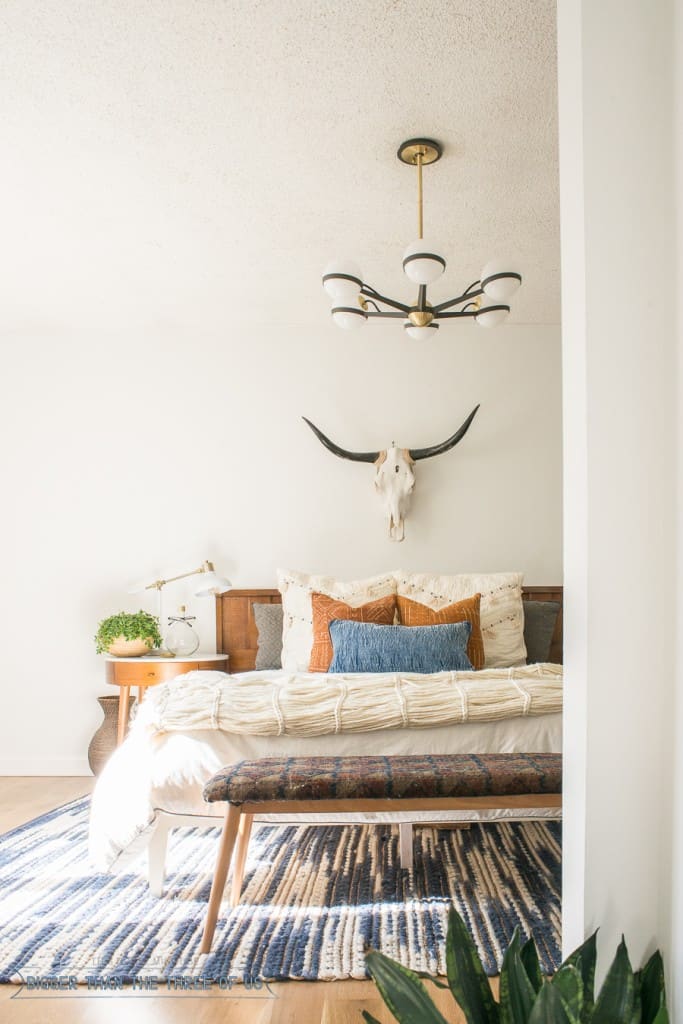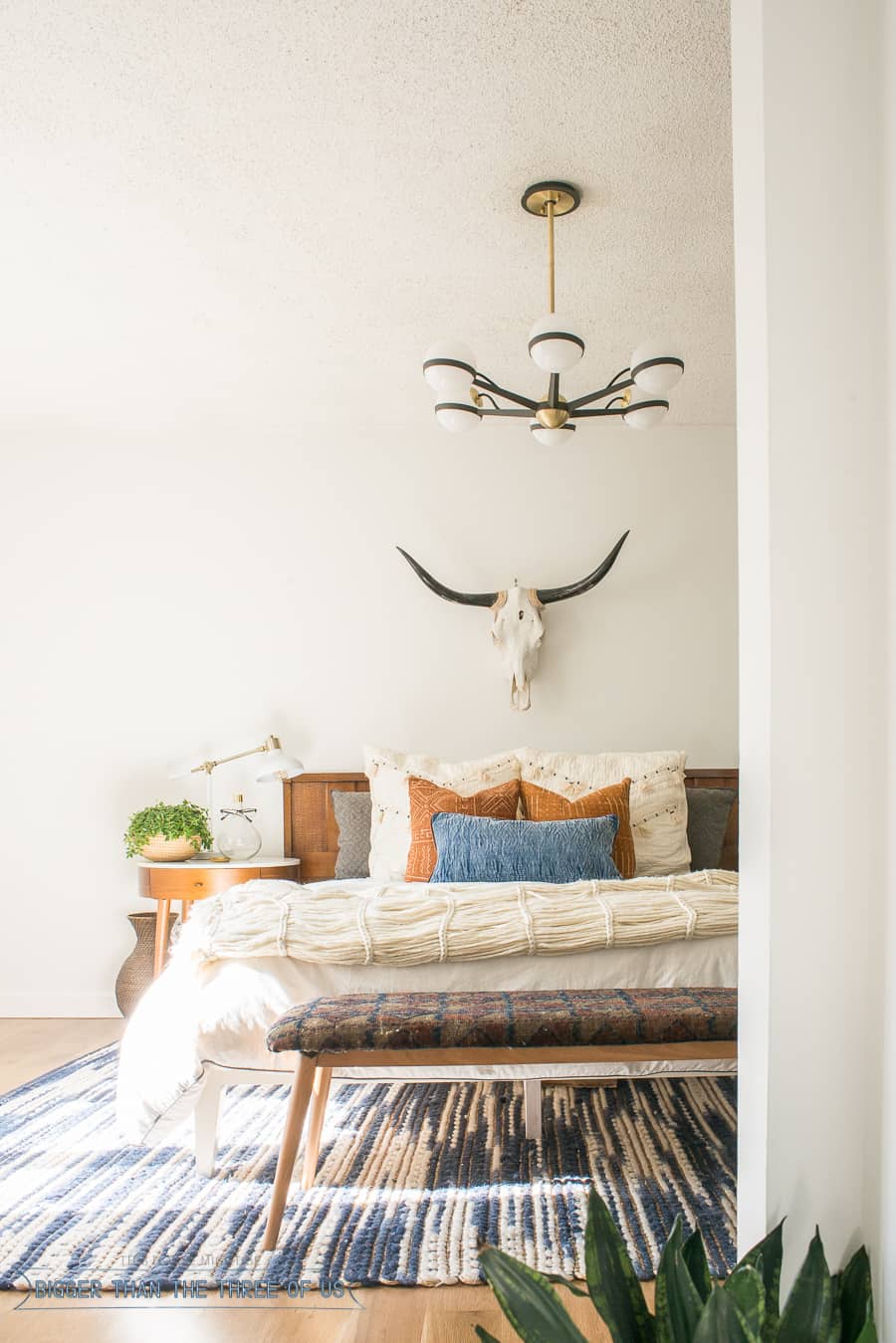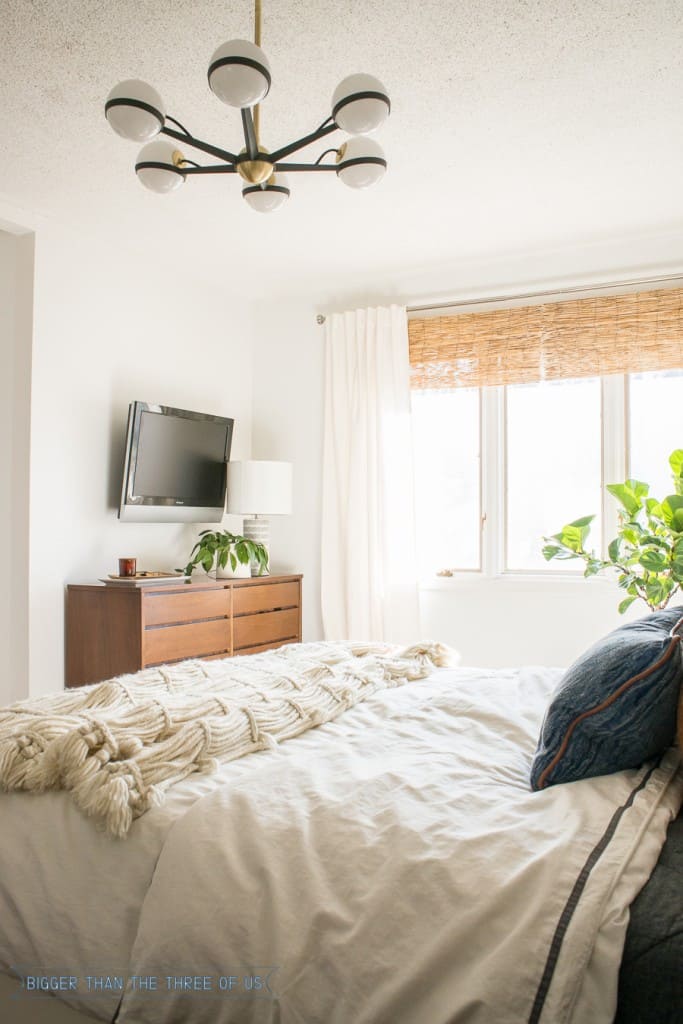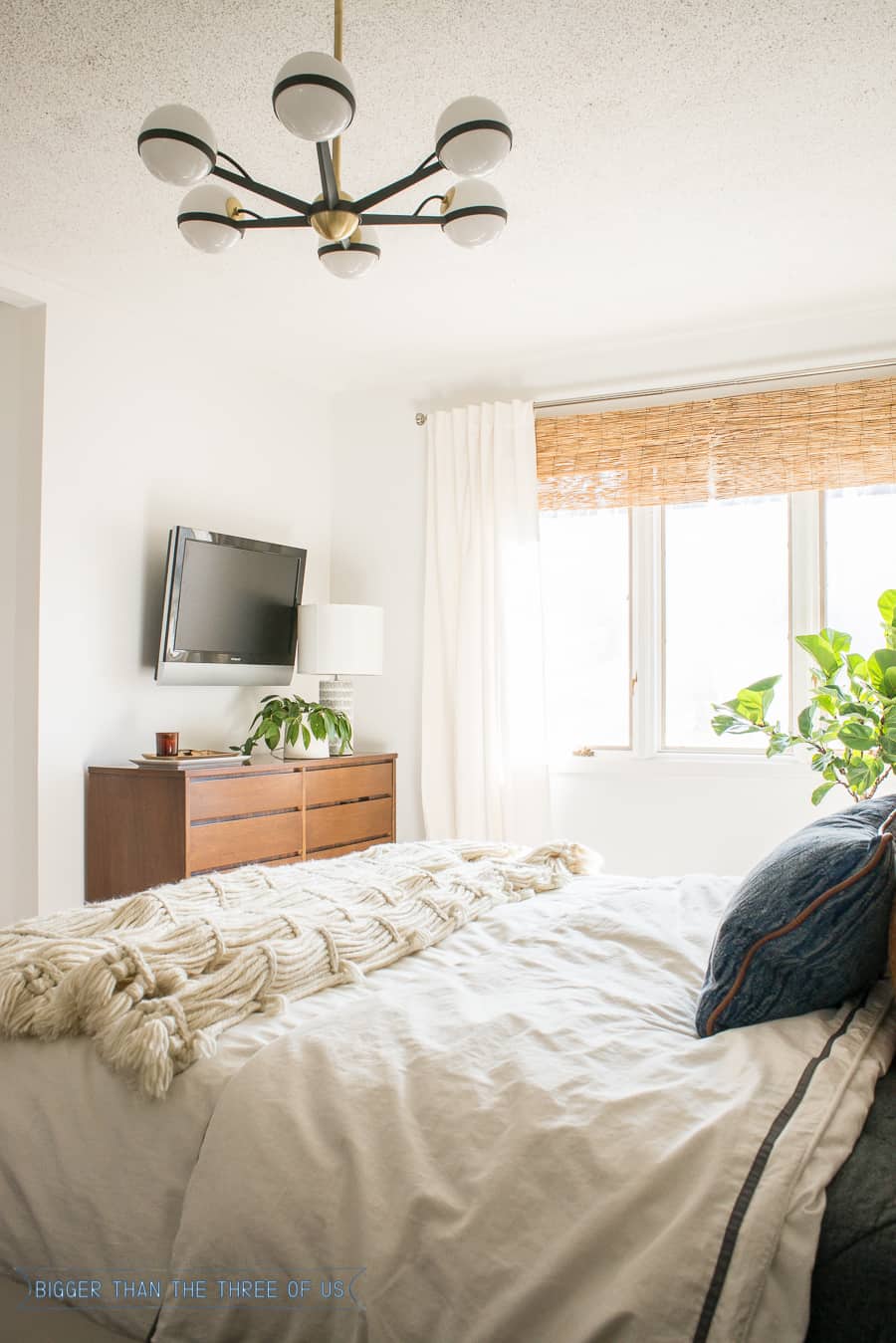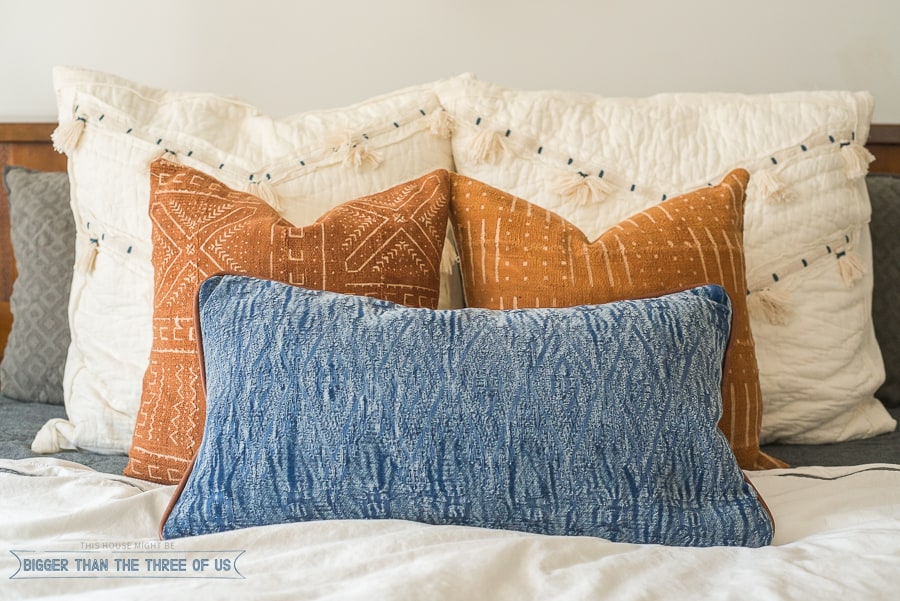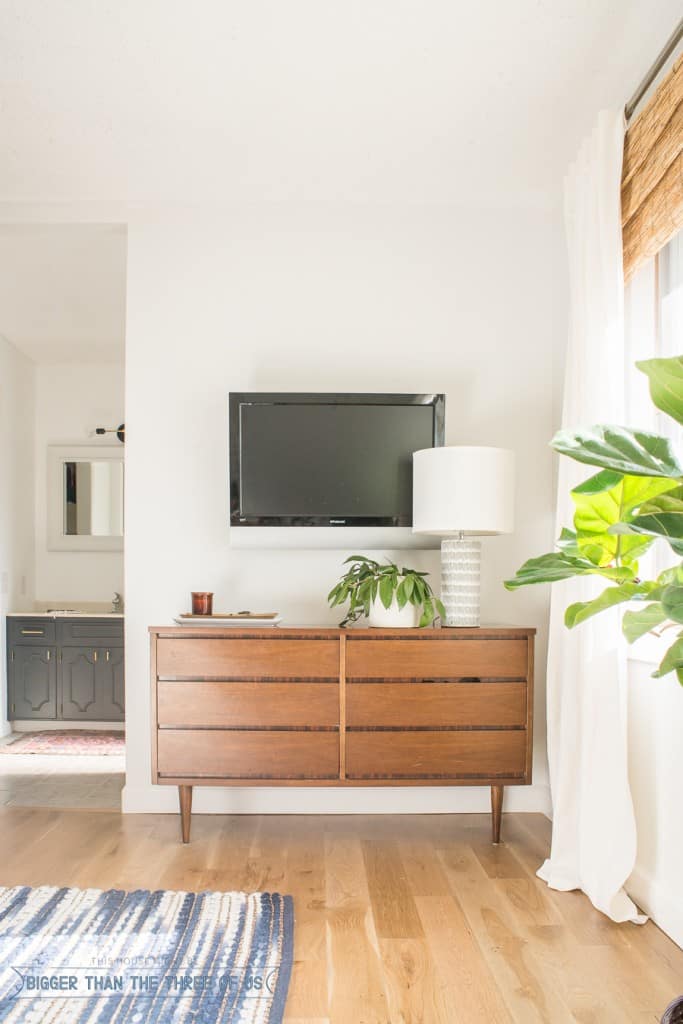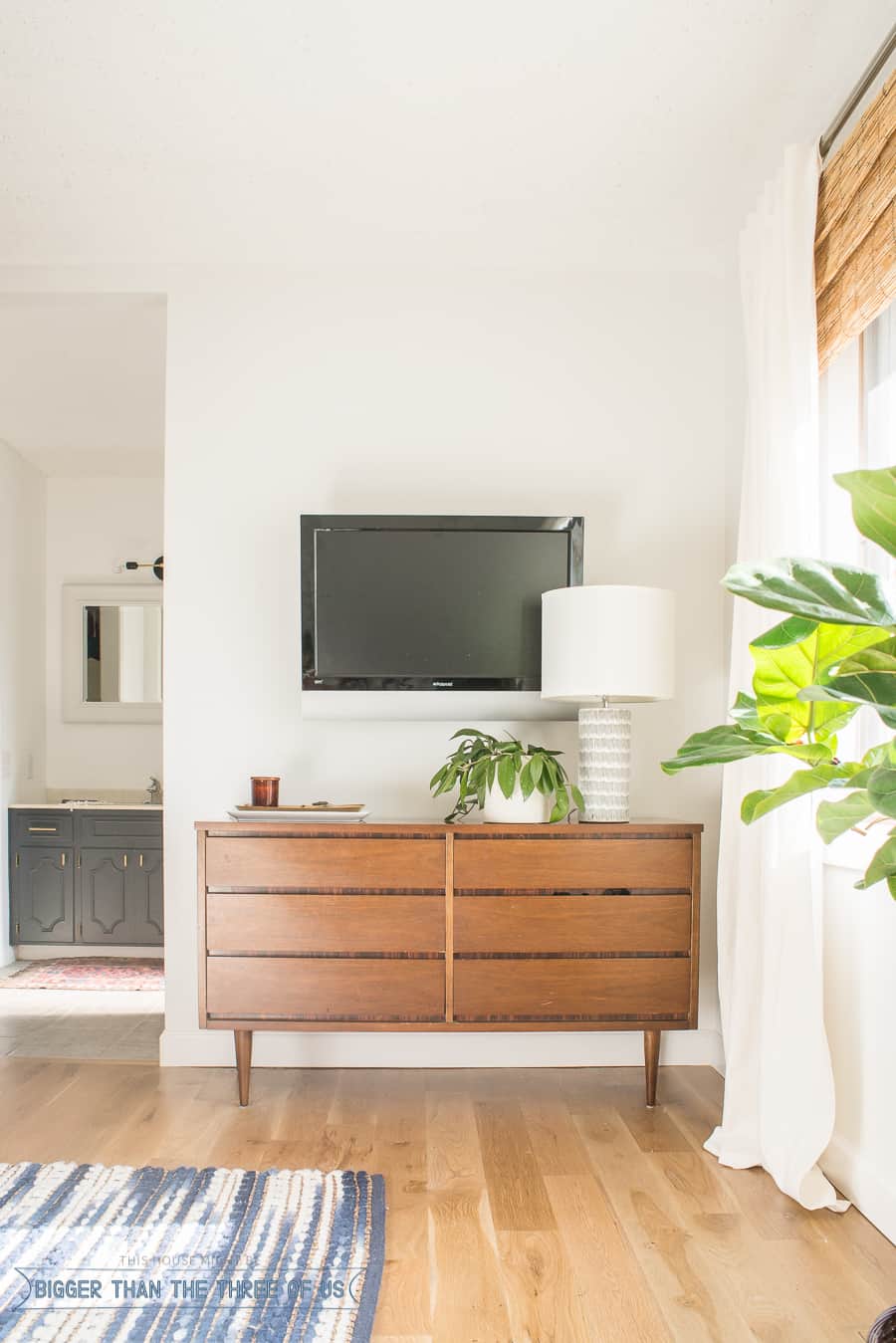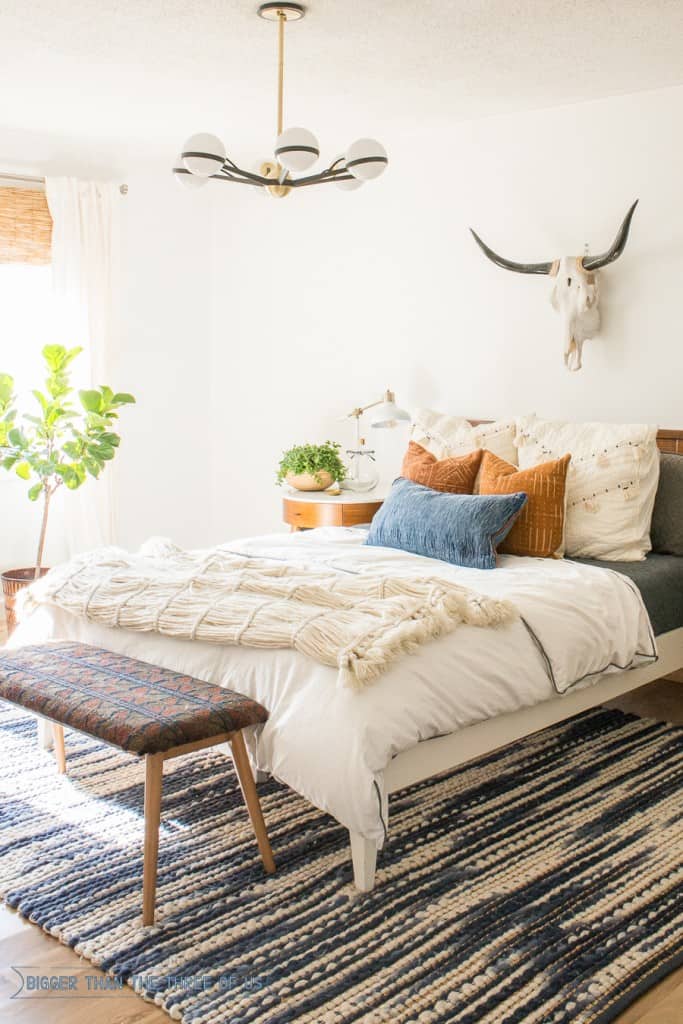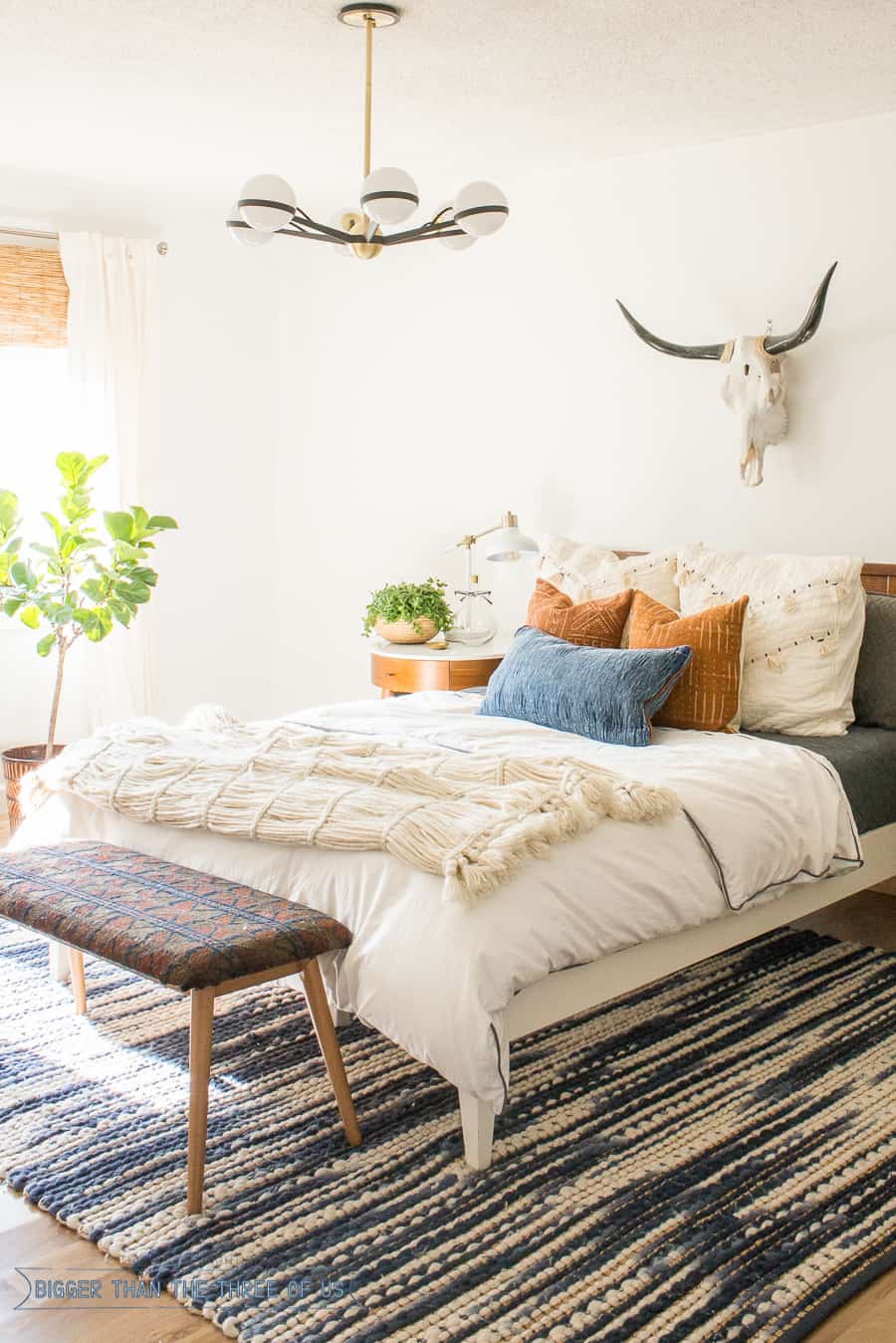 Master Bathroom Nook : Completed (until big Master Bath remodel)
We installed groutable vinyl tile, DIY'd a light and refreshed the whole space on $87!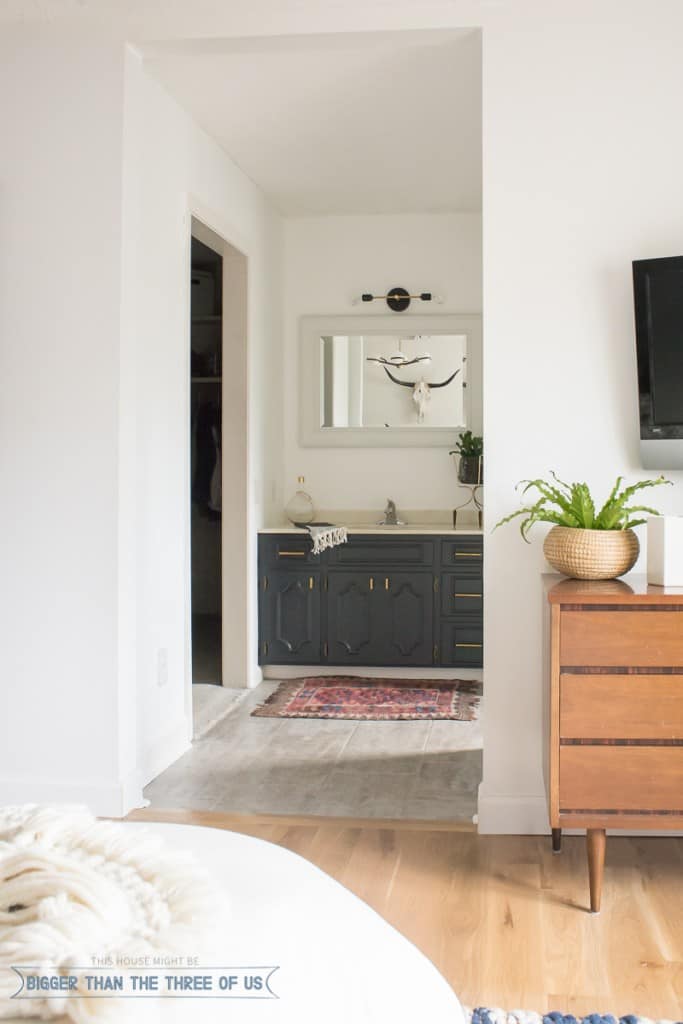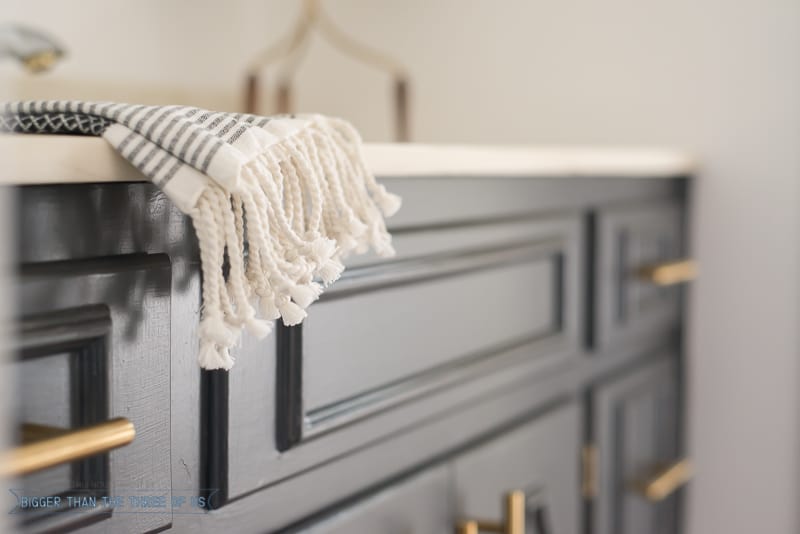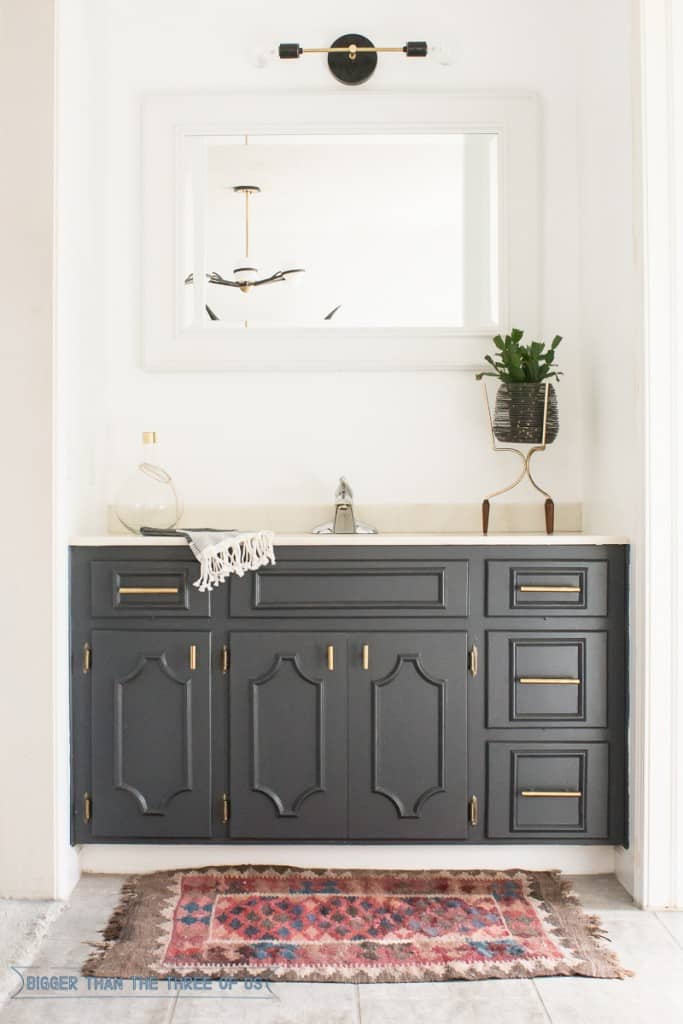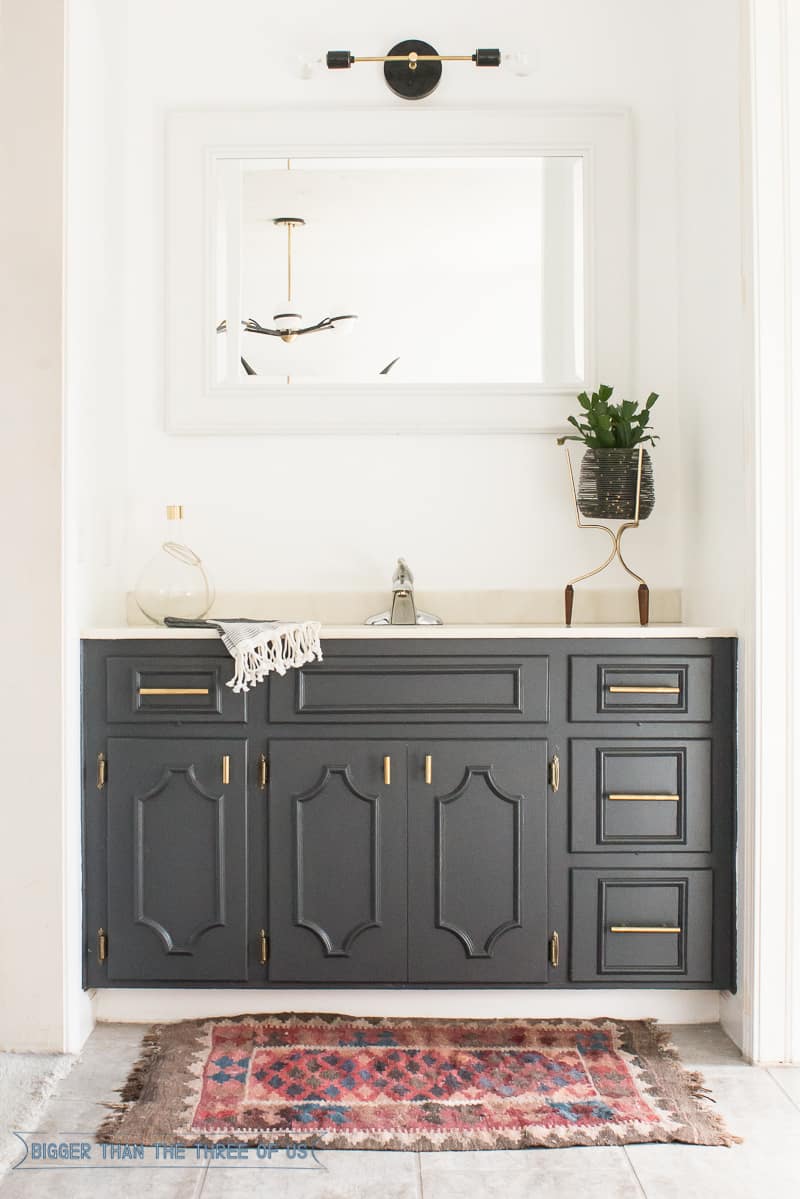 Master Closet: Complete
We recently completed our closet which included new paint (everywhere), new carpet and trim and all new storage.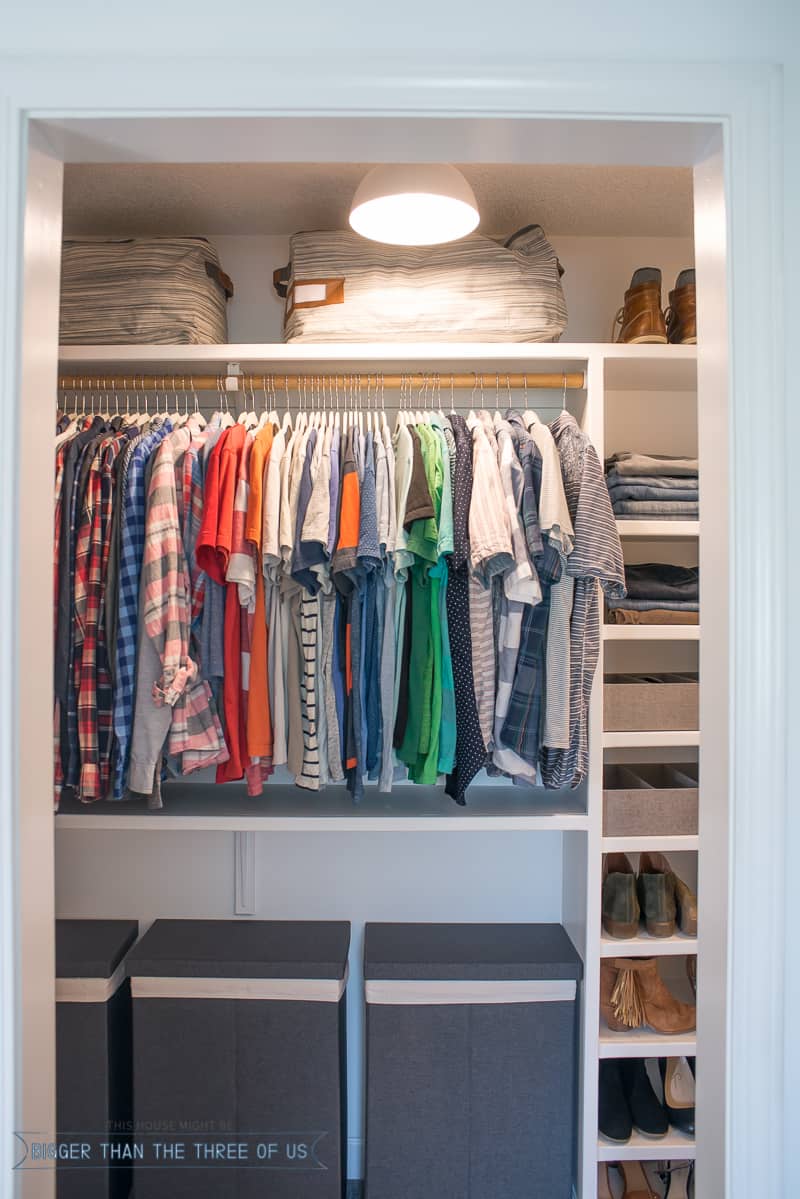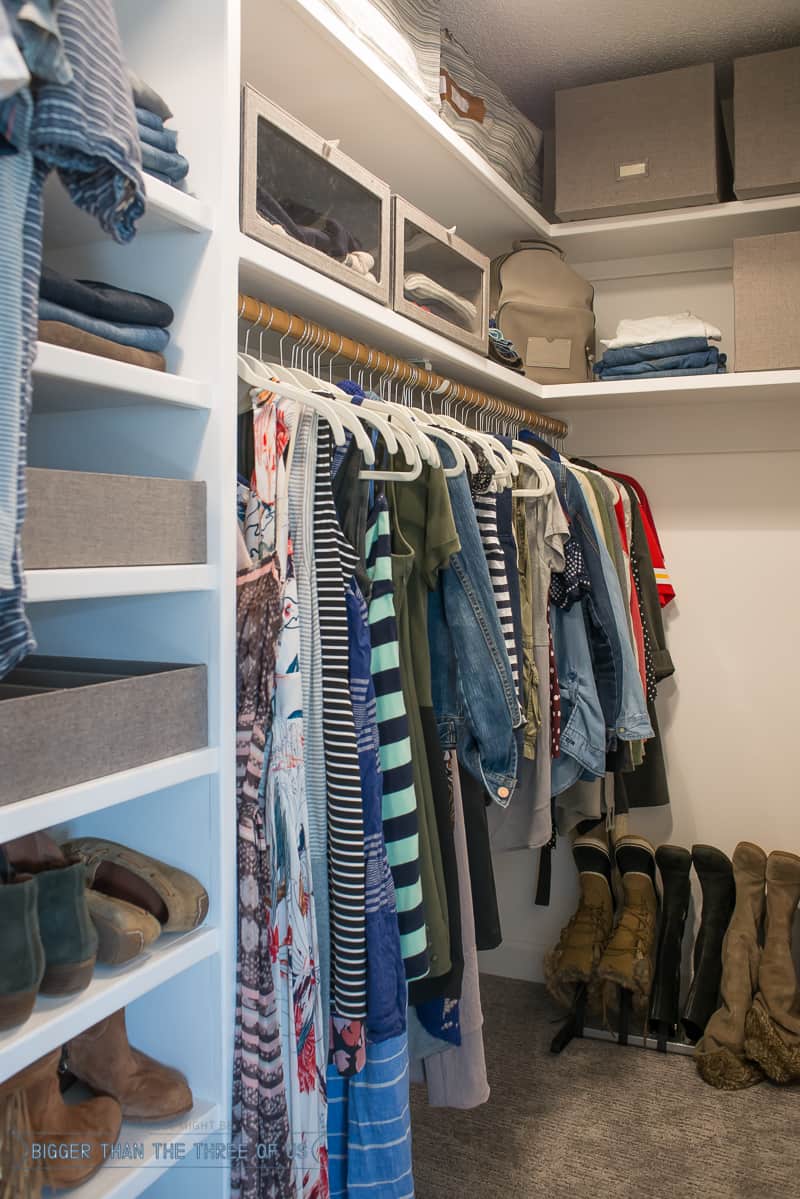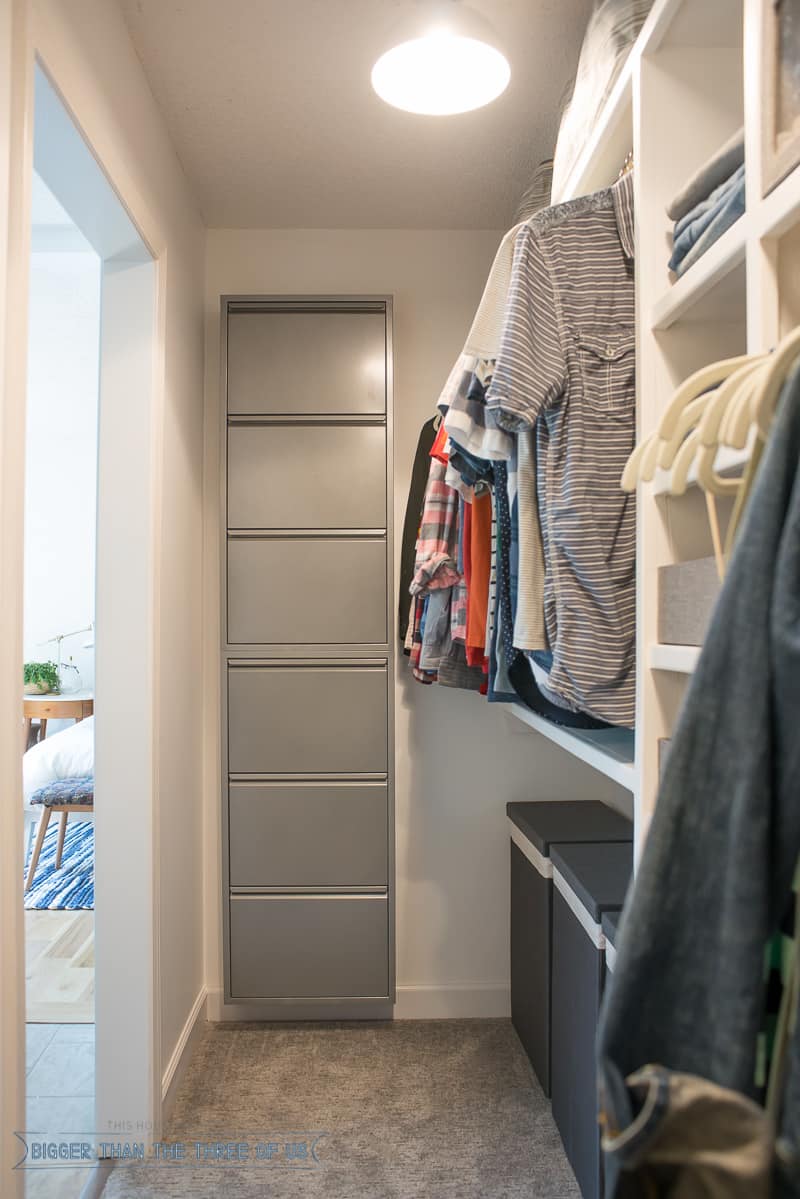 See the whole closet reveal including the drastic before/after here.
Guest Bedroom : 75% completed
We recently (May 2015) participated in the One Room Challenge. We knocked the majority of the guest bedroom out during the challenge. We made a bed, a DIY Hanging planter, DIY artwork, and added lots of texture to the room. We would love to finish it off by replacing the carpet.
See the original One Room Challenge Guest Bedroom Makeover here.
Over the last six months, we have slowly tweaked things in the guest bedroom. I'm loving where we are currently at.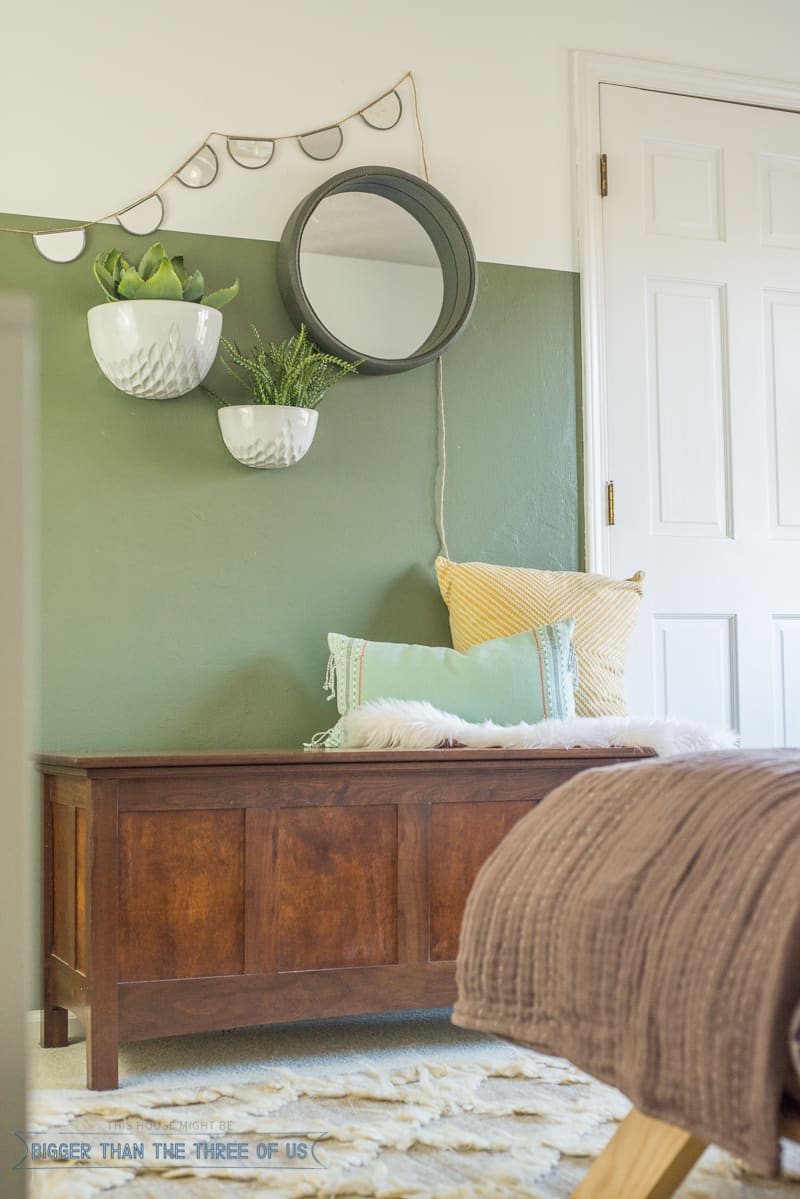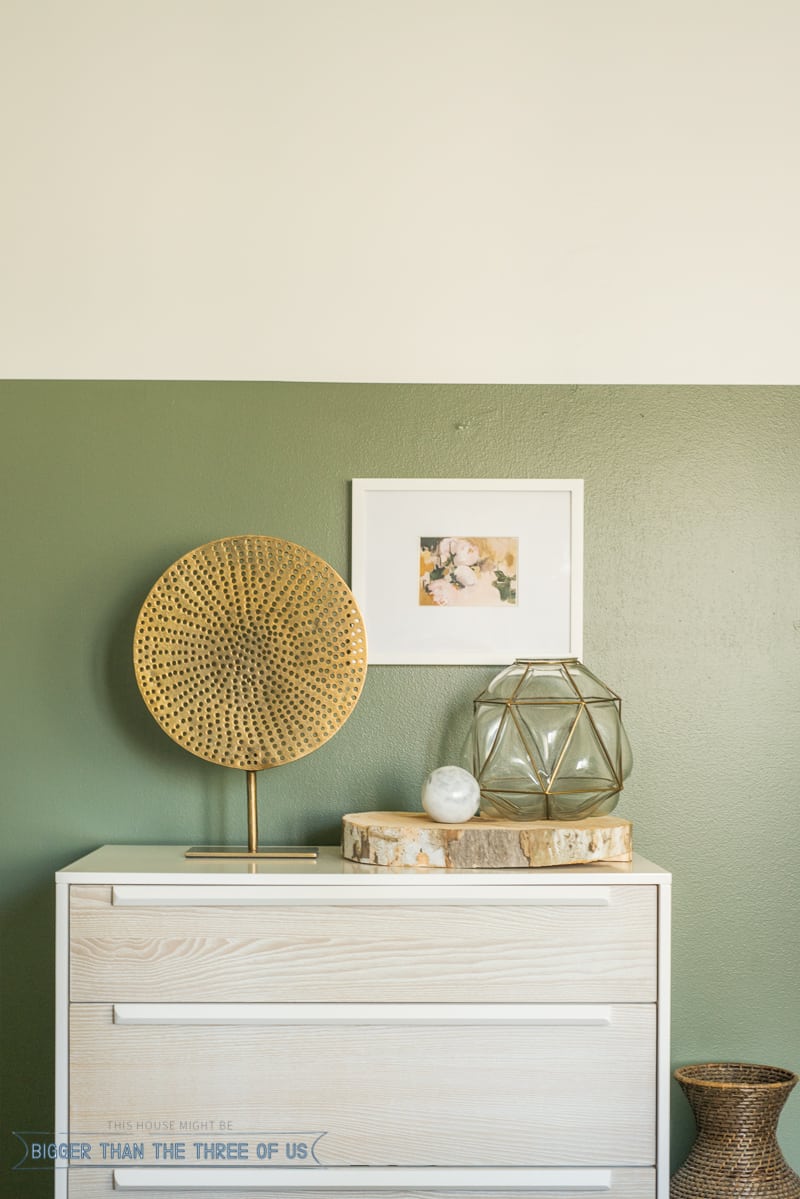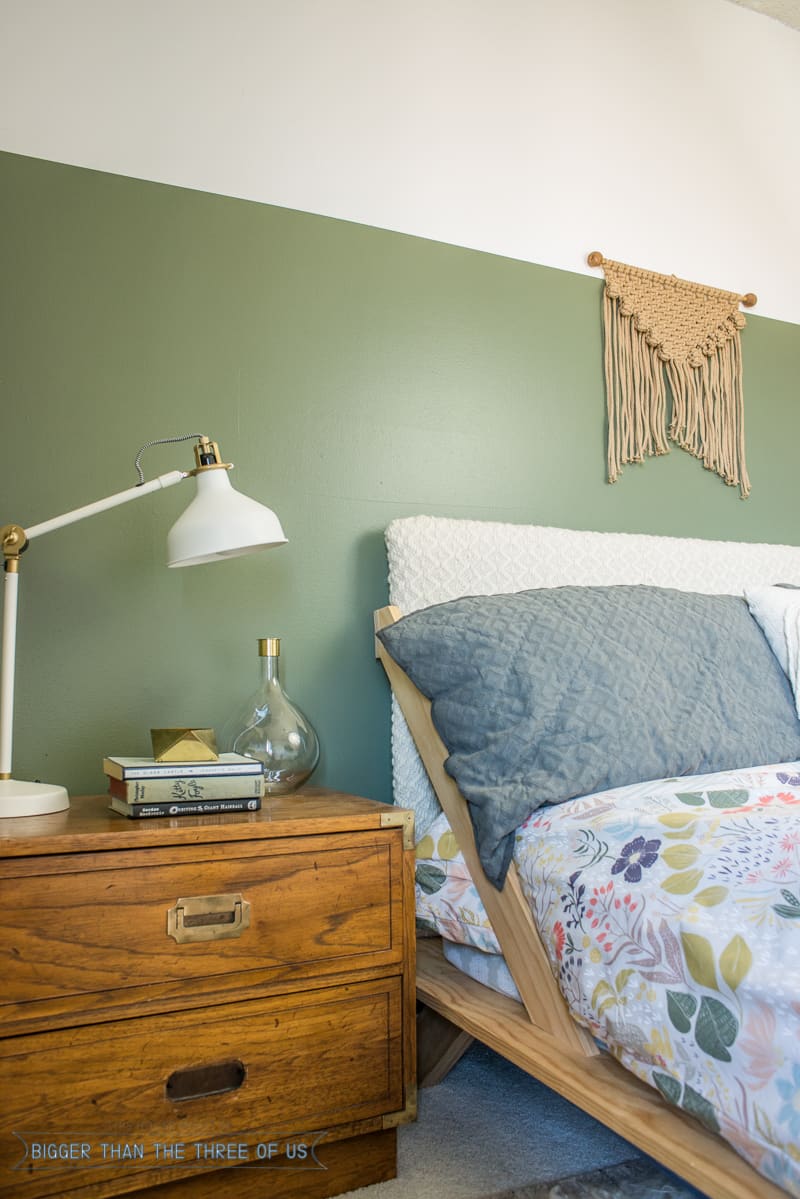 See more of the recent reveal of this mid-century inspired room.
Greyson's (BIG BOY) Room : 95%

We made a firetruck light, blew-up a large picture, painted a customized magnetic map wall, installed a new fan, created a reading loft, added new bedding, refinished a dresser, refinished a metal cart and painted.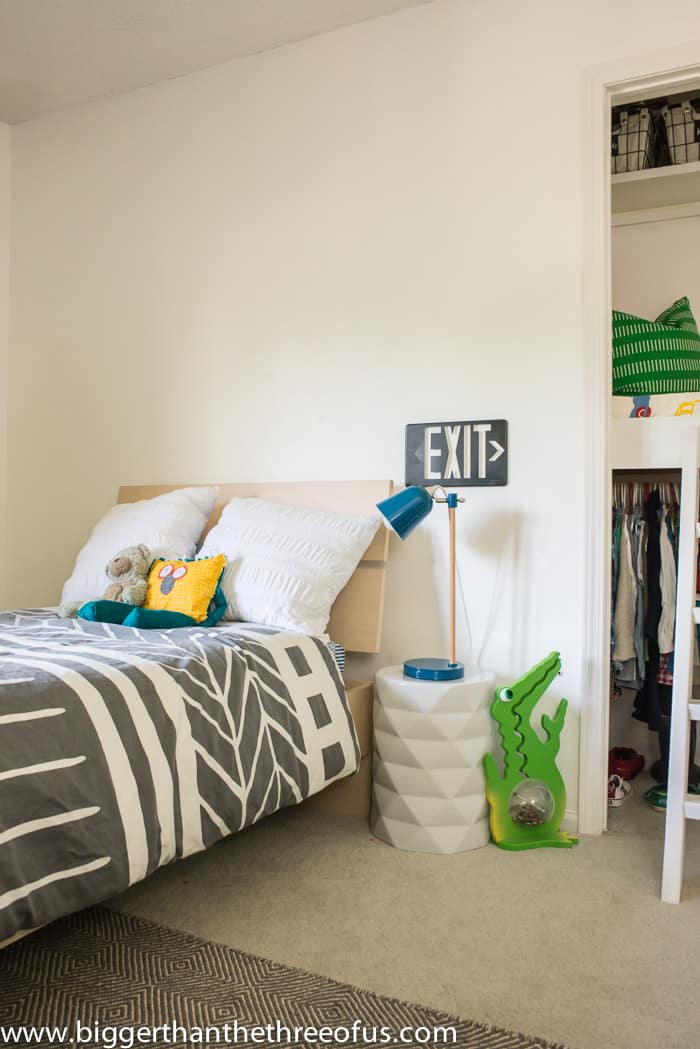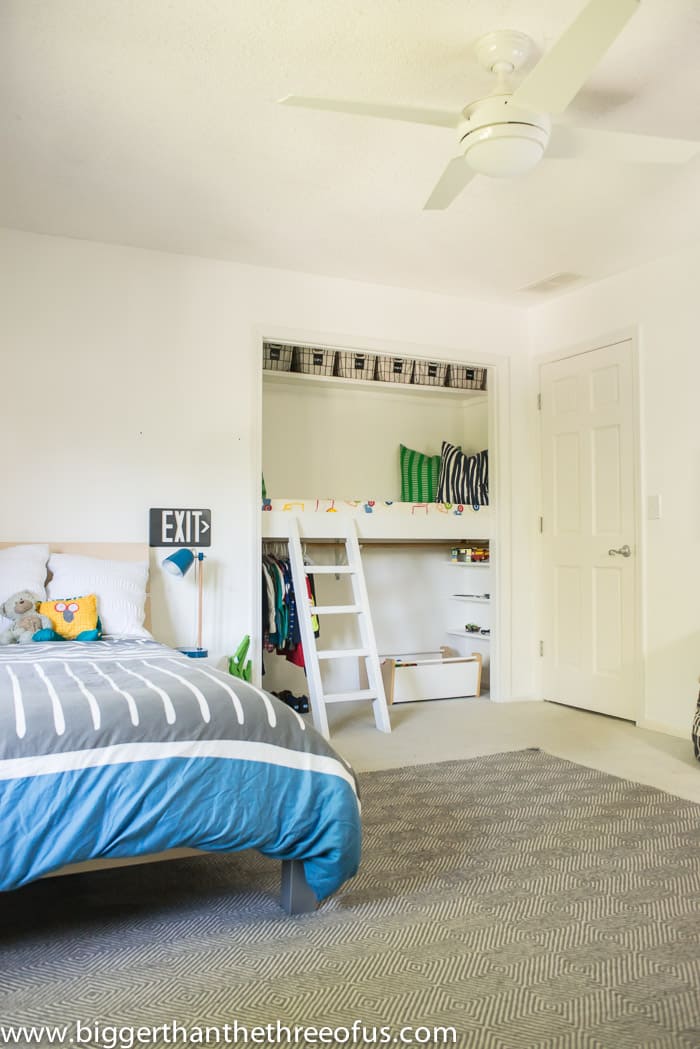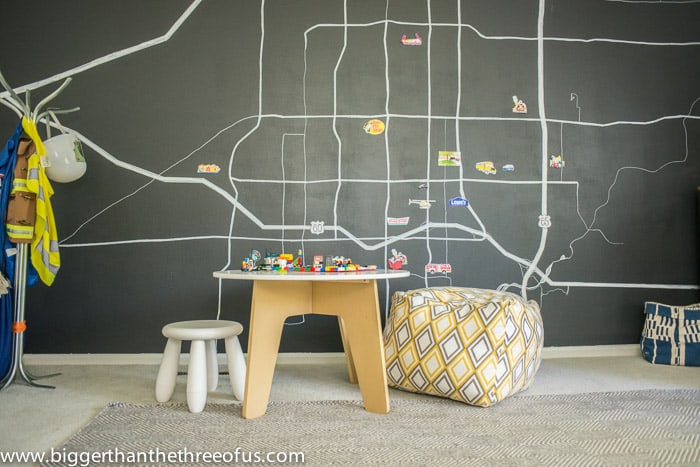 See more pictures and details here.
Upstairs Hallway: 98% Completed
We ripped down wallpaper, had the walls re-mudded, painted, added new lights,  added a travel gallery wall, had hardwood installed, took down the gallery wall, added new lighting and a runner, DIY'd large photo mats, showed you how to cope baseboards and revealed the hallway with large scale photos.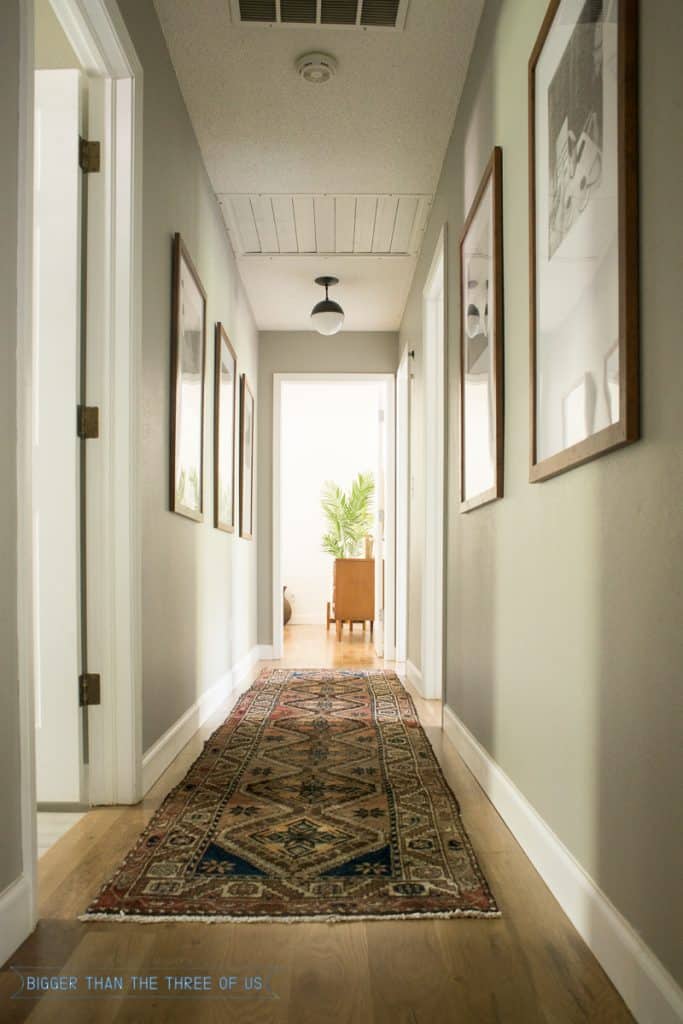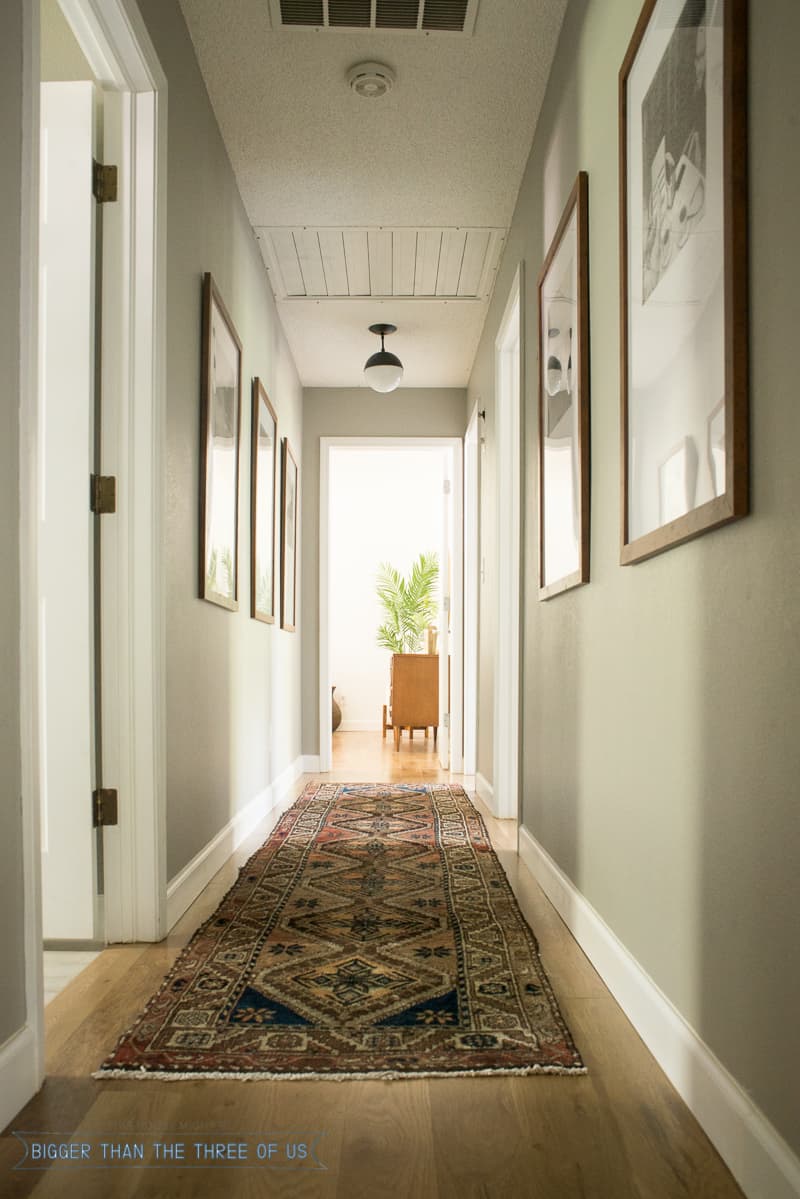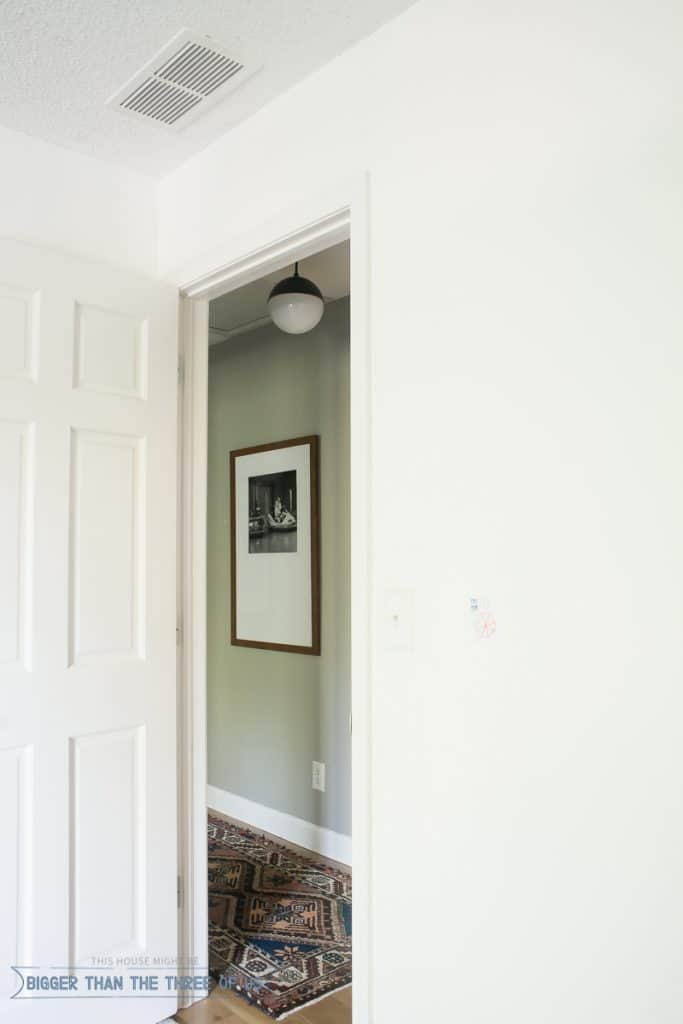 We still need to replace the hardware knobs for the attic fan and install new door knobs throughout the hallway.
Hallway Bathroom: 65%
We put in new lights, installed tile, added some privacy to the windows, put in new sinks and faucets, redid the electrical, relocated sconces and mirrors, ripped down wallpaper, painted almost everything, and added some DIY plant hangers.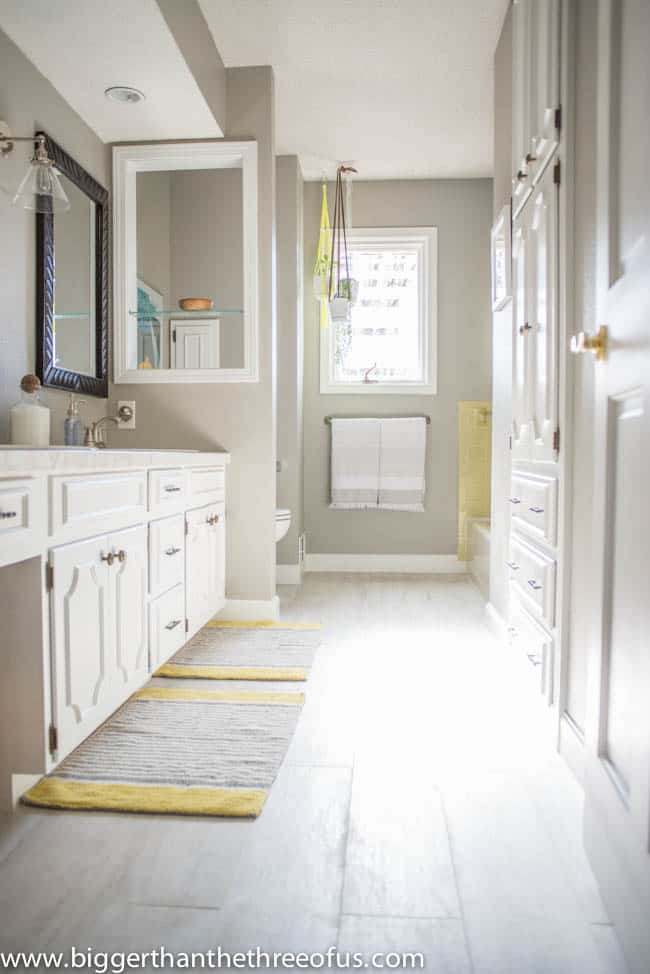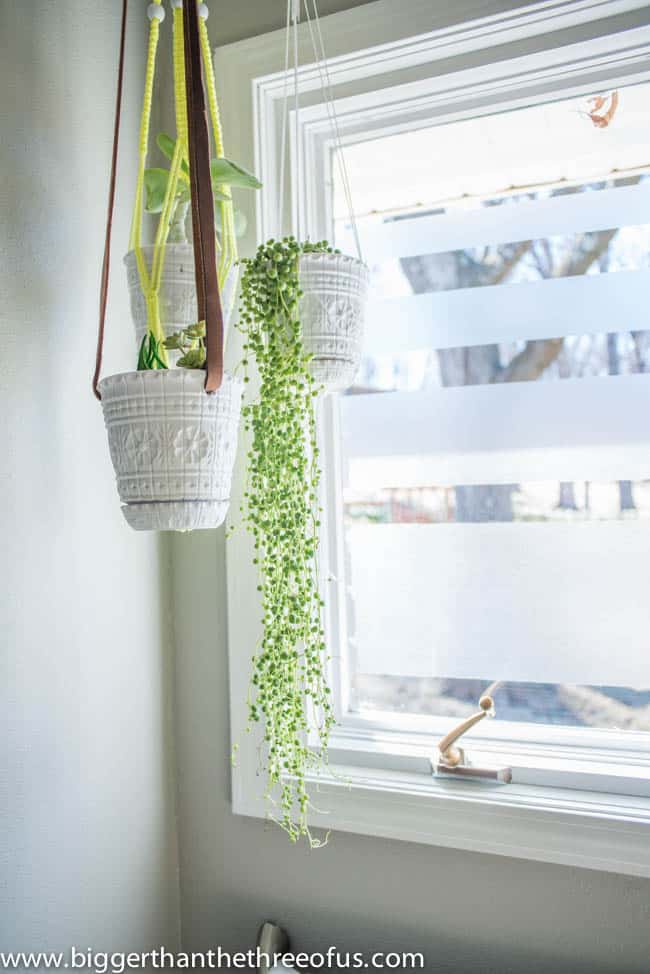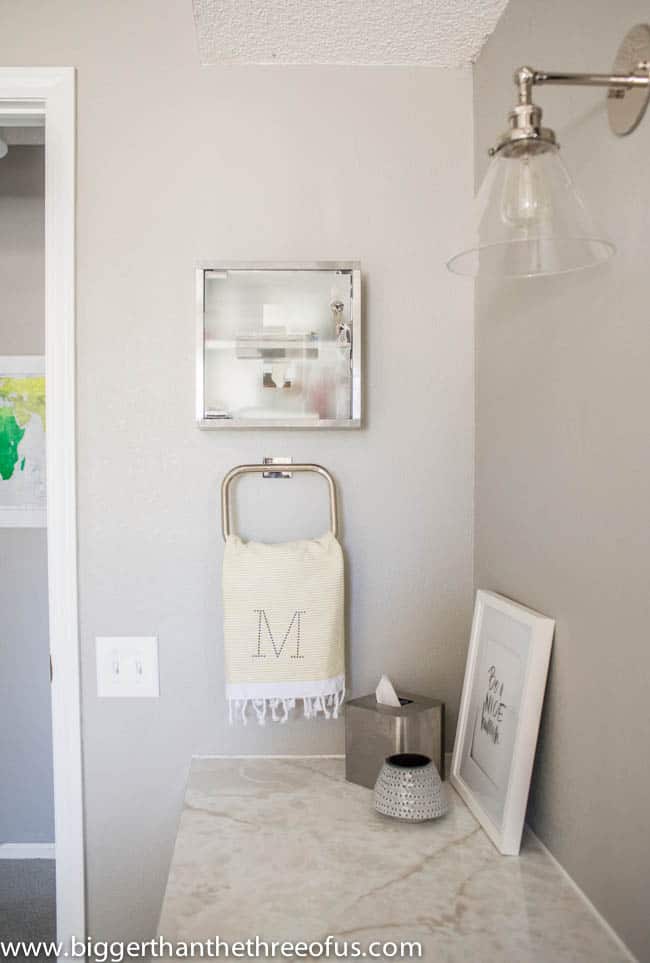 You can see more pictures and details of the bathroom in the bathroom reveal.
We have quite a few rooms that haven't been touched at all (carpet in some bathrooms, no overhead lights, etc.) but we are slowly making progress.
SaveSave
SaveSave