Learn how to add contact paper for windows that need a bit of privacy. Frosted contact paper is easy to install and is great because it still allows light to stream in.
We've been knee-deep in DIY for years now and one thing that we've come to appreciate is when we have a DIY project that is short and not messy. As you probably know, when you DIY, part of the struggle is getting out all the tools before the project and then cleaning all of them up afterwards. Add in, a shower for yourself and you've got a bunch of time wrapped up in the project without the project actually happening.
Adding a contact paper window cling is a thirty minute project and doesn't require "messy clothes" or an hour long cleanup afterwards. I'm typically game for projects like that but they are few and far between.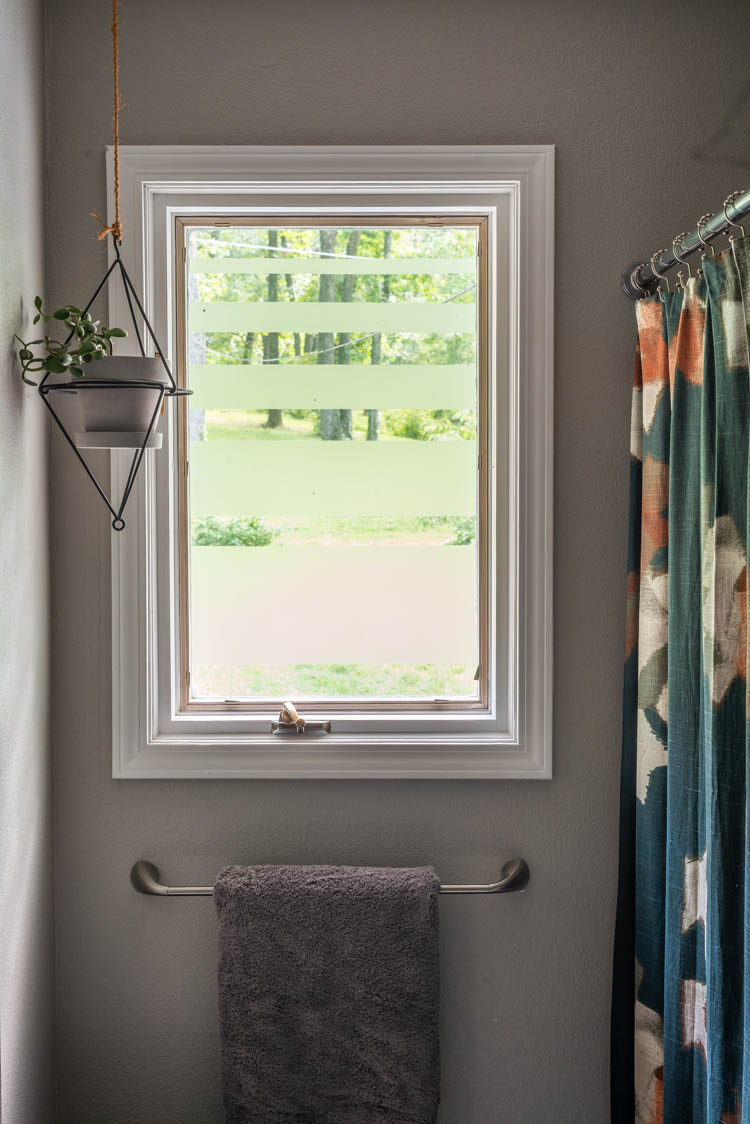 Affiliate links below. Thanks for supporting this blog. Click to read my privacy and disclosure statement.
Contact Paper For Windows
Supplies Needed for Bathroom Contact Paper
Painter's Tape
Straight Edge (you could use a credit card or a wallpaper smoother)
Scissors
Utility Knife
DIY Window Privacy Film Tutorial
Decide on if you want to just add the frosted film to the window and cover the window or if you want a pattern. We opted for a pattern.
For our pattern, we followed the Fibonacci sequence for the width of the frosted film strips. We marked out 2″ gaps between the frosted film strips and then cut the strips to size.
Starting on one side, we pulled the backing off the frosted film and started attaching it to the window.
Go slowly with a straight edge and push any air bubbles out of your privacy window film.
Continue until you have covered the window.
We opted for the striped frosted film on our window because our window faces our backyard and is set off from our neighbor's house. Privacy isn't a huge issue for us but we did feel like we needed something on the window since it's a bathroom.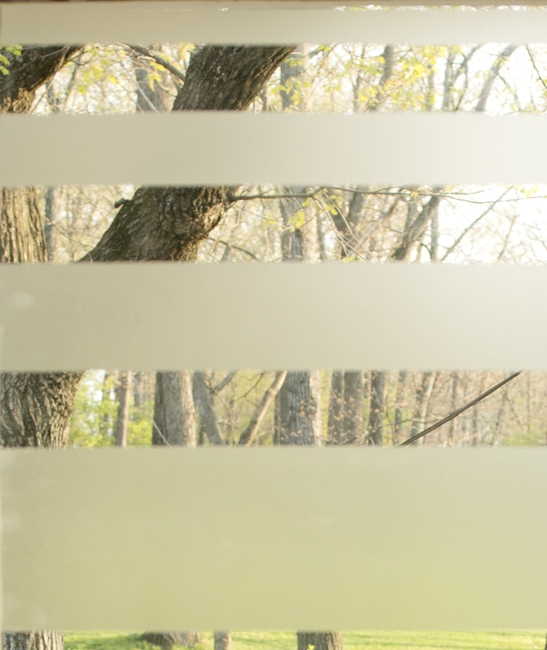 As for the Fibonocci Sequence for the width of the stripes, I'm married to an engineer and that was his idea. Ha. It would have never occurred to me to use that.
If you weren't doing striped privacy window film strips, then you probably wouldn't need the level. In our case though, the level and painter's tape helped us keep track of the width of spacing between our frosted film strips.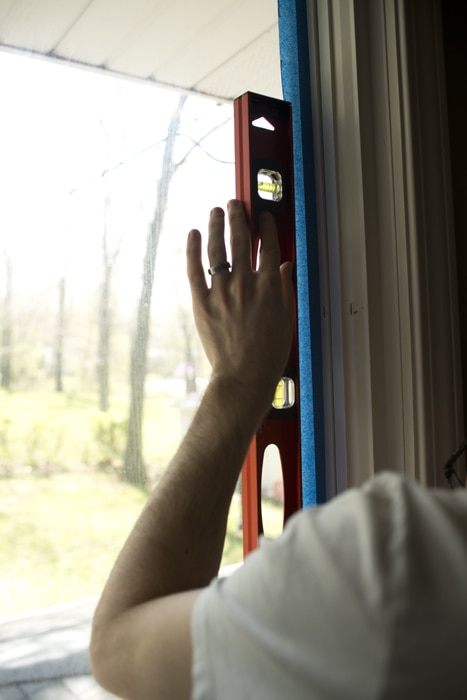 If you are concerened that you'll mess up installing window privacy film, don't be. Because…
Will contact paper come off of glass?
Yes! You can peel contact paper off of glass. If any residue is leftover, use a gentle cleaner and the glass will be as good as new.
I know this because I had tried doing this project in a large sheet on a window before and my results weren't terrific. If you know me, then you know that I'm not a perfectionist. I'm not particularly good at following directions or taking my time. Anyways, my results weren't great so I pulled the contact paper off the window.
So, I know from first-hand experience that you can install contact paper on windows and you can easily get the contact paper to come off the glass as well. =)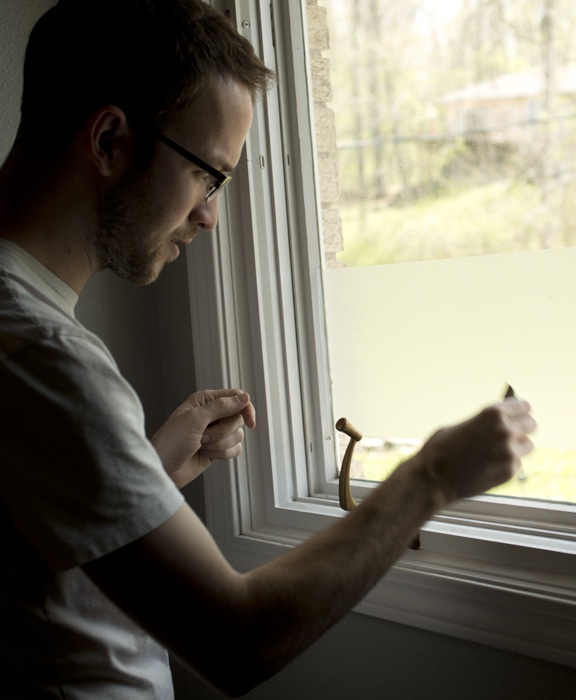 The best advice for this project is to go slow as you apply the window film and smooth the air bubbles as you go. It's not hard, it just requires a bit of attention to detail.
This project lasted a tad longer than expected, because I decided to clean the windows outside after we got it done. A few years ago, we bought an inexpensive window cleaning set and have used it a ton outside.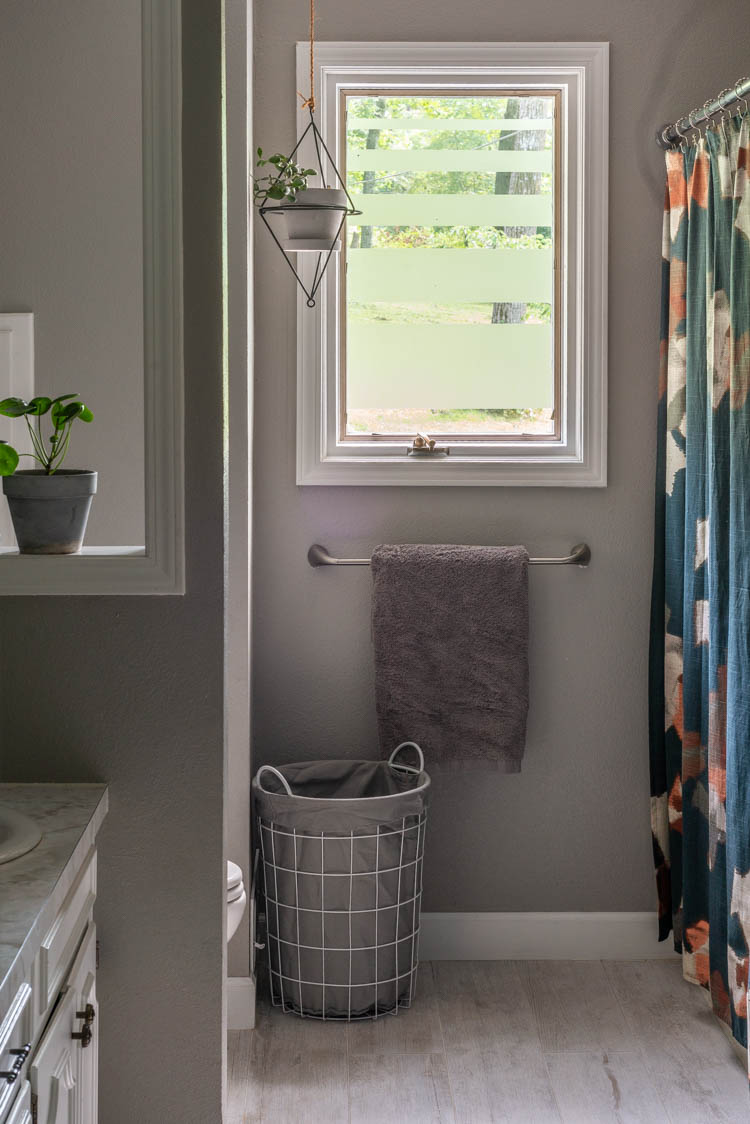 We just completed this project AGAIN in our master bathroom. If you want a video tutorial for this window privacy treatment, then check out my Bathroom Window Privacy DIY.
I'd love to give both bathrooms a complete top-to-bottom gut renovation but, until then, they are totally fine. A little love here and there in our spaces can go a long ways.
Ok, tell me… have you ever frosted windows before or would you consider trying something like this?!