Get inspired by these river rock front yard landscaping ideas perfect for landscaping around trees with stones, creating a rock flower bed, etc!
As I've slowly dipped my toe into outdoor improvements - looking at you boxwood and shutter removal, little free library install, firewood storage, replacing mulch with rocks - I've gotten more confident.
I've also started making it a priority to gather inspiration while driving by other homes with river rock landscaping or just good landscape design with rocks in general. We have a large yard (both in front and back) and, although we've installed the dry creek bed already, our yard needs more help.
All of that is to say, that I think landscaping with rocks is a great idea because it cuts down on the maintenance of having to add mulch seasonally, BUT, I also think there's a balance to executing the look. Pretty often, it seems to be done not-so-well. Today, I thought I'd share some rock landscaping ideas that I think are done well and then I'll point out what works and why.
10 River Rock Front Yard Landscaping Ideas
Some of these front yard rock landscaping ideas have less rock and some have more. I wanted to show you a good round-up of inspiration of different rock decoration options that you could incorporate depending on your home style and yard size.
Style 1: River rock flower bed walkway to front door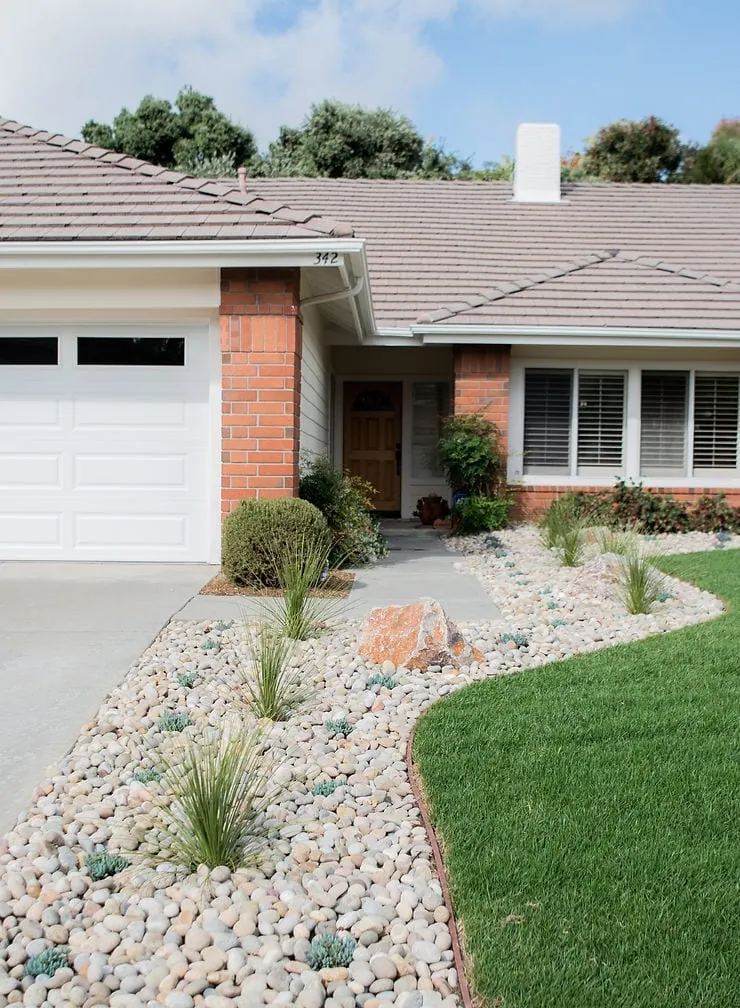 Sometimes, river rock flower beds look harsh against concrete but this one looks really nice. In my opinion, the curves of the rock bed keeps it feeling more organic and welcoming. I also really like how it continues with a playful curve along the windows as well. It's a good example of how to continue your river rocks along the front of your house instead of just doing them on the walkway to the house.
Stye 2: Edging your flower bed landscape with rocks and mulch
I think creating a flower bed rock edging like this looks absolutely amazing. I'd be slightly concerned how hard it would be to keep this type of rock decoration edging looking nice though. After you mow, I'd assume you'd need to blow off the rocks and a bit of the mulch to keep the grass cuttings from sitting on top. It might just be worth it though, because this is such an elevated rock front yard idea that looks beautiful.
Style 3: Landscaping with river rock and rock edging
This is pretty similar to the previous example except that instead of mulch garden beds, it has river rock flower beds. I honestly don't love this option quite as well as the previous but, if it were me, I'd probably do this rock front yard idea because the maintenance would be so simple!
Style 4: Adding a dry creek bed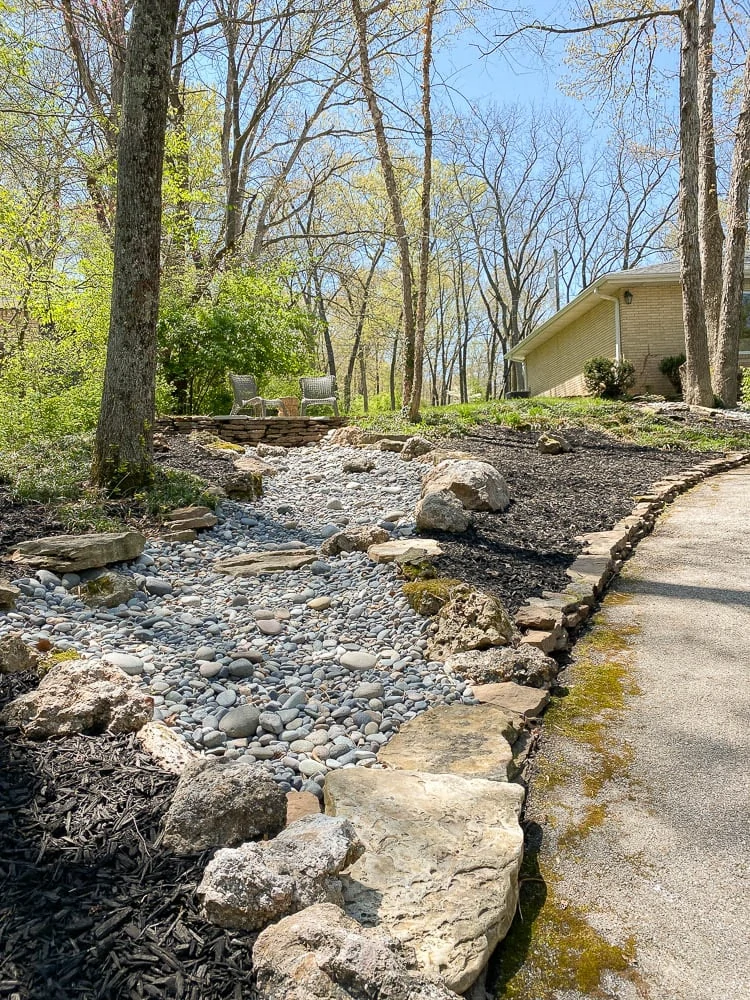 We installed the dry creek bed with large river rock and boulders in the front of our yard a few years ago and just love how it turned out. Check out my blog post on the dry creek bed for all the details on pricing, what went into this project and more.
Style 5: Design around trees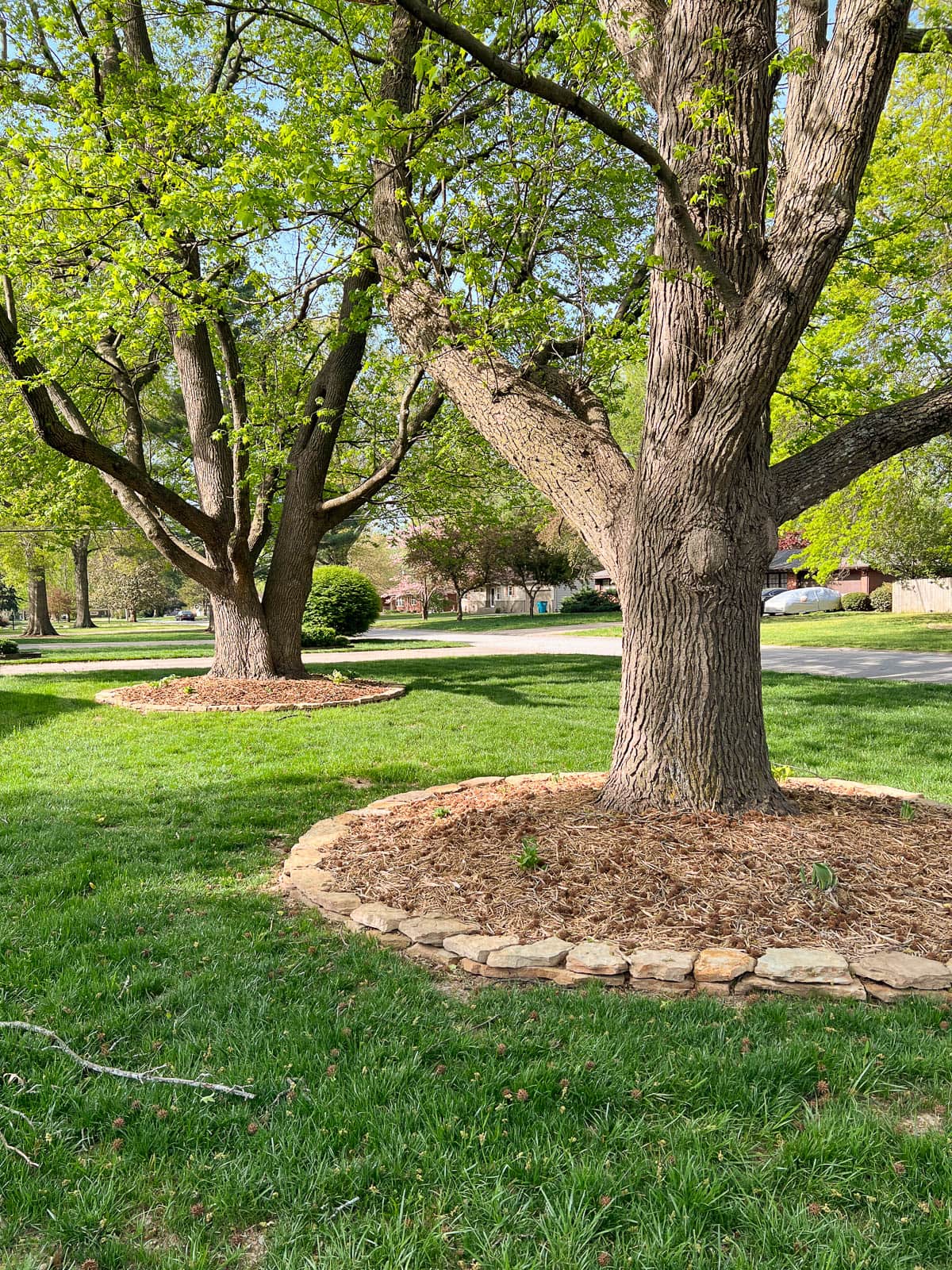 This house is a house I walked by one day and I just loved the landscaping around trees with stones. The mulch around the tree roots probably protect the roots from the lawnmower and I think it just looks so nice.
Style 6: Blue-gray rock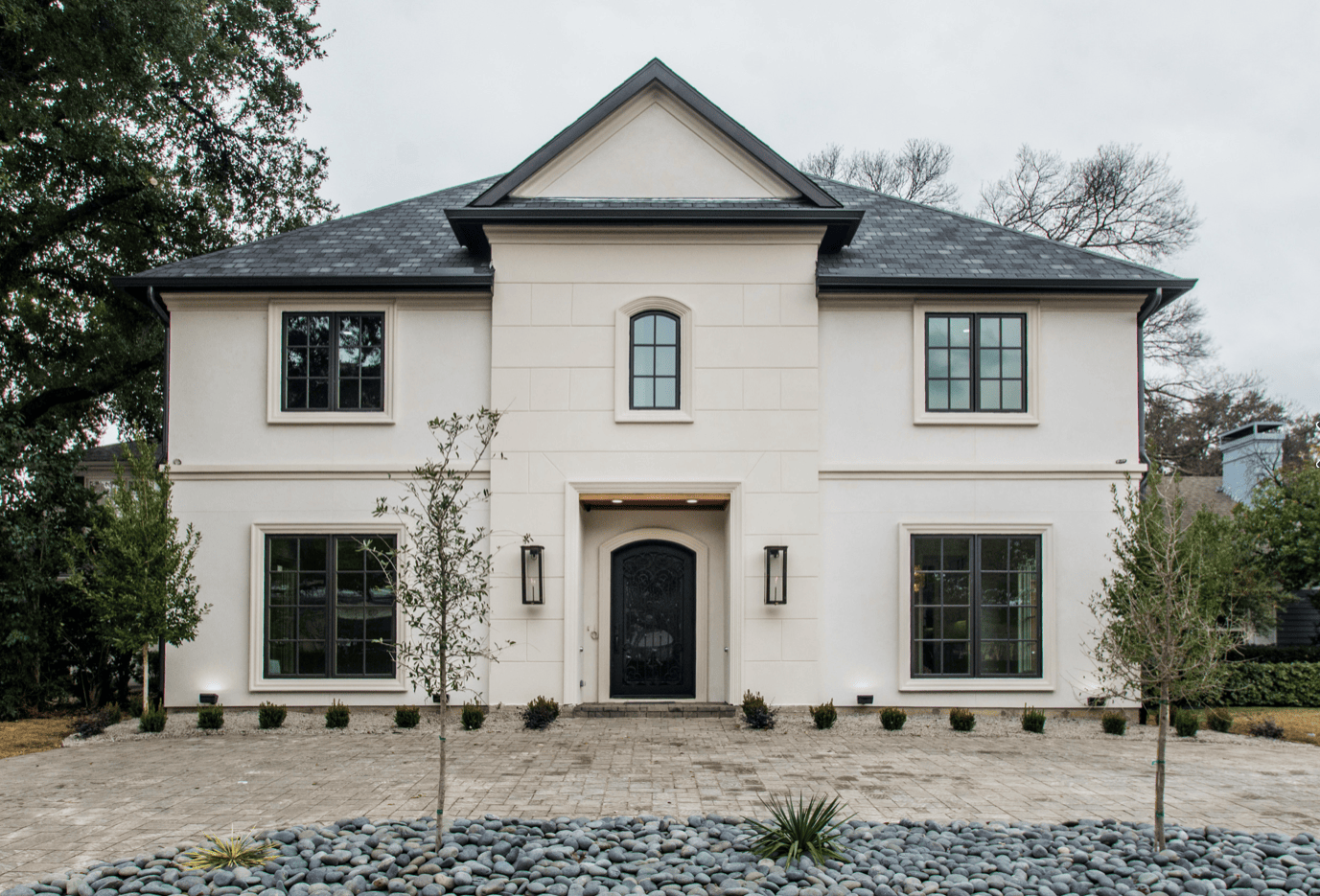 I love the look of smooth river rock in the blue/gray color. We upgraded to a similar stone for our dry creek and I just think they feel so much more luxe than the other types of rock that you can buy.
Style 7: Edging around trees ideas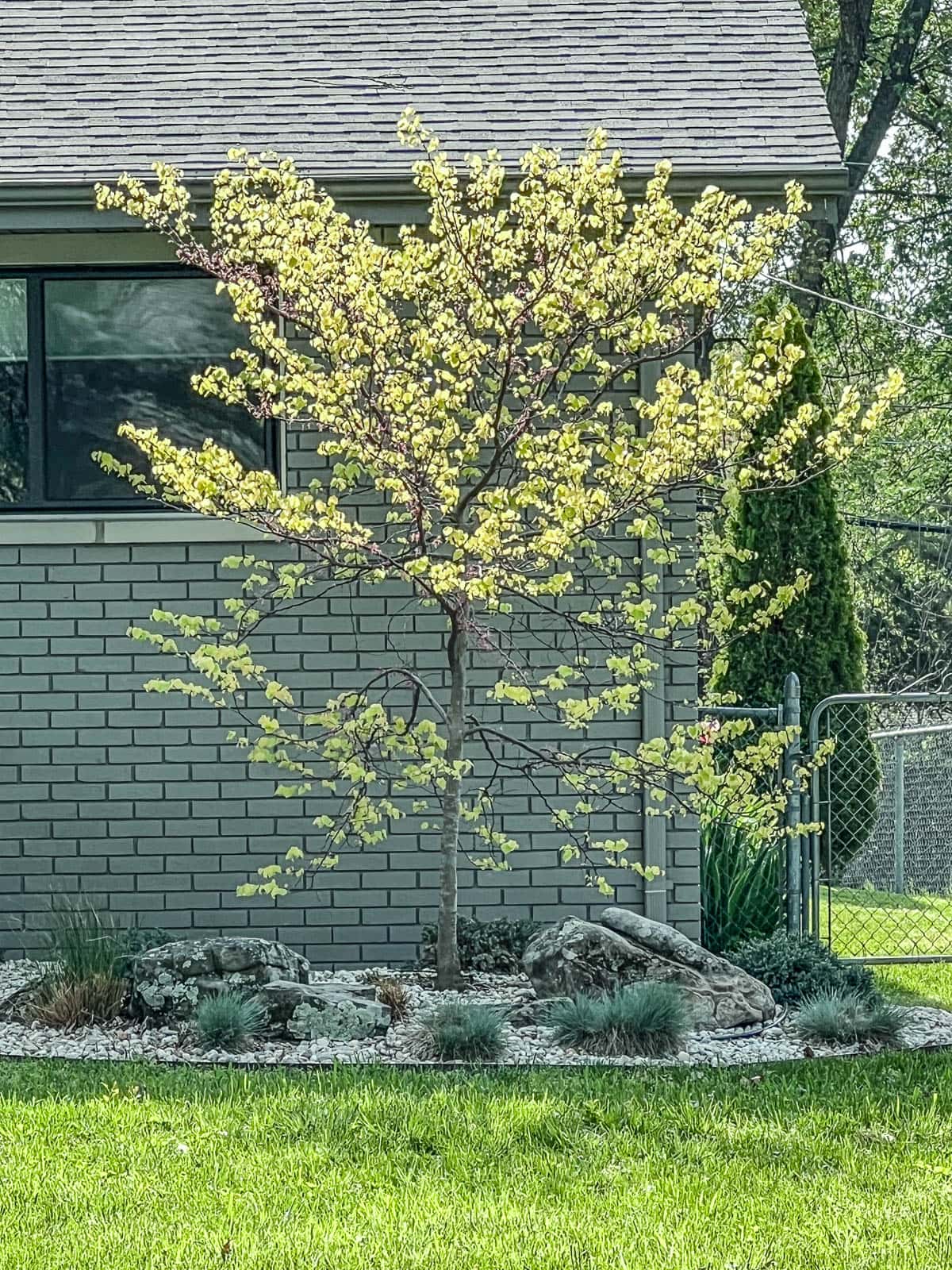 The sun was blaring when I took this photo but I wanted to share a mix of tree landscaping ideas with rock and I thought that the mix of mid-size boulders in this design was really nice.
Style 8: Large boulders with mulch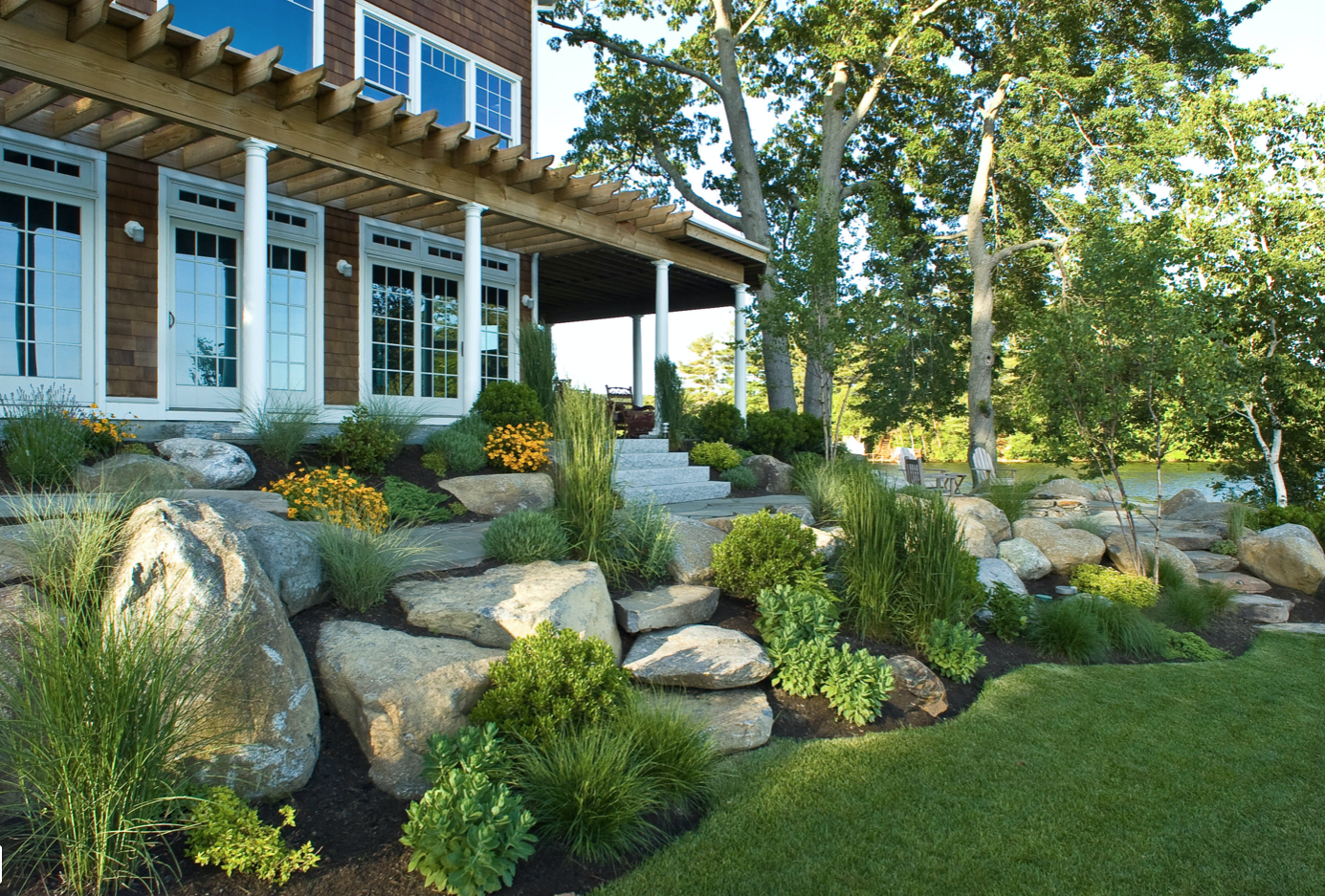 You'd have to be really aggressive on keeping the weeds at bay with this design but I adore the large boulders and how they are such a focus on the landscape design.
Style 9: Flat-lay rock design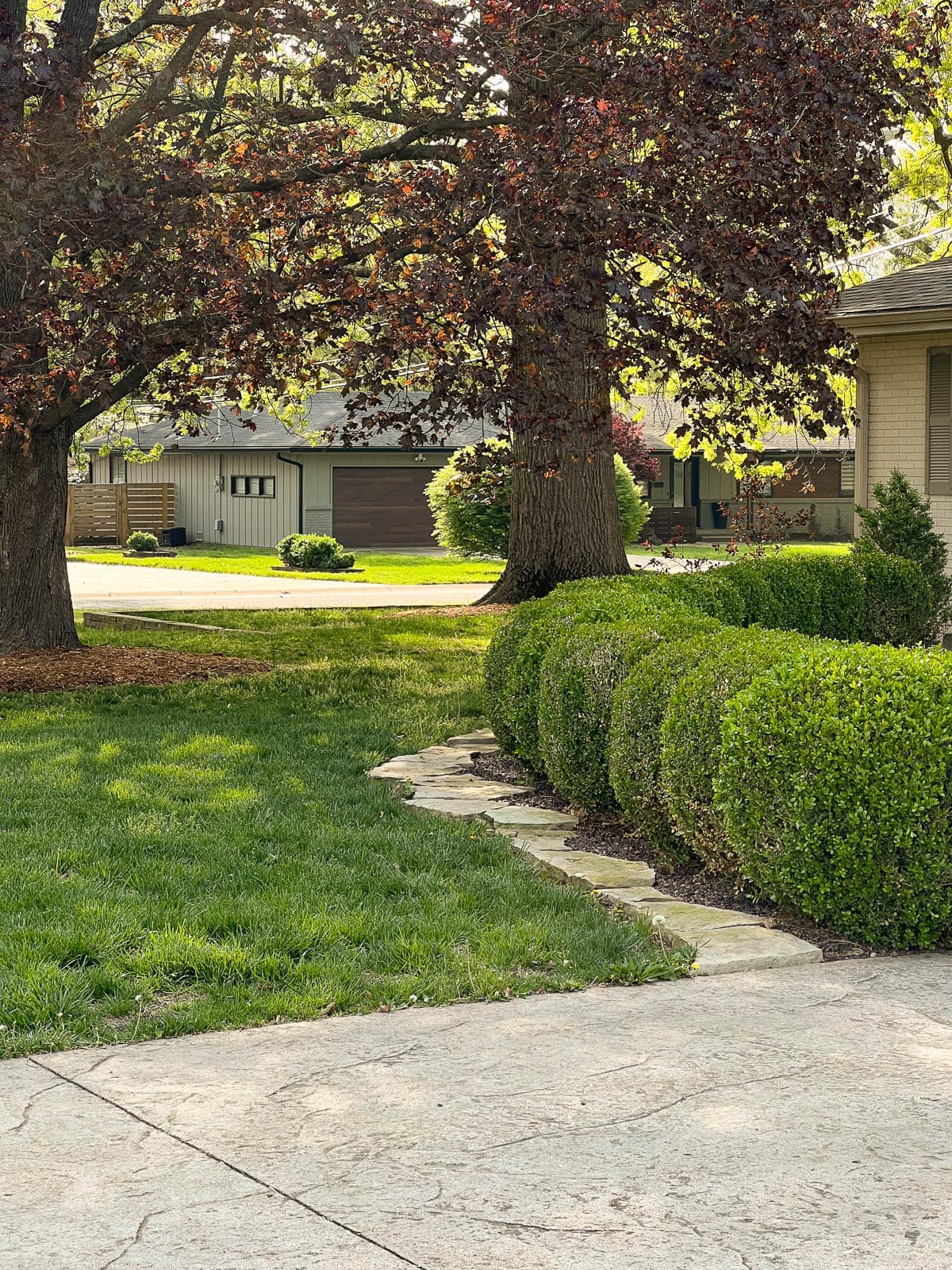 This lawn edging is similar to some of the ones above but the flat stones they used are really large here. In person, it felt so nice!
Style 10: Small boulders and other designs around trees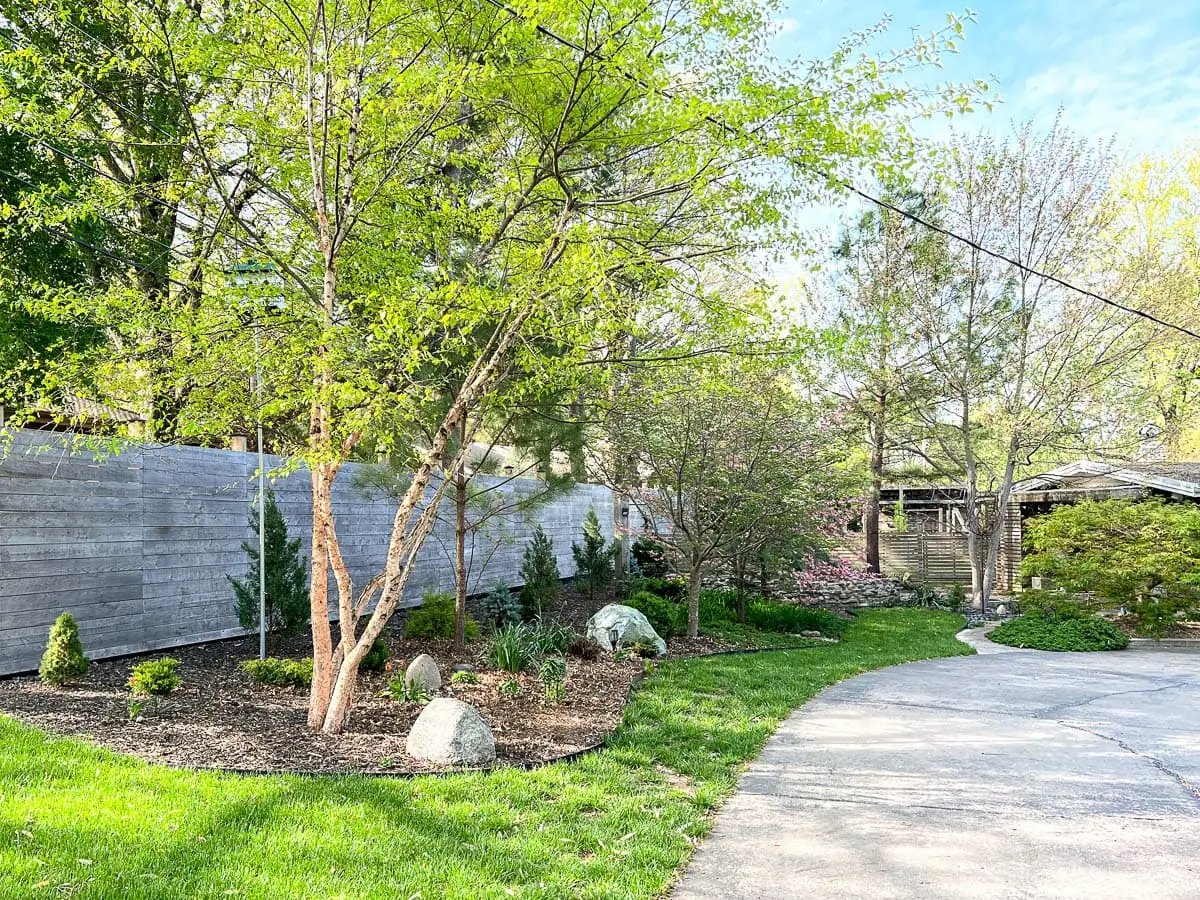 I admire this house's landscaping every day. They have such a nice, Japanese inspired, vibe going on. They have larger river rock stones in front around the tree bases but I also really like how each rock in the back has a presence to them.