Read all about adding a little free library to your neighborhood including information on buying a little library kit, plans to make your own community library box and more!
If you know me then you know that I'm a huge reader. I've always dreamed of having a library inside my house; of course with the rolling library ladder and all.
We might eventually add a mini library in our hearth room but, until then, I found another way to share my love of reading, by adding a neighborhood library to our yard.
Little Free Library
If you came here looking to listen to the podcast episode, click here to be taken directly to the podcast. It's a conversational episode on how I put up the library box, what was involved in the design, what I think about it and more.
If you are here for the blog post of my mini library, you are in the right place. On to the good stuff...
What is a neighborhood library box?
It's a book lending box where anyone can take a book to borrow or keep. It's run on the honor system, so take a book leave a book type of thing.
I'd seen the different home owners create their own version of a free library box around town for years and have always thought they were such a neat way to foster more community within a neighborhood.
Since we are active walkers in our own neighborhood, we quickly learned after we moved into this house, that a neighbor about fifteen minutes from us has a free library box. We've used their little library quite a bit over the past six years or so.
For a few years now, I've wanted to add my own little library to our house, but didn't want to take away from the older couple who had one in the neighborhood. After really thinking about it and how far away their box is from our house, I decided that adding my own outdoor library box would add to the neighborhood in general.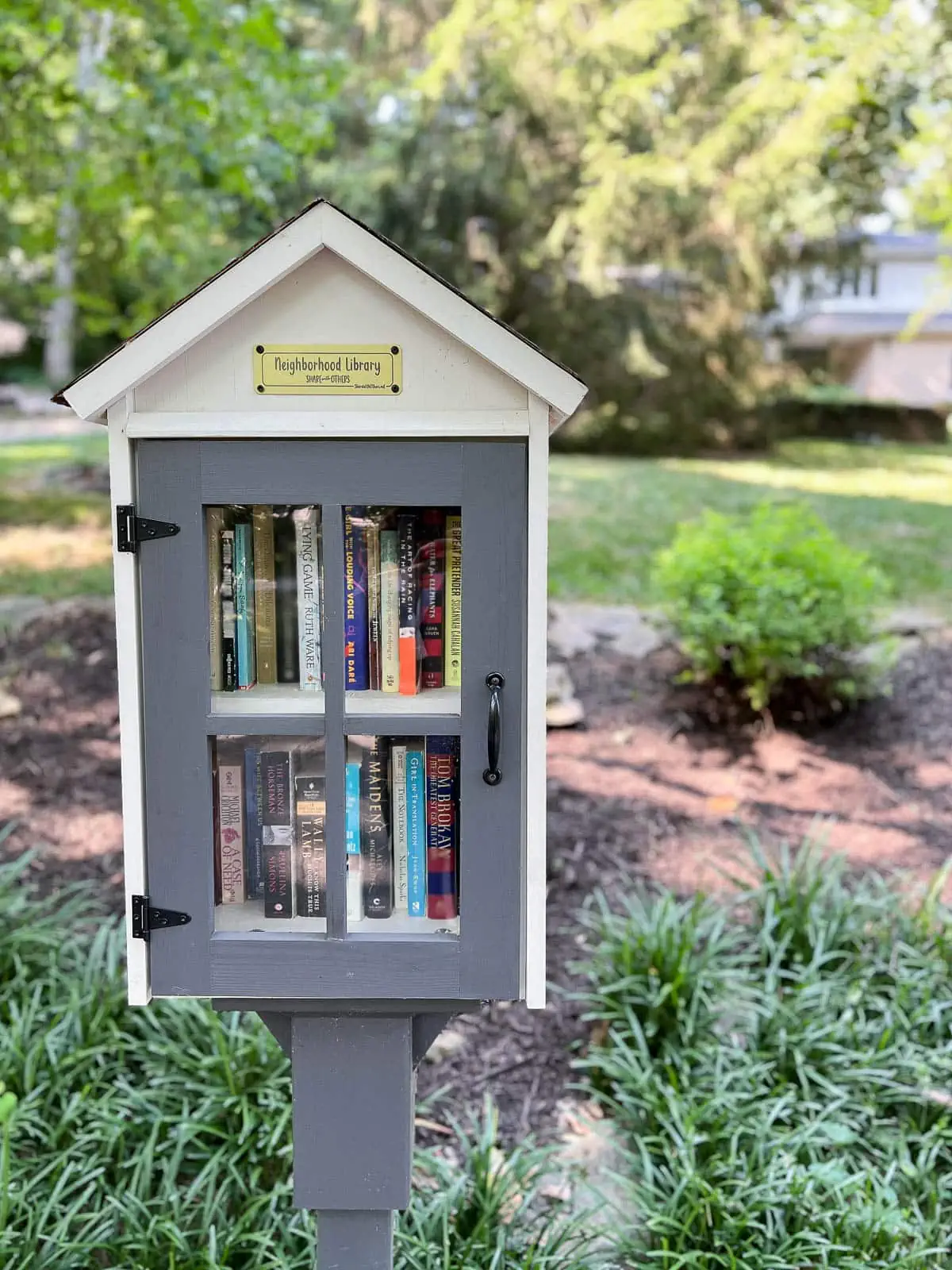 I had three options for the library box: I could DIY it on my own or use little free library plans that you can find online, buy a library kit, or purchase a ready-made little library. All three are honestly great options, depending on your skillset, budget, and time allotment.
Let's talk about each one just a bit and I'll link to some great resources I found for all the options.
DIY Outdoor Library Box and Little Library Plans
There are so many different little free library plans that you can find online to help you build an inexpensive library box. You could even download a plan for the box and then modify it based on what you had in your wood scrap pile.
I read through a few of the little free library plans and it seemed to be a beginner woodworking project. Eventually, I decided that based on the wood that we had in our pile and the time that I had available, I wanted to just buy a little free library kit.
But, it would definitely save you money to make the box library yourself. You just need to weigh the time investment versus budget scenario that we all have to think about when it comes to projects.
So, if you have a bit more budget and less time, a kit - like the one I bought - might be the right decision for you.
Affiliate links below. Thanks for supporting this blog. Click to read my privacy and disclosure statement.
Little Free Library Kit
There are a few different mini library kits you can buy but I bought these: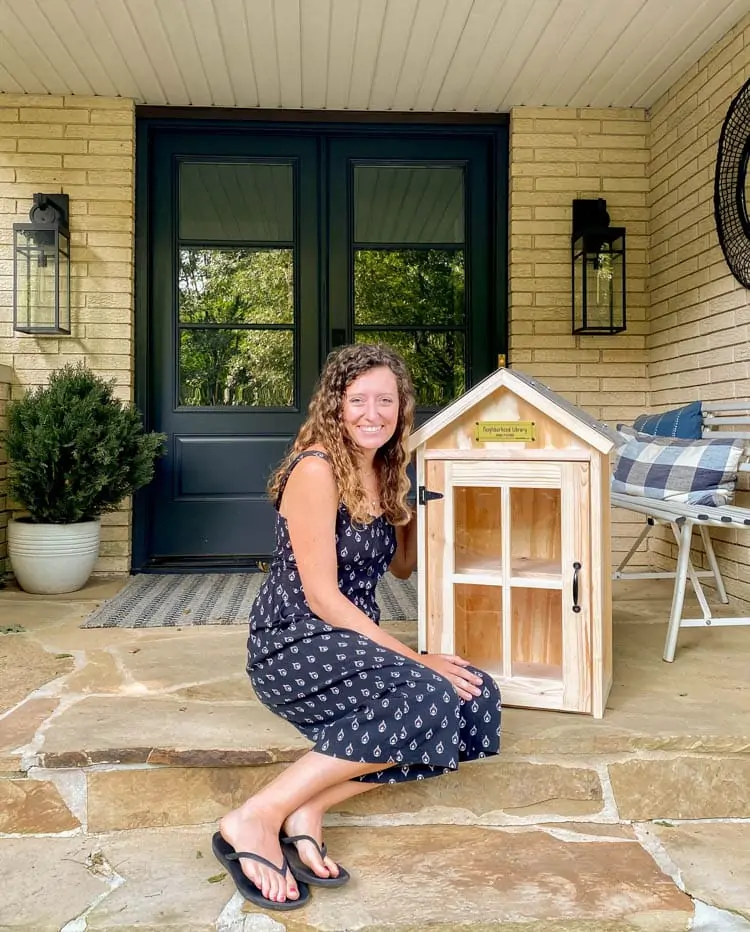 Making over the little library kit
The library kit came put together but unfinished.
I painted the small library with outdoor paint and made sure to paint inside the box to help with weathering (as well as underneath). Once the paint was dry, I put the hardware back on and gathered the supplies to install the library box.
My little library kit came with installation guidelines but I recently came across this installation how-to for installing the library box post that's really great. If you are building your own, then that link might be helpful.
We had never put in a fence post or anything similar to that, so we had no idea how deep to dig the hole for the 4x4, how much concrete to add to the hole, how tall to make the post, etc. Having the installation guidelines was a must-have for us.
Generalizing here, but it seemed like most recommendations for putting in a mini library box were to keep the height similar to the height of a mailbox post. Which to me, makes sense.
Supplies Needed for Installing the Outdoor Library Box
Post digger
4x4 post
Quick set concrete
Wood supports
Miter saw
Screws
Level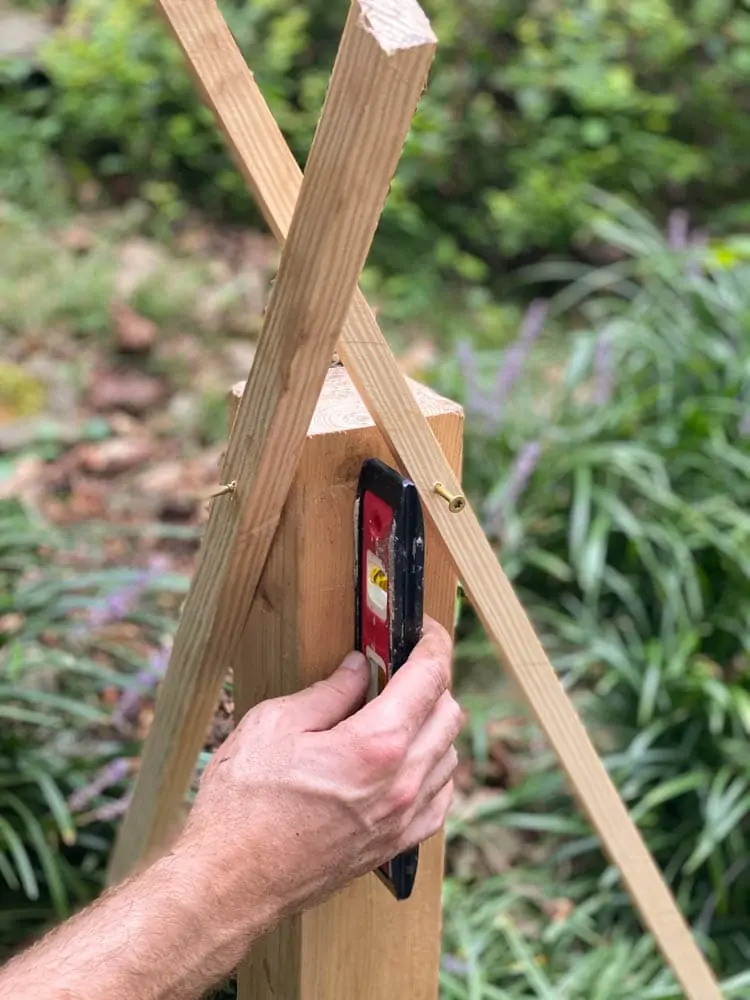 How to Install the Free Little Library Box
Using the post digger, did your hole (approximately 24-28'' deep).
Using the miter saw, cut the 4x4 post to the correct height. Make sure to account for hole depth.
Mix quick set concrete.
Level 4x4 in hole. Pour in quick set concrete.
Add temporary wood supports to 4x4 post until concrete has set.
Let dry.
Once dry, use screws to attach pole topper. Level pole topper.
Attach library box to pole topper.
Fill with books and enjoy!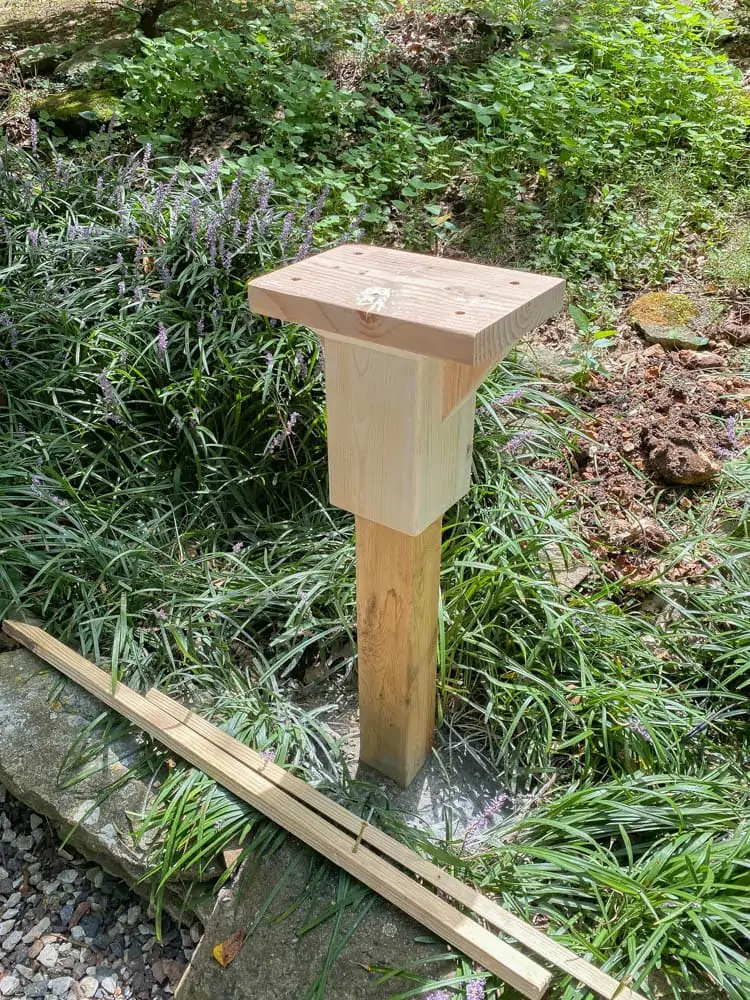 Filling the Neighborhood Library Box
I'm in an Instagram bookclub called 4 Reading Women. I reached out on that platform to ask followers what their favorite books were of all time. I got a bunch of favorites. I then took that list and shopped at Thriftbooks to fill the neighborhood book box.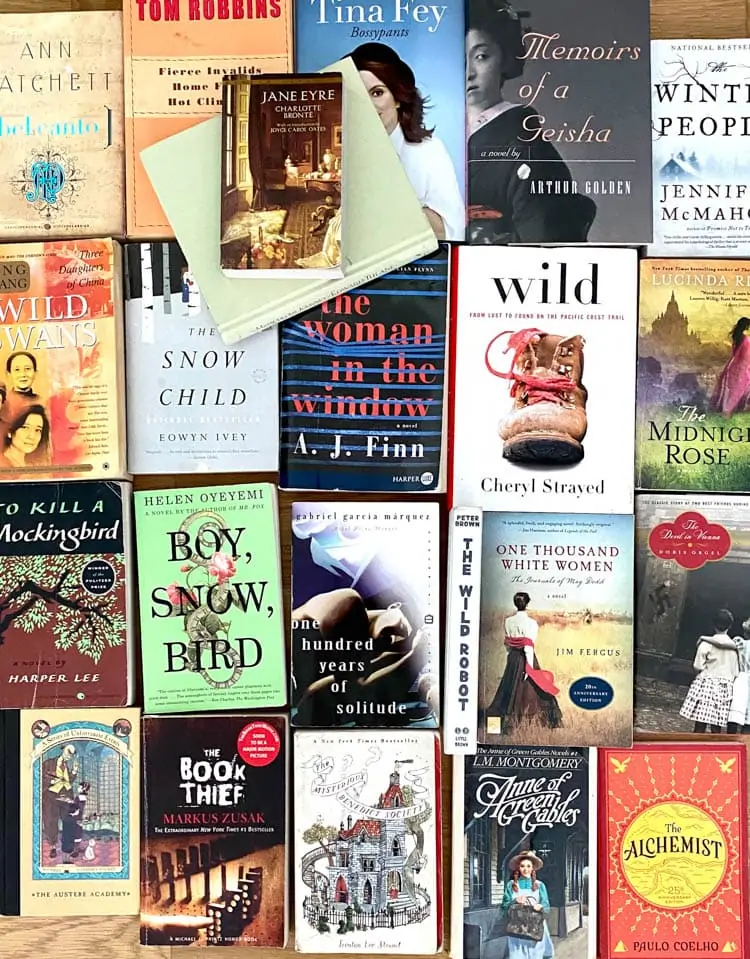 One of my biggest complaints with community library boxes are that they can just have random (not well-loved) books. I want mine to be a place to be inspired to read more. A place where you go to find books that are well-loved. So, I was careful to stock it with books that should be well-received by most.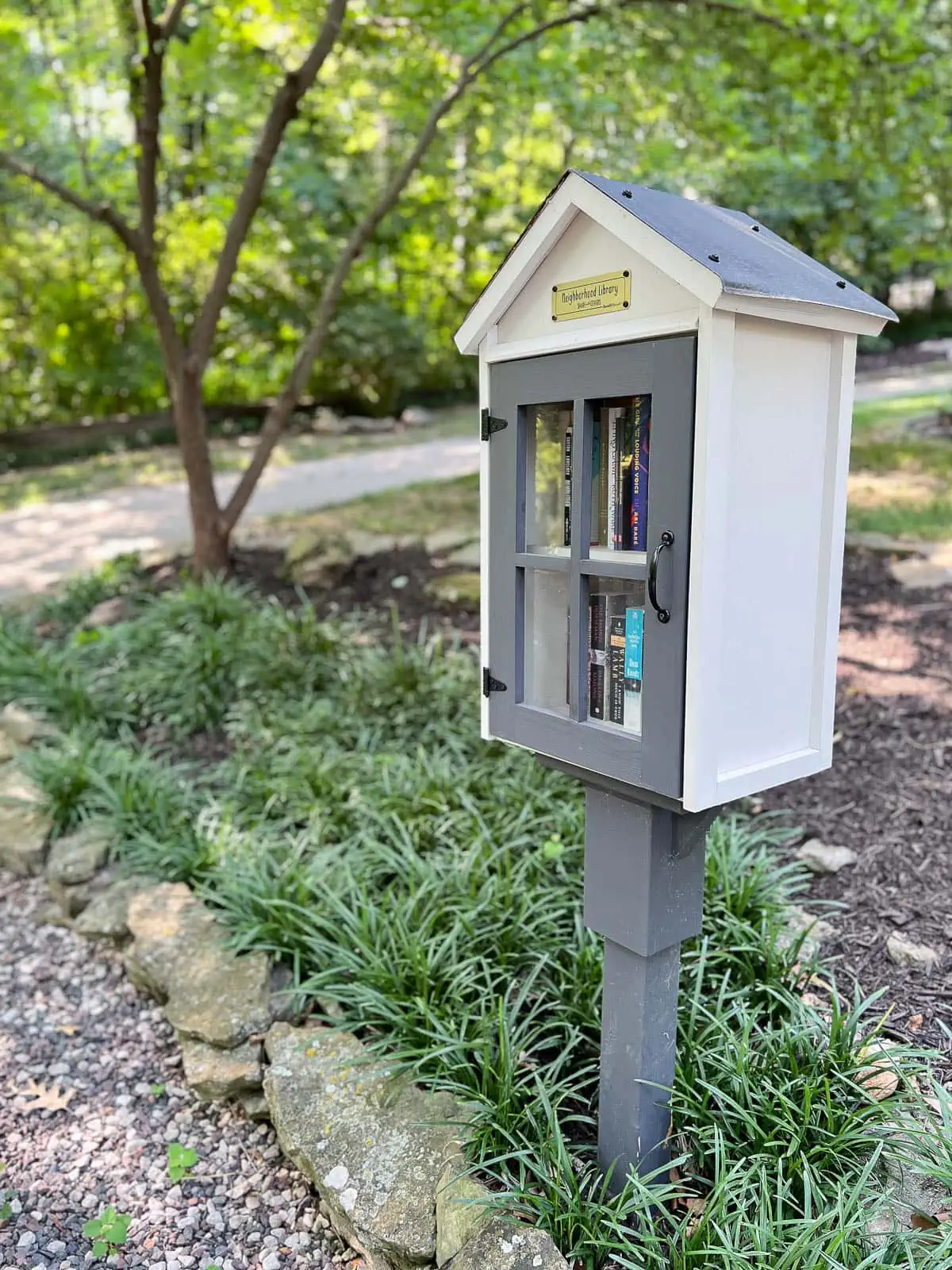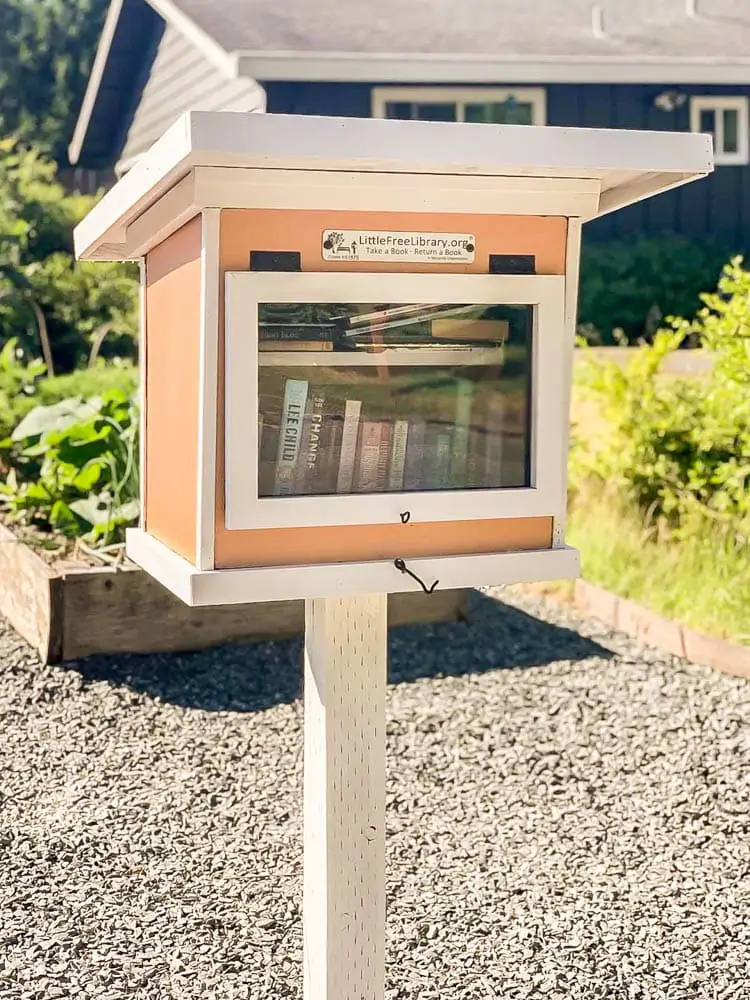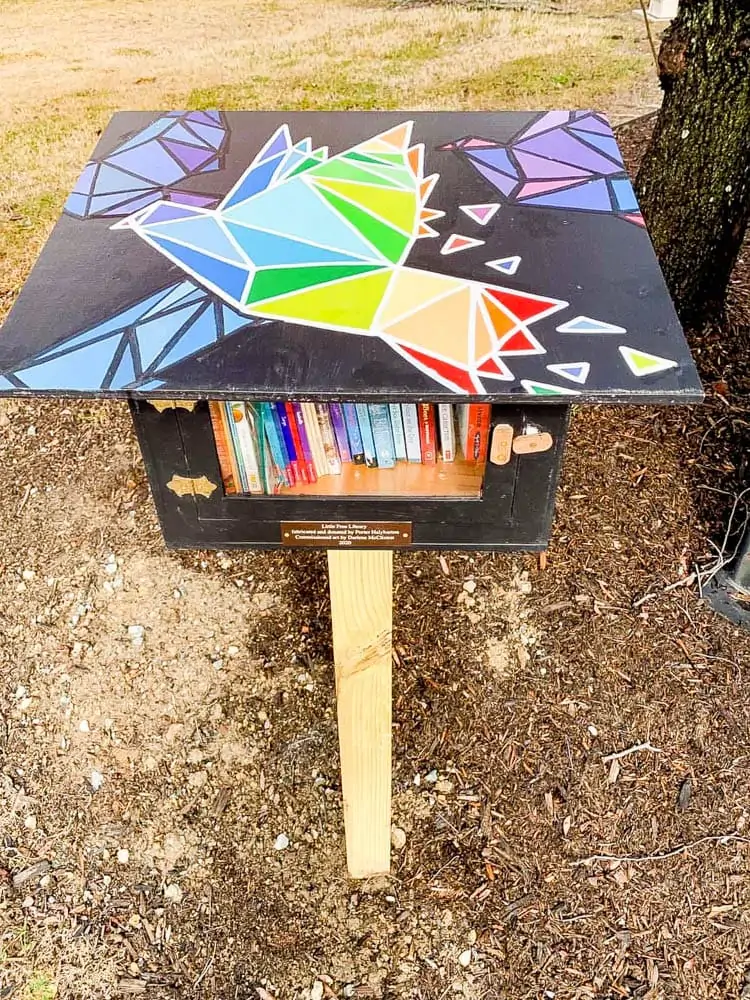 If you haven't guessed it, this project is so close to my heart. I absolutely love having it and seeing people use it has given me so much joy. If you are on the fence for some reason or another, I'd highly suggest adding a mini library to your house. Plus, it adds to the curb appeal which is a good thing as well!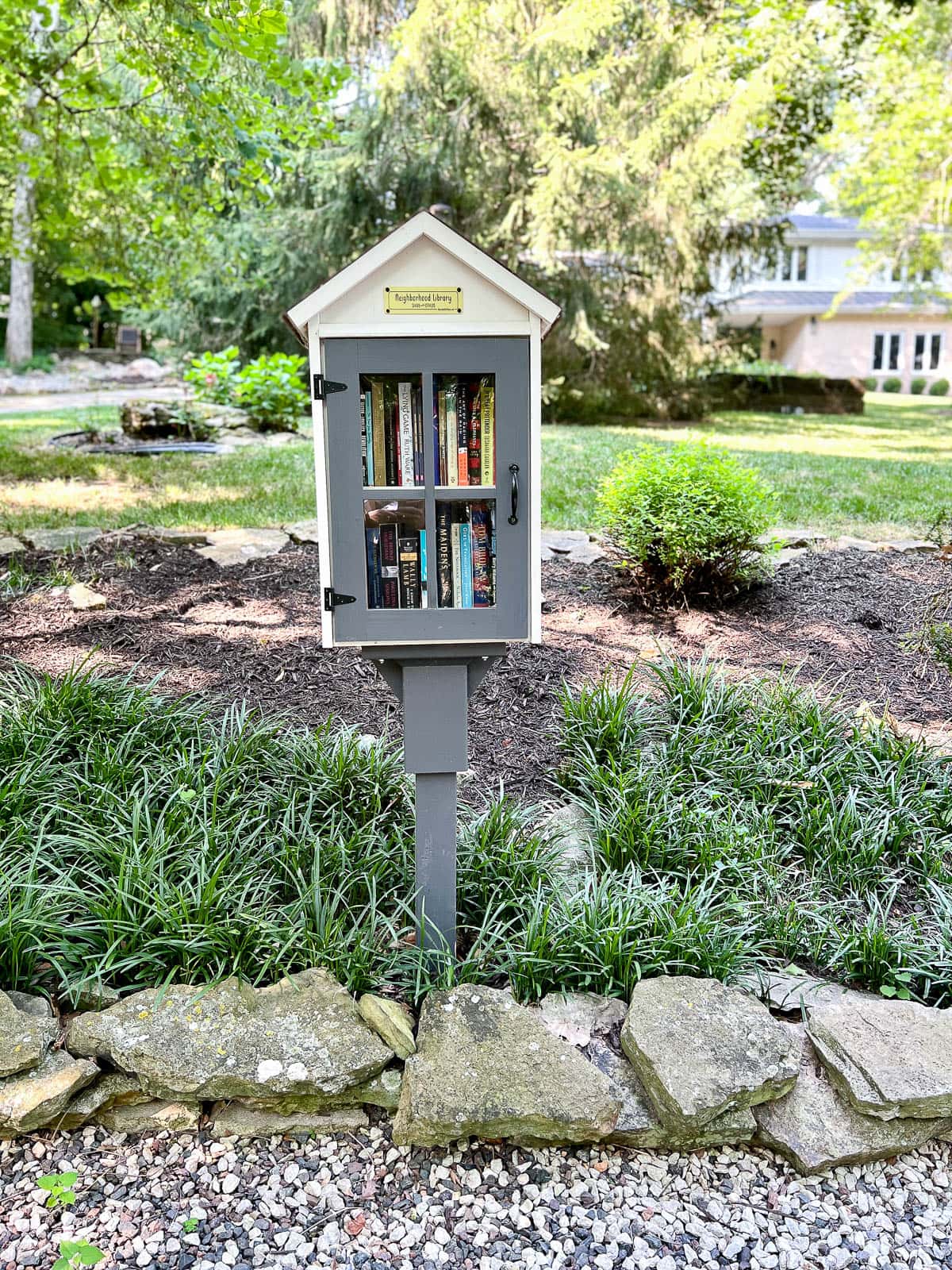 If you are new here and want to tune into the podcast on this, check it out, below. On the podcast, you'll hear my thoughts on my little library but also ideas to foster and create one for your community.
Community Library Box Podcast Episode
Looking for your next good read?
I love sharing books that we've enjoyed. Check out some of these books if you are looking for your next great read!