Thank you all for all your lovely comments on our Entryway Reveal! It's been such a forgotten space that did not bring joy and I'm so happy to have a space that's the complete opposite now! As part of the reveal and the space renovation, we had our double front doors replaced with glass front doors. I had chatted on IG stories about the possibility of keeping the front doors and just enlarging or replacing the dated glass. Quite a few people were curious about both processes, so I thought I'd share today. Install and Enlarge Glass in Exterior Doors or Replace Exterior Doors :: Our Dilemma.
Install and Enlarge Glass in Exterior Doors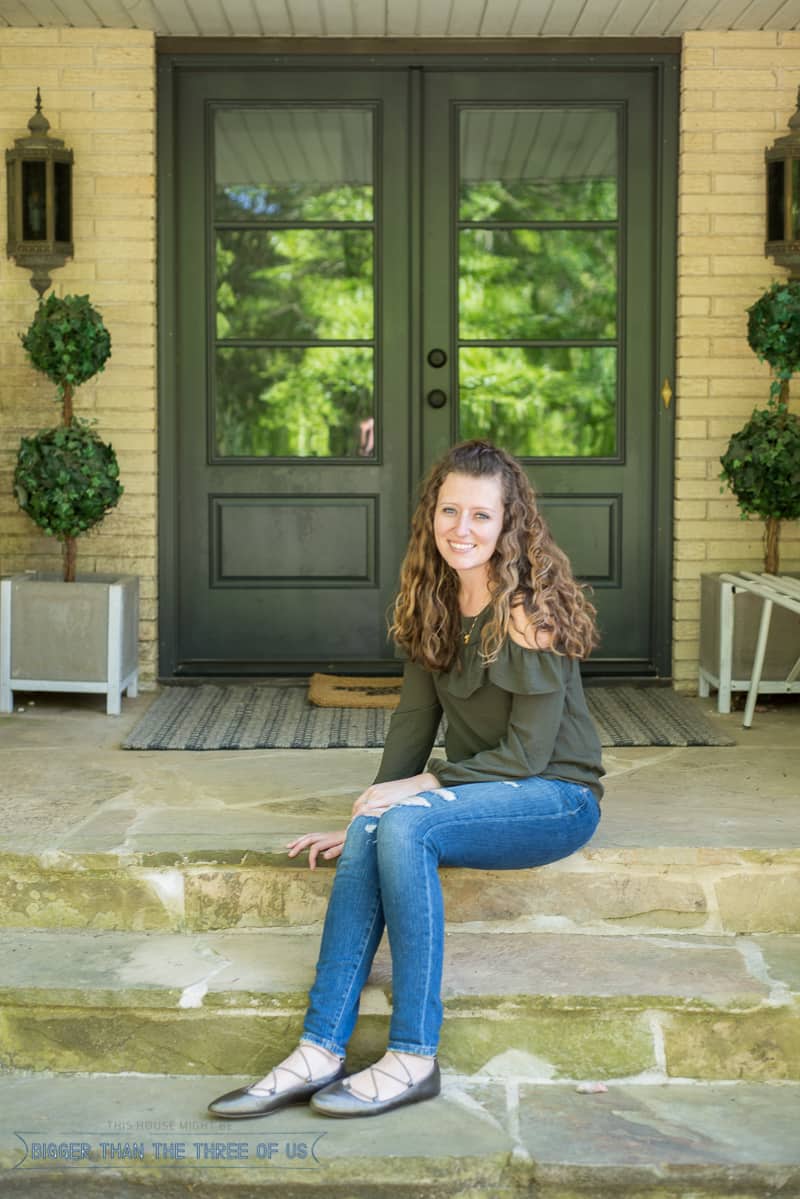 First off, how gorgeous are those glass front doors?! I'm completely smitten!
First off, if you read my entryway reveal then you know that there were a few hiccups with our doors. In our experience, hiccups always happen, whether it's a DIY renovation or a project that you hire out. We try to roll with them the best we can. Let me point out the "hiccups" if you didn't read the post and then we can go on. First up, the entryway handle didn't get ordered so we have a knob in there right now. This will get changed out once our new set comes in. Secondly, the doors have a paint finish issue. The painter is coming out later this week to access and repaint. When the sunlight hits the paint (as you can see above) you see streaking in the doors. The same painter painted the interior doors and the finish on those doors are PERFECT. Anyways, I'm surprised the painter didn't catch the finish issue, but when you are working indoors with garage lighting, it's much harder to see things like this. Thirdly, when the painter comes back out, we are going to have our trim finished. You can see that the nail holes aren't filled or painted over. So, as of the time of this post, these issues have not been resolved, but it's in progress.
Now, that we got all of that out of the way, let's chat about our original doors and what the options were for modernizing them. Hopefully that will help you decide how to modernize yours!
Here's what we started with: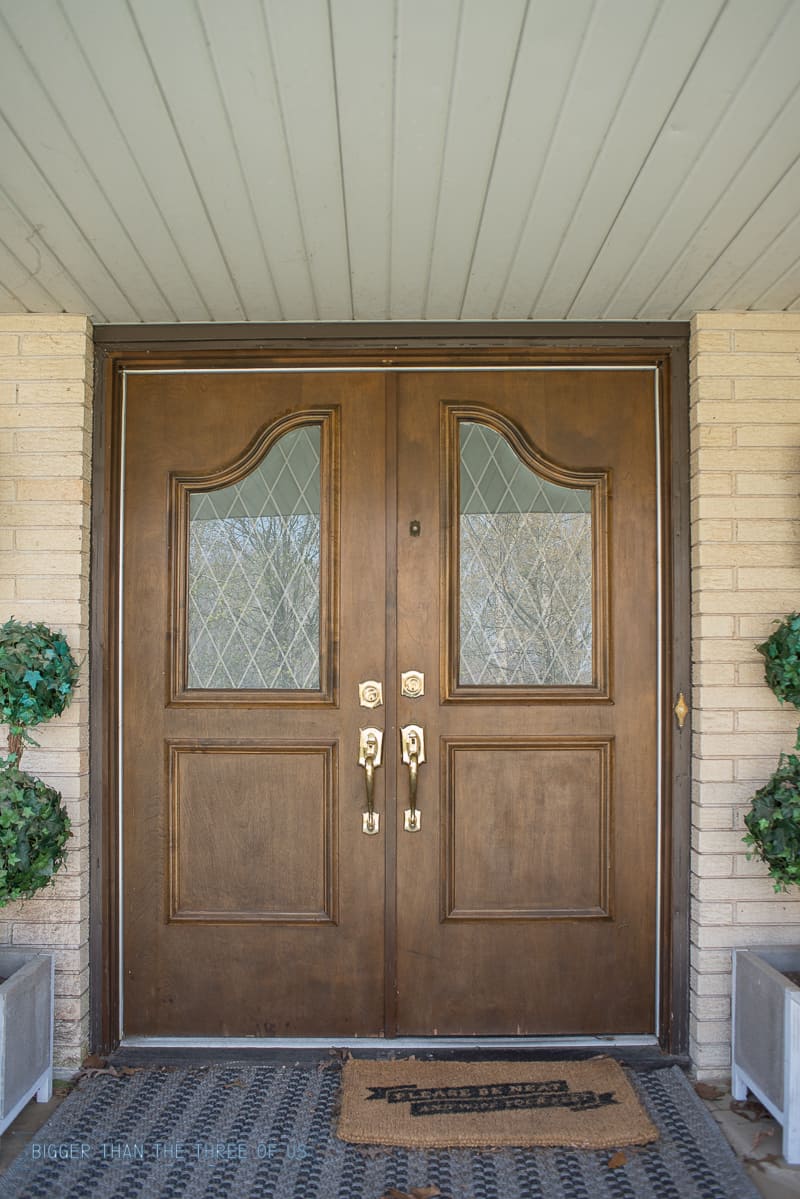 As you can see, the doors were dated. The glass was high-end glass back in the day but it's not our style. The glass itself was in good shape but it just didn't allow any light in.
The doors themselves also had problems. The chipping on the bottom can be fixed but that wasn't the only problem.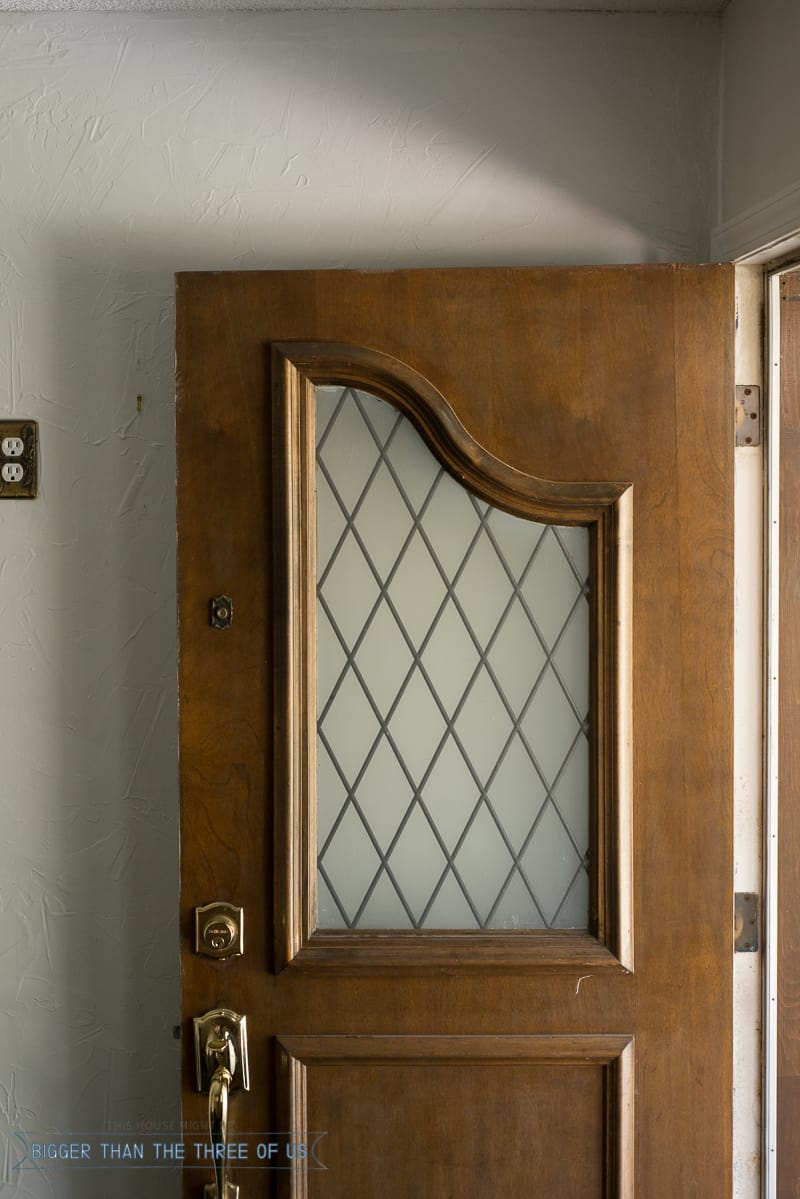 In the summer months, the doors stick together and are extremely difficult to pull apart. In the winter months, you can feel air coming through the doors.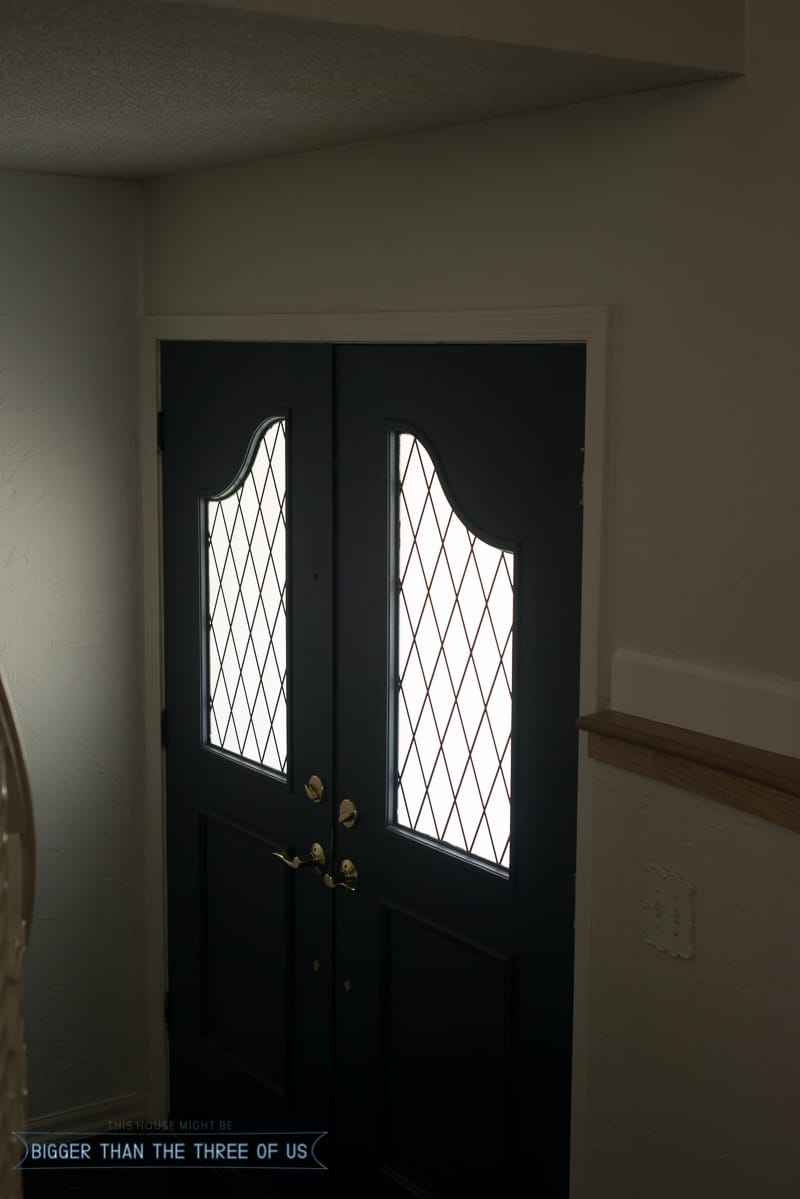 Some of those issues could have been fixed and some could have been fixed with "band-aids". You know, fixing for the time being but not really fixing the problem.
Another issue for us was that, at some point, someone installed the handsets at different heights.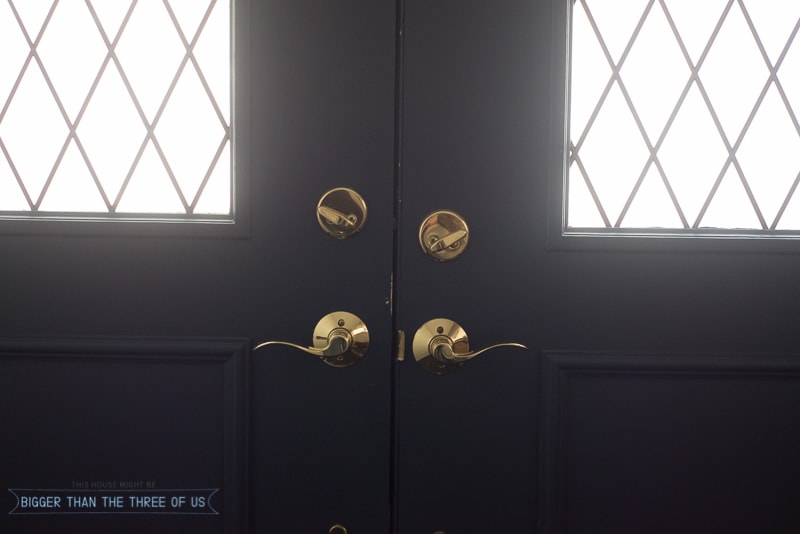 If you can believe it, it looked better on the inside than the out!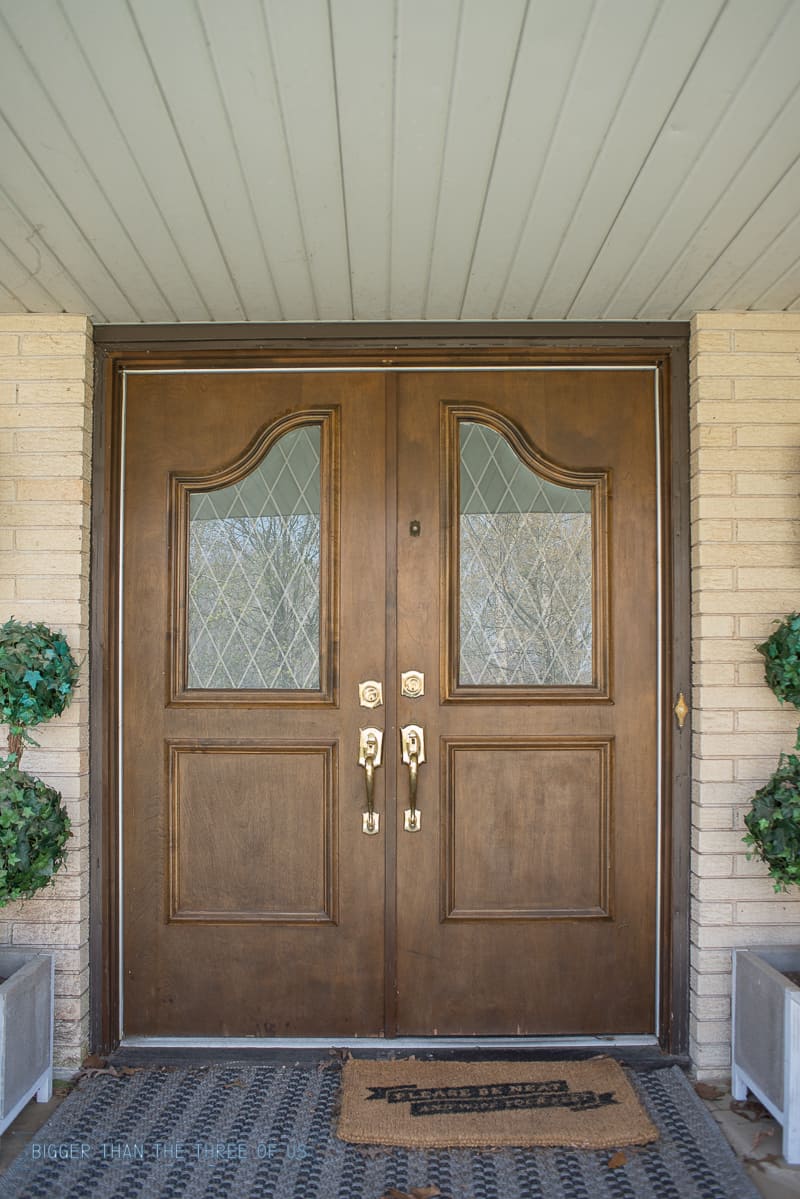 So, we had a custom door and millwork company come out to analyze what we had  and to give us their recommendations as well as pricing.
Here's what I've learned:
Install and Enlarge Glass in Existing Exterior Doors
You CAN replace glass in front doors! Seriously!  I had done my research and there are a few DIY options for this if you know what you are doing and know exactly what type of doors you have. We weren't going to go this route from the start because we don't know what we are doing and felt like this was outside of our skillset.
However, a door company can replace the glass in your front door and it is so inexpensive! I was quoted about $150 for the glass. I had asked about plain glass (I always want the simplest design on things like this). I preferred 3/4 glass so the doors had to have the original glass cut out and then the holes enlarged.
From there, there was some finish work to get the new trim to match the old trim.
I'm in Missouri (for price comparisons). For installing and finishing the project, the labor was going to be around $300.
So, if your doors are in good shape, $450 is a good baseline for a double set of front doors. Now, if you only have a single door, then you can probably cut that price in half.
For us, our doors themselves were salvageable, but the door frame was the problem. It didn't make sense for us to spend the money upgrading the original doors when we had issues that couldn't be fixed easily (especially, after we heard that our original doors were actually interior doors that someone put in as exterior doors).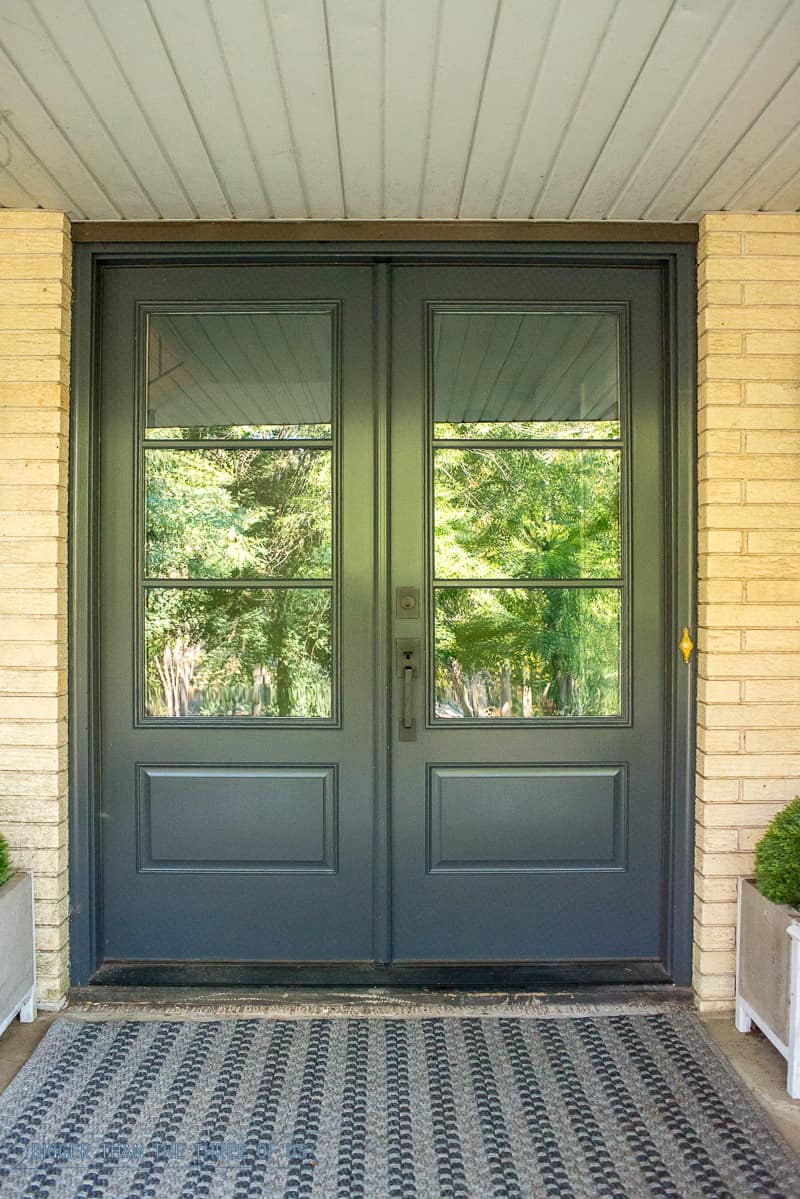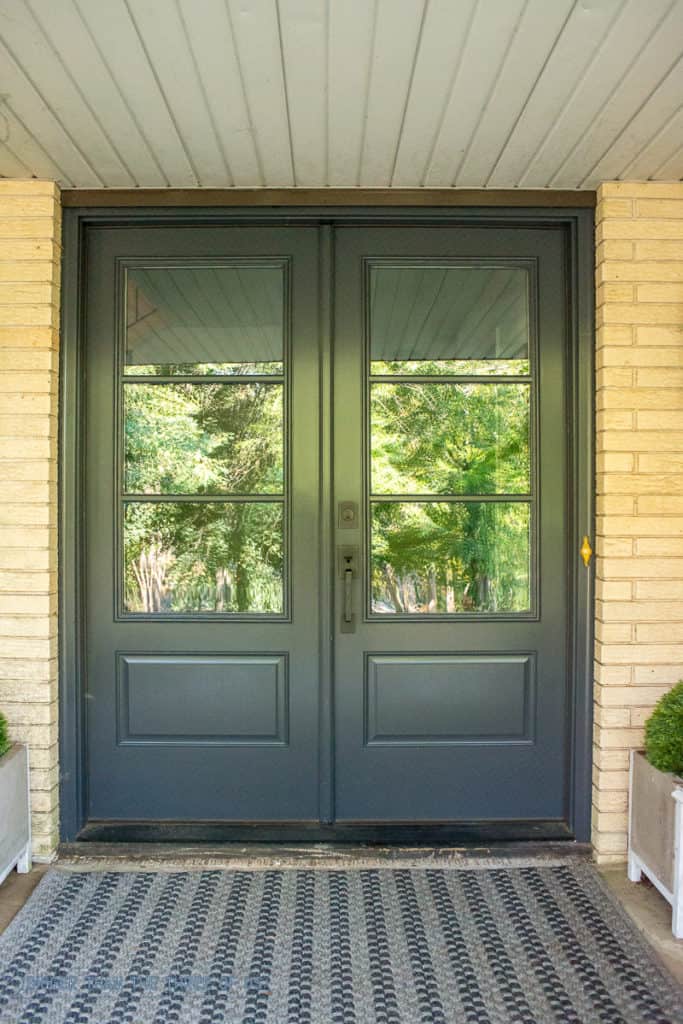 So, we decided to bite the bullet and just go for pre-hung, new glass front doors. It's something that has been on our list as an upgrade item that we'd love to do and it was just time to get it done.
In an effort to always be honest, I will say that I did not price compare our doors. I knew what I wanted, I knew I liked the customer service that was provided and the company I went with was local and has been in the business a long time. We had used a big box store last year when we had to replace our patio door and it was not a good experience so we were looking to go a different route. So, all of that is to say, use this as a guide and go from there!
Glass Front Doors Estimate: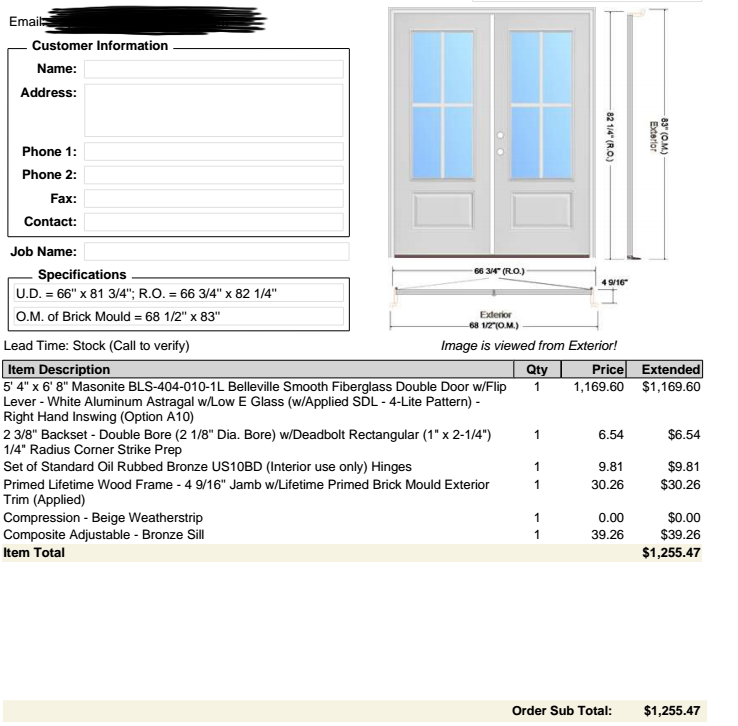 The trim on the door in the estimate is different than what we have but it's just because the trim that I wanted didn't have a stock image. Ok, this estimate is just the cost of materials.
The estimate for painting the door was $400 and the estimate for installing the doors was $500.
We are around $2200 for a double front door with finishing and install.
Can you find it cheaper? Probably. Will you have issues? Who knows. We have issues now so really, go with what you think will work best.
*Edited 11/16/17: How adorable do the glass front doors look with my fall front porch? See the before/after fall front porch makeover for budget-friendly tips to decorate your space for fall!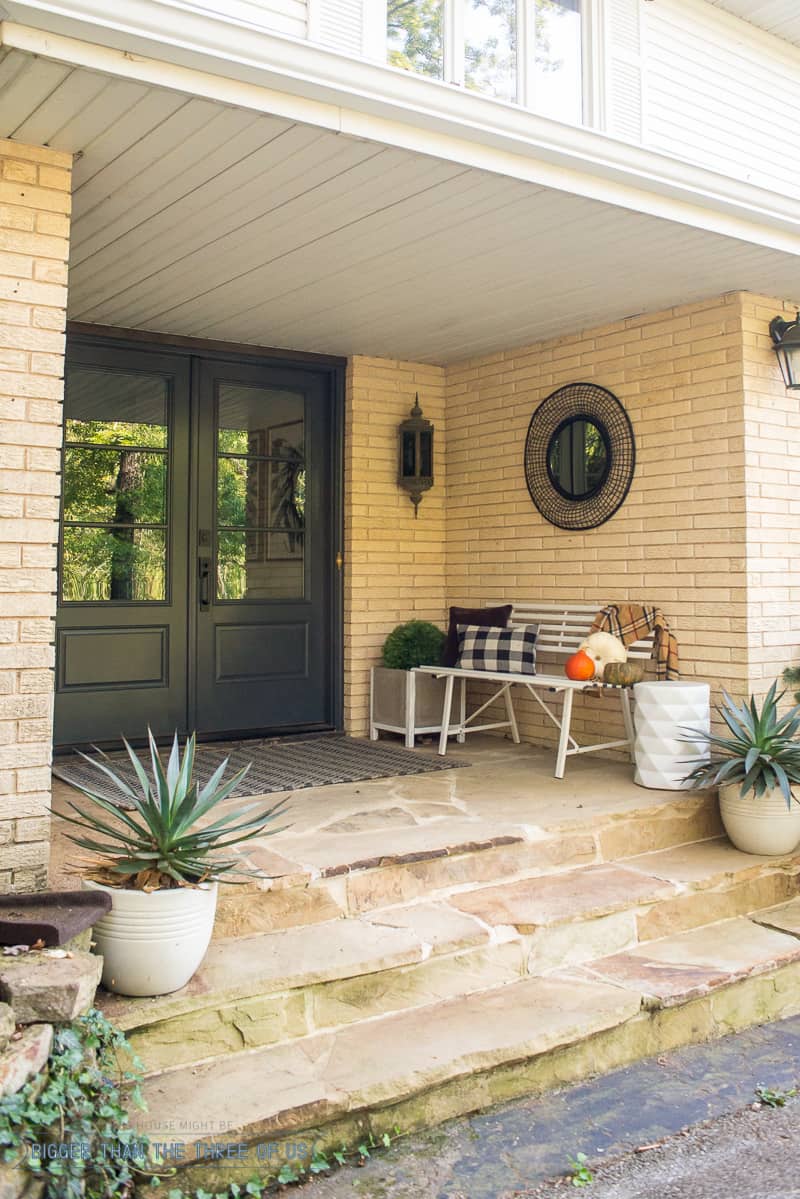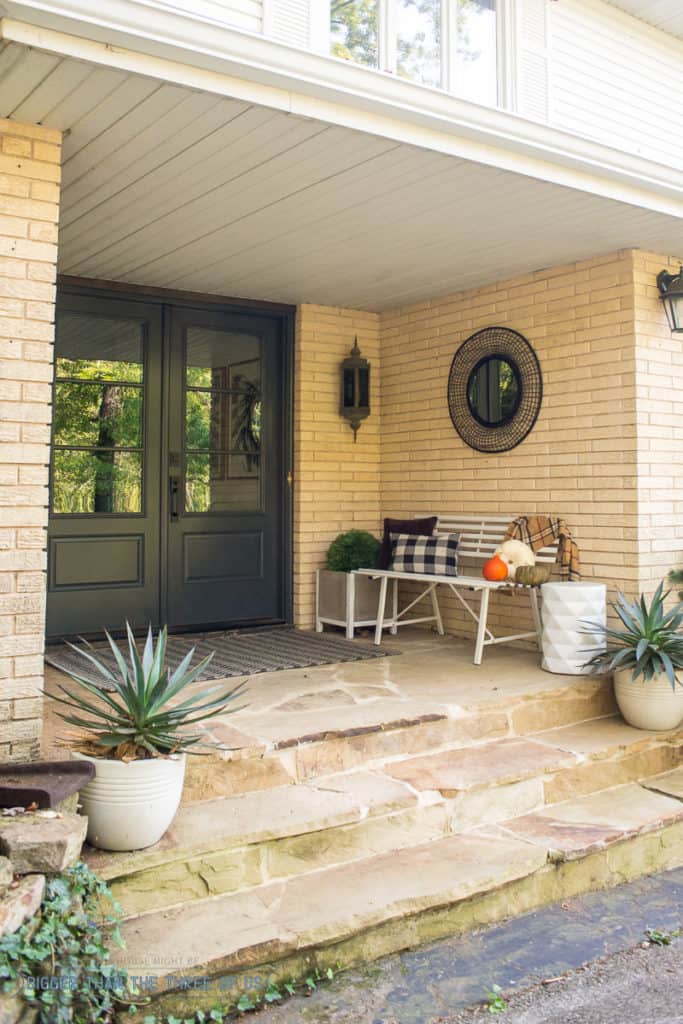 PIN FOR LATER: Install and Enlarge Glass in Exterior Doors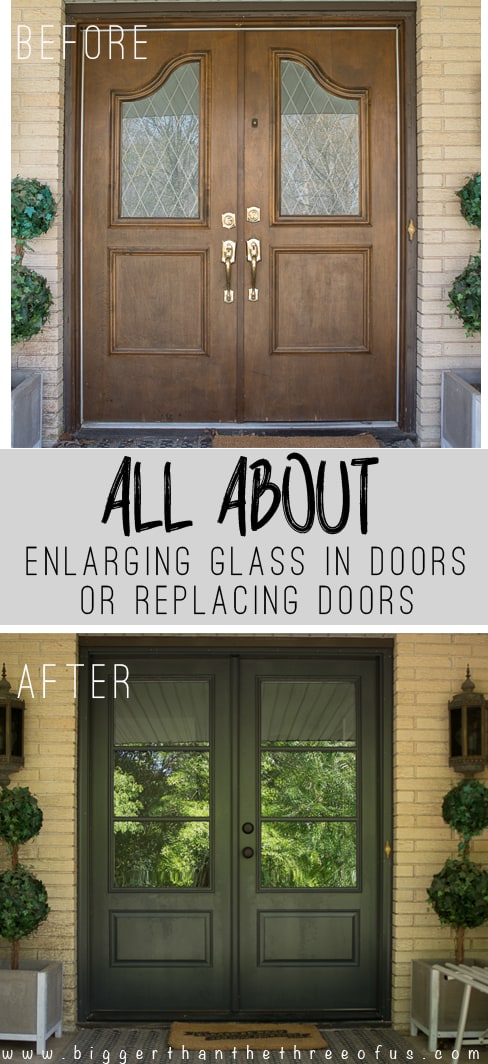 If you loved this post, then you may love: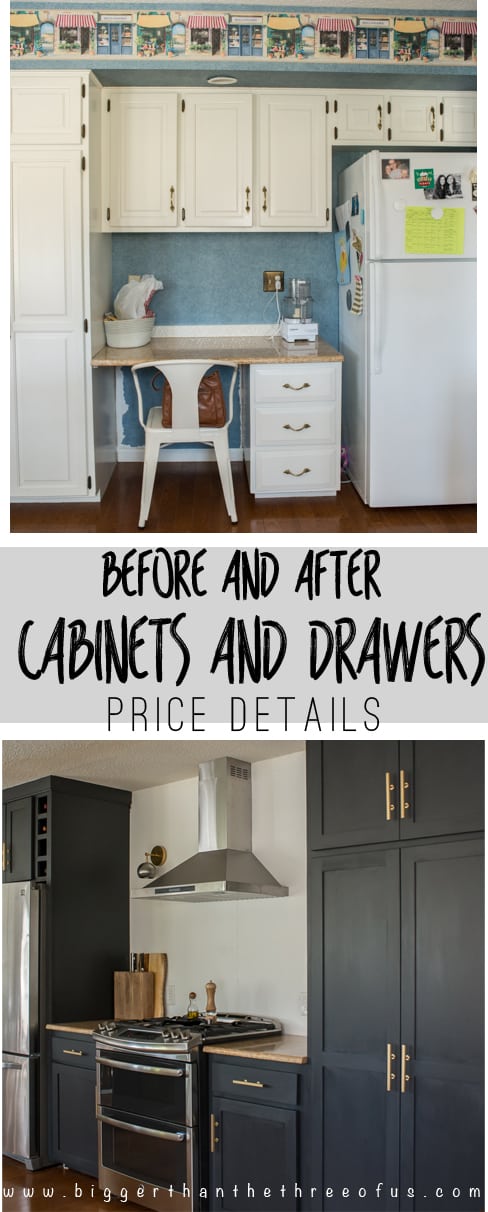 Price Details on Kitchen Cabinets and Drawers