Considering glass front doors but not sure on the what the front door replacement cost will be? What about changing the door glass size with door glass inserts? Sharing about our ¾ lite glass exterior doors and the process we considered when wanting a larger front door glass insert installed.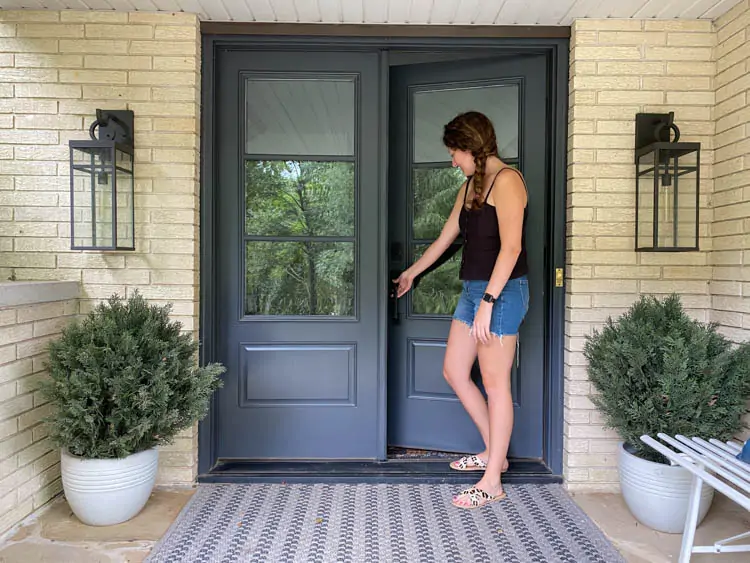 The backstory on having low light issues with frosted glass front doors.
When we moved in to this house, I knew pretty early on that something had to be done about our original glass front doors. They provided no light into our foyer, which is such a cool space with the circle staircase. Or, I knew it could be such a cool space with more light.
Pretty early on in our home journey, I took off the storm doors (below) to see if that helped bring more light in to the foyer. Another reason for doing this was that the storm doors just added more bulk and ugliness to the front porch.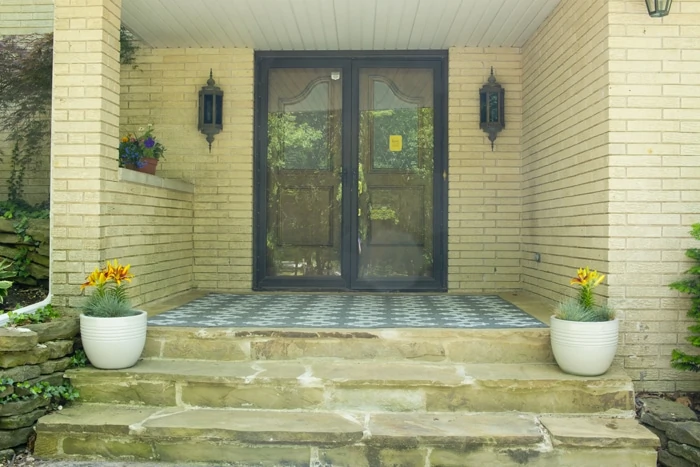 A few years after that, I set out to make some changes to both the foyer area and the front doors. On the top of my list was to have our wooden front doors with glass updated by replacing the front door glass inserts. Another problem that I wanted to address was that someone installed the door hardware unaligned with each other.
On top of those problems, in the summer months, the wood doors would stick together and be extremely difficult to pull apart. In the winter months, you can feel air coming through the doors.
I was hopeful still, that the wood doors could be salvaged but I wasn't sure.
Let me just give you the beautiful visual so you can understand. LOL
Original Exterior Doors with Glass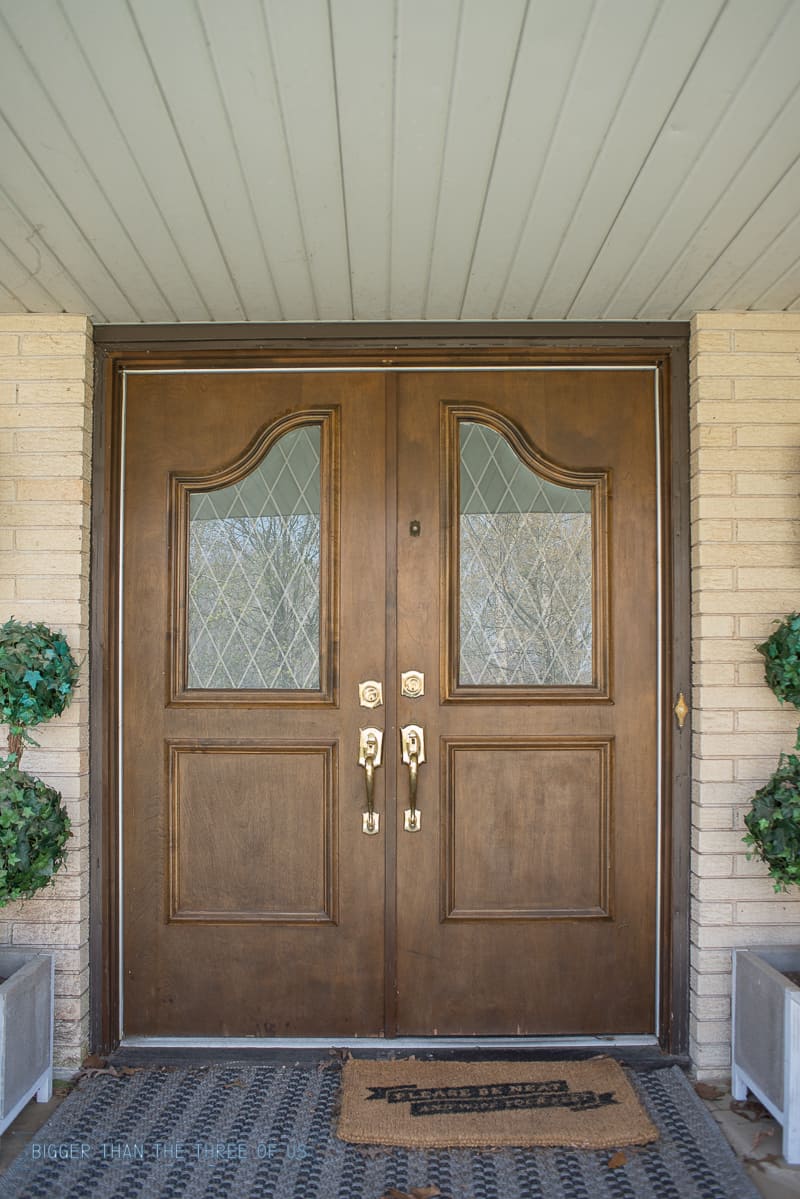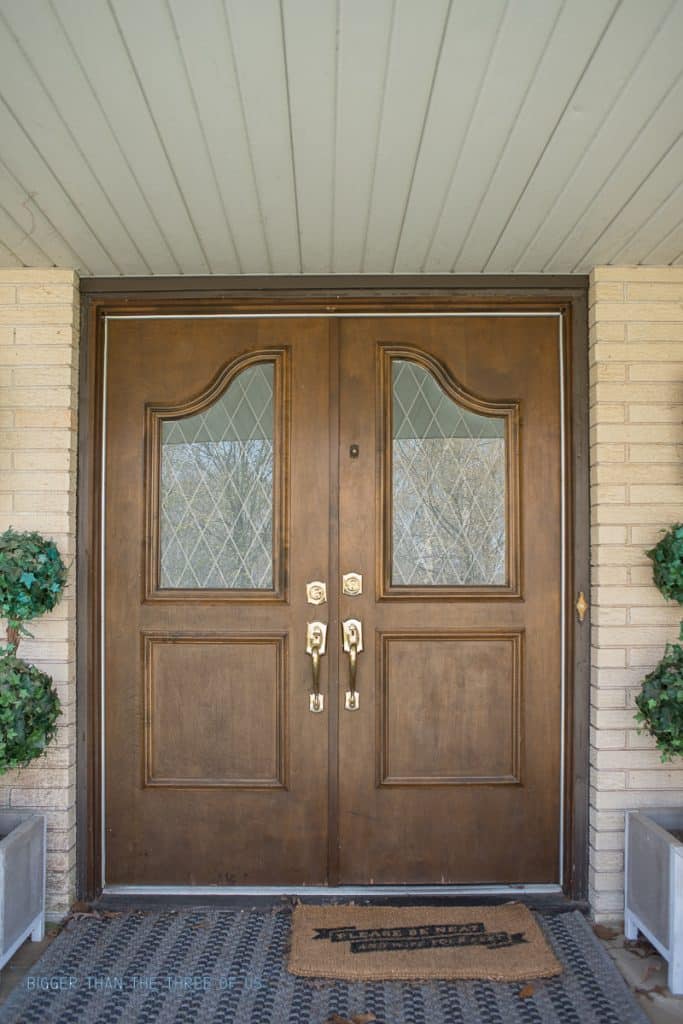 As you can see, the doors were dated and a bit rough looking in a few different ways. The door window panes were higher-end, back in the day, but definitely not our style. The glass panels were in good shape but they blocked all light in the foyer.
To help determine what our best course of action was on the exterior glass doors, we had a recommended custom door and millwork company come out to talk through the issues, what we wanted and all of our options.
From them, we learned that the double "exterior doors" themselves also had problems. The chipping on the bottom could be fixed but, hilariously enough, the "exterior doors" weren't actually exterior doors. Someone, at sometime, had installed interior doors (on accident?) as our double front entry doors.
Some of those issues could have been fixed completely and some could have been fixed with "band-aids". You know, fixing for the time, being but not really fixing the problem.
After weighing our options, we ultimately decided that a front door glass replacement wasn't going to be the way to go for us. It was going to be around $450 (2017 pricing) to get the front door glass installed and enlarged but then we had all the other issues to address. It just didn't make sense to proceed forward with the old doors.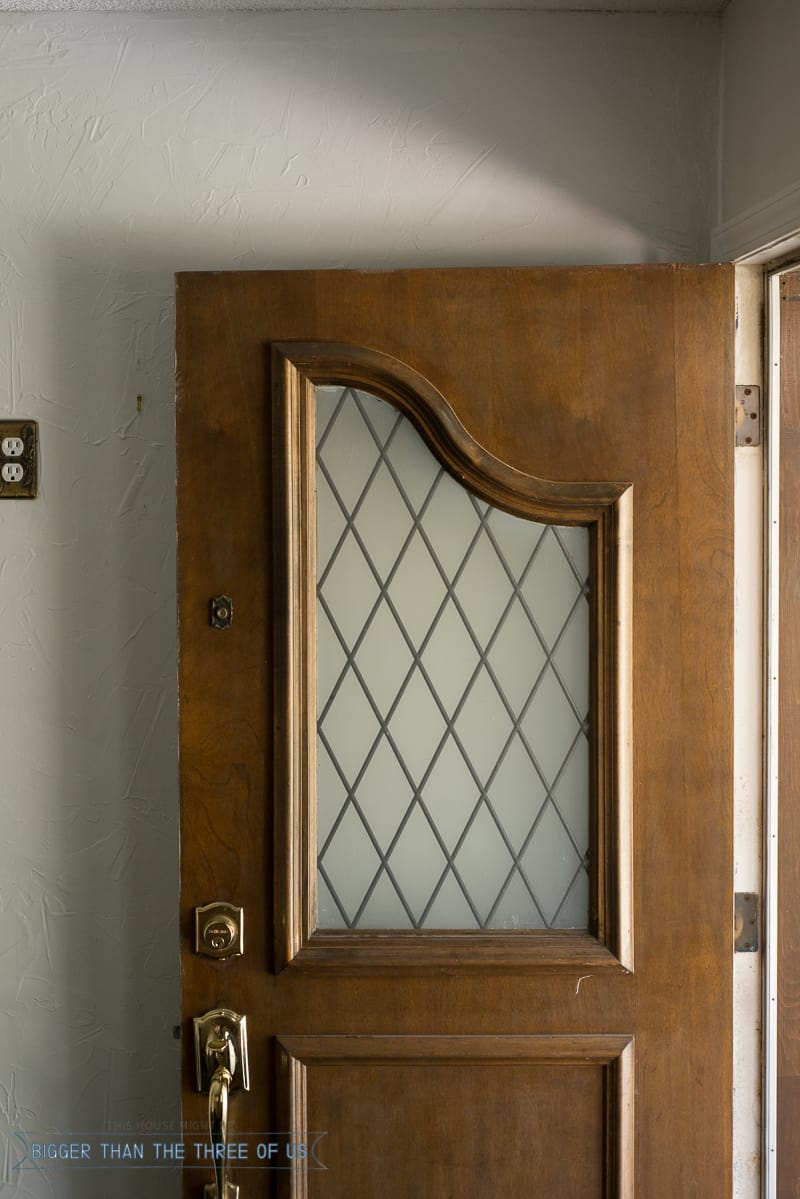 But, just because it wasn't the right option for us in this situation, doesn't mean that you shouldn't consider it.
Is Exterior Door Glass Replacement Worth It?
Yes. If you are replacing cracked or broken glass, there are door glass replacement kits you can order. We weren't going to go this route from the start because we don't know what we are doing and felt like this was outside of our skillset.
You can also just have a door and glass company come out to replace the window panes in the doors themselves.
If you want to add glass to a front door or change the glass panel size (like going from a small window pane to a ¾ glass door), this is definitely doable for a millwork and door company.
Front Door Glass Replacement Cost
I was quoted $150 for the glass for ¾ glass doors. That would have been the price for the window pane (not including labor) on my original doors (again, this was in 2017).
For pricing comparisons, I'm in Missouri. The labor for cutting a larger window hole in my door, installing the ¾ glass pane and the finish work was going to be around $300 (this price doesn't include painting or staining).
I'd say $450 is a good baseline for a double front door glass replacement project. If you wanted a full glass front door made out of an existing front door, your price in glass would go up a bit but I don't imagine it would be substantial.
Front Door Replacement
We decided to bite the bullet and buy pre-hung, new glass front doors. It's something that had been on our list as an upgrade item that we'd love to do and it was just time to get it done.
In an effort to always be honest, I will say that I did not price compare for this project. I knew what I wanted, I knew I liked the customer service that was provided and the company I went with was local and has been in the business a long time.
We had used a big box store last year when we had to replace our patio door and it was not a good experience so we were looking to go a different route. So, all of that is to say, use this as a guide and go from there!
Pricing For Glass Exterior Doors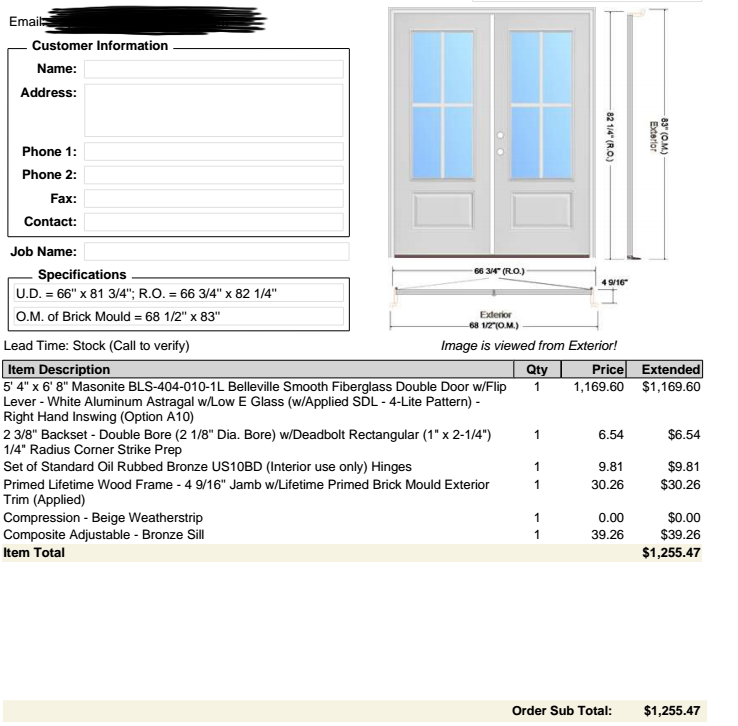 The look of the ¾ lite glass in the estimate is different than what we have, but it's just because the trim that I wanted didn't have a stock image.
Total Glass Front Doors Cost - $2,155.47
Fiberglass, pre-hung, exterior doors with glass were $1255.47
Hiring out painting double doors was $400
Hiring out glass front door install was $500
Is it worth it to replace a front door?
Yes, especially if you are leaking heating/cooling and have other issues that can't be fixed by updating.
I'd honestly say yes just based on the way our glass entry doors look from the outside and the inside. They allow so much more light in to our foyer. I'm so thrilled that we did this project.
*Affiliate links below. Thanks for supporting this blog. Click to read my privacy and disclosure policy.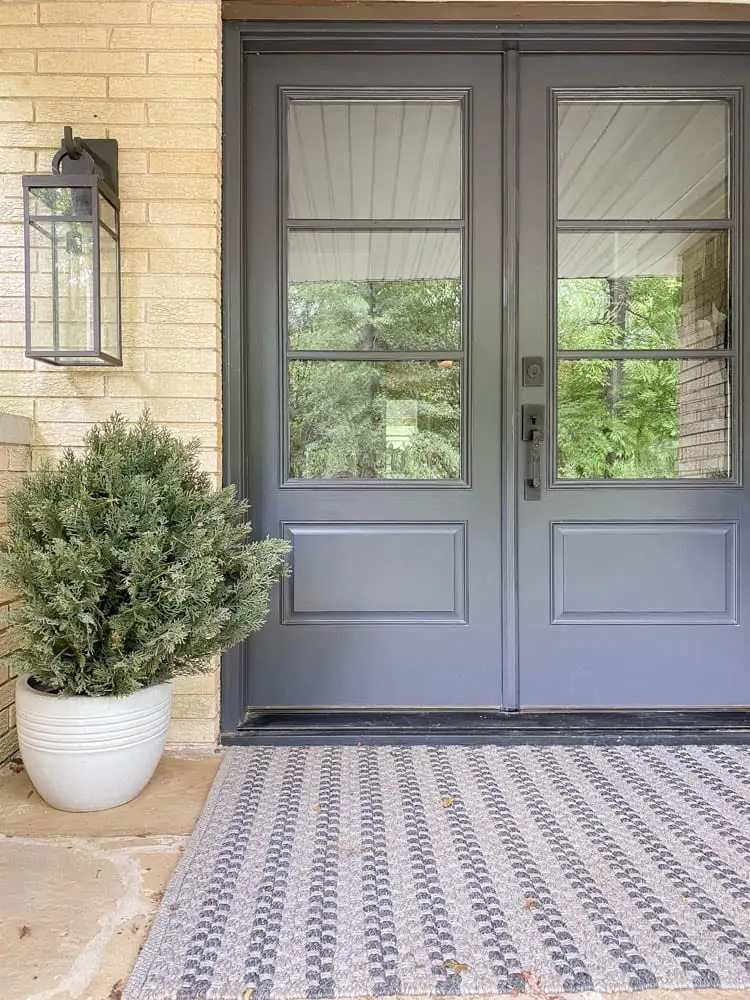 One potential negative of a front door with glass
Our home is situated on the top of a small hill, away from the street. So, privacy of a front door with glass is not a problem for us. That being said, when the door rings, it's pretty visible from most spaces in our home so there's no hiding from anyone who is at the door.
If we lived on a busy street and our door was in direct eyesight of the street, I might not love having a glass front door. If you are considering door options, I would take that into account as well as whether or not you have an entryway that is hidden from your other spaces.
I hope this learning about the cost differences and details for full front door replacement versus just replacing the door glass was helpful for you.
I want to share a few other pricing breakdowns that you might be interested in. I love sharing price quotes and details because I find that that type of information is so hard to to find.