I'm not struggling with the foyer design any longer! Today is the reveal day of our foyer and I'm so excited.
I've tried a bunch of different decor ideas in our entryway. Some have been more successful than others and some I liked at the time, yet hate now. Your style is always evolving, so I'm ok with saying that, at one time, I did like my "Hello" wall (it was way back in 2014). When I worked on the entryway for the One Room Challenge, I said this in the modern entryway reveal post...
Whenever I do room reveals, it's funny because the reveal, now, is not what the room ends up looking like after another few months. The rooms tend to grow into themselves. Does that make sense at all? It seems like the reveal is "round one" in the space and even if it's a fab round one (like this one is) it gets better and better over time. Maybe that's just a weird thing that happens to me. Who knows. In any case, I'm totally smitten with this reveal but know that it's bound to keep getting better and better.
I could tell even then that, although the foyer had make leaps and bounds from where I started, I still wasn't exactly where I wanted to be. Now, I'm not going to say that the space won't change but I honestly love it right now. Tweaks here and there are bound to happen, but the pieces all speak to me and that's what I'm aiming for!
Let's start with what you see when you walk through the front doors...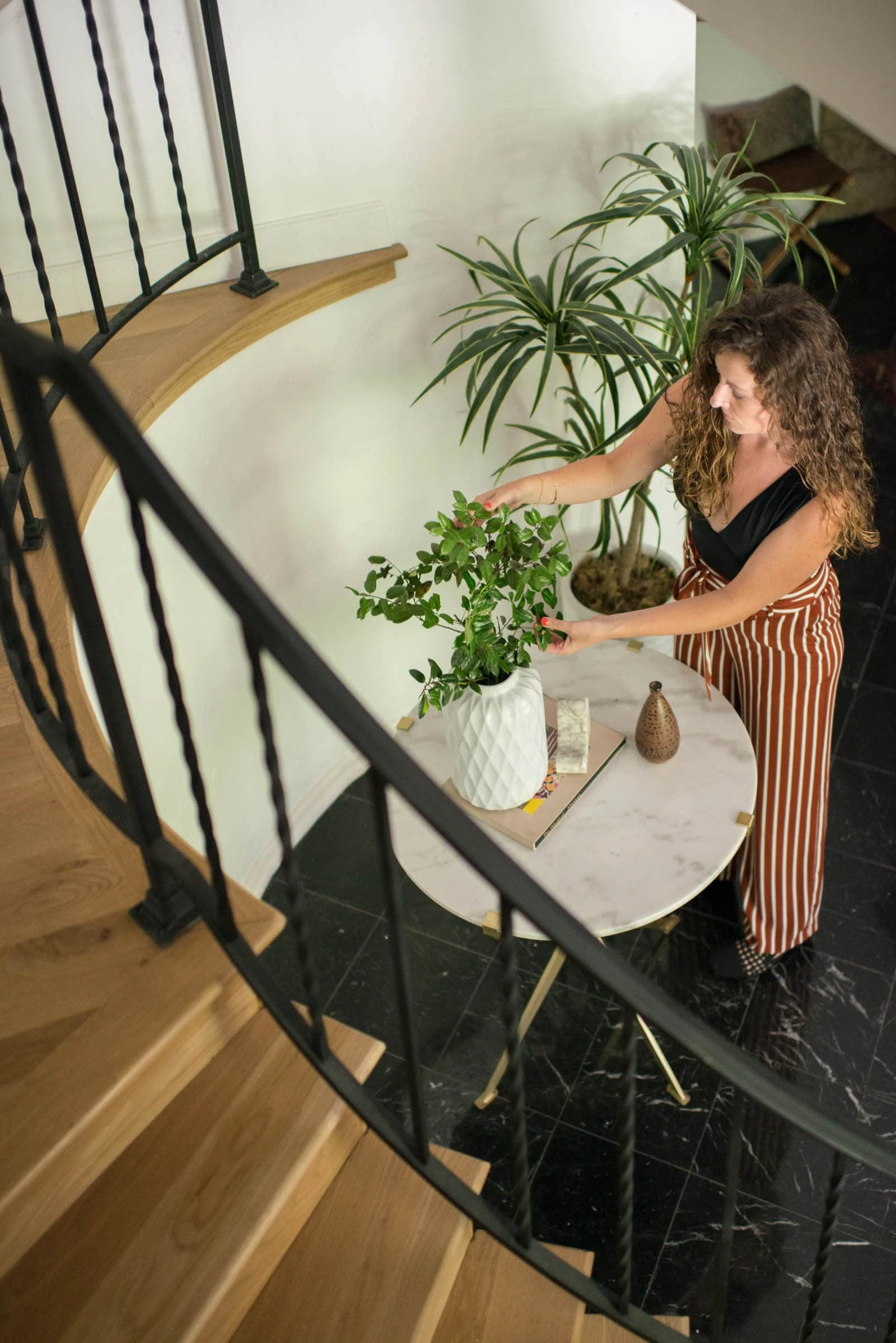 Your eye takes in the table in the circle staircase. I've wanted this table for years, but it's pricey and I never pulled the trigger until recently. With the height of the circle staircase, a dining room table height just felt too low. A pub table felt too high so that didn't leave me very many options. This table though, has an adjustable base which makes a world of difference. I get nervous when I buy something that I've wanted forever and then don't immediately feel an emotional connection to it. That's pretty much what happened here. I loved it out of box, but didn't immediately fall in love with it in the circle of the foyer. But, like most things for me, I needed to let it marinate. I added some decor items and then took some away. I played with and tweaked the space until it felt just right. For lots of people, I think they'd want a bit more "weight" to the space; meaning a heavier table with more meat to the legs or one that is just bigger than this one.
I like breathing room. I get overwhelmed if there's not room to walk by something without hitting it. So, when I first wasn't sure about this table in the space, I think it was mainly because what "most" people would prefer didn't look like what I was styling my space for. Basically, I had to reevaluate what I love and what speaks to me and I finally got there.
All of that is to say, that I love the table and am so happy that I finally found "the piece" for the circle staircase.
Before, we jump right in, here's a few before pictures of our foyer.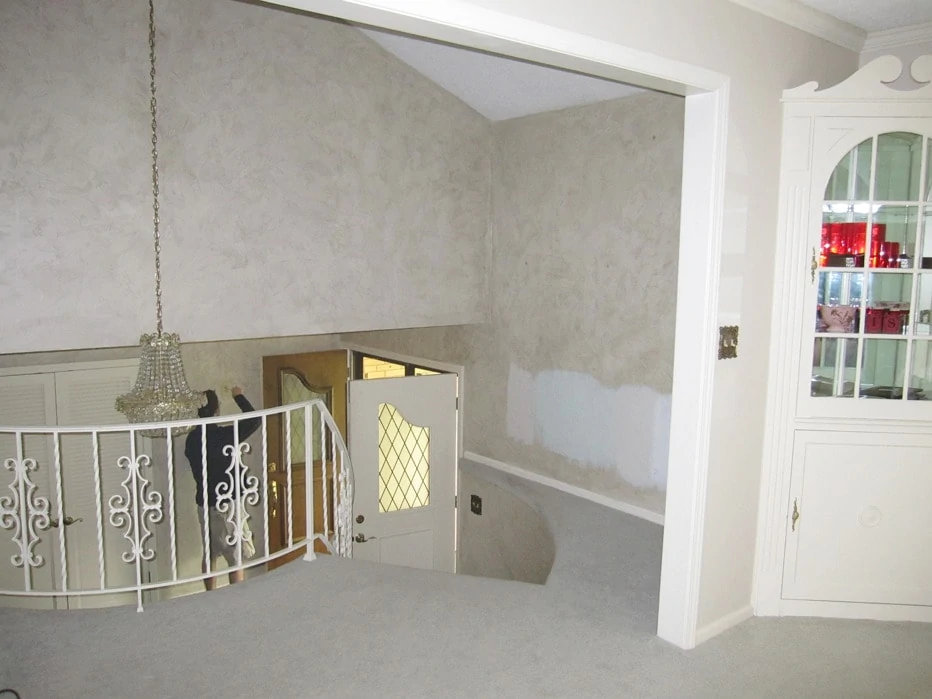 We had started painting the space but not much else had happened.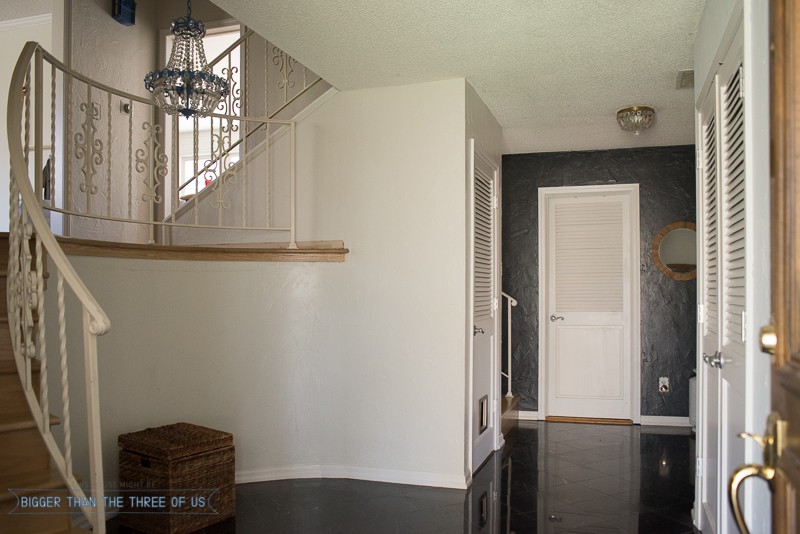 It was quite a bit of work, to get to this point. Everything got painted and new flooring was installed but the space still didn't have the door upgrades or a style defined.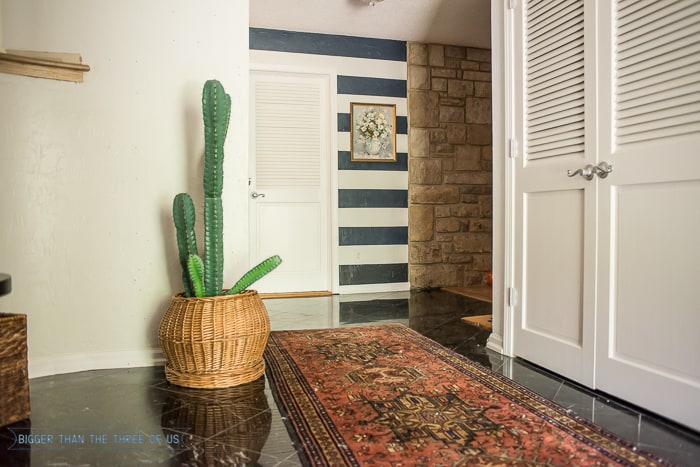 I was slowly figuring out what I liked in 2016.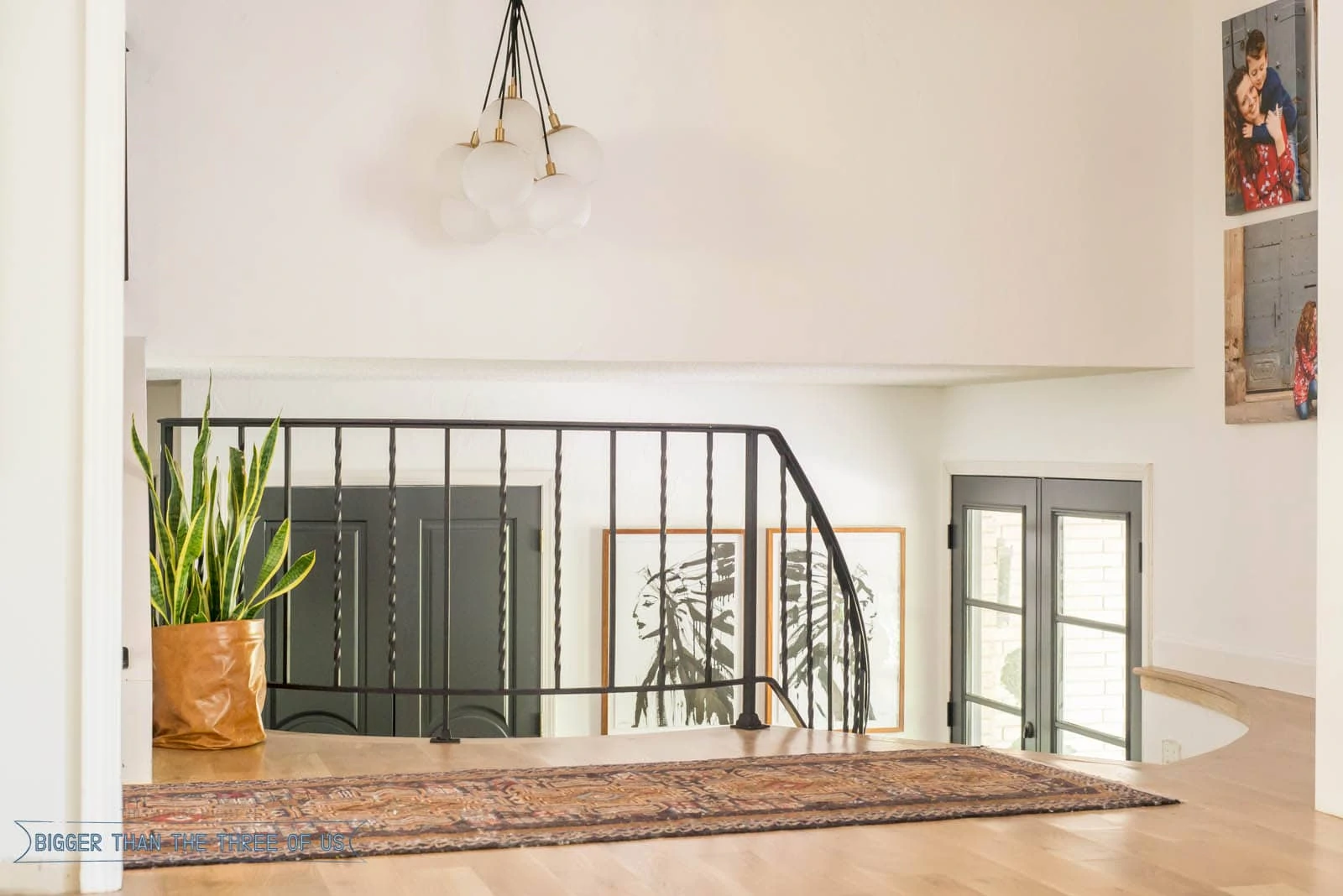 Some of the pieces that we have today were shown in this space, but the style still wasn't quite right.
Let's get on to the reveal.
Foyer Reveal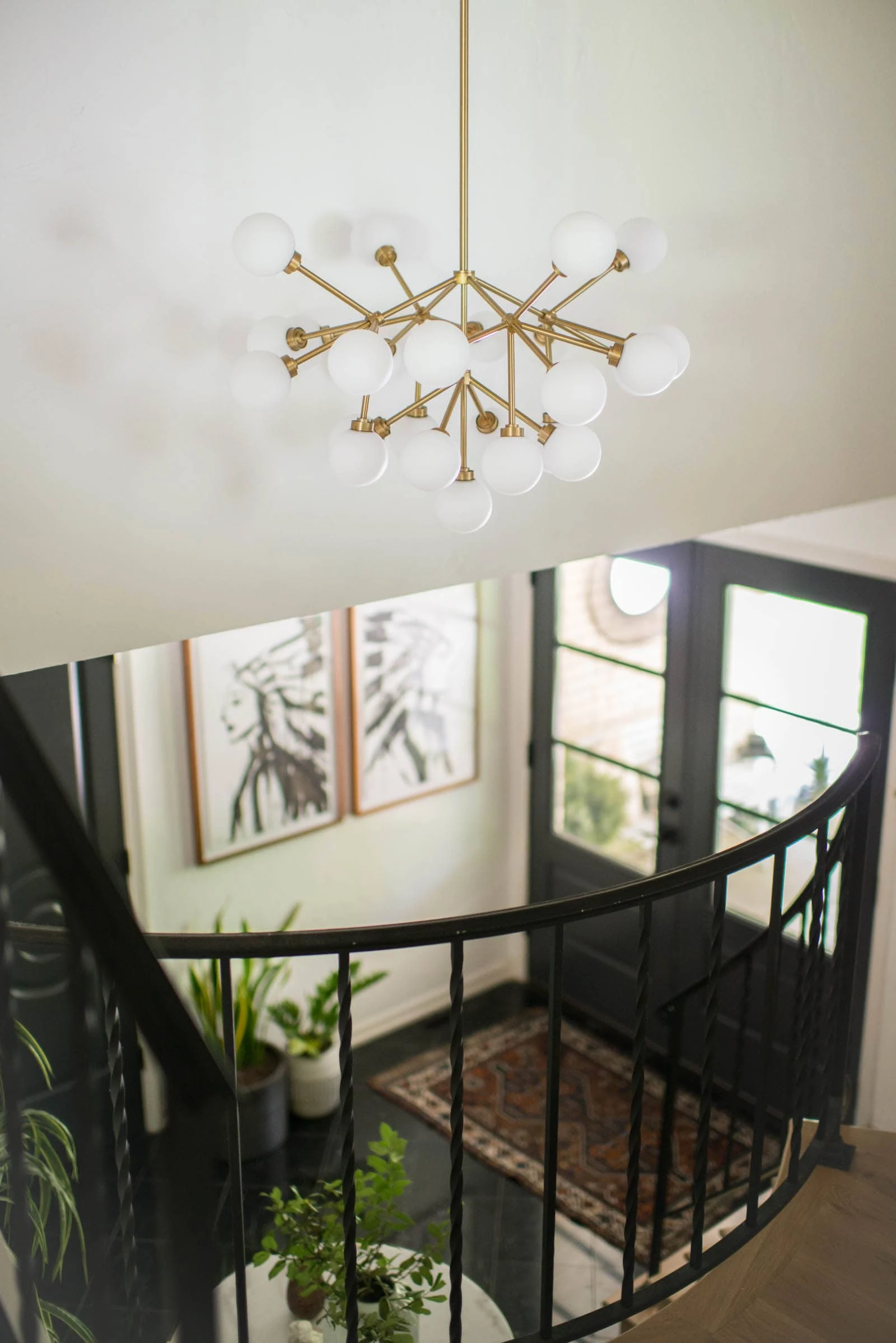 I never felt like the lighting in the entryway was perfect. For one, the entryway is dark so I needed more light and, for two, I didn't love the semi-flush that we had. So, working with Lumens was a dream. I upgraded my chandelier to the Mara Chandelier and it looks like right now they don't have the exact one that I got but they have the bigger one. I love the juxtaposition of dainty and modern in my spaces. It's one of the things that I always strive for.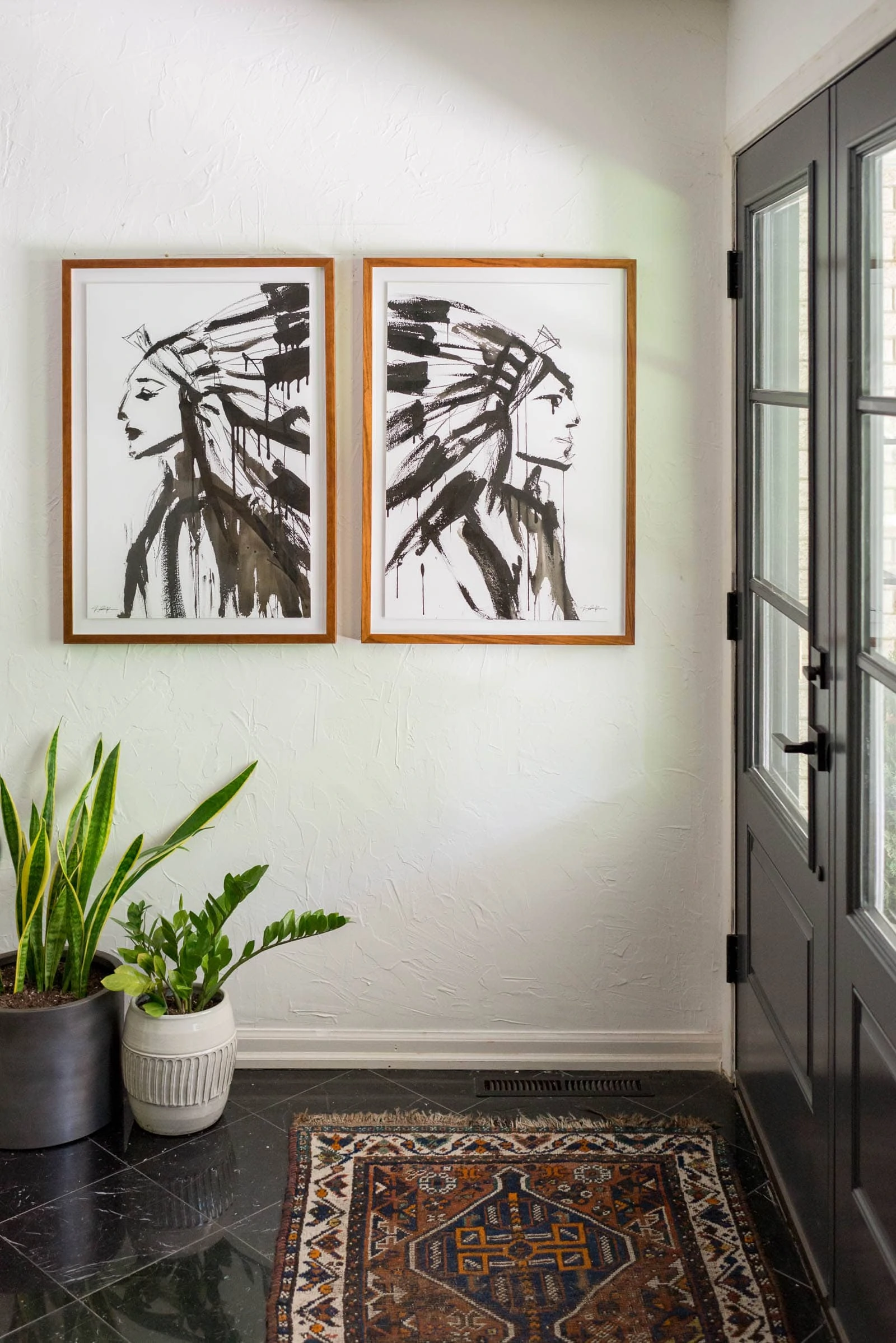 I've had the Chiefs prints by Jenna Snyder-Phillips for a few years. I originally bought them for this space but then moved them up to our master bedroom last year. Although I loved them in the master bedroom, I really think they shine in the foyer.
You know that I'm a huge fan of? Vintage rugs! I just love them. These are generally one-of-a-kind so if you are looking for some, check out my vintage rug post on how to score one for yourself!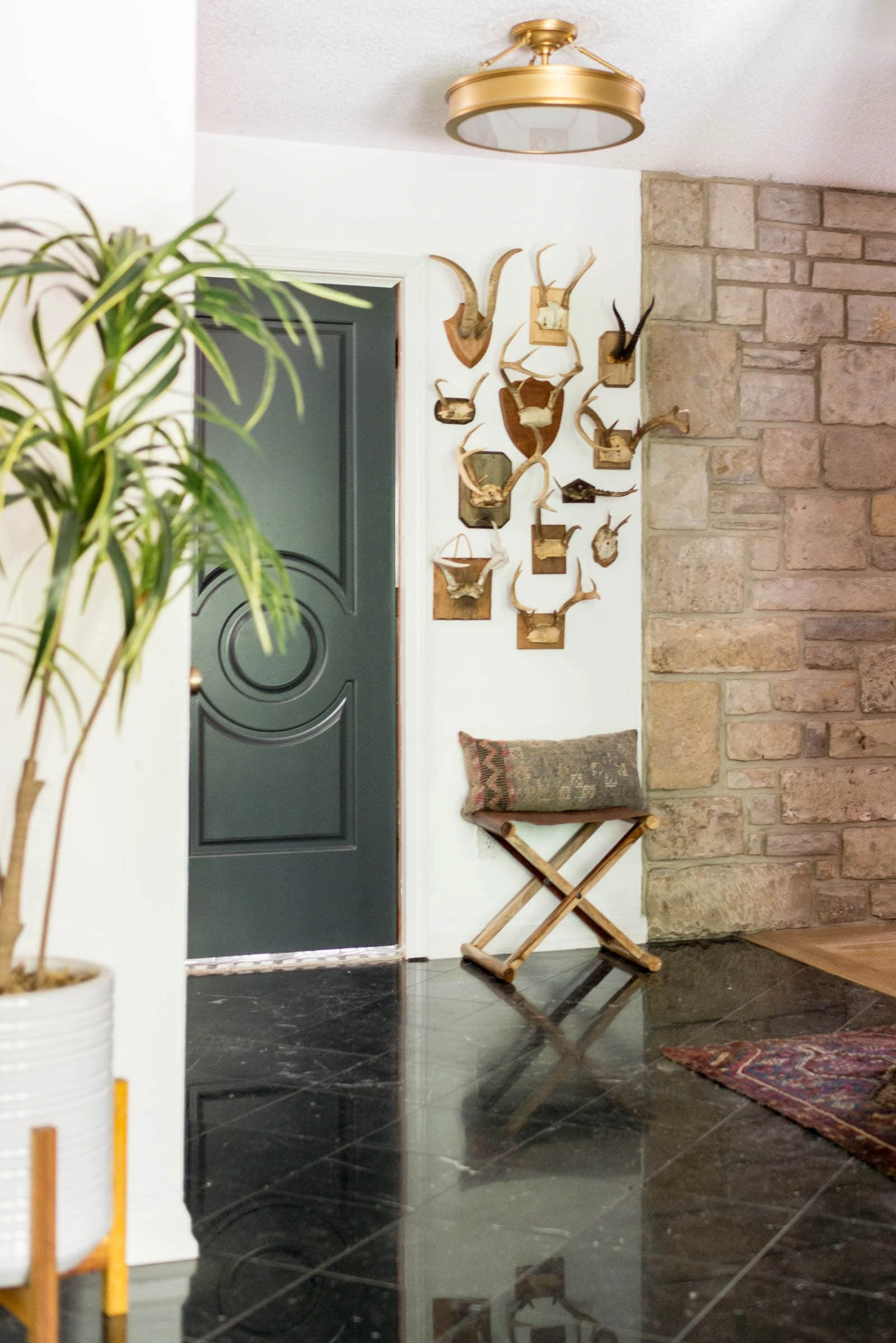 The light is the exact same one that we have in our kitchen. I LOVE it, so much, that I had to have another. The antler wall is evolving. I had a few antlers that I had picked up here and there and then my dad "loaned" me a bunch more. I'm figuring the loan can be for 10+ years or so. =)
Luke and I mounted most of the antlers on the wood plaques. I bought some new plaques from Michaels and stained them and then, luckily, I found some vintage ones locally at a flea market to use as well. I love how the antler gallery wall turned out.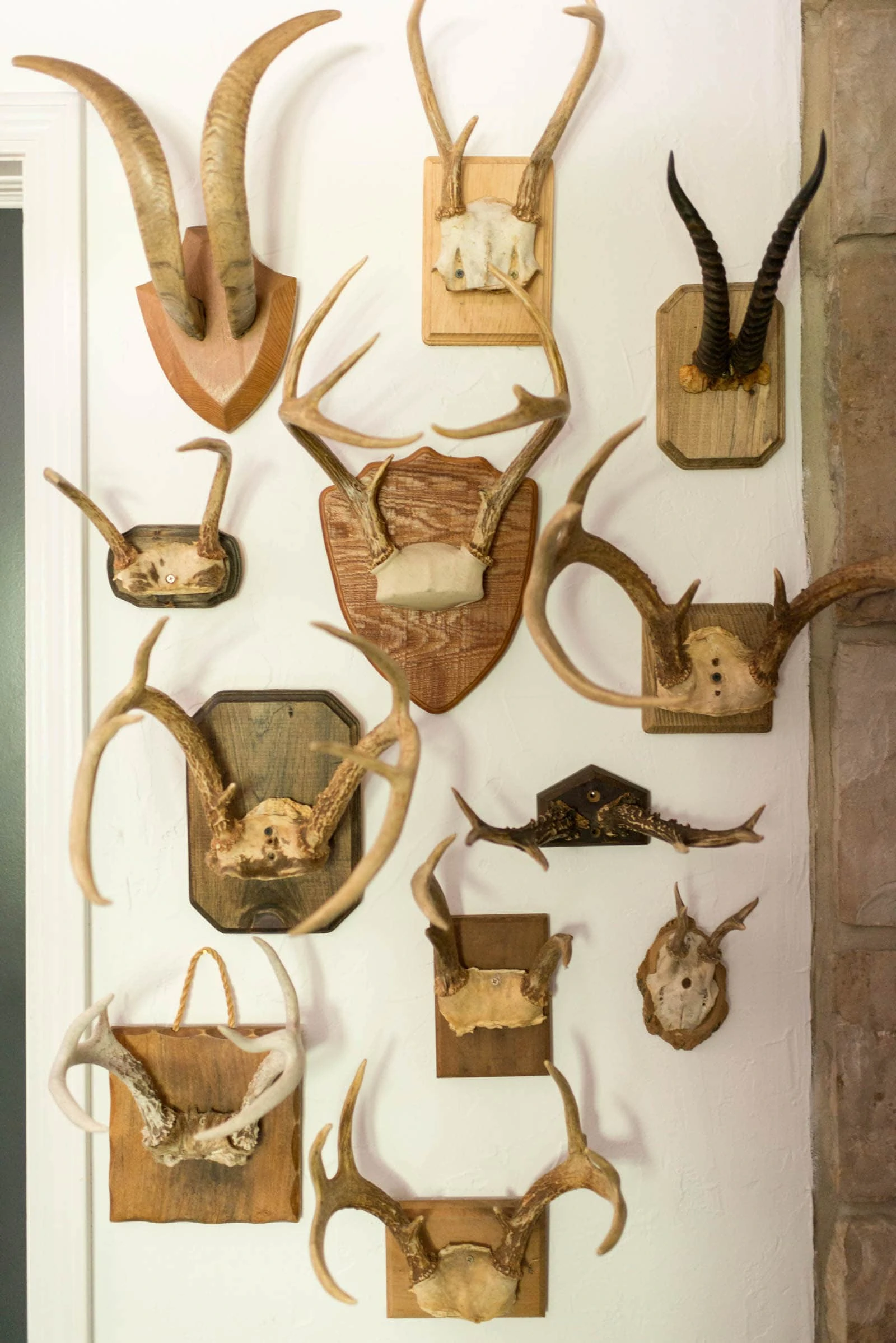 Have you ever heard the story of the cactus that I have in the loft area? Here's the story on it. I was shopping years ago at Habitat for Humanity. I spied that FAKE cactus for $15. It was dusty but I thought it was super cool and had major potential. Well, years later and it's still sitting in the same spot. It's a talking point whenever people come over and all the kids that see it have to touch it. Ha. It's one of my favorite thrifting finds.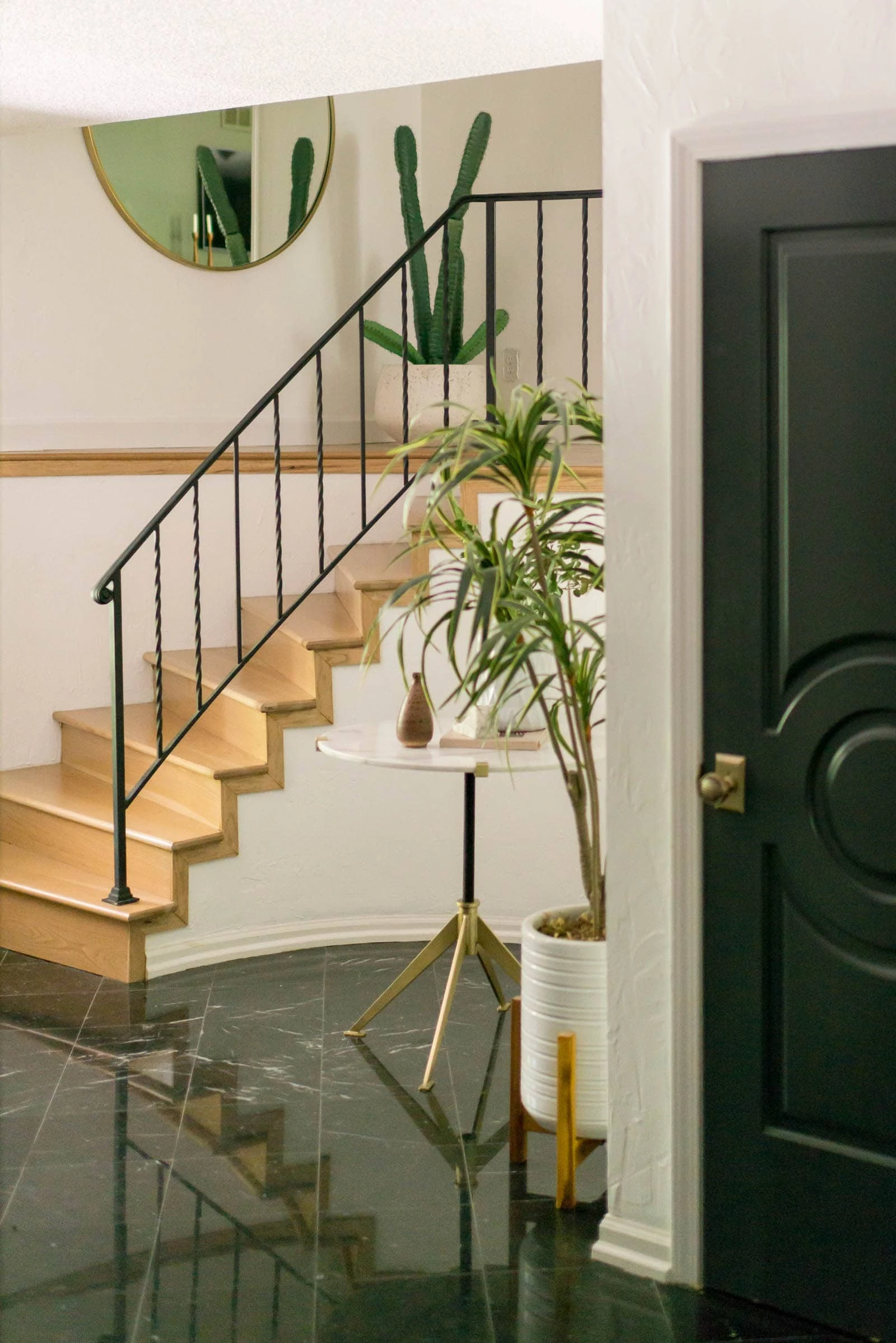 How about a few details in the space?! I'm still in love with our doors. They are special order doors by Metrie but you can find them at Lowe's. I had them painted Cracked Pepper by Behr (the same color as our kitchen). The door knobs are by Nostalgic Warehouse and they are my favorite. I interviewed Nostalgic Warehouse on the Your Home Story podcast if you want to tune in!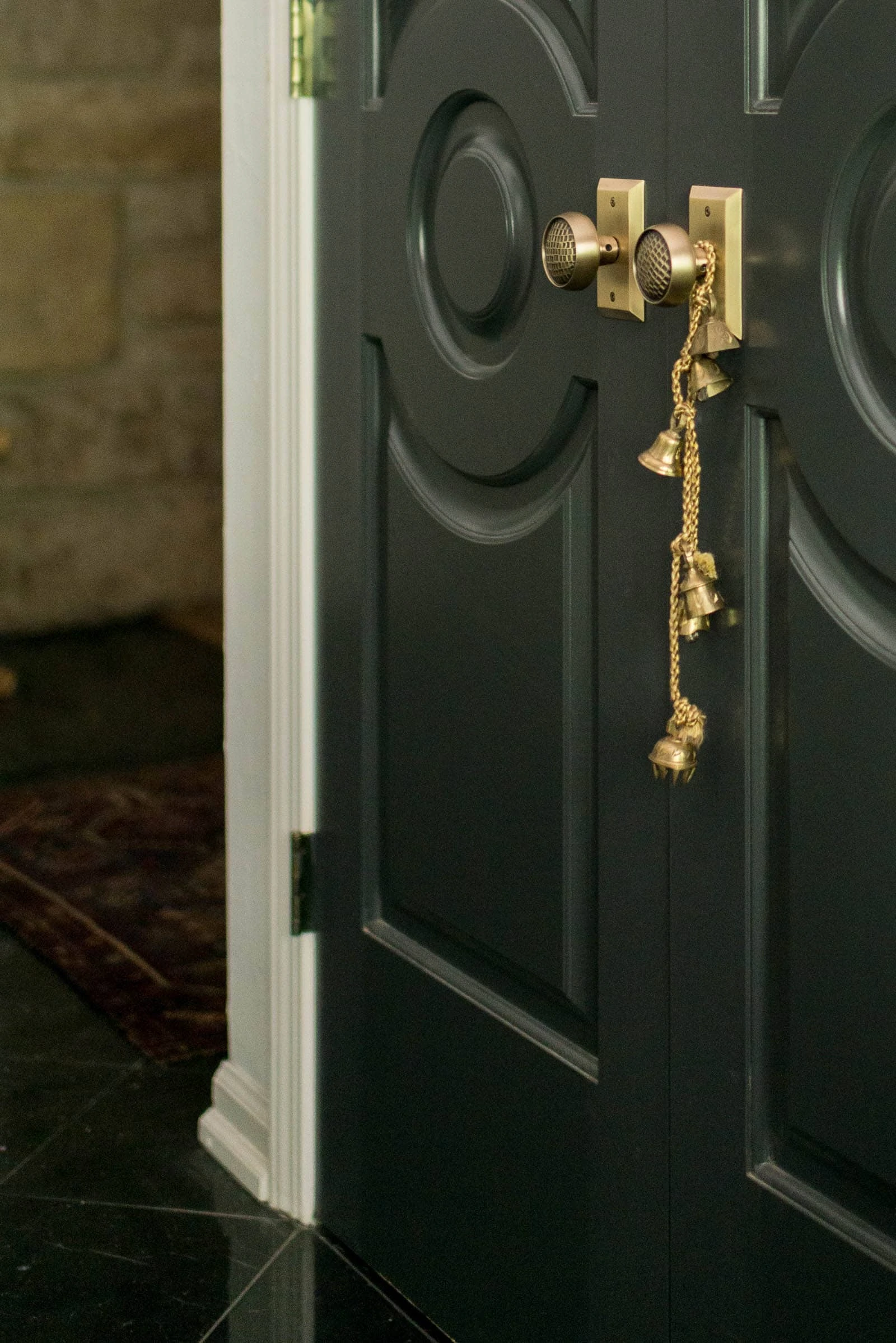 One of the reasons this space has been so challenging is because it has 7 doors, one open entrance to our playroom and two visible sets of stairs. It has a lot going on. So much in fact, that I knew I needed to keep it simple yet interesting.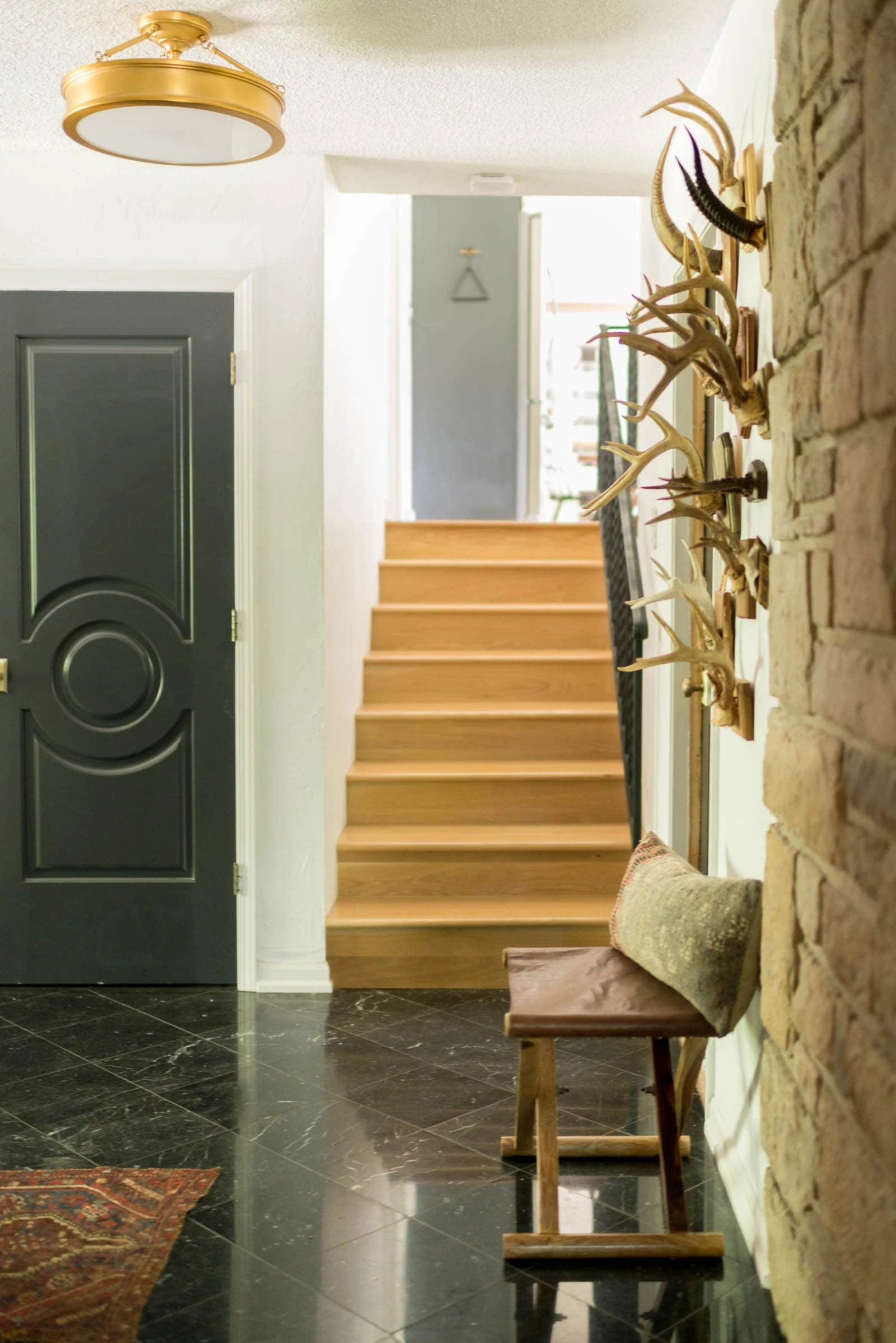 I feel like I accomplished that. Truly. Every part of the space has room to breathe but also has a story.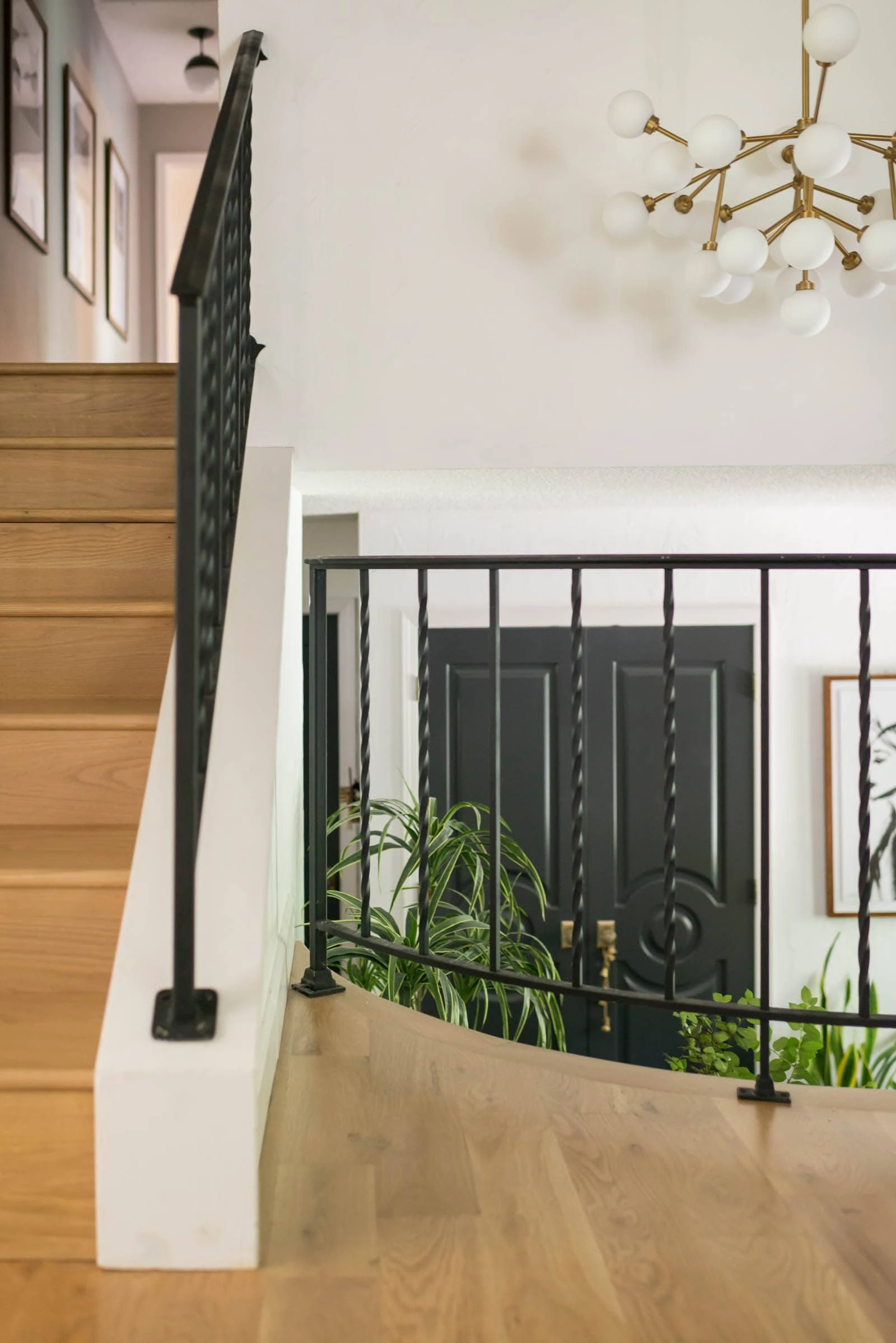 Shop The Space

I hope you love the space! Small tweaks were made since the ORC space back in 2017 and, to be honest, I couldn't be happier. Design takes time, making a house a home takes time, adding pieces that truly reflect you takes time. I encourage you all to not get discouraged by how long your space takes to put together and, instead, be grateful and happy as you curate each new piece.