I'm excited to share my small laundry room makeover with you today. I'm hoping that if you are looking for cute laundry room ideas, that it will spark something for you to turn your laundry closet or utility room into a fun, new space that you enjoy!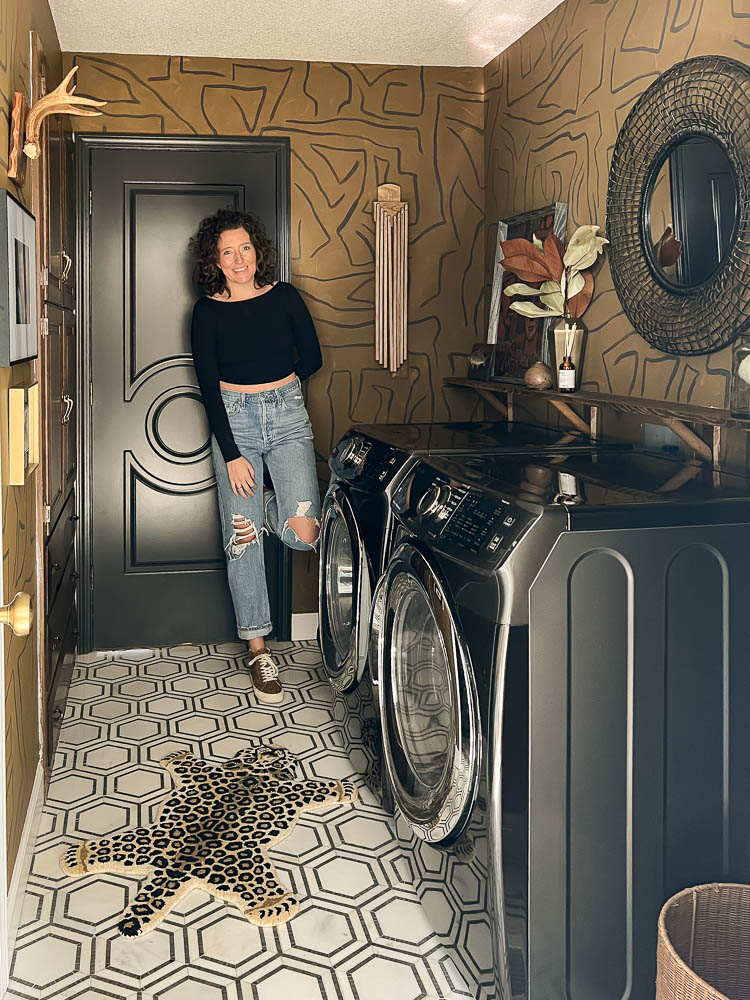 DIY Laundry Room
Before we jump right in to the reveal of the modern laundry room, let's walk a bit down memory lane first. I think it's SO valuable to see where a space starts and how it develops over time. My spaces definitely don't develop overnight. I'm a slow renovator and decorator, so let's normalize that a bit!
Small Utility Room with Overhead Cabinets BEFORE Photos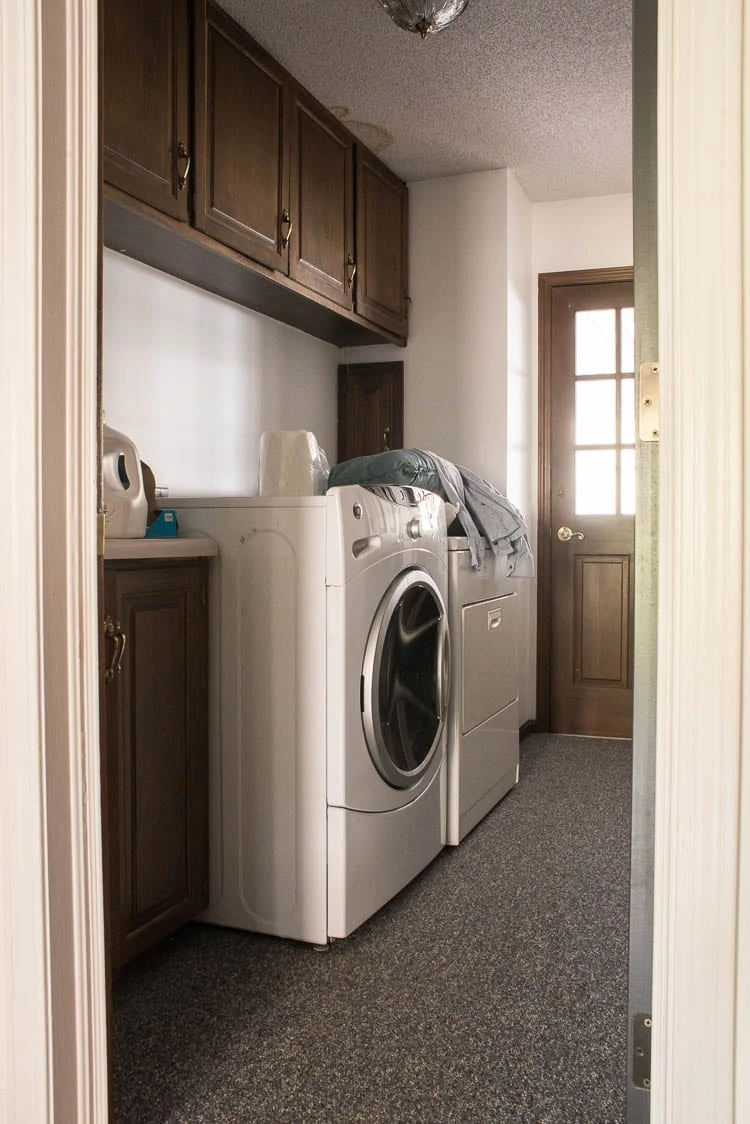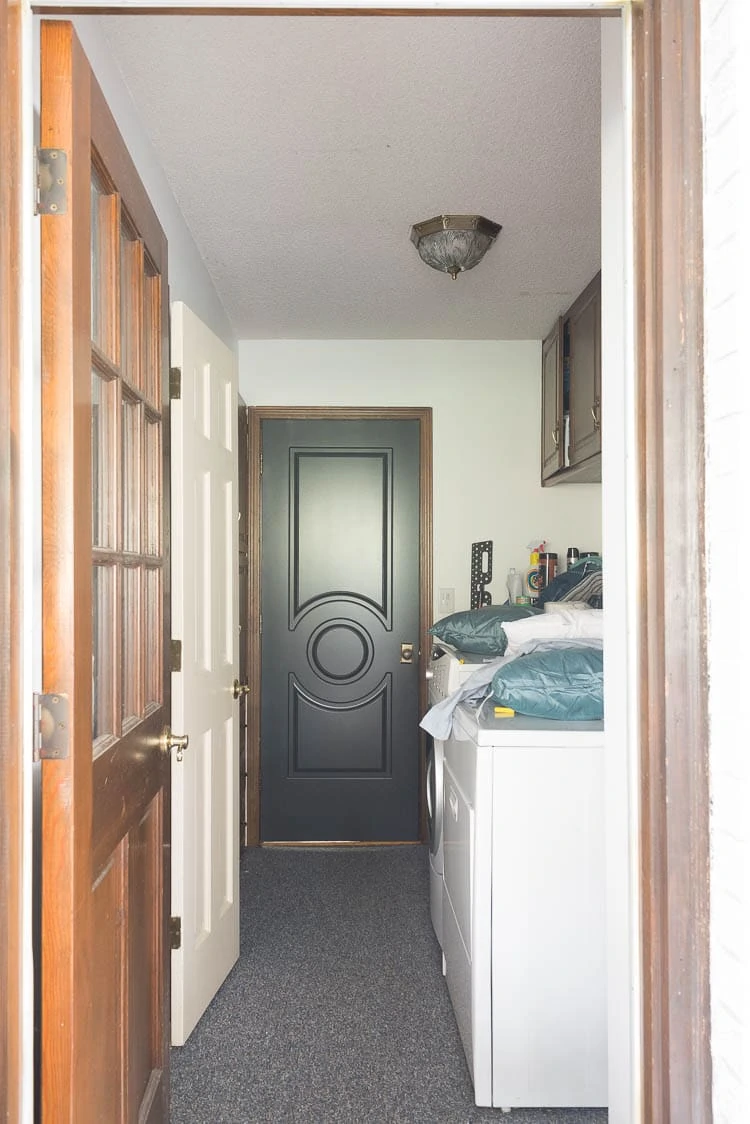 Phase one of the utility room update started a few years back when we took down the upper cabinets. The cabinets above the washer and dryer were so high (and we are tall) that we never used them. I really value functional organization over lots of storage capacity, so it was a no-brainer to just take the cabinets down.
Phase two slowly creeped in as we started the plan to renovate the powder bathroom that is directly off this space. Since the utility hallway already had too many doors in it, the plan for the powder bathroom was to add a pocket door to help the flow of the walkway in the utility room.
Once we decided to go that route, it made sense for us to continue the bathroom flooring, drywall work, etc. in the small laundry room adjacent as well.
Small Utility Room Makeover Progress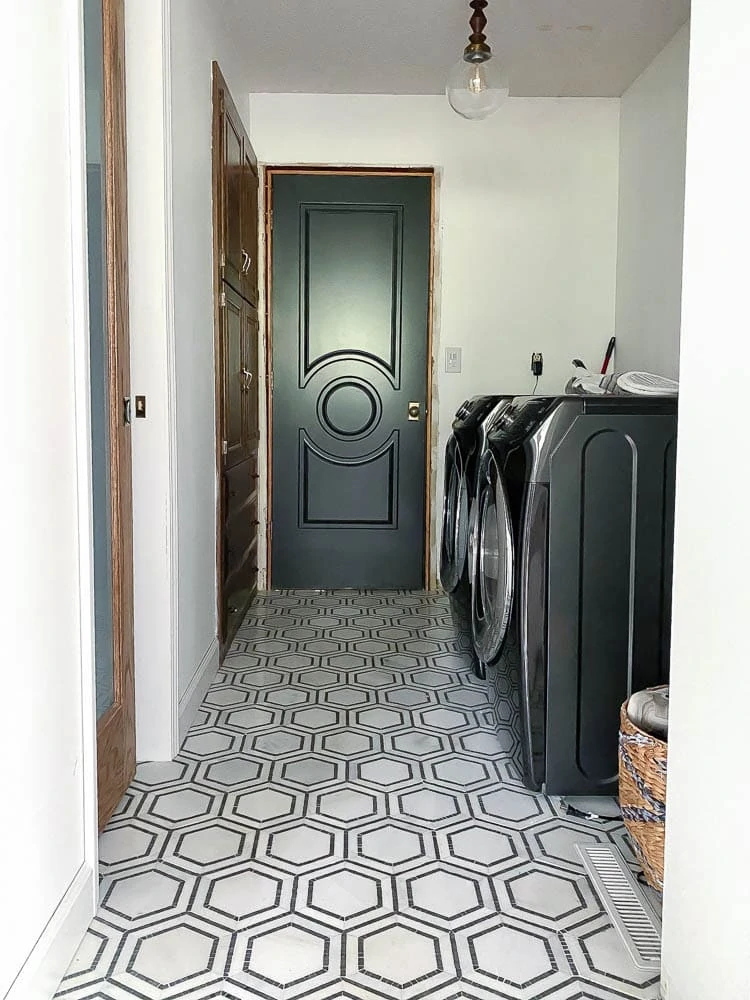 Honestly, after the bathroom renovation was completed, we were tired. I was just thrilled to be at the point of having a functioning, bare-bones utility room that was clean(ish) and usable.
Late 2020, I got the urge to pull the utility/laundry room together more. I created mini makeover plans and started searching for pieces that would help make an organized laundry space for us.
Over the course of a year (yes, a year!), we installed a new modern door (similar style to our front doors), did a bunch of trim work, painted and caulked. I knew that I wanted some sort of countertop over the washer and dryer or open shelving in the laundry room.
Because we eventually have further plans to develop this space (sink and custom cabinetry), I decided to keep this small laundry room makeover budget-friendly and build a shelf above the washer and dryer. I spent two afternoons and just dug through our scrap wood pile to build the laundry room shelf. It's simple and a bit rustic but totally works.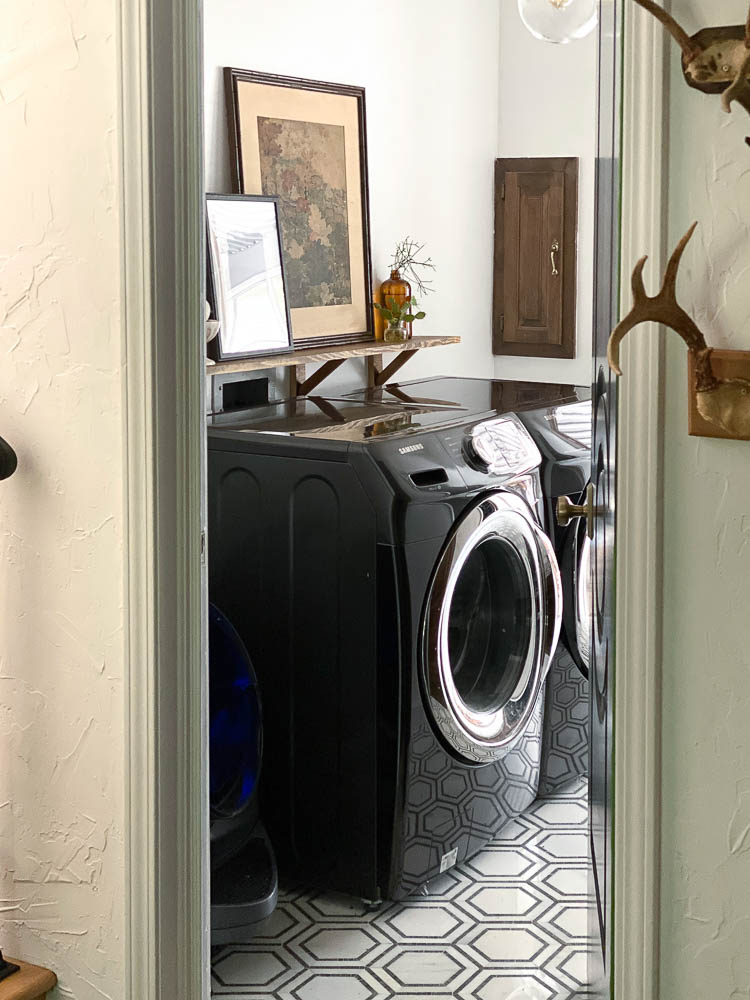 As you can see, from there, the utility room looked pulled together and was FINE. Fine though began to feel pretty boring in person. I searched for a good paint color but left uninspired. I searched and ordered quite a few wallpaper samples but they didn't feel quite perfect for this space. Then, I remembered a fabric sample that I've had for years and have always loved. That's the spark that did it.
Affiliate links below. Thanks for supporting me. Click to read my privacy and disclosure statement.
Ready for all the details?! I really love how it came together.
p.s. Scroll up and down just a second to see the same view with a "blank slate" and the bold utility space it is today.
Small Laundry Room Makeover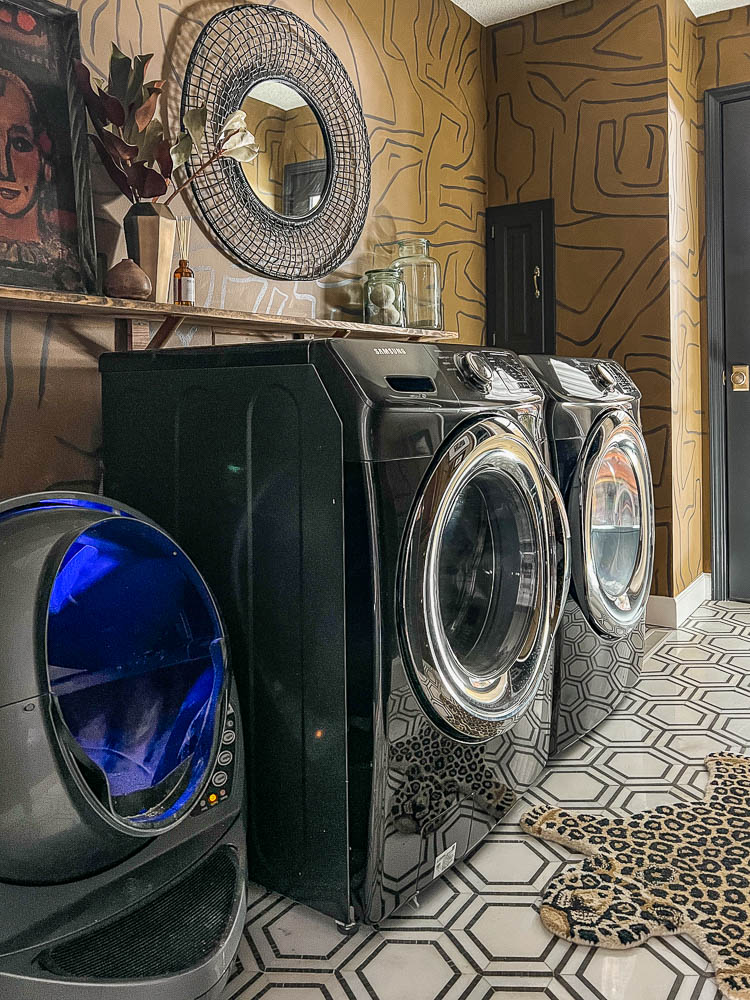 The wow factor in the utility room is definitely the hand painted wall treatment that Luke did. Well, let me give myself a tiny bit of credit. I did help him with the color wash glazing on the walls before he painted the wall design. But, honestly, that project is what brought our small laundry room from boring to fun!
I posted the tutorial on how to paint a wall treatment to look like wallpaper so if you are wanting to try something similar... definitely check that out.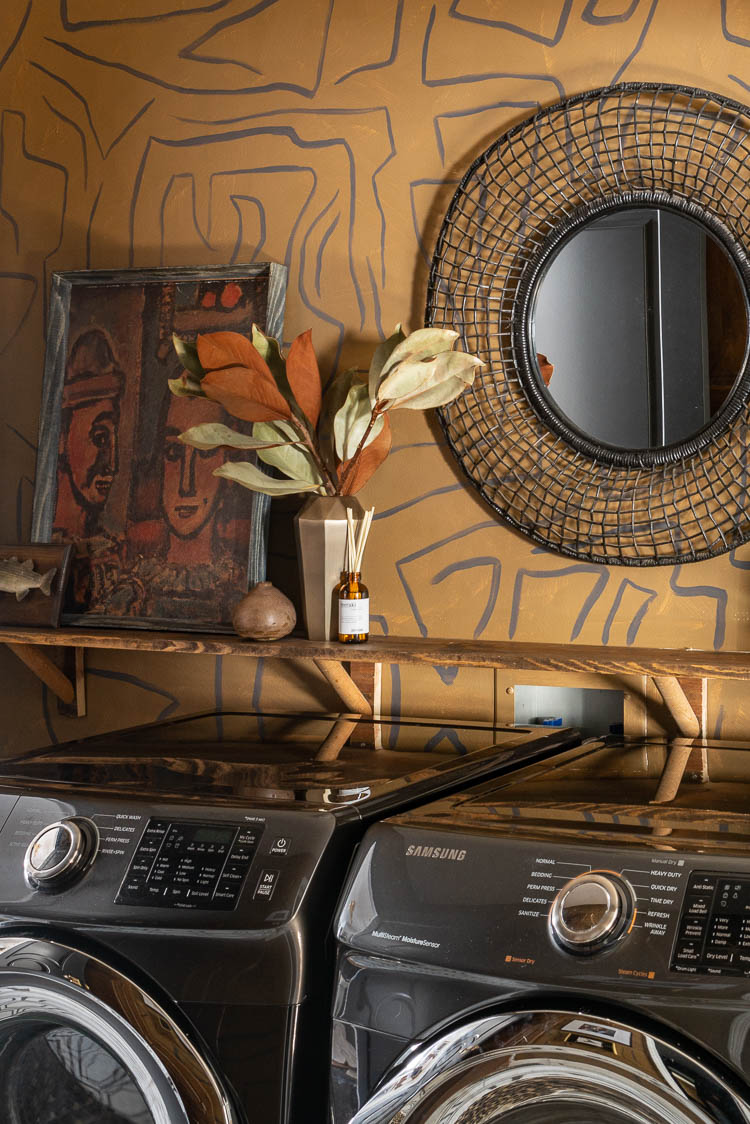 Believe it or not, one thing that did help make the space feel much more polished was buying paintable outlet covers and painting them. I was actually getting ready to shoot this space last week and realized that the outlet covers stuck out like a sore thumb. So, I ordered my favorite paintable covers to help blend in a bit on the painted wall design.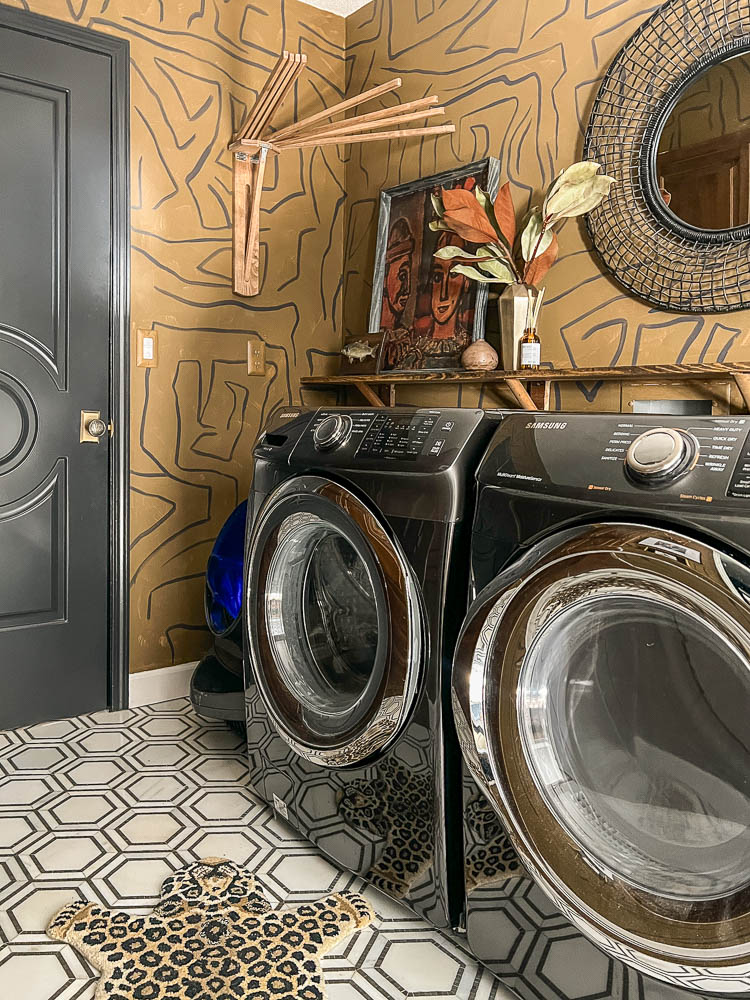 5x8 Laundry Room
Our space is a hair over 5x8 so it's definitely compact. We have to really be on it with what we want to store and how we want to store things.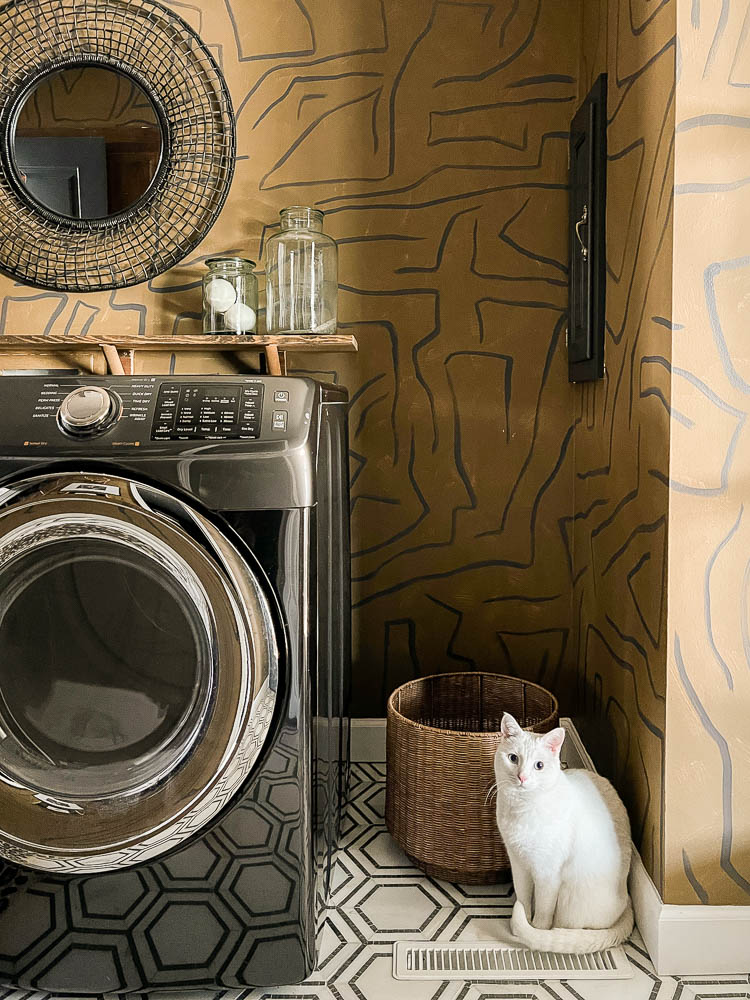 Because our cat litter box is in this room, I was looking for an extra way to store litter and decided to store it in plain sight. We are almost out of litter now but when I stock up again, the larger glass jar on the shelf above the washer and dryer will be filled with cat litter!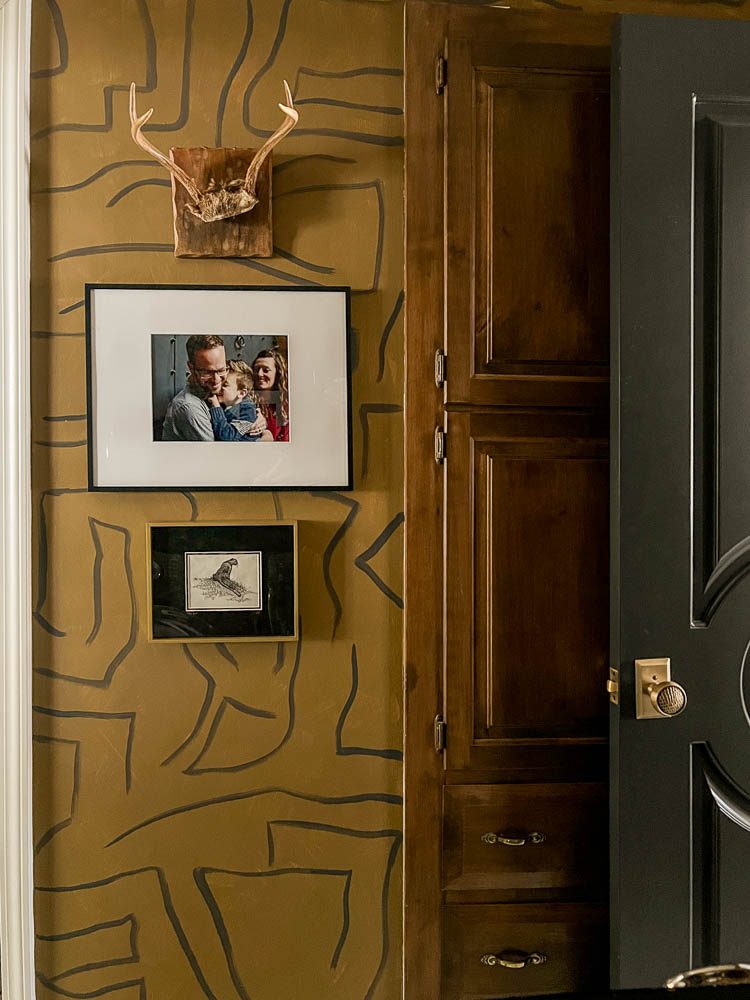 I decided to keep the original brass cabinet pulls even though they aren't my favorite. I couldn't find affordable, quality pulls and since we eventually plan to rework some of the cabinetry, I just didn't want to spend money on something that I might be changing.
The rest of the decor pieces are vintage for the most part and/or just out of my home decor closet. I really wanted to use what I had because if I keep something, I must still love it; so why not use it?!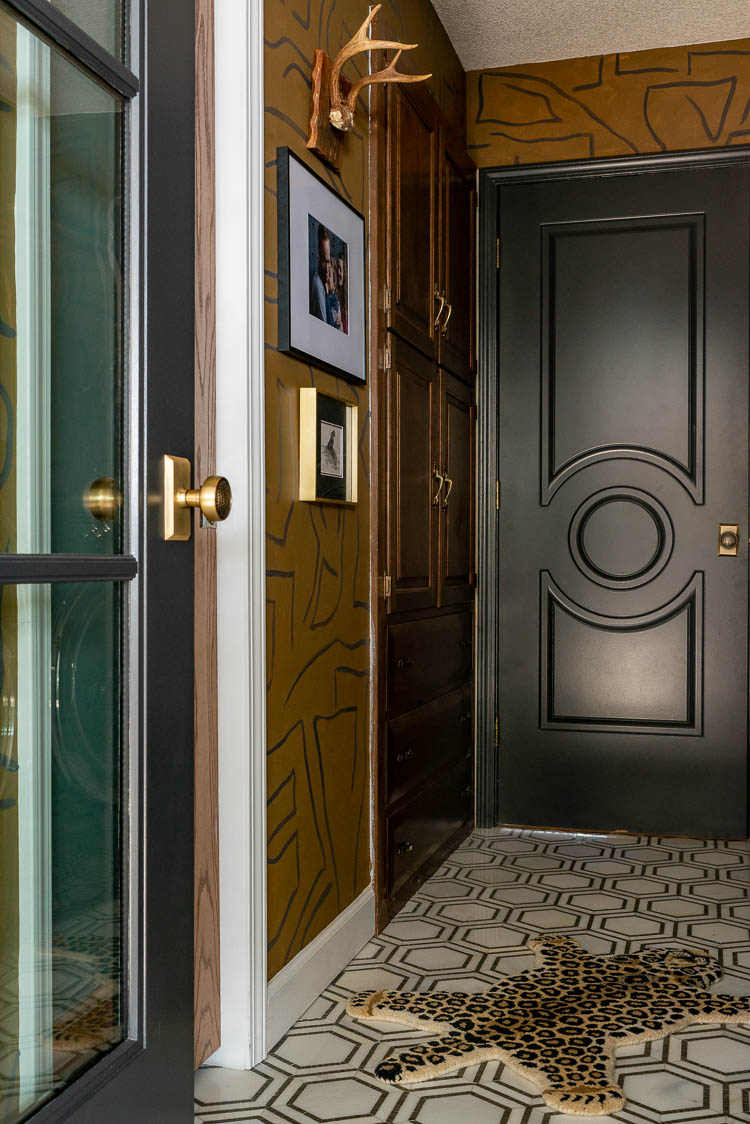 I realize that our bold laundry room makeover is probably not for everyone, but we love it! It came together in the end in a creative way and it makes me smile every time I go by.
Shop the Utility Room Makeover

Ps. Hear Luke and I chat about this on the podcast this week!