Our home sunroom has served as a home office and a hangout place to play with plants and chill. Today, I'm sharing more about the four season sunroom and how it's evolved.
Over the past year and a half, as we've been navigating the "all work and school from home" thing, I've been slowly making updates to the sunroom.
We've rearranged the sunroom furniture approximately a hundred times to find the best setup for both work and play. I've also added more sunroom decor by adding large plants and trees to the space.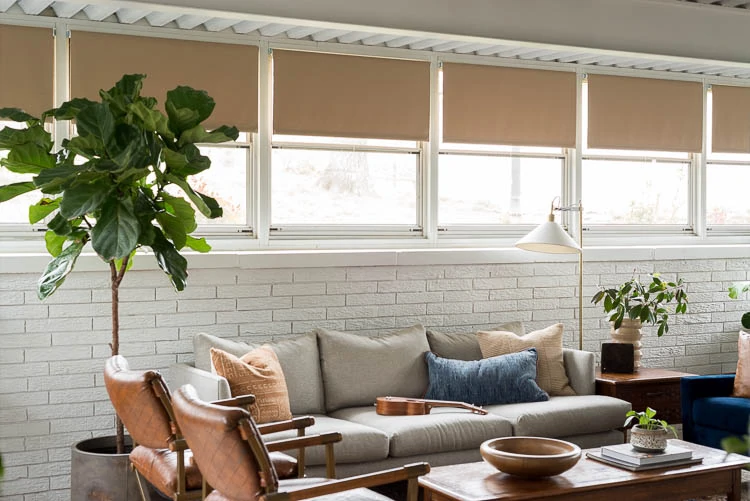 As the basement renovation products were ordered, we also ordered a new door for the sunroom. I think that installing the door (boy, was that a learning curve) and painting it really helped me get excited about putting effort into pulling the modern sunroom look together.
I've heard artists say that you can't force inspiration and I think that's true for home decor as well. I guess the saying "strike when the iron is hot" is pretty correct here.
Luke hates when I use the phrase "leaned in" but that is pretty appropriate here, too. The newly installed door sparked creativity in the space for me because I no longer saw clutter everywhere. Instead, I saw the path to having a room that felt inspiring. So, I leaned in (hehe) and really tried to make it all come together (with mostly pieces that we had already in our home).
Let me show you a quick move-in day photo and photo of where we've been at for a few years (remember, homes take time!).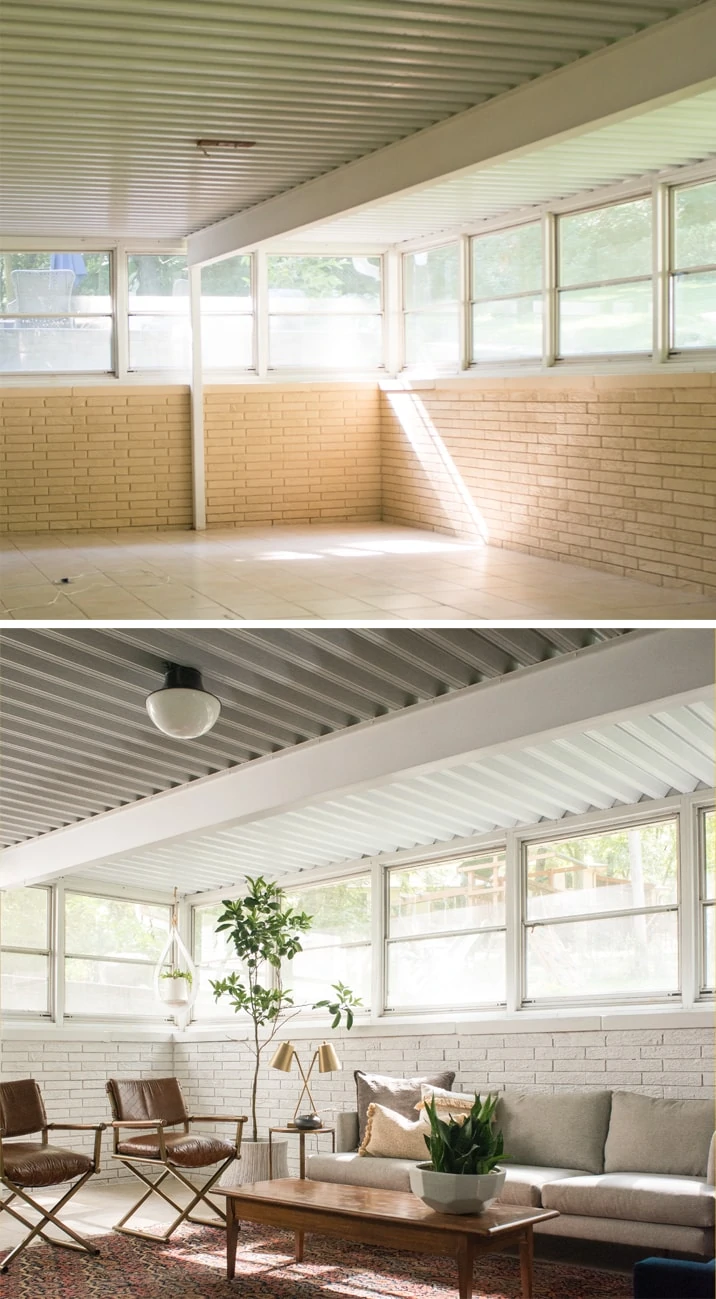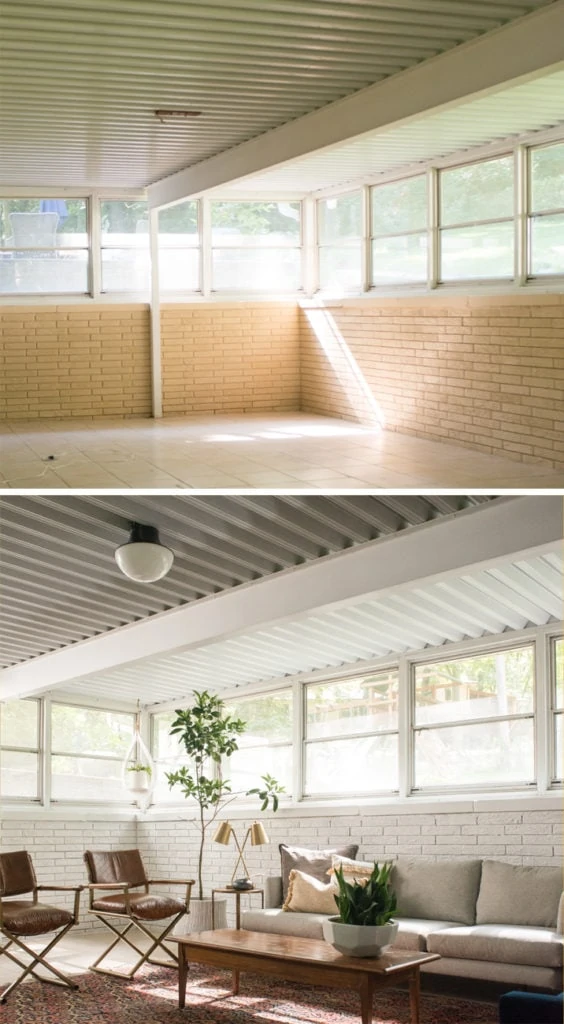 So much work went into getting the space to that point! For years, I pinned sunroom inspiration images to my Sunroom Pinterest board. From there, we planned and tweaked and slowly started to make changes.
We really wanted a four season sunroom and to do that, we had to make the space climate-controlled. To do that we added a mini split.
Honestly though, a three season sunroom and a four season sunroom are different. The mini split is GREAT for about 350 days here in Missouri but there are a few days (or week and a half or so) that the mini split (and our crappy windows) can't keep up with.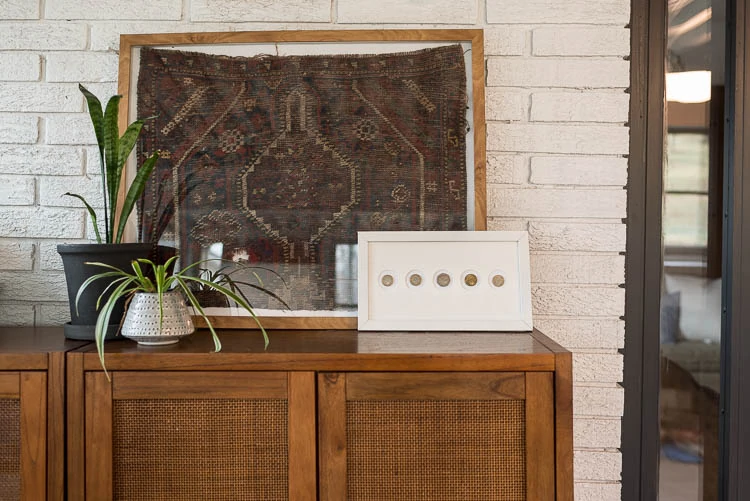 DIYs in the space included painting the brick white, and bringing in a ton of leftover decor (travel coin art and DIY rug remnant).
From there, it was pretty but didn't feel cozy or layered with intention. See the picture below to see what I mean.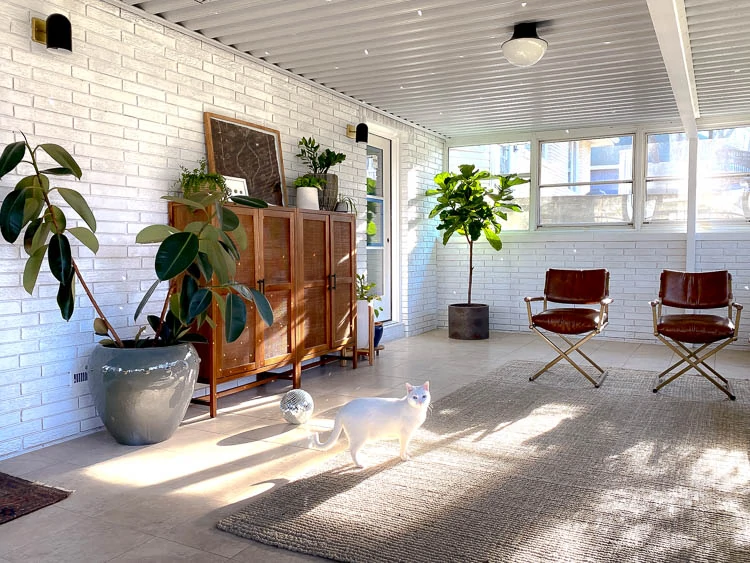 I continued to add layers and thought to "borrow" the vintage rug from Greyson's room "just to try it out" and what do you know... it looked magical in the sunroom.
p.s. Spy the newly installed unpainted door above and compare that to the painted version right below.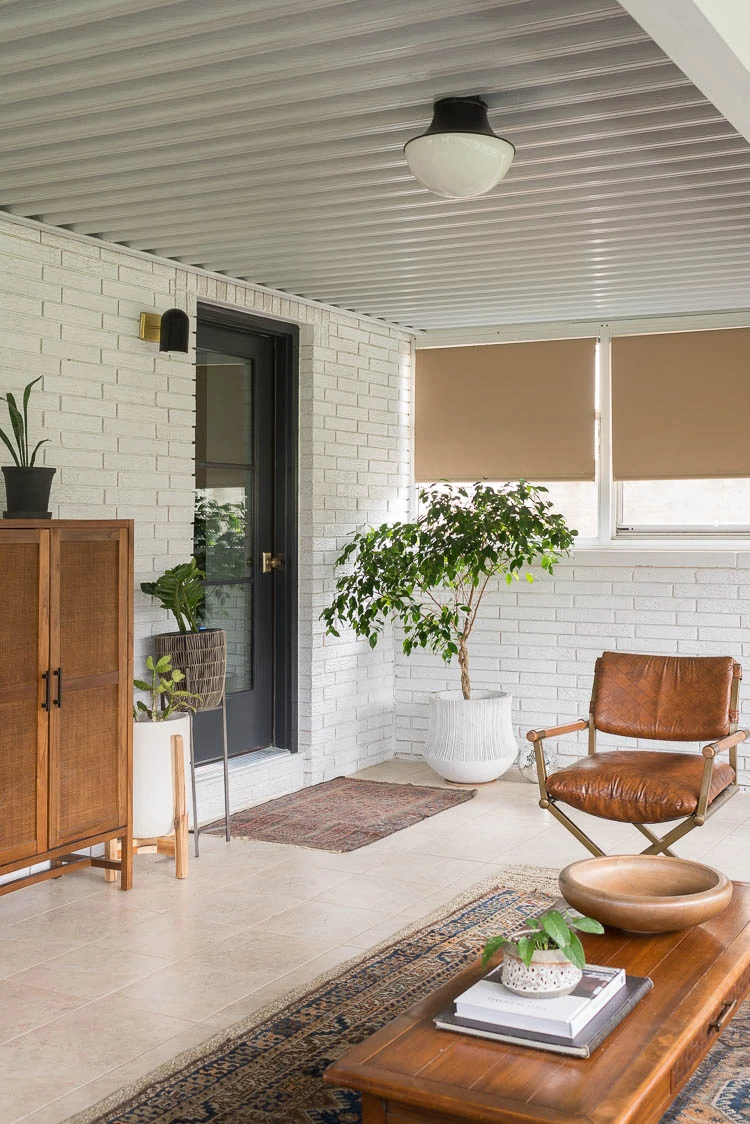 Getting rid of all the extra clutter in the space and being aware of styling, really took the space to the next level. I hate to admit it but there is a case where you can have too many plants in a space and before I took on decluttering this space... I had too many plants.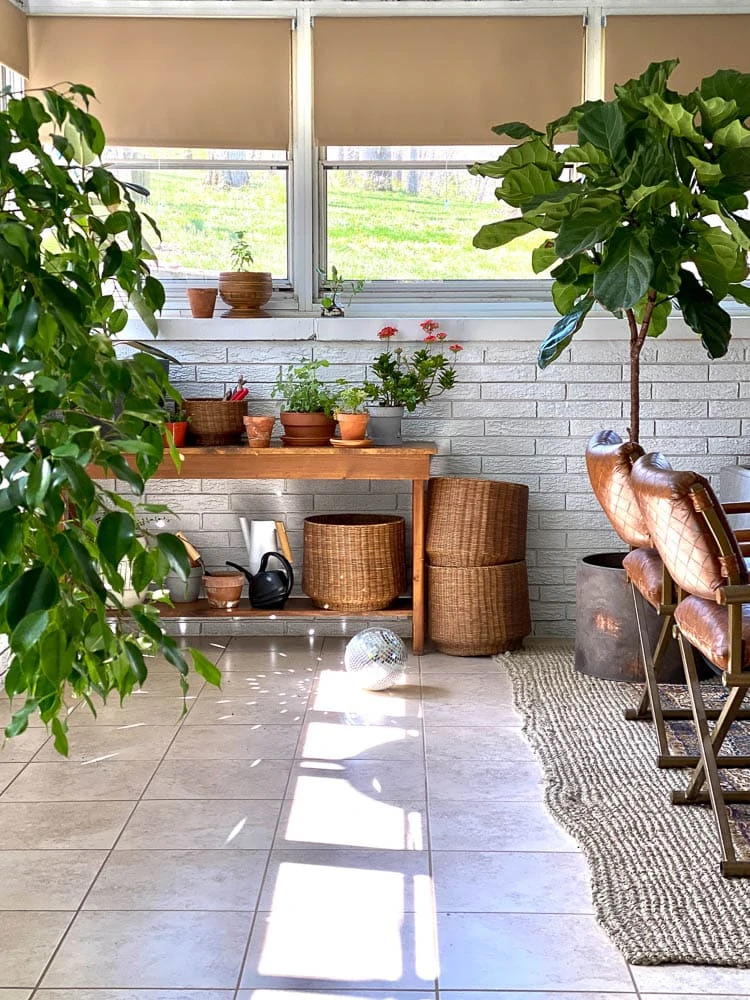 The potting bench still acts as a potting bench but the bags of soil, fertilizer, scoops, etc., are all hidden in baskets instead of strewn out along the shelves.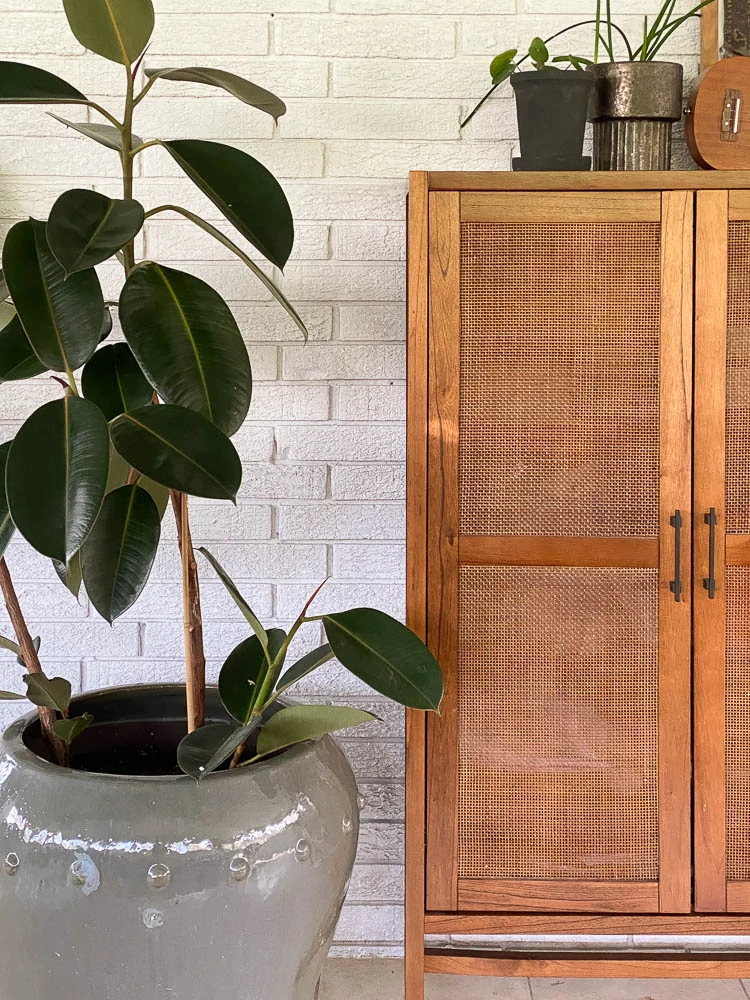 In my well-organized dreams, I wouldn't have the need for closed storage because I would be highly organized. That, however, is not the case so I do utilize two cabinets to stuff all the extra things (from camera gear, to paperwork, to bubble wrap, etc.). I am getting better though and, if it doesn't fit in the cabinet, then I can't keep it.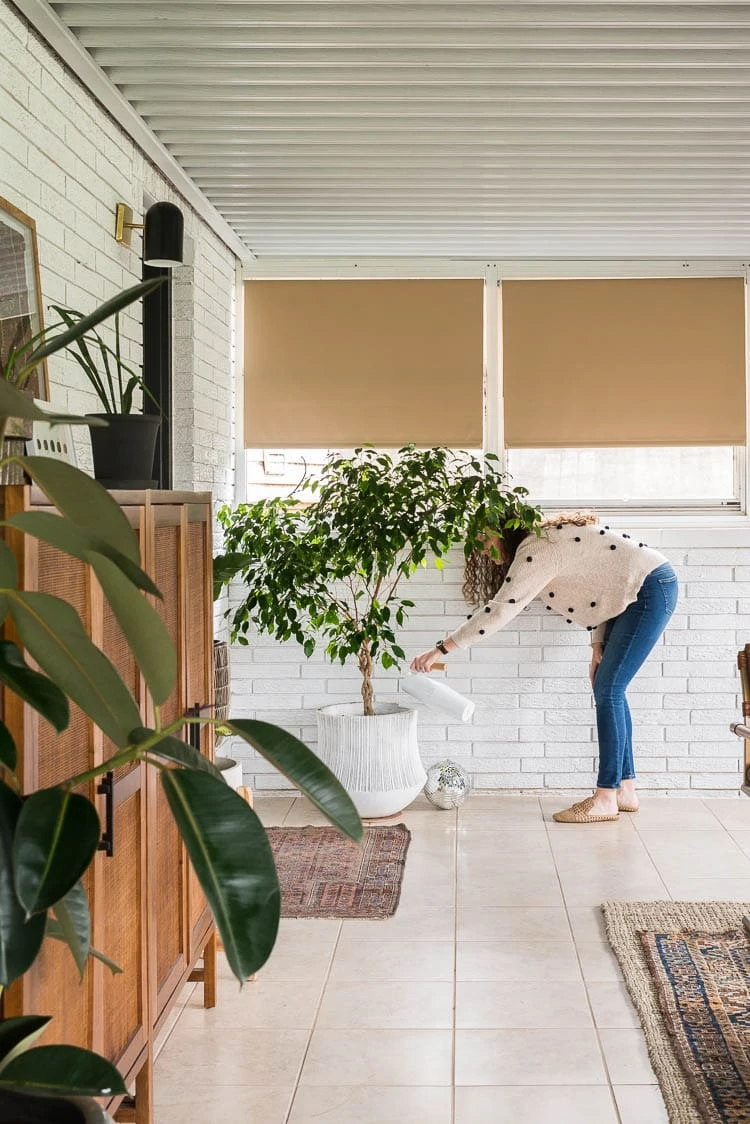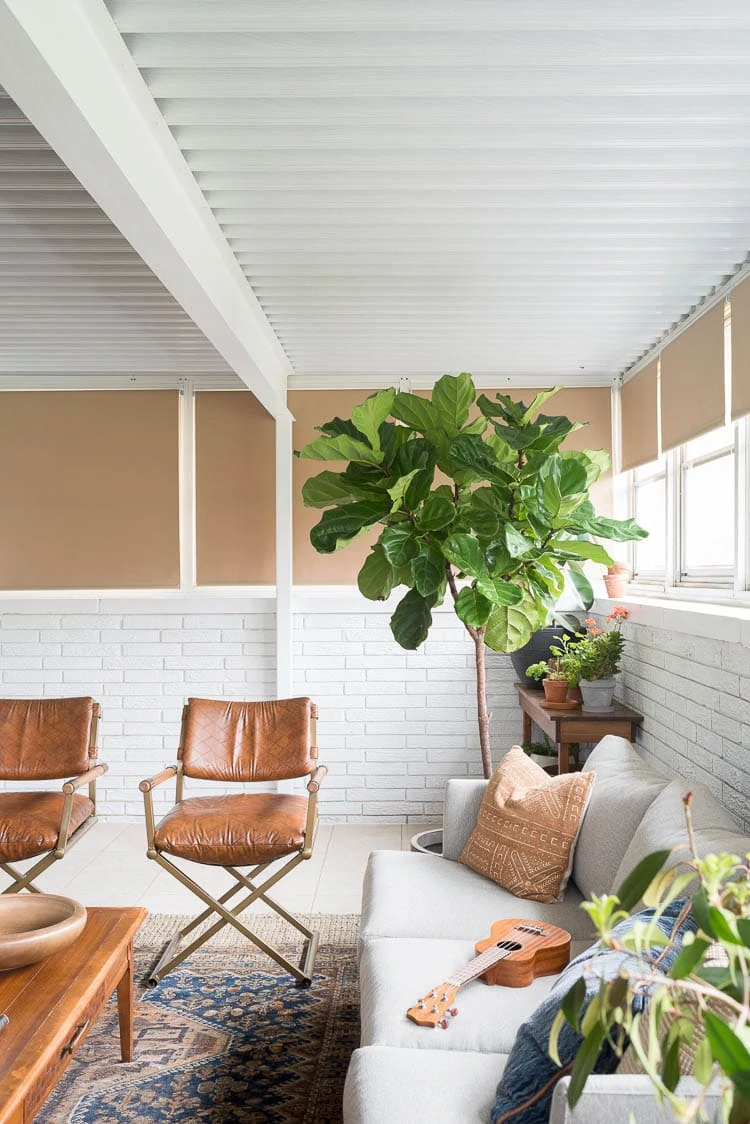 All in all, I never dreamt that I would appreciate this sunroom so much. Our house is on the larger size and although, we don't "need" to have sunroom furniture setup like a living room... I love it. Luke and I will sit out here when it's raining or not nice enough to sit outside and have happy hour or escape from the noise of kids playing in the house.
It's the place to gravitate to on a Sunday afternoon because the light is just so pretty. It feels comfortable, stylish and so inviting and although our house feels like that too, this space somehow has the casualness of a beach house that makes you just sit and relax. No agenda, no phones... just to enjoy yourself.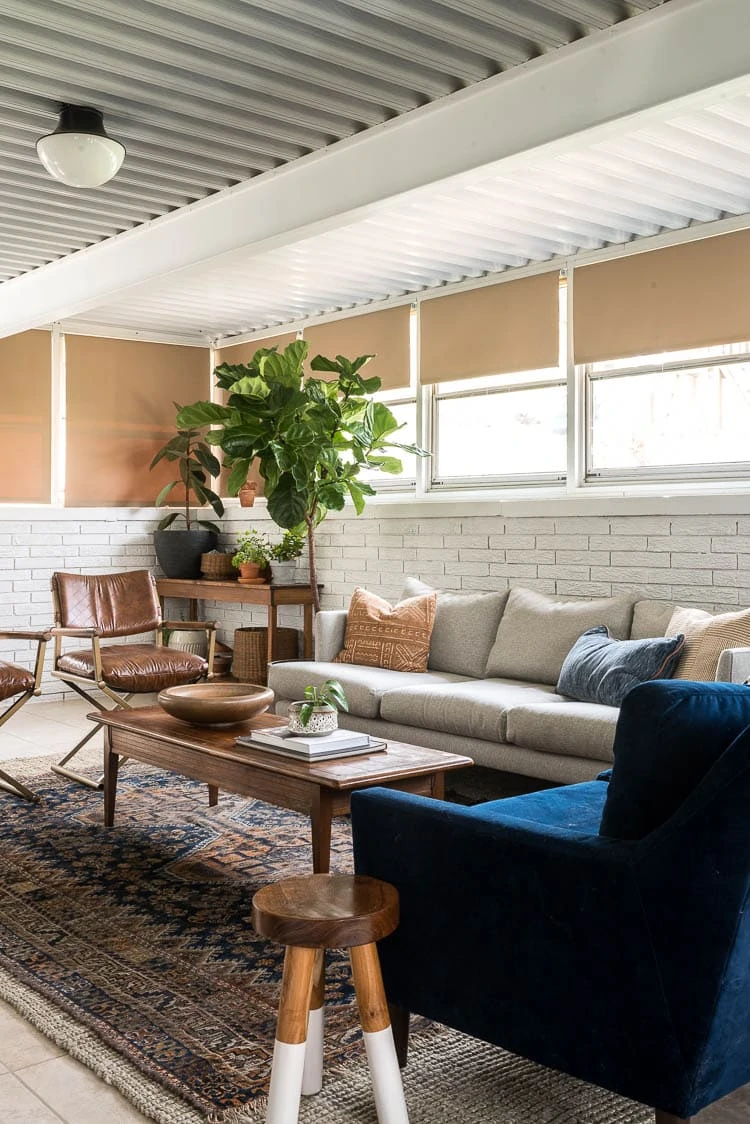 Now, the other angle of this space by the exterior door where we have our office setup is NOT as relaxing. It's messy and doesn't feel organized but we will get to it eventually. And, until then, this is my view from my desk and I'm so very happy with it.
Sunroom Decor : Get the Look