Today is the day. It's the  Modern and Bright Boy Room Reveal day. If you read the progress post on Monday, then you know that Greyson's room has been in the making for over two years! So, yes, we are slow, but we got it done. I'm not one of those people who can make decorating decisions on the fly. I have to think about it and then analyze it. I have to make a few mistakes before I finally find the light at the end of the tunnel. Well, we found the "light", or direction of the room, back in February when we did the loft, and after that it was just smooth sailing. Well, slow, smooth sailing. =) Anyways, let's get right to it.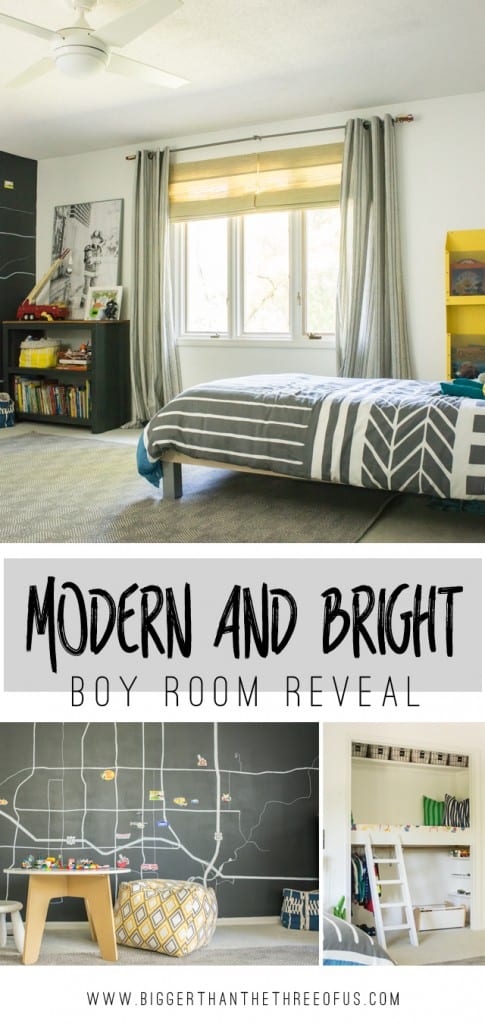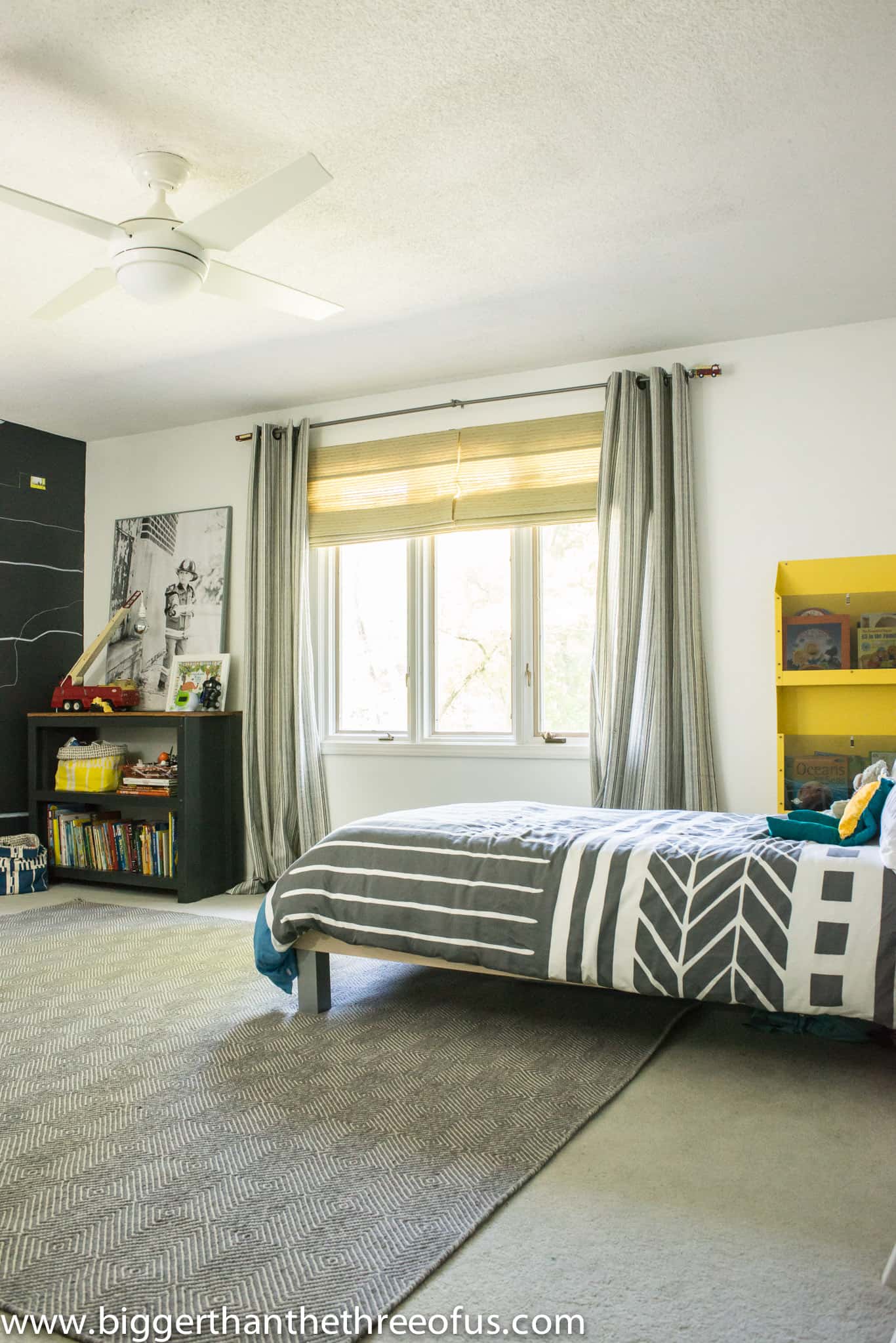 This room is quite the mix of new/old items, thrifted and upcycled and DIY'd. I think that all of those combined really help give this room some character.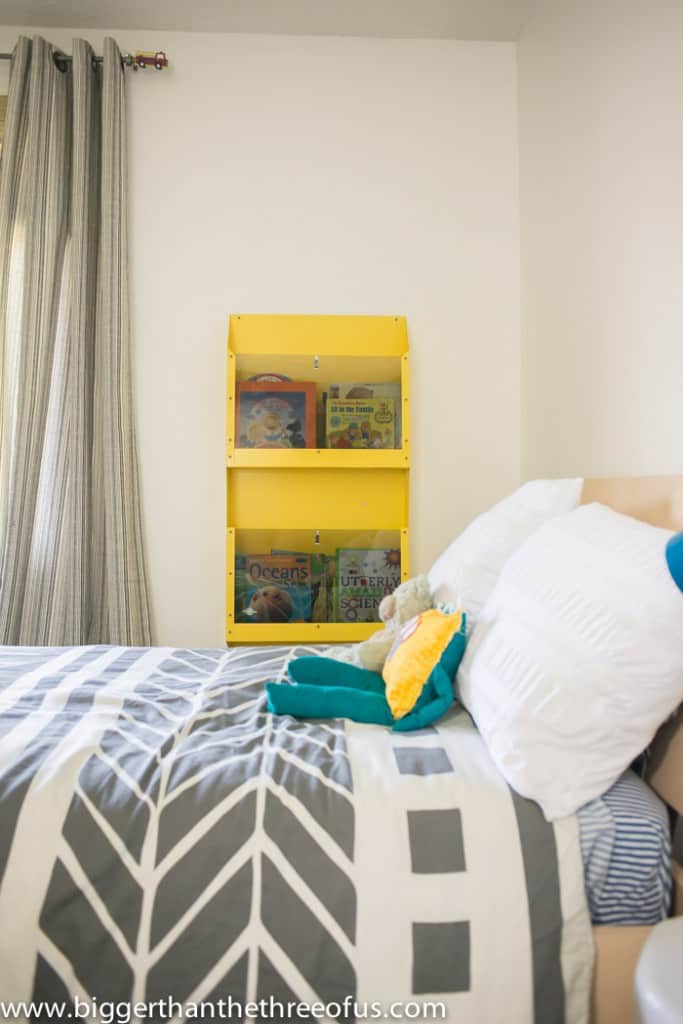 The yellow book bin is HUGE and heavy. From this angle, it doesn't look big but it's over 4ft tall. It holds lots of books and was one of the best finds ever. Luke looked at me like I was crazy when I brought it home. To be fair, I got it from Habitat Restore and it was filthy and cream, but for $5 what can you expect? I think it used to be a magazine holder at some doctor's office.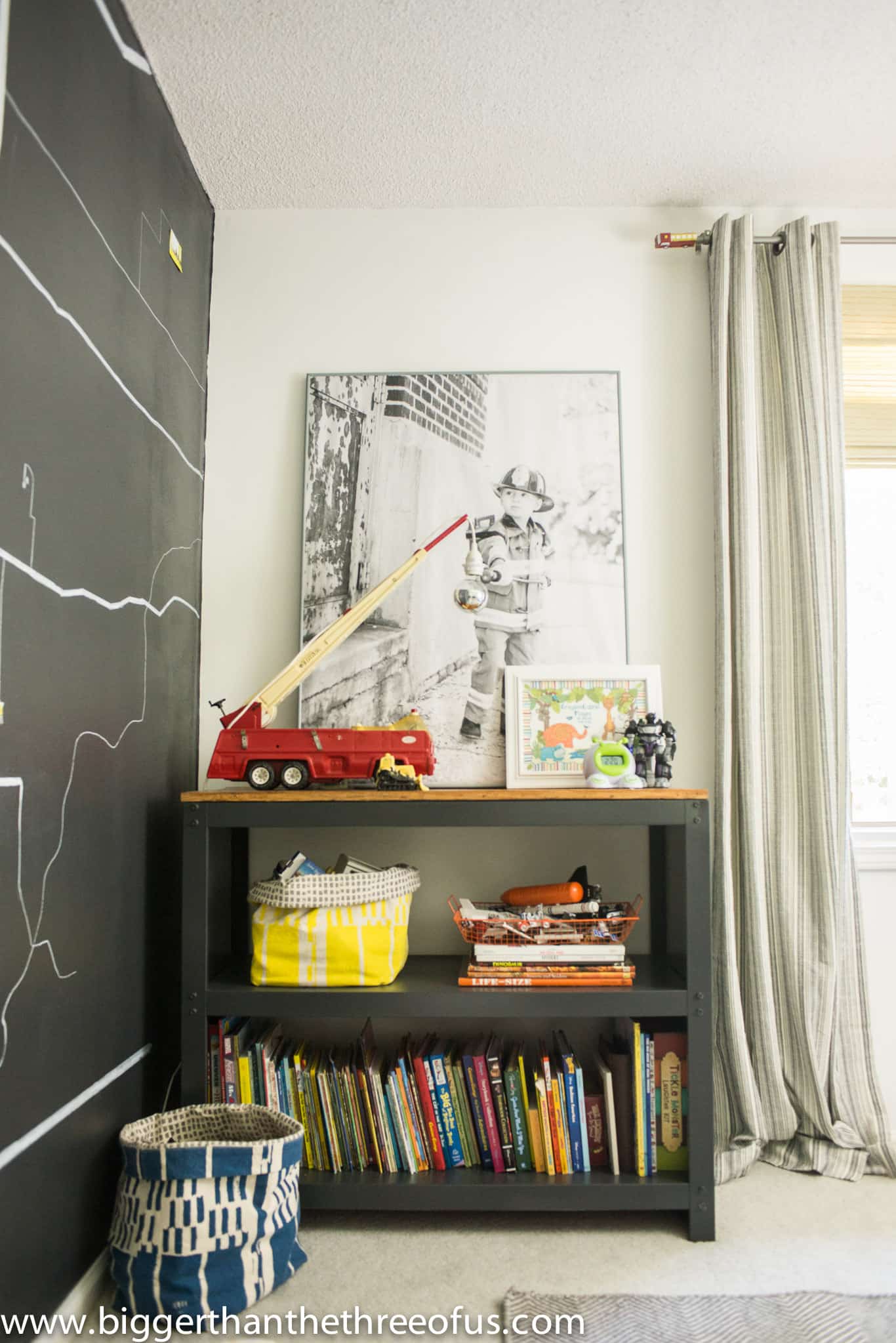 Flanking the other side of the window is another Habitat Find. Before I updated the cabinet, it was pretty rough. After putting in some TLC, it turned out to be pretty adorable, functional and cost-friendly. We store more books (the little man and I are both book lovers) on the bottom shelf. The yellow and blue canvas totes hold toys and the orange organizer holds space-related toys. On top, we have the DIY Firetruck light (which we use everyday), a needlepoint birth announcement that my Grandma made, a light-up alarm clock, some-sort of transformer dude and a $5 large scale photograph.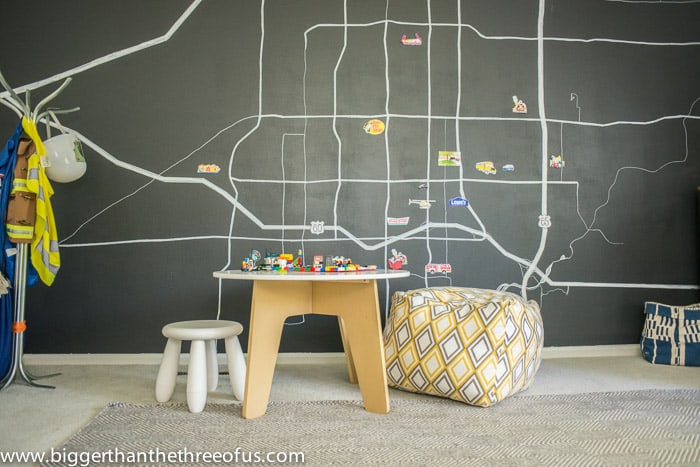 Next up, is the glorious DIY personalized magnetic map wall. We drug our feet on finishing it (when it should be a one weekend project), but it totally makes the room. Plus, I love seeing where Greyson moves our cars. Most of the time, I'm parked at school, our favorite ice cream place or the gym. Ha. Cracks me up.
In front of the wall, is a small table, poof and stool where Legos are constantly being built. I posted a picture on IG yesterday on the usual state of this area. Hint: It usually has Legos spread out everywhere.
To the left of the table is our DIY Conduit Dress-Up Rack. It helps us stay organized and for $10 you just can't beat it.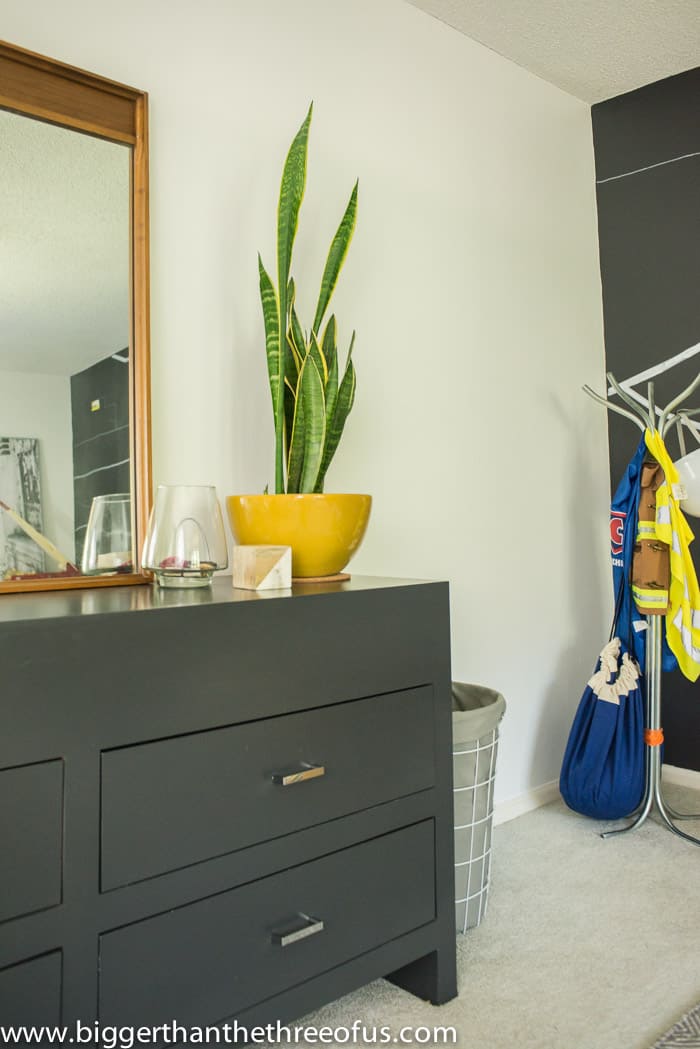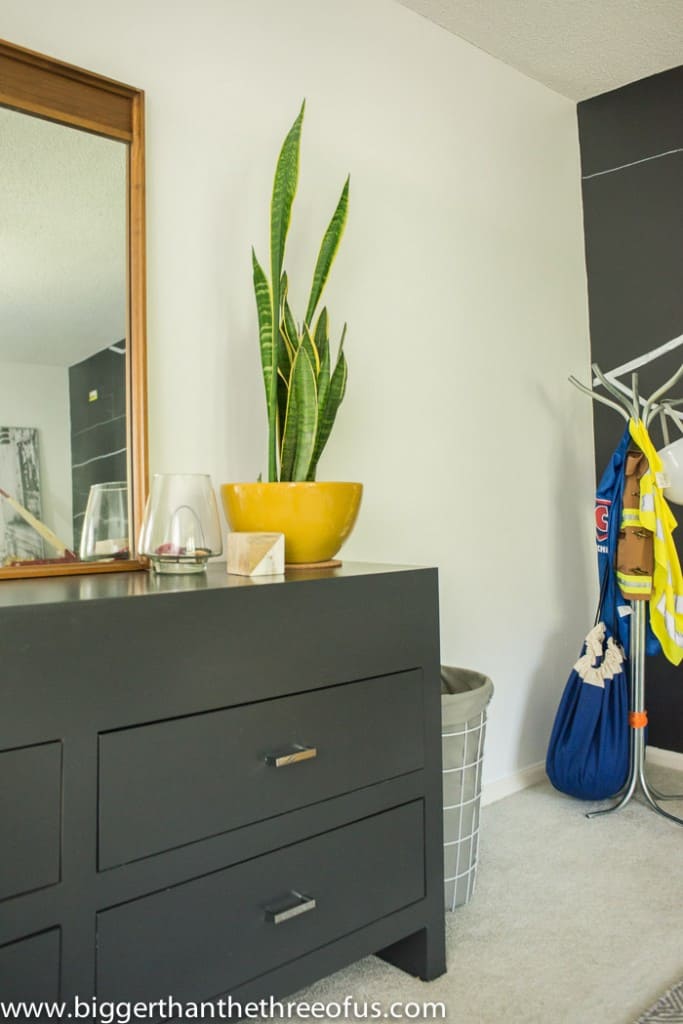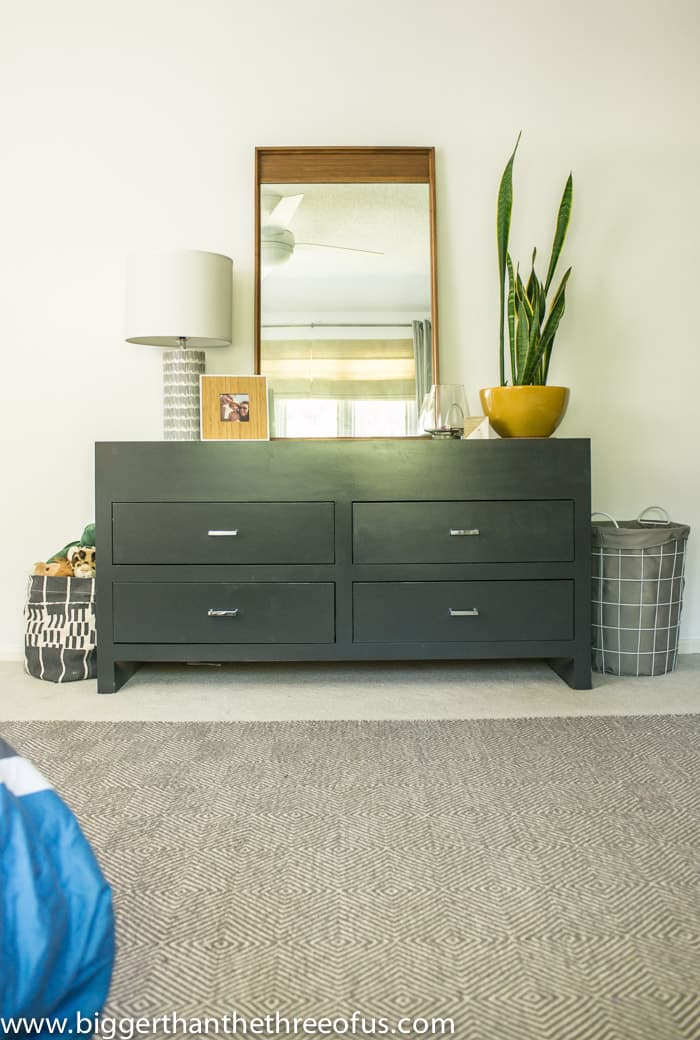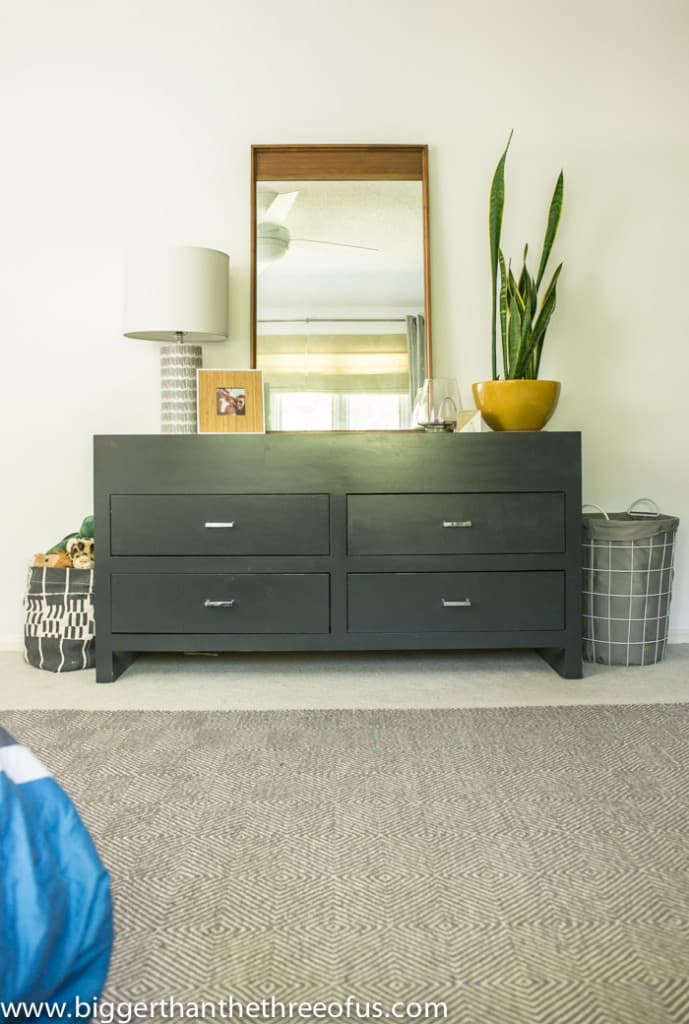 This dresser was a Craigslist find (and I bought two of them). Funny story, we went to go get them and when we saw the guy, Luke knew him. He was his eye doctor. Another funny tidbit, the 'dresser' is actually laminate and was a cream-gray and was used as eyeglass storage in their office. I got busy with our paint sprayer and changed out the knobs. I think it works pretty well overall.
The hamper houses dirty clothes and the canvas bags keep the stuffed animals corralled.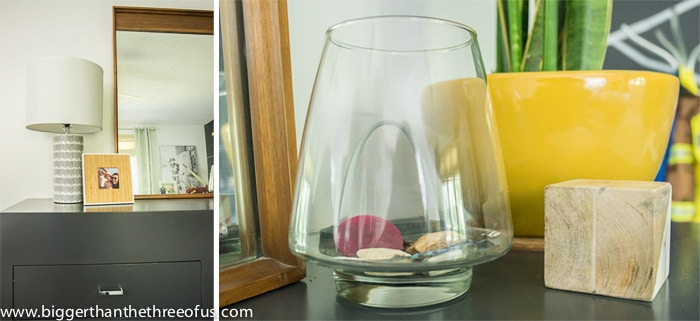 The glass jar keeps all of Greyson's "treasures" - as in random rocks, pressed pennies (yep, we are suckers for those), small trinkets from who knows where, etc.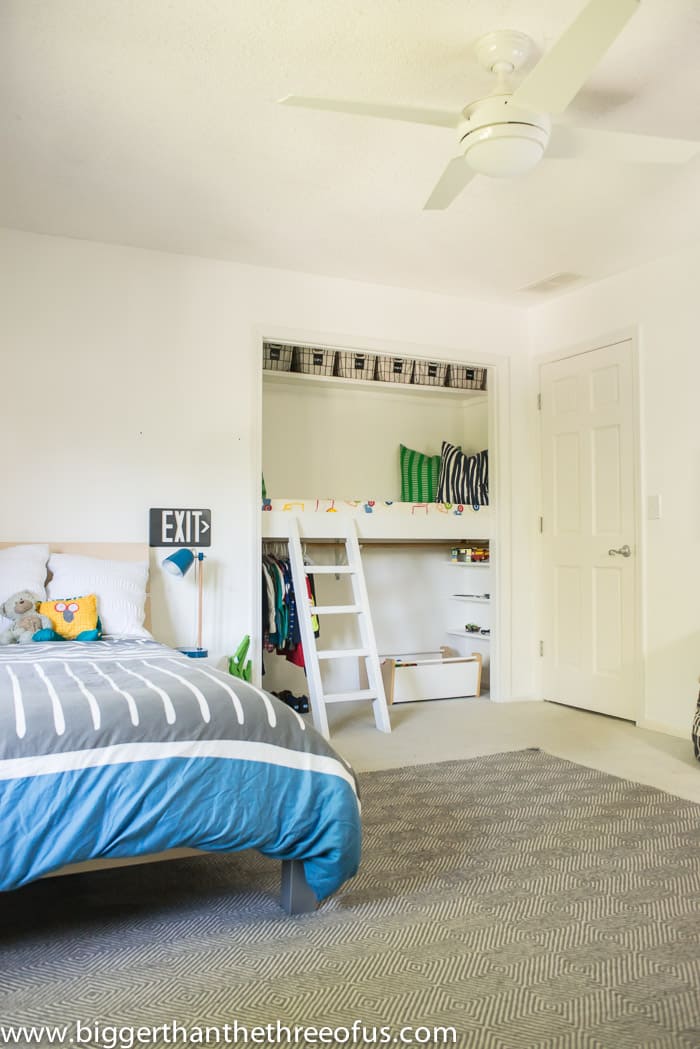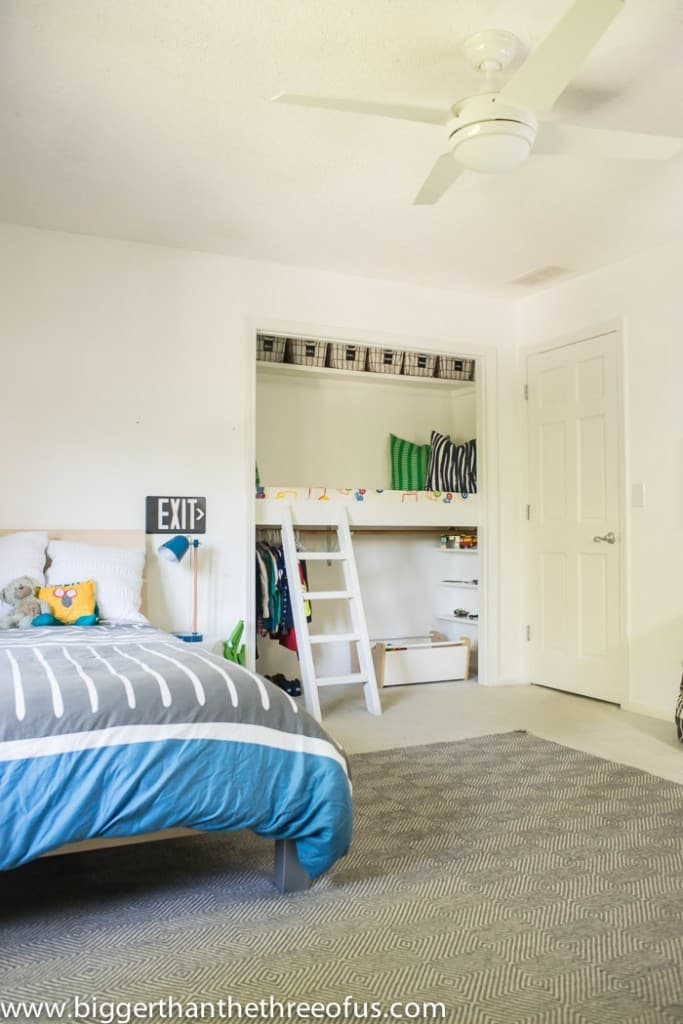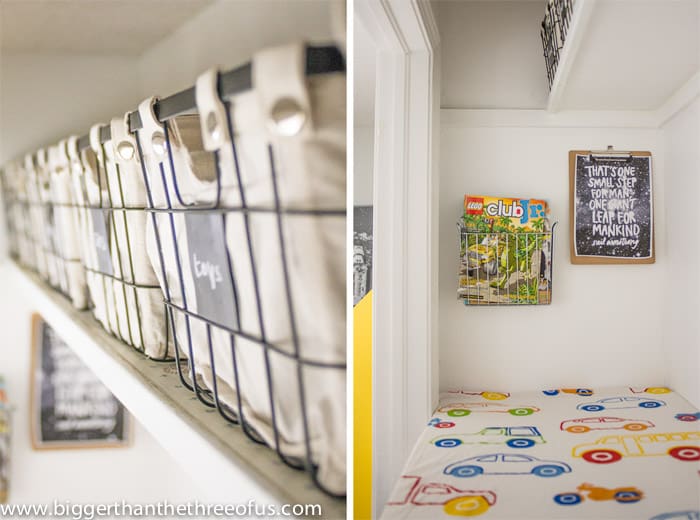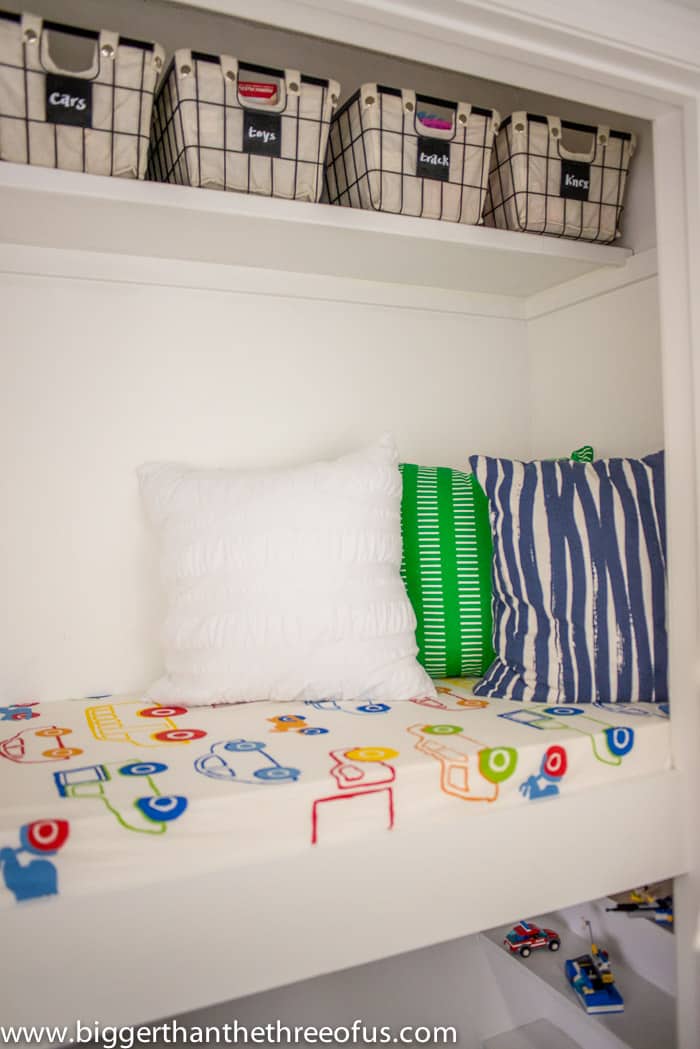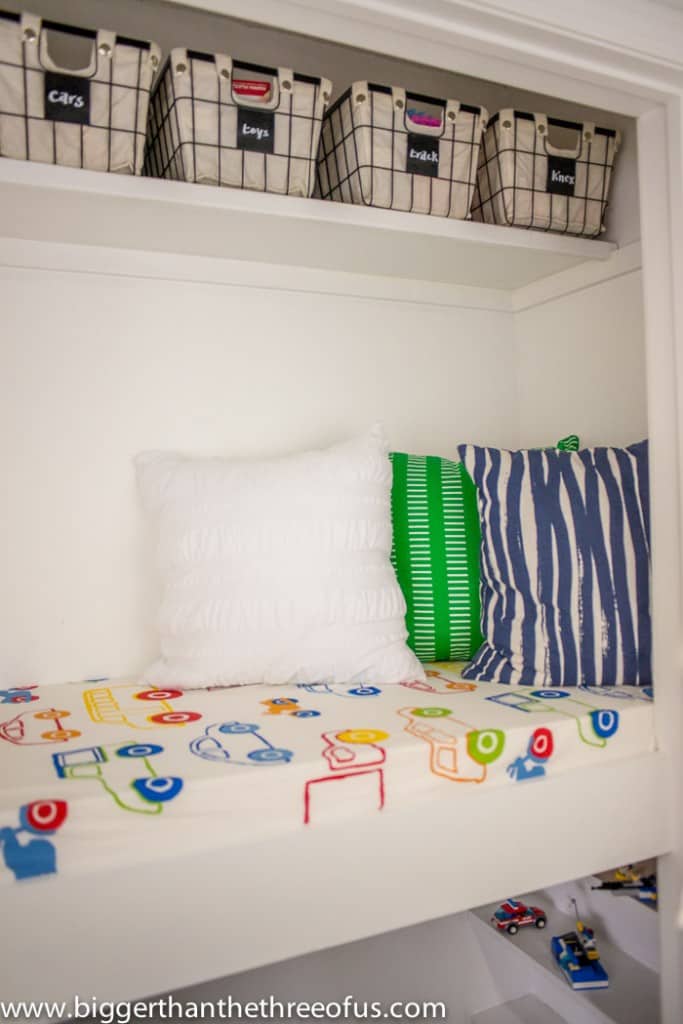 The loft hasn't changed much since we did the DIY Loft Reveal, but we did replace the hamper that we had in there with more lego storage. The shelves in the bottom right hold Legos and the white and wood storage container hold Duplos. The loft may always be my favorite project. It's so much fun.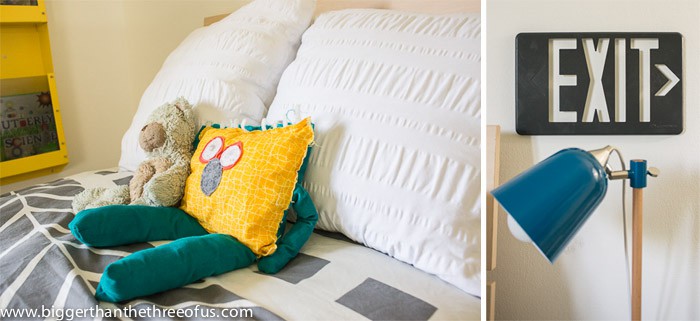 The Exit sign was cream and another Habitat Restore. You would think I'm in there all the time, but I'm not... promise! I gave it a quick coat of spray paint and it made the sign look modern.
Greyson's much-loved Teddy bear is always on his bed and most of the time it's with our handmade-with-love monster friend.
On a side note, the little man and I made the monster last year. It's not perfect but he had so much fun picking out random scraps of fabric and helping me sew it. #makingmemories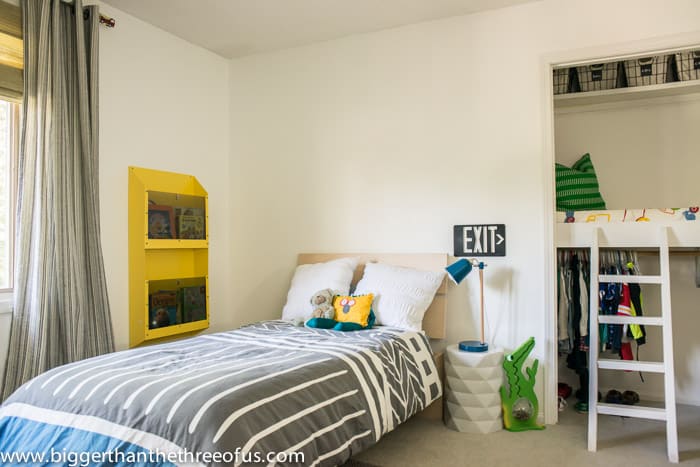 The nightstand is a HomeGoods find in the garden department and the lamp was thrifted (but originally from Target).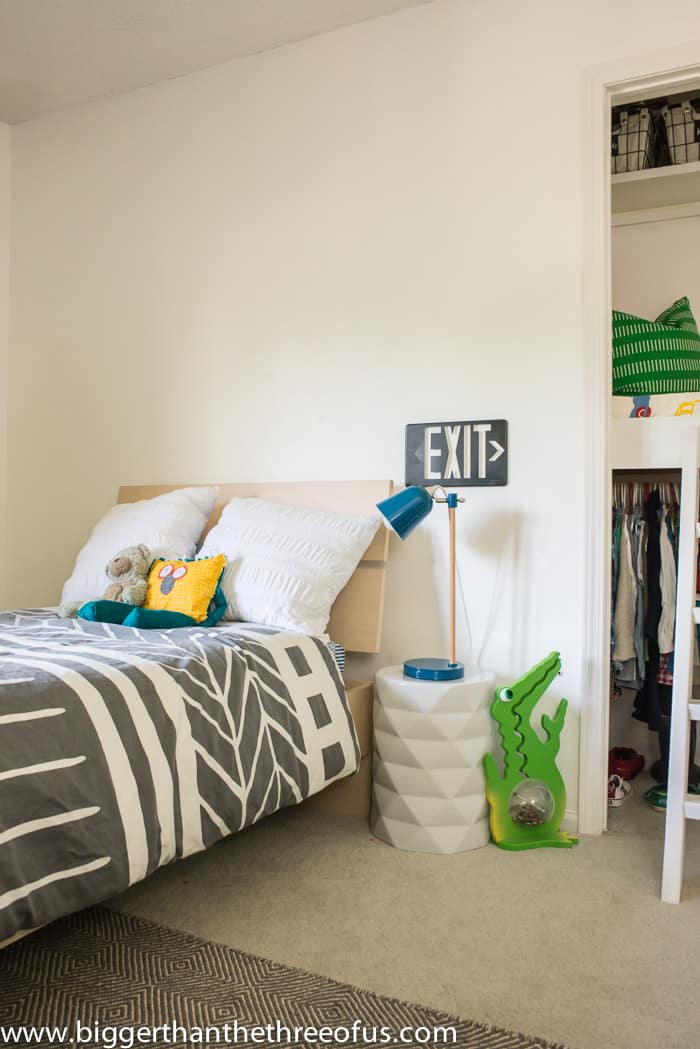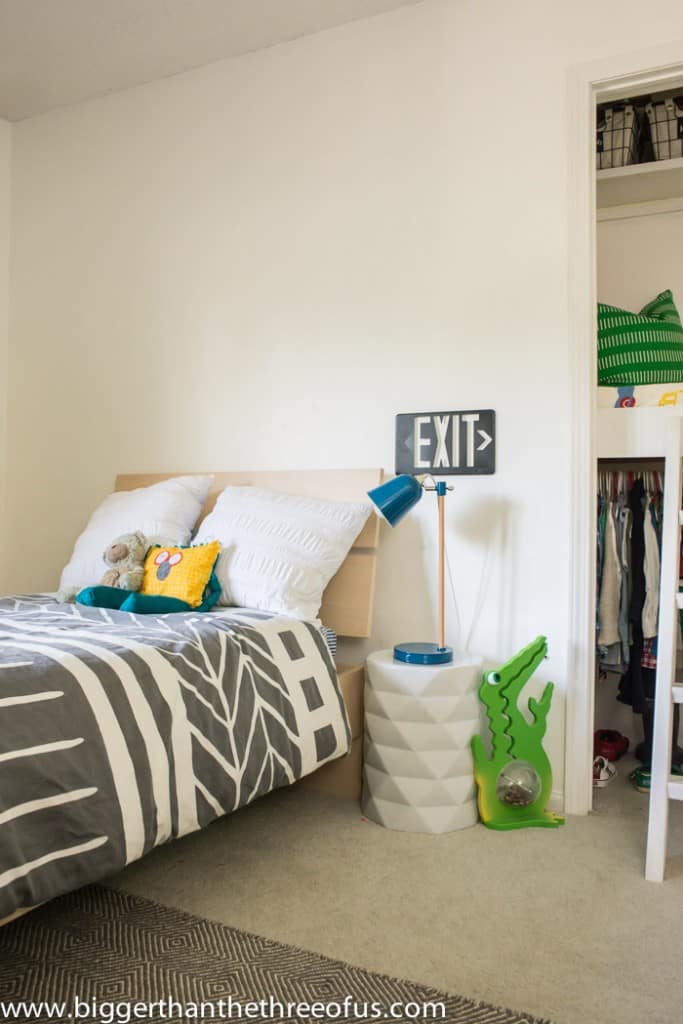 Overall, we love the room. Eventually, we would love to replace the carpet and, at that time, update the baseboards. We really think the choices that we've made can be modified to work in the room long-term.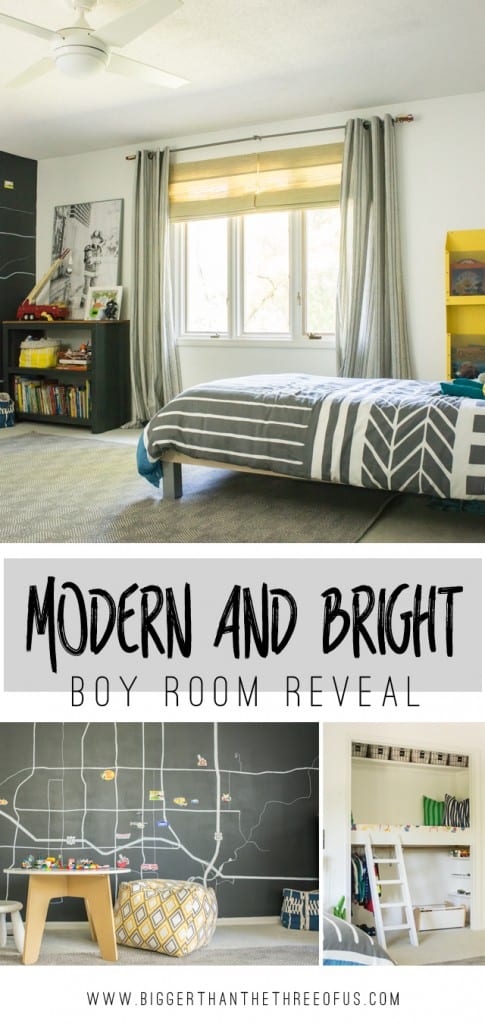 I had a sweet comment from a reader on Monday saying that she was glad to see the process and how long it took us to arrive at the reveal. I loved that comment, because it's just a gentle reminder to be more authentic. I can't change the pace that we renovate rooms, but I can totally be upfront about it. So, if you'd like to see the whole process of getting to the reveal post, you can read the Toddler Room Progress post.
Well, I hope you love Greyson's new room. We are thrilled to have one off the list and will be focusing more energy and time in the kitchen.
I'll be back on Friday with a "Get the Look" post of his room.
*Edited to add: Here's the "Get The Look" post.
Linking up to:
 Frugal Crafty Blog Hop,  Hit Me With Your Best Shot,  Work It Wednesday,  Think and Make Thursday, The Inspiration Gallery, Creativity Unleashed - The Bold Abode, and Remodelaholic.