I'm always on the hunt for some good present ideas for my little man. I've rounded up a good collection of books, active toys, shoes, legos and more and think this list would really appeal to kids under the age of 11. Some of these things we own, some our on my list to get and some are just really cool. All of which, we use or I could see us using. So, here's 25+ items that I think you'll love too!
Christmas Gift Guide For Boys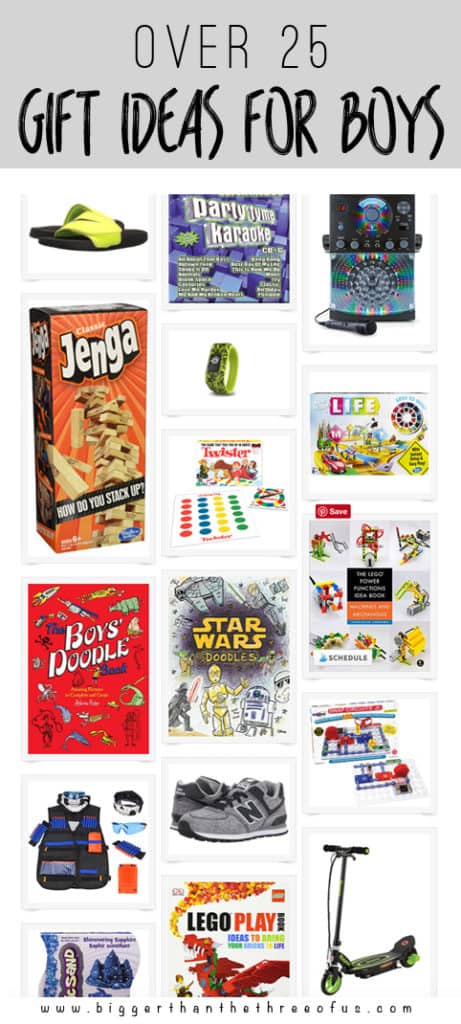 The first three on the list aren't on the clickable shopping graphic. So, make sure to read them because they are good!
*Affiliate links below. Thanks for supporting this blog. Click to read my disclosure policy.

1. Not on the list is a Custom Book by Plum Print. We just had one printed and it's amazing!! Basically, you send in all the artwork that you've collected over the years and they photograph it all and put it in a digital book. How fun is that?! I sent in all Greyson's preschool artwork. A huge tub full gone from the house and it's now all in a beautiful book.
2. Another idea is to make a travel photo book. I make one of these every year from whatever trip we took as a family. I write it as a story usually and wrap it up and put it under the tree. We all love to look at it on Christmas (+ it reminds us of how much fun we had on our trip).
3.  Not on the list – Tinker Crate. We had asked for this last year as a subscription and it's been a hit. It's a monthly subscription for tinkering (engineering, science, etc.). Highly recommend!
4. Garmin Vivofit Jr : Greyson bought this after saving most of the year and it's been his favorite thing! It tracks activity and swimming (which is huge for him!) and also is able to track chores, etc.
5. Karaoke Machine with Bluetooth : I added this to Greyson's list because I think he'd love it!
6. Party Karaoke CD : Uptown Funk… enough said.
7. Nike Slides : We have these and they are adjustable to the width of the foot which is great!
8. Life : Greyson got this last year and has loved it (except that if he doesn't have like 10 babies… he gets upset). 😳
9.  Jenga : This one has been fun to play and one we've enjoyed.
10. Boy's Doodle Book : We own this and it's so cool! It gives you drawing prompts that are geared towards interests that boys have (they do have a girls version too though!).
11. Star Wars Doodles : Similar concept as above just Star Wars related!
12. Twister : Always a fun favorite when we have kid's over at the house.
13. Nerf Gun Tactical Vest : Looks pretty intense but the battles can get intense!
14. Lego Power Functions Book : All About building with machines and mechanisms. I actually bought this one to give to Greyson this year!
15. Lego Boost Creative Building and Coding Kit : This is pricey but looks amazing!!
16.  Snap Circuits Jr. : Greyson got this last year and has had fun with it!
17. Razor Electric Scooter : Santa is bringing this to us this year. We are hoping it works great around our hilly neighborhood.
18. Kinetic Sand : Kids of all ages have a great time with this stuff.
19. Dragons Love Tacos : Love this book.
20. Lego Play Book : Lots of great building ideas.
21. Lego Building Plates : My kiddo loves to build bases, houses and spaceships on these.
22. Swoop Bag : Great for containing legos, play trains, etc. We have one and have used it for all sorts of toys.
23. Mini Playbags : Great for the car!!  Again, we have one and use it on trips!
24. Rosie Revere's Big Project Book for Bold Engineers : This is like a workbook and if it's anything like the real book… it's going to be amazing. Got this for Greyson for his birthday!
25. Ada Twist, Scientist : Such a great book!
26. Rosie Revere, Engineer : Great book.
27. New Balance Kids Tennis Shoes : We bought these earlier this year and they are so stylish and comfy!
I hope you found something new and great on this list! If you want more present ideas, then check out: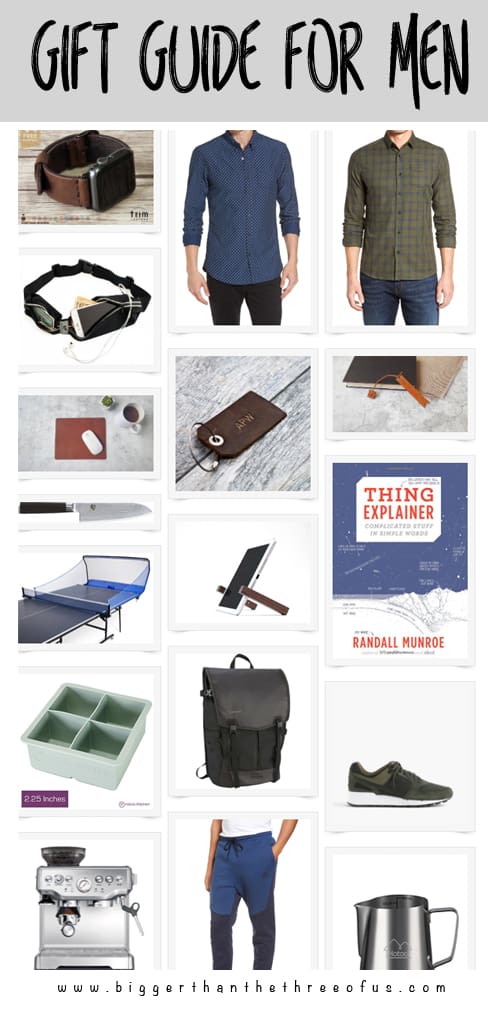 and