It's not too early to start thinking about Christmas present ideas and those men in our lives that can be a struggle to buy for.
This is my second holiday gift guide of the season. I linked up the Gift Guide For Women at the bottom of this post… so check that one out if you missed it! Back to today's post, Christmas Ideas for Men… It's all about the men! I feel like guys can either be the easiest to buy for or the hardest! Hopefully this gift guide will be helpful in finding something amazing for one of the guys in your life.
Christmas Ideas for Men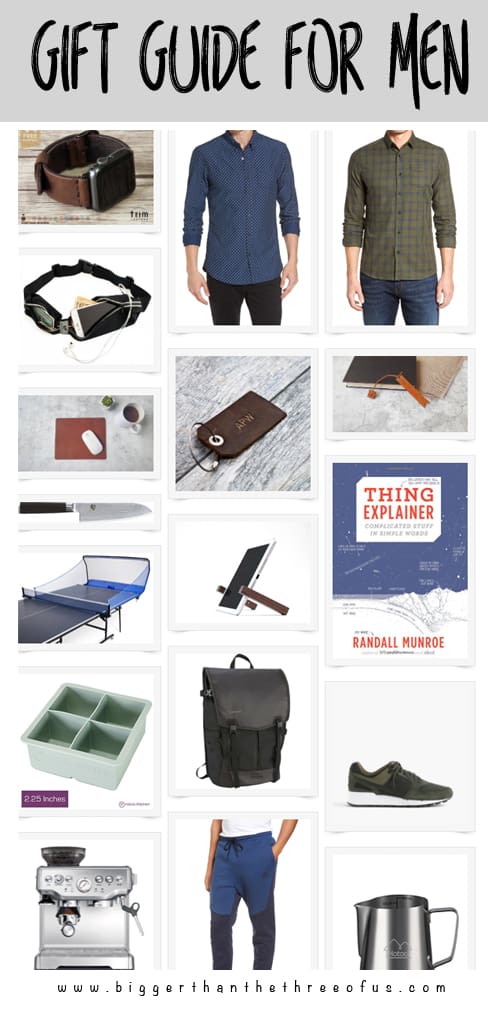 So, everything on this list is either owned by my hubby or is something I can totally see him using and liking. My guy is a bit sporty but not overly. He's a bit into how he's dressed but again, not overly. He has quite a few different interests yet doesn't collect anything for a collection. Most of the things on this list are things that he would use and enjoy daily (if it's not something he already has – which he does own quite a few of these!).
*Affiliate links below. Thanks for supporting this blog. Click to read my disclosure policy.

How cool is that iPad stand?! And, don't even get me started on how amazing all the leather accessories are! We love leather over here. =)
Hope you found something new to potentially add to your list and if you know of something that I need to add to mine… let me know!
ps. There will be three Gift Guides total this year. If you missed it last week, I shared a Gift Guide for Women (with all my favorites – of course!).