We recently got back from a family trip to Iceland! If you are searching for adventure, love seeing beautiful scenery - like waterfalls, glaciers and reindeer - and hiking is your jam, then you are going to love this.
Early March, Luke heard that he was headed to London in April for a work trip. We always chat about Greyson and I tagging along on his work trips and extending the trip so that we can explore another country. After deciding on trying to see Paris, ultimately, the price point of the flights just didn't make sense. Coming to this realization though was about a week's worth of research, flight comparisons and saving locations that we wanted to visit. The travel bug bit hard. Well, anyways, we ultimately decided that Paris was too expensive to make it a tag-along trip for work. Instead, we randomly booked Iceland (not on a great deal or anything) because I basically, for once, was being spontaneous.
I think we ended up booking the second to last week of March for the Iceland trip in April. That's definitely tight turn around time for me. I'm a huge planner and there isn't that much that you can plan for in just two weeks. Truth be told, though, we made some great decisions on the trip. I'll go more into those details on future posts for those who are actually interested in hearing details/reviews. Today, I just wanted to share our family trip to Iceland and kinda soak in the memories once more.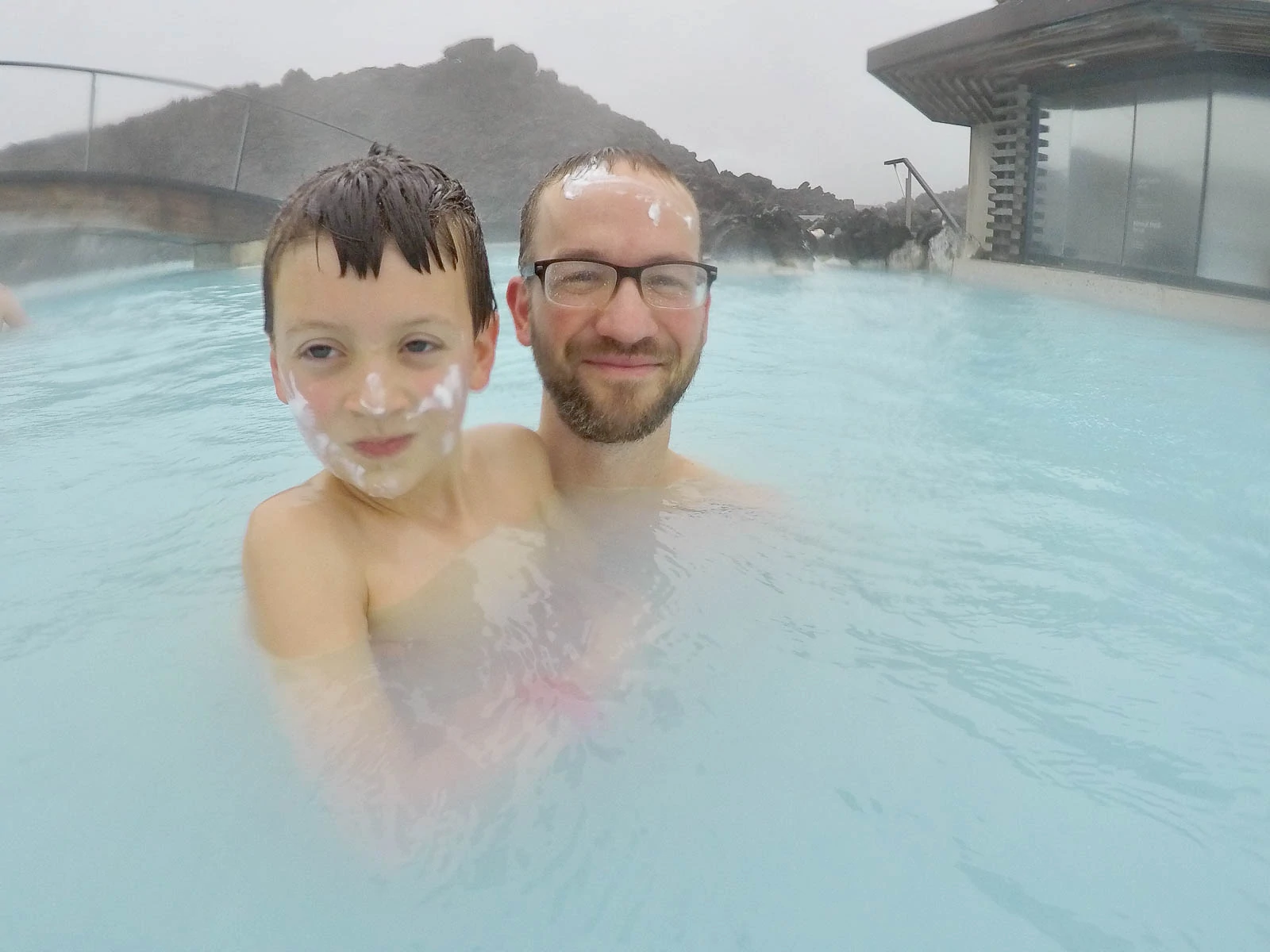 Family Trip to Iceland
We ended up going for twelve days, which was about the maximum we could do since Greyson is in school. We took the trip over Easter vacation and spread it out over two weekends so he ended up just missing six days of school.
After a red eye flight (which, amazingly, we somehow got FIRST CLASS - my first ever experience with that and I loved it), we got our rental car, got lunch and went to the Blue Lagoon. It was a perfect treat to start our day, especially with Greyson. It was a fun way to relax after a long day of traveling.
The next morning, we set out on our ring road adventure. None of us are super hikers or campers, but we also don't like to be around thousands of tourists so we tried to accommodate all of that.
About an hour into our five hour drive, we hiked up to Grabrok Crater. It was a great first stop to stretch our legs. Checking out the scenery reminded us so much of our favorite trip: Scotland. As we got further and further in the trip, we just kept comparing both Iceland and Scotland.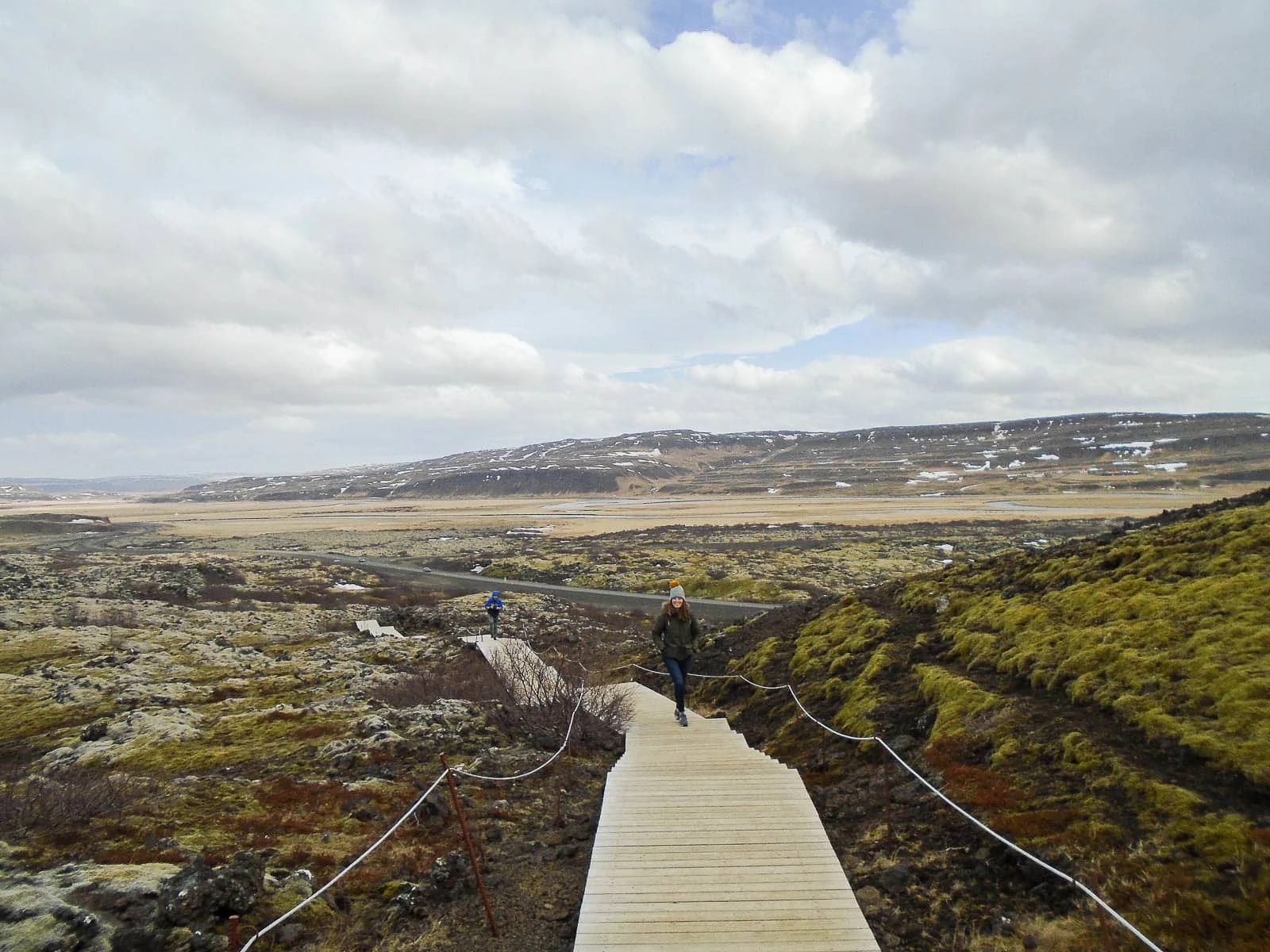 We didn't realize how unpopulated Iceland really was until this day. I mean, I had the travel book and it kept saying that there weren't that many places to stop and gas up or get food, especially during off-season (which we were in) but I didn't really comprehend it. For example, in a five hour drive, we came across one traditional gas station and that happened to be the only place to get food as well. It was a bit strange to get used to. We got better at planning out our eating times because you just have to. Especially when you are taking a family trip.
We finally got to the hot pool, that I halfway into our trip decided to make a detour for. Sometimes, those last minute decisions turn out to be the best. In this case, it was the best!
20 minutes down an unmarked dirt road, led us to a closed gate. We opened the gate and we had the Grettislaug hot springs to ourselves!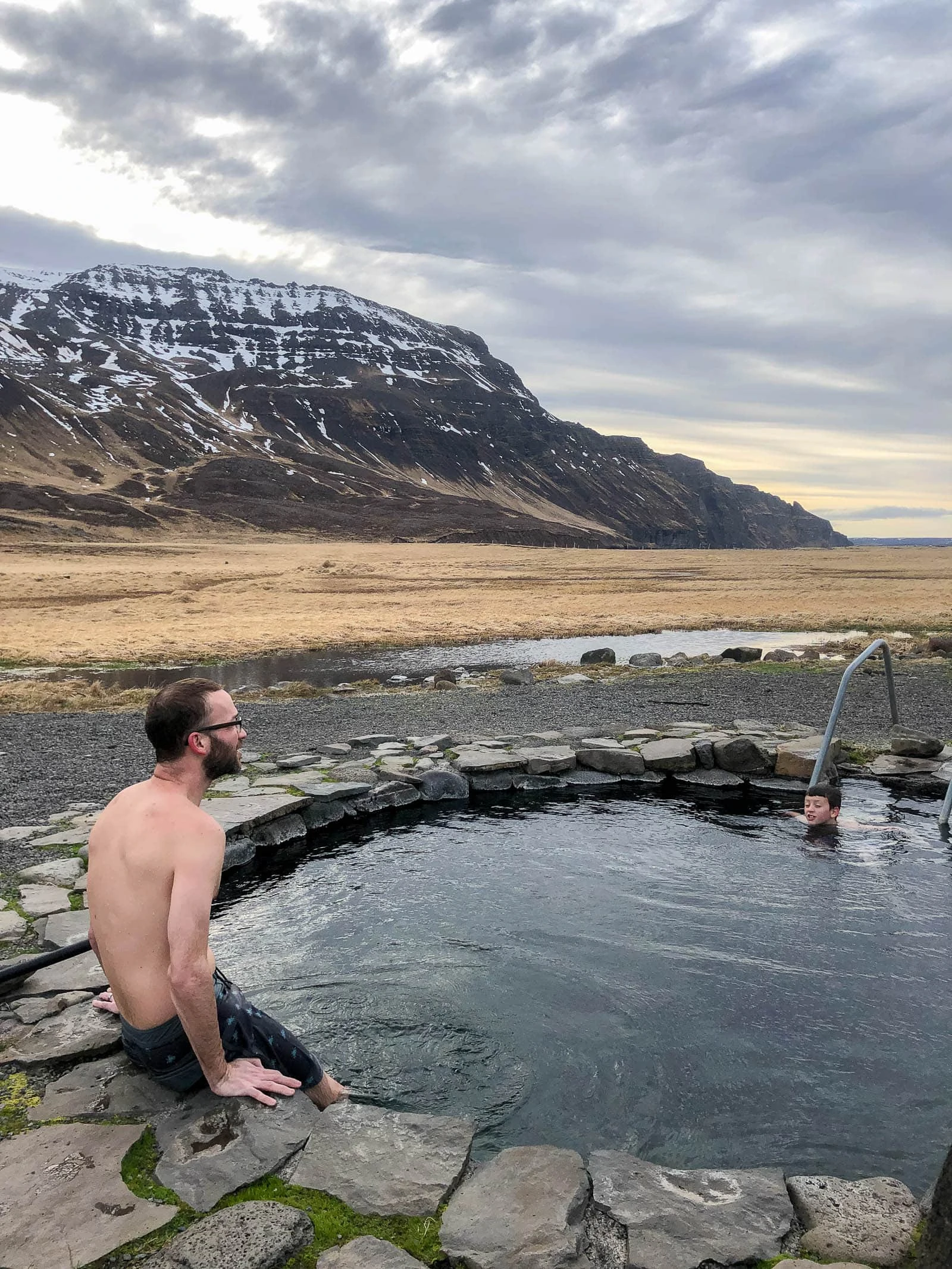 Since April is offseason, the camp ground was closed, so we had it completely to ourselves for the first hour we were there. There's a smaller pool (above) and a larger one that we played in for a few hours. From one side, you see snowcapped mountains and the other side is backed up against the ocean.
Greyson thought he'd be funny when I tried to get a family photo that I set on a timer. LOL.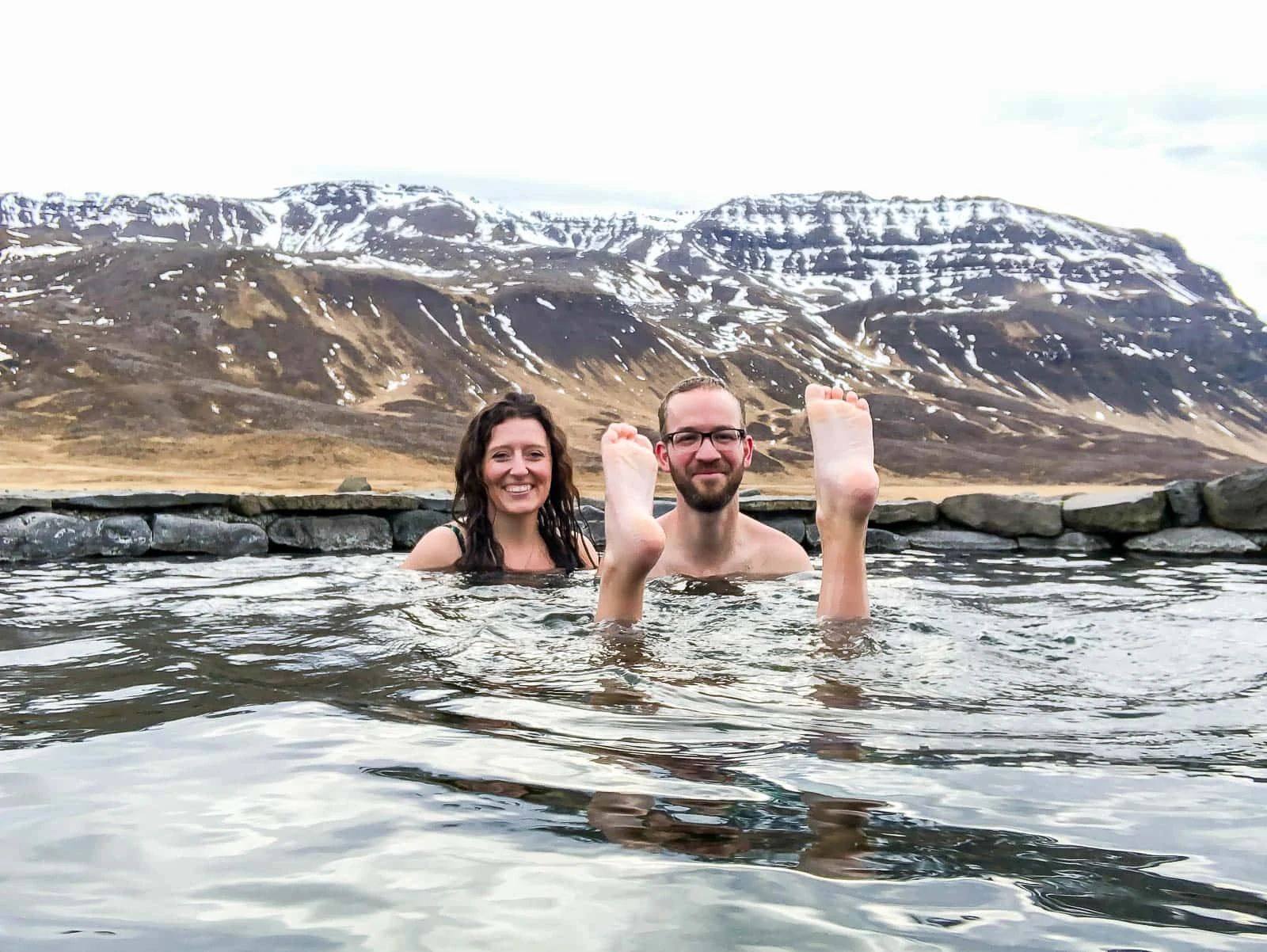 It was the best. Just the best. Rustic, yes. No bathrooms, yes. Perfect, yes. If you are up for an adventure, this one checks all the boxes.
After another hour of driving, we finally checked into our vacation rental. The next few days, we based ourselves out of Akureyi which is in Northern Iceland. If I was going to do the trip again, I'd use this as a stopover but not necessarily stay a few nights. But all in all, it wasn't bad, we just did a bit more driving than we would have if I would have planned differently.
Actually, when I was planning, it was a hard decision on whether to try to do the whole ring road in Iceland in April. Lots of advice said: if you plan on it, be willing to change plans depending on what the snow/weather is like. April is coming out of their winter so it just depends on what the weather is as to whether you can get through or not. Ultimately, we decided not to risk it. So, for our trip, we did about 75% of Iceland's ring road, with tons more driving because we drove all the way up and north and then backtracked all the way south.
One of the day trips we took from Akureyi was to head to the Myvatn area. We hiked in lava formations, drove through the prettiest scenery, ate at a Vogafjos Cowshed cow cafe (where actual cows were behind the glass next to you), went to Namafjall (geothermal area) and finally finished the day by swimming at Myvatn Nature Baths.
After this day, we got super smart and always carried extra clothes, shoes, ski gear, etc., everywhere. Greyson "fell" in while hiking... look at his boots and pants, below.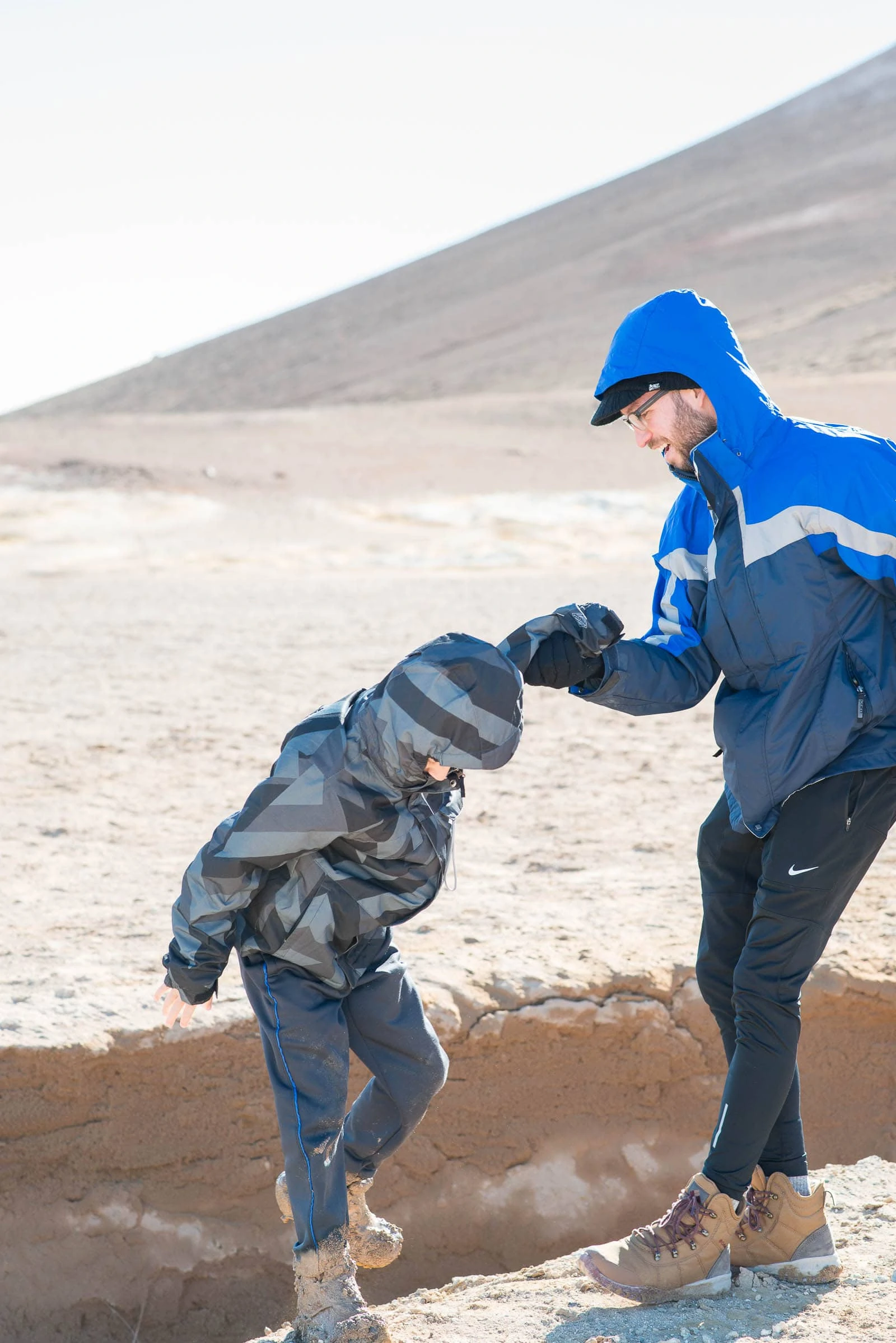 Next, we headed back to the west part of Iceland, down and eventually to the South Coast of Iceland. A friend of mine from Instagram highly recommended seeing Snaefellsnes, so we added that to our already super-full day. It was so remote, the wind and the rain in parts were insane. We weren't sure we were on roads at certain times... it was an adventure for sure. I felt bad for Luke because this day ended up being about 14 hours and most of it was driving, but the sights were so amazing. He said he was glad we added the Snaefellsnes peninsula on, so I guess everything turned out well in the end.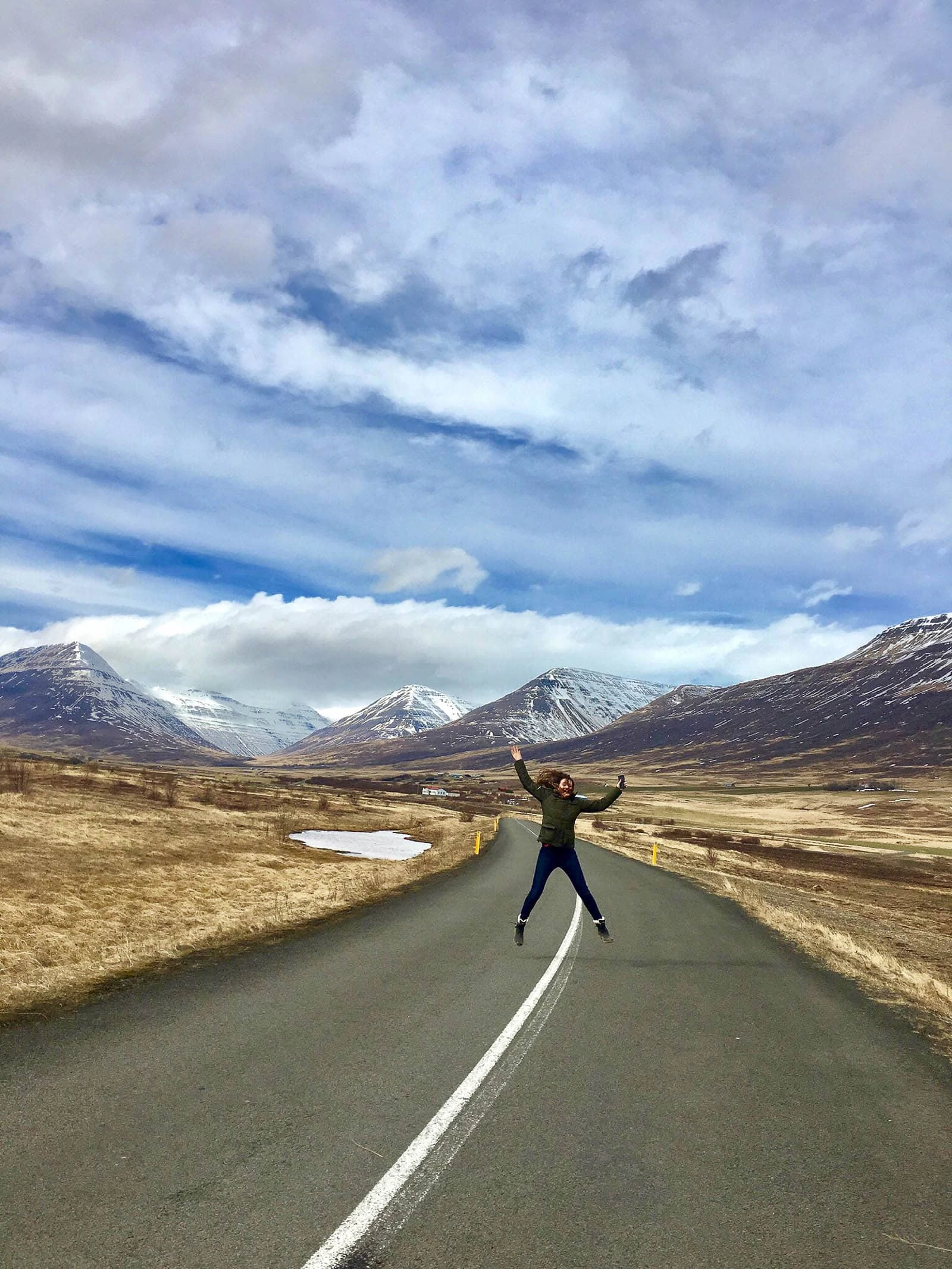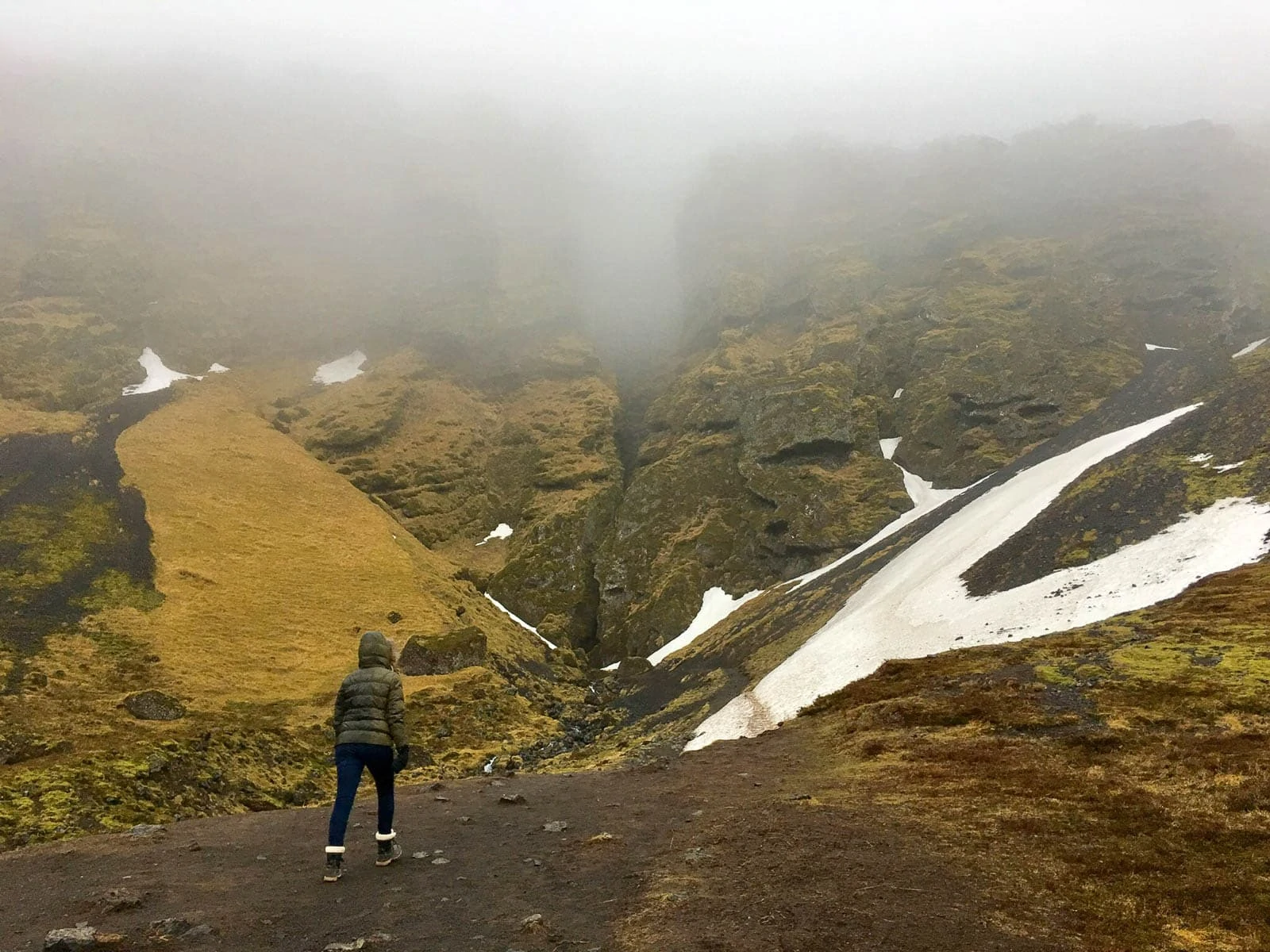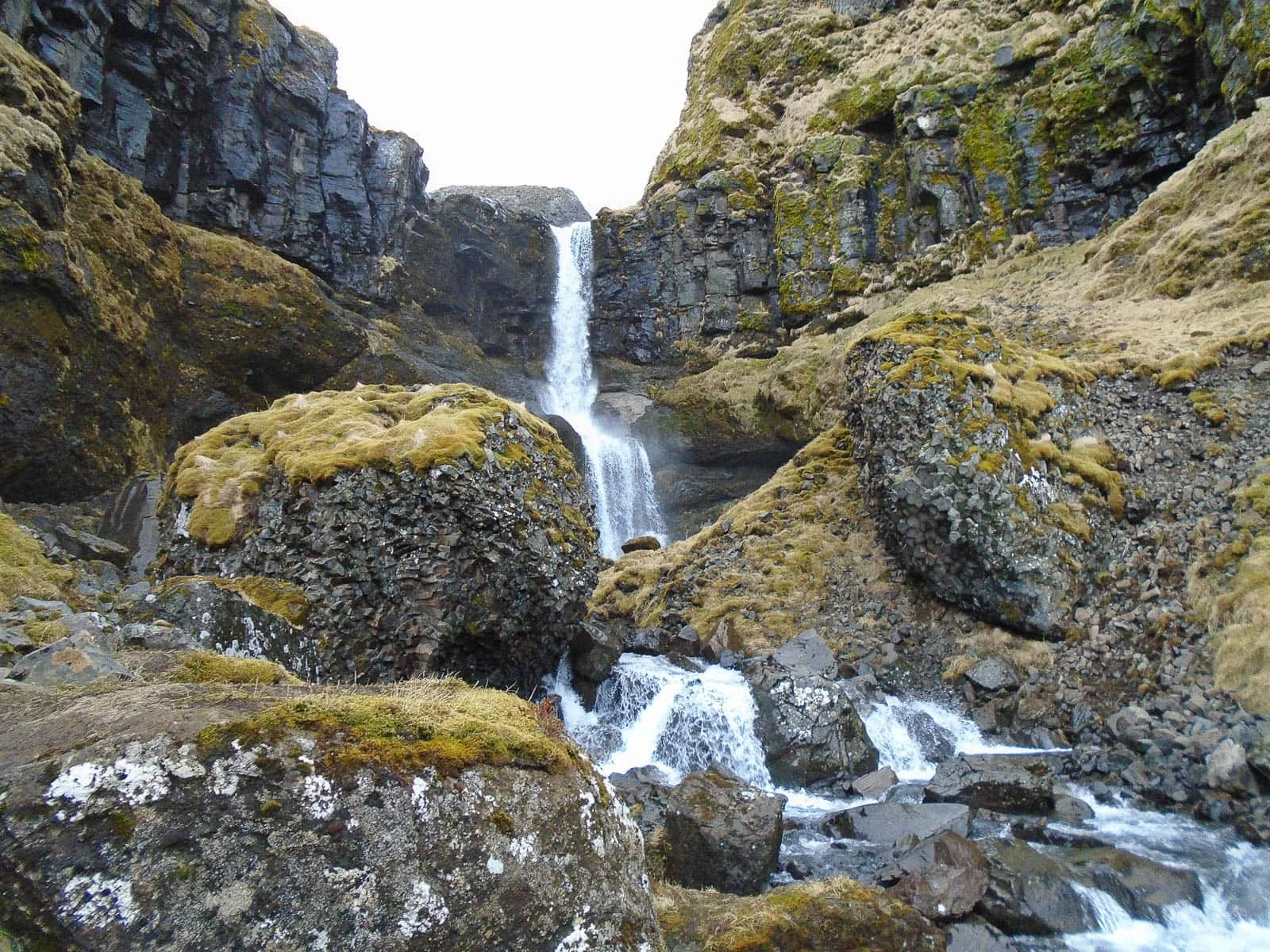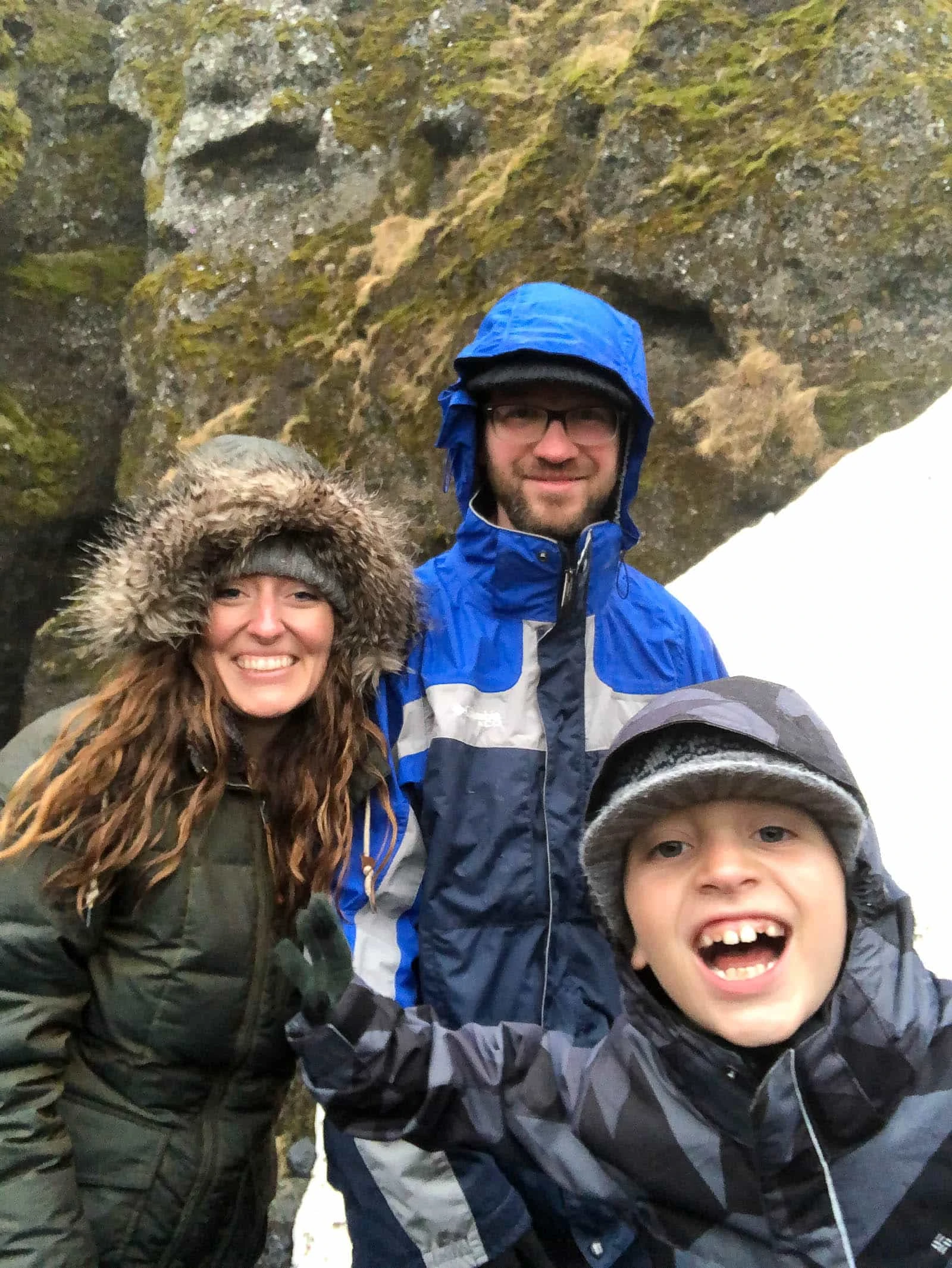 We finally arrived at our rental in Selfloss, Iceland. It was dark so we couldn't see the outside but the inside was the cutest. The next morning, we got a good look at the outside and it was adorable. I can only image what it would look like during the summer when the grass is green.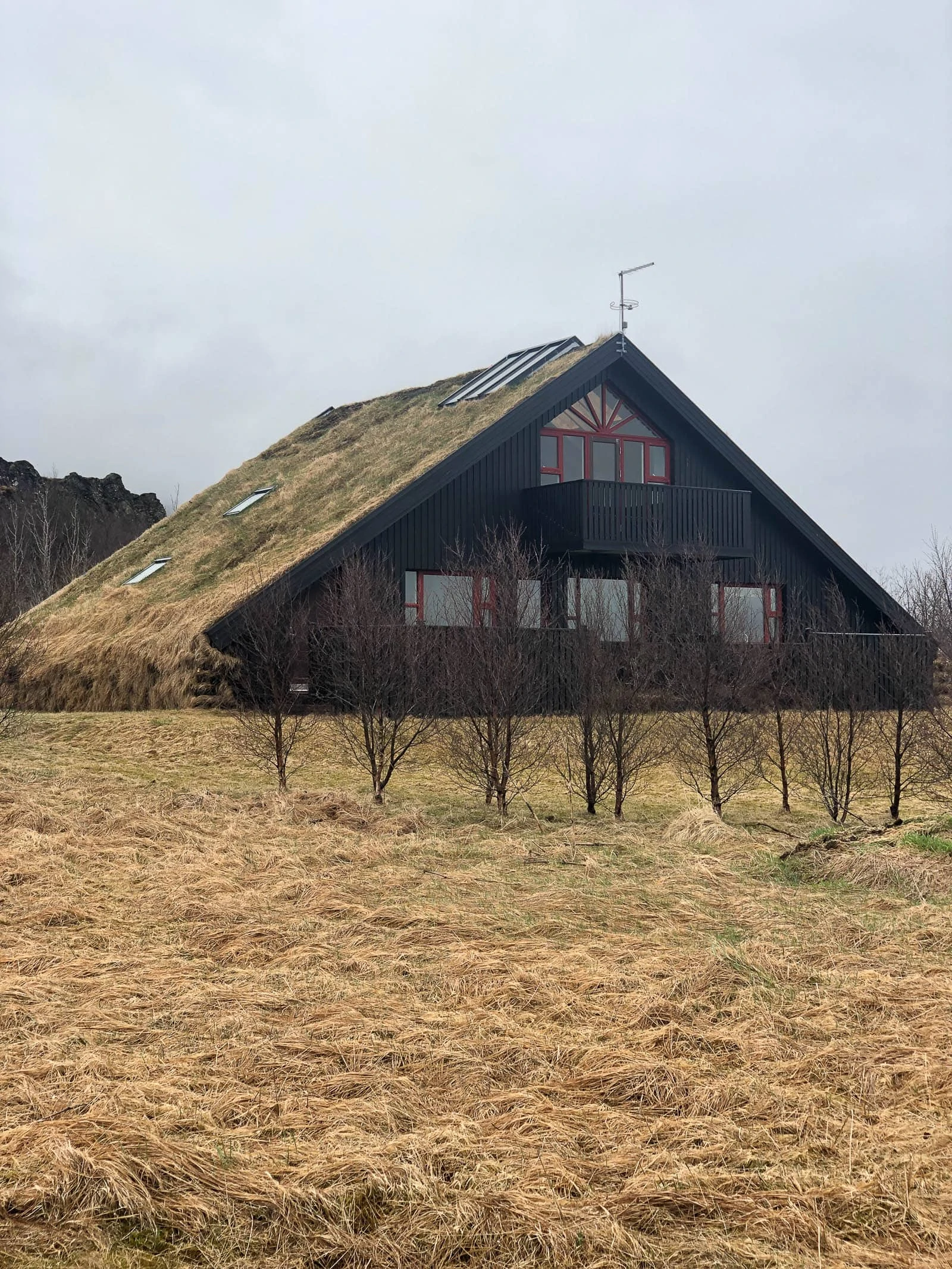 We had a down day after our long drive the day before. We decided to hike this "easy trail" (over an hour one way) to Reykjadalur Thermal River. Well, the weather ended up being nasty (like windy, 35 degrees and raining) and we decided to go for it anyways. The "thermal" river wasn't warm enough (this was by far the coolest water that we were in) and we were freezing. It's not too fun getting naked and dressed with 35 other people when a downpour happens (no bathrooms, remember?). Ha. We lived to tell the tale though.
On a warmer day, one could really love that adventure though. Definitely something to do if you have a nicer day.
The following day was amazing, so that was great!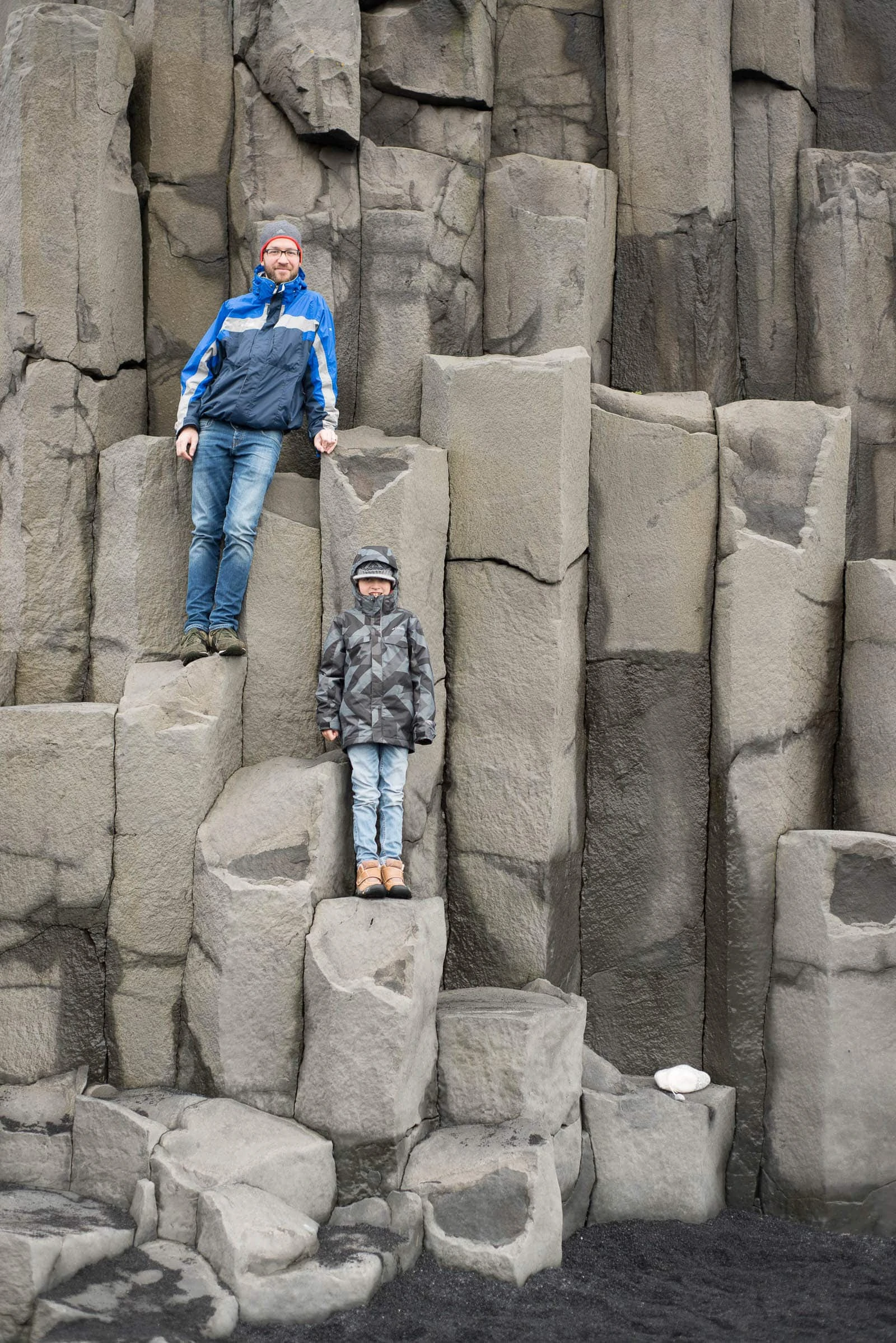 We checked out the lava formations and the black sand at Reynisfjara Black Sand Beach. It was busy but the formations were so cool! I'd highly recommend planning on staying a while here. Greyson climbed all over the formations for quite awhile.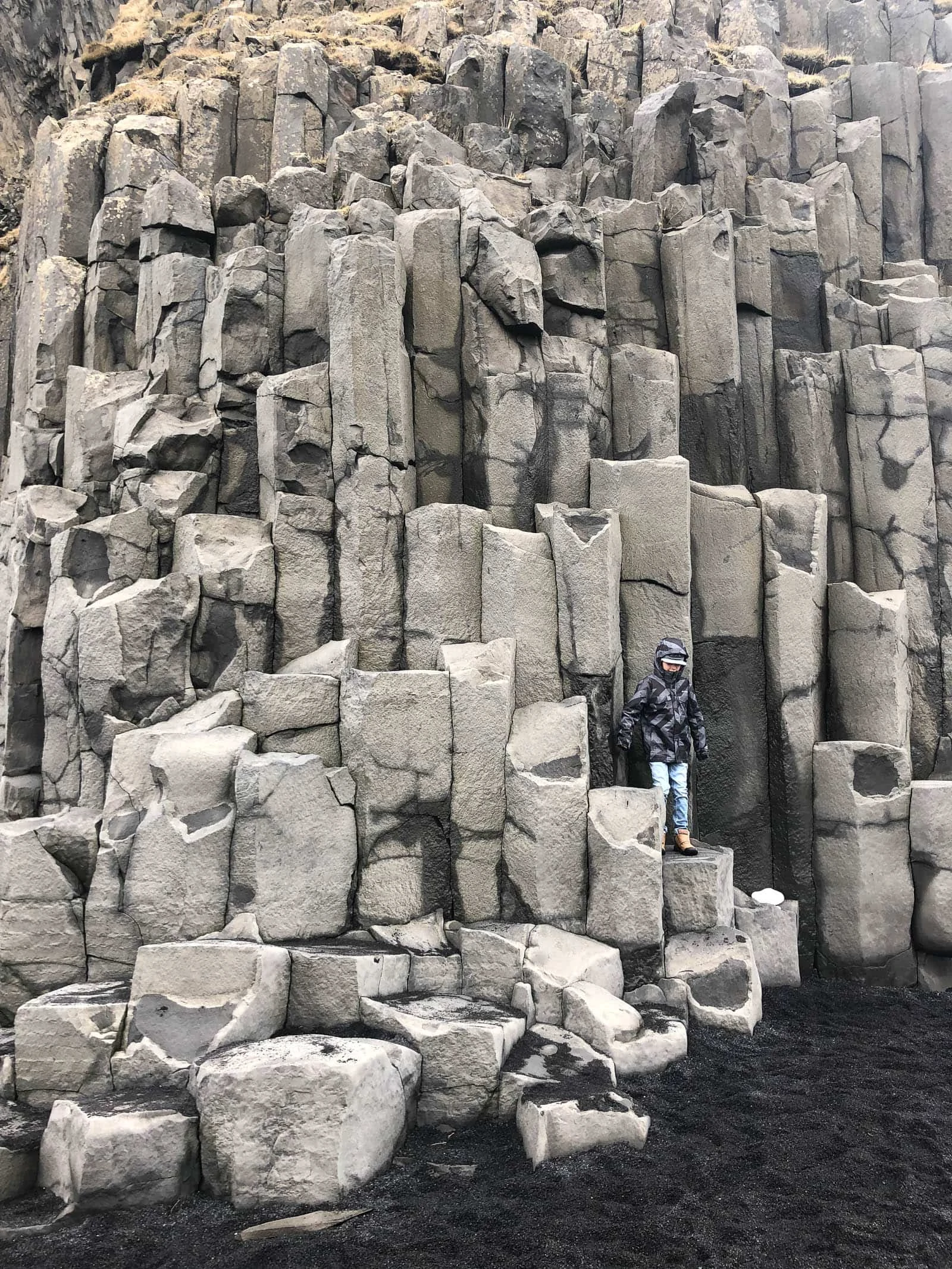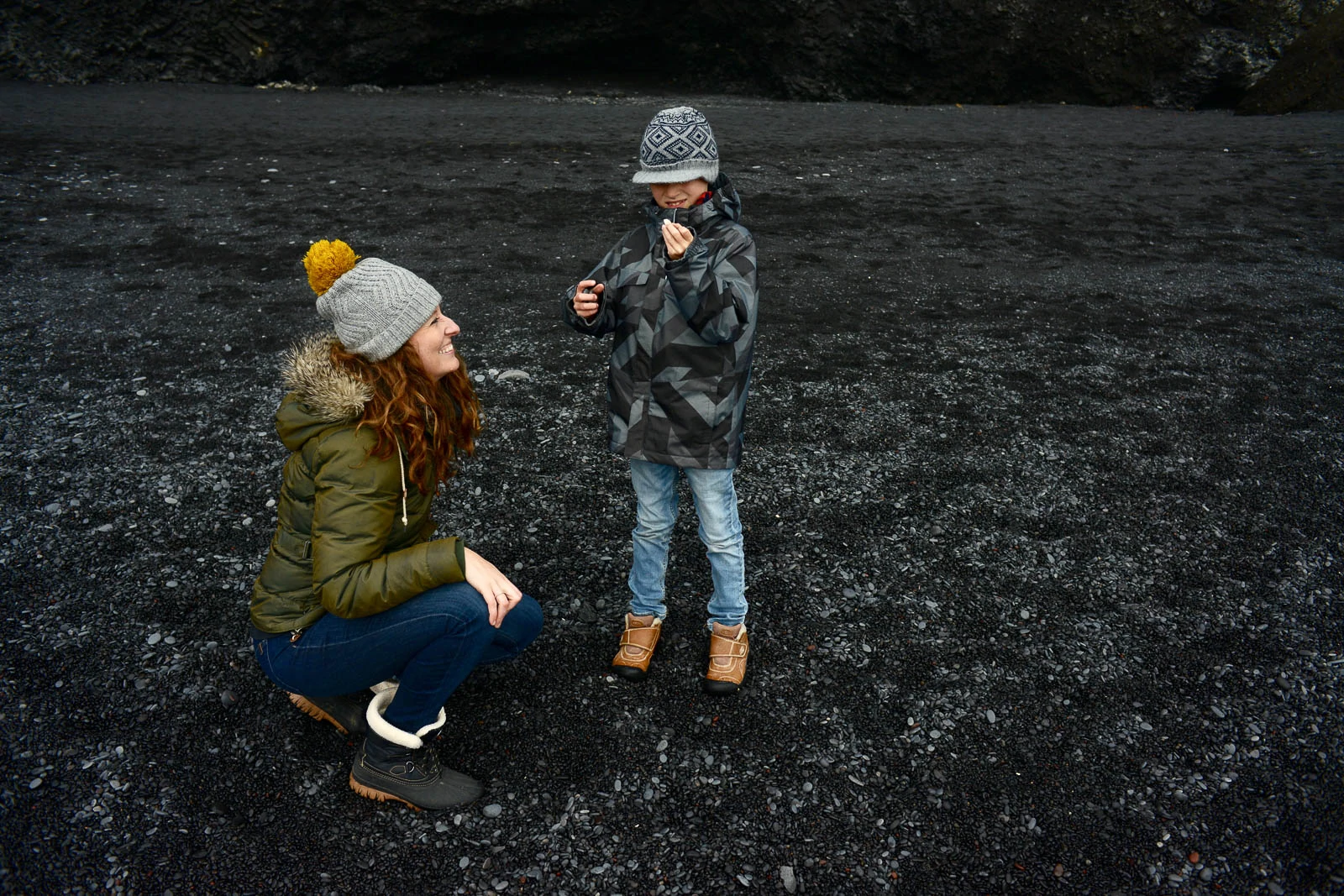 We continued down the beach (around the formations) and found even more climbing/hiking areas. It was such a fun morning.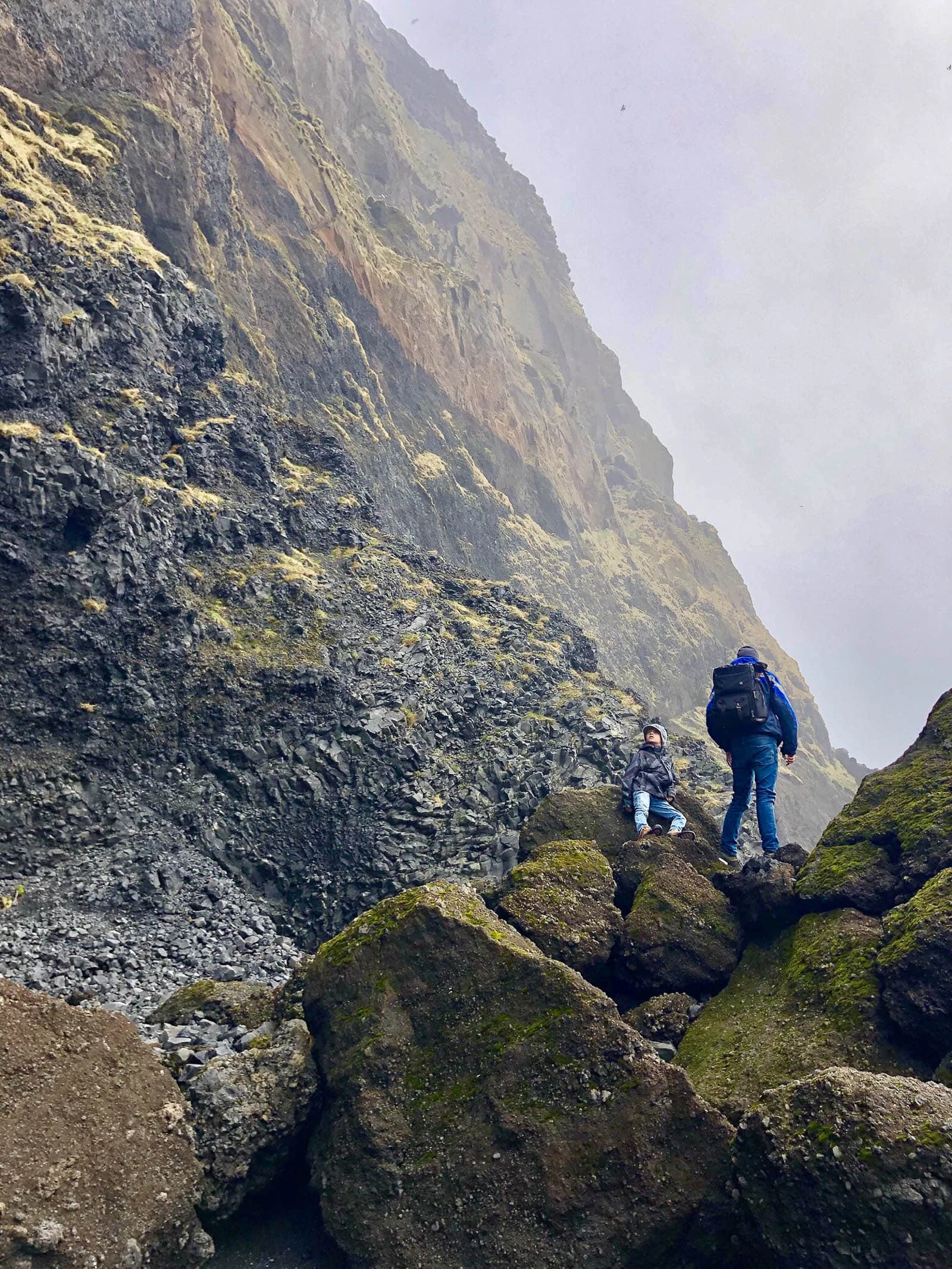 We headed back towards Selfloss (where we were staying) and stopped at two of the bigger waterfalls in Iceland. One thing I will say here, the waterfalls are impressive all over Iceland... they are everywhere! The big ones are overrun with tourists, so if you want to see them, by all means, do; BUT you can also enjoy waterfalls completely by yourself just by pulling over on the road every three minutes and hiking.
This first waterfall is Skogafoss Waterfall. It was pretty. Luke waited and waited for a shot that didn't have a ton of people (don't be fooled).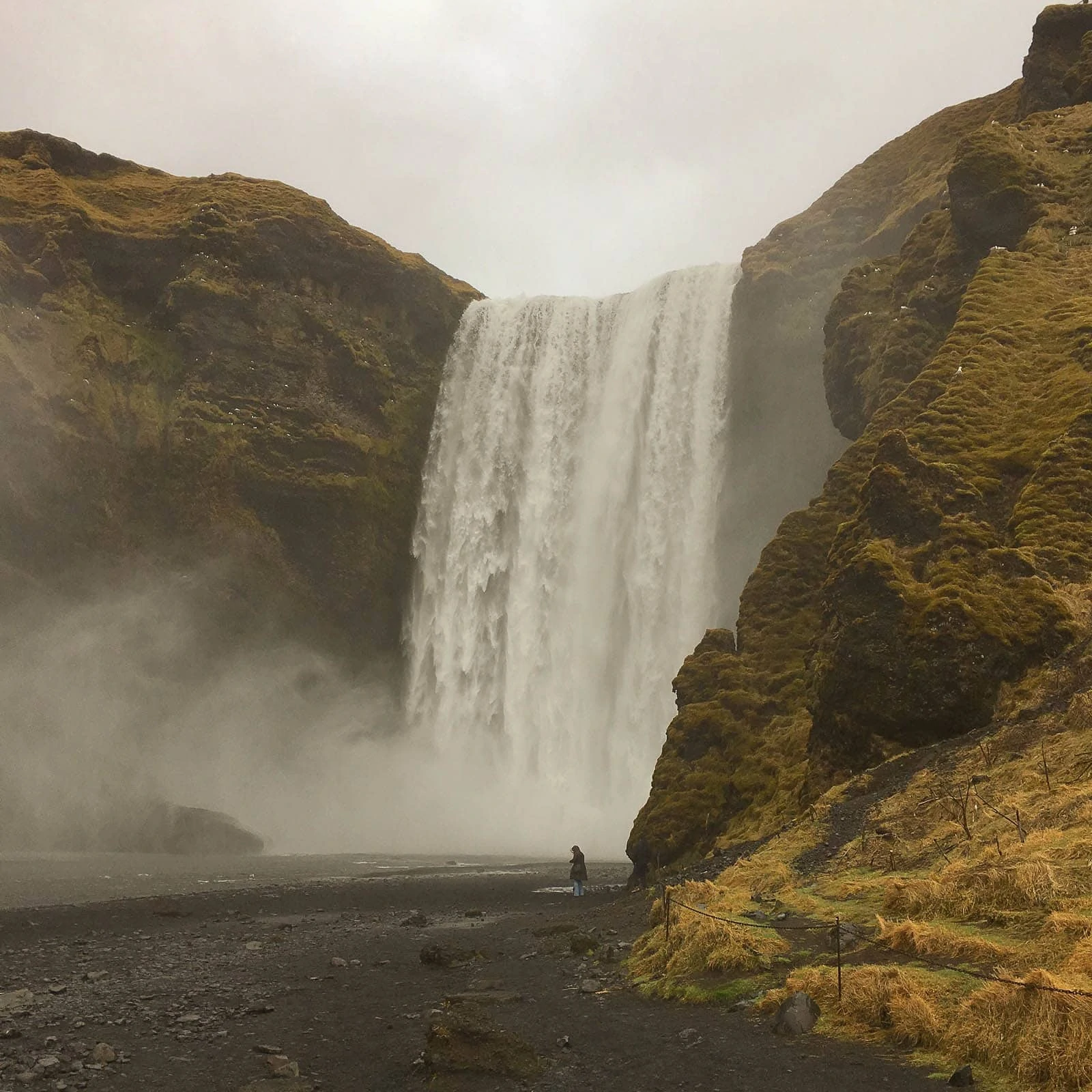 The next waterfall we stopped at was Seljalandsfoss. We decided to put all of our rain gear on and walk behind it. Greyson wanted to go down the slope really close to it and I said that I'd go with him. We were soaked, and I mean soaked, even in full-on rain-proof gear. We tried over the next few days to dry my boots with all kinds of different ways. Live and learn. =)
Next, we headed to Southeast Iceland for the next few days. We had so much fun! Our first stop was Jokulsarlon Glacier Lagoon. Since we got there later in the day, because we were staying nearby, we had it basically to ourselves. We walked around and watched seals for probably two hours.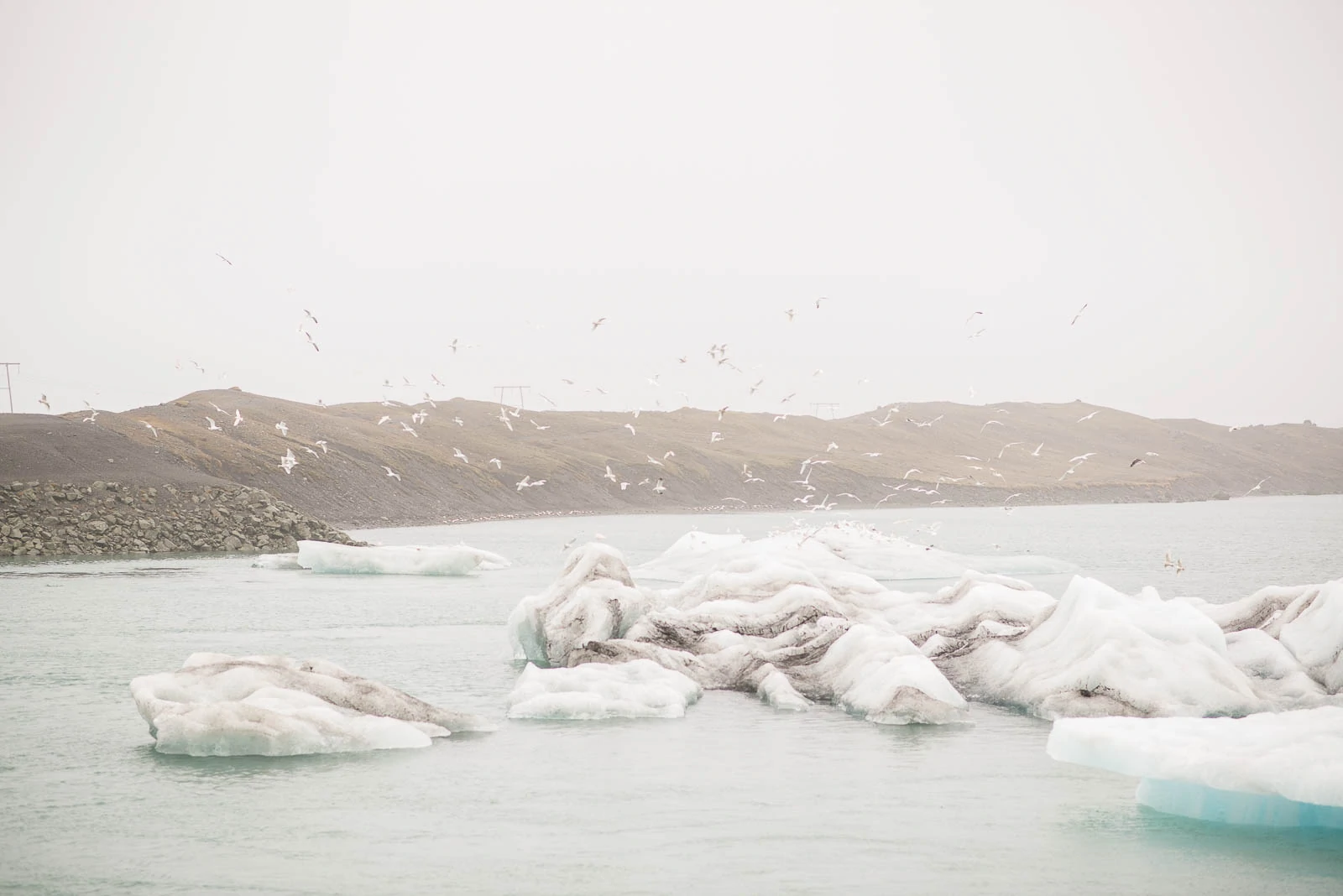 Those little heads in the water are seals. It was so fun to spot them.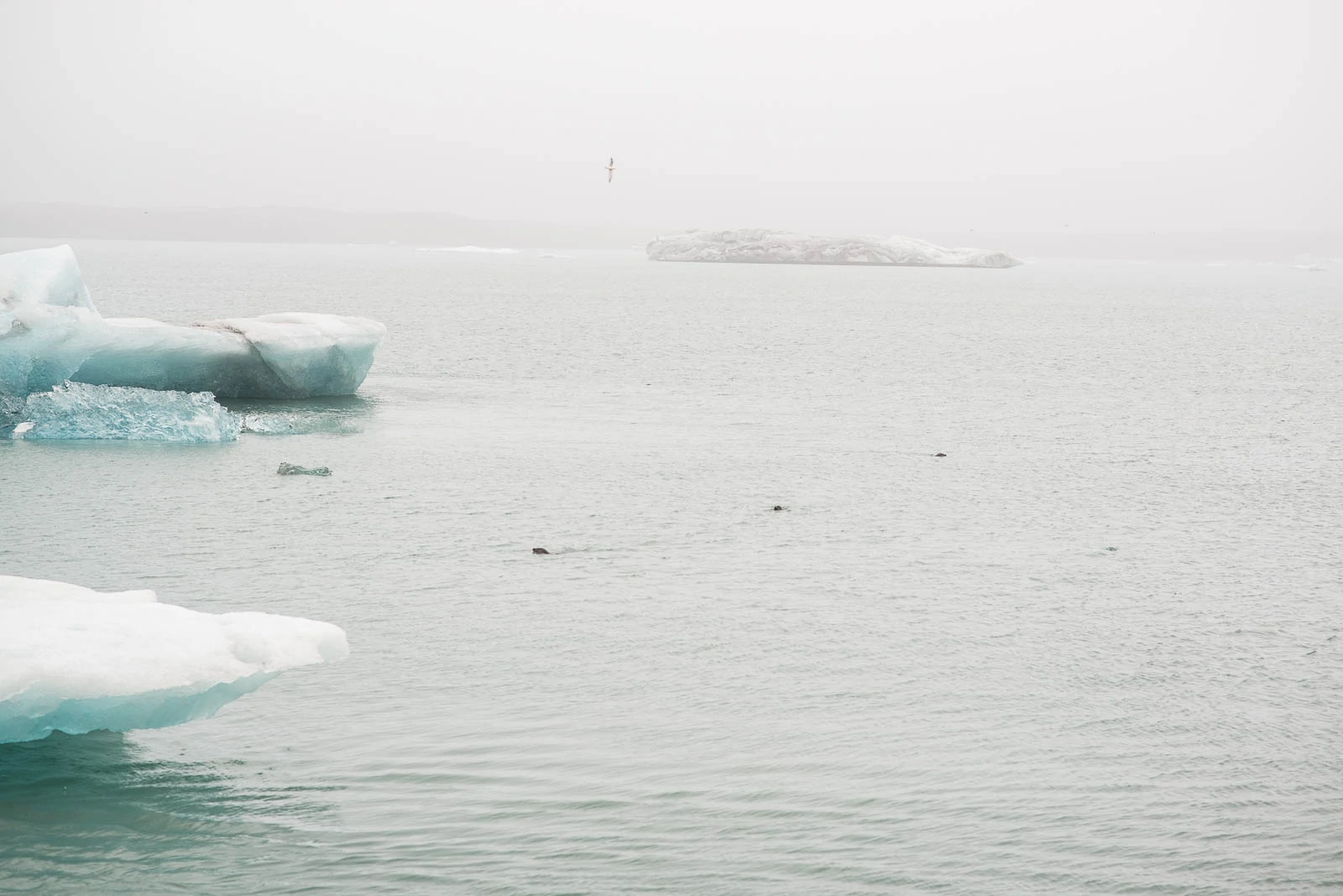 This area of Iceland, is very remote. Like, there are no breakfast options at all and one hotel about forty minutes away that serves lunch and dinner. We had to really plan our food here. Greyson needed a slow morning the next morning, so Luke and I hiked the waterfall behind our airbnb.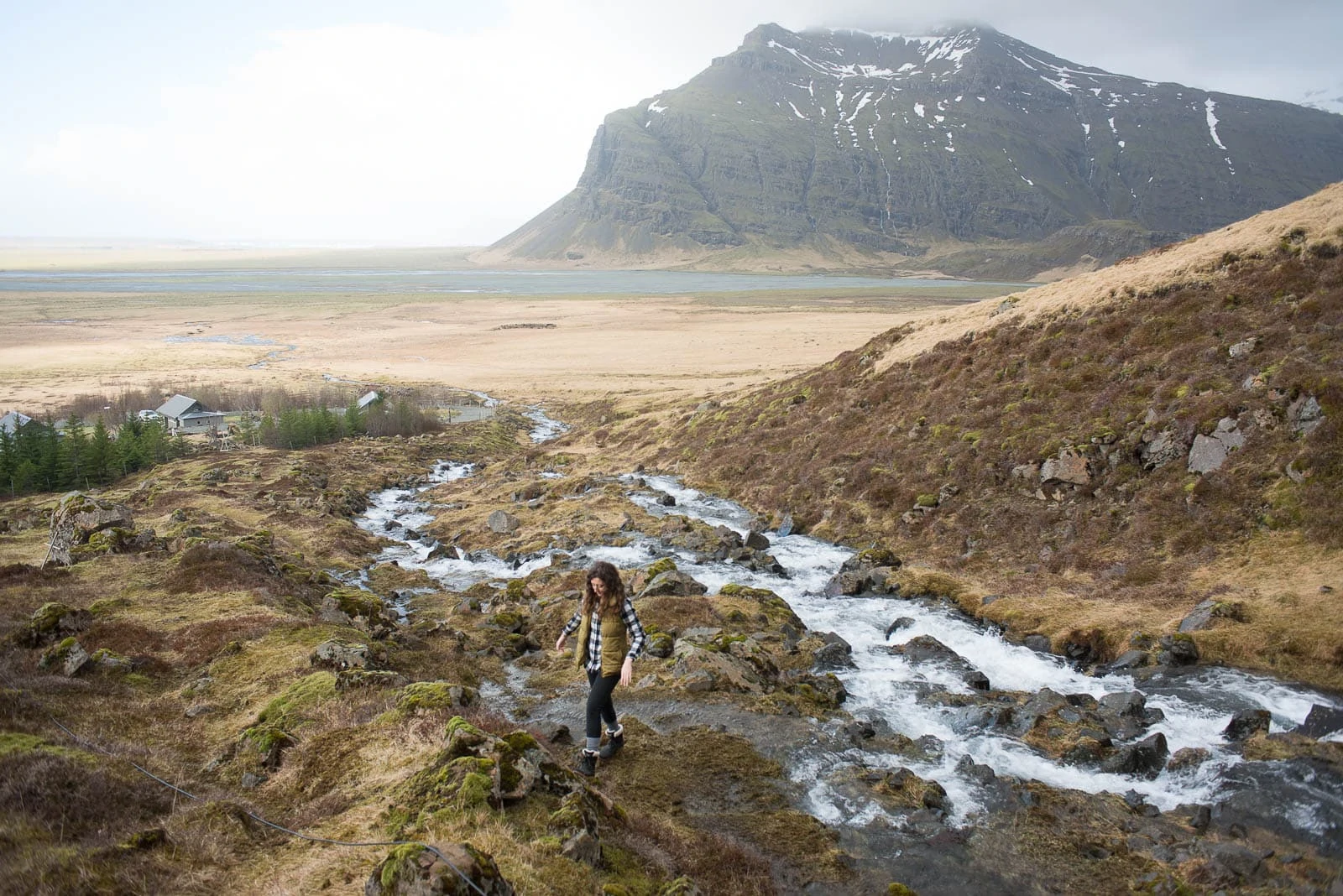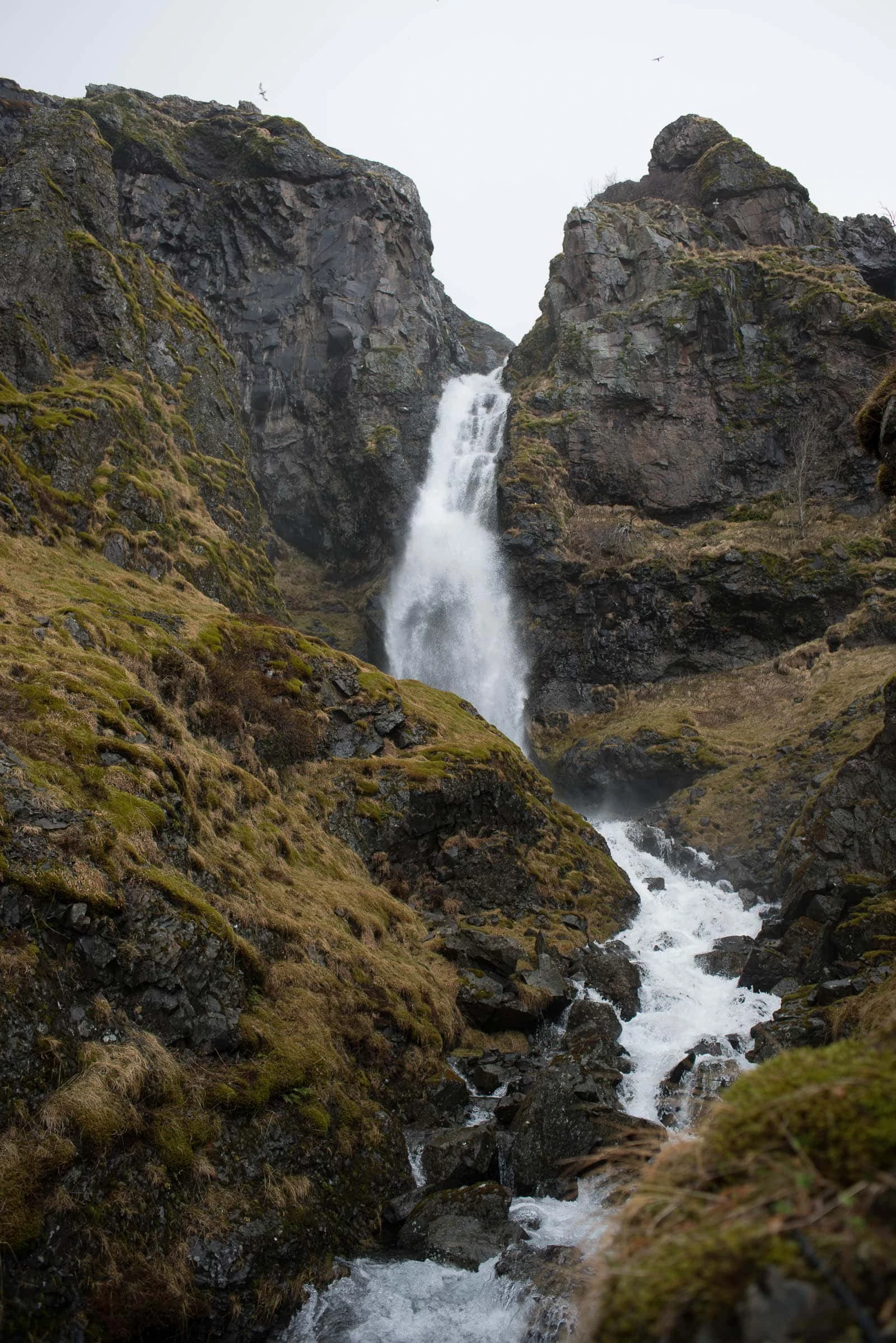 After that, we got in the car and headed out. And guess what we saw?! We saw reindeer right off the road.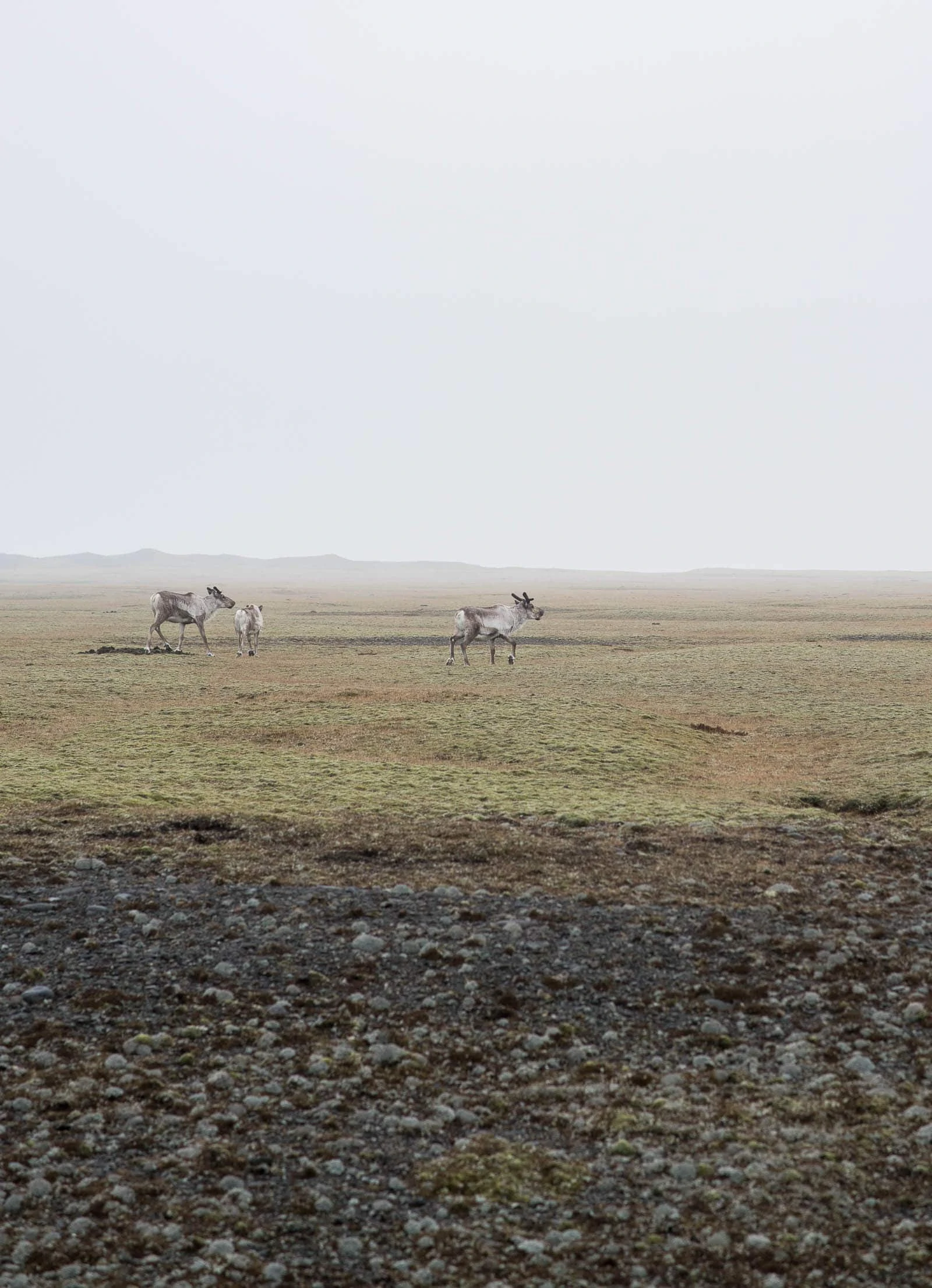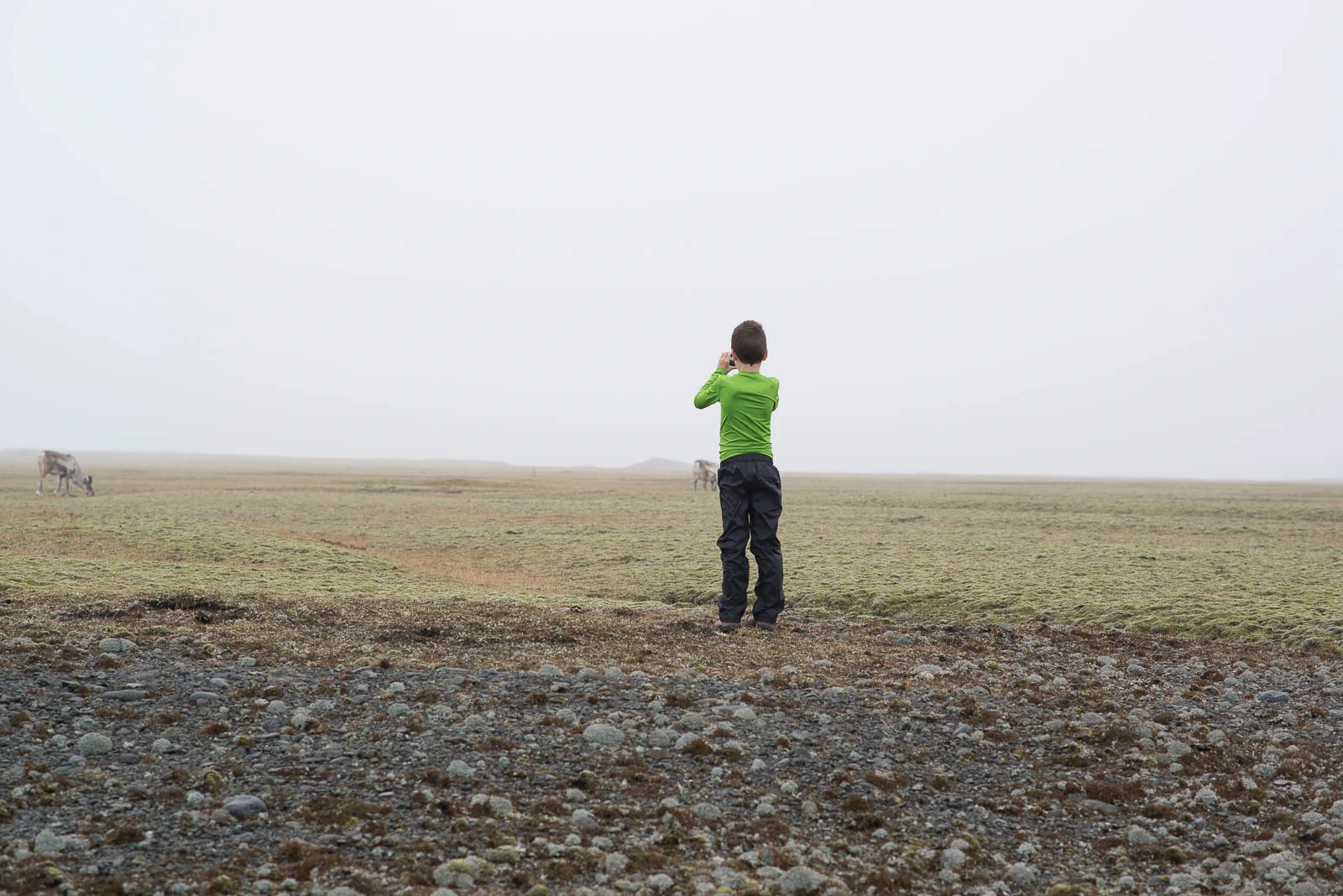 The next few days, we hiked a glacier (which I never want to do again). Ha. You have to have crampons and it's just scary. Luke loved it though and wanted to do the more intense eight hour hike (no thank you).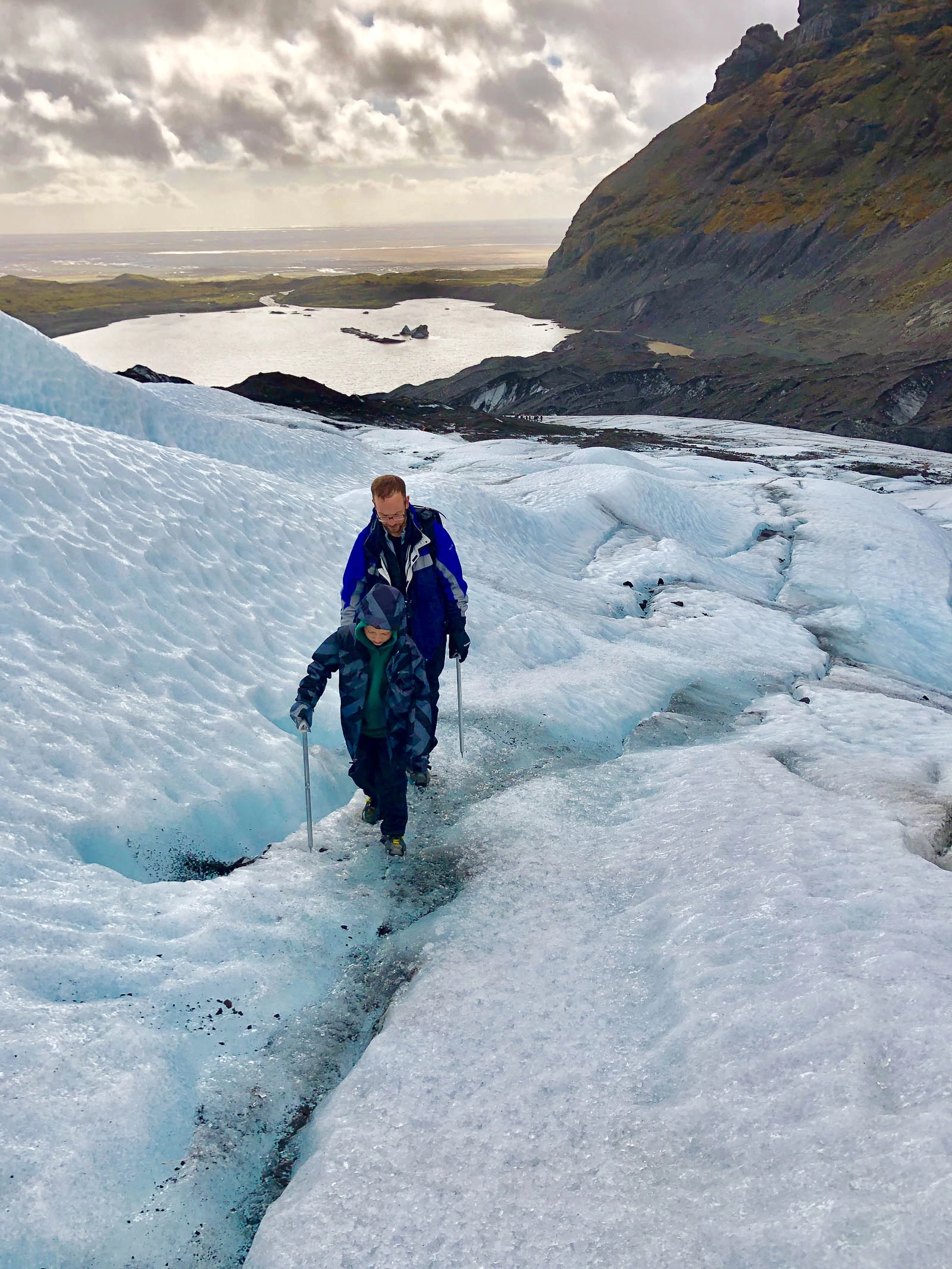 We stopped by Diamond Beach twice, on two different days and it was magical both times. One day, there weren't very many "diamonds" but the next day they were everywhere.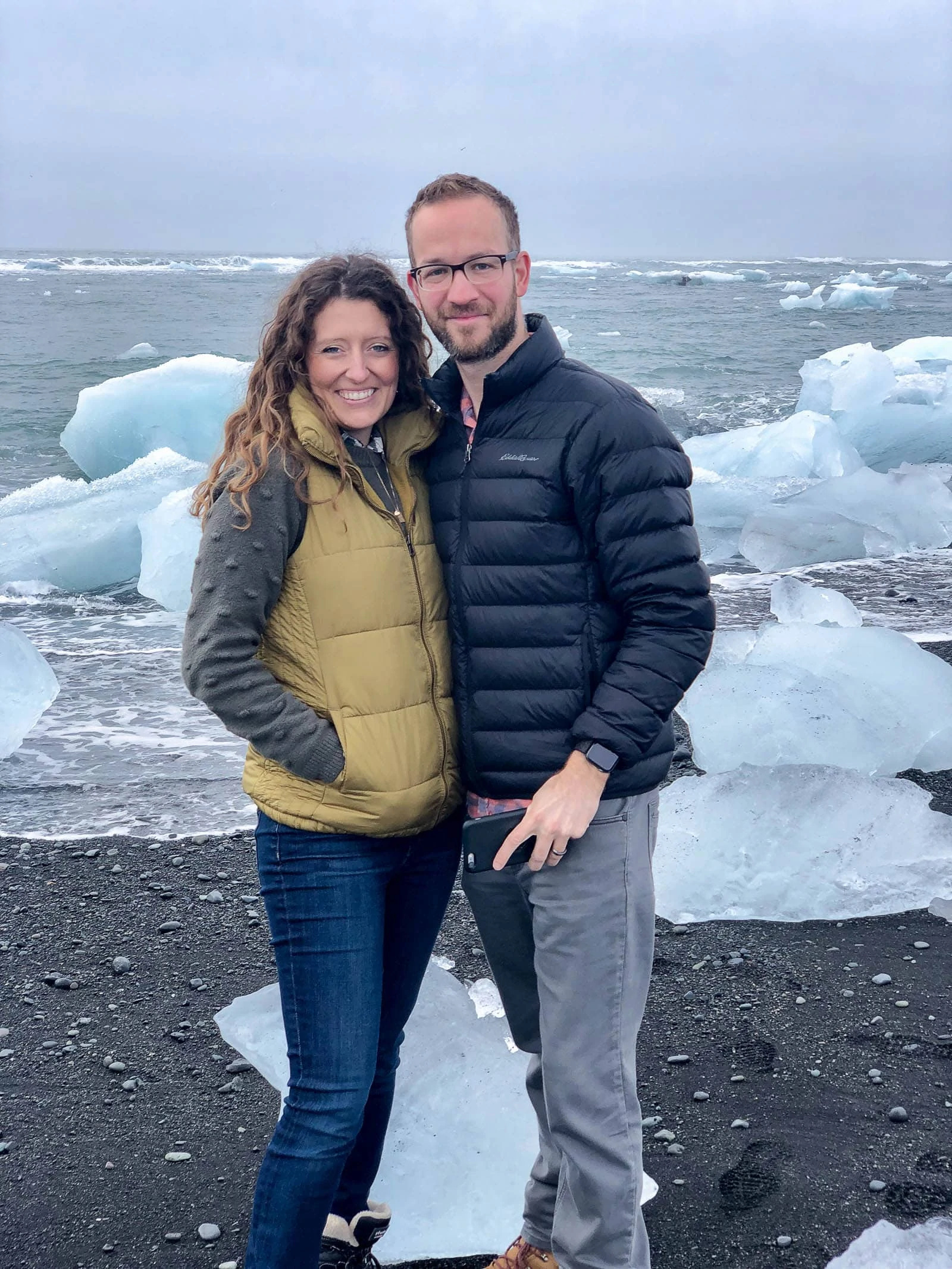 Greyson tried his hand at taking photos with all the cameras we had. =)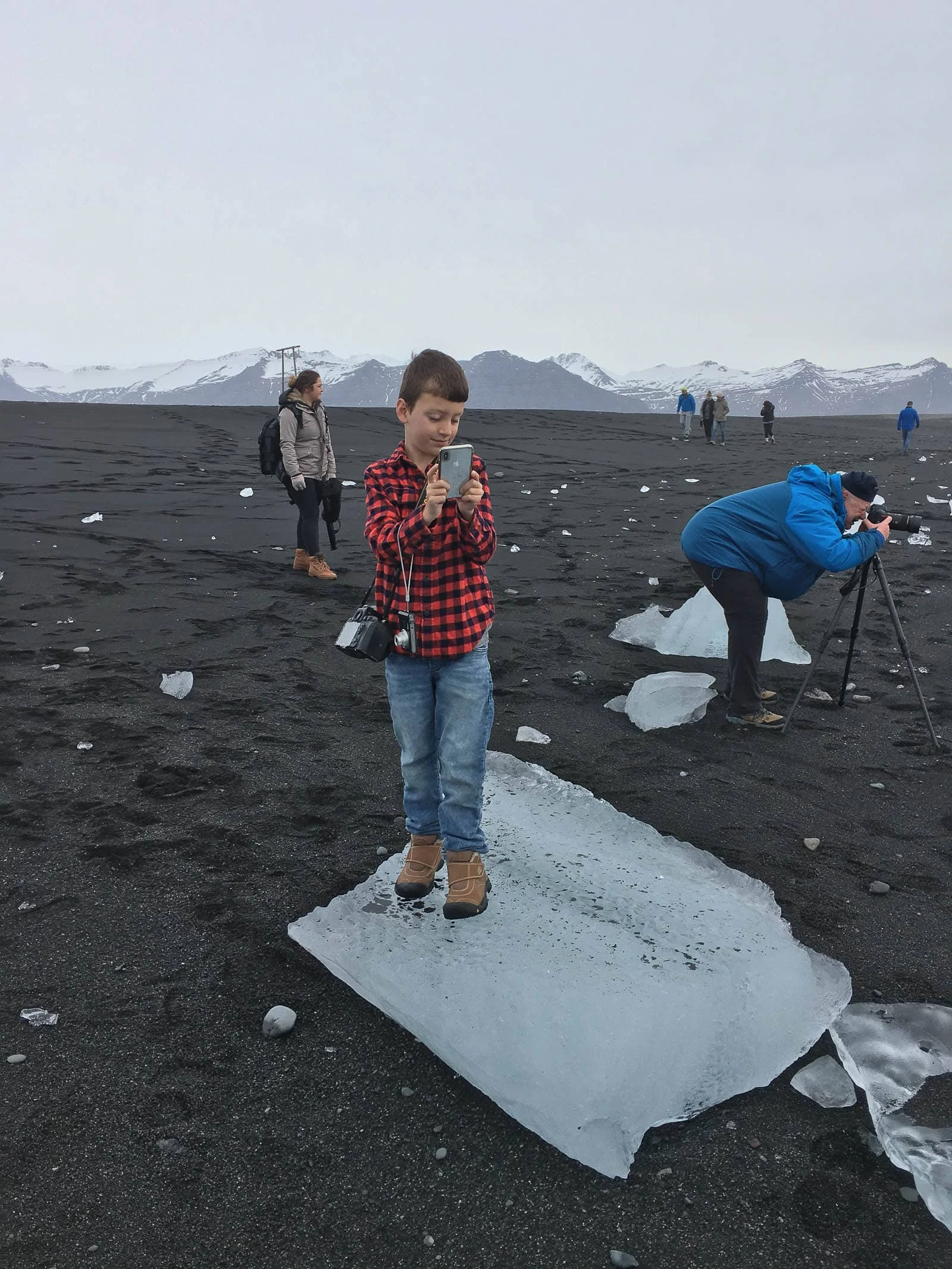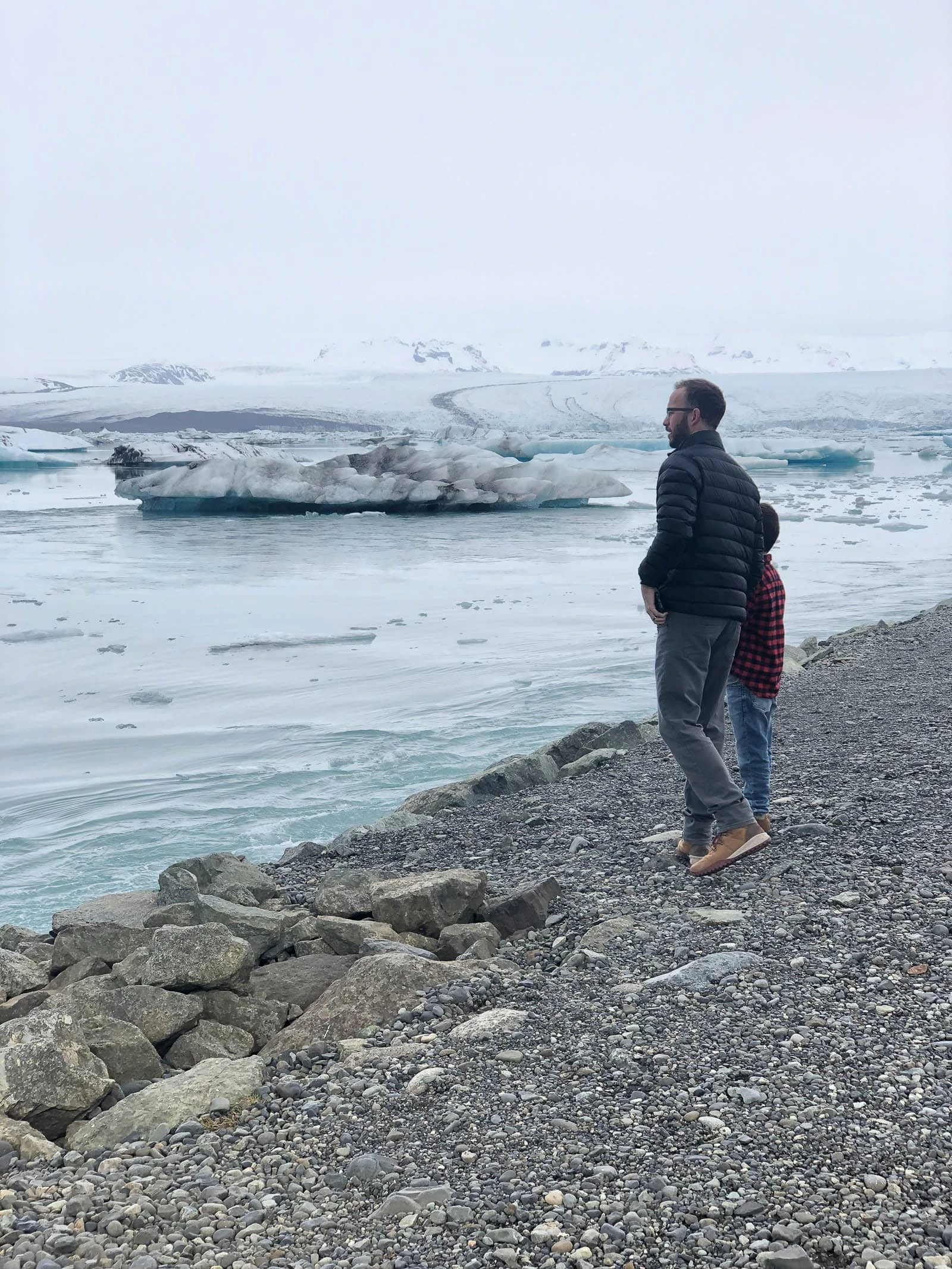 It was truly a magical area and one that you couldn't really see and be in unless you were staying there. We saw so many people take tour busses or do the drive from Reykjavik there and back in a day. To be honest, that would have been a huge mistake. There's so much beauty, you just have to let yourself explore and take it in. We stopped so many times on the side of the road to get out and hike and explore.
As we headed out the last day we were in this area, we stopped so many times to explore. You never know what you'll see when you cross a wooden fence...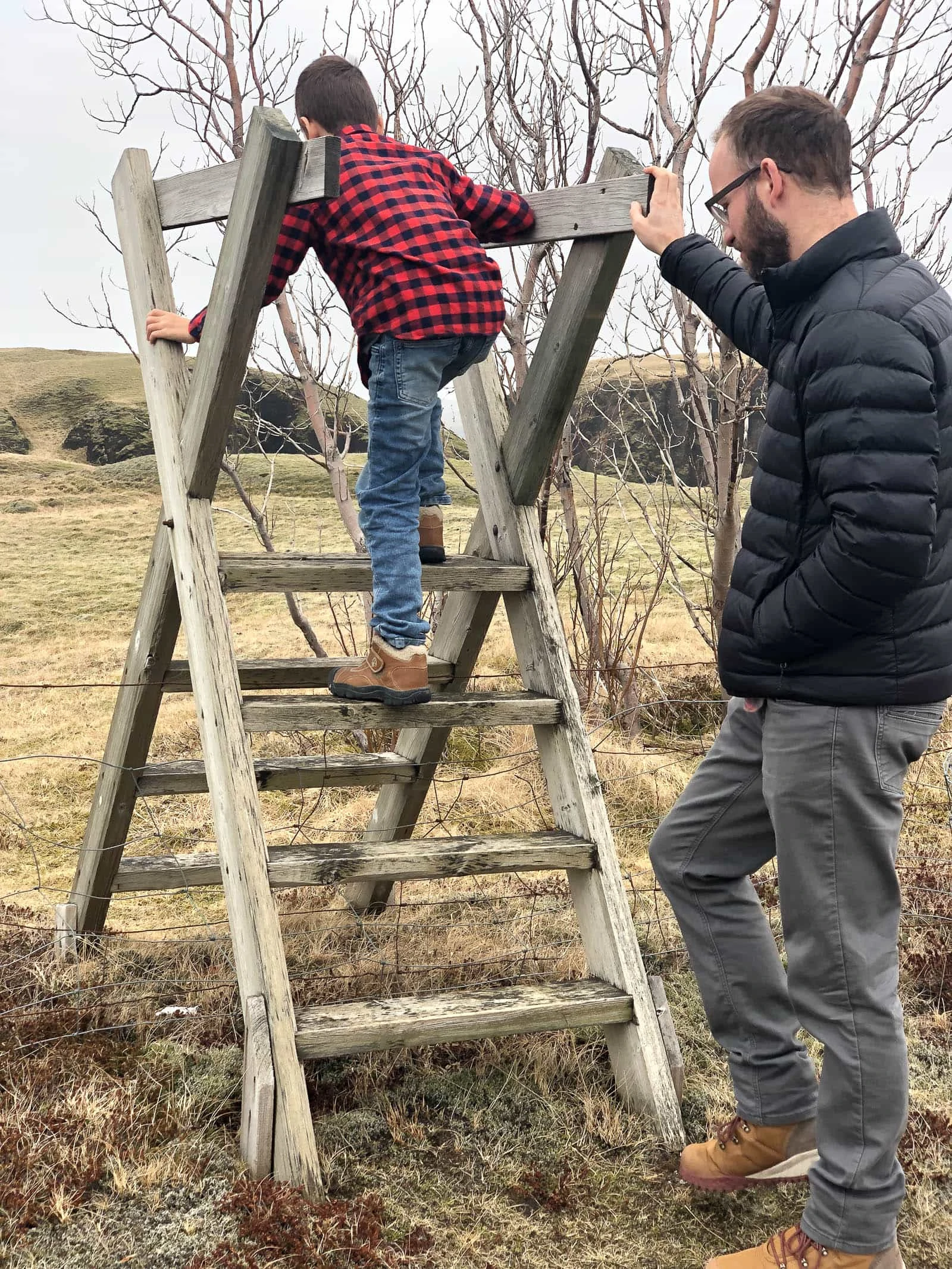 Ten minutes of walking, we found this...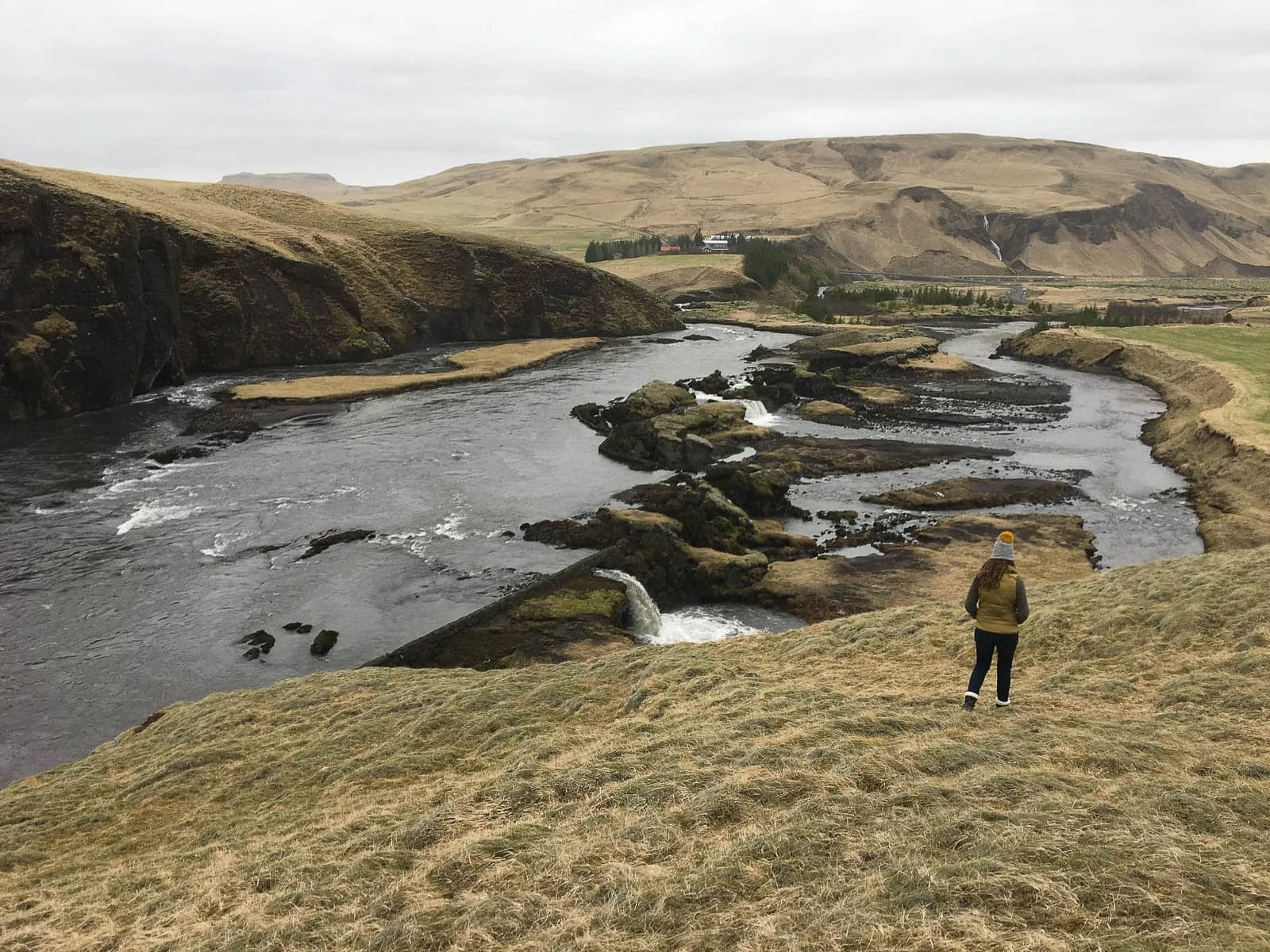 and some crazy mossy lava rock areas.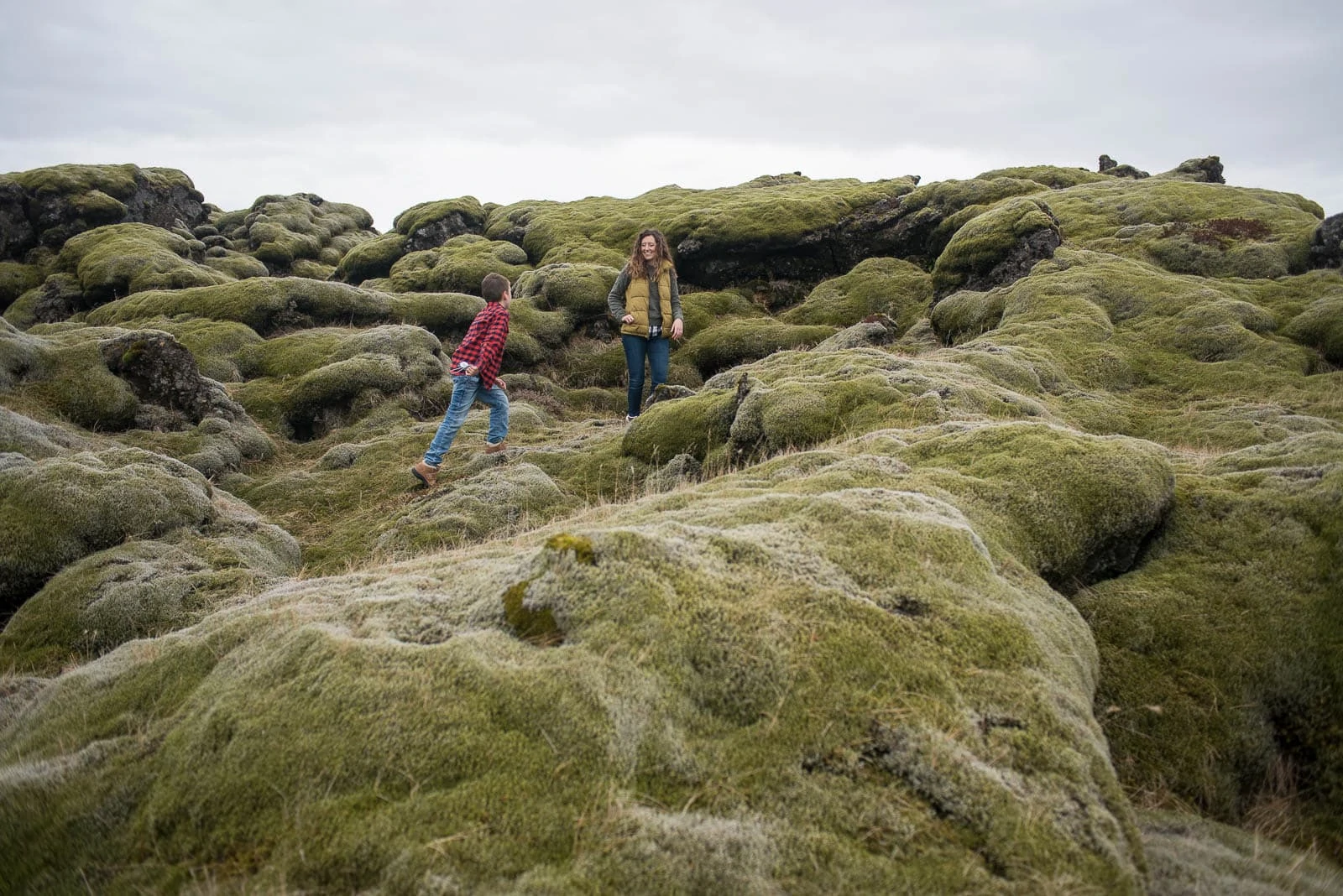 Our last adventure for the south coast was one that had been on my list as a "must-see." It was swimming in the oldest outdoor thermal pool in Iceland (Seljavallalaug). Some of the reviews said it was too rustic so I wasn't sure what to expect. It's about a fifteen minute hike in and let's just say that it was perfect. It might have been the highlight for Greyson and I.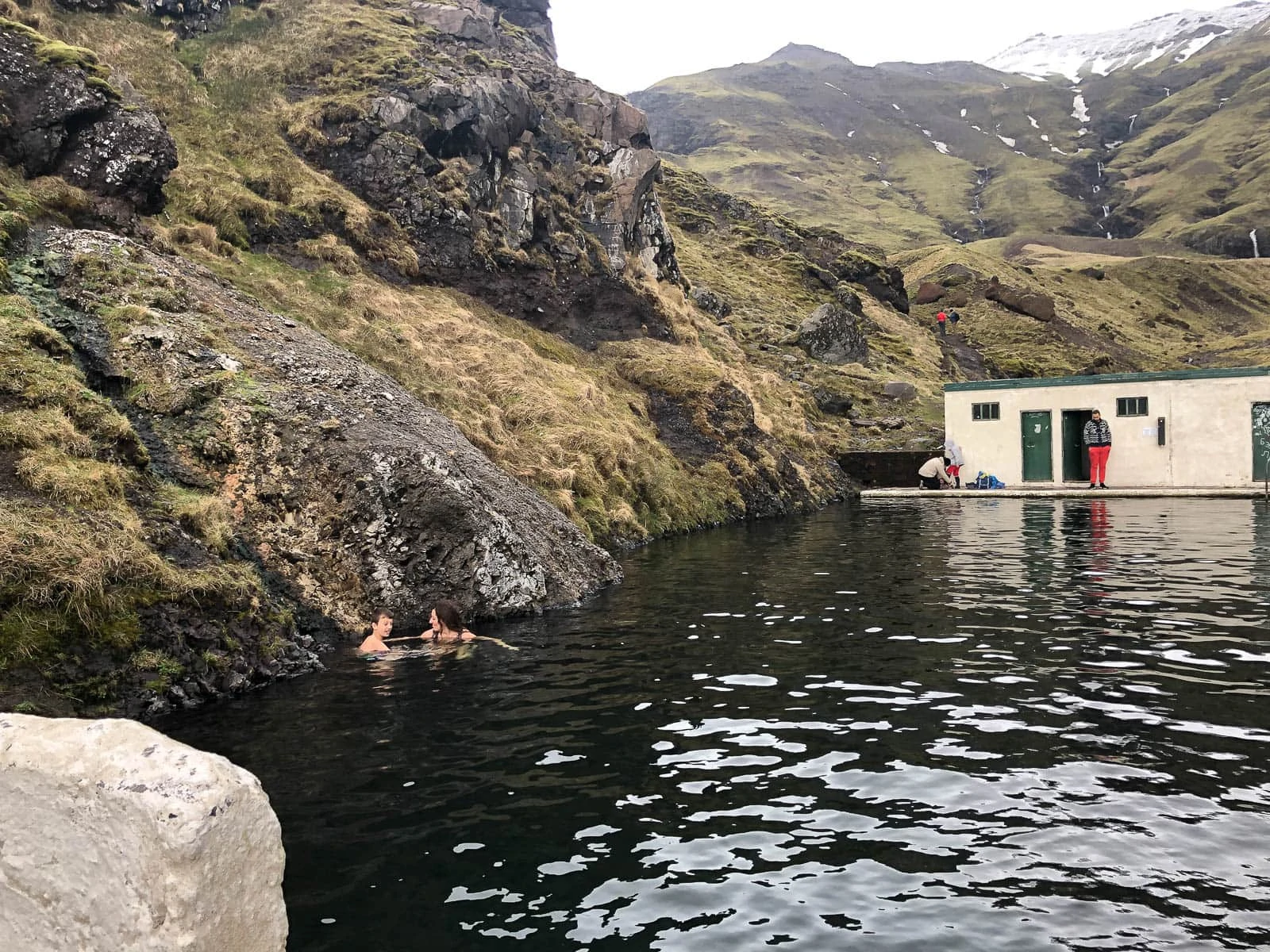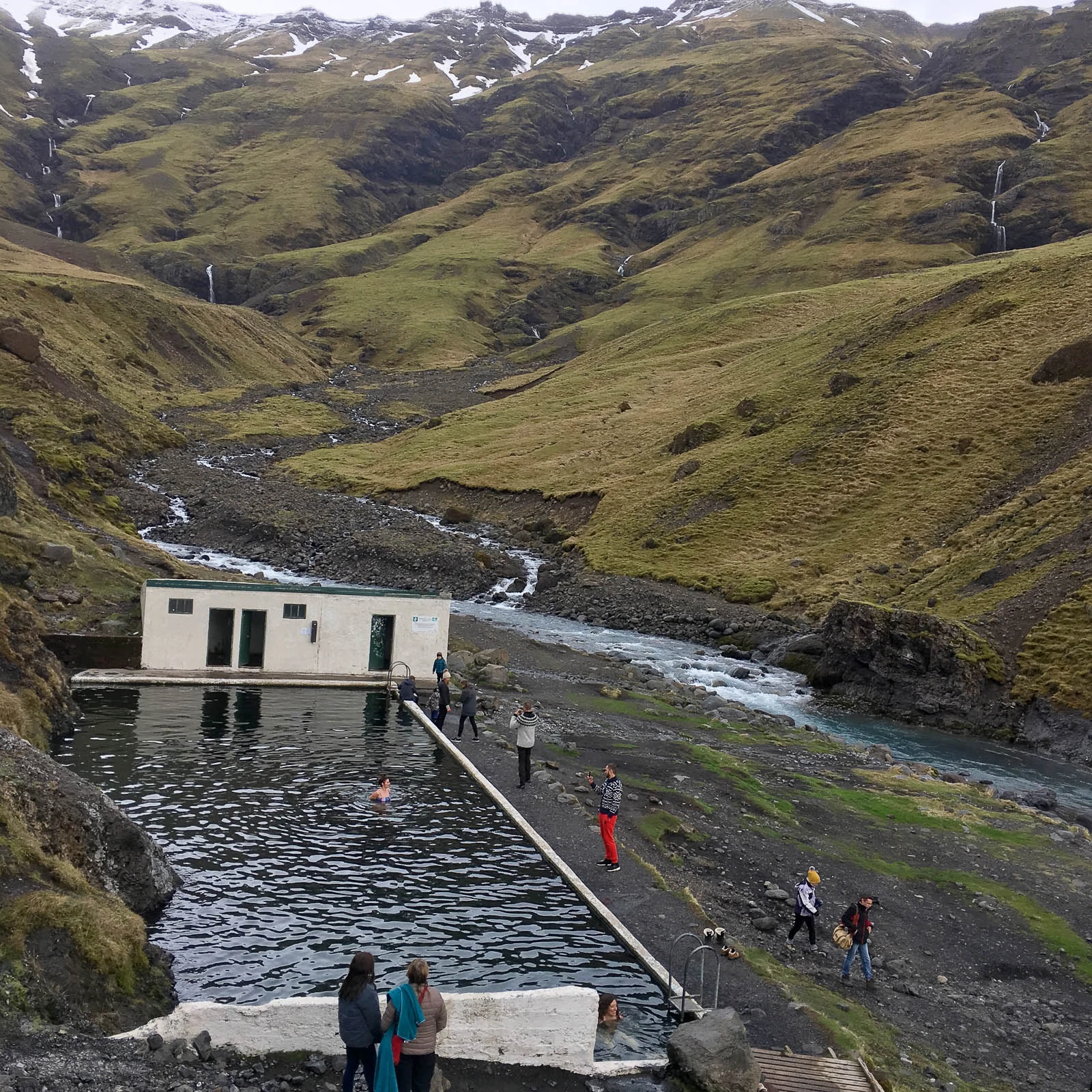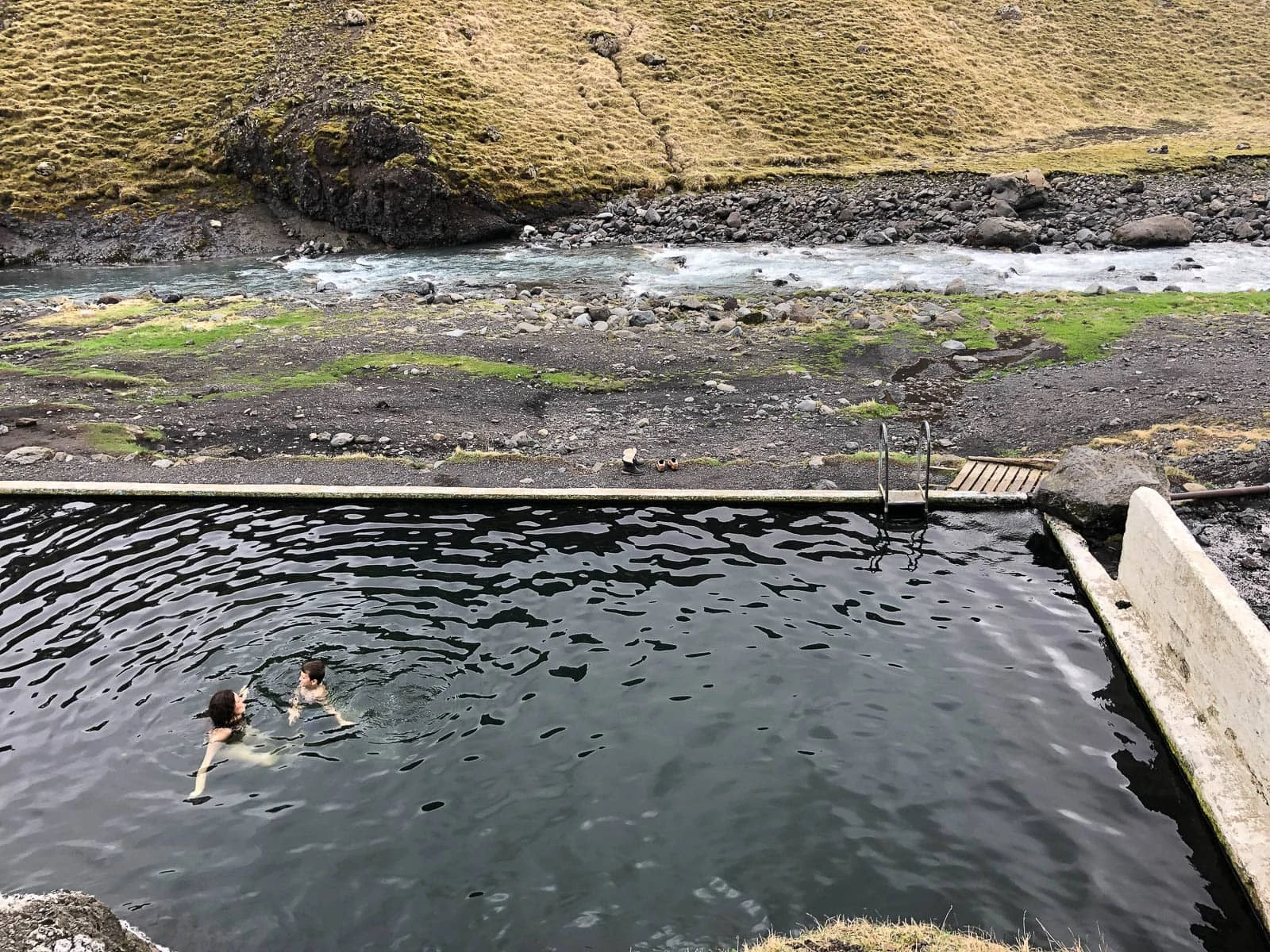 I'm completely down with a little bit of "roughing it" if it involves water. We seriously had the best time; well, until we had to get changed. Ha. Getting out of a warm pool in 40 degree weather and changing is quite difficult. So worth it though.
The last two days were spent in Reykjavik. We walked around the town, shopped a bit and explored the food/coffee scene.
We had so much fun! I'm so glad that we ended up being spontaneous and just booking a trip with only a few weeks to prepare.
If you want more Iceland trip ideas, then check out Where to Stay in Iceland and What to Pack for Iceland.
Want more travel ideas? Check out our travel adventures including Hawaii, Spain, Boston and more!