Looking for a Boston Itinerary with lots of fun things to do in Boston for adults? Sharing some of our favorite places to go in Boston including Beacon Hill, JFK Museum, Gillette Stadium, and more!
Luke and I enjoyed a great short trip to Boston a few years ago. We'd been there a few times before so, this time around, we focused on walking through neighborhoods and hitting as many of the "must-try" restaurants as we could.
If you are planning a trip, or eventually want to go to Boston, I've included what we did and how to navigate the city.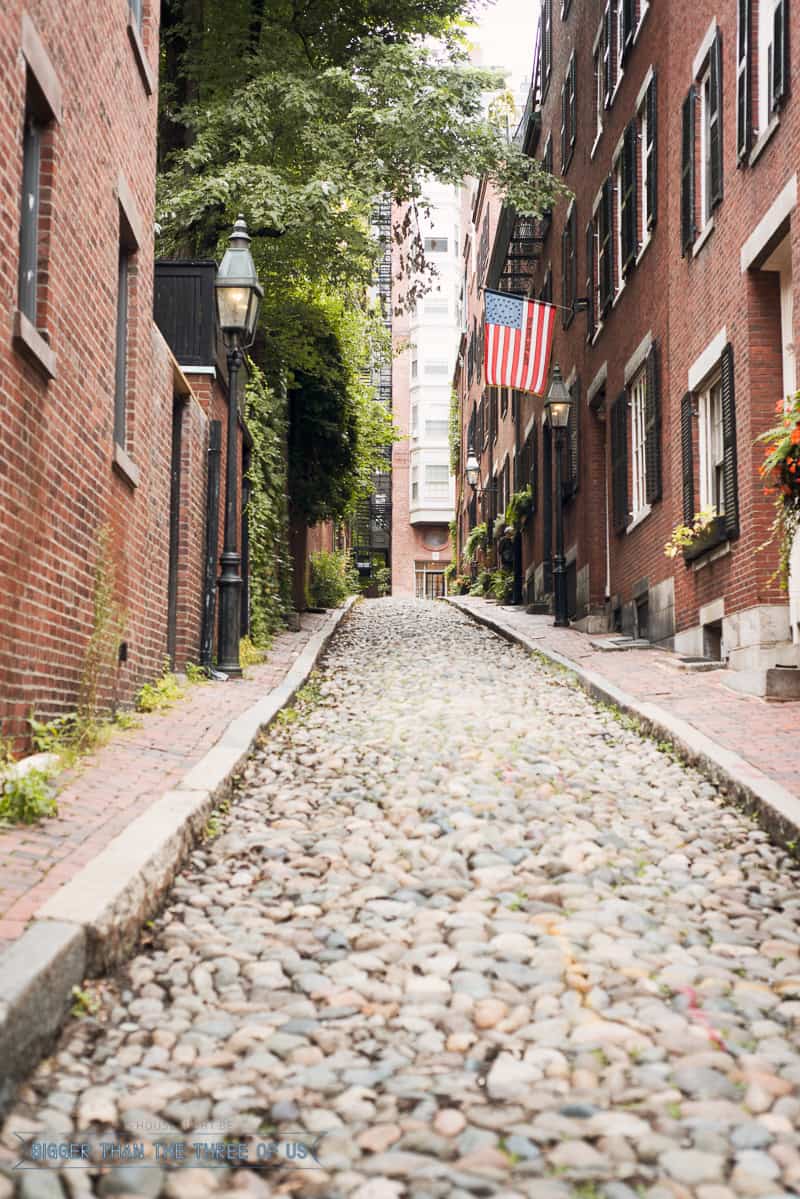 Sharing our Boston Itinerary for 3 Days in Boston
I'm going to give you all the pretty pictures and what they are first and then, at the end, I'll break down all the restaurants and places by location (and give you a sample Boston itinerary).
Acorn Street is a must for Boston Sightseeing!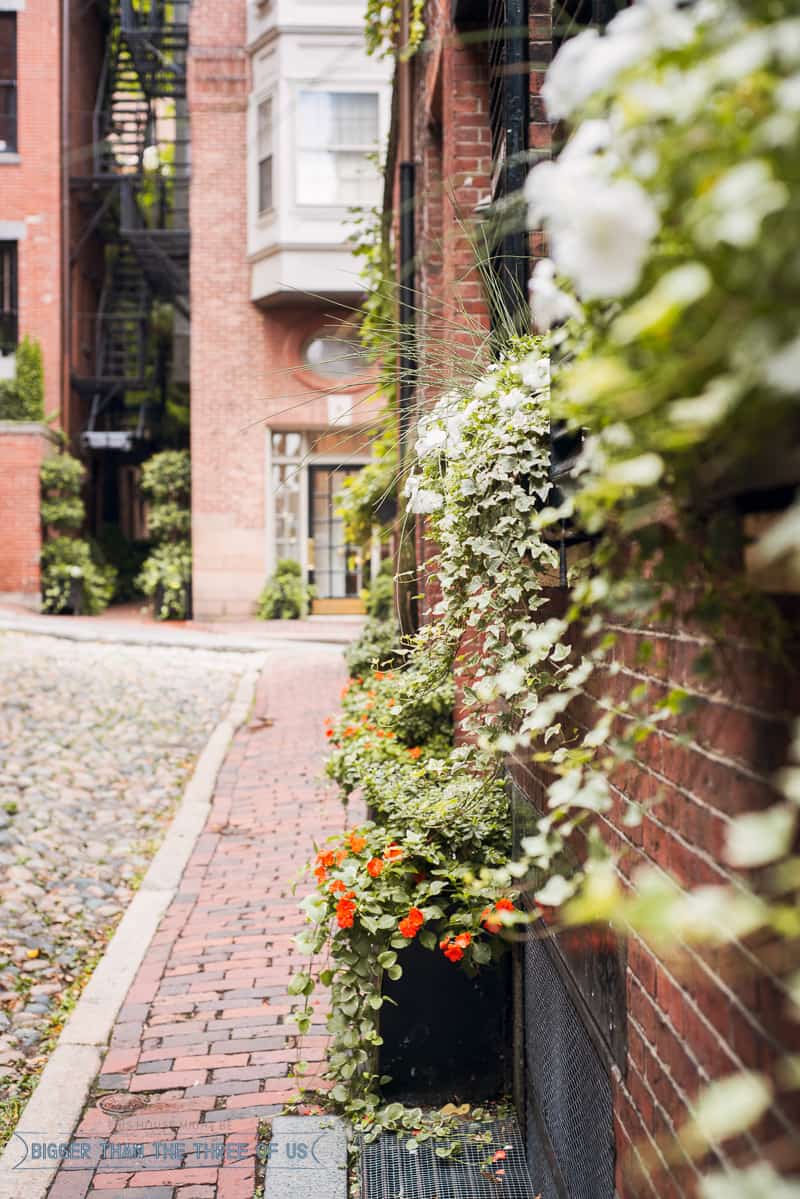 I'm sure you've seen this view a few hundred times, am I right? Acorn Street is just as beautiful in person as you would expect.
How adorable are the window boxes? I fell in love with the window boxes all over town. Boston really knows how to decorate their buildings!
We ended up on Acorn street around 10am and had the street to ourselves. I think this area can get really busy so plan your trip accordingly if you want to get a few pictures on the street without people.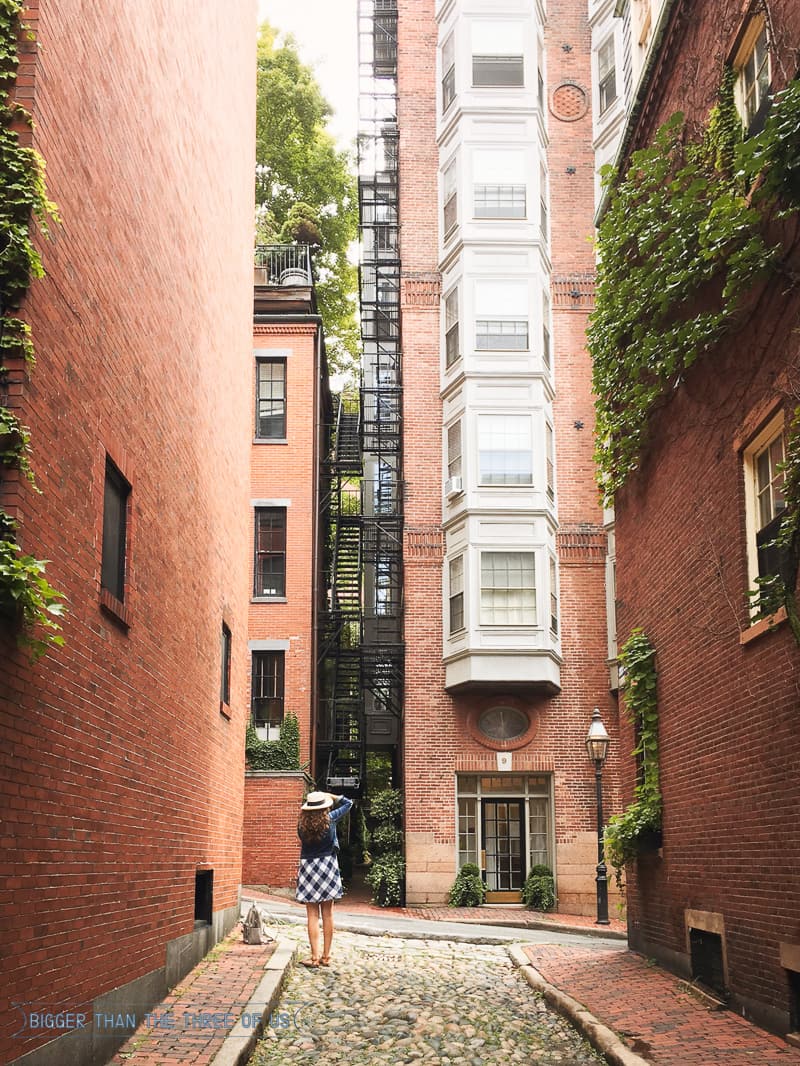 Explore Beacon Hill
Beacon Hill was, by far, our favorite area to walk around in. I loved every street we went down.
We thought that it was such a cool place to go in Boston, that we went back for a few hours on the last day we were in Boston. There's just so much inspiration everywhere.
Affiliate links below. Thanks for supporting this blog. Click to read my privacy and disclosure policy.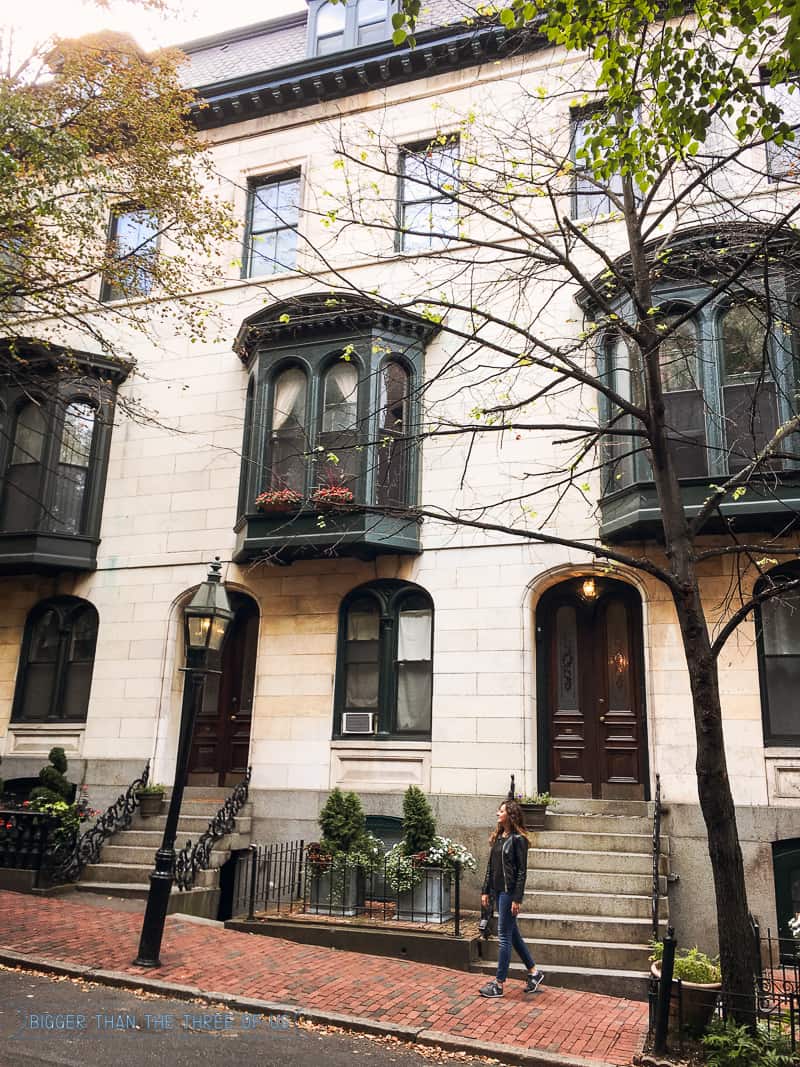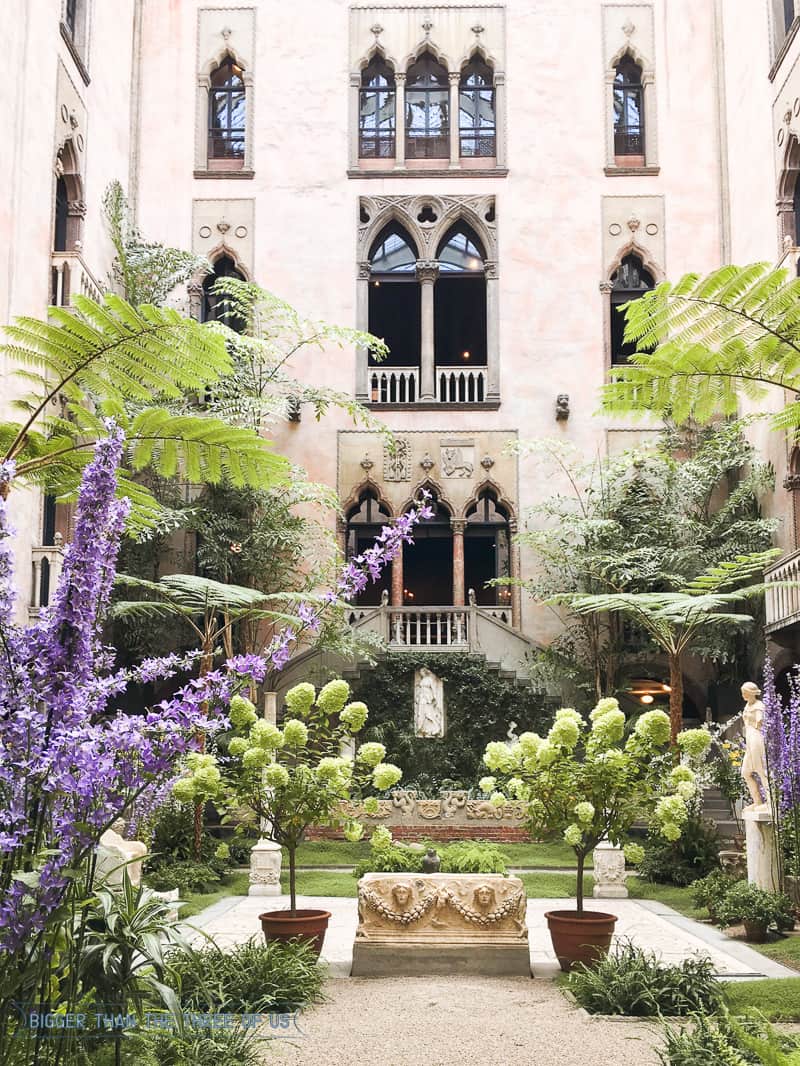 Visit Isabella Stewart Gardner Museum
One of the things to do, that was mentioned frequently when I was researching places to go in Boston, was to visit the Isabella Stewart Gardner Museum.
The courtyard and outdoor gardens are just beautiful. I could sit and stare at them for quite some time. Luke enjoyed looking at the art pieces throughout the museum, but I was more content to gawk at the plants.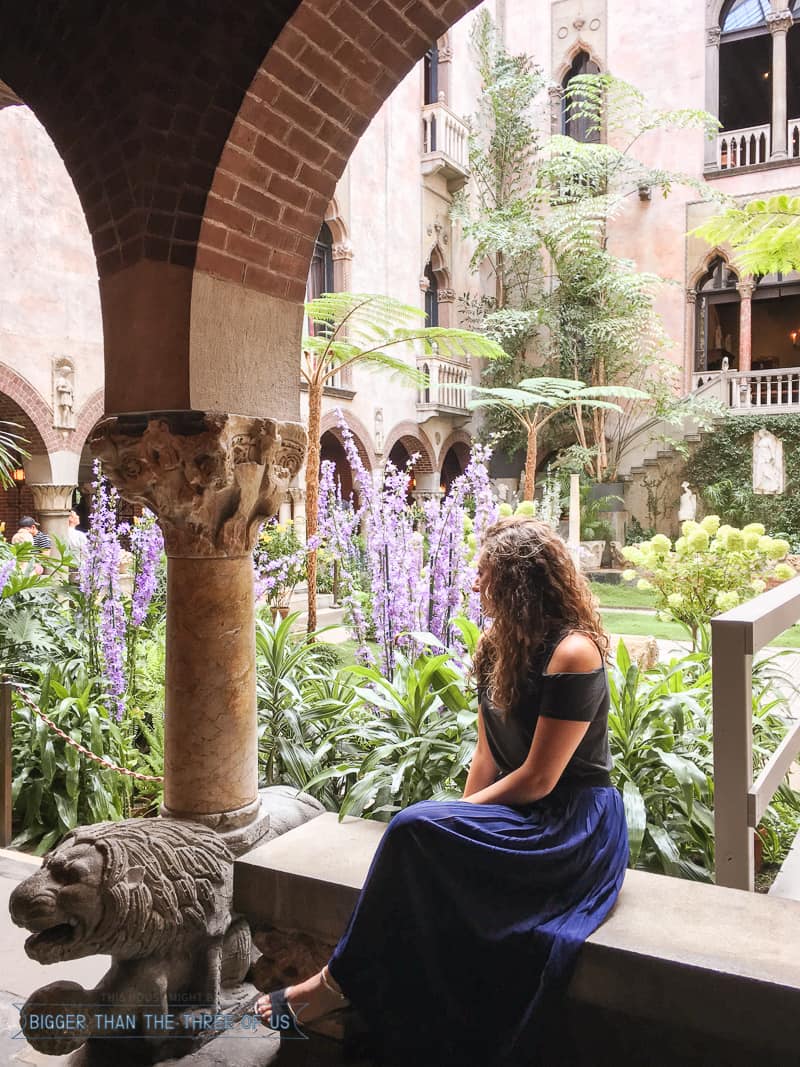 To be honest, art museums aren't high up on my list of things to do. I'm more of a history* type gal. Give me an old castle and let me explore it with lots of details here and there about who lived in the castle and I'm over the moon happy. But, art without the story behind it... it's just ok for me.
* On the history note, the JFK Presidential Library and Museum in Boston is fabulous. We went through it a few years ago and I, for one, loved it.
All of that being said, we enjoyed going to the museum and probably spent about two hours there.
Enjoy the Water Views in Boston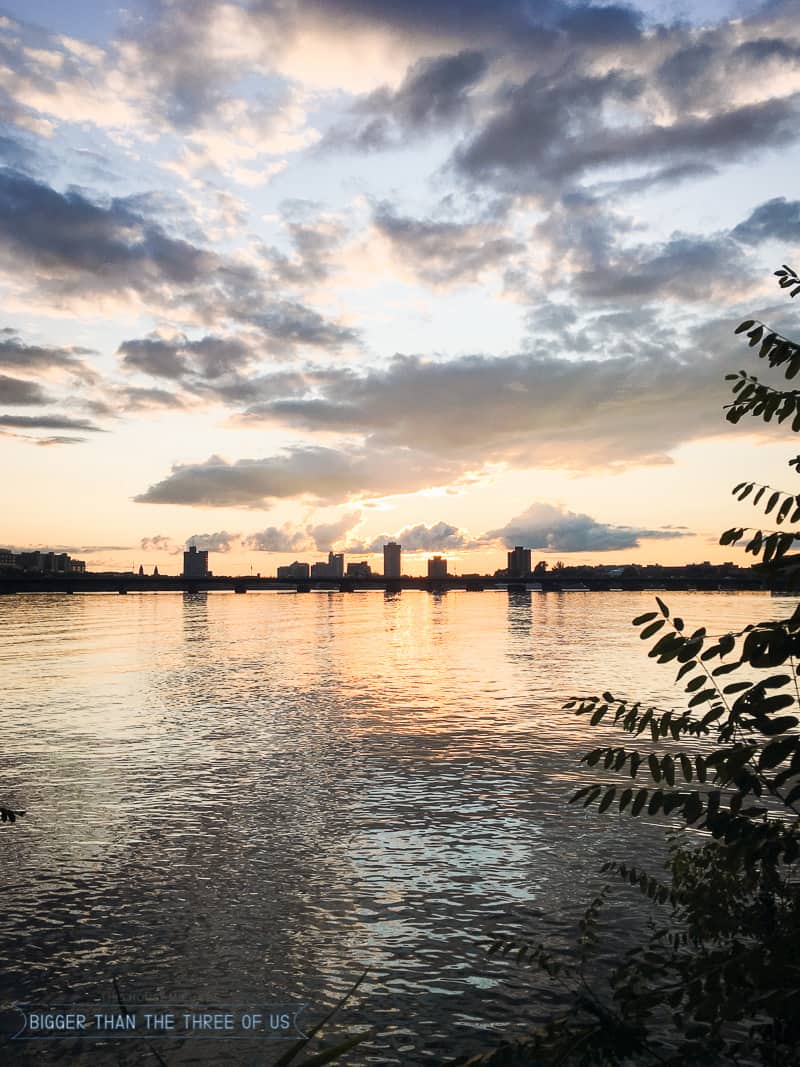 Pretty views and waterways were just everywhere. Luke went for a run one night and snapped the picture above. Isn't it gorgeous?
Fun Things to Do in Boston For Adults
Definitely shop on Newbury Street. It's cute and there are lots of restaurants and places to pop your head in.
After shopping for a bit, we wandered in to the Boston Public Library. Holy smokes, it was amazing!
Boston Public Library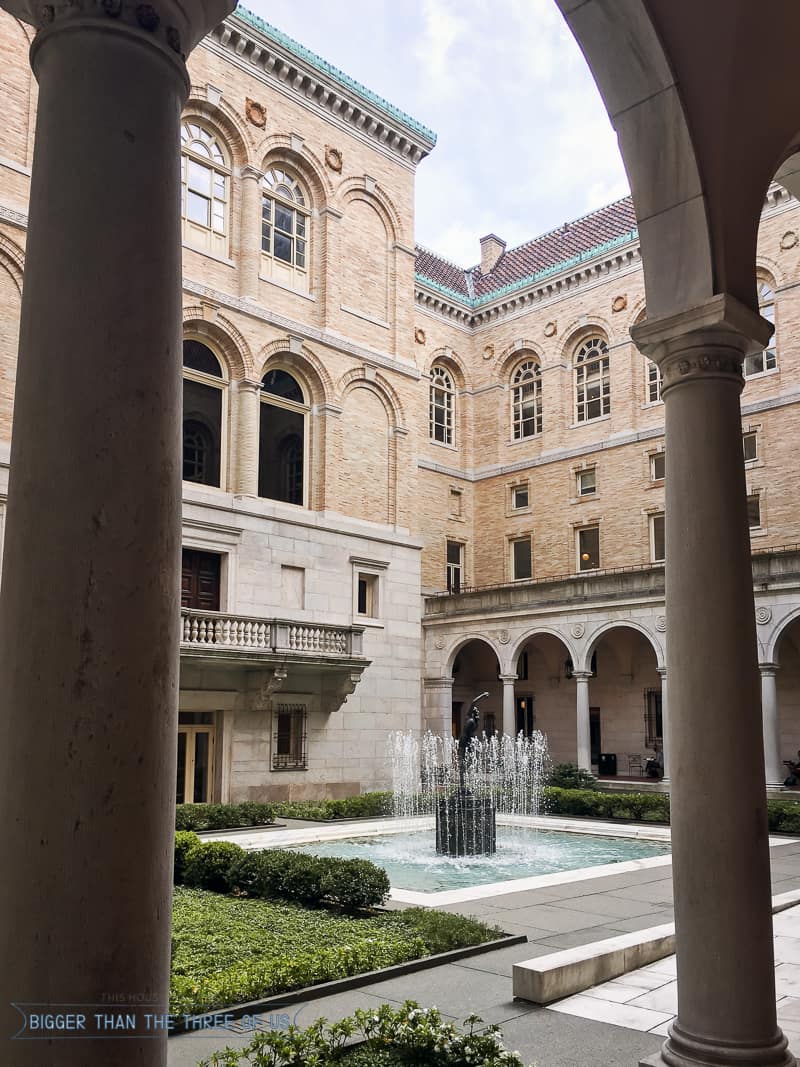 Seriously, the library in Boston was such an inspiring space. I'd recommend going there to just to wander around. Take in the beauty of the building, grab a cup of coffee and get out of the hustle and bustle for a bit.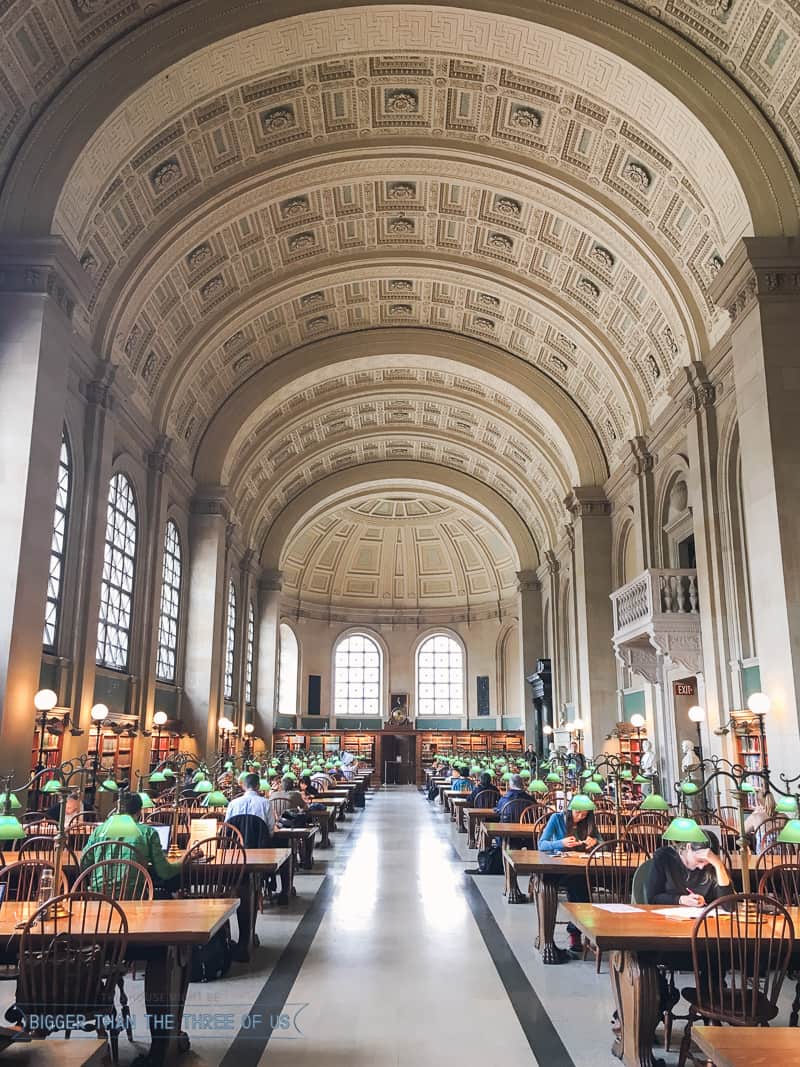 Cannoli taste-testing is a fun activity to do in Boston!
Modern Pastry is a Boston staple, so we knew that we wanted to definitely try the cannoli's there.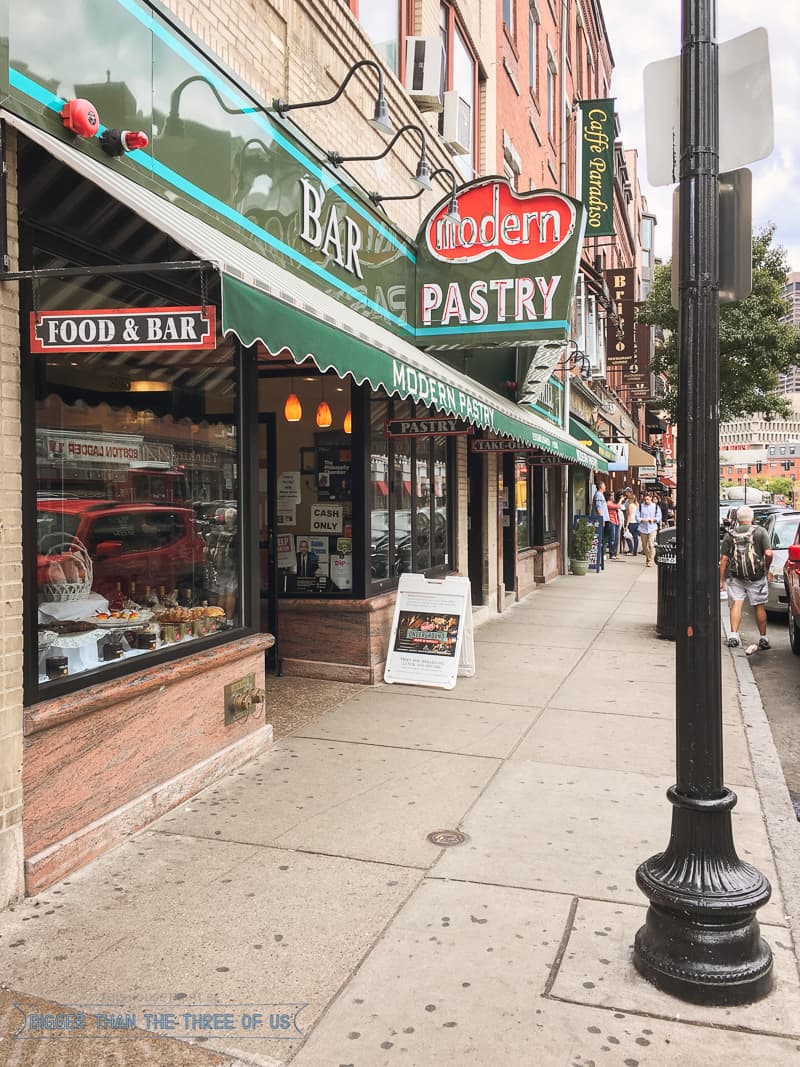 Apparently, you are supposed to try both the ricotta pie and the cannoli at Modern Pastry but we just got the cannoli.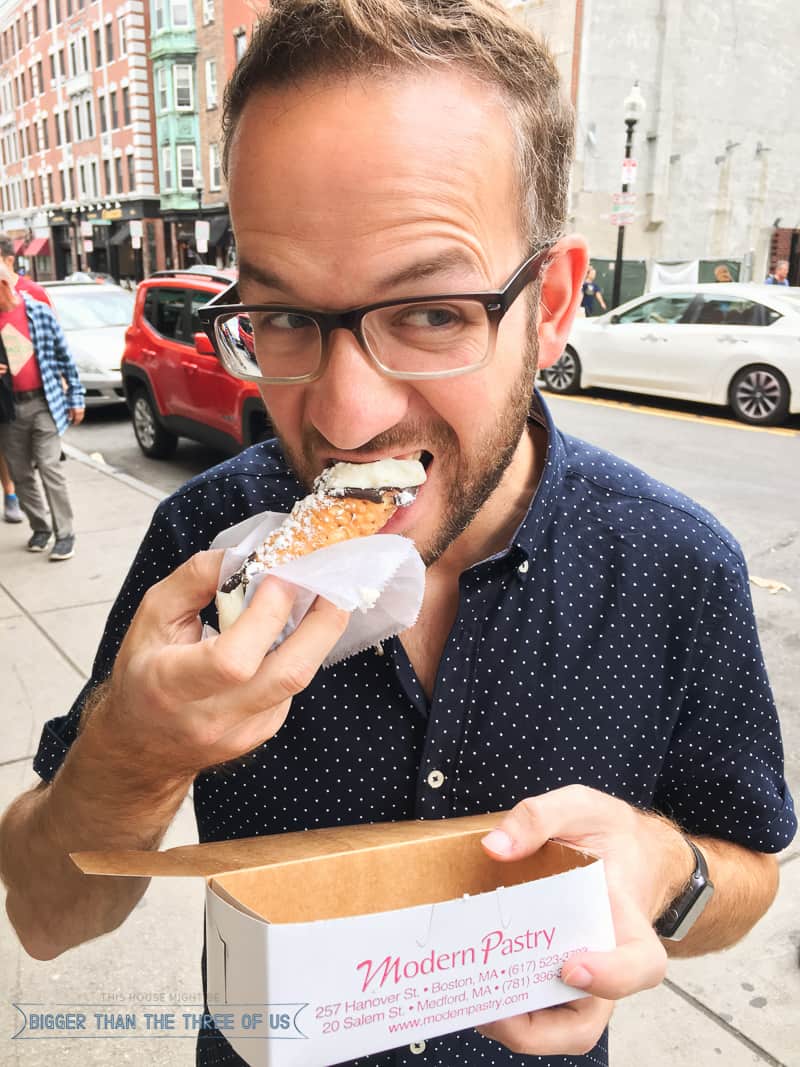 If you want to have a lot of fun with comparing cannolis, then head around the corner and compare Modern Pastry to Mike's Pastry.
We weren't blow away by the cannoli but it was definitely a fun activity to do in Boston.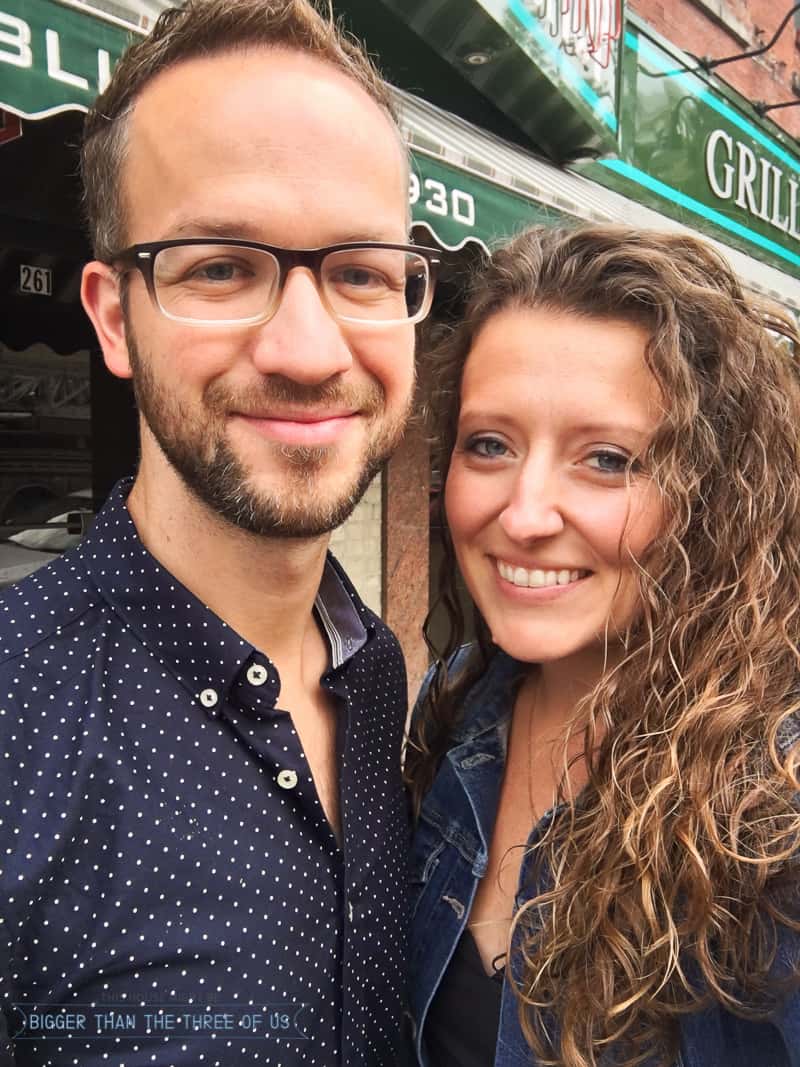 Visit Gillette Stadium
The whole point of going to Boston was to watch the Chiefs play the Patriots. It was such a fun game. GO CHIEFS! If you have a chance to visit the stadium for a game, definitely do it.
If you are visiting Gillette Stadium and are staying in Boston, here's what we found to be helpful.
Take the train, buy your tickets in advance but don't activate your tickets until you are in line at the train station.
Anyways, see a game if you can... it's always fun; especially if you are cheering on the opposite team in full gear and your team slaughters them. =)
Harpoon Brewery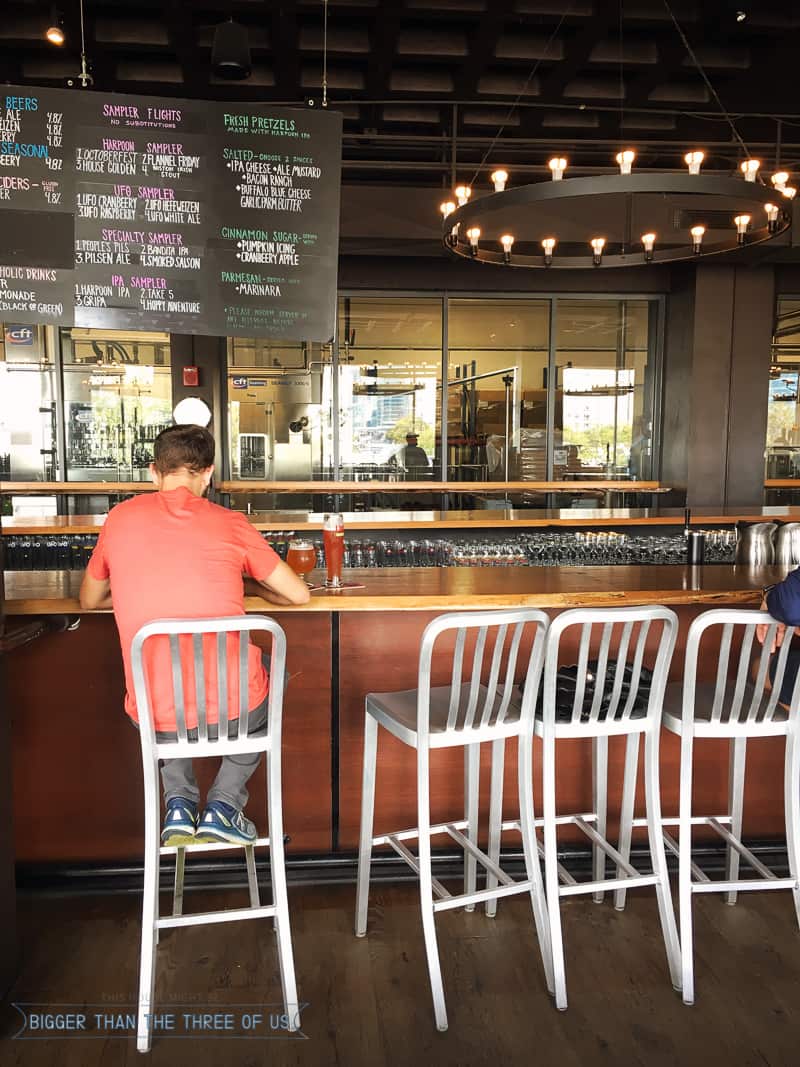 We visited Harpoon Brewery on a Saturday around 11 and there was no one there when we first got there. We did the tour first and the went back out to the brew hall and it was PACKED! It has such a fun vibe. And, do yourself a favor and get the pretzels with the garlic parmesan butter (best thing ever)!
Tips for When you Visit Boston
A lot of Boston can be walked. We used the subway, Lyft and walked through the city. In our opinion, the subway wasn't cheap. In some cases, it was cheaper to use Lyft (and much faster). I'd definitely recommend buying a two day pass for the subway but plan to use Lyft quite a bit, too.
Boston 3 Days Itinerary
Minimize your travel time and combine your neighborhoods like this:
Day 1: Downtown Boston + North End
Day 2: South End + Fenway
Day 3: Beacon Hill + Back Bay
One Day in Boston Itinerary
Explore the Beacon Hill neighborhood and then pick a museum or library to enjoy.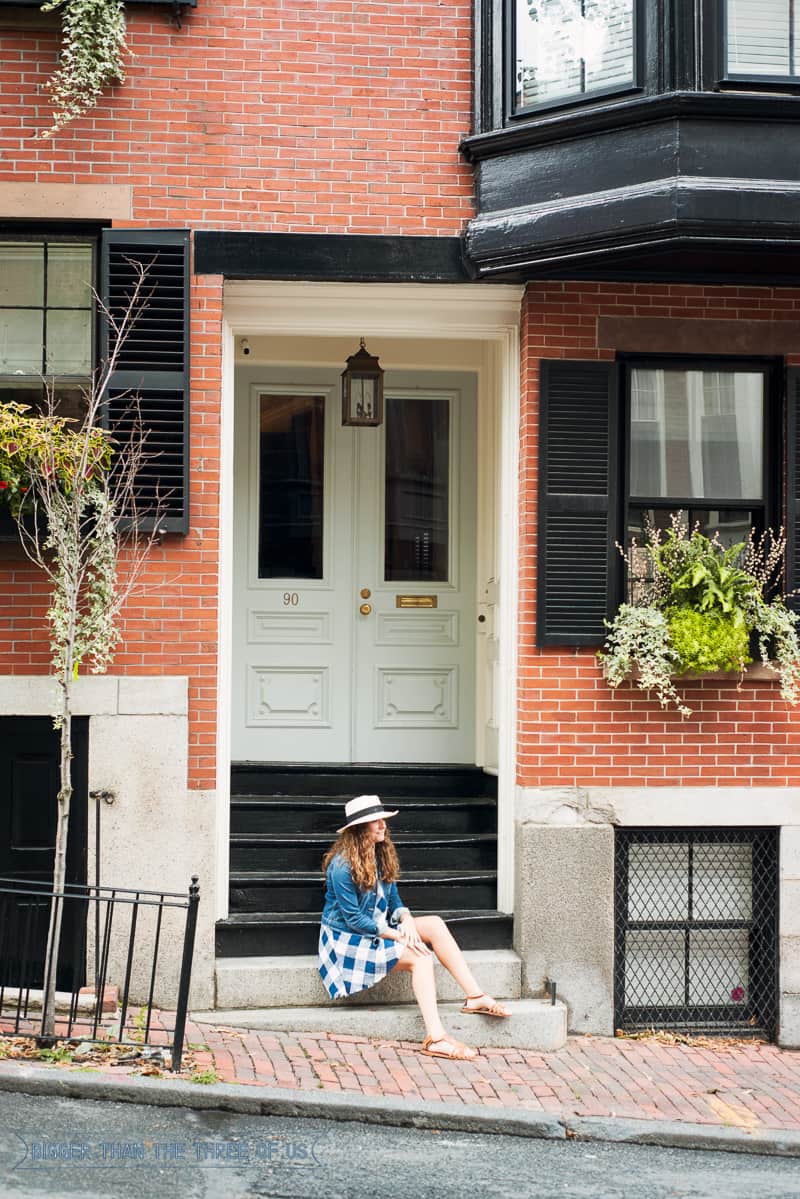 Fun Things to Do in Boston for Adults
What to do in Downtown Boston
Things to do in the North End of Boston
Shake the Tree - Very cute boutique shop (affordable prices on clothing, books and interior decor).
Tenoch - Mexican (we liked the torta and the salsa verde on the enchiladas). Super casual interior/grab and take to a park. Location is between North End and the Waterfront. Could walk from here to Downtown Boston.
Things to do near South End, Boston, MA
The Salty Pig - Nice outdoor area to sit and enjoy a few drinks.
Toro Restaurant - Tapas (plus they had Tinto de Verrano which I fell in love with while we were in Spain). Good food, good drinks, cute place... go!
Things to do near Back Bay Boston, MA
Newbury Street - shopping
Gre.Co - Greek place on Newbury. Casual vibe (+ to go food) perfect for grabbing food while shopping.
Mike & Patty's - Breakfast sandwiches in a super small place but go and get "The Tasty."
Things to do in Beacon Hill Area in Boston
Things to do Near Fenway in Boston, MA
Things to do around Washington Square in Boston, MA
What to do in the Seaport area in Boston
Outside of Boston
JFK Museum
Gillette Stadium
Where to stay in Boston, Massachusetts?
We stayed at The Verb and it was a pretty good location for everything (even running). Overall, we didn't love the hotel but there wasn't anything wrong with it either. It's a boutique hotel that's decorated in rock-n-roll so, if that's your thing... you should totally bookmark it. That's not my thing, so for me, it was just ok.
But, right down the street from the hotel, there was a cute coffee shop that we got coffee at every morning (or should I say, Luke got us coffee there every morning but the one time I walked with him). =)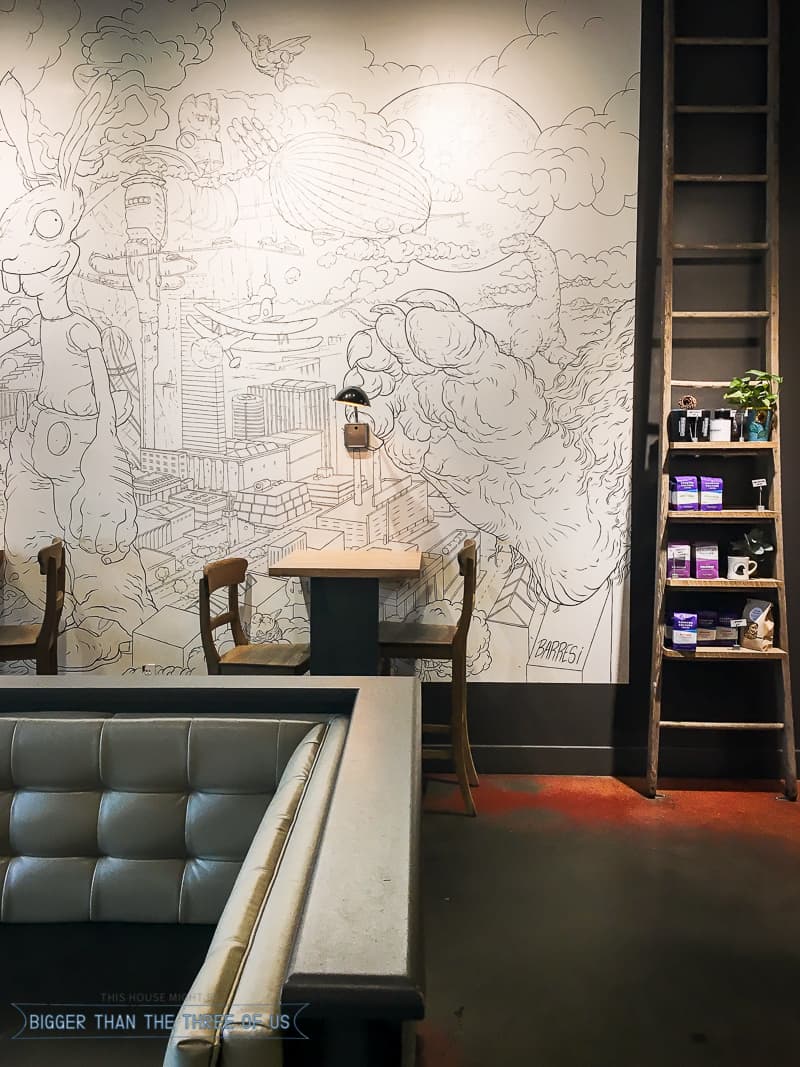 I'm already looking forward to our next getaway! Tell me, what should we add to our itinerary for next time we head to Boston, MA?