If you are looking for fun hiking in Moab, definitely check out the Mill Creek Trail. Learn more about the North Fork of Mill Creek and how to get to Mill Creek falls.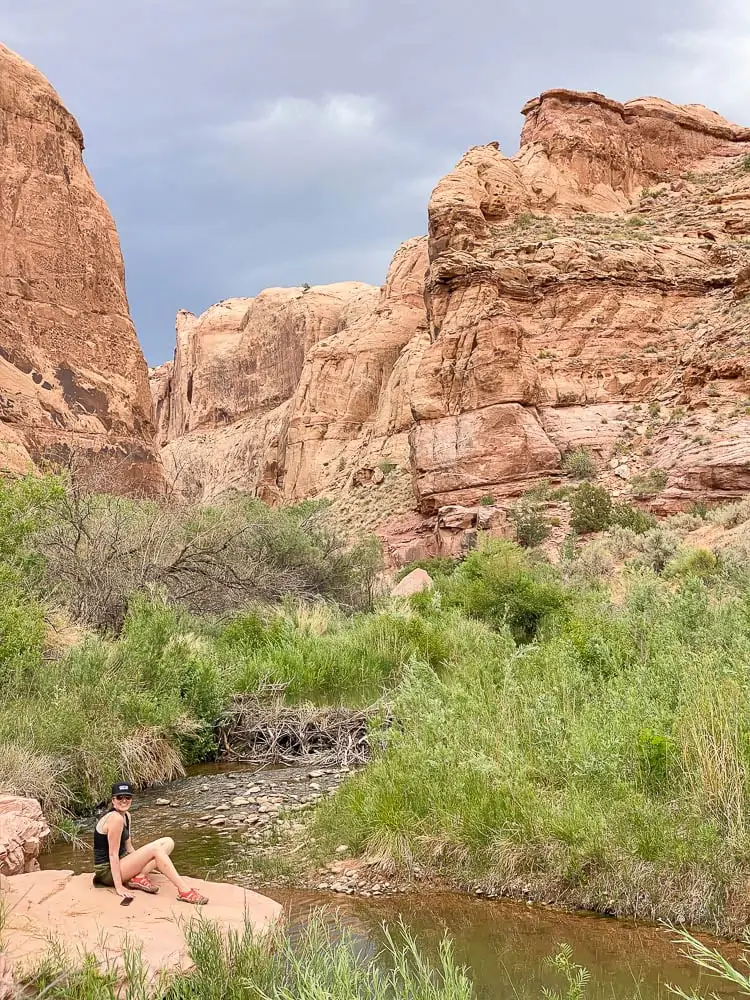 Hiking in Moab
We loved the Mill Creek Canyon hike and swimming in and around the North Fork Falls.
With temperatures close to 100 degrees in the last week of May in Moab, Utah, I knew that I wanted to focus our vacation on being around and in water. One of the best hikes in Moab for playing in water and having an easy trail to hike is the Mill Creek Trail.
As I share more and more of our two weeks in Utah, you should know that I prioritized finding all the swimming holes in Utah. We are definitely in our happy place when we are around water, so this Moab swimming hole was just perfect for us.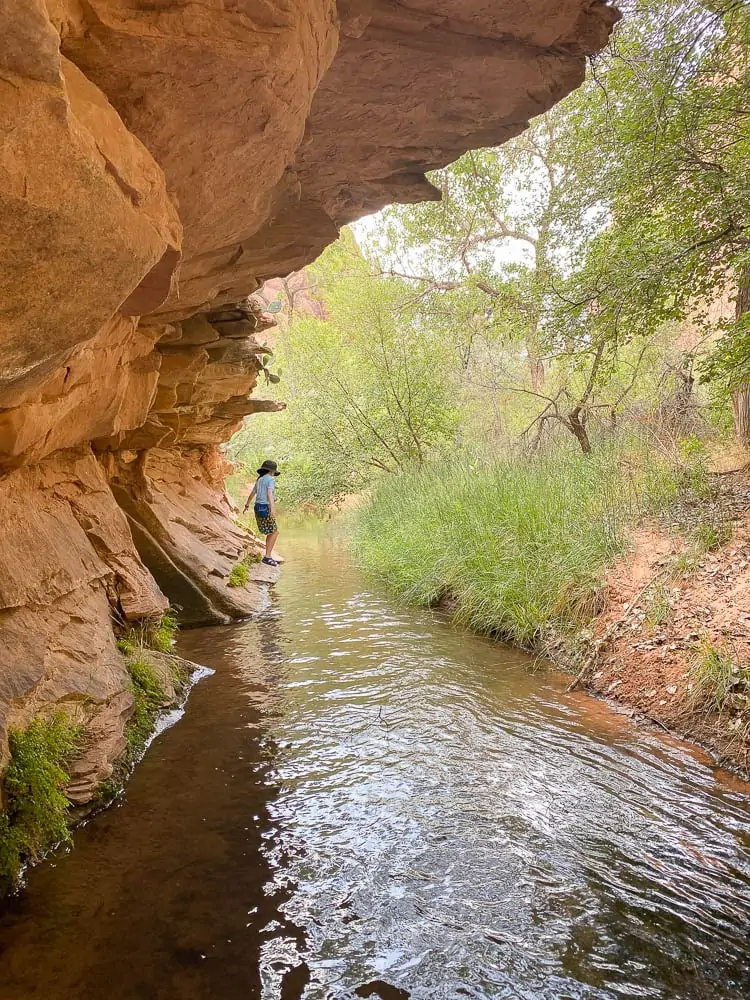 Getting to Mill Creek Trail
The north fork trail (interchangeably used with Mill Creek Canyon Trail) is close to downtown Moab; under two miles away.
All Trails has the North Fork Falls trail listed as moderate but I'd say it was closer to an easy trail. The trail winds through a canyon and has multiple swimming spots to stop at.
Mill Creek Waterfall
After about thirty minutes of walking (more of walking and less of a up/down hike), you end up at a waterfall that has a decent-sized pool at the bottom.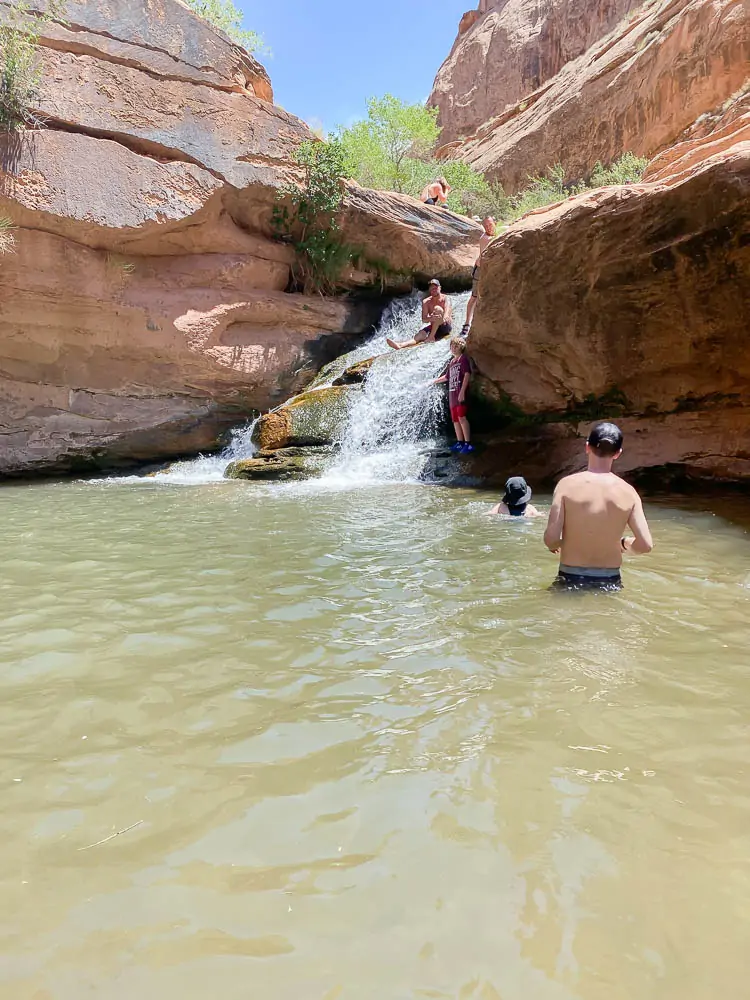 We happened to go to Mill Creek on Memorial Day and it was busy! Not so busy that we couldn't have fun, but definitely too busy to just hangout in the falls. I'd recommend trying to get to the Millcreek waterfall early in the morning or later in the day to have it more to yourself!
Hiking past the Waterfall
If you decide to hike around and up the Mill Creek waterfall (we found the trail to do this on the left side of the waterfall a ways back), then the trail gets harder until you are on top of the waterfall. I'll mention here that you can/will go further than two miles if you go up and over the waterfall.
I will also say that this section definitely requires more of a hike and I would say that it's best suited for "moderate" hikers.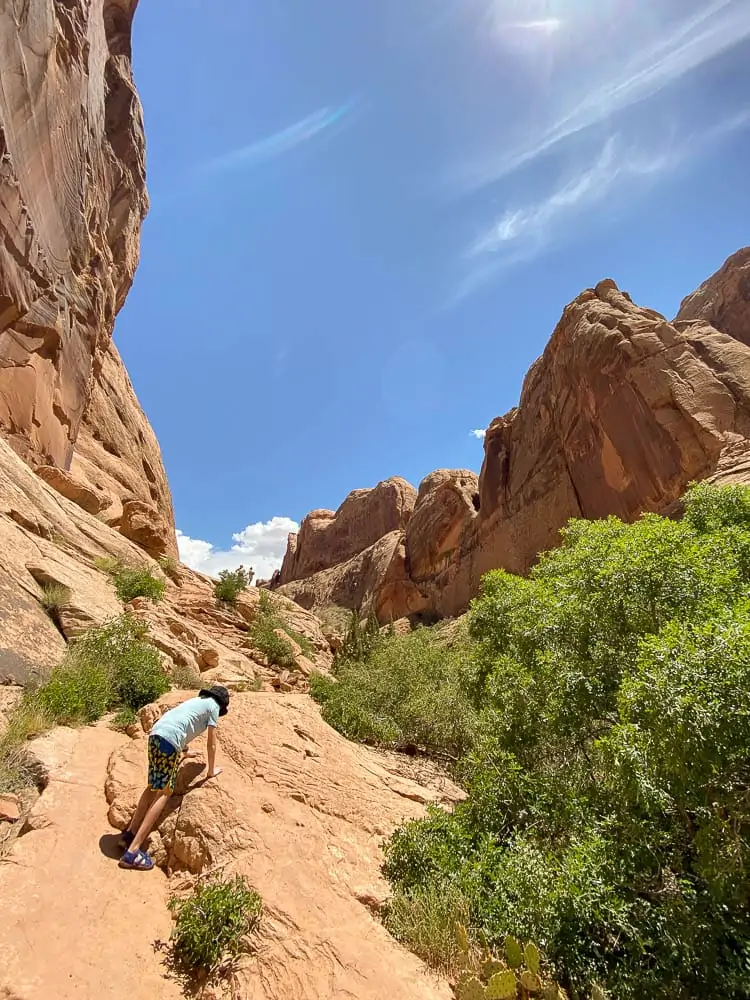 On top of the waterfall you overlook the Mill Creek pool, below you, but there are smaller pools to hang around in right around you. They aren't deep enough to swim, but definitely great to sit in and slide on.
Hiking to caves in Moab
A local told us that you could follow the Mill Creek Trail further up to see large caves and another waterfall. After playing for awhile, we decided to explore further. We hiked another hour on the trail and did come across another good size creek crossing that you could play in and a large cave. This part of the trail gets really pretty because you can hike in the water and it follows the Mill Creek Canyon.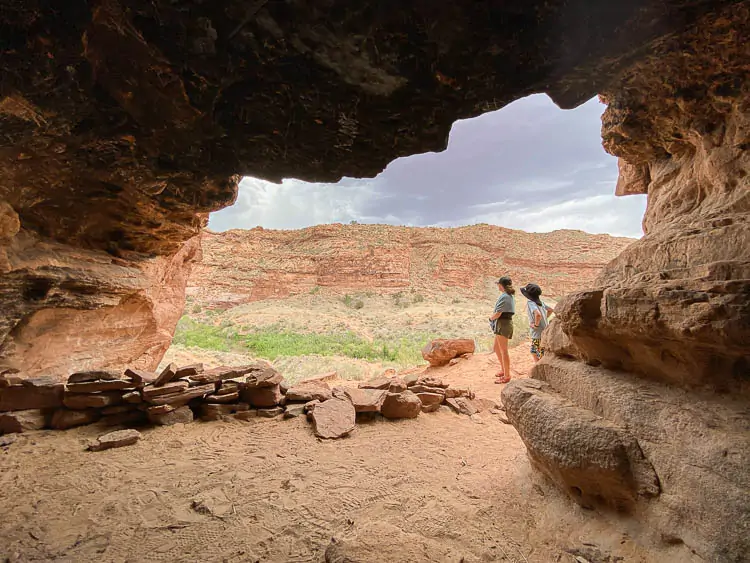 We never made it to the second large swimming hole though because, at the cave, we decided to turn back. To get to the cave section, the trail is less marked, for sure, and to go past it and have confidence on where you are going definitely download the All Trails map before you get out there.
I would have loved to explore further, but we ran out of time and still had an hour and a half hike back to the car from the cave.
All in, we spent about six hours at the Mill Creek Trail. We swam in multiple spots, explored the canyon and even found a spot on the way back to explore a smaller cave and do a little boulder jumping. If you are looking for a Moab swimming hole, then this is definitely one I'd recommend.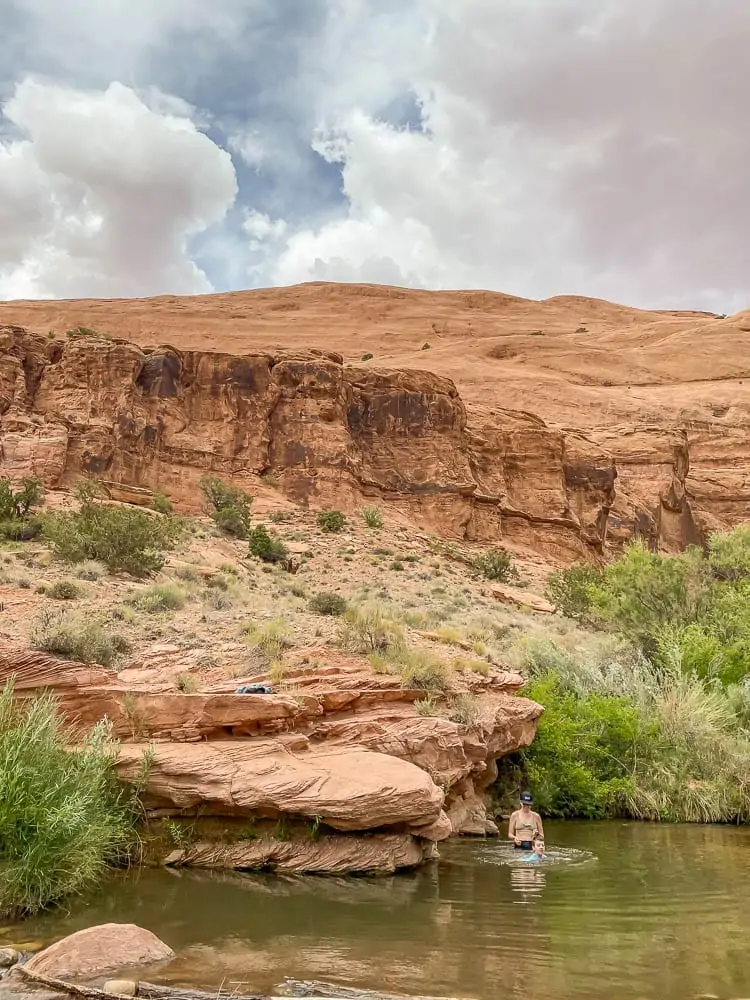 In full disclosure, like I mentioned, it was busy on Memorial Day. I gather that it's more of a local-type place and even on Memorial Day, you could find places to hang without people. But, if I were you, I'd try to hit North Fork on Mill Creek Trail on a weekday. You might get lucky and have one of the bottom pools completely by yourself.
All in all, I'd recommend adding Mill Creek falls to your list for Moab hikes. You could easily do the first mile of the hike with younger kids. We wore Keen shoes, and hiked in with a water bladder backpack but we did see people carrying small coolers, too. It's definitely a place where you could find amazing spots closer to the parking lot or further away, depending on how much you wanted to hike in.
Interested in going to Arches National Park while you are in Moab, Utah? I wrote what we thought about Arches and what hikes we'd recommend. Check out the blog post all about Arches to get prepared for your Moab trip.
Pin For Later: