Planning to go to the Utah arches? I'm sharing about the best hikes in Arches National Park, plus other Moab, Utah hikes to do!
We spent three days in Moab, Utah and part of that time, we had planned to explore Arches National Park hikes. We had heard about the Delicate Arch hike and knew that we wanted to prioritize that one, plus a few others.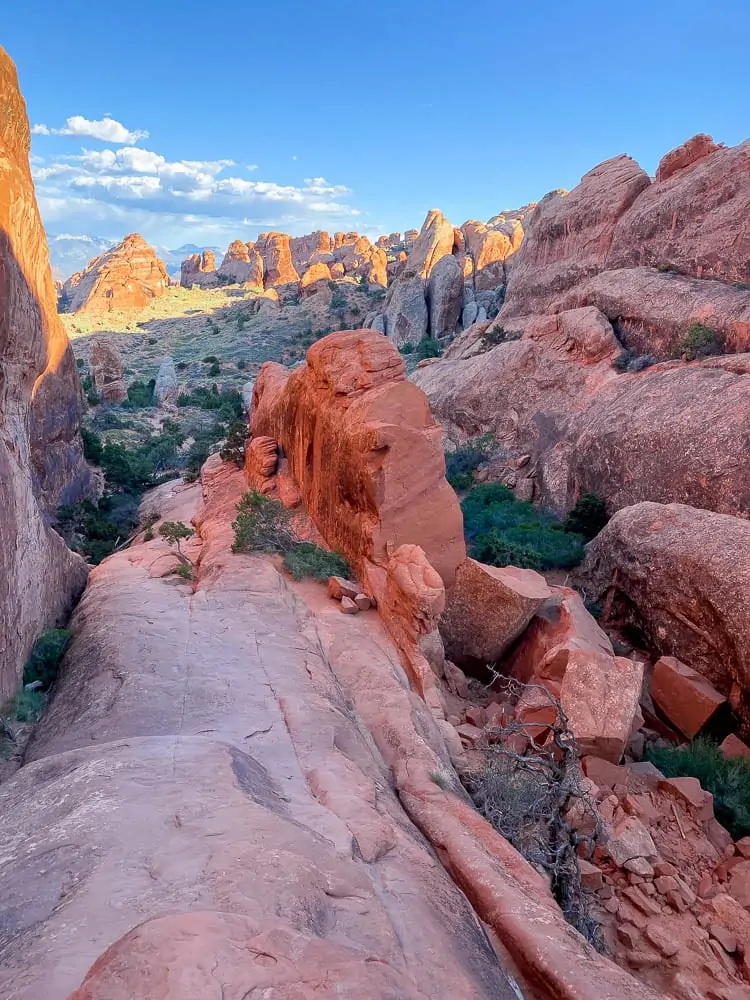 When you are visiting the Arches park, you will enter through the Arches National Park gate. Just FYI, they close the park gate if it gets too full. We tried to get in to the park at 8:45am and it was already full. People tend to go EARLY. A lot of the crowd clears out after lunch though, but that's the hottest part of the day (we were traveling to Moab Arches National Park in late May).
We found it worked perfectly for us to explore other Moab sites (such as the Mill Creek Trail) during the day, then go back to our Airbnb for a few hours and then hit Arches National Park around 5pm. Around that time, way more people are leaving the park and it's starting to get cooler.
Ok, so because we couldn't get in during the morning on the first day we tried to, we planned on two early evening nights to do some of the Arches National Park hikes. We chose to hike to Landscape Arch and Double O Arch, hike to Delicate Arch at sunset, and do the Arches Scenic drive. This was a full itinerary for two longer evenings but doable for sure.
Things to Do In Arches National Park
Drive the Arches Scenic Drive. Allocate 2-3 hours to drive the park road from front to back. This is a down and back road and we'd recommend doing this two hours before sunset.
Hike to Landscape Arch and Double O Arch (will go in depth on this below)
You can add the Scenic Drive on to hiking to Landscape Arch and Double O Arch because both of those hikes are at the back of the park.
Arches Park is a Dark Sky rated park. Star gaze after your drive throughout the park. It's beautiful.
Hike to Delicate Arch at Sunset
Of course, there are a bunch of other great things to do... consult your Arches National Park map for more ideas. I just wanted to list the things that we did and enjoyed.
Let's talk about our first evening in Arches, Moab.
Scenic Drive in Moab National Park
We did the scenic drive in Arches National Park on the way to hike Landscape Arch. The scenic drive is about twenty miles but takes about forty minutes (if you don't stop). It's beautiful. You could pull over at lots of different pull-offs to take photos if you wanted, so plan accordingly.
Hiking to Landscape Arch and Double O Arch in Arches
We gave ourselves four hours to do the hike to Landscape Arch and Double O Arch. That was plenty of time, but we didn't want to feel rushed. Because we did the hike right around dinner time, there weren't a ton of people.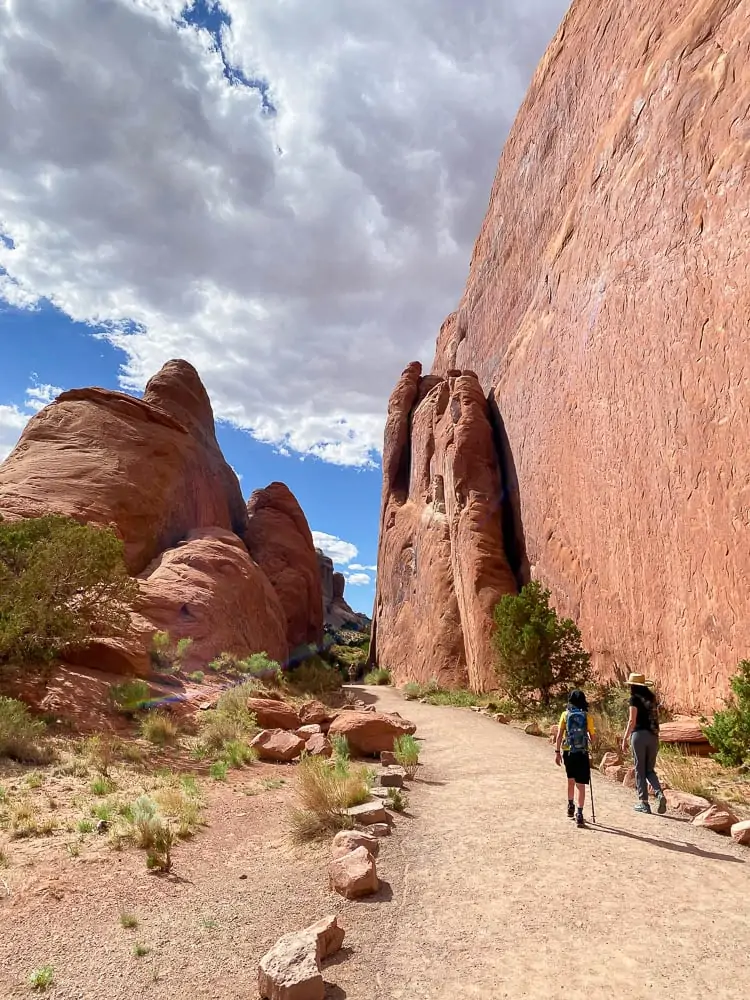 The first mile and a half of the hike to Landscape Arch is more of a walking stroll (shown above). You start the trail at Devils Garden trailhead and it takes about forty minutes to get to landscape arch. The whole surface of the trail, until you get to Landscape Arch, is a manicured, packed surface. Most people go to Landscape Arch and turn back after seeing it.
Hiking past Landscape Arch to Double O Arch, there were a maximum of ten people that we passed.
If you choose to continue on past Landscape Arch to Double O Arch, this is where the trail gets harder. You almost immediately have to climb up big fins (a huge formation of rock shown above). The first one looks scarier than it actually is, but it's high and definitely could be very treacherous.
After that huge fin, you follow cairns on the trail. The trail wasn't overly well-marked but you could spot cairns along the way. We lost the trail for a tiny bit here and there, but could easily find the next cairn. There are at least two more large fins to hike up and over and one has a massive drop-off (one shown below).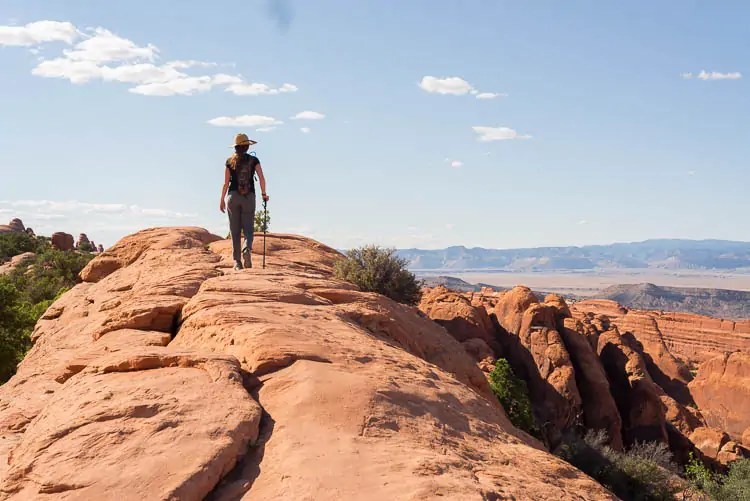 *Personally, I wouldn't take a child younger than ten on this part of the hike. We were very cautious and my eleven year old could do it fine, but I was still pretty nervous.
The round-trip hike to Double O Arch in Arches is just over 4.2 miles. I would say that it's more of a technical hike than it is strenuous.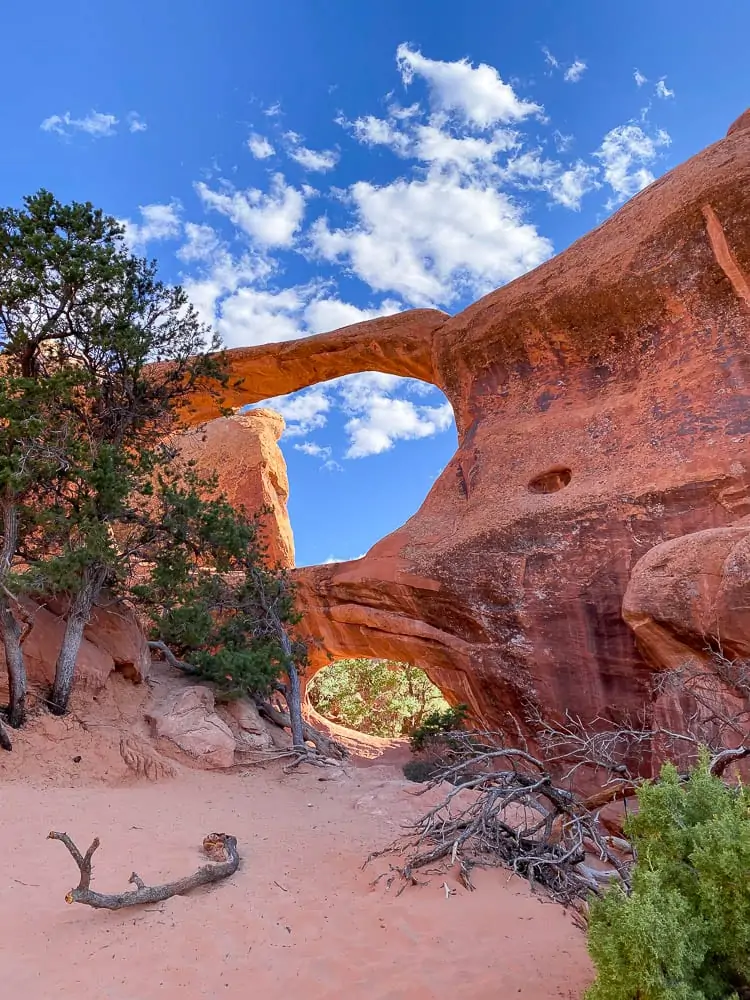 For the Double O Arch Hike in Arches, you'll want hiking shoes, a water bladder and we found hiking poles to be useful.
The Double O Arch hike was beautiful and I would definitely recommend it! I'm glad we did it. Just know that you'll have to haul your body weight up and over a few boulders and be able to deal with big drop-offs. Go slow and be safe, and enjoy!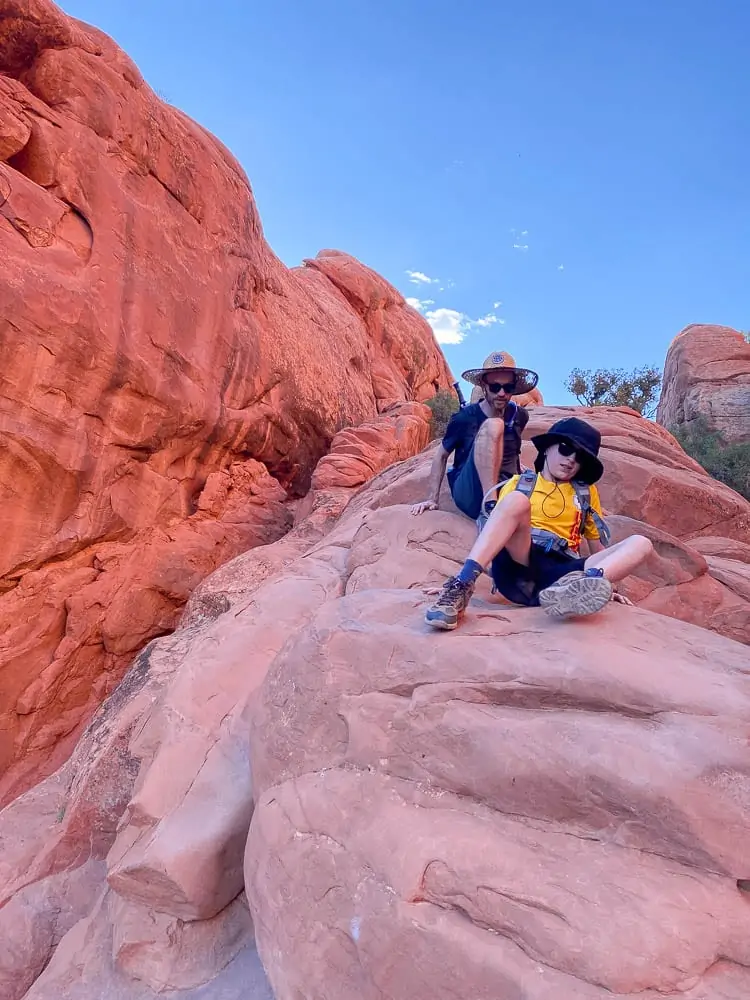 The second night, we planned to go to Delicate Arch at sunset.
Delicate Arch at Sunset
The hike to Delicate Arch is just over 3 miles. After the first half mile or so, you are going to be hiking straight up for about a mile. That part is pretty strenuous. We saw a lot of people taking breaks on this stretch of the hike. It's definitely a larger area that you can hike, so even though it was busy (this hike is really popular), you could spread out a bit.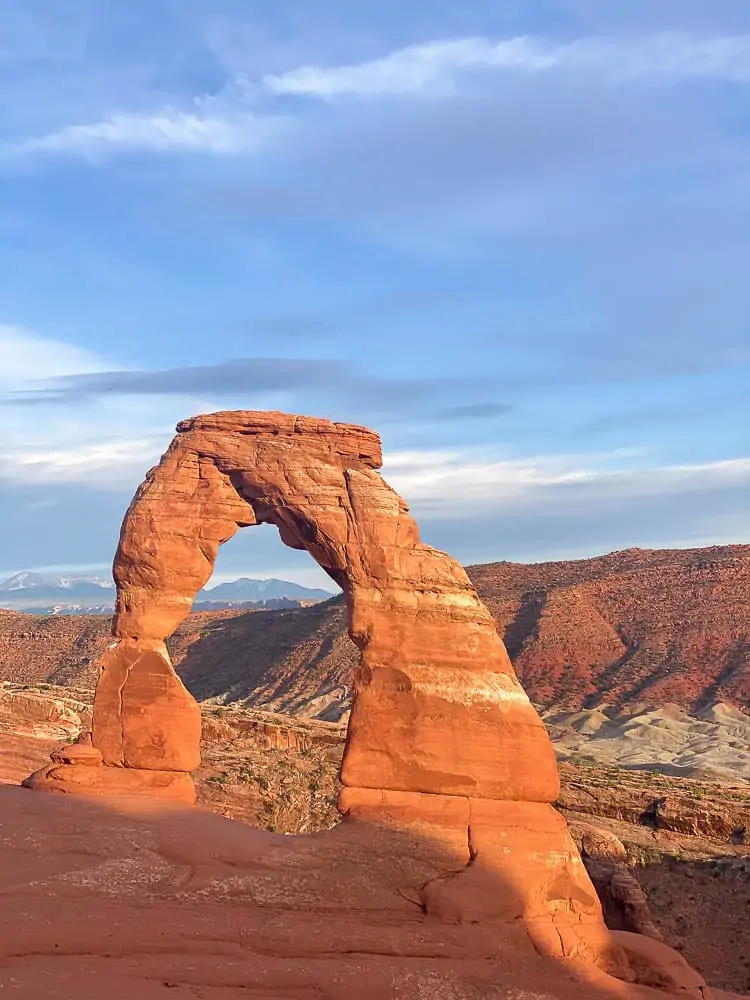 We started the hike around 6pm in late May and knew we needed to be safe and go at a decent pace so we could fit it all in before sunset.
Around the three mile mark, the trail gets small and there's definitely a ledge so hold on to your littles. Overall, I think this could definitely be a hike that you could do with smaller kids. If you are planning to take your kids on this one, check out this post about hiking Delicate Arch with Kids.
The whole hike on this trail is interesting and Delicate Arch at sunset is truly magnificent. That being said, this was by far the busiest hike we did and there were lots of people. I would definitely expect that if I were you.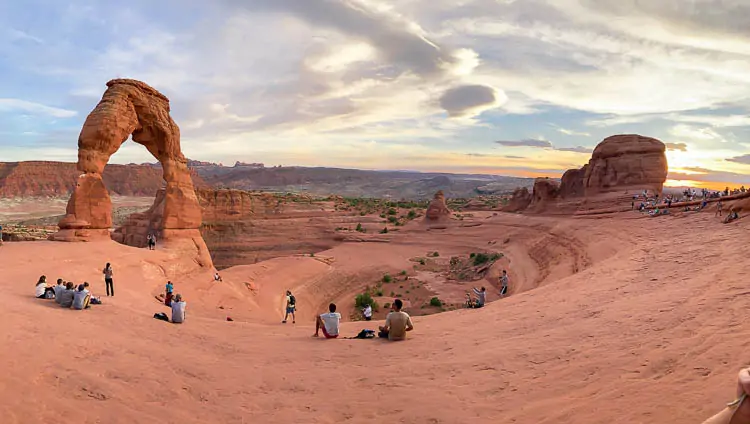 Based off what we did when we were visiting Arches National Park, I thought it would be helpful to highlight a few things for you.
Arches National Park Utah Recommendations
Get to the park early evening and plan on doing one hike each evening.
Watch the Arches National Park Twitter page for gate closings.
A water bladder, hiking shoes and poles are definitely recommended.
I would recommend a camera flashlight (at a minimum) if you are hiking close to sunset and beyond.
If you just plan on doing the overlooks and not hiking to Double O Arch, then you could get by with tennis shoes. We invested in hiking shoes for our trip and loved having them for extra stability and comfort. But, if you weren't going to go past the well-defined paths, then I think you'd be fine with tennis shoes and a water bottle (instead of the water bladder).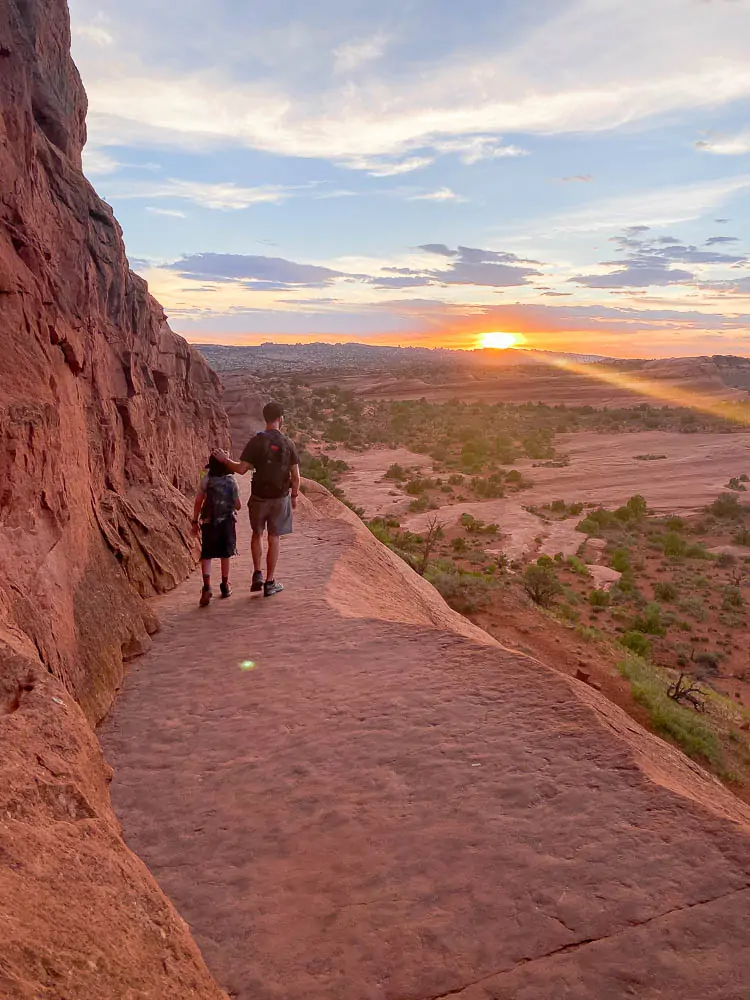 Would love to hear your experience on any of the Arches National Park hikes! This was our favorite national park in Utah, so if you've been considering it... definitely go.
Check out more of our Moab, Utah things to do: