Sharing things to do in Santorini including cliff jumping at Amoudi Bay, scuba diving, wine tours, horseback riding, and more!
I've been working through sharing the 3 weeks we spent in Greece. Check out my Greece travel tips and itinerary as well as our favorite spot: Milos, Greece. This post, sharing about our stay in Oia Santorini, will be the last Greece post that I'll be sharing.
This greek island is unique because it's all suspended way up on cliffs (known as the Santorini caldera) because it was formed by a volcano. I actually didn't know much about this until we got there. Once we got there and saw it, I realized why there's not a bunch of Santorini beaches. There's not much of the land that is close to the water level. It's just quite interesting. Anyways, I thought I'd share what we did, driving in Santorini, etc.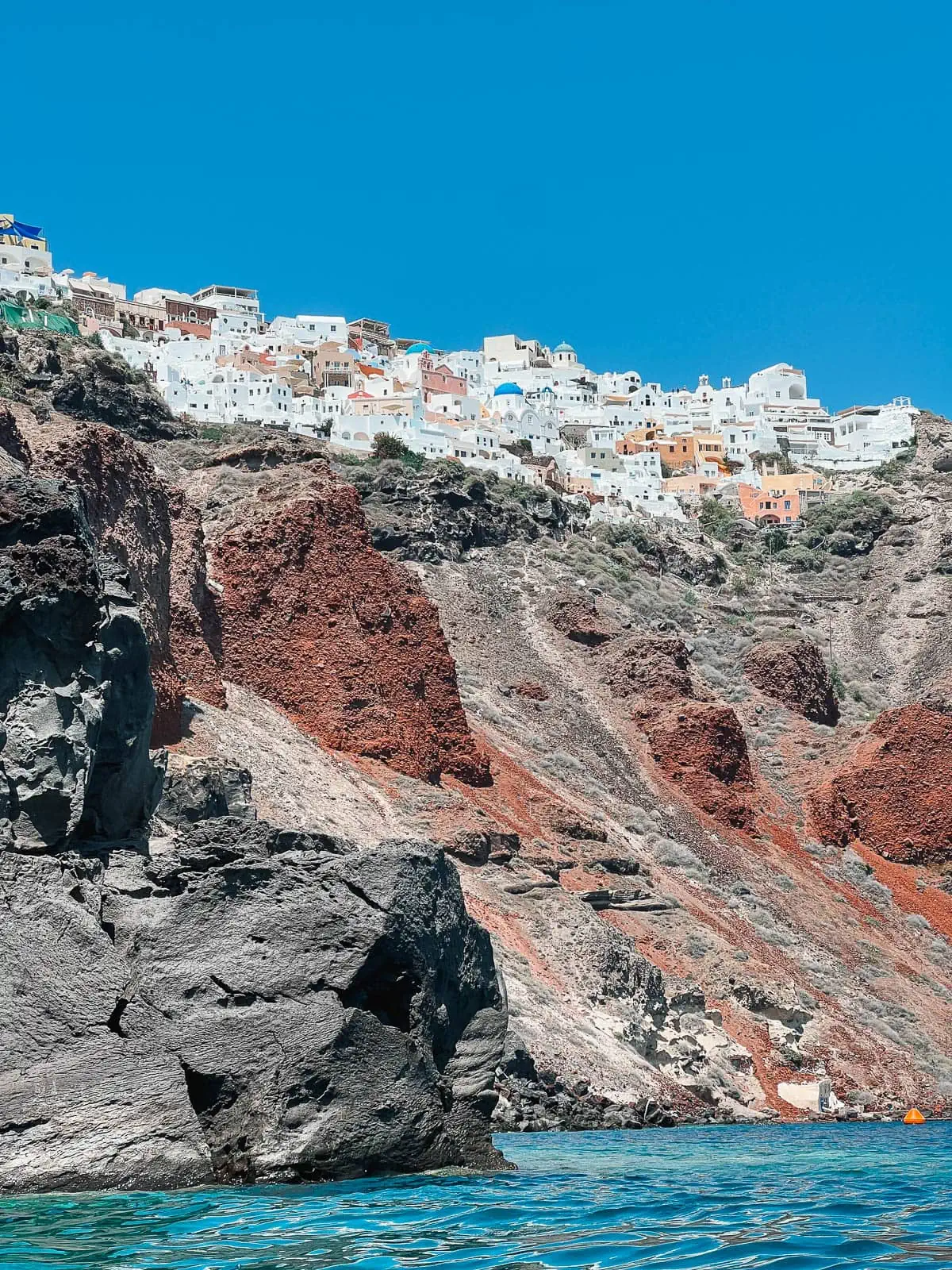 Getting to Oia Santorini
You can fly into Santorini but we took the ferry. I went into detail about our island hopping itinerary in my Greece itinerary post, but we took a ferry from Milos to Santorini.
The port that the ferry arrives at in Santorini is packed and, because you enter at the bottom of the caldera, if two ferry boats come at once (which is what happened when we were there), it's a mad house at the port as well as trying to get away from it.
I'd recommend arranging transport with hotel or lodging to get to and from the ferry. We drove on all the islands we visited but the Santorini port was, by far, the most nerve-racking area to experience with lots of traffic. We were glad we had pre-arranged transport.
Staying in Oia Santorini
We stayed in an airbnb with amazing views in Oia. Getting to the airbnb required help from a porter, which the owner facilitated. It's not a bad walk from where you have to park but it would be hard to find without guidance and without luggage help. The airbnb had the most stunning views but it was in a VERY popular little alleyway (down a private walk so you still felt private), but you had to manage to get through the lines of tourists that wanted to take selfies with the airbnb's view. It wasn't a dealbreaker but also, Oia is really touristy.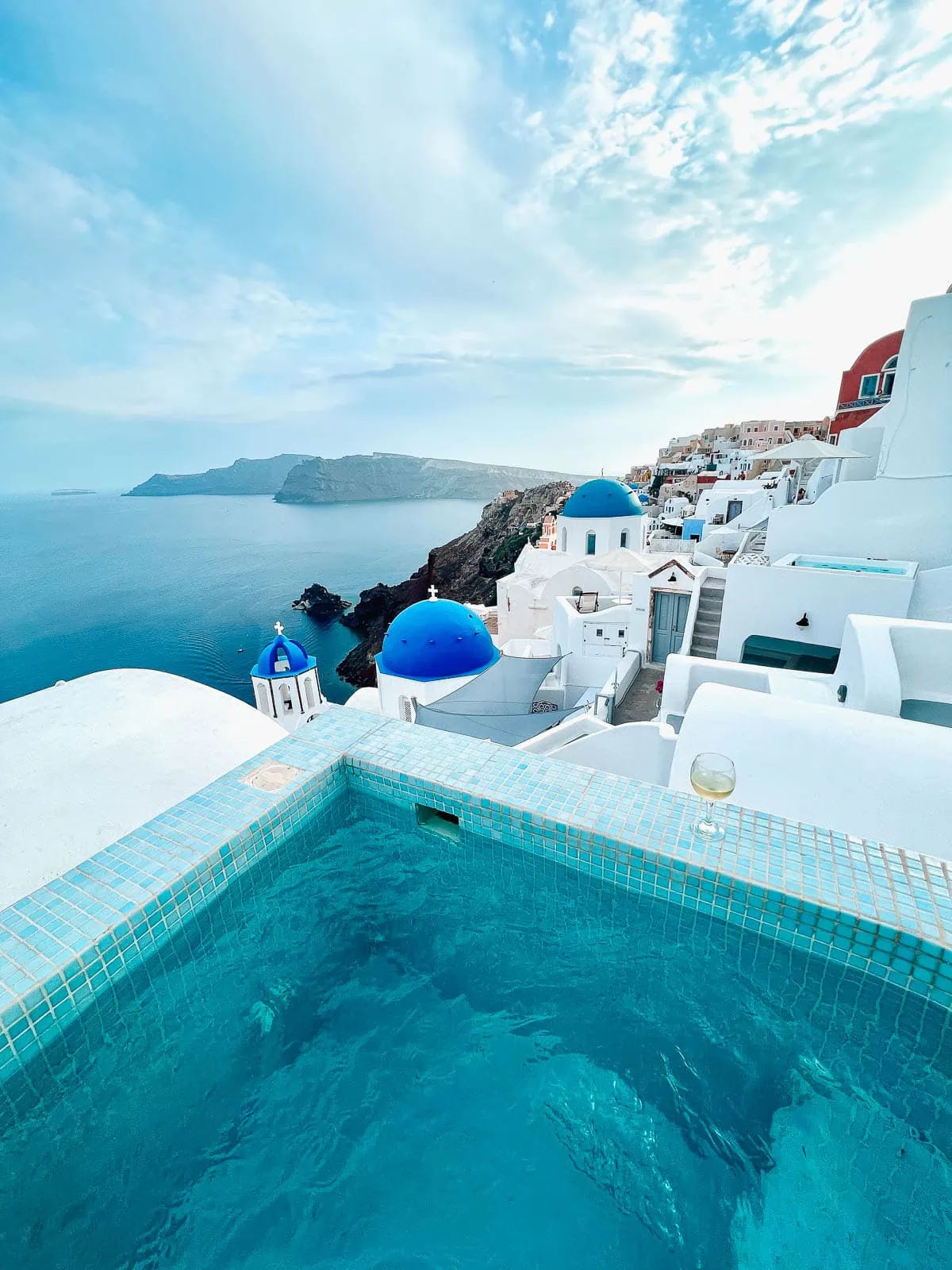 I liked our place (and would recommend it). The pool and outside areas were really nice with great views and the inside was bright and spacious for how it was built. But, for us, I think I would have preferred to stay without the view in a smaller town (we loved the Megalochori area).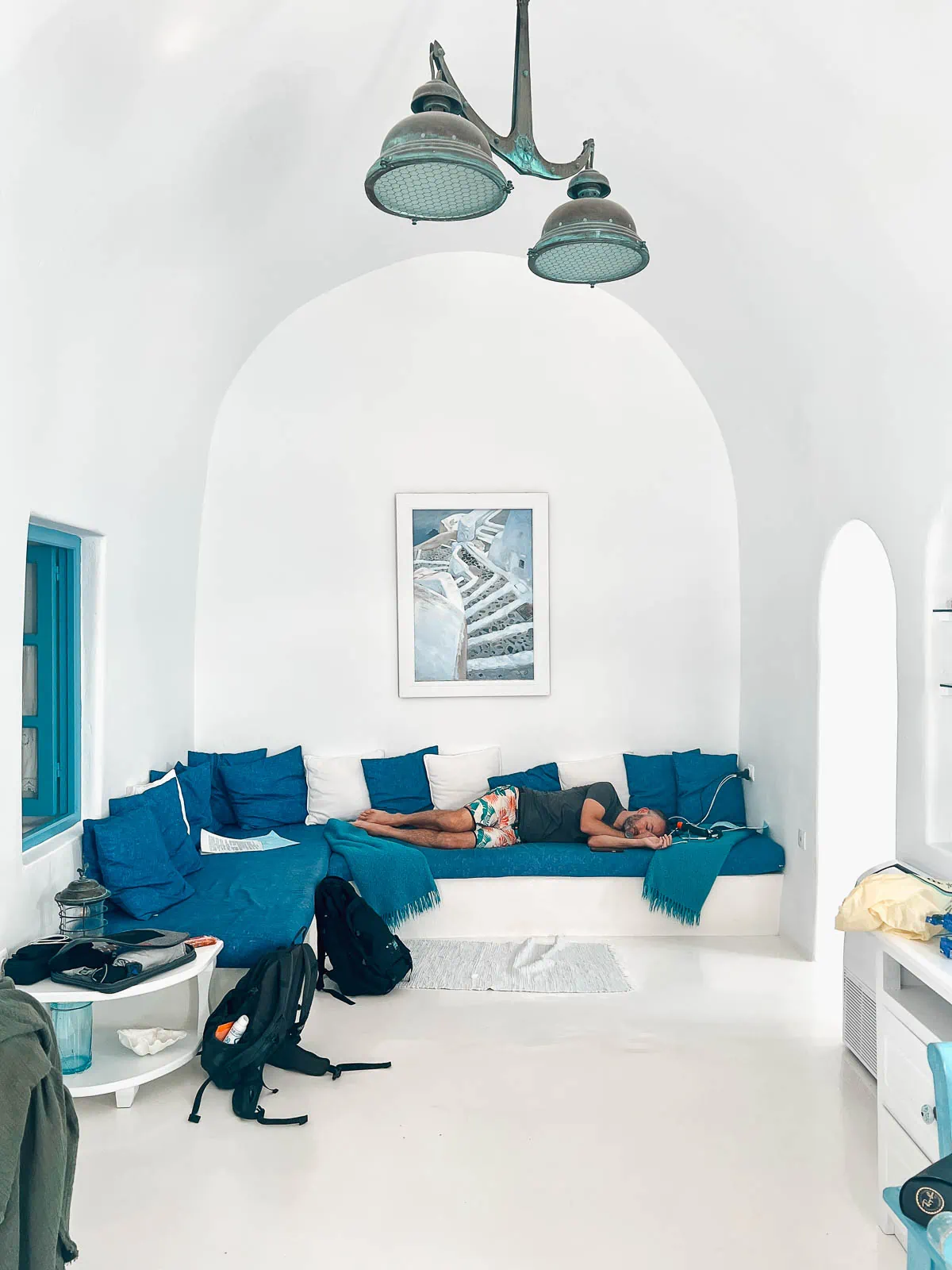 Driving in Santorini
We rented a car by the day at a place that was about 4 minutes walk from where we stayed when we needed it. The day charge was about $50 euros. Driving near Oia anytime from 4-9pm (basically, when people are coming for the sunset view and dinner) was the busiest and hardest to find parking.
Other than those times, driving in Santorini was just like driving on the other islands... kinda stressful but manageable. To do some of the excursions that we did, you'll definitely need a car, but we did hear that Santorini has a pretty good bus system, too.
Things To Do In Santorini
When looking for things to do in Santorini, there's always shopping and wineries to explore. Don't discount more unique activities like scuba diving or olive oil tasting, too!
Try scuba diving for the first time
We've been curious about scuba diving but have never seen it offered as a beginner experience so wanted to try it. All of us have snorkeled before but scuba diving is a bit more intense than that for sure. We felt completely safe and would recommend trying scuba diving in Santorini if you've been curious to see if you'd like to get certified. Luke and Greyson both want to go get certified now and I thought it was neat but I don't need to do it again =)
Take a horseback tour along the caldera
We booked the two hour Santorini caldera horseback riding tour. My favorite part of the ride was the first thirty minutes as we walked the houses through Meglaochori village. The caldera views were really lovely as well but cobble stone streets will always have my heart.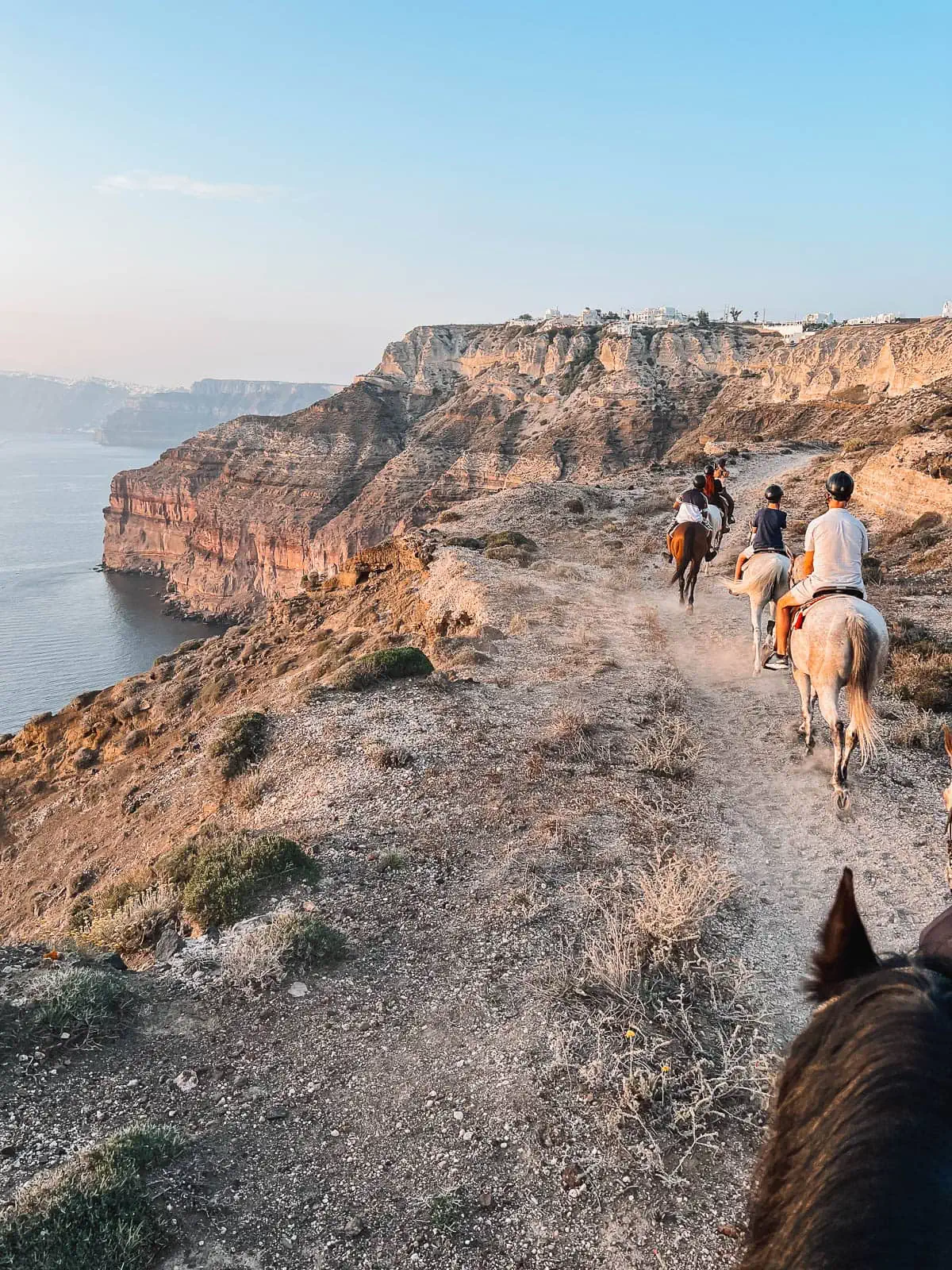 We felt safe while riding the horses and felt like this was a good tour to experience more of Santorini.
Walk around and explore Oia
Oia is filled with restaurants and cobblestoned alleys and shops. The main street is pretty busy but there are small offshoots here and there that are fun to wander down and explore.
Olive oil and honey tasting
Luke is a foodie and always likes to learn more about food when we travel. I knew he'd enjoy learning more about olive oil and honey. The olive oil tasting we did was in a lovely space and we all learned a lot. The host was great and, although it was probably a bit too long of a tour for our thirteen year old, we liked it and felt like it was a great value.
Cliff jumping at Amoudi Bay
Walking down to Amoudi Bay (and back up) requires stamina. =) There's a lot of steps to get down, but it's worth it. Around the bay are a few restaurants and you have to literally walk through their seating on the patios to get to the trail that leads around the cliff.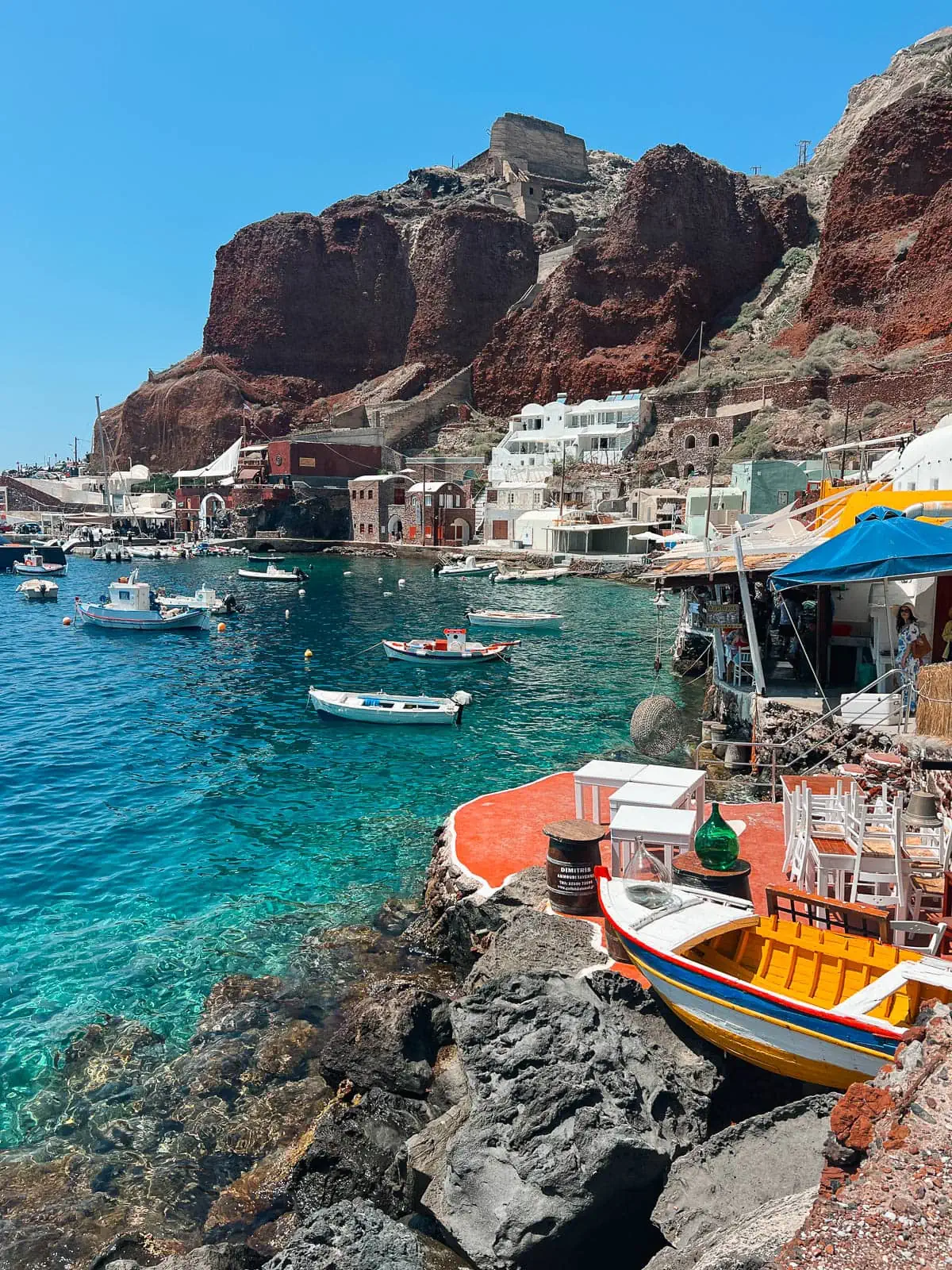 Once you go around the cliffside, it's about a ten minute walk to the cliff jumping and swimming spot. It's really beautiful and I would recommend going here (even just to swim) and escape the busyness of Santorini. The views from the water up to to Oia were so good, too! Definitely don't miss out on exploring here if you love to swim and be adventurous.
Meglaochori Village
We randomly found this village as we were looking for a coffee shop to kill a bit of time in. What a gem of a place. It's small, but there's a few shops, restaurants and just a quaintness to it that I felt was lacking in other places in Santorini. Honestly, walking around here was a highlight of the island for me.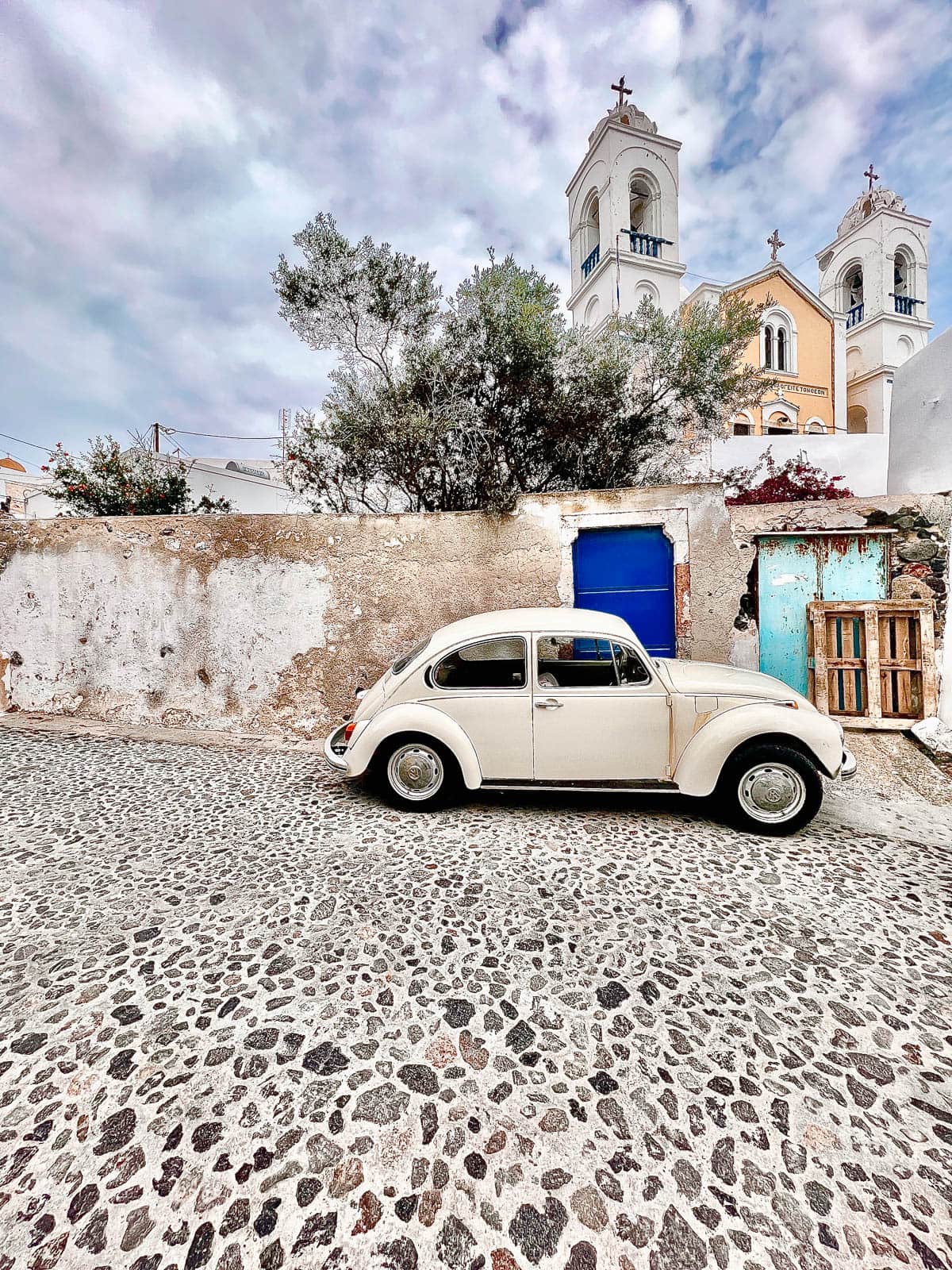 Santo Wines
While killing time one day, we stopped in at Santo Wines. We weren't dressed up and didn't have a reservation, but got a lovely table on the patio with a great view. The wine tasting was pretty affordable with a small snack board. There were lots of signs all over for wineries, but the only one we went to was Santo Wines. It was nice!
Walk around and explore Fira
Fira is a hopping town with more restaurants, shopping and sights. We went there for a few hours and walked around without an agenda.
A few things that I had on my possible to-do list, but we didn't actually do, were:
Make sure to check out my 3 Week Greece Itinerary trip with lots of tips for how to get to the islands, what to do, and more!