Need tips for planning a Greece itinerary? I'm sharing our three-week-long Greece itinerary plus general Greek island travel tips that you should know.
I shared quite a bit of our Greece trip over on Instagram as we were traveling and got so many questions from how to plan, to what to expect, what we thought and what we would do differently. I wanted to round up those questions and give tips in today's post.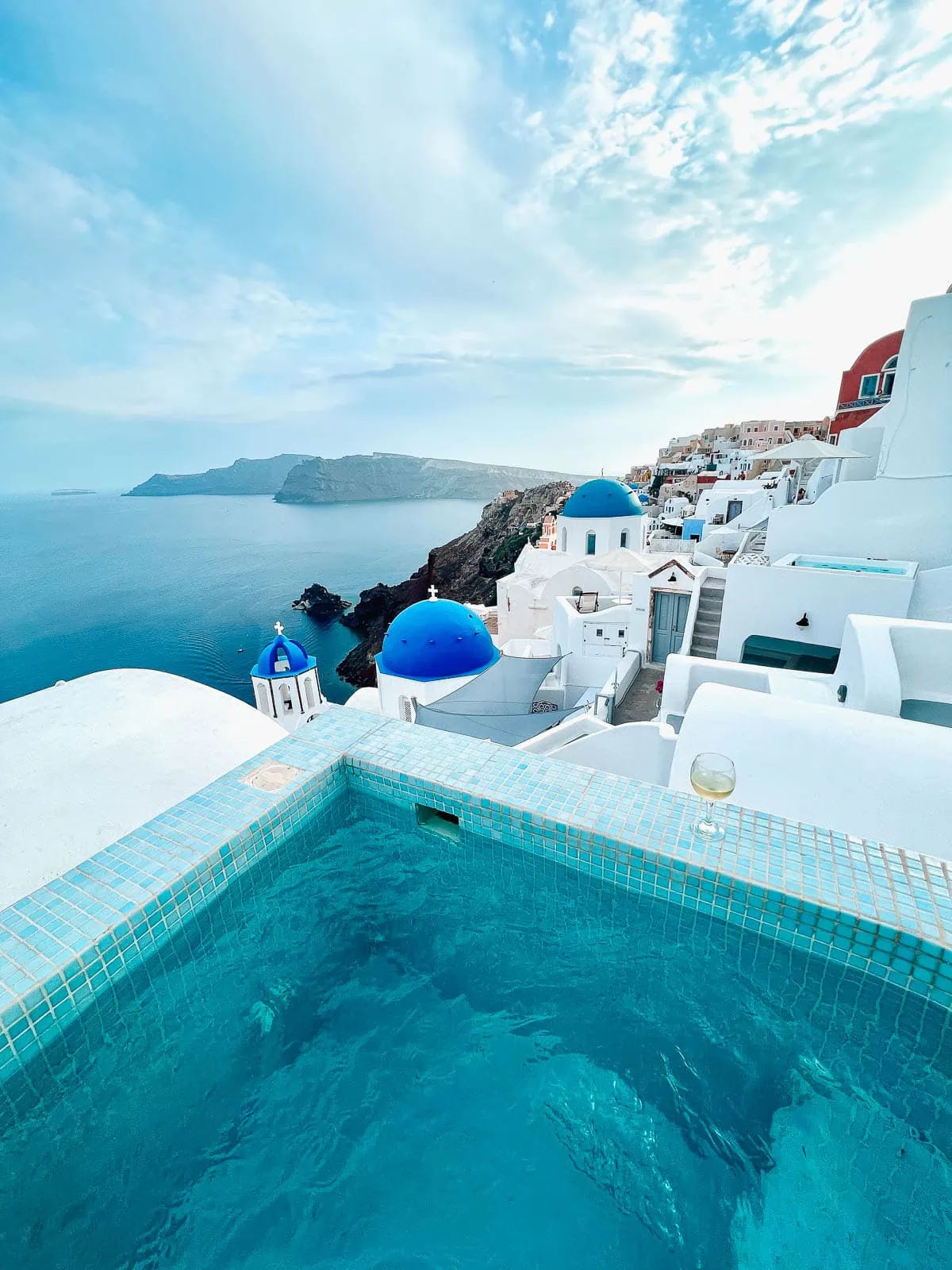 Let's start with the Greece itinerary first. After the itinerary and budget, I'm sharing ways to save money on your Greek island trip and also travel tips that you'll want to bookmark.
We traveled for 23 total days; so a few days over 3 weeks. The trip went great but I would make a few changes to the itinerary so I wanted to give you those changes first before I get to the nitty gritty details.
*When I booked our trip, I split exploring Athens into one day at the beginning (after we flew in) and two days at the end of our trip (before we flew back the states). I will say that we were exhausted at the end of our trip and I'm going to write the Greece itinerary for you that includes what we would do if we did it again (have three days in Athens at the beginning) and just a hotel stay at the end by the airport to be able to grab your flight home. I will also say that we did the islands in the reverse order but I'd recommend going off the itinerary below.
In my Milos trip post, I explain in detail why I'd save Milos for the last stop. Make sure to check that post out for all the great Milos Greece must-do's!
3 Weeks Greece Itinerary
A 3 week Greece itinerary, including the mainland and a few Greek islands
Days 1 -3: Explore Athens
Day 4: Ferry to Mykonos
Days 5-8: Explore Mykonos
Day 9: Ferry to Santorini
Days 10-12: Explore Santorini
Day 13: Ferry to Milos
Days 14-21: Explore Milos
Day 22: Ferry to Athens
Day 23: Fly home
3 Days in Athens
We had some partial days and one full day in Athens to explore. The best thing we did was pre-book the private guided tour of the Acropolis and Museum. It was GREAT! I'd highly recommend booking this exact one. We did the tour in the evening too, which was nice because the cruise ships had left for the day and it was cooler. I read reviews on that being a good time to book and it really was.
The other thing that we really liked (it was really hot though, so always have a hat with you in Athens during the summer) was visiting the Panathenaic stadium. This is the stadium of the first modern Olympic Games. You can get a headset when you enter and the self-paced tour lasts about an hour. It was cool to see the stadium and to hear about the history of the Olympics. You can get entry tickets on site and it was easy. It'd recommend fitting this in when you are near the Acropolis, as it's like a twenty minute walk from that area.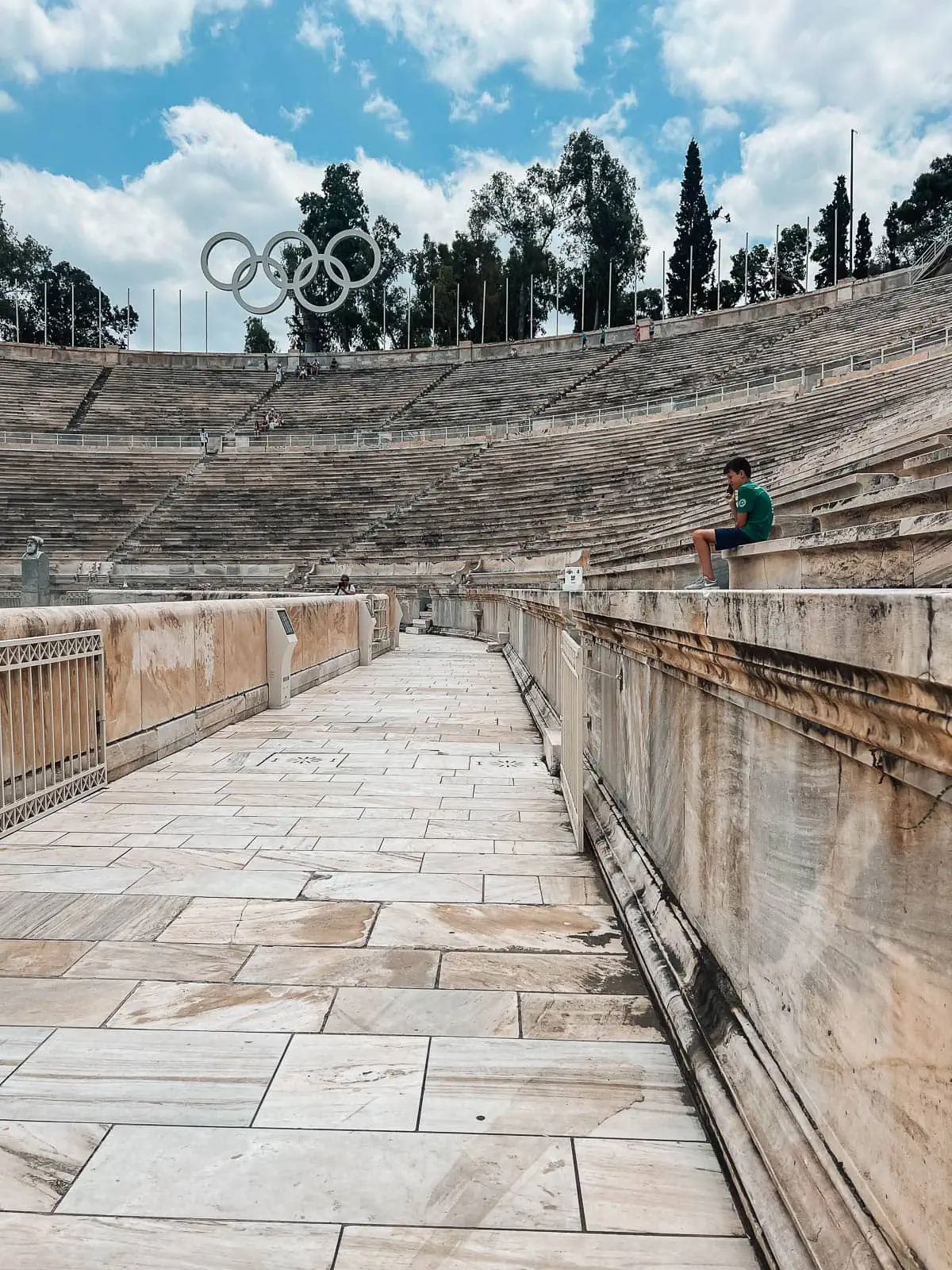 Athens to Mykonos Ferry
Have a taxi or Uber driver drop you off at the Athens port (let them know which port you are headed to because there are two of them). They can drop you off at the actual ferry dock (they are numbered so it makes it easy). The Athens port is the biggest of all the ports but the process is simple. We used etickets and followed the check-in instructions sent by the ferry 24 hours in advance. I'd recommend using Ferryhopper to book your tickets and I'd also recommend upgrading to the fast ferries so you can get plenty of time to explore on your ferry days.
We pre-booked a car for Mykonos through Anemos and they were at the port waiting for us with a sign with our name on it (this is very common).
5 Days in Mykonos
There's a ton of beaches to check out in Mykonos but we didn't see many of them because Luke and Greyson spent four days taking kitesurfing lessons at Kite Mykonos. Your Greece itinerary will look a lot different from ours in Mykonos if you aren't kitesurfing.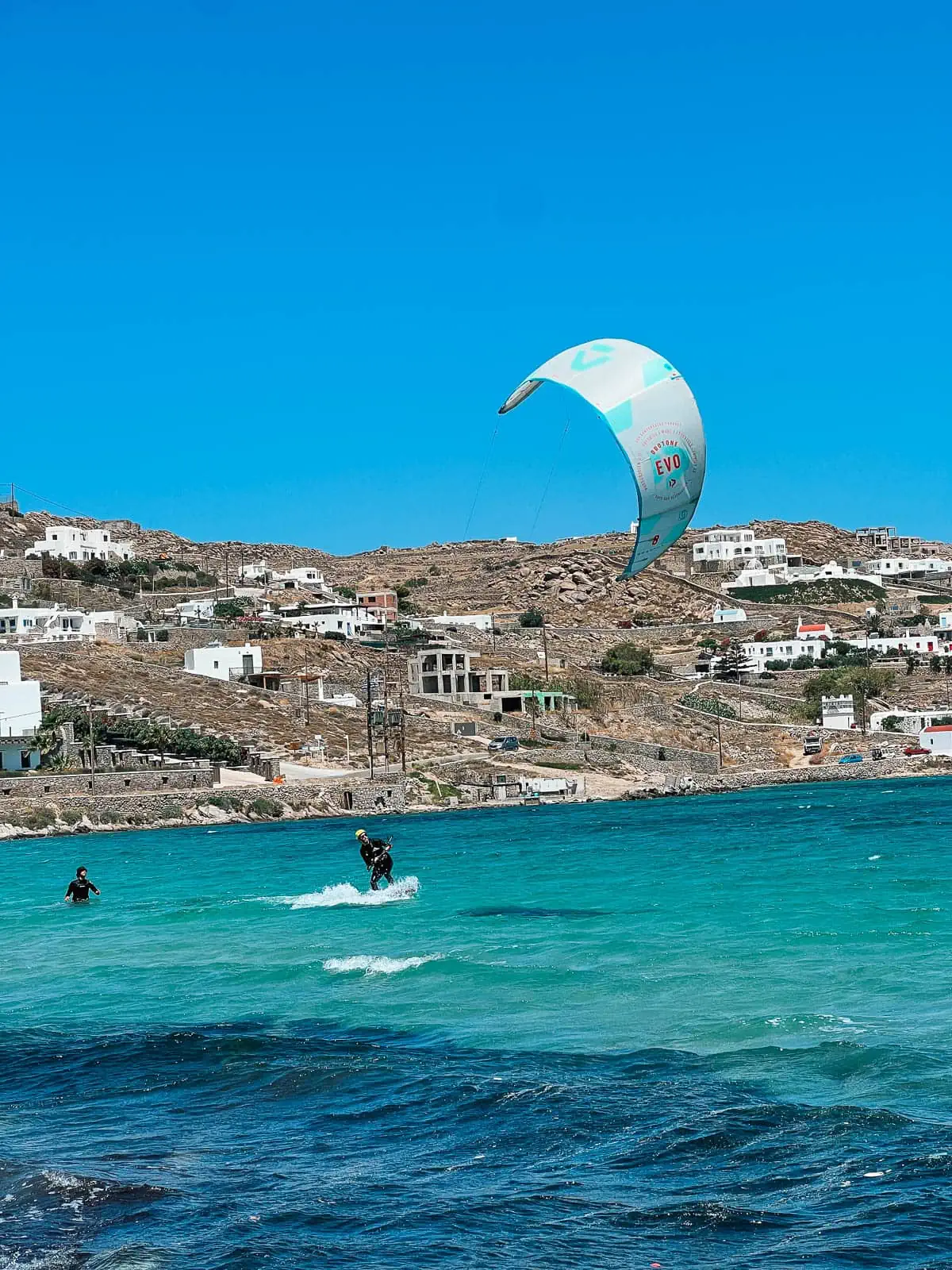 I'm not doing a Mykonos must-do post because most of our time was spent at the kiteboarding beach, but I wanted to share a few things that we did.
We stayed in an airbnb in Mykonos town right on the cutest street. Every day we walked the streets and soaked in the beauty. It was so beautiful. We shopped and ate and explored and had a great time. We got baked goods and coffee every day from this great little bakery called il forno di Gerasimo (a 3 min walk from our rental).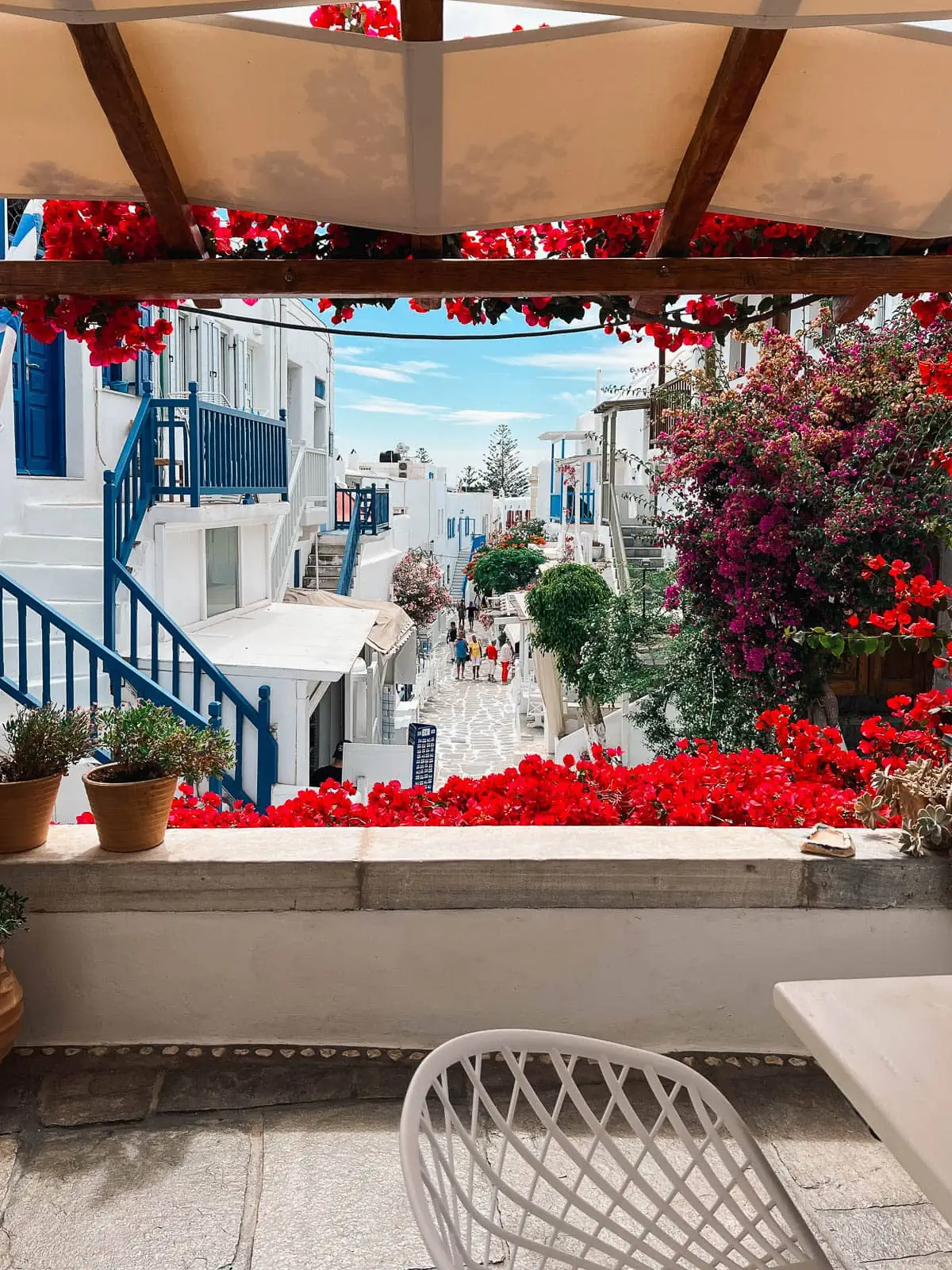 Kiki's Tavern and swimming at the beach below were fun. The tavern had great hospitality and the little beach below was so picturesque.
On one of my daily strolls while getting lost on the streets of Mykonos, I found a mosaic studio. The artist was in and I was so excited to be able to book and take a mosaic class. It's something that I've always wanted to do. Would highly recommend doing this there if you get the chance. Luke and I did it without Greyson but it would have been great with kids, too.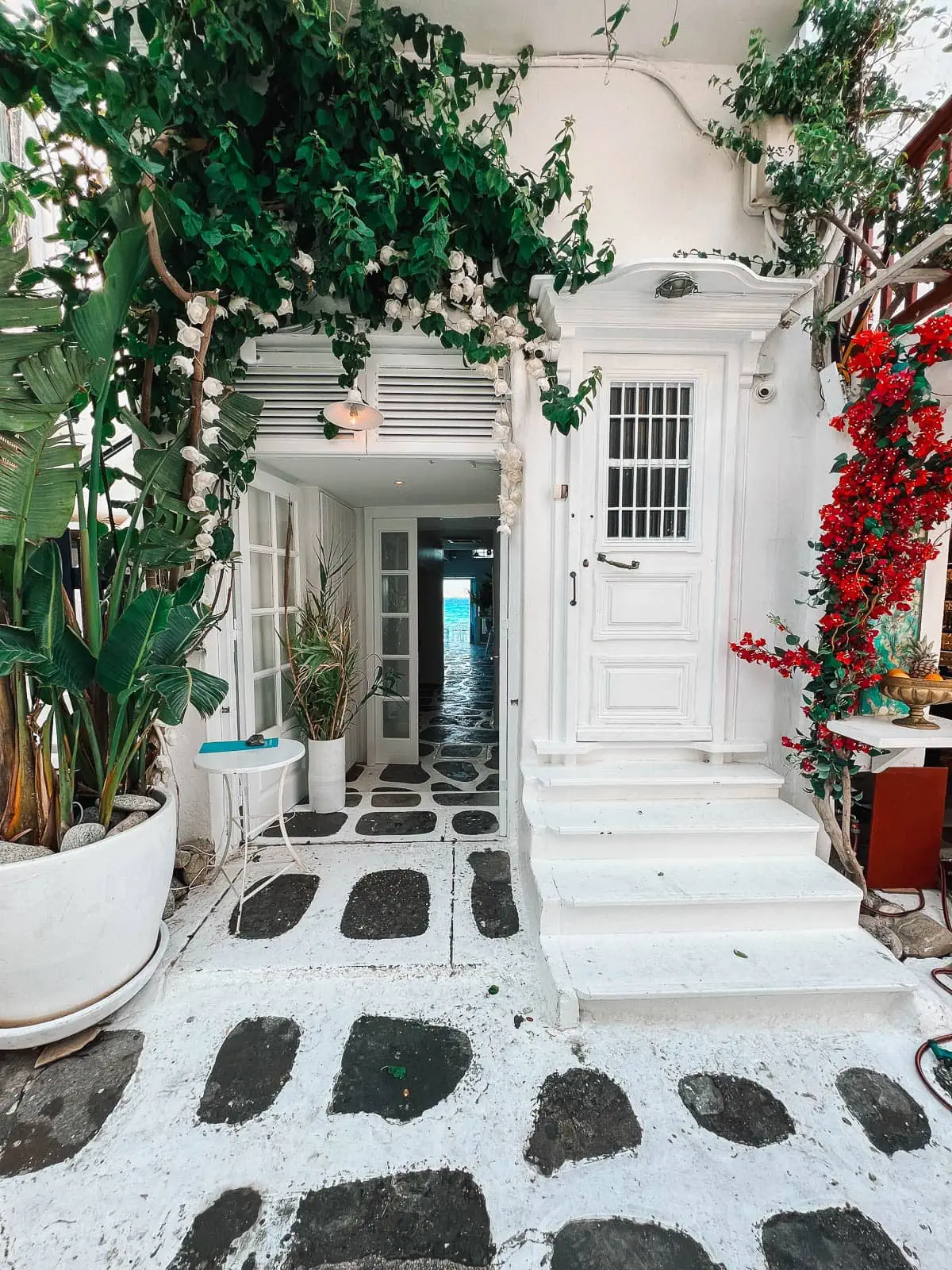 We did take the ferry to Delos and do a tour there. Honestly, it wasn't a highlight for us but maybe we were having an off day. Lots of people seem to really love it.
There were a lot of other beaches to explore and tours you could take, but we kept it simple on Mykonos.
Mykonos to Santorini Ferry
The fast ferry between Mykonos and Santorini was under three hours. Santorini definitely has the most stressful port situation because of the location of being at sea level when everything else is at the top of the caldera. Two ferries came in at once when we were there which caused a MAJOR traffic jam and would have been VERY stressful as a non-local driver. We were glad that we pre-arranged a driver with our airbnb in Santorini.
Getting rental cars outside of the port was easy, so I'd recommend a pre-booked transfer in Santorini and then I would let your hotel or host help you with the rental car (you can even have this planned with them in advance) if you want a rental.
4 Days in Santorini
At first look, Santorini was beautiful, but also busy. It took a bit for us to warm up to it and find the times that we could explore Oia without people. I came to really love it and shared what we did, would recommend, where we stayed and more in the Oia, Santorini blog post.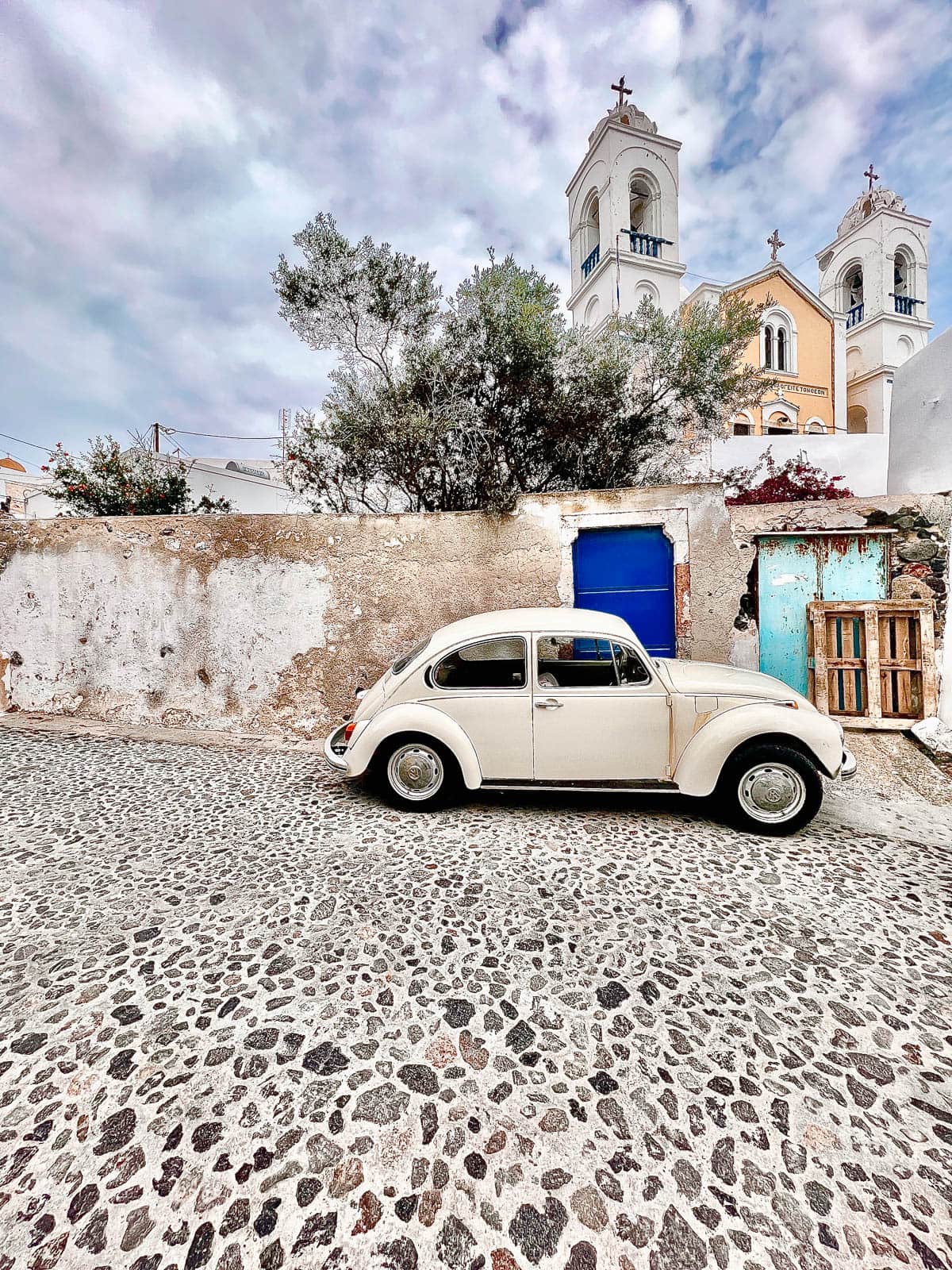 Definitely read my longer post on Santorini, but honestly, we felt like four days was the perfect amount of time on that island. If you aren't planning on doing added activities like we did, then your Greece itinerary for Santorini should probably be a bit shorter.
Santorini to Milos Ferry
The fast ferry between Santorini and Milos was under three hours as well. The port is nice in Milos and there are rental cars that you can walk to. I talked more about this and who we went with in my Milos post.
9 Days in Milos
We absolutely loved our time in Milos. For some people, nine days would be a lot, but I think it all depends on what you are wanting out of a vacation. Check out my Milos travel post for where we stayed, what we did and what we'd recommend.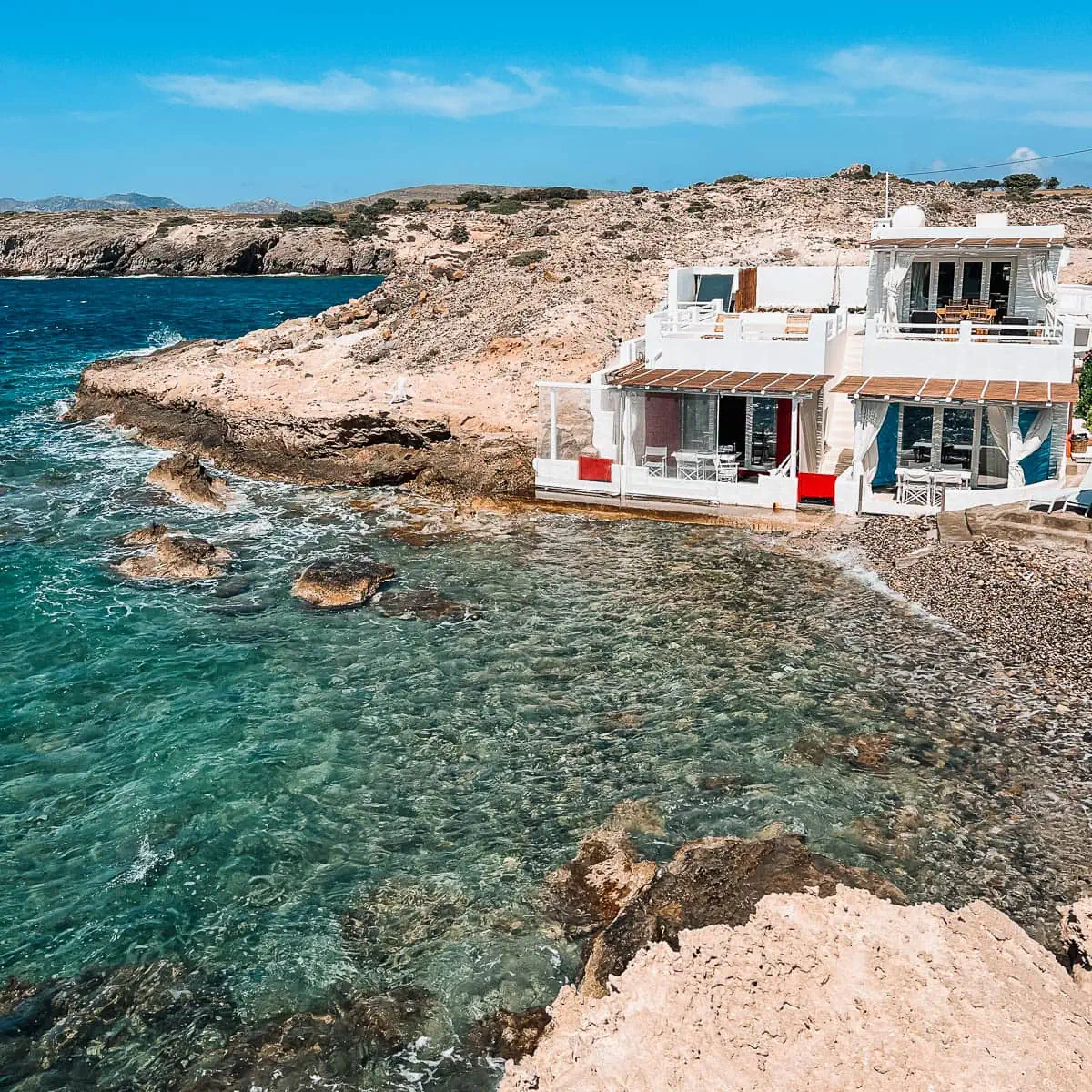 Milos to Athens Ferry
Athens to Milos ferry was also about three hours but it was really windy. Not sure if this is common, but this was by far our roughest ferry ride. Most others were really nice.
Upon arrival in the Athens port, there were taxi lines that you could just jump in and grab a taxi. It wasn't super clearly defined but there seemed to be enough taxi's for everyone. You could call a taxi or Uber here, too. I wouldn't go to the effort of arranging a pickup here, just figure it out when you get to the Athens port. Have Euro's though as some Taxi's don't take credit card payments. And, if you are headed into Athens downtown, you'll probably need about 70 euros to get there.
How much does a Greece trip cost?
I had lots of questions about how much this trip was and how to budget for it. There's a few things that I want to share before I share numbers.
One thing is that we splurge on accommodations. I prefer accommodations that have two bedrooms and are willing to splurge on ones that are lovely or have a unique feature. If you are more flexible in your accommodations, you could DEFINITELY cut the cost of the trip in the accommodations section in half, at least (and still have amazing lodging options).
The second thing is that we live in the middle of the US with a tiny airport so airline fees for our specific location are always insanely high. I'm sure you can find flights for much cheaper. The flights were the biggest expense for us.
The third thing is that we save a bit of money here and there by watching our food expenses. I'll talk more about that in a bit.
Budget for 3 Weeks In Greece for 3 People
4 Ferries for 3 people: $1214 (I did upgrade ferry seats to business class on two transfers)
Car Rentals: $900
Airfare: *Depends on where you are flying from
Mykonos Airbnb for 5 nights: $1669
Milos Hotel and Airbnb: $4200
Santorini Airbnb for 4 nights: $3637
Athens lodging for 3 nights: $1k
Meals : Approximately $75 per day.*
Other expenses (bottled water, tipping, taxi, etc.): $20 per day
Excursions: Not going to tally.**
*To save money on meals, we went to the grocery store when we arrived in each location. Most of the time, we ate dinner at home because dinner was the most expensive meal to buy out. Each host also provided quite a few items for breakfast/snacks (and also wine/beer) so we made use of that as well.
**I'm not going to tally the price of excursions because the ones we choose were so particular to us. Spending 4 days kitesurfing in Mykonos was VERY expensive. Doing the olive oil tour in Santorini was cheap especially since it included a decent amount of food. Anyways, I'll share the excursions that we loved and you can go from there.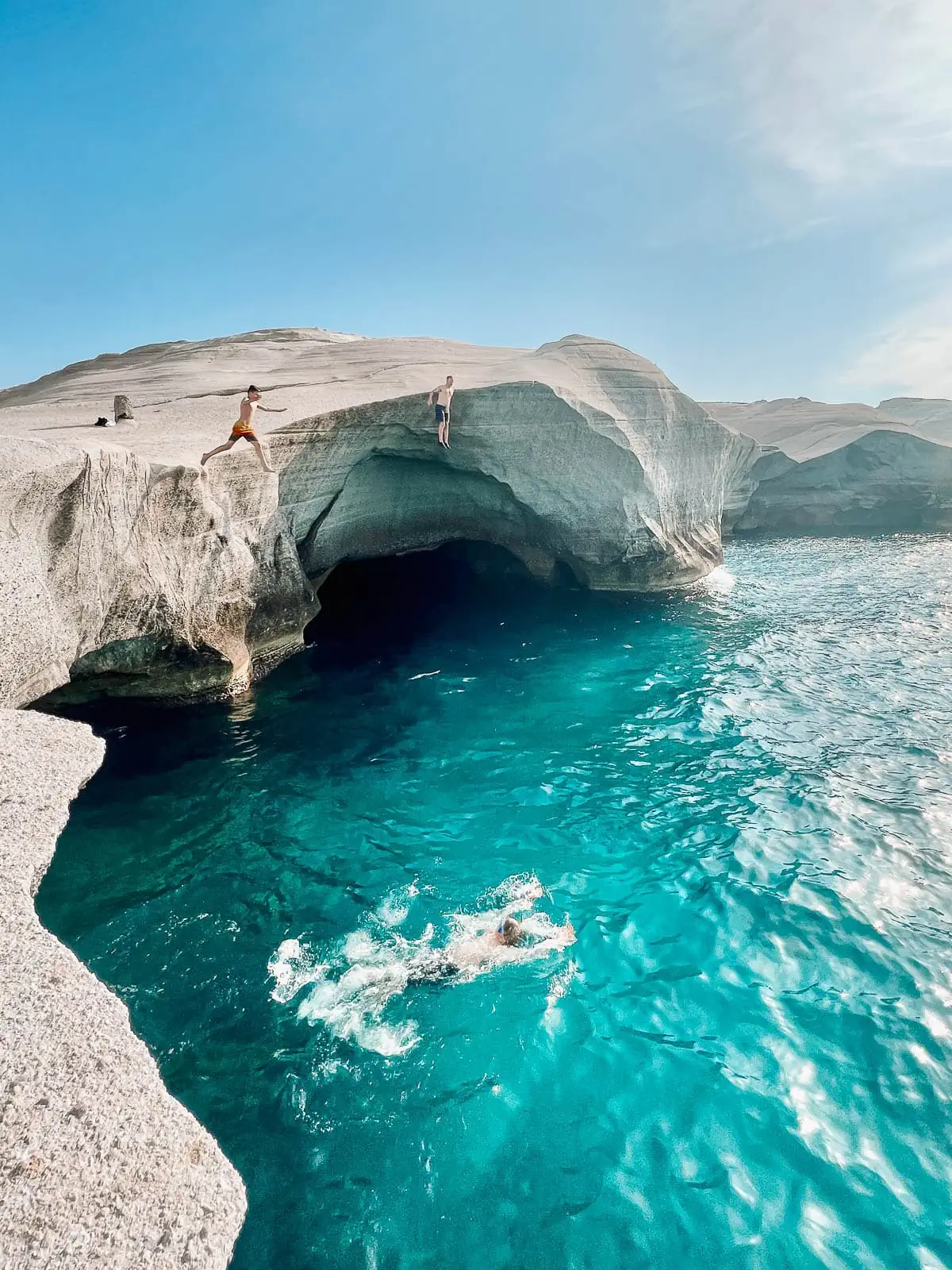 What I'd do differently to save money if I wanted to...
Book different lodging for Santorini
If I wanted to do this exact trip but save money on it, I'd choose to stay somewhere different in Santorini. The airbnb we stayed at was nice and we enjoyed the view but it was really expensive. Also, Oia is quite picturesque but you are on the main tourism/cruise path if you stay there.
This airbnb looks nice and is under $200 per night. You'd need a car for this one because it's located near our favorite village but it's further away from the main tourists cities (still just 15 minutes drive from them).
Book different lodging for Athens
We stayed at two places in Athens. Both were fine, but the last place was a resort on the beach, and I'd just go for a no frills place next time. You can usually find really affordable but nice hotels in bigger cities, so this would be another place I'd save money.
This airbnb is just over $100 per night and looks to be in an incredible location as well as gets great reviews.
Rent a car for less days
You definitely don't have to have a car for Santorini (you can do the bus system) but we chose one because of our scuba and horse excursion. We did save money by only getting 24 hour rentals there (this is really easy to do in non-peak season and is readily available near the tourist locations). We could have saved more money by not booking a car for the entirety of the Milos trip. In Pollonia, there are car rentals so you could get away with booking for a few days and then plan on hanging out around town for a day or two.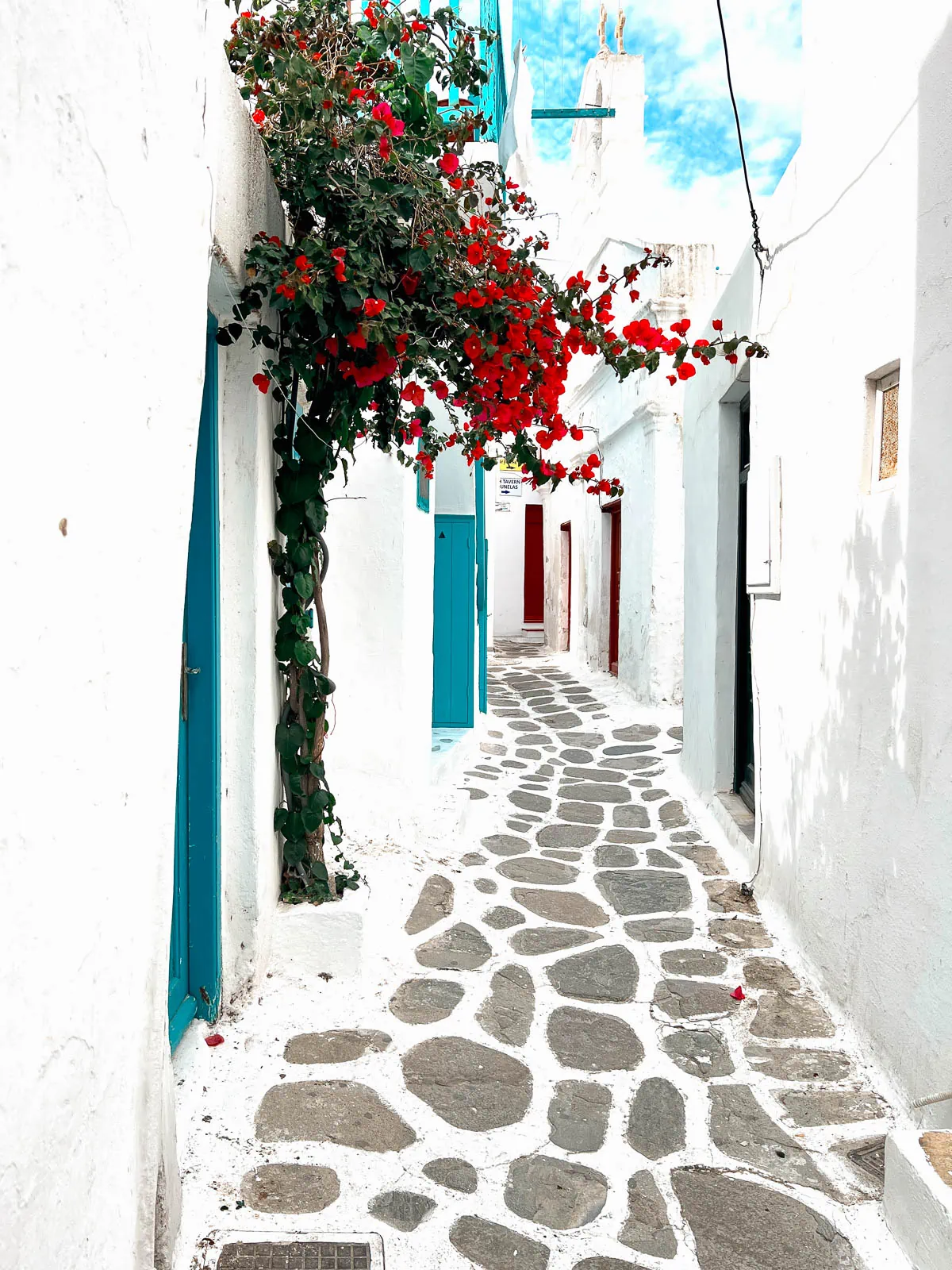 Greece Travel Tips + Other Things to Know
Transportation in Athens and on the Islands
We found transportation to be pretty straightforward in Greece.
To do a trip similar to ours, you are going to be using:
Taxi, Uber and FREENOW
Car Rental
Ferry Service
Taxi, Uber and FREENOW used in Athens
In Athens, we used Uber mostly but they also have a similar platform to Uber called FREENOW which we also used. The hotels will arrange pickups/transfers for you as well, if needed. But, I'd just plan on using Uber while you are there.
Tips for renting a car on the Greek islands
Driving on the islands didn't require an international drivers license (which Luke got just in case). We just had to show a US drivers license to get the car. Most cars are standards. So, if you want/need an automatic, then you'll want to reserve in advance. You'll be parallel parking often so you'll definitely need to be comfortable with that.
Roads are very narrow so I'd recommend going for a tiny vehicle. And, on the islands, there isn't a lot of following "rules" for driving. It can make things confusing for sure, but just do your best. There were two helpful driving tips that we picked up on the islands. One is that you need to know that the person in a roundabout doesn't have the right away. That's unusual compared to anywhere else we've been. The second is that if you are at an intersection with no signs (this happened all the time), the person on your right has the right away. Driving on the islands could definitely be stressful at times but just take it slow and you'll be able to do it.
Prebook Ferries using Ferryhopper
I'd recommend using Ferryhopper to book your tickets and I'd also recommend upgrading to the fast ferries so you can get plenty of time to explore on your ferry days. Getting on and off the ferries didn't require security and it feels like a mad rush because they are trying to MOVE the ferries in/out fast but it wasn't stressful. Be about 20 minutes early so you know where you are going and have your tickets downloaded to your phone. Other than that, you are good.
How to pay in Greece
Visa and Mastercard are both widely accepted. We had trouble using our American Express anywhere. There are lots of ATM's. I'd recommend getting money out at the airport as not all taxis have credit card capabilities (that's why we love using a ride share app like Uber). You can have the option of letting the ATM or your bank set the exchange fee and it's generally best to have your personal bank do this.
When you want to tip, you have to let the person who is running your credit card know BEFORE they run it. In Greece, you don't have the option to write in a tip afterwards so just ask "can I add a tip on the card?" before you run the card.
Best time to travel to Greece
We heard a few times that the best time to visit Greece was in late September. Apparently the tourist season has died down then, the weather is slightly cooler and the water temperature has warmed throughout the summer.
We visited in late May / mid-June and had a good time. The water temperature was chilly but, other than that, the weather was nice and the tourist season hadn't picked up completely yet.
The busiest months to visit Greece are apparently late June to end of August.
Soak in Greek culture
Each island has it's own vibe. Read about Milos and Santorini for more details on those. Mykonos is considered the "party town" and I just caught glimpses of that but could see it. The restaurants are BEAUITFUL at night and the women and men working at them wear club/formal clothes in a lot of them. If you plan to enjoy that island, then I'd recommend taking some nice dresses and skimpy clothing definitely works! Ha. You could also just take sundresses too but, honestly, it looked fun to dress up and enjoy the ambiance.
On another note, it was consistent that shops and restaurants closed during the hottest parts of the day (2-4). Learn to be more Greek and take a break during these times. Dinner is served really late, so you have time to relax before you go out.
It was also consistent to see Greek people engage and want to engage with you if you were open and welcoming towards it. People aren't on their phones. There seemed to be a welcoming and opening spirit that I felt over and over again.
Island water and bathroom situation
Water is scarce on the islands and they try to conserve it. It's easily found and enjoyed through bottled water but you can't drink the tap water. Everywhere serves bottled water and it's typically like 1-2 euros for a large bottle at the mini markets, etc.
We typically take reusable water bottles when we travel but I'd save some luggage space and only take one because you'll be buying water all the time. Everyone just carries the large plastic water bottles around as they explore.
The plumbing is pickier on the islands as well and you can't flush any toilet paper. I had never experienced this before so it was a tad weird to me the first day or two but it was fine. In every place we were at there was a trash can (typically with a foot pedal) right next to the toilet for the paper.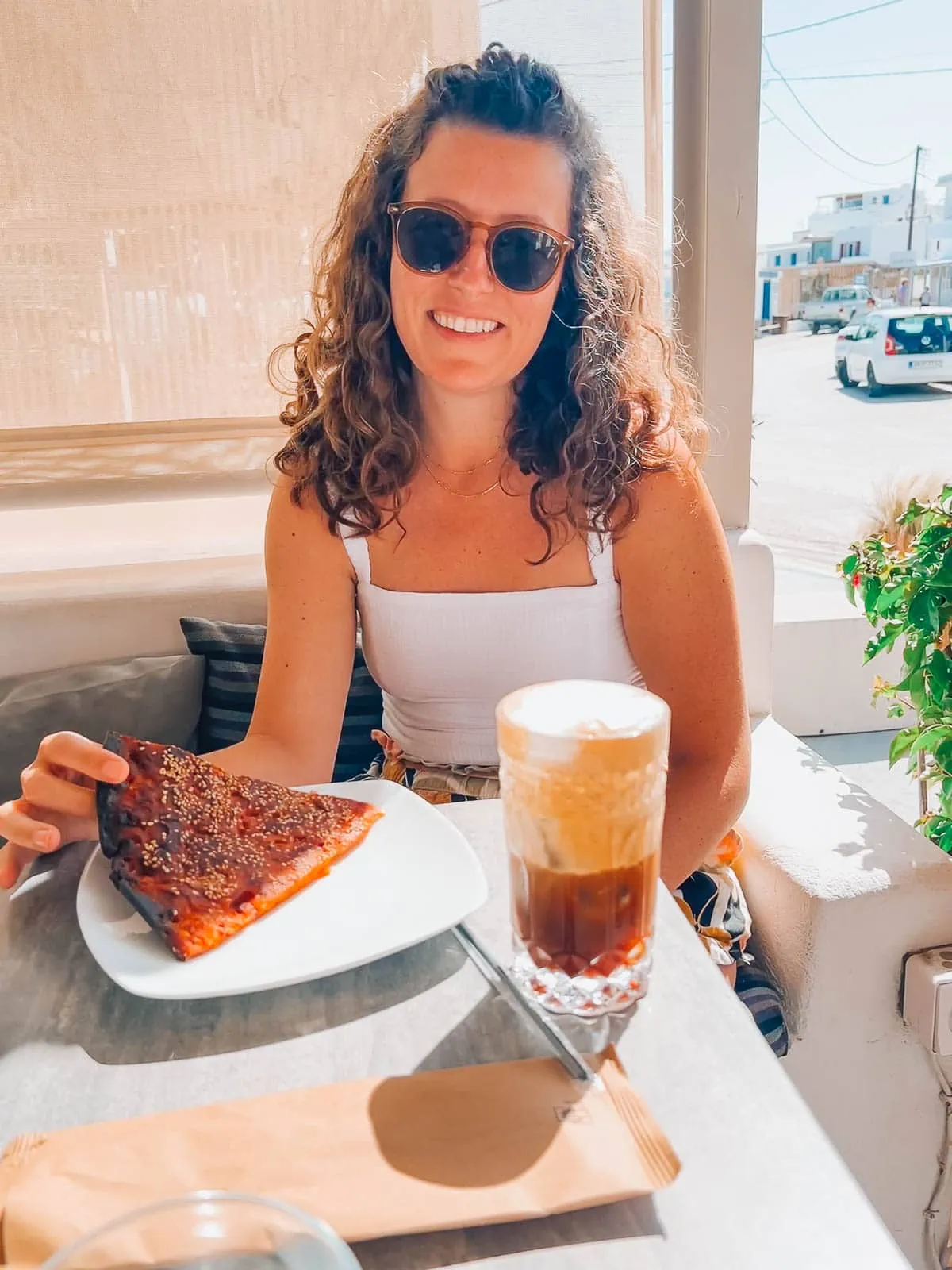 Eating in Greece
Foods to try
Of course, you'll need to try all the gyros but, honestly, we loved other foods better than those. The appetizers won the show for us in most locations. Order the toasted or fried feta and bread, we loved that. Especially if they had sesame crusted feta with honey. Yum! Also, dakos (not all are created equal), kataifi (basically, similar to baklava but has "hairy" phyllo shreds and it's amazing), watermelon pie (only at Alestra in Milos), Greek salad (order this everywhere), cappuccino freddo (cold coffee with fresh whipped milk on top - ask for it sweet as it's not very sweet when they serve it sweet), fresh fish, etc.
Restaurant tips for Greece
Dinner typically doesn't really start until 8 and lasts pretty late. You'll want to make reservations everywhere if you want to eat dinner out (at a fashionable time). Restaurants typically only take one reservation per table per night because it's a slower meal that's meant to be enjoyed. You can find restaurants that start to serve around 6pm but they are the minority. You can always find street food earlier.
Expect nicer restaurants to set bread on the table but just FYI, if you eat it, you will be charged for a bread basket. We ate it every time, but it's not free of charge.
Also, often restaurants will bring out a "tasting" dessert free of charge at the end of the meal.
Lastly, you'll have to ask for the bill. Eating is a slower event in Greece, so expect that with service and paying. It's not them being rude, it's a cultural difference.
Beaches in Greece
Greece beaches are way different than what we are used to (we typically go to Hawaii). Because it's the sea, you don't have to worry about tides but you also don't have a ton of sealife.
From what we experienced, people tend to sunbathe and relax on the beach more than play in the water.
The sea is colder than the oceans we've been to and way saltier. We had never experienced a sea before so I wanted to share some about this.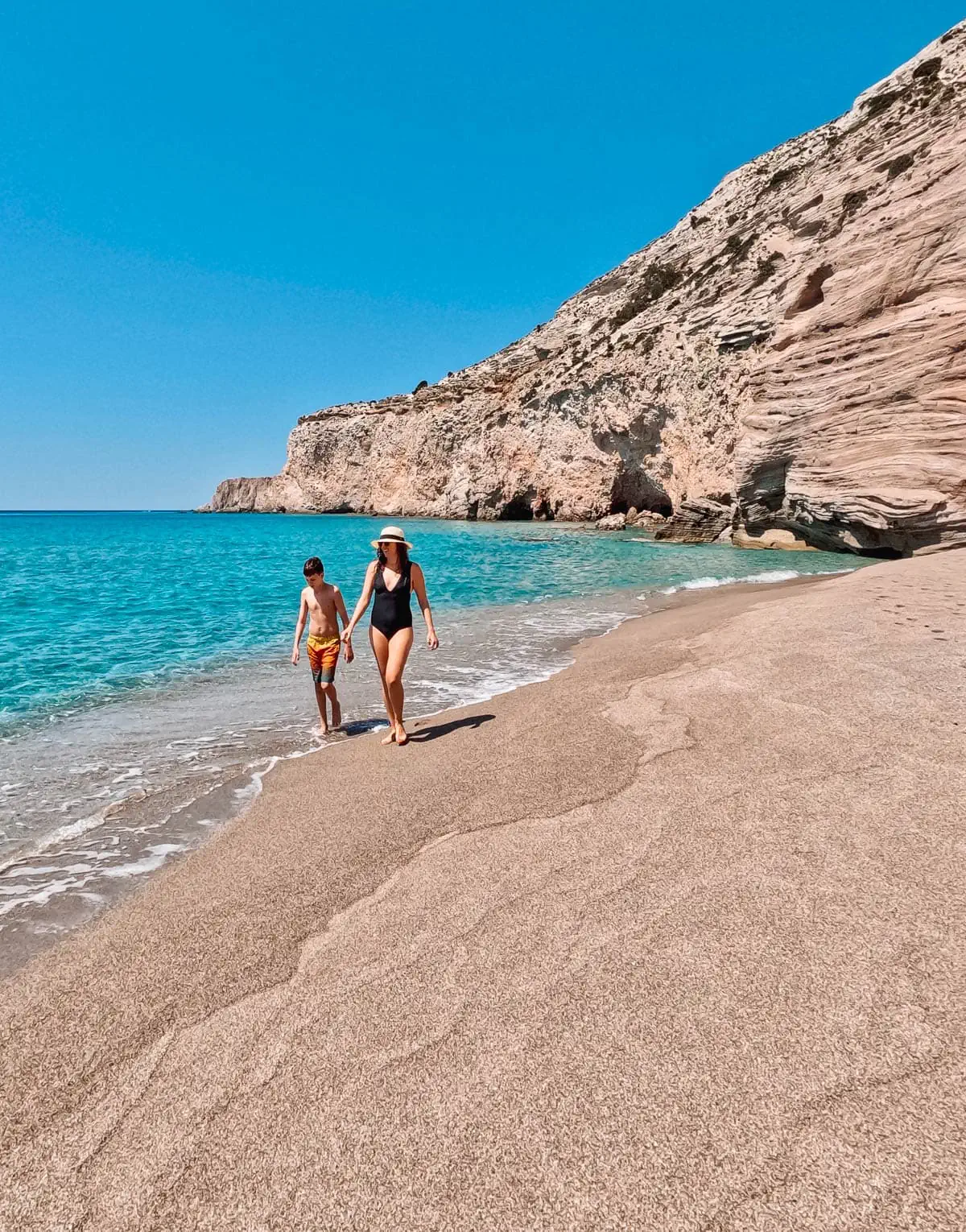 What to pack for Greece
Here's a quick list on what to pack for Greece.
Linen everything
Nicer "date night" outfits for dinner.*
Jacket or sweater for the cool breeze at night
Clothesline and soap to wash your clothing
Swimsuits and coverups
Keen shoes (if exploring/hiking in Milos, you'll enjoy these because the lava rock is the sharpest stuff I've ever seen)
Hats
*I packed one summer black dress and Luke wore some trouser shorts and linen shirts when we went to dinner. We didn't plan on eating at any place that was nicer and we chose to eat most of our dinners at home BUT if we wanted to go out, I would have wanted nicer clothing (especially in Mykonos and Santorini).
Greece Itinerary recap
Whew, that was a lot of information. I hope it was helpful!
As people have asked me our thoughts, I've tried to really reflect on them and share honestly. I will say that I adored the Greek culture and people. I loved getting to experience the streets, shops, restaurants and just the visual of some these places.
The sea was the most beautiful color and I loved seeing that change depending on the light. The beaches (to me) weren't as pretty or as enjoyable as the ocean, but the culture of the beach scene was so fascinating and enjoyable on it's own.
Overall, we had a lovely time in Greece and, although we probably won't ever go back (it's just too far and there are too many other places to visit in the world), I know I'll carry some of the experiences with me forever.