Spending time in Milos Greece? We spent 10 days there in late May and I'm giving you the rundown on where to stay, what to do, and more!
Most people don't choose to spend so much time in Milos, but we loved it. If you are planning a trip and want to do Milos but need a shorter time span there, I'd recommend 4-5 days to be able to really experience Milos Greece well. But, after reading our recommendations, you might just want to spend a longer chunk of time there. =)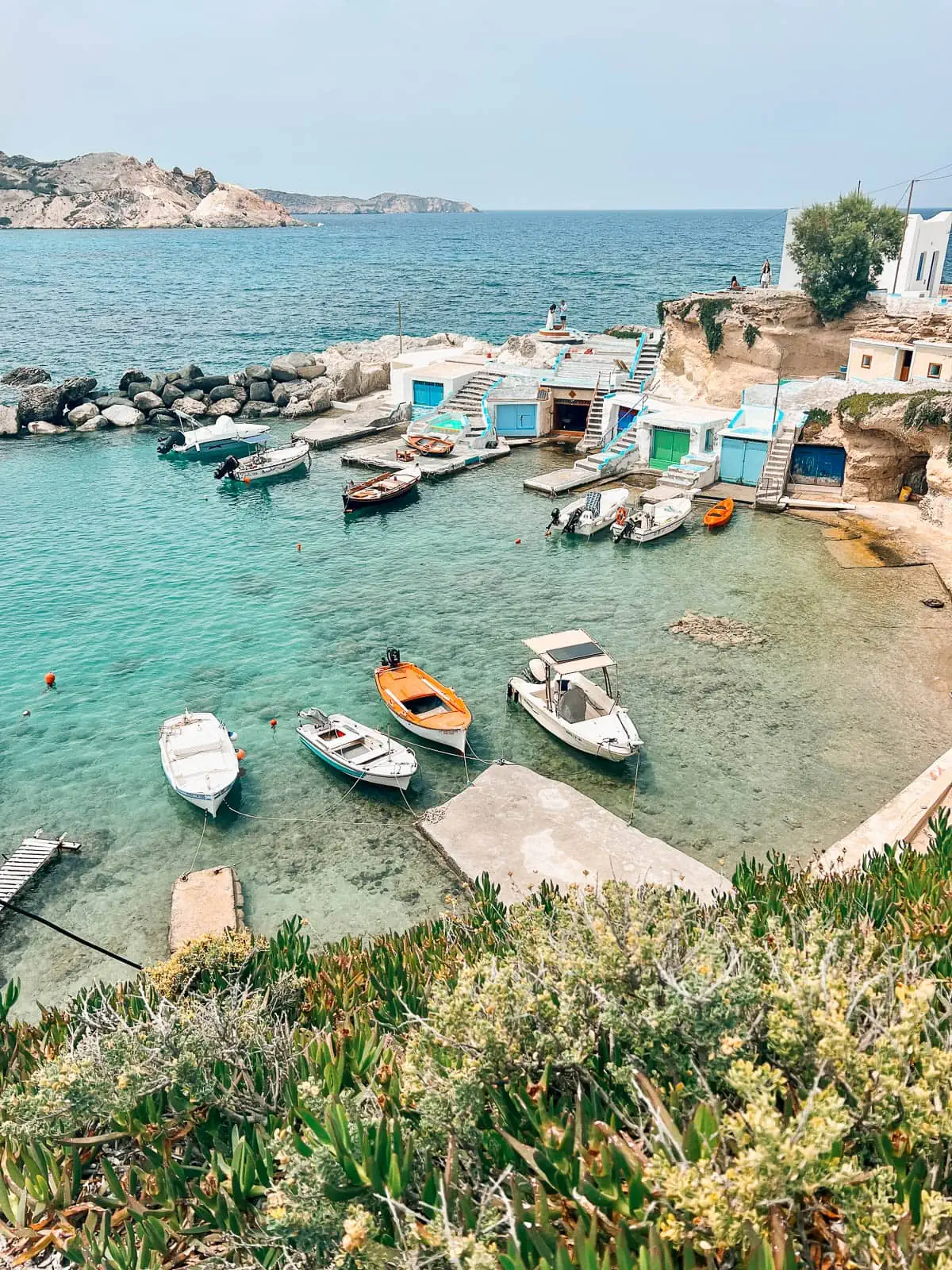 Athens to Milos Greece
After spending a quick twelve hours in Athens after our international flight, we headed to Milos island, Greece. I booked ferry tickets a few months in advance using Ferryhopper and we used Uber (just like in the states) to get from the hotel in Athens to the port for the ferry. I wrote more about using the ferries in Greece on my Greece travel tips post, so check that out if you'd like more information.
I had pre-booked a car and as soon as we got off the ferry in Milos, we walked out 3 minutes to their office at the port to pick it up. Renting cars in Greece used to require an international drivers license (which we did get beforehand) but they changed the law recently and you only had to show your current state drivers license to get a car.
We were on our way once we got the car. I didn't do a ton of research into the area that we stayed in. I would definitely say that I picked our rental and hotel based off of what they looked like and what they offered. Let's talk about the two places we stayed because both were fabulous.
Milo Greece Hotels
We booked three nights at this renovated fisherman's house called Aqua house. In Greece, it's very common to communicate with owners and/or hotel before arriving so they can help arrange transport or have someone meet you on site. This was no exception, but also, it's so that a porter can help you get your luggage to the house using a wheelbarrow! Ha.
At aqua house, you park at the end of a dirt road (less than a five minute walk to the property). The porter helped get our luggage to the house and, although it felt kind strange in the moment, "like what did I get myself into?", once we saw the house and the water... it was instant happiness. You don't have the whole property to yourself. There is a connected rental above and next door, but that didn't bother us at all. It was the loveliest stay that I've ever had in my life. Depending on the wind, the owner will come and drop some wind/water protection sheets around the porch and will come and raise them as soon as you don't need them. There are snorkels and sea kayaks to use and it was all just amazing. We definitely enjoyed every moment of our stay and were sad to leave when it was time.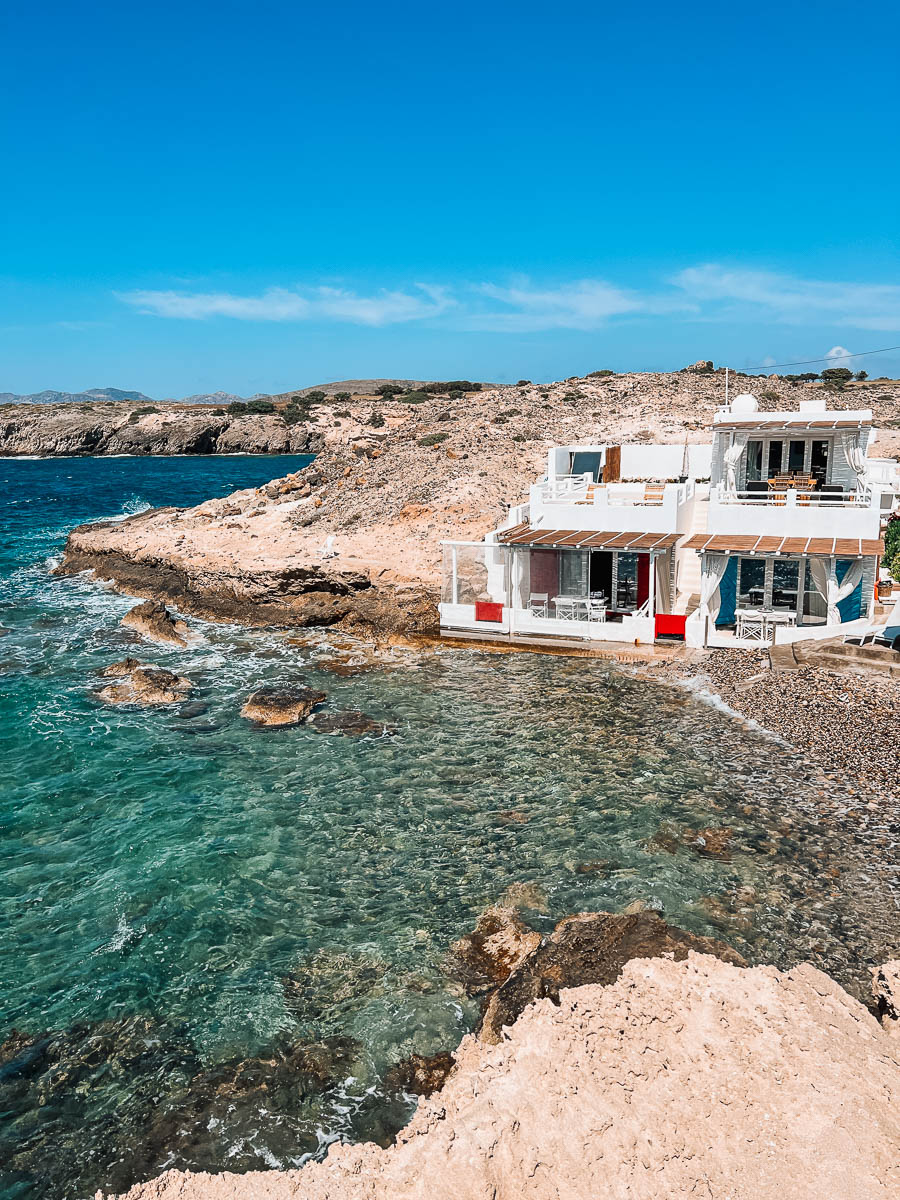 If you are up for a slightly more remote place (just a ten minute drive to Pollonia Milos for food) then book this. There's a kitchen setup so I'd recommend bringing some food in to just relax on site. An 8 minute walk will get you to a sandy beach so that was a bonus, too.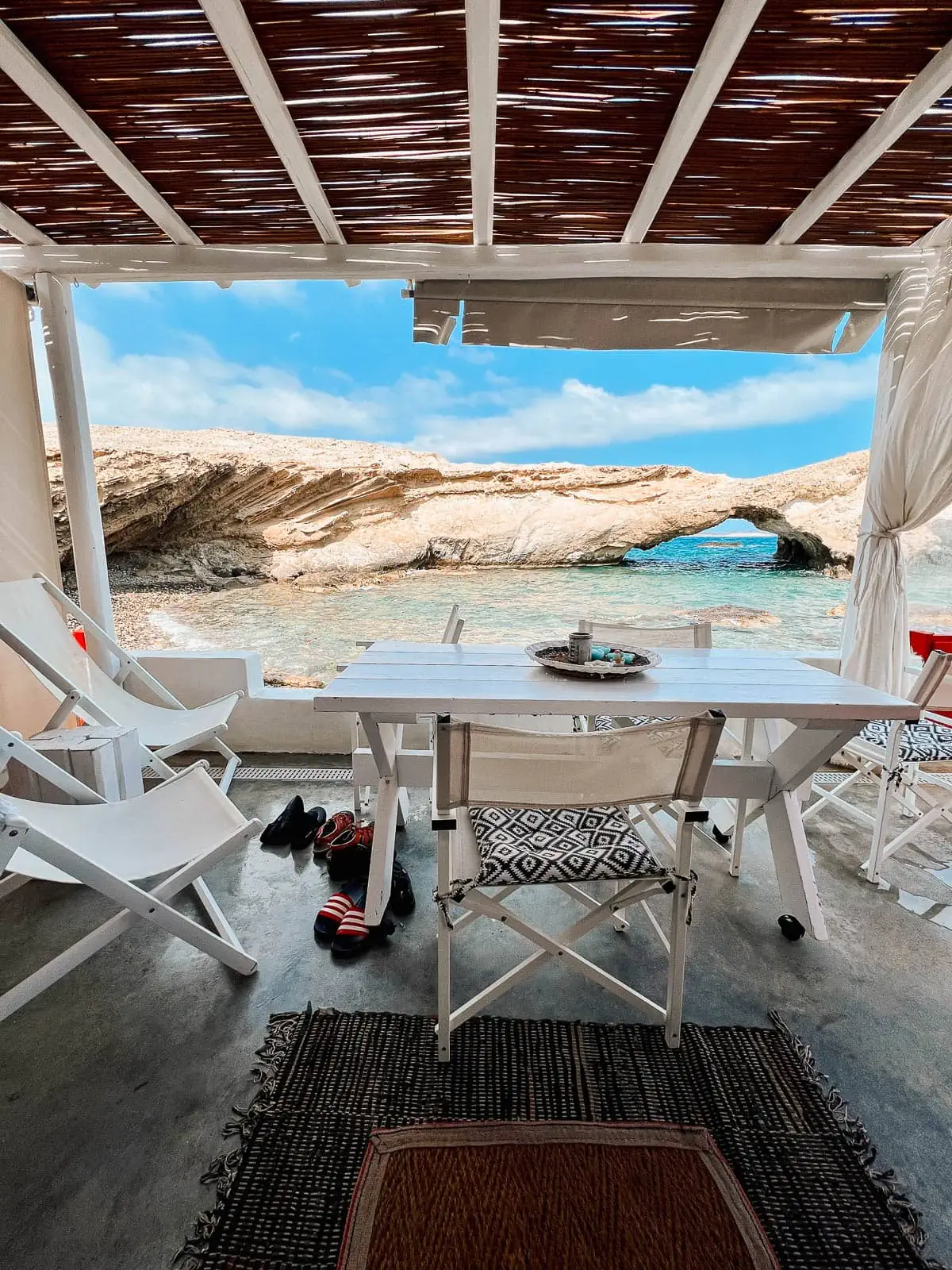 Captain Zeppo's is the boutique hotel by the same owner as Aqua house. We booked both locations through him directly and would recommend that to save the Airbnb fees that you'll incure if you book through Airbnb. The hotel is beautiful and fully staffed, with maid service (which is different than Aquahouse). They also have a small plunge pool, bar and dock. We booked a water view and I'd recommend you doing the same... it's definitely worth that to have a place to unwind and relax (we did this both morning and night).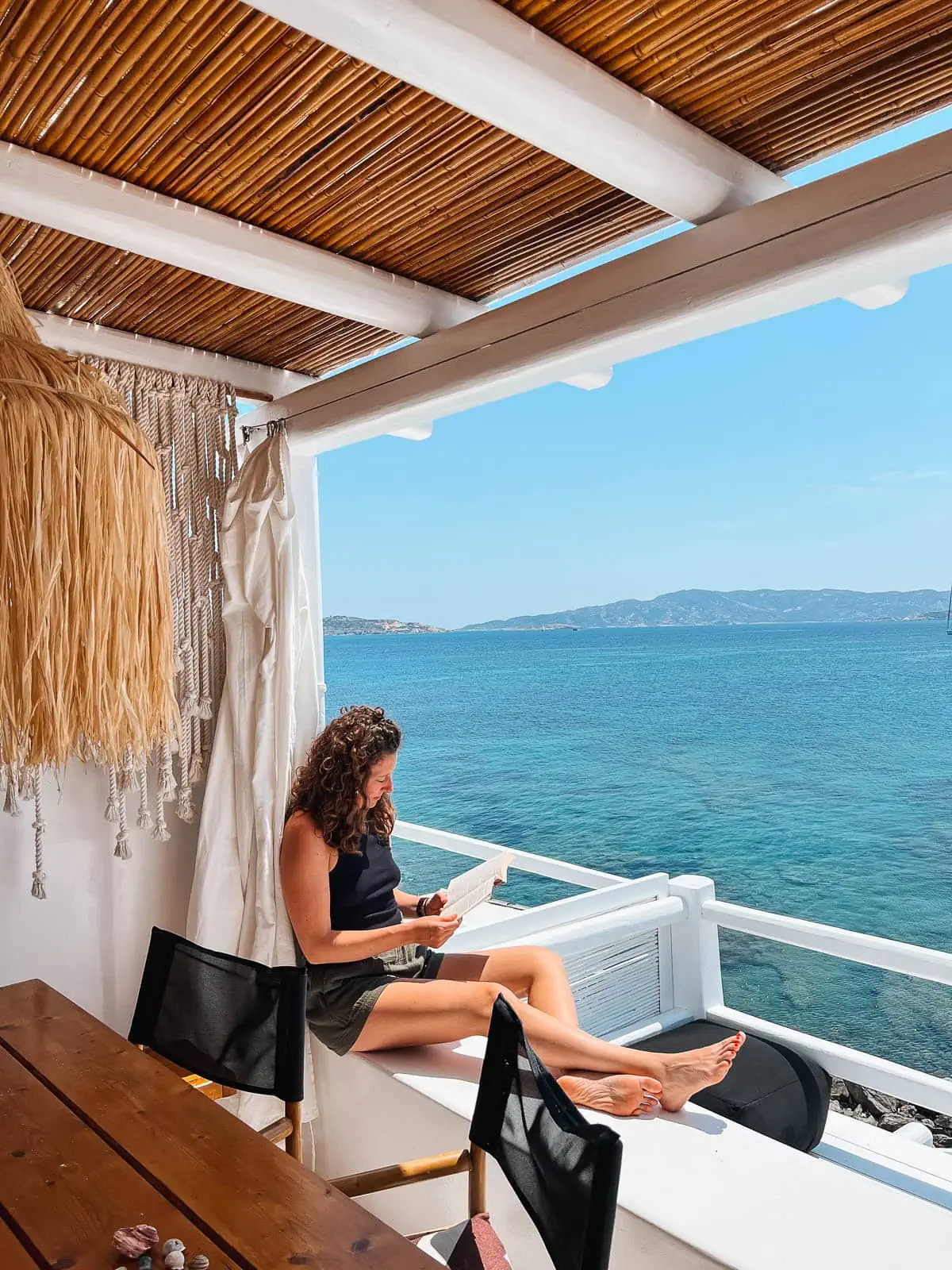 Ours was two bedrooms, one living room, a tiny kitchen and a great porch area. It was lovely and was a one minute walk to all the restaurants in Pollonia Greece. If you are used to and want a more boutique hotel experience, then this is the place for you.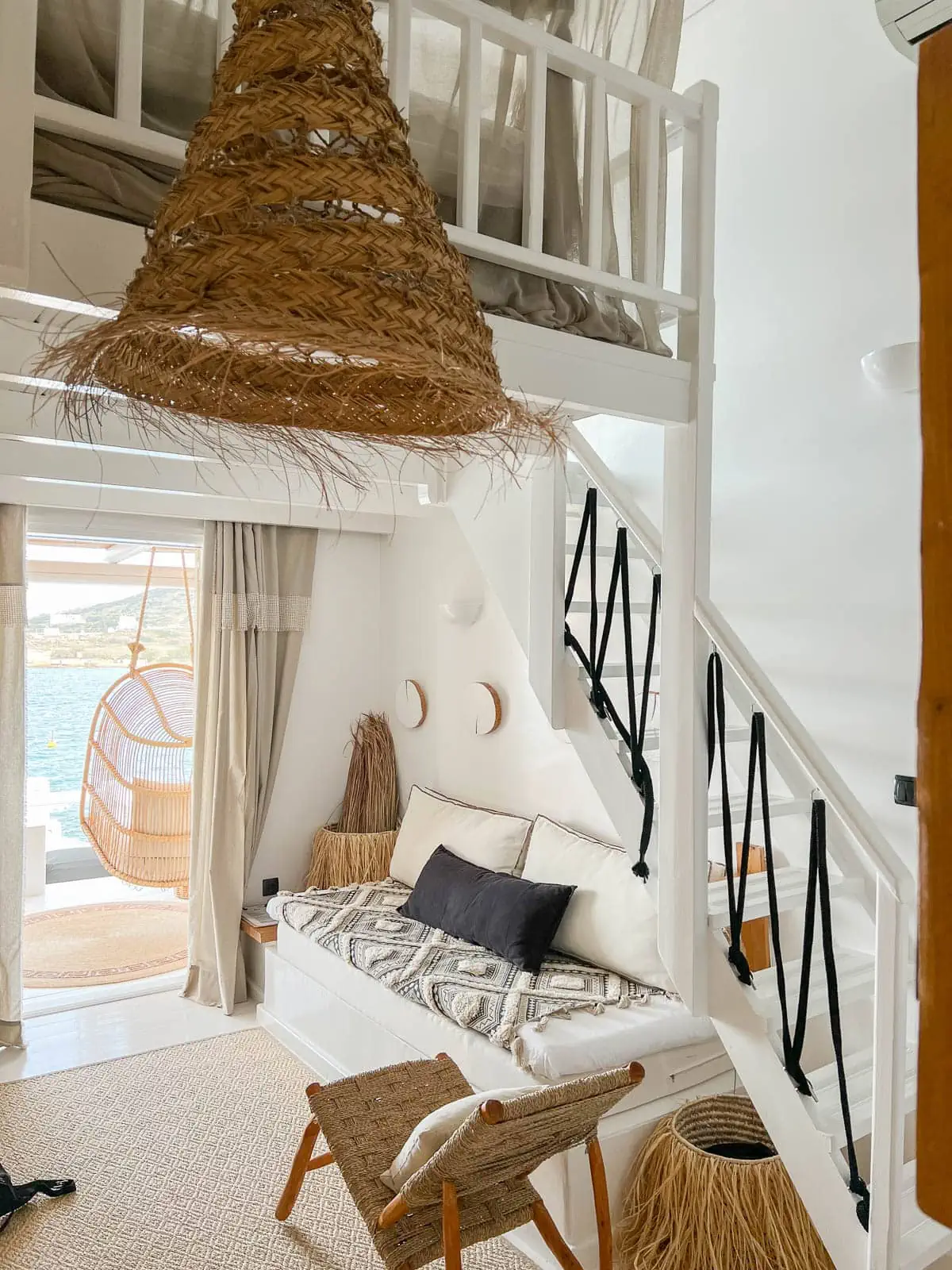 I would go out of your way to book these stays first and book around them as your plan your trip. =)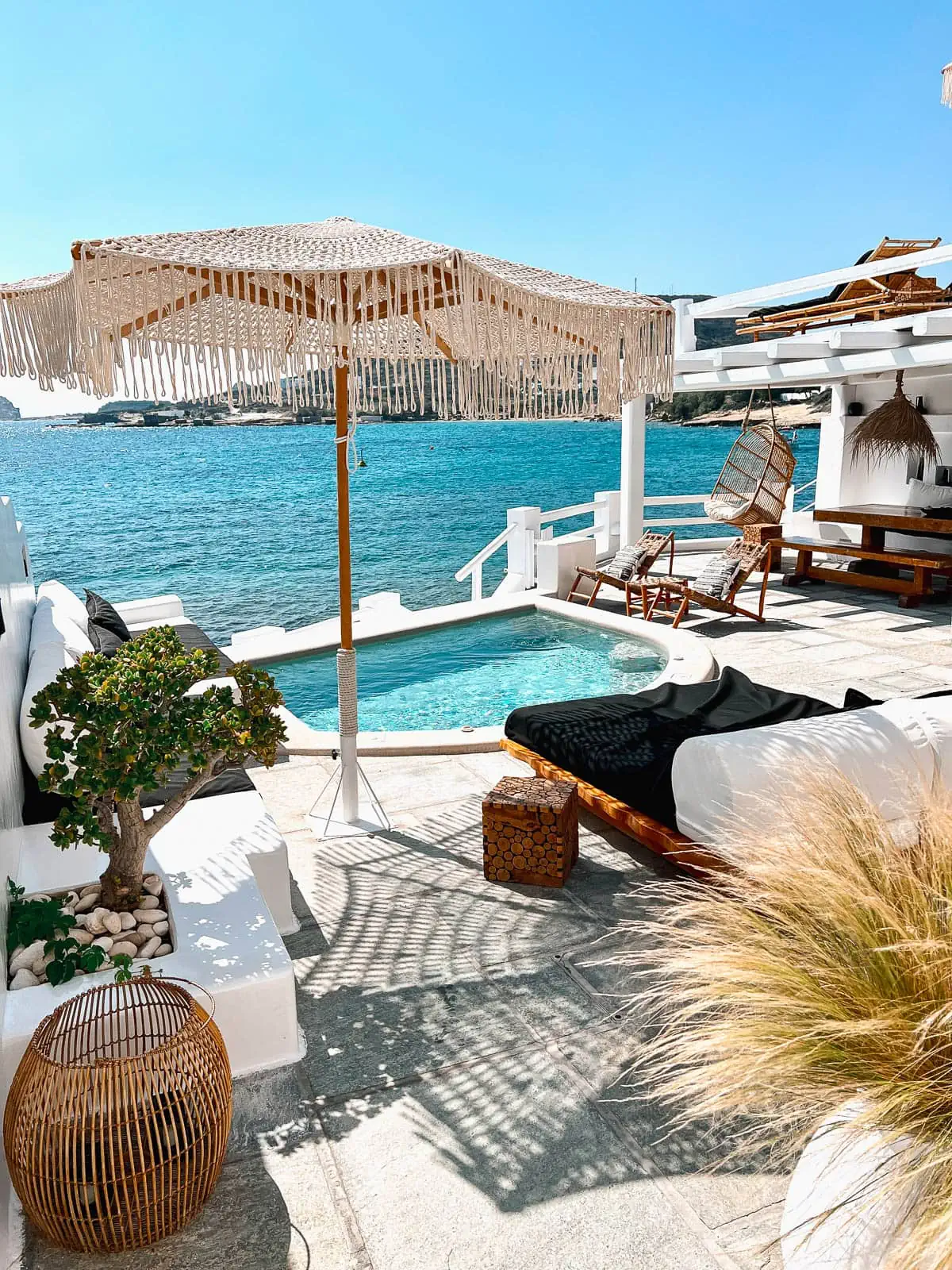 Where to eat and what to try
Alestra: This is located in Pollonia and they are are open from like 6am to 2am or something similar. We got coffee here (you can get it to go or stay) most days and also watermelon pie! If you picture pizza (at least the form of it) and a creme brûlée top and then combine that with a thin watermelon puree you'd have this magical creation called watermelon pie. Theirs was the best thing ever and it typically sells out by 10am. It's not good reheated or the next day, so you gotta go and get it. We loved the coffee, watermelon pie, greek pizza (got this quite a number of times to go and ate at Captain Zeppos on our deck; our son thought it was the best pizza that he's ever had), and greek salad. The owners are lovely and we felt right at home and almost like we were locals after nine days of visiting them.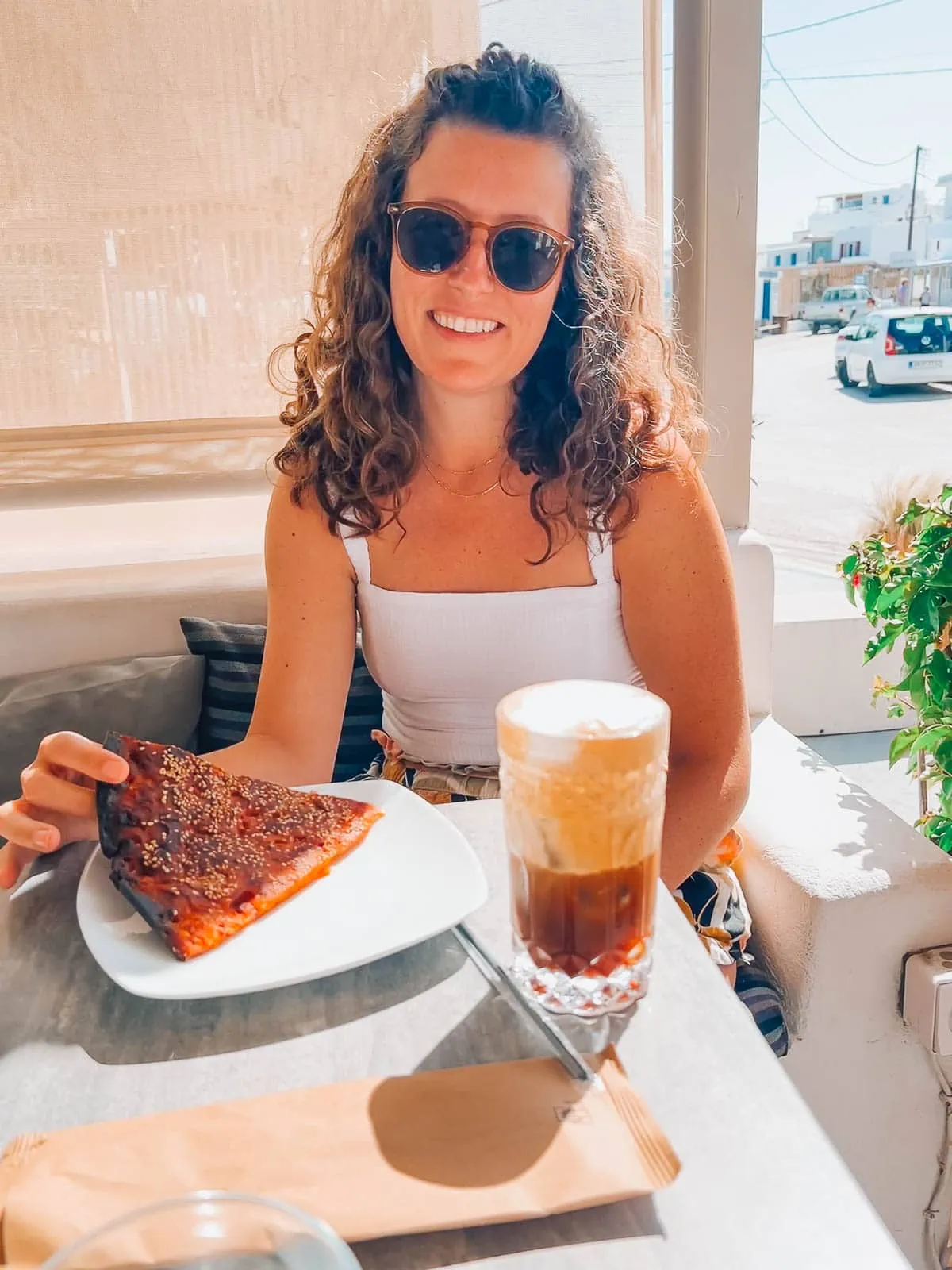 Enalion: This was recommended to us by Captain Zeppos because it's a completely family run restaurant and it was lovely. We went there twice and enjoyed the cheese plates, service and the fish plaki was absolutely amazing! You'll want to make a reservation if you go during peak hours.
Hanabi Asian Fusion: We tried this place at brunch because they had some options that Greyson was interested in and we ended up being wowed by the chicken bao bun. It was delicous. We went there twice just for that.
Yialos: You'll definitely want reservations at dinner here or you won't get in. It seemed to be the most popular place. Luke and I did date night here and he got the gnocchi with handmade smoked sea food and onion cream and it was so good! It had octopus, squid and shrimp (but cut up in tiny pieces). Usually, I'd be scared about all of that but it was really good!
Medusa Restaurant: This restaurant isn't in Pollonia so definitely hit this one when you are exploring the island. You are going to have a wait, but I think it's worth it. It's a really lovely setting and the area around it has a traditional fishing village. I'd recommend getting a bunch of appetizers to split (we loved those better than the main courses) and drinks!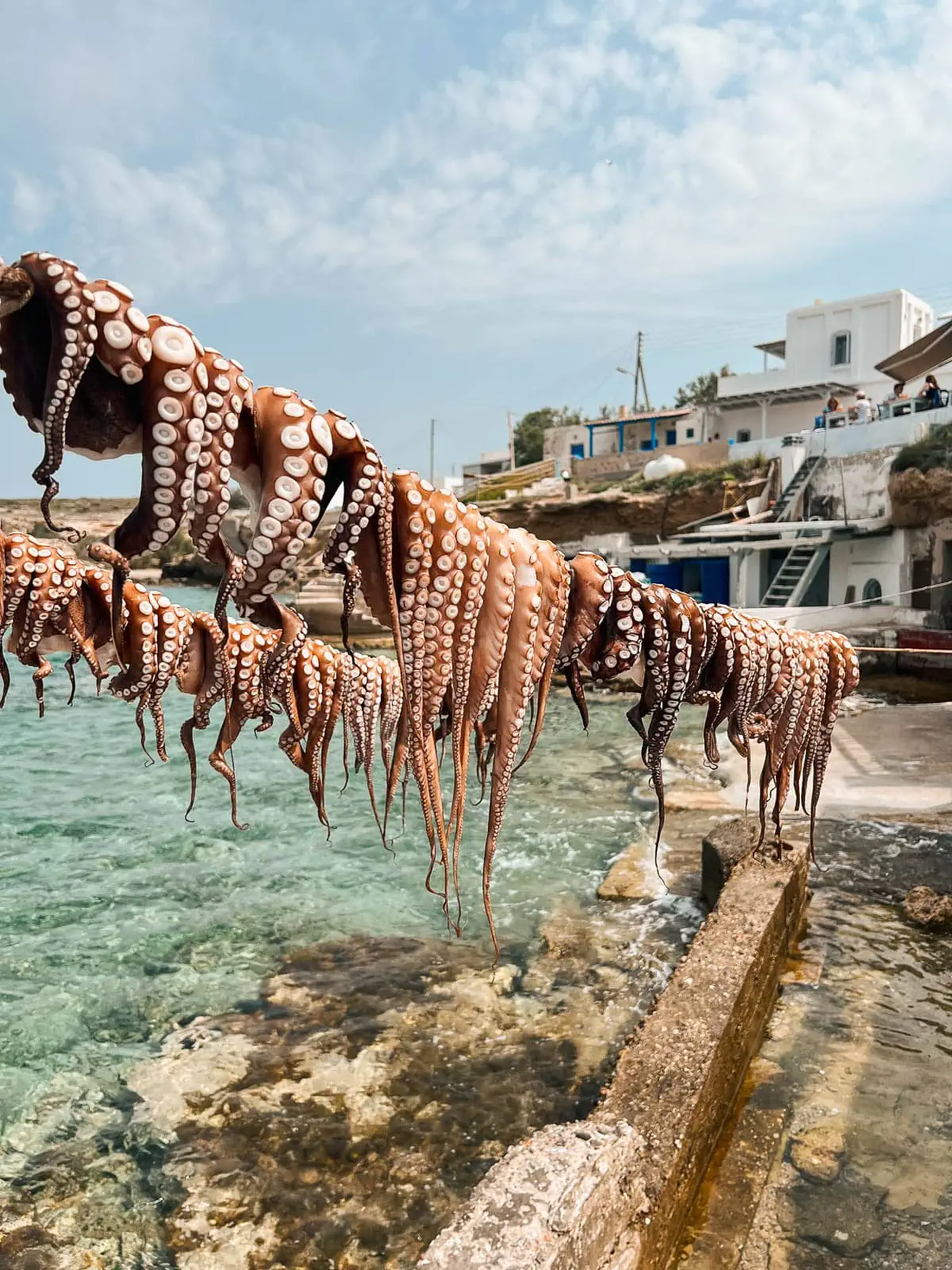 Food to try in Milos Greece: Watermelon pie (specifically at Alestra), Dakos (barley rusk base similar to croutons crunched up, tomatoes and cheese), Greek salad, Freddo Cappuccino, and fish plaki.
Exploring the island
You definitely need a car to explore the island and I'd recommend getting a 4x4 if you want to go to the Sulfur Mines. The island is pretty small so you can get to any of the other towns within thirty minutes. If you've driven in Europe anywhere before, then you know that it can be a bit tricky if you are an American. Milos was the least stressful of all the islands to drive on but expect lots of people walking (just make sure to keep an eye out for them) and keep a cool head when you inevitably need to reverse because it's a one lane street and you've come head to head with someone coming your way.
A lot of people seemed to pick scooters or quad bikes (which is helpful to get in and out of places and parking, too). We had a small four door car and that was fine as well. Just FYI, it's dry and dusty in Greece so if you do opt for a vehicle that doesn't have windows... you'll be in that.
Sarakiniko Beach
If you've seen pictures of the "moon beach" with people jumping off the huge white cliffs, then you are seeing photos of Sarakiniko and it really looks just like the photos. We went a number of times to to Sarakiniko beach because it's only about ten minutes from Pollonia. We definitely found it to be less busy after 3pm. Depending on the wind pattern and sunlight, the water conditions will vary so if you love it, go back a few times to see the changes. We LOVED it. It has a protected beach area, caves to walk in and explore (bring a flashlight!), huge jumping cliffs (which were so much fun), and is just so beautiful.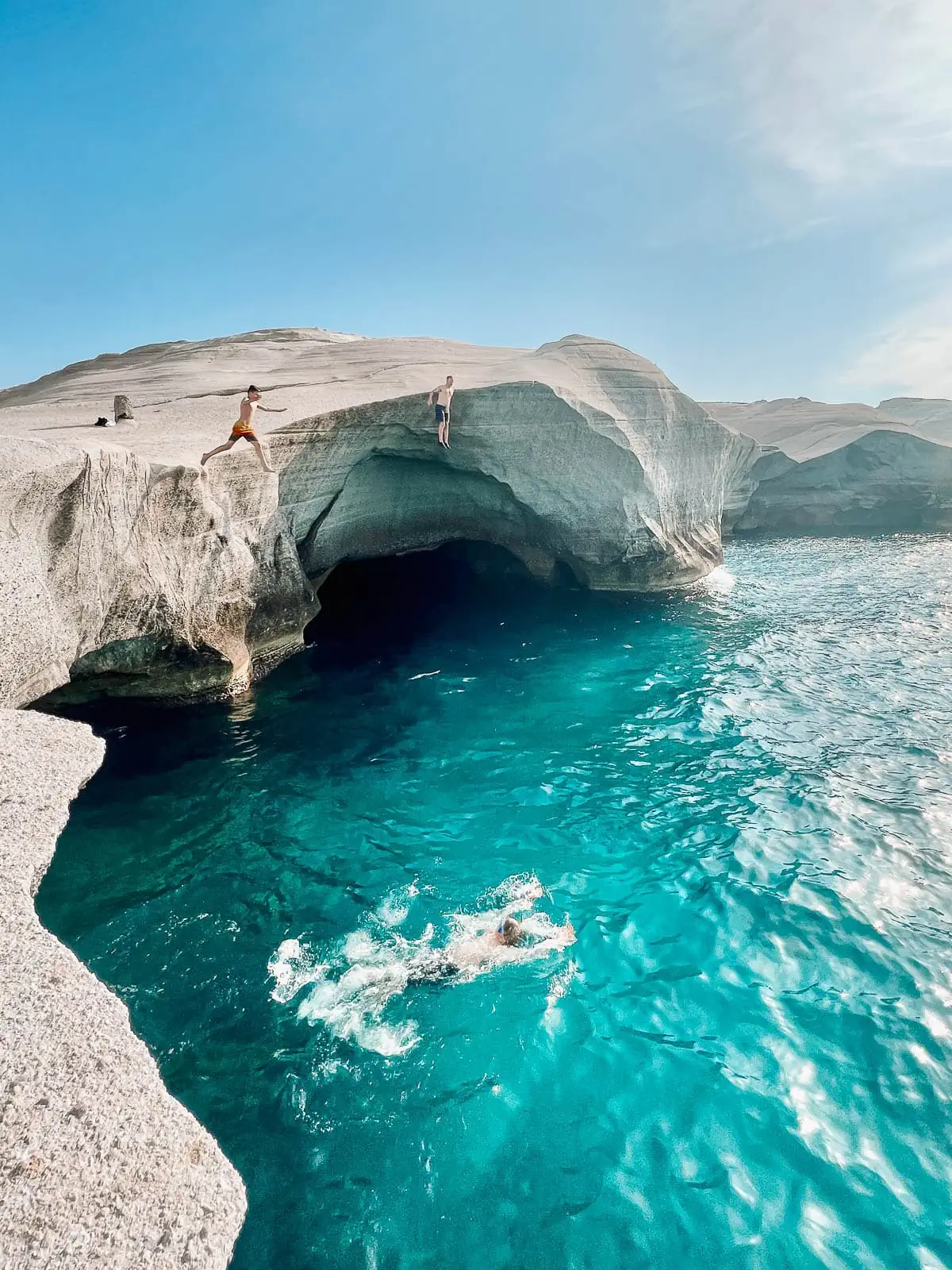 Sarakiniko Shipwreck
Instead of going left to the main area of Sarakiniko, go right up and over the rocks (you'll see a small trail) and look over the cliffs into the water. You'll see an old shipwreck that you can get to down to after about fifteen minutes of walking. The shipwreck is basically right off the shore so you can easily snorkel this. We've never snorkeled a shipwreck and I'll admit that it was a bit freaky, but super cool. The area by the shipwreck has a tiny beach that we also really enjoyed. The rocks there were so fun to look at.
Tsigrado Beach
This is a very small beach that you have to get to by decending the cliffside with a rope and two ladders. I thought it was beautiful! I'd recommend going early or later in the day to experience it with less people. Take very little in with you as it'll be tricky to get down to the beach. Our thirteen year old did it with us, but it was definitely a bit challenging.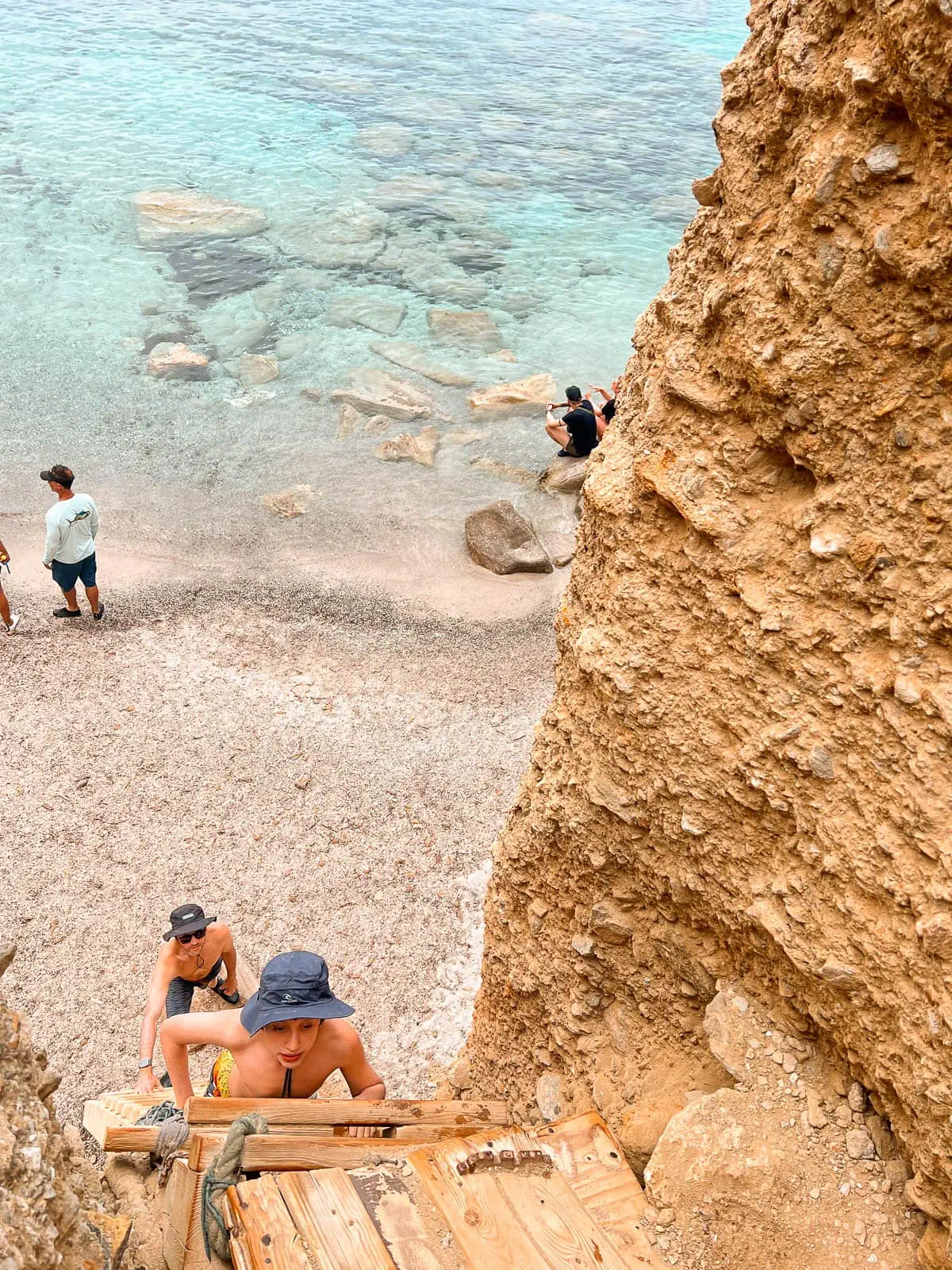 Papafragas
Papagragas is about five minutes out of Pollonia, Milos. There's a tiny parking area or you can grab parking on the street. There's two fingers of this beach. If you are adventurous, chill at the beach area and then swim around the point to the other finger. It's fun to explore that area with a mask and then you'll be able to see where you can jump off the rock shelves, too. We jumped here for quite awhile.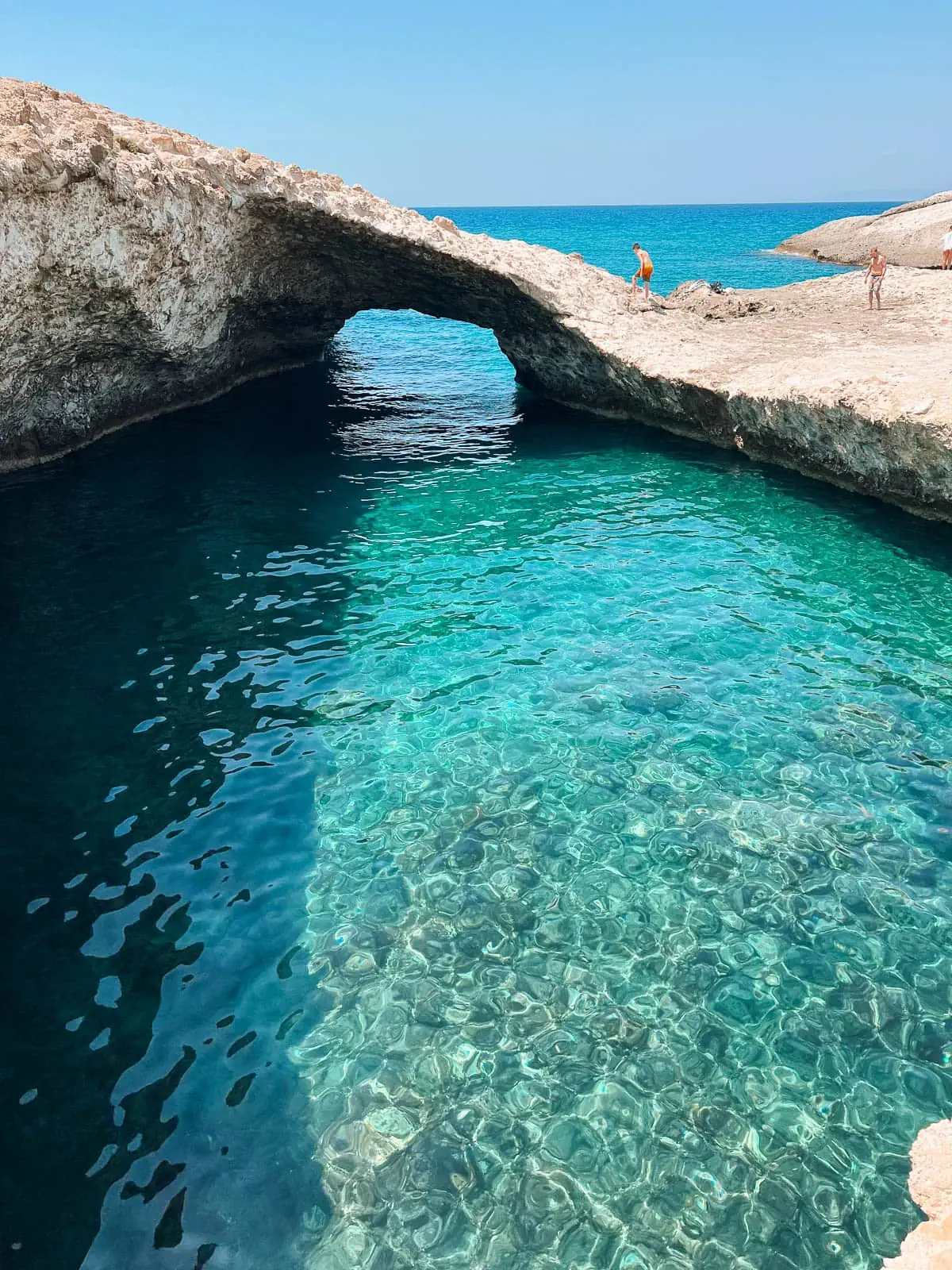 West Sulfur Mine
You'll need a 4x4 to get to this beach. It's a bit tricky to get to but I thought it was worth it. The snorkeling isn't good here but you can explore the mines and then rock collect and swim.
Kleftiko
We did a full day boat tour with Salty Rides to be able to see Kleftiko. It was a major splurge as it was a private boat tour but I'd highly recommend it. This was one of our favorite days on our trip. We opted to add another sea scooter (so we had two) and it was a great decision. You can explore all the sea caves with them. Honestly, the boat ride was awesome, the hospitality was awesome and we just loved seeing all the views from the water.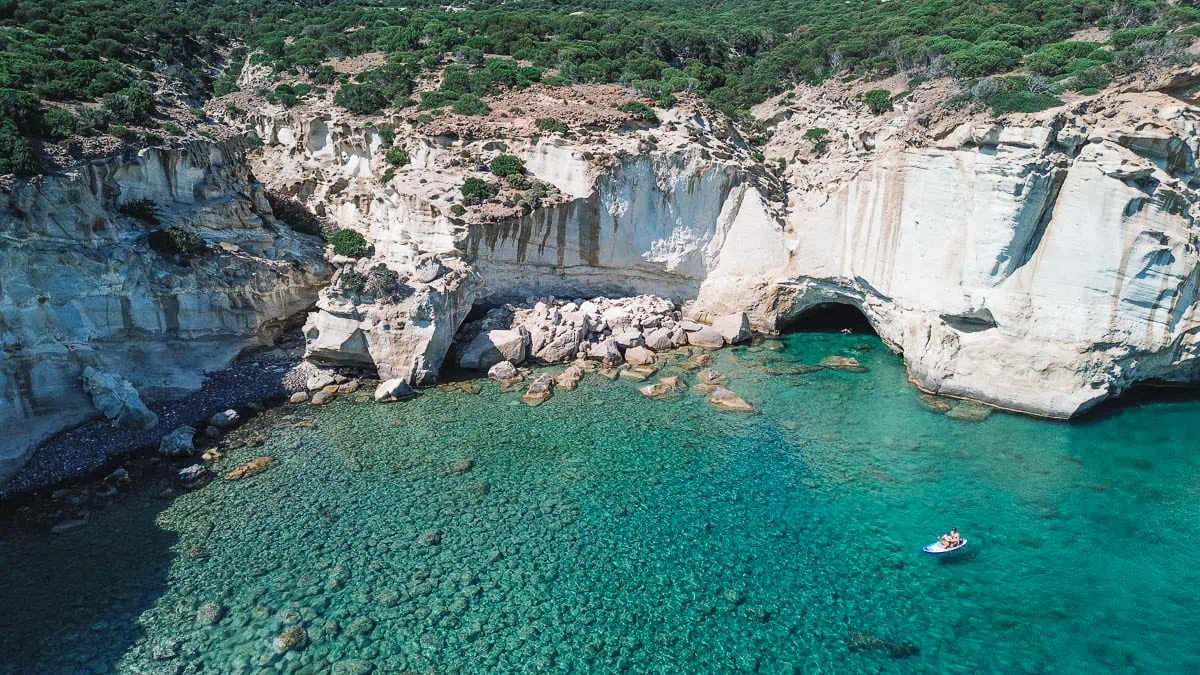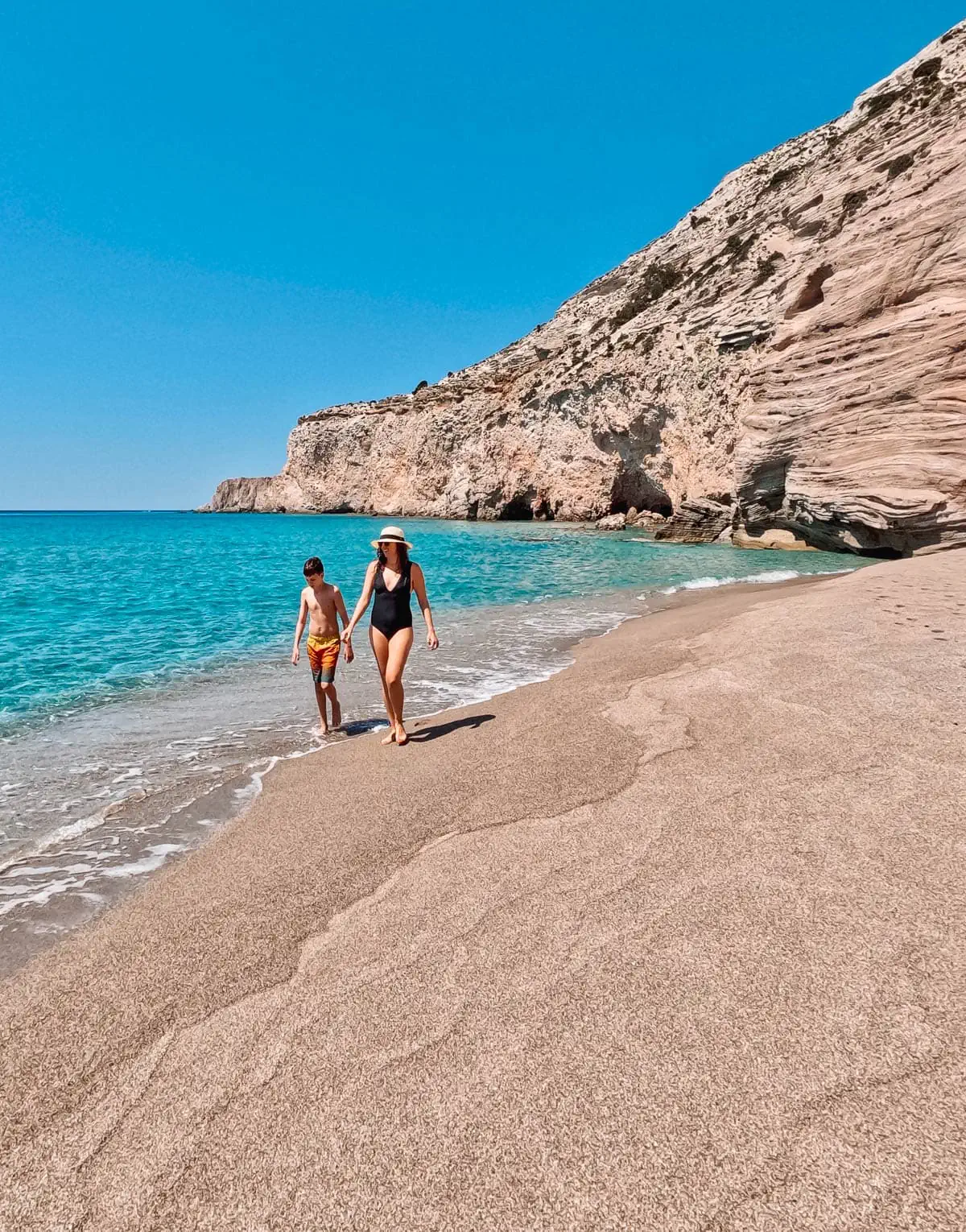 Kostankakis Winery
Kostankakis Winery is in Pollonia and is about an 8 minute walk from Captain Zeppos, if you decide to stay there. Luke and I booked a wine tour and had a lovely time. The owner's son gave the tour of the vineyards and then we were able to sit and chat with about eight other tourists while trying the wine and eating food. The tour says it lasts for about 2 hours but we were the first to leave and we were there over 3.5 hours. Would recommend!
What I'd do differently on Milos Island Greece
Overall, we loved our stay. There's three things that I'd do differently if I was booking again.
1. My recommendation for the ferry schedule
If possible, I'd arrange our ferries and island schedule to go from Athens to Mykonos to Santorini to Milos instead of the opposite way (Athens to Milos to Santorini to Mykonos) which is what we did. The reason for this is that Milos is a sleepy more relaxed vibe and I think it would be so nice to recoup for many days on Milos at the end of the trip before heading home. Overall, it wasn't a big mistake but if I was booking again, I'd book the opposite way.
2. Reverse order on Milos Greece hotels
The other thing that I would change would be that I would stay in the hotel in Pollonia Milos first for four days or so and enjoy the easy walks to restaurants and coffee. Then, I would move over to Aqua house for 4-6 days and enjoy the absolute solitude and peace of the most breathtaking place I've ever seen.
Both lodging choices were great but once we stayed in Aqua House, I just was sad that we didn't stay longer than four days. The hotel was so nice. Its just a boutique hotel, which is amazing but not as jaw dropping (or remote) as Aqua House. I'd recommend doing both, but end your stay in Aqua house.
3. Travel in September
The water temperature was cold when the sun wasn't out in full force. Locals said that the absolute best time for Greece is middle of September. By then, tourism has died down and the sea has had all summer to warm up a bit. So, if I was booking again, I'd try to travel during that month. If you travel in May, definitely bring a sweater or jacket for the evenings.
Our Thoughts on Milos Greece
Milos was our favorite island. I figured it would be when I was booking because we are pretty adventurous and don't want to be in a pack of tourists to explore. We found the island, the people, and the culture to be lovely. The sea is definitely colder than the ocean and we didn't expect to not see a lot of fish so snorkeling was definitely less interesting than what we are used to. That being said, they have underwater formations everywhere that you can swim through and explore so that was fun. Again, fun for people who are adventurous and will explore on their own.
Overall, we really had a lovely time here.
p.s. Here's the post that I did on Instagram on Milos, Greece. And, here's a blog post on how to do a large Greece trip as well as a more in-depth post on Santorini.