Interested in a secret door? Learn more about how to install a hidden door within a wall in today's post!
Before we jump right in, let me explain that our jib door is a bit different from most others because it's a small door that opens to a platform storage area behind a circle staircase. Old houses are fun, right?! So, some of the project supplies and parts of the process of building our hidden door will be different than if you have a traditional door that you are trying to make a hidden door (a.k.a.... jib door).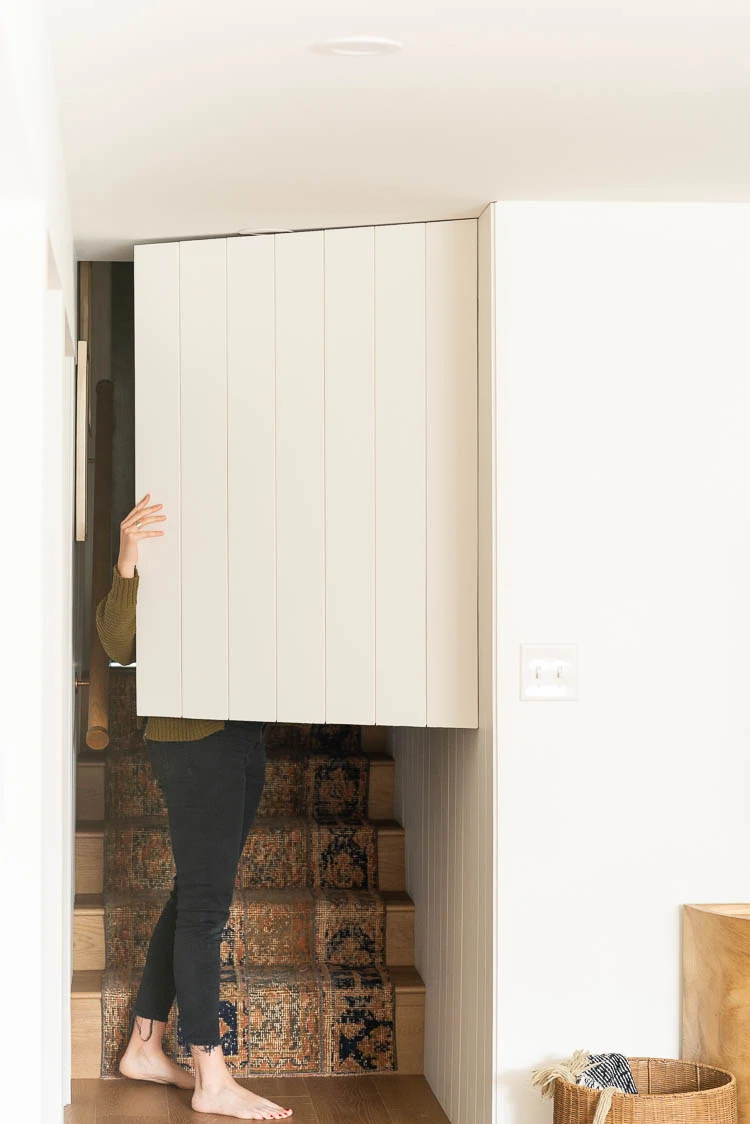 This project reminds me, a bit, of our scuttle attic door in the fact that we have an old house and, with older houses, you have to just find ways to make things work. I hope that you are inspired and take bits and pieces of inspiration or ideas from our secret door for a hidden door in your own house!
Let's define this door first!
What is a Jib Door?
A door that is seamless within a wall that is disguised as the wall.
For today's purposes, I'm using hidden door, jib door and secret door interchangeably! Someone, somewhere, might have slightly different takes on what each of these are but in our research on adding a hidden door to our house, we took them to all be the same. =)
Building A Hidden Door In A Wall
In the early stages of our basement planning process, our 11-year-old son, expressed interest in a few different aspects of the basement. As we narrowed down ideas, we wanted to make sure to include his vision in the planning and implementation process. One of those ideas that he loved was having some sort of invisible door where he could hang out.
As adults, my husband and I knew that the hidden doorway would be a feature that would be a pain to try to implement and one that wouldn't last that long as a fun place to "hang" because of the age of our kiddo. We also knew that a hidden door wasn't a bad idea longterm because it could hide a storage area for us.
We approached the idea to hide a door within the wall with the thought that it would bring a huge smile to our kid's face as well as fit for the future by being an aesthetically pleasing way to not see another traditional door that hides a storage room.
It was honestly quite a process to figure out how to do the DIY hidden door, for a few reasons, so I thought I'd walk you through the brainstorming process first and then get to the hidden door hardware and more in a bit!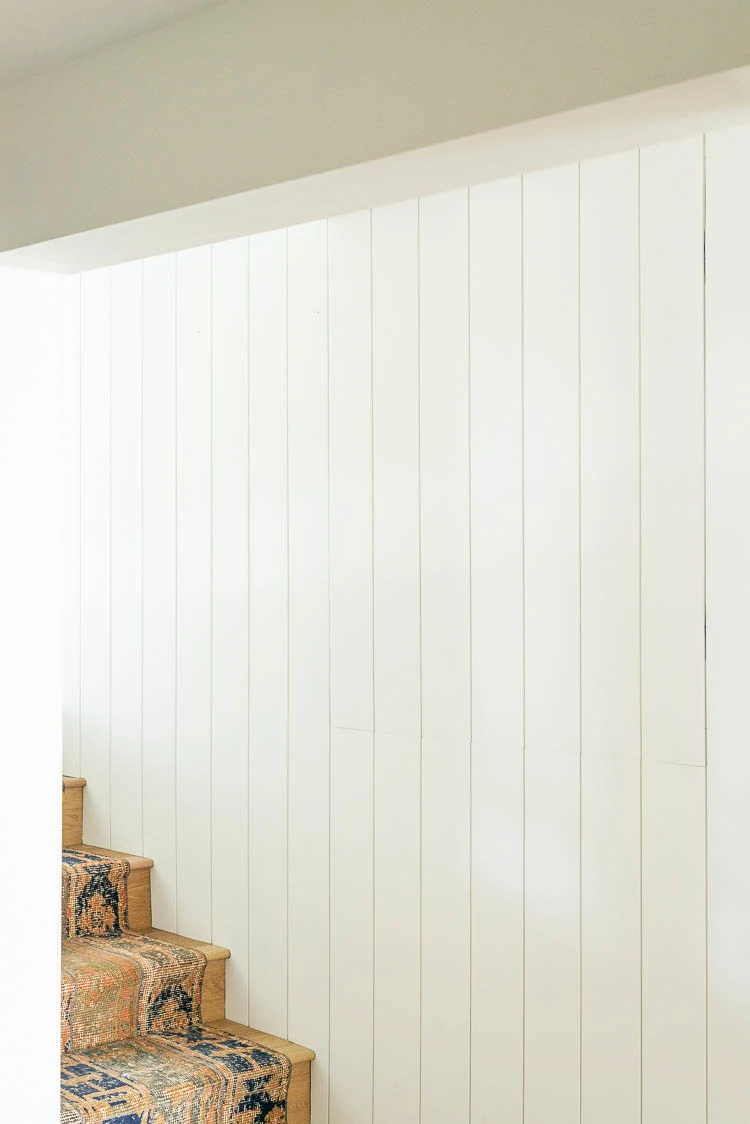 Brainstorming How The Secret Passage Will Work
This is one of those projects where you really need to think through multiple stages of the project in-advance or you're likely to run into trouble. The space your door fits into and how you want to hide it (trim or a frame or a flush-fitting door) will change what options you have for hinges and latches.
Our basement door setup is a bit strange because it's not a full-sized door and can never be because the lower area, underneath the door, is poured concrete for the support of our basement.
We basically needed a half-sized door that would be elevated so lots of the traditional hidden door ideas (such as a bookcase with door, etc.) wouldn't work for us.
Our door also needed to open out (instead of into the storage space). The storage space is not a finished space, so it is alright if hinges or latches are visible (on the inside), but everything has to be hidden from the outside. Also, the door needed to open outward so that the storage unit could be more usable.
Hidden Doorway Ideas
When we originally started thinking about the secret door, I threw out the idea that we could just hang a large piece of art in front of the door and call it a day. If we had gone this route, we could have used simple/cheap European cabinet hinges and a magnetic push-latch. This route wouldn't look finished without the art hiding the door, but was an easy route to contemplate.
The second idea was to frame the door opening with box moulding and continue that moulding up the stairs. I've seen this done a few times and it looks pretty sharp! If we had done this, it would have limited our hinge options because we would need to make sure the trim and door could both open without running into the wall surrounding the door.
The hidden door idea that we went with was to build a door and add planking on top to help hide the door within the wall. To do that, we bought SSOS hidden hinges. Honestly, searching for the right hinges that would work for our door style, depth, etc., was super tricky. The goal was to get the secret door aligned flush with the wall and typical hinges will show (on whatever side the door opens to) so we needed special hinges that would be hidden.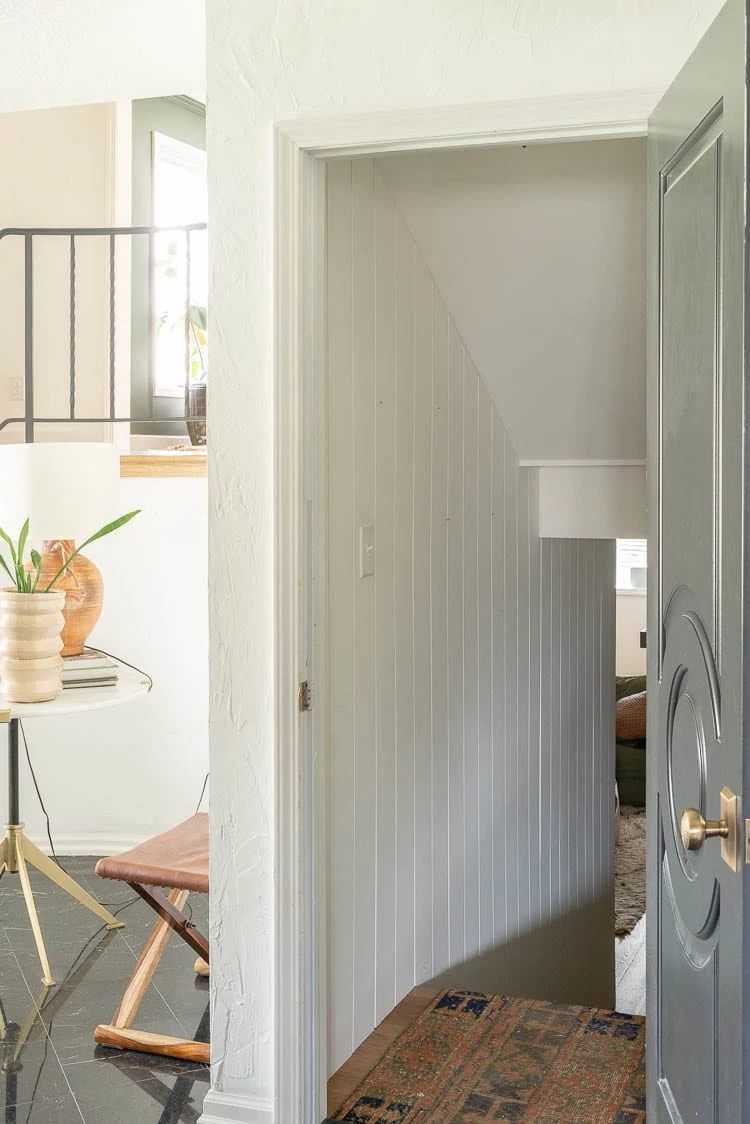 Affiliate links below. Thanks for supporting this blog. Click to read my privacy and disclosure statement.
Hidden Door Latch System for Our Secret Door Set-Up
For us, this part took a lot of trial and error. We started with some simple/cheap ideas (magnetic push latches and a heavy-duty push latch) and weren't happy with the results.
When opening the door, the heavy-duty push latches work the same as a magnetic latch, but have a lot more holding power and will keep a larger door closed. They also need a little extra room for the door to close before it un-latches. For that reason, they didn't work for us.
What we ended up using was a combination of 12v electrical components that would provide a strong latch, without needing any extra closing room for the door. They have a very strong holding strength, and made it pretty easy to make sure the door is closed tight, so the door is flush with the wall. The downside is that they require a little custom wiring. You could go this route without having to solder, but there is definitely some work required to wire everything together.
We ended up using two of these latches in combination with this wireless switch and this power supply. Figuring out the correct combination of components took a bit of research, but these seem to work well together. "And, an added benefit is the nostalgia I feel when I open the door and am reminded of the aftermarket keyless entry I added to my first car". (Luke wrote that part, lol).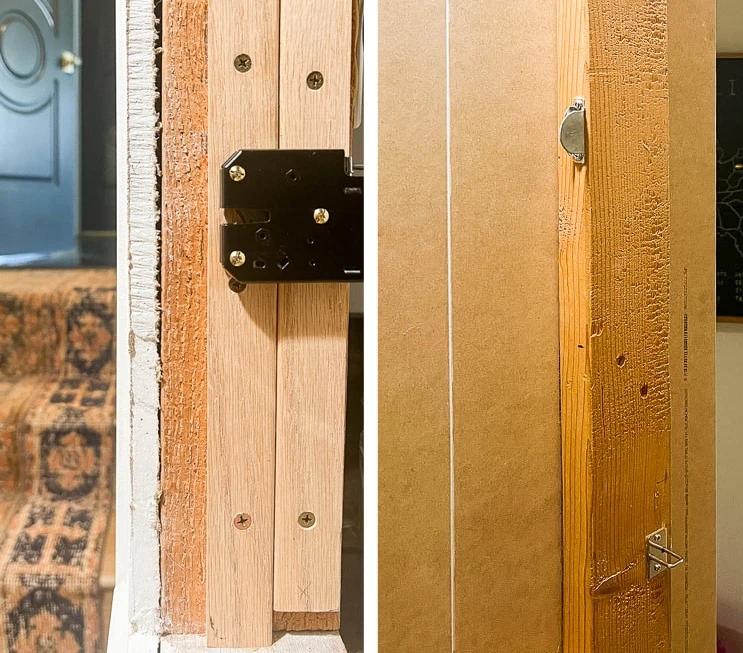 Let me give you the full supply list and then I'll share more about how we actually made the secret door behind the staircase!
Secret Passage Supplies
2x4's
Planking
Drill
Miter Saw
Nail Gun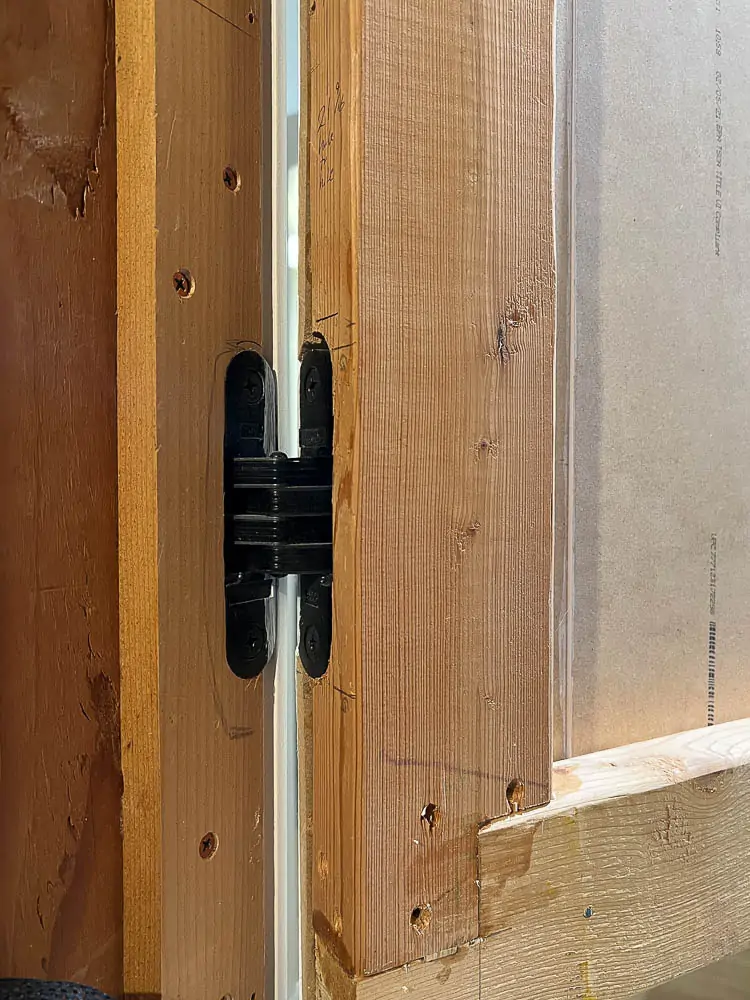 How to Build a Hidden Door in a Wall
Install planking up to door opening (on hinge side of door). We mitered our planking in this step and at the end when we continued to plank. See photos below for more details!
Build door (or skip, if you already have one)
Use SSOS templates to route hinge holes into door
Place door in opening, and mark hinge holes on frame
Use SSOS templates to route hinge holes into frame
Dry-fit hinges and make sure there's room for planking on door to clear
Screw hinges into place
Install, or adjust placement of door stop, to make sure door is flush with wall
Continue installing planking over door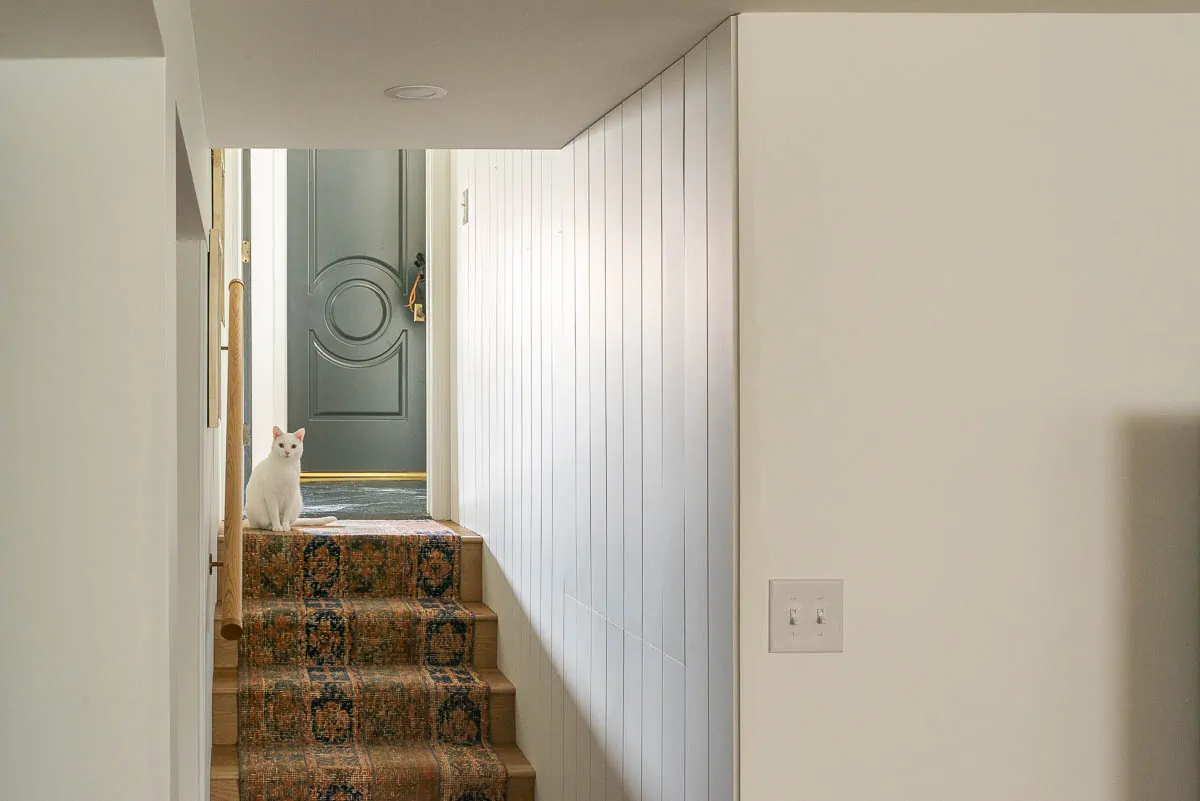 This project was either a labor of love or a crazy idea... we are still undecided. =) That being said, it really does look amazing in person. I tried to up the contrast on the photos a bit so you could see the line of the door but, in person, it's really not noticeable at all. We haven't had a single person notice that there's a secret door in our house until we point it out.
Remote for Passageway
I wanted to show you the remote for the door latch.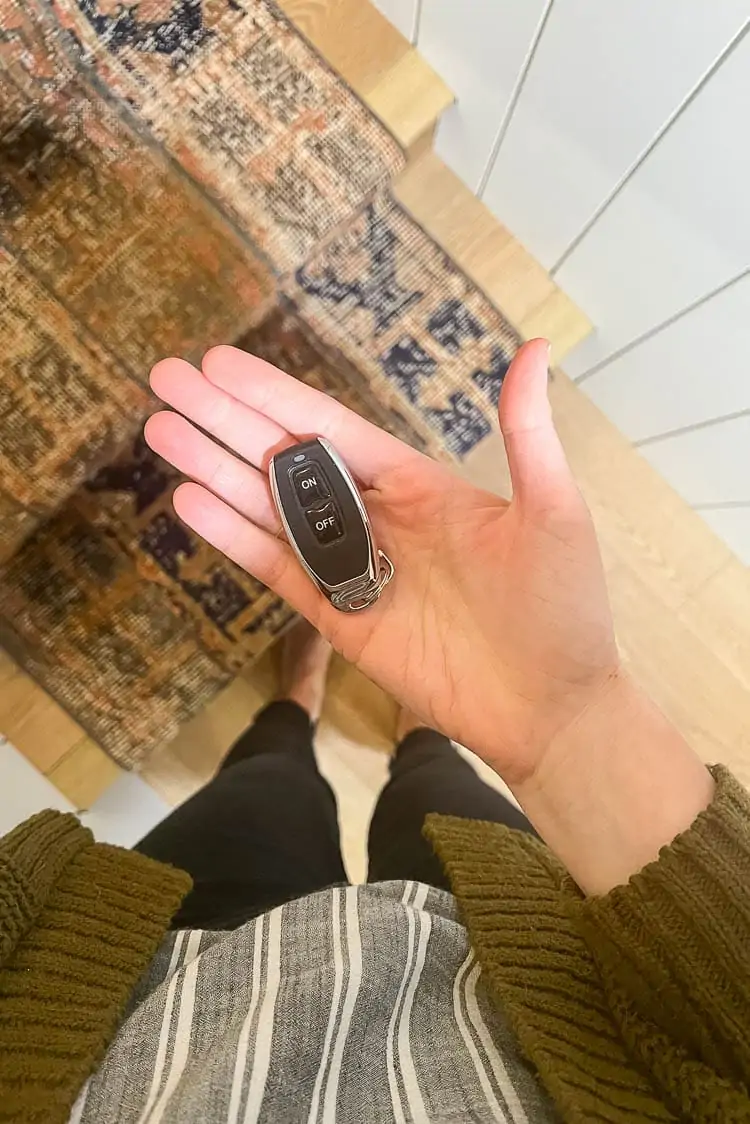 We keep the remote on the TV console which is easy to grab and use when needed. You can open the latch with the remote from anywhere in the basement. When you click the remote to open the jib door, the door latch clicks and pops open and stays open enough to grab the door and completely swing it open. Here's a photo of the door popped open by the remote control.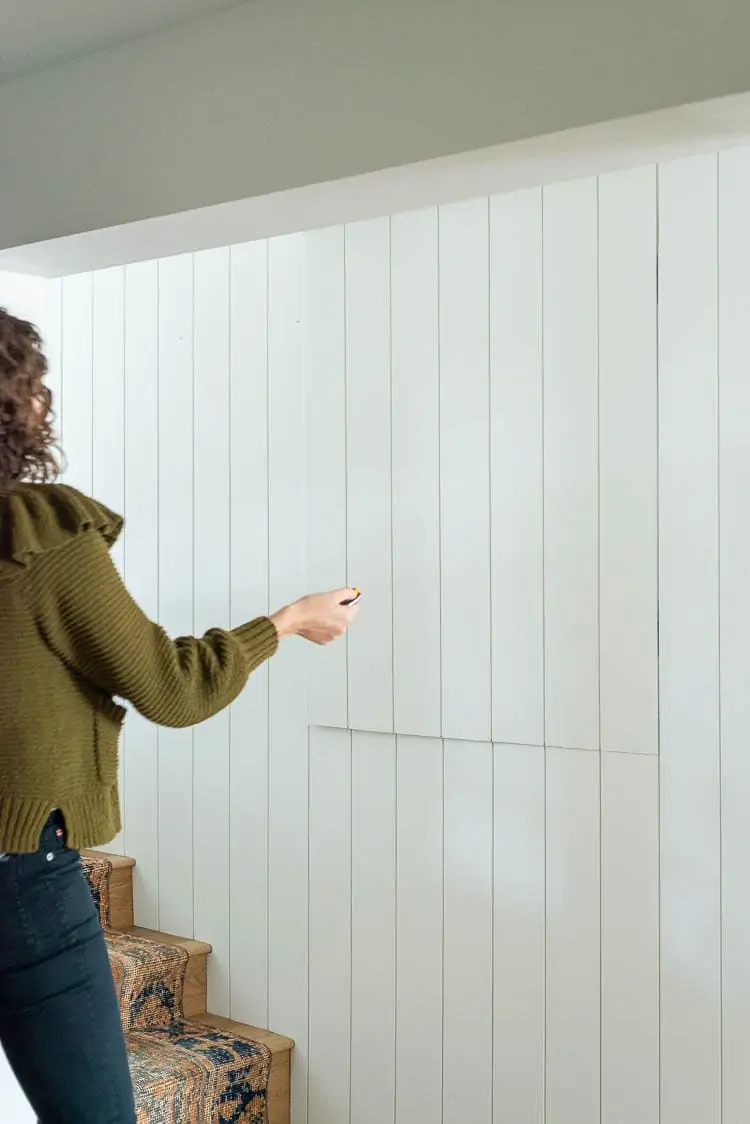 When you are done using the space, you just push the door closed to latch. Easy peasy.
Sneak Peek of the Basement Gallery Wall with the Paneling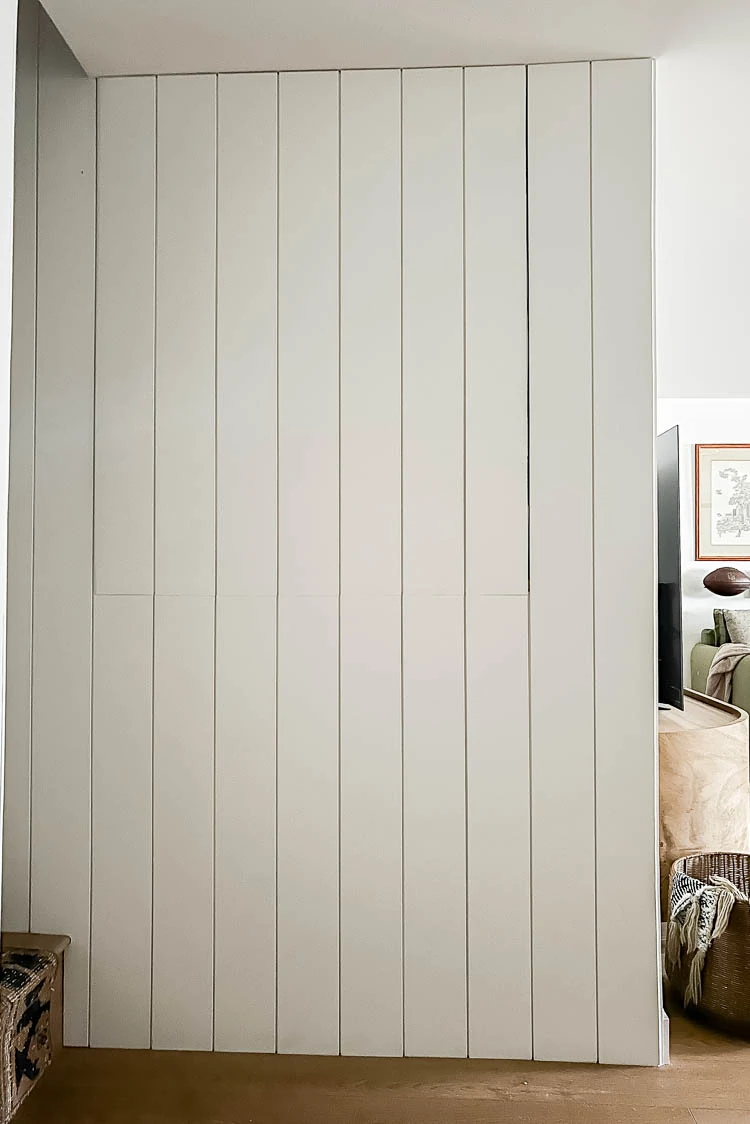 If you are looking for more resources for modern hidden door ideas, etc., I though this was good article on issues that you might have and price point for hiring a project like this out. Also, if you have a traditional door that you are wanting to turn into a hidden door, Chris Loves Julia has a good tutorial on that!
Since our door sits high up over concrete, it's a bit unusual. It's also weird that it needs to open outwards. The goal of writing this tutorial was to give you ideas for making a hide out room of your own. It was hard to find supplies that would make our secret door work. We spent quite a bit of money trying out different hinges and locks, so take what works out of our project and combine it with other tutorials for your secret passageway.
Happy secret passage building!
Yield: 1
How to Build a Secret Door (Also called hidden doors or jib doors)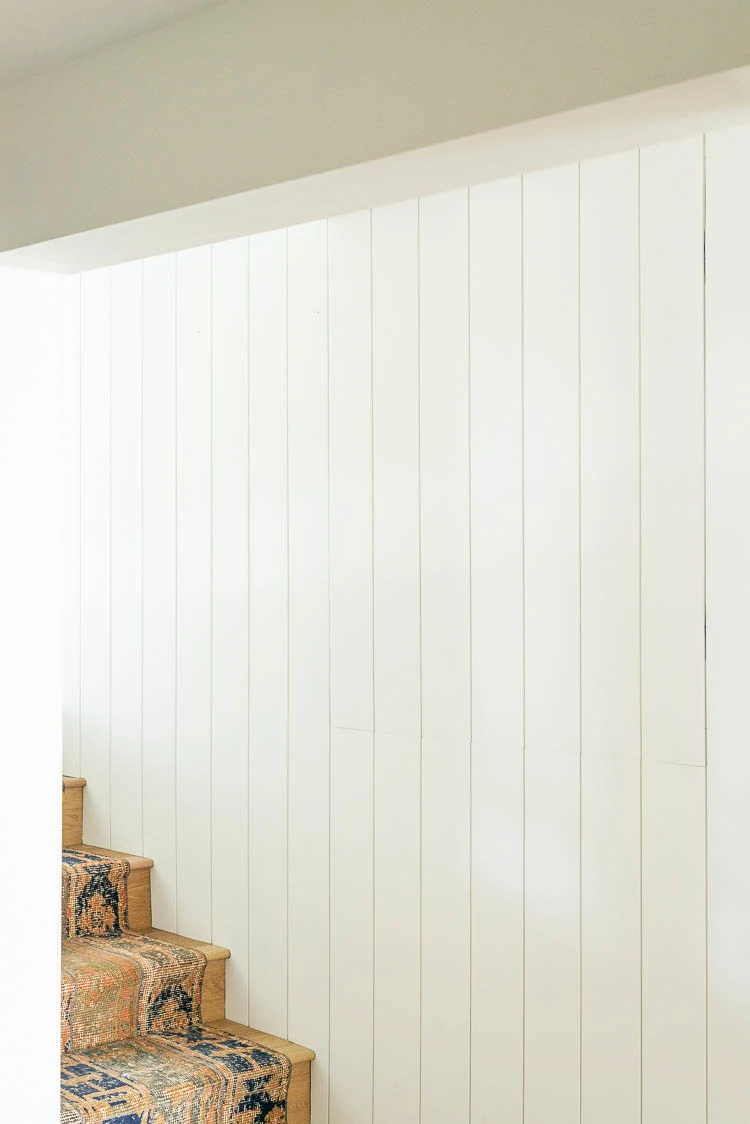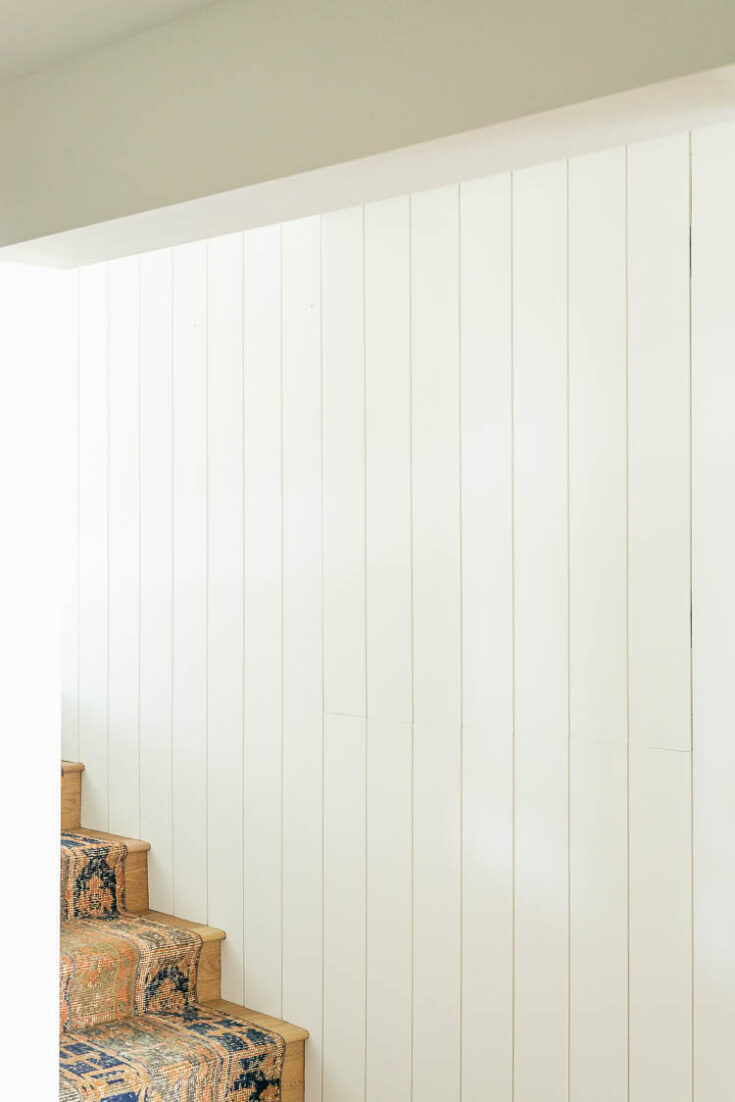 Interested in a secret door? Learn more about how to install a hidden door within a wall in today's post!
Materials
2x4's
Planking
SSOS Hidden Hinges
2 Latches
Power Supply
Tools
Soldering Set
Drill
Miter Saw
Nail gun
Air Compressor
Instructions
Install planking up to door opening (on hinge side of door). We mitered our planking in this step and at the end when we continued to plank.
Build door (or skip, if you already have one)
Use SSOS templates to route hinge holes into door
Place door in opening, and mark hinge holes on frame
Use SSOS templates to route hinge holes into frame
Dry-fit hinges and make sure there's room for planking on door to clear
Screw hinges into place
Install, or adjust placement of door stop, to make sure door is flush with wall
Continue installing planking over door