Rigid Core Luxury Vinyl Review and how to install luxury vinyl planking.
When shopping for our basement flooring, I looked at many different options of vinyl planks and ordered a few different vinyl flooring samples. Ultimately, I decided to go with Armstrong Rigid Core LVP and I'm so happy with my choice.
Today, I'm sharing about the luxury vinyl plank installation (we did it ourselves!), more about the durable floor option that we chose, color and more.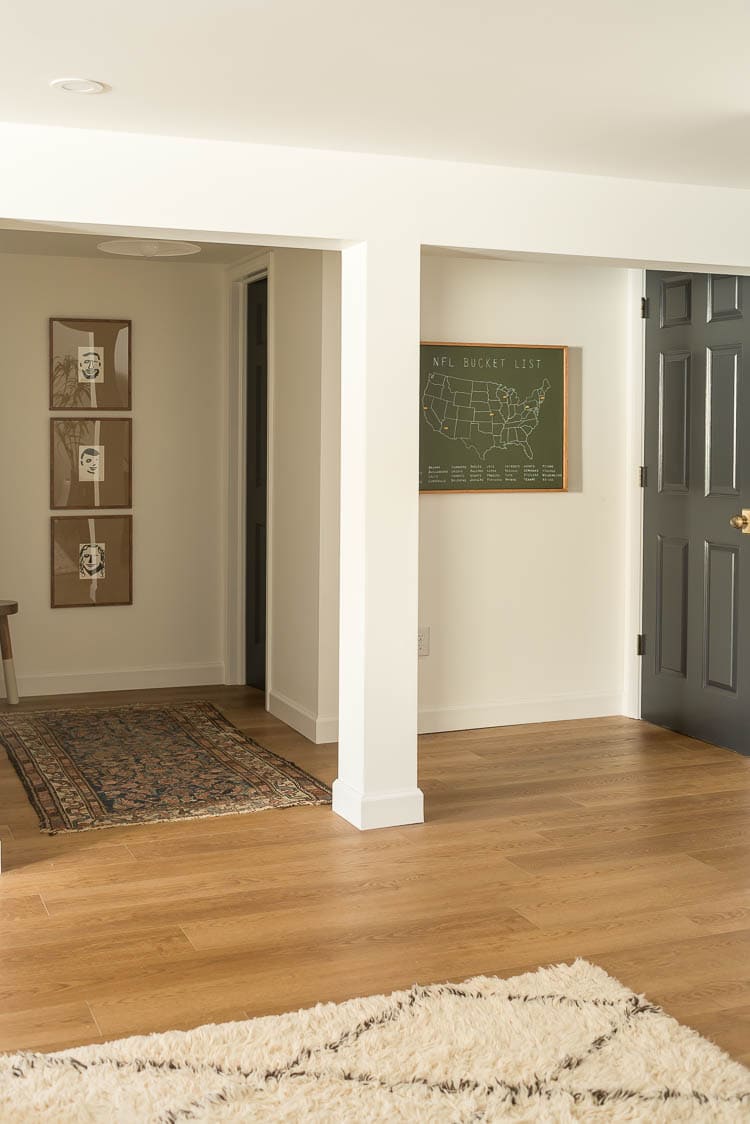 Waterproof Flooring For the Basement
As I started shopping for flooring for our basement, I knew I wanted to pick a product that would be waterproof. If you have a basement then you know that water can sometimes be an issue. We took steps to help insure that we didn't run into problems in our basement but it's always better to play it safe.
Must-Have's For Basement Flooring
Waterproof Flooring
Durable Flooring
Wood Look Flooring (to match upstairs)
If we wanted the cheapest way to do the basement flooring, it probably would have been to stain or paint the concrete floor that was already there. My mom did a stain treatment in her basement at her previous house and it looked pretty nice. I wanted a wood-look flooring in my space to keep up my house style flow.
Since we had a concrete basement floor, we had almost any option we wanted for the floors. I pretty quickly keyed in on luxury vinyl planks as the right material for our basement floors.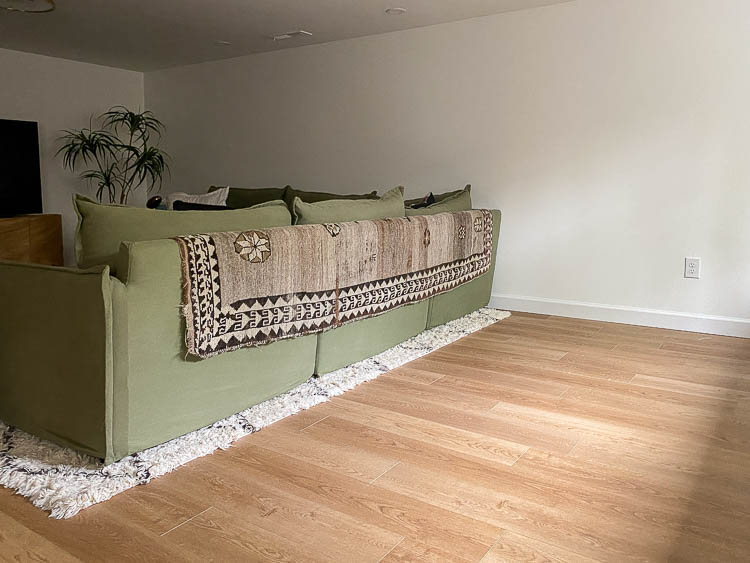 What are luxury vinyl planks?
LVP is a waterproof (or water resistant) vinyl flooring that comes in planks that resembles wood floors.
Affiliate links below. Thanks for supporting this blog. Click to read my privacy and disclosure statement.
After getting vinyl flooring samples, I really loved the Armstrong Vantage Rigid Core Luxury Vinyl by Armstrong. It had the underlayment attached and it was a click-lock installation, which were both things that we were looking at.
The sample I ordered also resembled our white oak flooring that we have upstairs. It felt like a cohesive, durable flooring choice for the basement.
I looked at a few rigid core flooring reviews and felt pretty confident that the Armstrong Vantage was the right product. But, like I mentioned, we did order quite a few samples of LVP. Some of the samples looked more like plastic and others, just didn't at all resemble wood. I think there's a pretty big difference in quality (and price) for LVP, so do your research. =)
We went ahead and placed a big order for the LVP in the Summerfield Oak Sandcastle color. It had a nice variation of wood tones.
Once we got the flooring, we followed the manufacturer's suggestion for temperature and then started to figure out how to install the the vinyl planks. The click lock vinyl plank install took a few tries (or an hour or so!) to get in the groove and understand how it worked.
I recorded quite a few videos of the process for installing the Rigid Core luxury vinyl, so thought I'd share the how-to with you to help you get past any of the tricky parts we ran in to.
How to Install LVP
1
Prep the floors by removing carpet, tack strips, baseboards and glue.
2
To remove glue: a multi tool with a soft scraper worked great.
3
After sweeping the floors, draw a chalk line across the main sight line of the space.
4
To keep everything square, we are doing another chalk line going the opposite direction.
5
We had five different wood variations. We are working out of multiple boxes to make sure we don't duplicate. We want this to look seamless.
6
Using a rubber mallet and wood block, we tilt the LVP into the groove and then tap in .
7
Two hours of work. It took awhile to get going. We are carrying a pattern that repeats every four rows.
8
4 hours in and it's going pretty well.
9
Making sure we aren't using the same color/tone board next to each other.
10
We used a miter saw to cut. Ours doesn't have a big enough blade to cut straight through, so we flipped it upside down after the first cut to finish.
11
Now, let's talk about tricky cuts.
12
How this board sits right now is where it needs to be lengthwise but cut thinner on the wall side so that it will slide in.
13
We need to measure & cut this board but not put it in. We'll work backwards to get the length from the wall on the left and install that one first.
14
For the tricky cut: use the square to get the measurement to the end of the wall. Ours was 5 7/8ths. Do it again at the end to get a straight line.
15
Use a jig saw or circular saw (we used both)to cut the length of the board (where we drew a straight line at 5 7/8ths).
16
It's cut. We got the measurements on the wall plank after cutting the tricky cut. Installing the plank by the wall first.
17
Continuing the process.
18
Last few tricky cuts and pieces to install.
19
Using a pull bar (meant for tile), you can easily install the last planks by the wall.
20
After install, a fresh mop!
I hope it was helpful to see the process of the luxury vinyl plank installation. We got faster at the install as we went along but this was a big job. Definitely doable, but a big job, nonetheless.
We've now had the rigid core luxury vinyl flooring installed for about four months now and it's been great! It looks great in person and when people come over, we get complimented on it. There's not a visible pattern or flow to the floor, which was something that I was really particular about. We are definitely pleased we decided to go with the rigid core luxury vinyl.
Play catch-up on the basement renovation with these posts:
Up next for the basement, is finishing the stairwell and secret door (here's some inspiration for a similar shiplap door). Luke's been working hard on it and I can see the light at the end of the tunnel, finally!