Make this NFL Football Map or customize it to make a similar National Park bucket list art canvas for your walls.
I wanted a bucket list art piece for my basement and decided that making a football map that was unique to my style would be best. I'm walking you through the steps so that you can learn how I made this stadium art piece so you can take the idea and have fun with it at your house.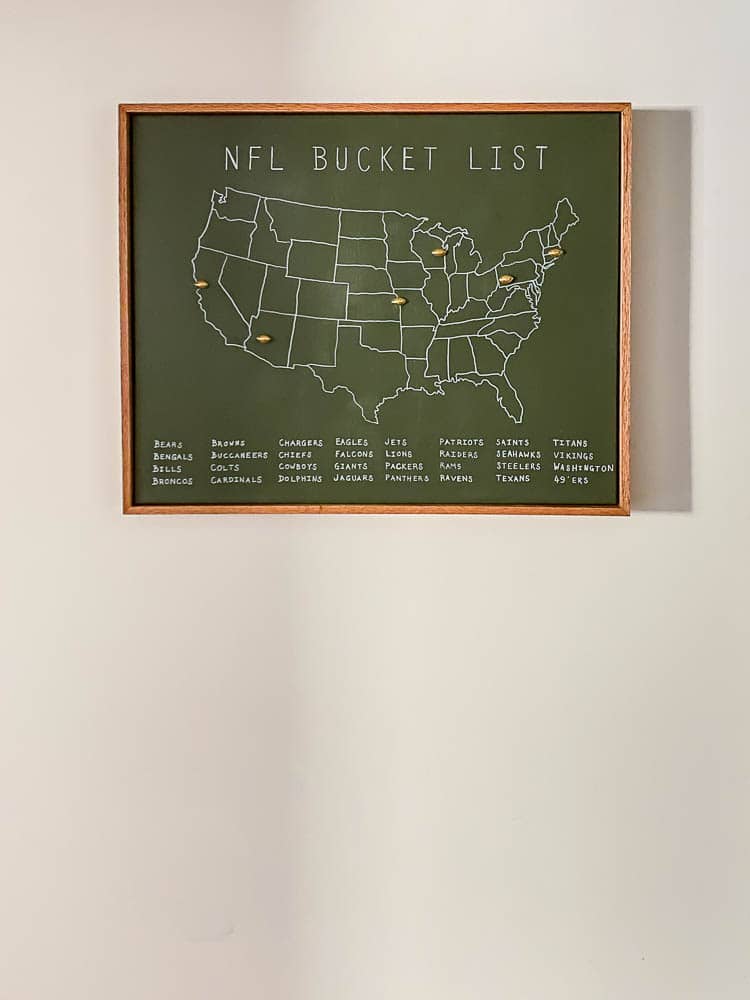 Last year, I was researching road trips to national parks and came across some cute ideas for ways to display your national park bucket list trips. From scratch-off maps to national park checklist art pieces... it sparked a great idea for a custom bucket list art piece for our basement.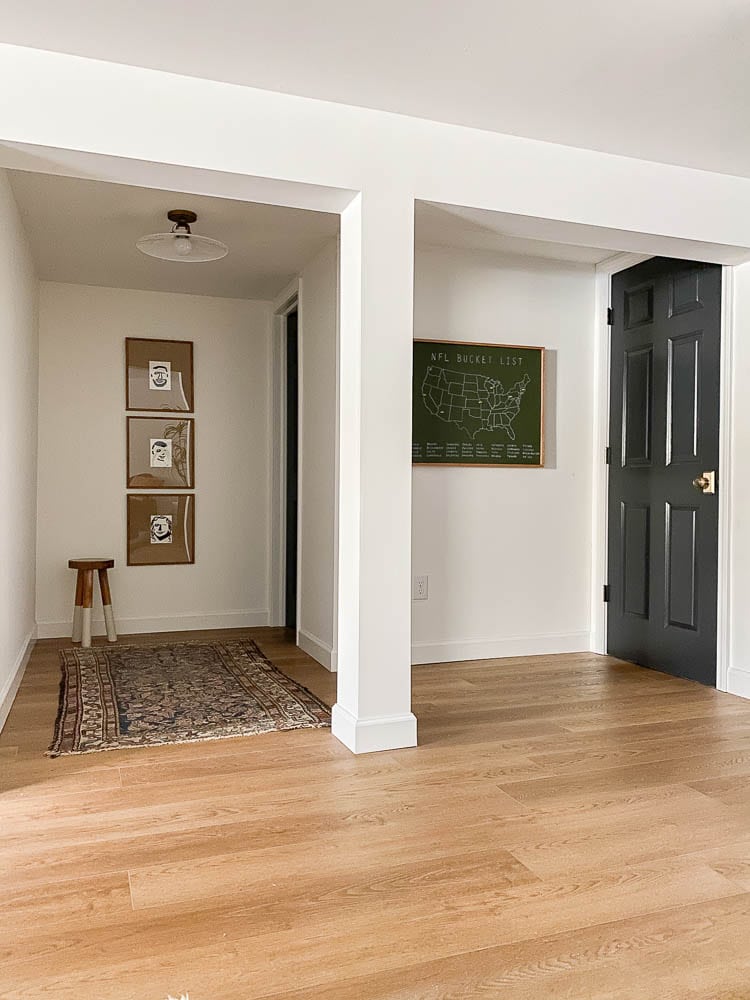 Before I jump right into the idea behind the NFL Football map, can we just take a second to appreciate this view?! I mean, we've come SO FREAKING FAR in our basement renovation. I wish every corner of the basement was this "done" but until then... I'll just continue to soak in this view.
Ok... back to the art project today!
As you know, we are huge Kansas City Chiefs fans (super fans, some might say) and it's high on my bucket list to travel to see the Chiefs play in every NFL Stadium. A NFL Football map that showed a map of the United States with the stadiums that we've seen the Chiefs play at seemed like a great fit for our space.
After seeing some of the National Park Bucket list art pieces, I decided to search online to try to buy a stadium map art piece. I found a few options but nothing that felt like me.
I tabled the idea for awhile and then decided to just make my own. We've had some art successes in the past (DIY Rug Art and Travel Coin art) and some art failures but we're game to try our hand at making an elevated football team map for our space.
I say "elevated" because I appreciate pretty spaces. I want even our sports-infused basement to feel like us. So, going for a more refined stadium bucket list was the goal!
Let's get to the project and remember, as I'm sharing about it, that you can take this type of project and make it your own (think travel bucket list, MLB Stadium bucket list, etc.).
Affiliate links below. Thanks for supporting this blog. Click to read my privacy and disclosure statement.
Supplies for Football Map
Canvas (I repurposed one we had on hand)*
Paint
Projector
Photoshop (or other web tool)
Printer
Plastic (I used leftover plastic but you could use just about anything!)
Sharpie
Vintage Brass Pins (there's a few vintage football pins left still)
* If you aren't repurposing a canvas then you can skip buying the sealer and the gesso. Also, I had that particular sealer already on hand so I used what I had but there are lots of different options for sealers.
DIY Stadium Art
Repurposed Canvas to Bucket List Art
Seal canvas to lock in original art so it doesn't bleed longterm. I used a Kilz sealer.
Apply two coats of sealer.
Brush on Gesso. Let dry.
Apply another coat of Gesso. If you want your canvas a lighter color, then you may need more coats of Gesso.
Paint canvas.
Print off map of United States (where it shows the NFL Stadiums). You could do the same with National Parks, etc.
Bring the image into Photoshop and delete any areas that you don't want.
Size the image to 8.5x11 and add text (if wanted).
Print image on paper (printing on transparency paper would save time!).
Using a projector without transparency paper, trace the map on plastic with a permanent marker.
Put your traced plastic on the projector and find the distance from the the wall that shows the image on your canvas (see video for more explanation).
Start tracing on the canvas with a permanent marker.
Keep tracing until you finish.
Use push pins to designate where you've visited.
Don't you just love how it turned out? It matches what I had in my mind when I envisioned how this piece would work in our space, which isn't always how projects end up.
I didn't share how we framed the canvas and we've actually framed canvases twice now (we did it for our Korhogo textile art as well). I plan on writing about both ways we framed the art pieces soon. We did it with slightly different methods and they both work well. Until then, here's a good Canvas Floater Frame tutorial if you want to get started on something similar.