Simple DIY Pulleys for kids can be so much fun! Use this tutorial to DIY a bucket and a pulley for a treehouse. Treehouse accessories can be super pricey, but this project won't break the bank nor be a huge time investment.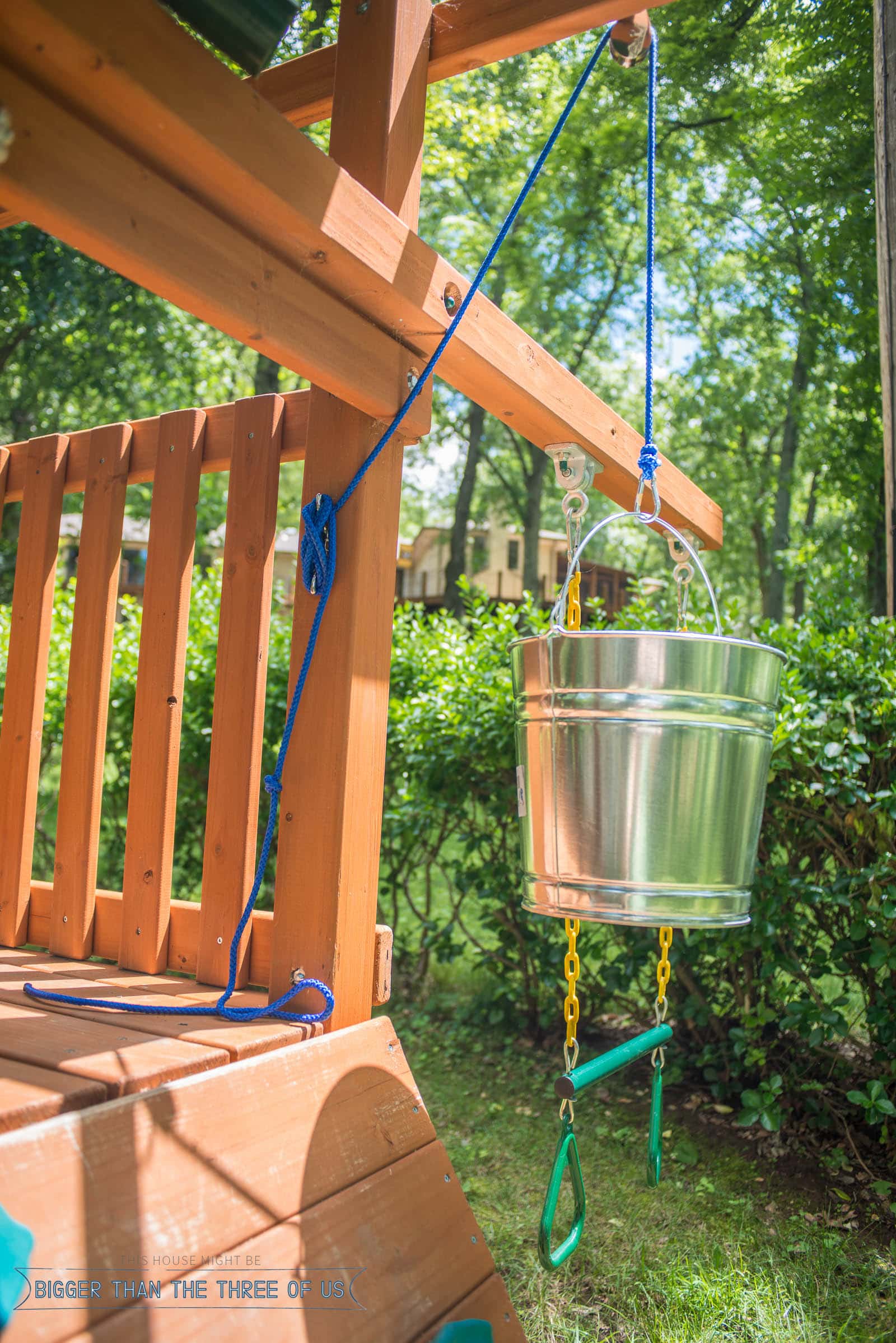 Special thanks to BLACK+DECKER for sponsoring this post and for introducing me to the AutoSense Drill with it's automatic clutch. 
How To Add a Bucket and Pulley to a Playset
When we were thinking about treehouse ideas and potential add-ons for the treehouse, I was blown away by the prices of all the treehouse accessories. Seriously, most of the treehouse swings start around $100 and go up. I knew my little guy would love all those higher-priced accessories but I also knew that he would love a simple treehouse addition as well. I think Luke was the one to mention that we should just add a treehouse bucket pulley system. To be honest, when he mentioned it, I wasn't even sure what a pulley was! So, first off…
What is a Pulley and How Does a Pulley Work?
A pulley is basically a wheel with a cord (or chain) that goes around the wheel. A pulley lessens the amount of strength (or force) needed to raise a heavy object. They are often used with heavy objects but can be a super fun, simple DIY machine for kids to make and play with as well.
This project would totally work with a treehouse or even off a back deck. I think it's just something that adds some fun and excitement no matter where you put it.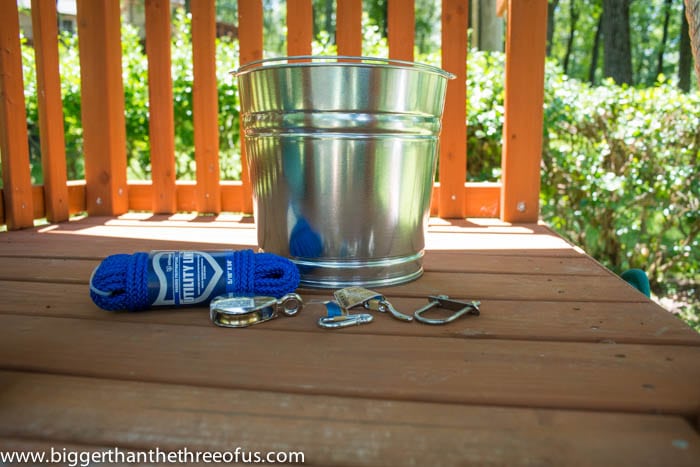 Supplies Needed For A Simple Rope Pulley

As far as tools go, you will only need a drill.  We used the BLACK+DECKER Autosense self-torquing drill. No more arm wobbling because of the weight of the drill. This baby is light and powerful!
How to Make a Simple Pulley For Kids
Start by deciding where you want your bucket to hang. For us, we wanted the bucket to be accessed from the top of the treehouse but safely without having to reach out too far to grab it. We determined that it would be best for ours to hang out on the side by the monkey rings. Our monkey rings extend off the back side of the treehouse on a separate arm of the play set. We wanted our little guy to be able to pull/lower the bucket without hitting anything and also be able to use the monkey rings while the bucket was down.
Next, you need to determine placement on your beam. We centered ours from top to bottom. Once you have determined placement, drill the holes for your hook. I'm sure you can find different hook attachments, but we went for a C-shaped hook that has bolts attached. You basically drill a hole through the beam in the treehouse that is the same diameter as the bolts of the C-shaped hook.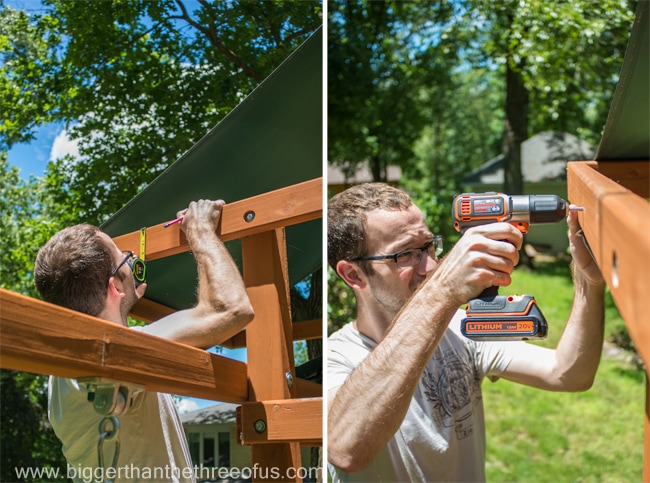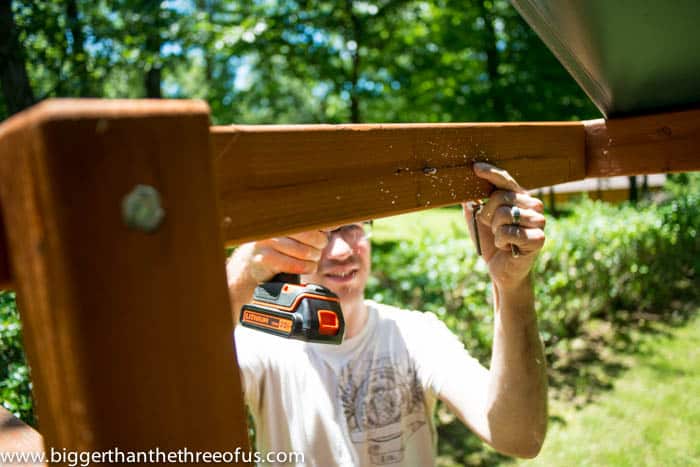 Before you install your hook, you will want to place your pulley on the ring of the hook. Most pulleys that we looked at had a ring attachment at the top so all you need to do is slide the ring over the C hook. Then, install the hook into the drilled holes. Tighten up the bolts on the back of the C hook to fasten.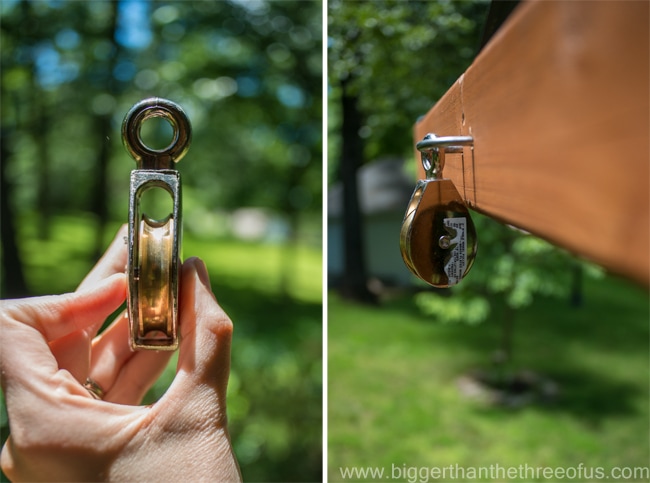 Next, you need to make a knot in the rope around your carabiner. If you are new to making knots, here's seven knot options that you could try. This knot isn't going to be holding a person's weight like in rock climbing, but you can still use the directions if you are new to making knots in ropes.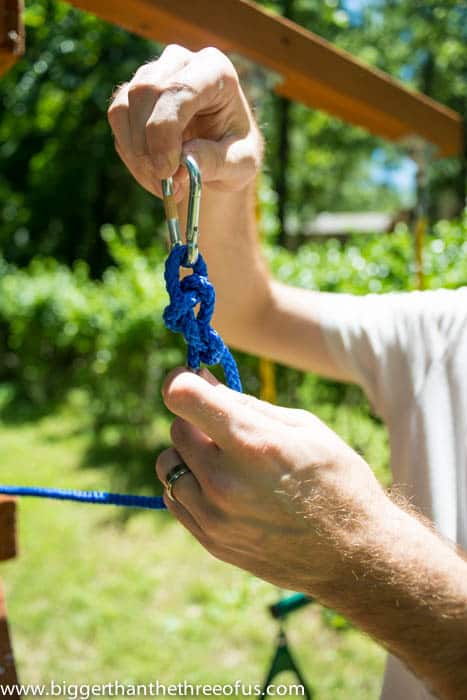 Once you have your knot made, hook your carabiner on to the bucket.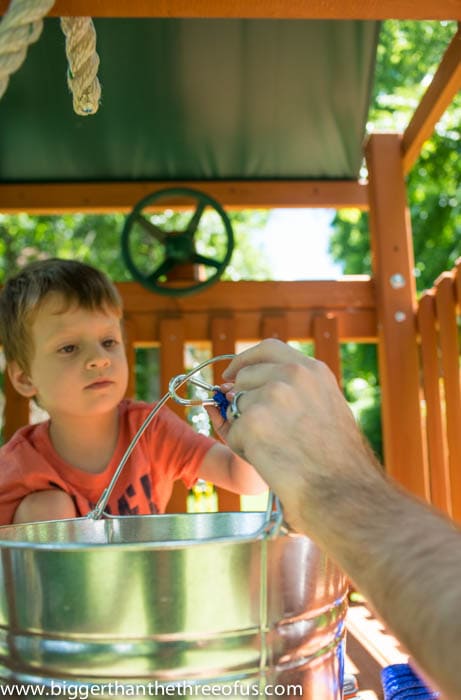 Thread the opposite end of the rope through your pulley and then burn the edges of the rope so that you don't have any fraying.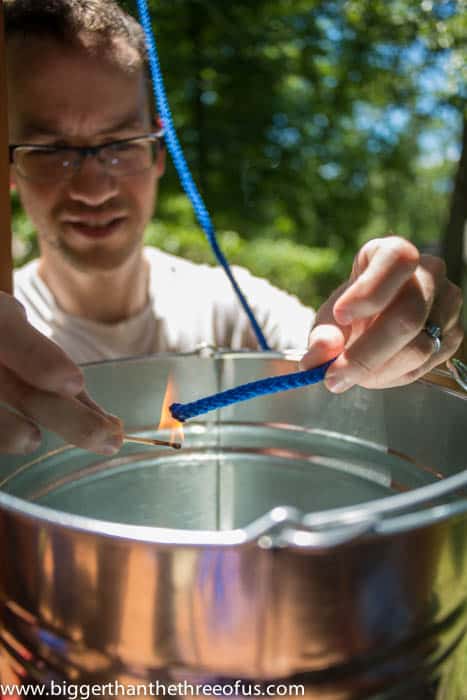 Inside the playset, decide where you want your cleat to be (where your rope ties off). Make sure the place you choose is easily assessable for little hands/arms. The cleat is what is going to hold the excess rope when you have the bucket up. When the bucket is on the ground or being used closer to the ground, the cleat will not be holding any rope.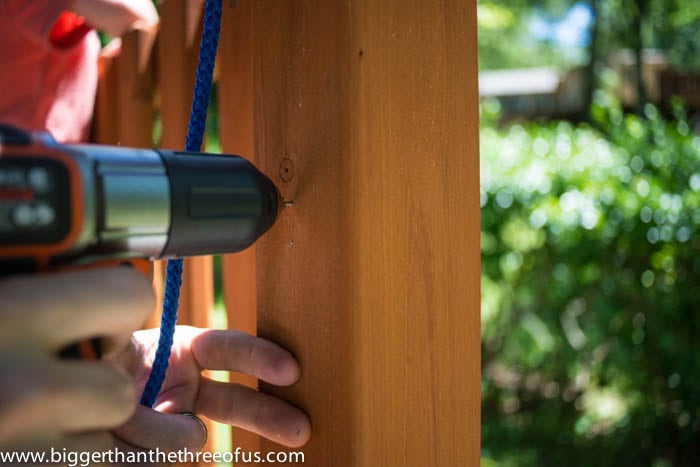 Once you have determined where you want your cleat to be, screw the screws in to hold it in place.  So, the cool thing about the BLACK+DECKER 20V Max Lithium Drill is that it has an automatic clutch, meaning that you just set the drill to drive mode and it determines when your screw is flush/in.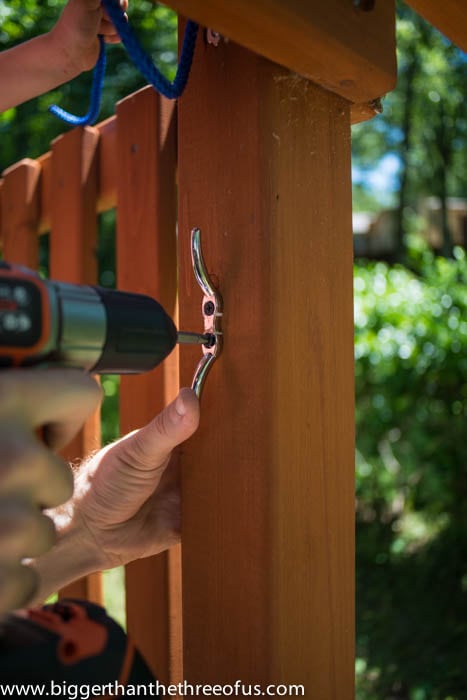 That's it! This bucket and pulley project took us about an hour! I love inexpensive and fun kids' projects!
If you are looking for more simple projects for kids, we did a car light switch and also a firetruck lamp. A friend of mine recently shared a cardboard summer camp cabin that she made for her little, too. It turned out adorable. So, get creative and get the kids involved and have fun!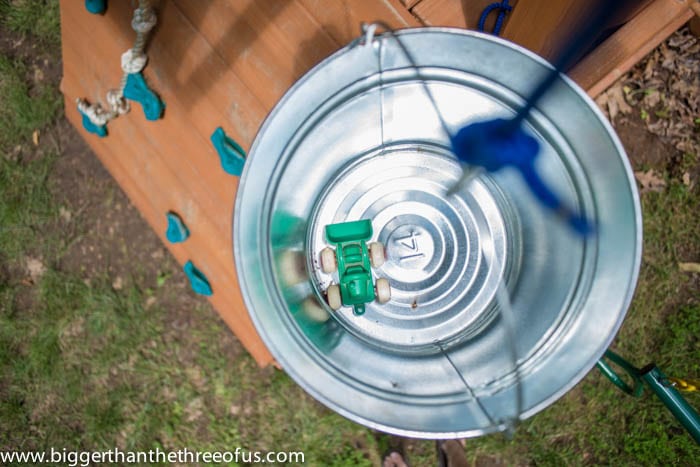 Pin For Later: Bucket and Pulley DIY For Kids