Don't throw your old, faded patio umbrella away! Learn how to paint a faded patio umbrella while reading about my patio umbrella makeover.
Sometimes, we are so quick to toss the old and just buy new. I think that can be the better option but isn't always. For outdoor patio furniture, cushions, umbrellas, etc., they fade over time. Tossing all the patio equipment every year because of sun exposure just isn't feasible over here. Learning how to make our fabrics more sun resistant and reviving the old pieces are in the budget though.
So, if you have a faded patio umbrella, let me tell you, you are in luck today. I'm walking you through the process of how to paint that umbrella and even sharing how long you can expect it to last.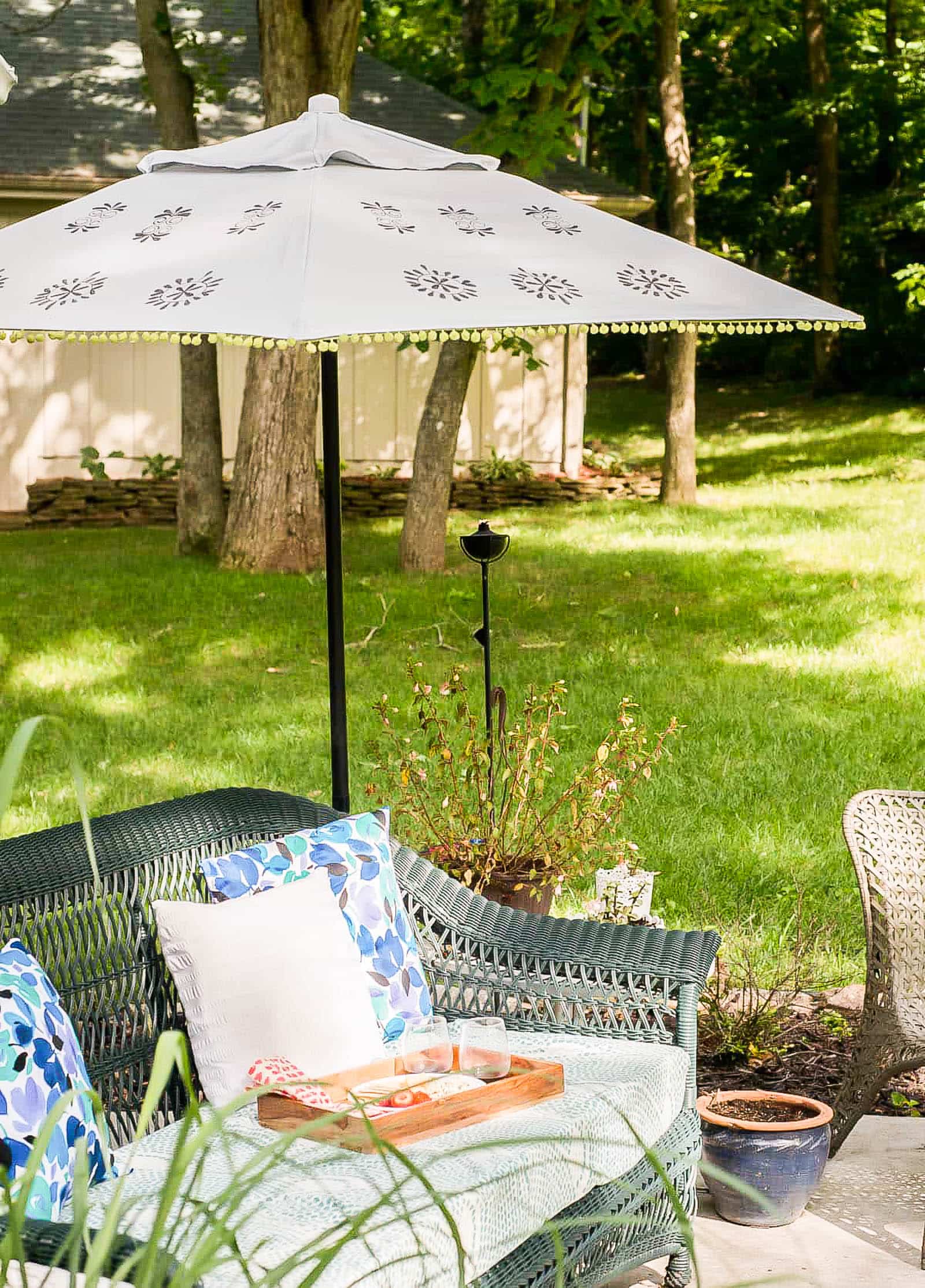 A few years ago, a few friends and I teamed up to encourage each other to try to update a project or do a project all inspired by a specific store. For this project, I was inspired by Urban Outfitters. They used to have a gorgeous stenciled patio umbrella and I loved it. They no longer have it, but it was white with a stencil design and gorgeous trim hanging off the ends. It was so fun!
I had a working umbrella, but it was really faded. I didn't want to spend the $300 on the Urban Outfitter umbrella so I decided to do a little patio umbrella makeover! Ready for the how-to?
Patio Umbrella Makeover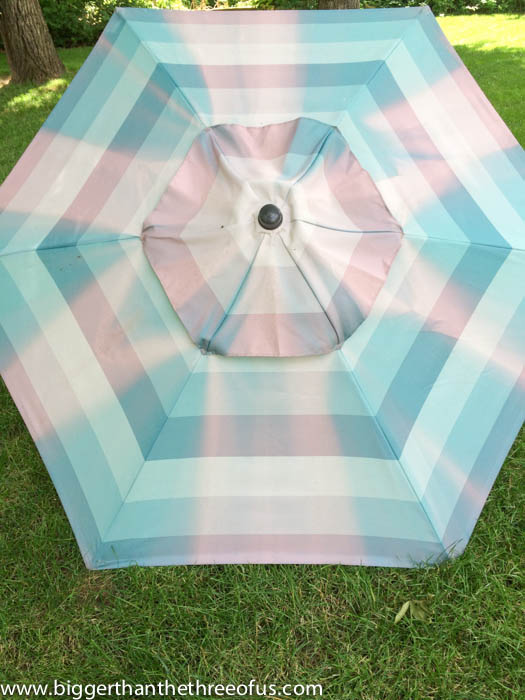 I started with an old patio umbrella. It actually wasn't too old, but it was just really faded.
Supplies for Umbrella Painting
How to Paint an Outdoor Patio Umbrella
Wash the umbrella down with soap and water. If you have a power sprayer, you might use that on the lowest setting. If not, you can get use this tutorial for cleaning without a power sprayer.
Using a paint sprayer, spray the umbrella with a light coat. Alternately, you could just use spray paint.
Keep painting, following the directions of whatever method you are using until you have full coverage.
Allow for dry time before exposing the painted umbrella to outside elements.
What Kind Of Paint Do You Use On An Umbrella?
I'd recommend spray paint!
Let me be honest and say that I first tried to paint the umbrella using a roller. I quickly learned that using a roller on thin fabric was going to be really annoying and hard to get the paint coverage that I wanted. Learn from my mistake. Don't use a roller on thin, wobbly fabric. Once it dried, it looked like this:
After using the roller on the first coat, I busted out my spray paint gun and used some white latex that I had leftover from our kitchen. It took about three coats with the paint gun to get a pretty evenly covered surface.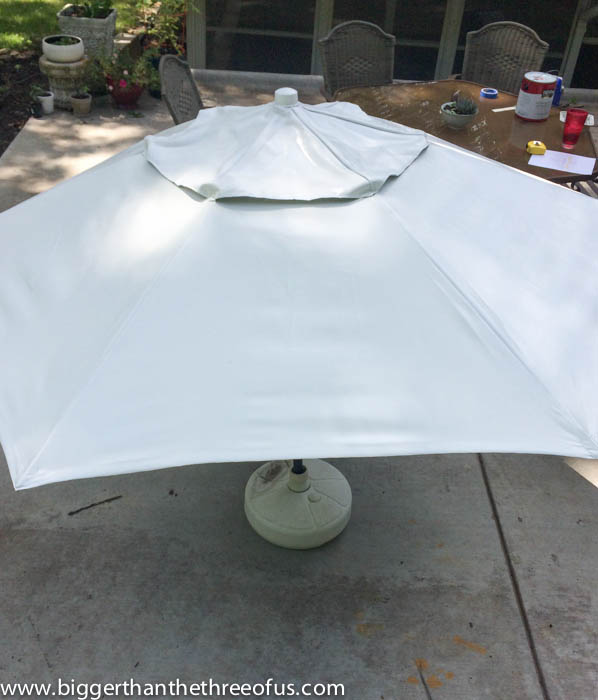 After I was successful with umbrella painting, I knew I wanted to make the umbrella even prettier. A stencil would have been a good idea to use for painting the umbrella but Luke handprinted a fun design instead (and we made a stencil to help with the hard parts).
Umbrella Painting with a Design
If you want to create a similar pattern to our umbrella makeover, then you can follow these directions:
Find the middle of each section of your umbrella. Tape it off.
Measure or just eyeball the circle spacing on each side of your tape.
Use a circle form (we used a painter's tape roll) to paint your circles.
Create a stencil and hand-paint the design.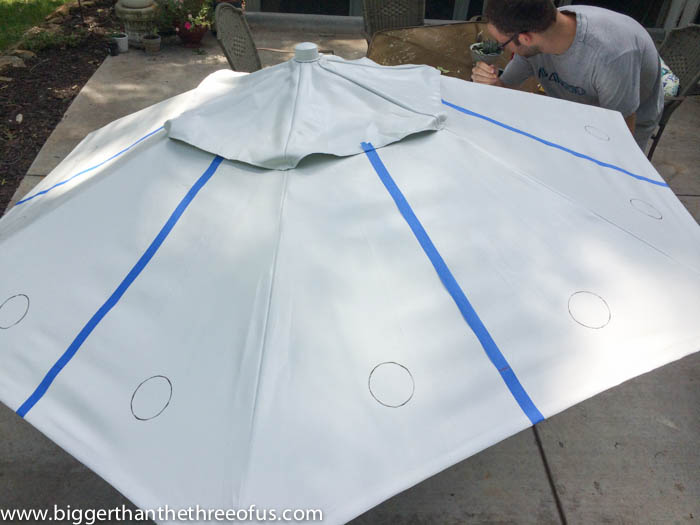 Once we started hand-painting, we realized that it was going to take forever to finish.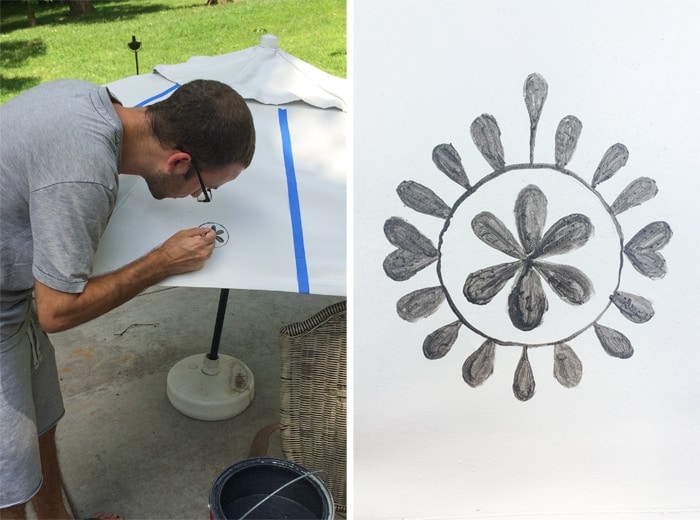 Luke had the idea to make a paper stencil for the next part. He copied most of the stencils on each of the sections and then we painted them at the end.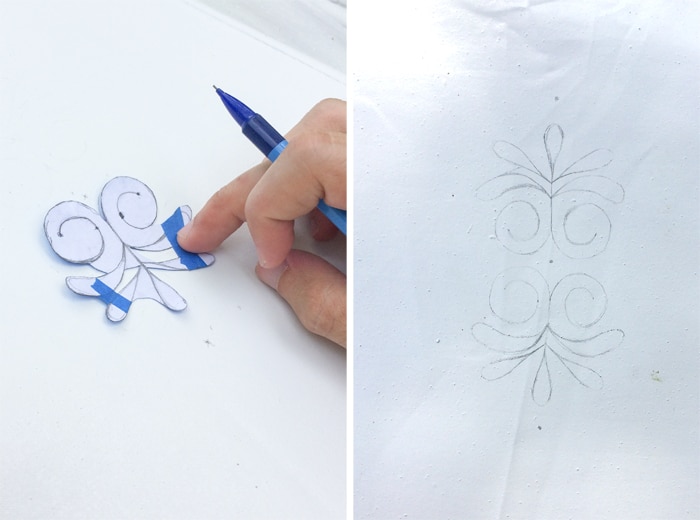 I painted all of the straight lines (go me!) and he finished off all the petals.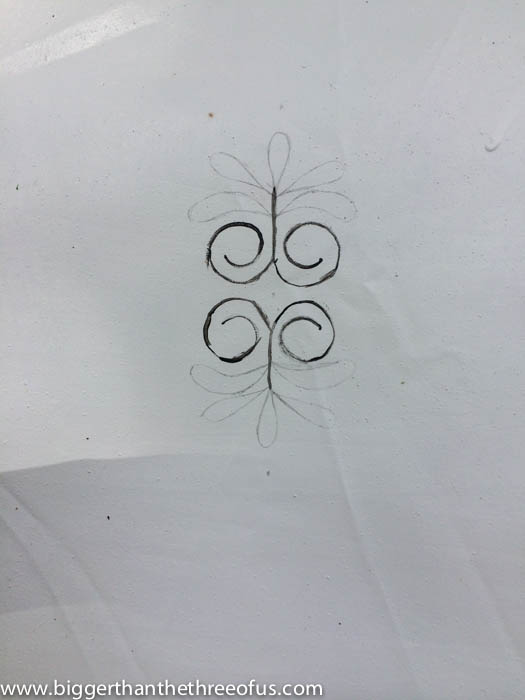 Of course, the straight lines were much easier to do.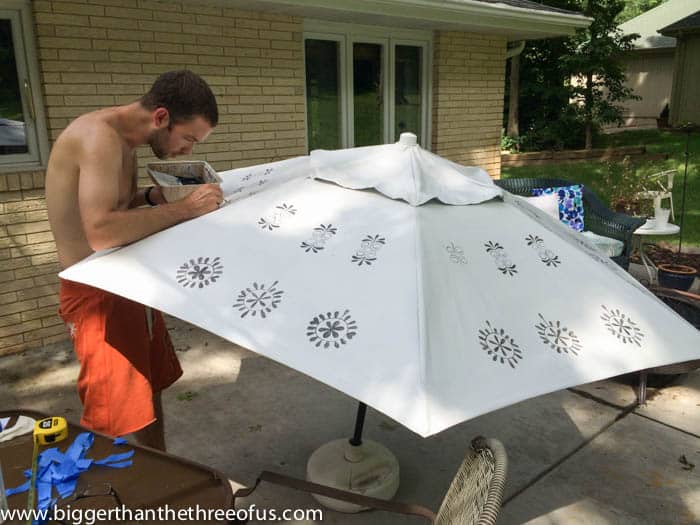 After we finished painting, I hot-glued the pom pom trim on and set it up. Instant gratification.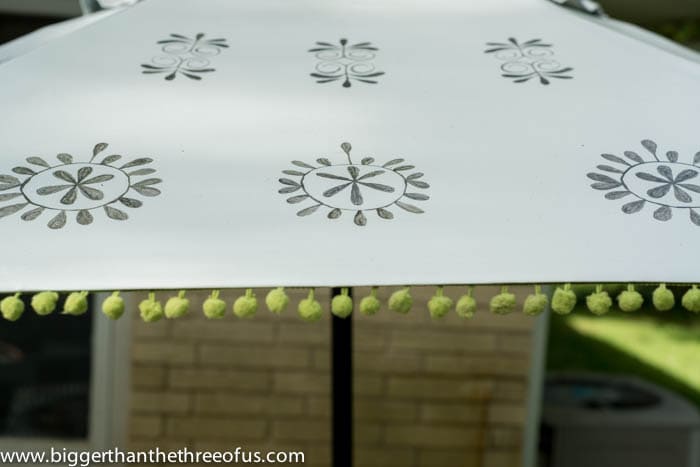 For $20 (the cost of the pom-pom trim), this project was super cheap and highly effective in creating a much more cohesive, beautiful space.
*I did this project back in 2014 and it held up for three years outside! I think that investment of making over the faded patio umbrella was worth the time for sure!
Since then, we have changed the look of our outdoor patio space. Tell me, do you miss this patio umbrella makeover on the new patio?
Patio Umbrella Makeover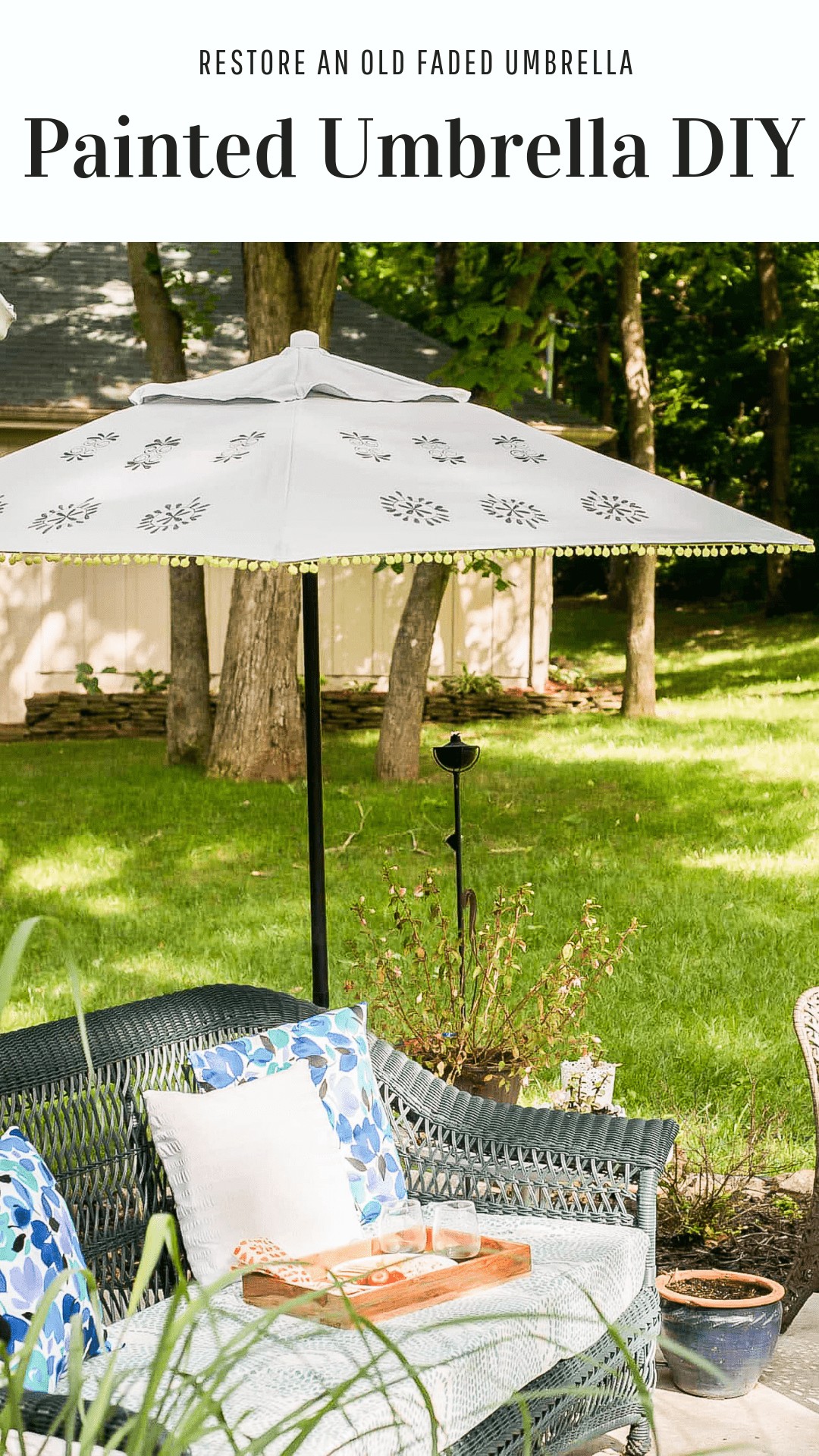 Like I mentioned earlier, a few friends and I were inspired to create together. Check out what they created below.
Prisma Wall Decor – Amy from Delineate Your Dwelling
Knock-Off Wall Hanging – Brynne from The Gathered Home
Knock-Off Clothes Pins – Tasha from Designer Trapped in a Lawyer's Body