It's Knock Out Knock Off time! I'm super excited to share not only what Luke and I did but also what the other ladies made. This month our store was Urban Outfitters.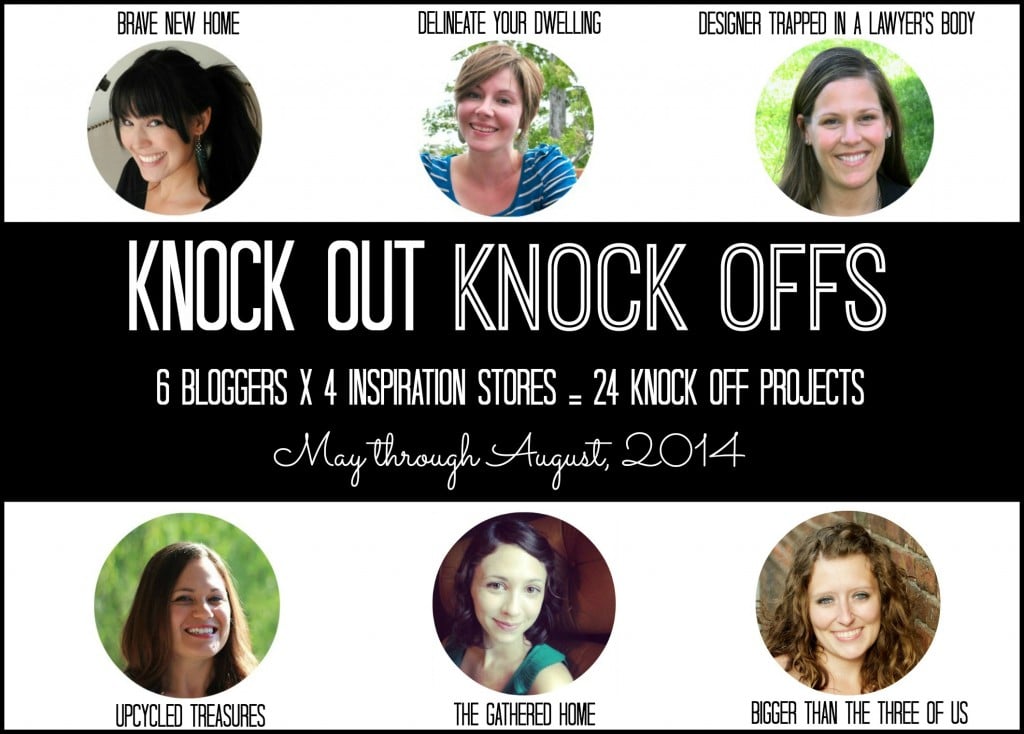 Let's get right to it, k? While searching Urban Outfitters to see what I wanted to knock off, I came across this. Holy mackerel, that umbrella is just gorgeous. At close to $300 it was also out of our budget. Last year, I bought an umbrella from Target (at the end of the season on clearance) and it has not held up well.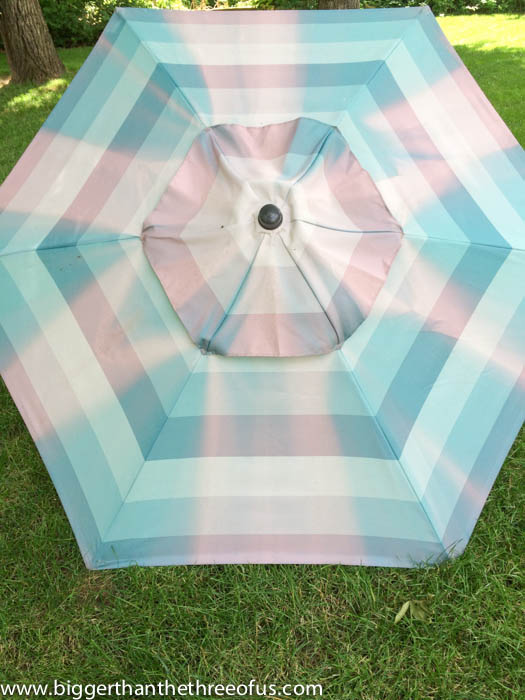 It actually looks better in that picture than it does in person. So, I decided that I didn't have anything to lose in trying to remake it into the Urban Outfitters one.
So, I started with a roller and latex paint.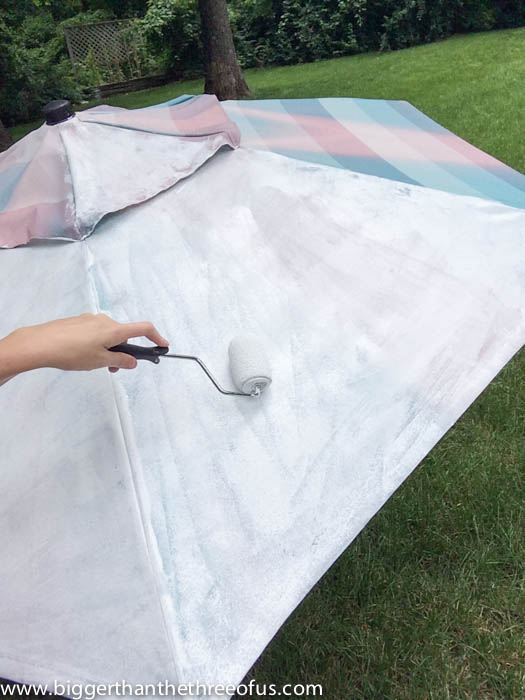 I quickly learned that I picked the hardest way to paint an umbrella. Learn from my mistake. Don't use a roller on thin, wobbly fabric. Once it dried, it looked like this:
Yikes, right? After that, I waded through a few paint cans and found two half cans of white spray paint. I used those and quickly realized that I needed many more coats of coverage. I could have bought two cans of spray paint and called it a day, but I really wanted this to be a cheap project. So, I busted out my spray paint gun and used some white latex that I had leftover from our kitchen. It took about three coats with the gun, but I had a relatively even finish.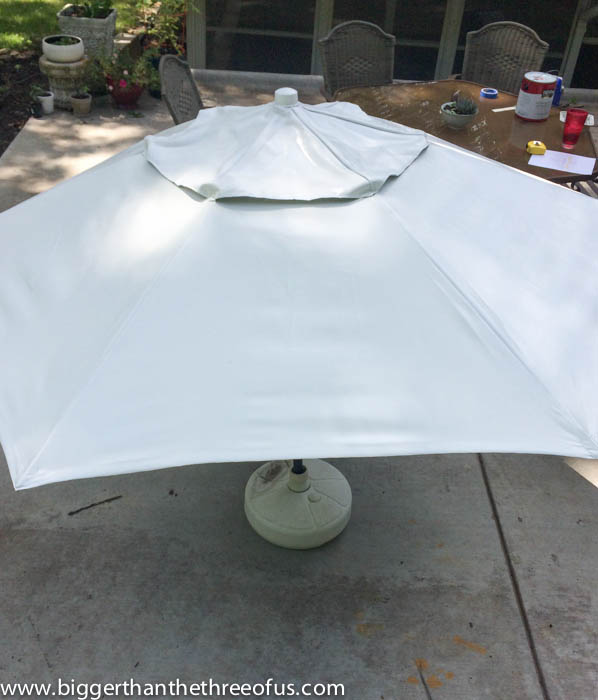 From there, we found the middle of each section and taped it off. Then Luke eyeballed the circle spacing on each side of the tape. He used a circle form (the painter's tape form) to draw the circles.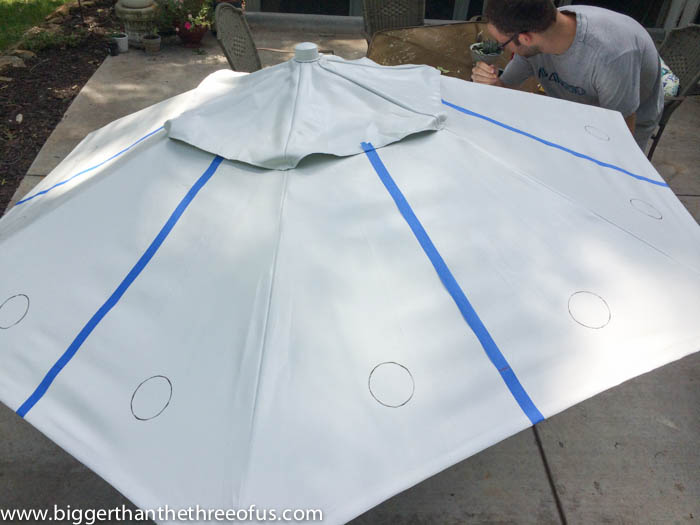 Next, Luke hand-painted the circular floral designs on each section. This part took quite awhile, so we knew that we needed to figure out a way to make it go faster.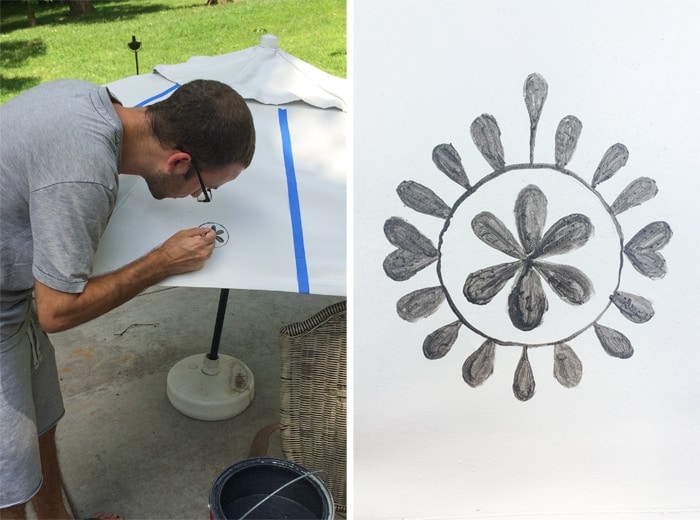 He had the idea to make a paper stencil for the next part. He copied most of the stencils on each of the sections and then we painted them at the end.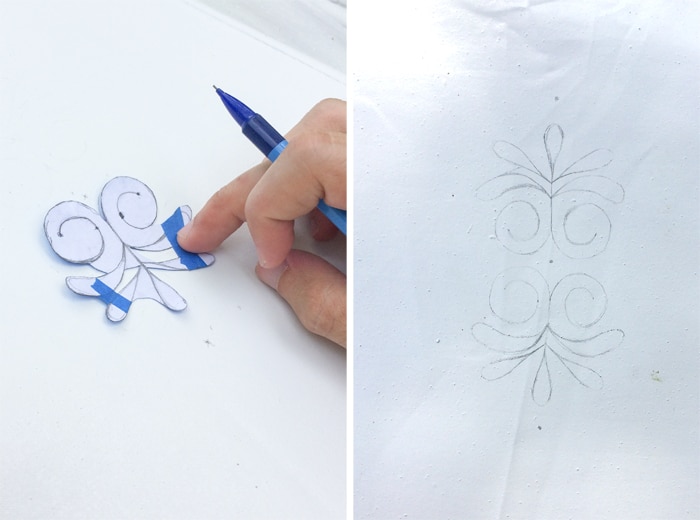 I painted all of the straight lines (go me!) and he finished off all the petals.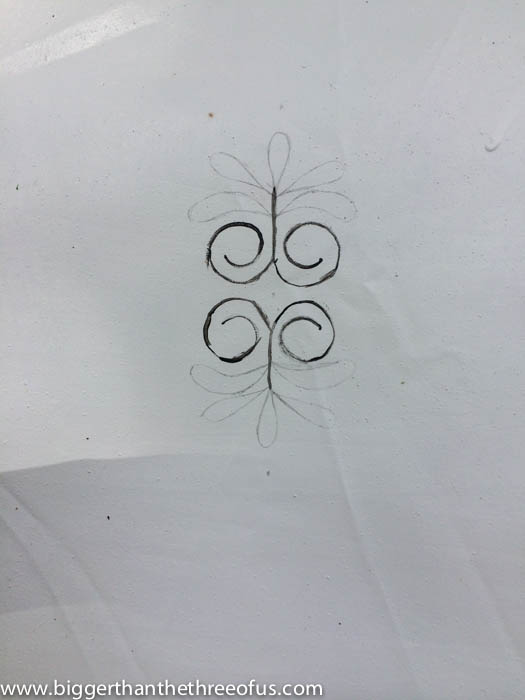 Of course, the straight lines were much easier to do. So, when I was done I actually worked on a project that has needed done for quite some time : gutter & window washing!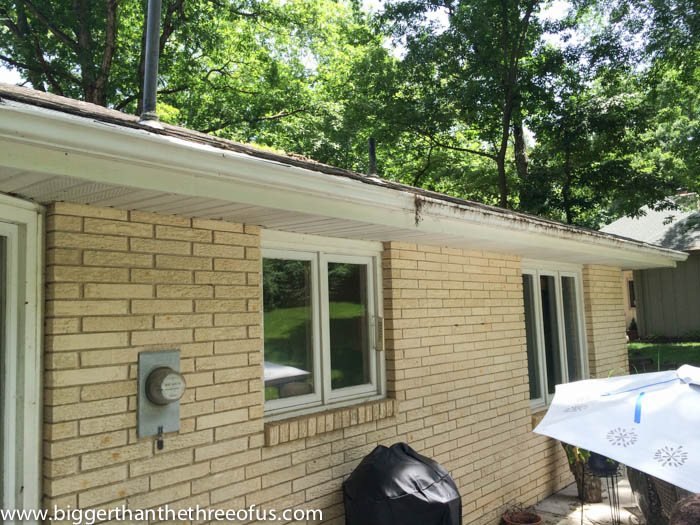 (Can you believe the difference on the left versus the right?)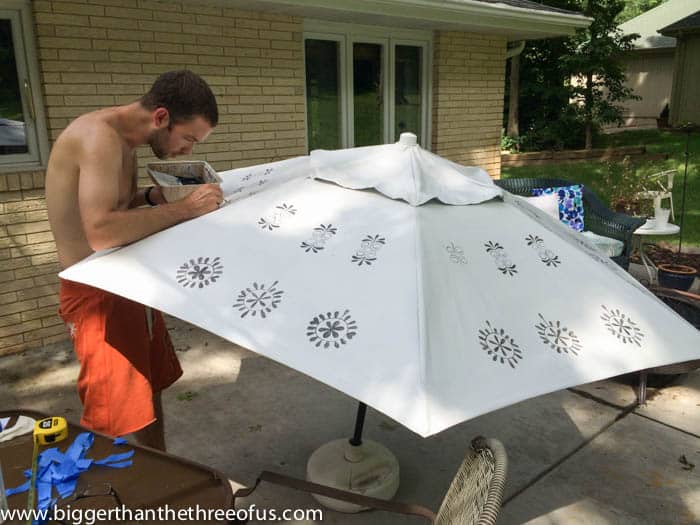 After we finishing painting, I hot glued the pom pom trim on and set it up. Instant gratification. Holy moly, it's just beautiful!
I.AM.IN.LOVE.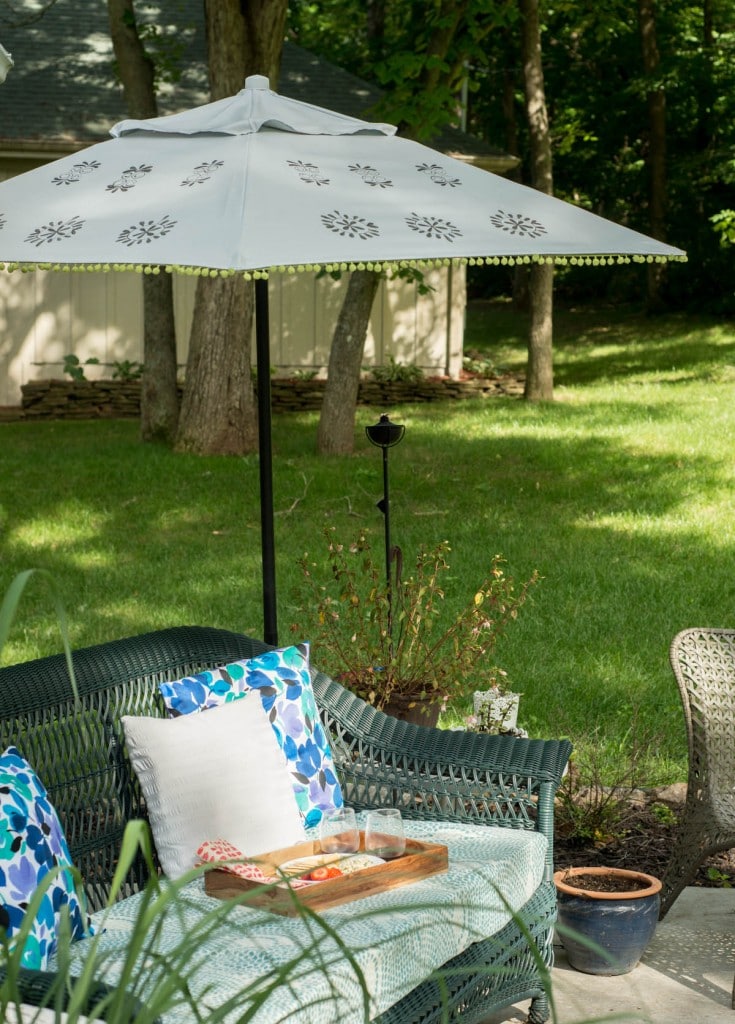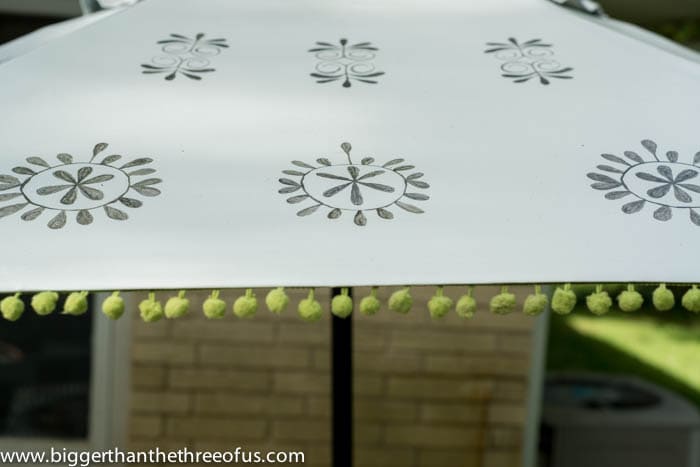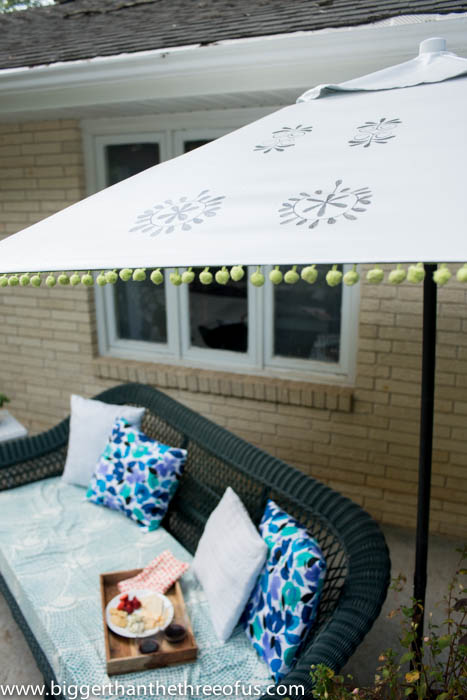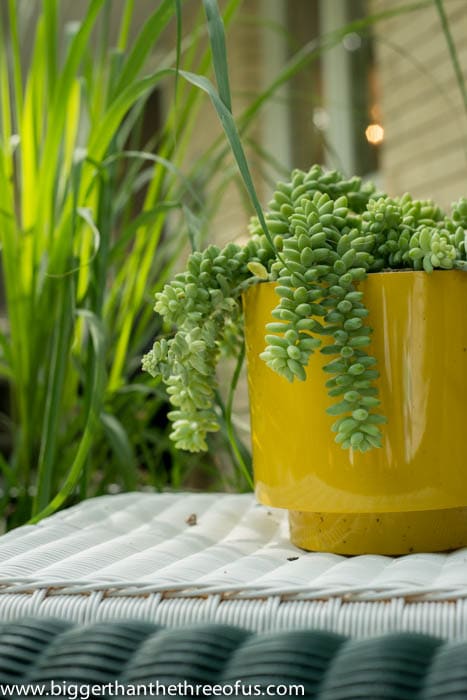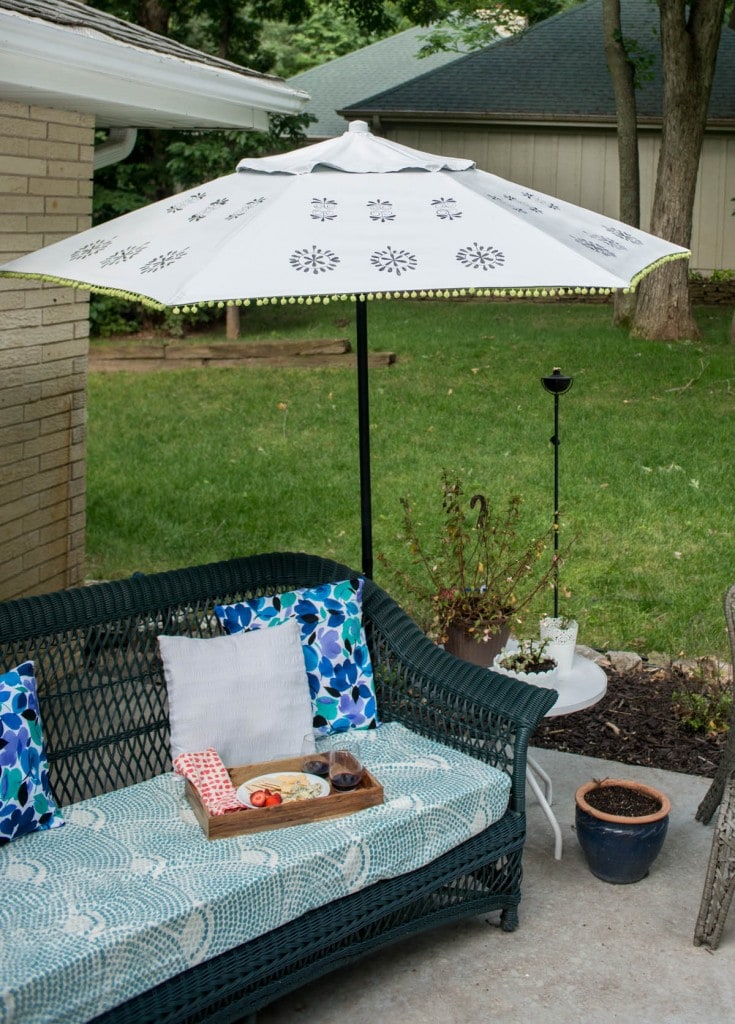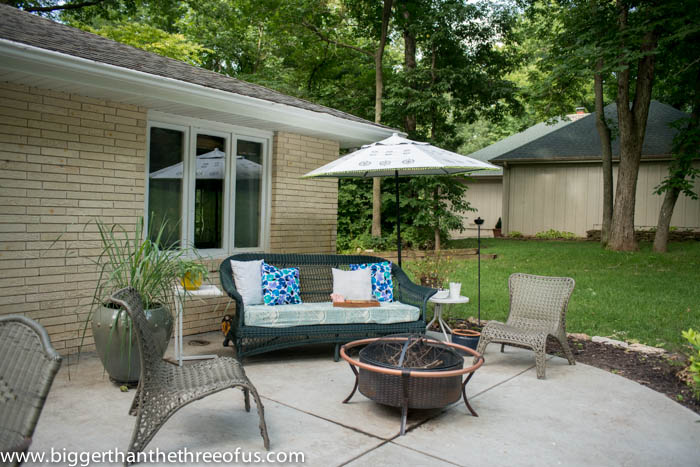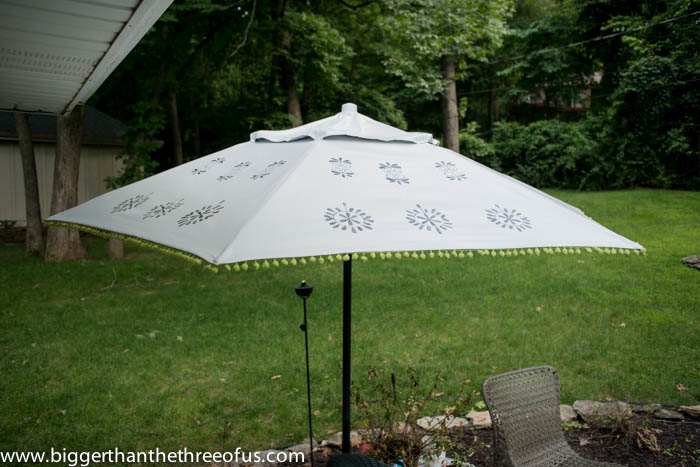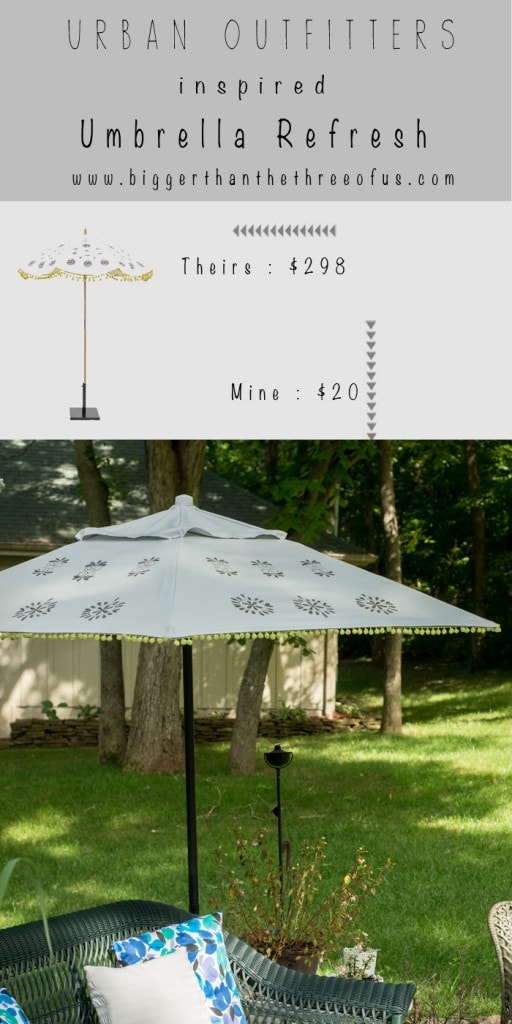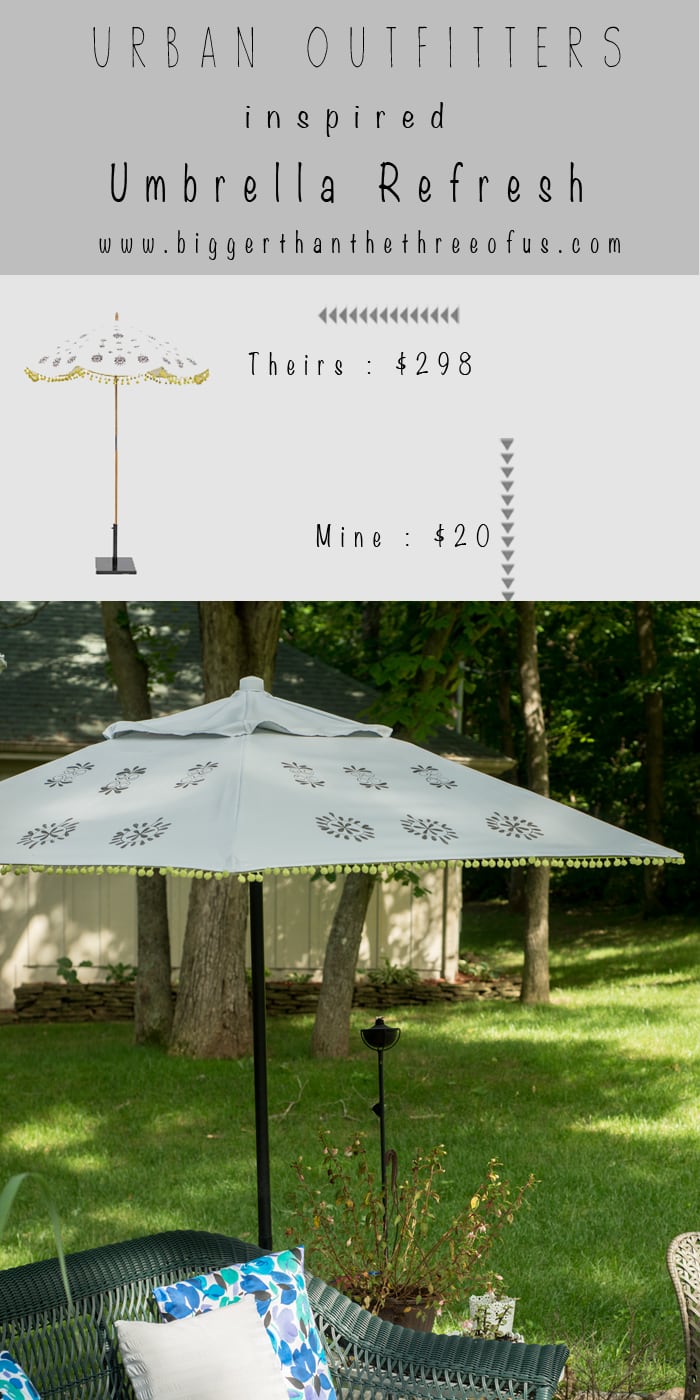 For $20 (the cost of the pom-pom trim), this project was super cheap and highly effective in creating a much more cohesive, beautiful space. I'm really hoping that it holds up well with the weather, but only time will tell.
Ok, are you ready to see what the other ladies have come up with?
Orgami Inspired Ring Holder – Jennifer from Brave New Home
Knock-Off Vase – Katie from Upcycled Treasures
Prisma Wall Decor – Amy from Delineate Your Dwelling
Knock-Off Wall Hanging – Brynne from The Gathered Home
Knock-Off Clothes Pins – Tasha from Designer Trapped in a Lawyer's Body
Linking up to:
C.R.A.F.T., The Makers, The DIY'ers,  The Winthrop Chronicles, Home Stories A-Z, Hit Me With Your Best Shot, Work It Wednesday,  Fry Sauce and Grits, Liz Marie Blog, The Inspiration Gallery, Creativity Unleashed – The Bold Abode, Remodelaholic, Whipperberry, The Creative Collection, Tatertots and Jello, Link It or Lump It, Sunday Soiree, Look for Less, and Frugal Crafty Blog Hop.