Learn How to Clean Siding Without A Power Washer in today's post. Siding mildew is pretty common so it's a good thing that it's not too hard to clean it off.
Sometimes, you have to have the right tool to for the job. Actually, lots of times you have to have the right tool for the job. For example, a wet saw is needed when you are tiling a space or a hammer is needed to hang a picture. Some projects you can make do without having the perfect tool. For example, when we built the closet loft we didn't have a table saw. We still don't have a table saw and have been making it work with a circular saw, miter saw and jig saw. Things would be much easier if we had every tool that was perfect for each job but the reality of it is that we can't invest in every single tool on the market. That's where this project comes into play.
How to Clean Siding Without A Power Washer
How embarrassing is our moss and mildew-covered shed? Oh and just so you are clear, we do live on a hill but this is highly visible from the street. Yes, our neighbors have loved that we have let this go for 9+ months.
The reality of the matter is that it was just far down on our to-do list. I'm sure you can commiserate. The to-do list is never-ending and some things just take a backseat. Well, I finally had enough a few weeks ago and just jumped in to tackle it.
I wasn't exactly sure how to get started so I just went for it. I'll go ahead and share my supply list and then show you exactly what worked for me.
Watch the video of the process below or scroll down for a full step-by-step!
Supplies:
Concentrated Cleaner (I love this one!)
Rags
How to Clean Vinyl Siding
Mix the cleaner with water. I mixed the cleaner for the 'heavy-duty' application because we had lots of scum (as you can see).
Start on the bottom siding and work your way up using a long handled brush. This method worked best by far!
Follow the brush cleaning with a warm water towel scrubbing.
As you can see, the bottom siding piece is still a bit dirty. I left that piece mostly alone because the soil level is right next to it. Any rain and it will splash up and stain. Plus, once you plant anything in that garden, it will be completely hidden.
From start to finish, this section took us about an hour. It's kinda embarrassing to admit that when we just stared at it for months and months. Oops!
This project reminds me of when we removed our shutters. It's one of those projects where you scratch your head wondering why it took you so long to complete!
Overall though, our curb appeal has gotten so major love lately which I'm thrilled about. We installed a Little Free Library, added a dry rock creek and trimmed back the boxwoods in the front which helped out so much! It's shaping up slowly but surely.
How to Prevent Green Algae Growth of Vinyl Siding
In my mind, there's two ways to help prevent algae from growing on the siding and it's water control (both with gutters and plants) and maintaining the siding with regular cleaning.
We don't have gutters on our shed so the rain just falls down the roof line. Recently, we did add monkey grass to the landscape beds around the shed and I've noticed a big difference in how clean the vinyl siding looks. The monkey grass helps soak in the water as it falls off the roof which prevents the water from hitting the dirt and popping back up to the siding.
Here's what our landscaped bed around the shed now looks like: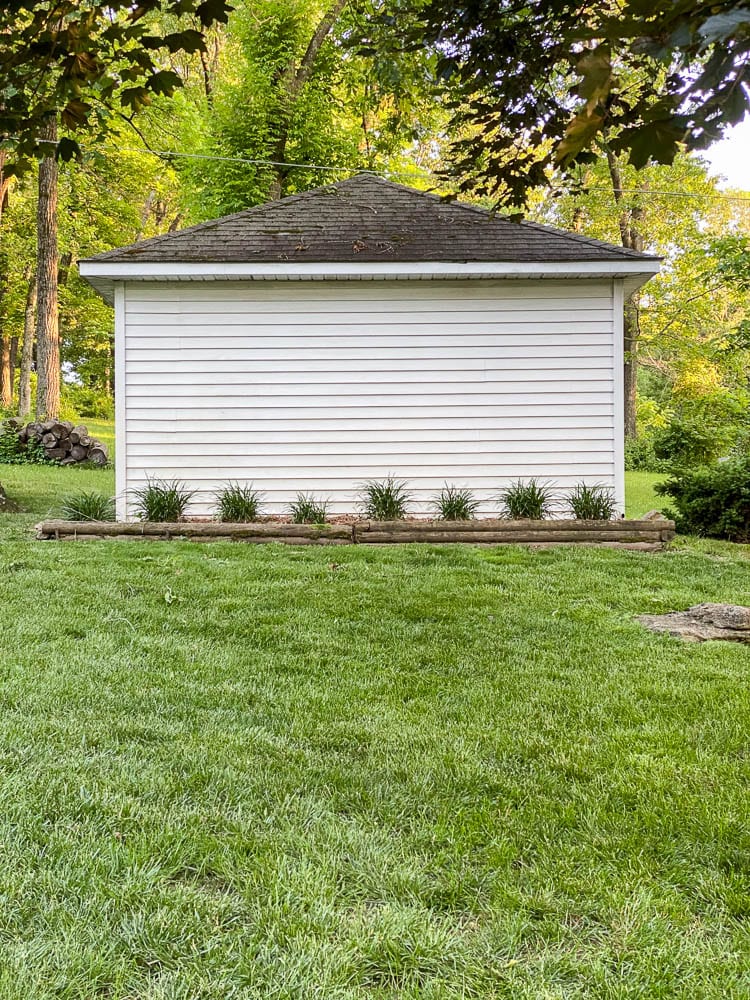 What else can I clean my vinyl siding with?
I've recently started cleaning with vinegar inside my house and have found it to be really great. You could mix up a mixture of 70% water and 30% vinegar and clean the siding with that. Another idea is to make a baking soda poultice to clean really tough stains. I was able to remove marble staining by making a baking soda cream so I think it would definitely be helpful on tough stains on vinyl as well.
A few kind readers have responded with other ways to clean siding and have said that magic erasers work really well as well as Krud Kutter.
If you need a jumpstart on other outdoor maintenance ideas, I have a printable outdoor maintenance checklist that can help! I also did a whole podcast episode on Exterior Maintenance. And, if you have any other tips for preventing green algae growth on siding or other ways to clean vinyl siding in general, I'd love to hear! Leave me a comment below.
Pin For Later: How to Clean Siding Without A Power Washer

If you loved this post then you might like:
Or, check out my project gallery for many more!