Dry Rock Creek landscaping before and after including pricing for the rock bed, how long it took to install and more!
It's a pinch-me moment over here. After years and years of hating our landscaping down the side of our house and wanting to replace it… we finally had a bunch of work done and are so happy with how it turned out!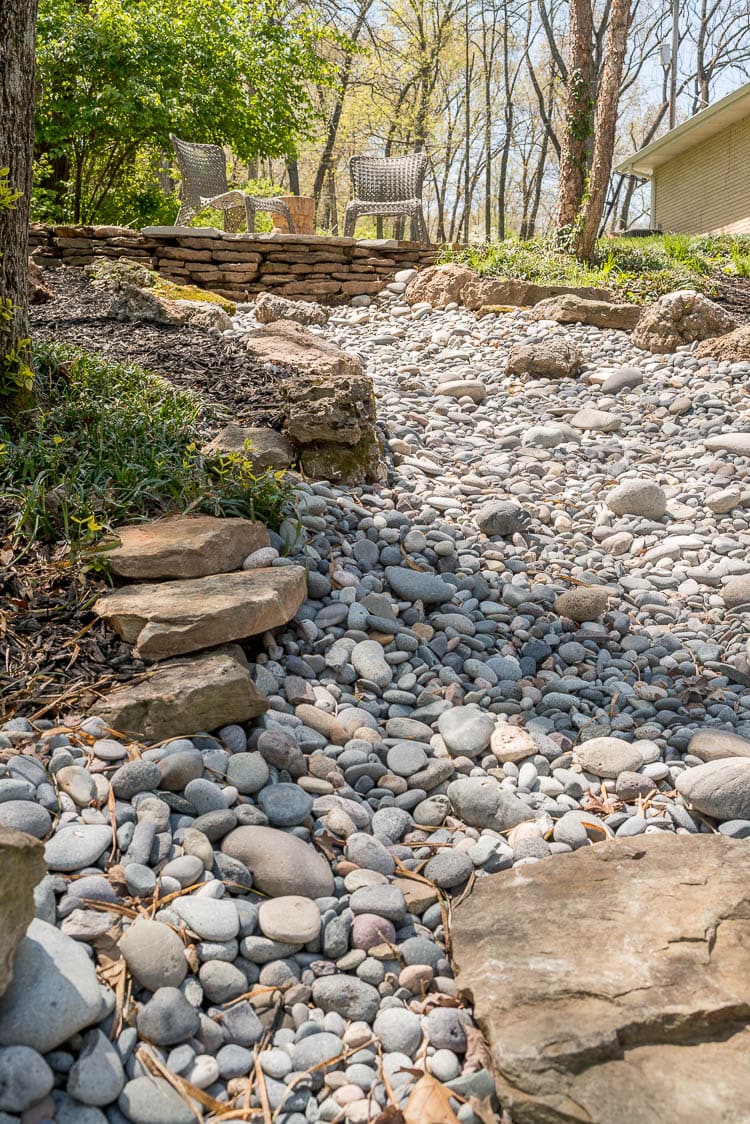 We had a rock bed installed on the side of our yard. Our house sits on a hill and the side of our house, where the dry creek was installed, is super shady so it's hard to get grass to grow. A past owner of our house, had that area very-well manicured, but he/she must have been a master gardener.
Before, I jump right into all the details, let me show you one before and after photo of the dry rock stream area. You'll know better what it looked like before vs. now and some of what I'm trying to share will make more sense.
Before and After Rock Landscape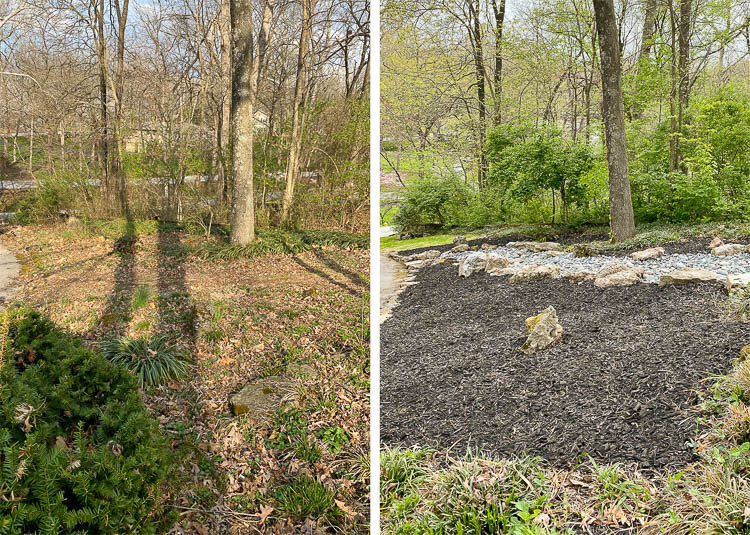 We have such a large landscape bed. We've been overwhelmed with the maintenance and care since day one of living here. Over the course of the 7+ years we've lived here, we've done a few landscape improvements to that part of the yard but just haven't been able to keep up with it.
I got the idea to do a dry rock stream from a house that's a few miles away from ours. They have a similar sloped front yard and I remember that house before/after it had all the landscape rock brought in. Their rock creek draws my eye every time I go by and I just knew that it would be the same at our house if we installed one.
I started planning for the dry rock creek a few years ago by gathering inspiration and talking to Luke about it. When we had the hardscape contractor build the stacked stone egress window wells for the basement, we decided to have him bid the dry rock creek out.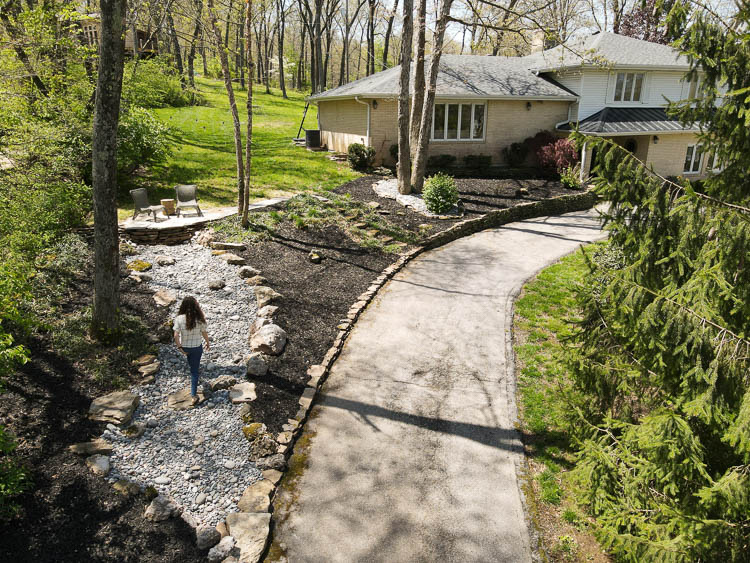 To get started with getting a good bid for the rock landscaping project, we started the process by talking about what I wanted. I offered to email him inspiration images of exactly what I was looking for after that. I've always loved the look of darker rocks with big boulders so I emailed him a picture of an image of that.
After seeing the inspiration images, we set up a time a few weeks later to meet at the stone quarry to talk about rock sizing, colors, etc. Before that meeting, I already had scope creep for the project pop up. Friends of ours have this semi-secret patio off the side of their house and I think it's the most charming thing ever. So, I got to thinking about how to get something like that at my house.
I came upon the idea of having a small flagstone patio installed on top of the rock creek. The placement of the rock landscaping between the flagstone and the creek, seemed ideal for everything to just work together.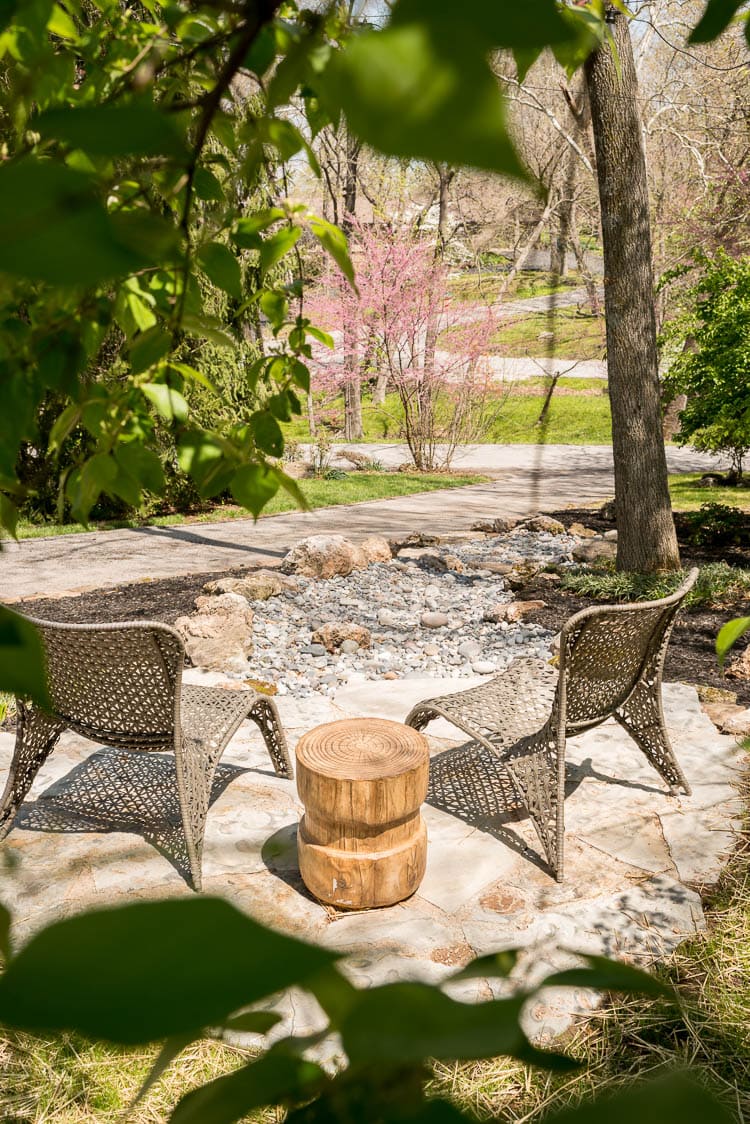 Luke wasn't as confident that we'd actually use/love the flagstone patio but he's always game for my ideas (or usually is anyways). So, I called the hardscape contractor back and added the flagstone patio to the landscape plan. I sent him a picture of a stone walkway and small patio to help show what I was looking for in regards to the flagstone seating area.
From there, we setup a time to meet at our house to go over everything one more time and he asked me if I could have a hand drawn hardscape plan to give him. I'm HORRIBLE at drawing and felt embarrassed to give this to him (and to share it here) but it was so helpful for our project. I'd recommend you doing something like this too, if you are planning an outdoor landscaping project.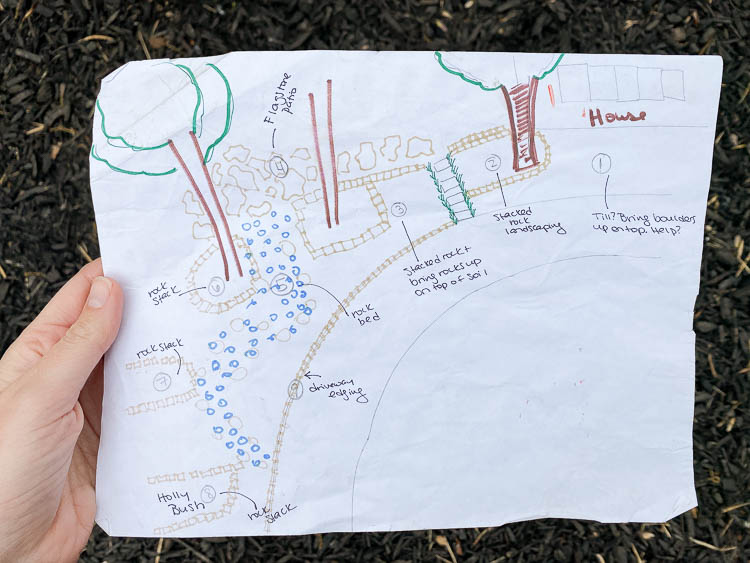 After meeting at the stone quarry to talk about the boulders, smaller rock, flagstone, etc., I got the quote. The quote to install the flagstone patio, install the dry rock creek, clean out the landscaping beds, and continue the stacked river rock down the driveway (including all materials, labor and equipment) was $8,150. We were happy with that quote so we decided to have the work done.
The project took a full week with at least two people working on it. It's honestly something Luke and I could have never DIY'd.
They brought in big machinery to clean all the large landscape beds out, regraded some of the yard and landscape beds, checked on/repaired French drains, dug out boulders/river rock that we already had that were buried, etc. All of that was just to prepare the space for the new hardscaping.
Each day was something new and it was so good to be at the house while they were working because I made slight tweaks to the plan after seeing each new piece installed.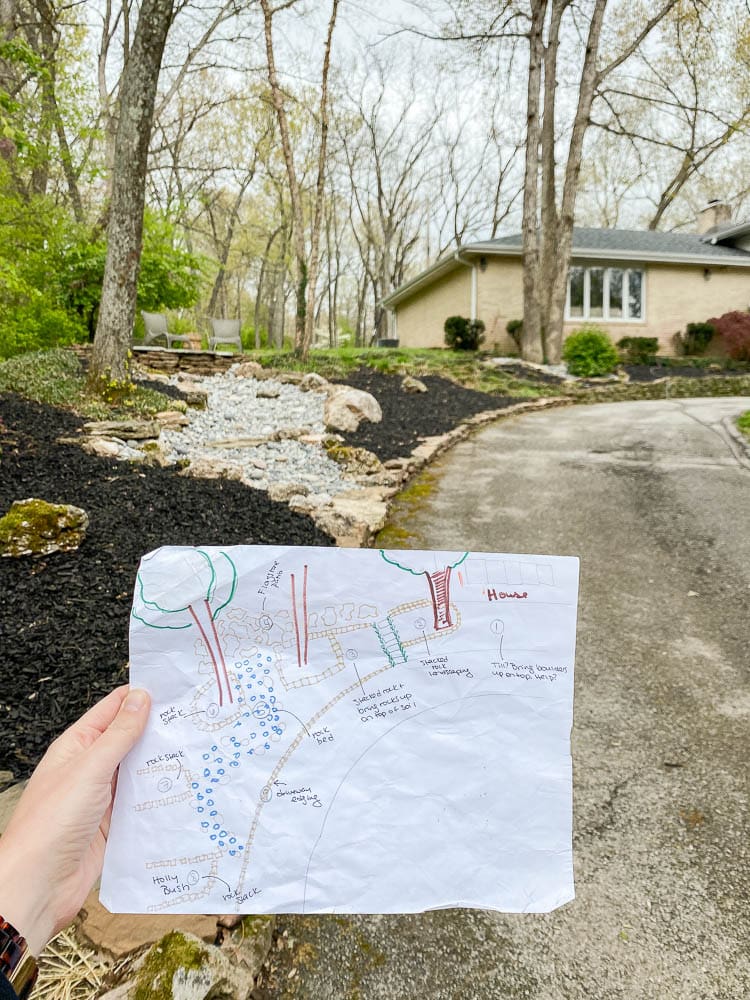 All the added rock landscaping really transformed the space. I asked that the dry rock creek was installed so it looks like it flows from the flagstone patio and it looks better than I could have even imagined.
I wasn't sure how to end the dry creek bed at first but ultimately decided that it would look fine curving towards the driveway. That was also beneficial because we have a french drains that run under the creek bed and so, we could hide those by ending the rock landscape at the driveway.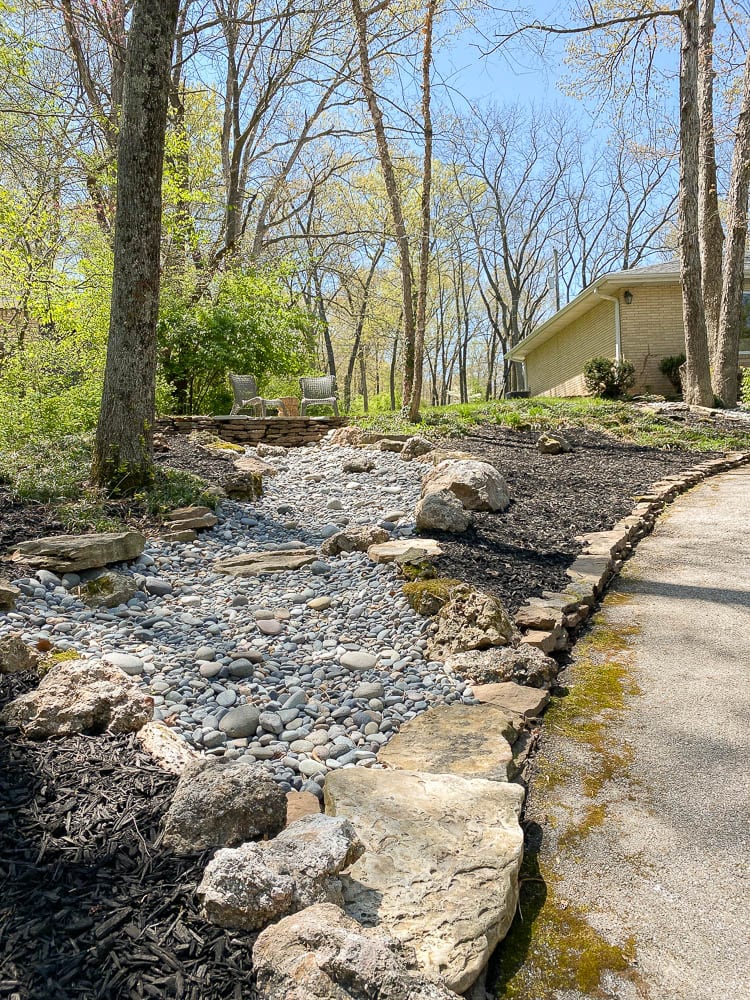 As we were getting closer to the completion, I realized that I overlooked a few things for the project. We needed a bunch of mulch to cover the areas that they cleared and grass to be added where we wanted to be able to mow. I also wanted to carry the same river rock stones closer to the house in a bed so that it would give the landscaping beds some continuinity. Those things added on $1045 to our price.
I know pricing is hard to figure out because it's really hard to tell scale of spaces without seeing them in person. When I say that we have a HUGE landscaping beds… trust me on this. They are massive.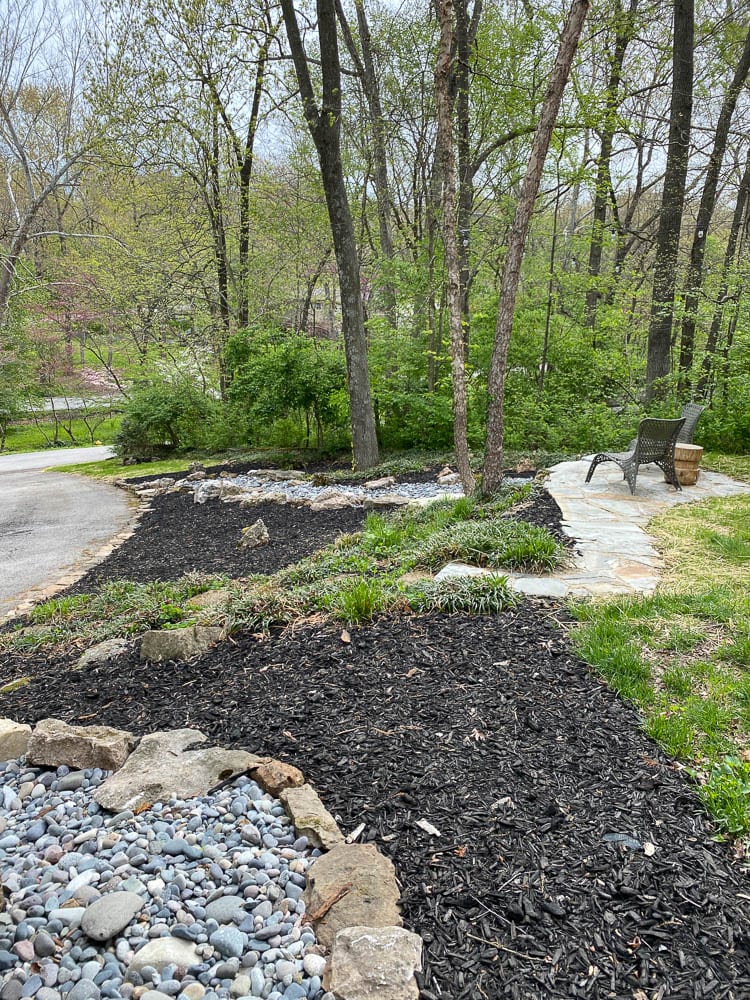 I was trying to back in to my cost on rock alone for this project and, I think – between rock bed, a few boulders, the landscaped rock bed around the trees and the flagstone patio – we were around $4500 in materials alone (maybe a bit more).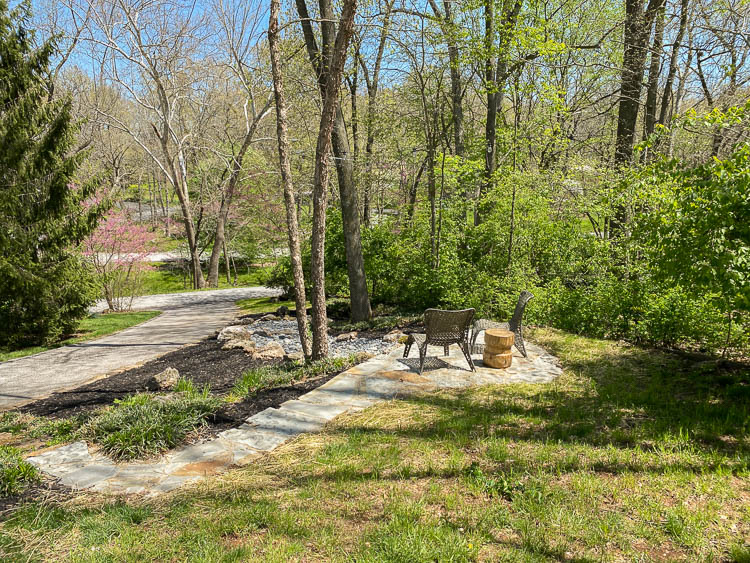 So, from start to finish, the dry creek bed, landscaping and the flagstone patio came to $9,195. I spent another $200 on string lights and a little table (here's a similar one) to go in between our lounge chairs.
We haven't had grass grow in completely, but here's one before/after.
Before and After Rock Creek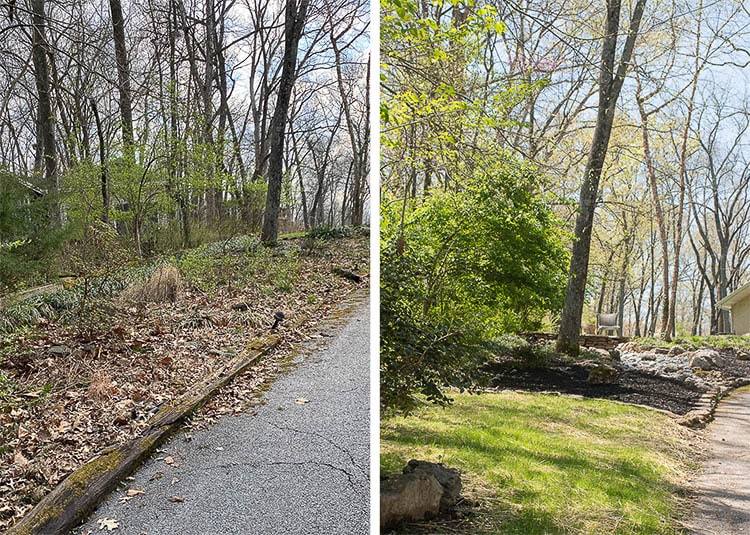 I'm standing about 1/4 of the way up on driveway for this shot, so the grass landscaping bed continues on down the circle driveway further.
All in all, we are so happy with this project. As with all projects, I might have tweaked a small thing here or there, but I have no big regrets or wishes. And, the best thing of it is that we use the patio area almost daily! I just love to sit out there, talk to Luke or Greyson and people and animal watch. It was definitely money well spent!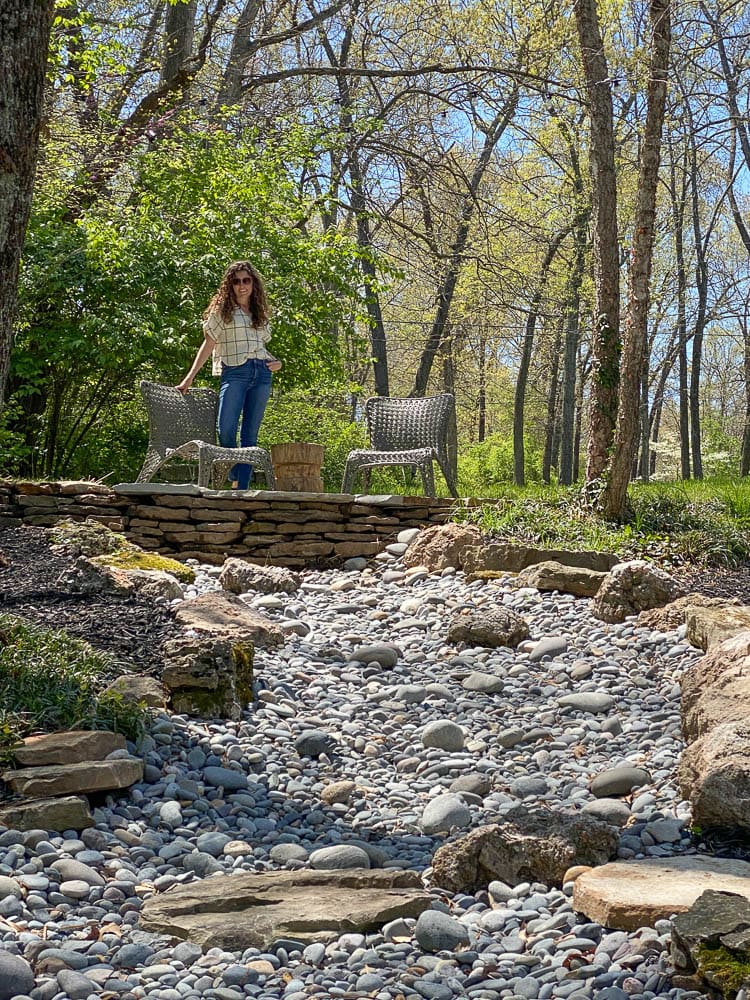 Next up on the exterior, upgrade the exterior lights and have our driveway replaced (which is SOOOOO expensive and not a fun way to spend money).
What exterior projects do you have planned this year? If you tell me having your house painted, I'm going to be jealous! =)