What is an egress window? How much does an egress window installation cost? Why do you want a basement escape window? In today's post, I'm sharing everything I've learned regarding egress windows.
We've lived in this house now for just over eight years. There's so many areas of the house that still need to be updated, need to be renovated, need to be addressed. You can peek in on our home tour for more details of what each space looks like today.
A few years ago, I wouldn't have imagined wanting to put the time and money into our basement but, as Greyson has gotten older, we've seen the value in having a space that is dedicated to hanging out with friends. The hubs and I have also gotten older and see the value in a space that is soundproofed to accommodate the younger generation. lol
So, we started talking about what a potential basement renovation would look like about two years ago. In talking and dreaming about the space, I just kept coming back to the fact that I didn't want to renovate the basement cheaply. I wanted to improve the space. I wanted the space to feel as much like an extension of the upstairs as it could and I wanted it to have as much natural light as possible.
I knew from past experience, that enlarging windows in our house was something that we all found to one of the best renovation decisions we've ever made. So, in thinking about the basement renovation, getting more natural light was a key priority.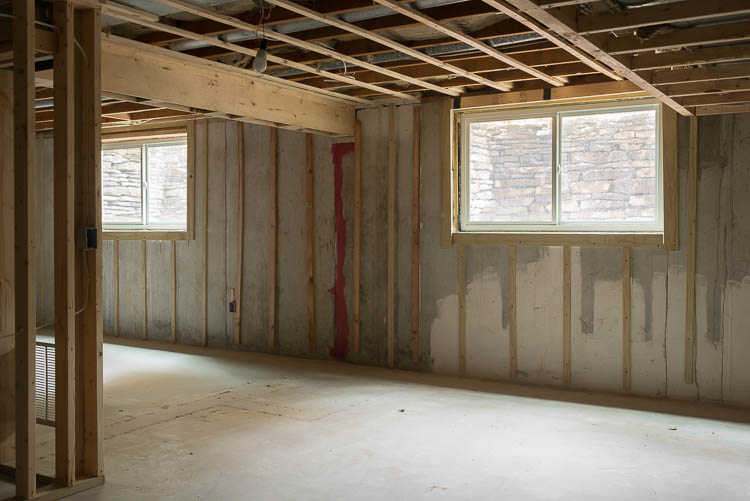 Unfortunately, our basement has low ceilings. At just over 7′, there was no way we could improve the ceiling height. But, I thought that we could make the basement not feel like a dungeon and to do that, I wanted to bring more natural light in.
Before: Small Basement Window with Tiny Window Well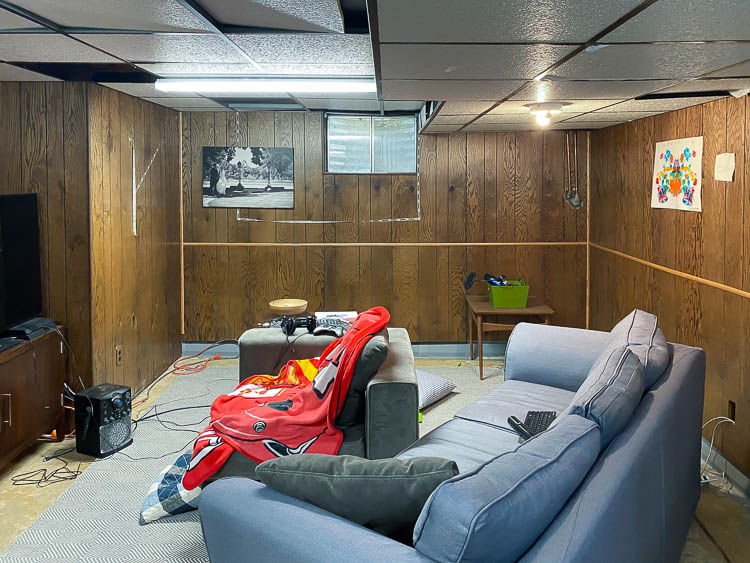 During our kitchen remodel, we decided to splurge and upgrade the kitchen window. We went from a window that spanned the kitchen sink (36″ or so) to one that was just over 60″ wide.
Honestly, I think that was one of the best changes that we've made in our house to this day. The natural light the new window adds in there is just stunning. So, in thinking about the basement, I just kept coming back to wanting to add large windows; specifically, egress windows (for looks and resale).
What is an Egress Window?
Most often, egress windows are in a basement. They basically serve as a basement escape window in case of an emergency. Egress window codes differ by location, so you will definitely want to check your local codes to determine what exactly counts as an egress window in your location.
Now that I've shared more about the egress window definition, let me share my definition of what the window would actually be.
Honestly, no one is living in our basement. It did have a bedroom down there but we took it out (but have the wiring, supports to add one wall back in later down the line when we sell… more on this in a later post!). To us, the cost of adding egress windows just to have windows that can be climbed out of in an emergency doesn't add up because no one will be sleeping down there. BUT, when you figure in how happy we are with the larger window in the kitchen and all the sunlight that it lets in, combined with the fact that egress windows will be good for resale… that's what tipped the scale for us.
Egress Window Kits Or Window Wells
Ok, so let's talk about what options we had. You can buy egress window kits or window wells that are decorative. Menards sells quite a few options. I went in store to look at the window wells and didn't love them but didn't hate them either. Honestly though, I felt like they looked a tad cheap for our specific lot and neighborhood.
You see a lot of window wells that are steel, but there are other options on the market that are prefabricated window wells. Here's a few so you can see:

Custom Window Well With Stacked Stone
Back to our house… When it comes to renovating, I think you absolutely need to take into account what your house and neighborhood looks like when you are making decisions on finishes. Our yard has stacked stone around most of the landscaping beds, trees and driveway. The egress window wells that are pre-made just can't mimic what real stone looks like. That being said, if I had a yard that was less landscaped, I might have considered a store-bought window well.
So, pretty fast in my research, I knew that I didn't want an egress window kit and that a DIY egress window was out of the question for this DIYer.
After researching more about how the egress window installation goes: cutting into our foundation, putting in French drains for drainage and building a wall – all to code. It was just outside of our comfort zone. Like, way outside our comfort zone.
So, as you can tell… I'm not going to give you a tutorial for installing an egress window but I will share how the basement window installation actually went down with our contractors.
From a Tiny Basement Window to Egress Windows
Installing an Egress Window
Have a company come out to mark electrical lines
Get permit
Use an excavation company to dig a trench along the area where you are having the egress window installed.
Excavation company will make sure egress window drainage flows away from the house using French drains.
At this time, your foundation will be exposed so check for waterproofing or any other issues.
Cut foundation for windows
Add header for windows
Install windows
Frame out windows on the exteriors
Add rock to bottom of the window well
Install river rock in window well and mortar
Backfill dirt to the window well
Regrade side of the yard for water drainage
Reseed yard
Frame out windows on the interior (we skipped this part because we can DIY and we wanted to save money)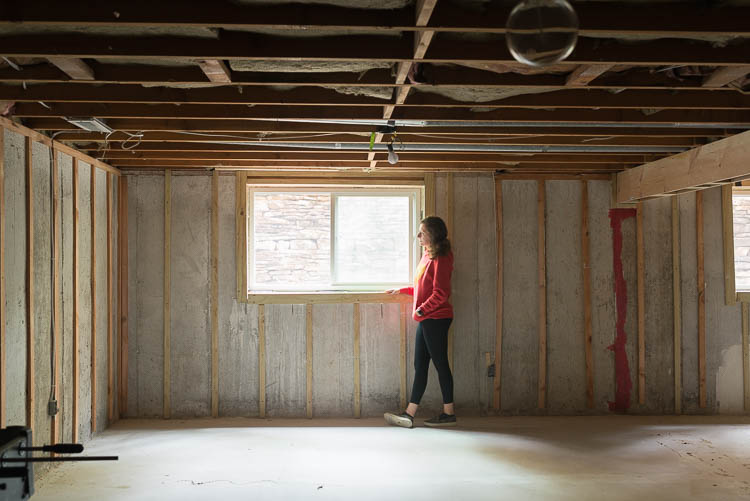 Basement Egress Cost
We paid just over $16,000 to have two basement windows put in and all of the work above done. We didn't go with the cheapest bid ($13K) and we didn't go with the most expensive bid ($45K). I will say that in our bidding process, we were originally thinking about just staying with the width of the original basement windows but going deeper so they could actually work as egress, but after looking at the cost difference to majorly enlarge the windows… we decided that it would be silly to not just go as large as we could.
A big portion of the $16k was the excavation and stone work for the size of the window wells. If you went with more of a standard window well kit and size, then you could probably cut this cost in half. For reference, the windows that we put in are 60″ x 36″.
Jess from Bright Green Door did a window well unit and some parts of the install were DIY and her price came to around $10,000. When I was crowd-sourcing on Instagram last year for anyone who had done this project and was willing to share the cost, a few people shared that it was around the $5K mark. I knew ours wouldn't be super low because, again, I wanted the rock ledges and to go as big as I could go. But, hopefully, by hearing these numbers, it gives you an idea of what your price could/should be.
So, curious to hear your thoughts on egress windows! Or even, just enlarging windows in general. Have you went through a similar process?
ps. See more basement renovation projects such as: Asbestos Removal and Abatement, Cost to Hire Drywall Installation, How to Cut a Rug to Resize It and Low Ceiling Lighting Options.