Is peel and stick floor tile a good product for bathroom floors? What is groutable vinyl tile in general? Get all the details about our peel and stick tile now that we've had it for years.
Peel and stick flooring is super easy to lay and lasts for years and years. We've had it for a long time, so I figured it was time to share more about how we laid the vinyl tile, how to grout the peel and stick tile and how the stick on tiles have held up.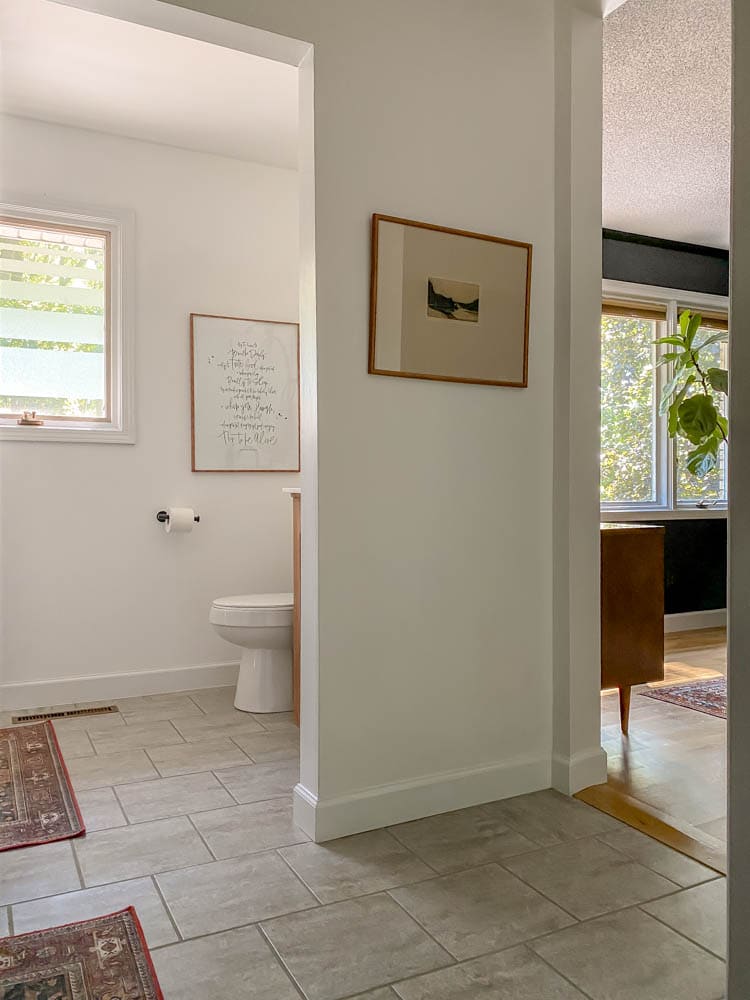 Peel and Stick Vinyl Flooring
On move in day at this house, back in 2012, we knew we had a long uphill road when it came to the bathrooms. ALL OF THE BATHROOMS HAD CARPET. Seriously, is there anything more disgusting than carpet in bathrooms?
We had ZERO home improvement skills. Seriously. The 'handiest' thing we'd ever done was to paint walls at our previous house and even that was new to us at that house. So, to say that we were in over our heads on the house renovation thing was an understatement.
We weren't scared of learning how to DIY and improve our house, but we just were new to everything. One of the first things that we knew we wanted to change was the flooring in our bathroom. The stained carpet really grossed both of us out.
After researching flooring and flooring costs combined with where our skillset was at that time, we ultimately decided that a good short-term option for our bathroom was vinyl stick-on tile. Since we moved in to a house that needed so much done to it, cost was a very important factor.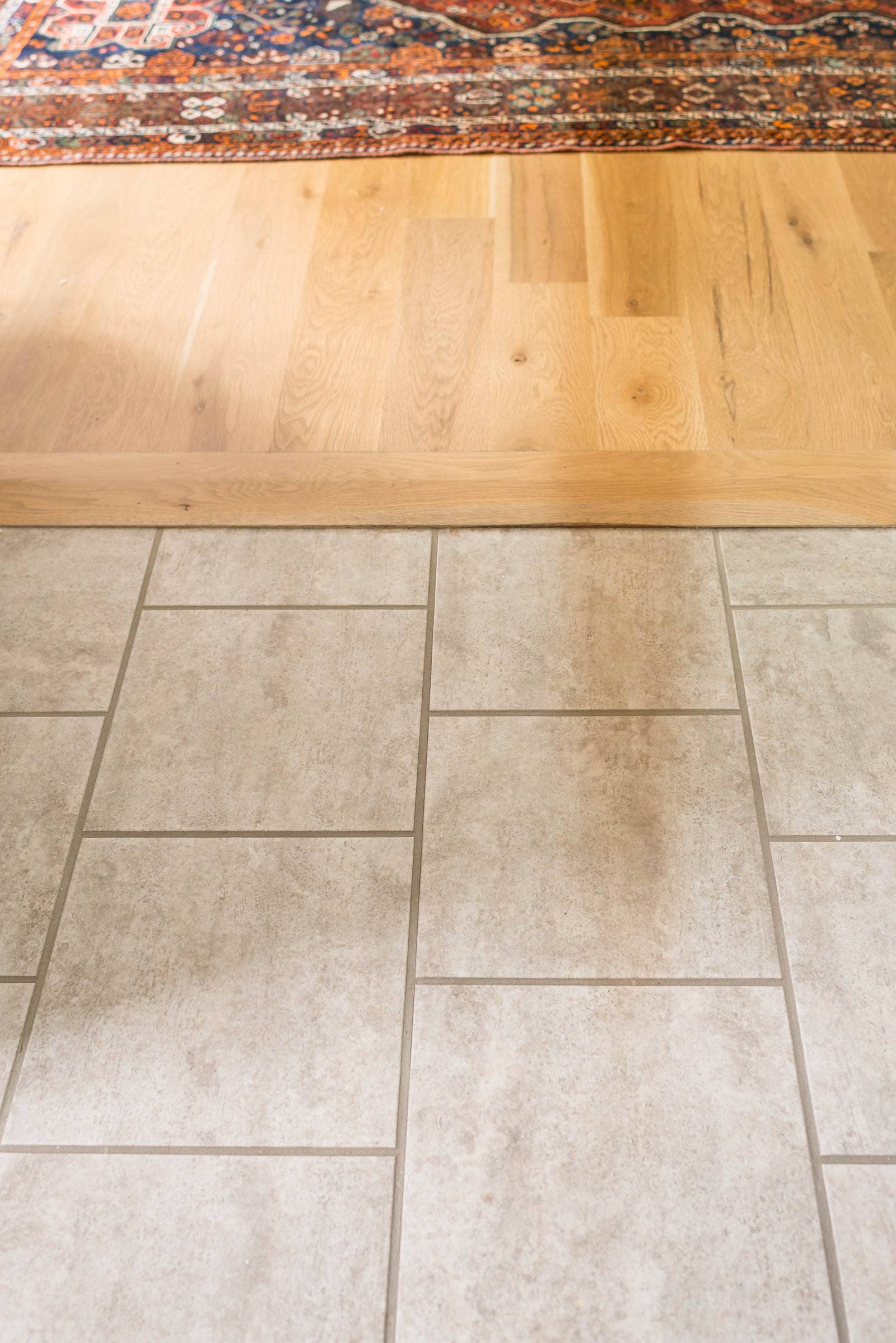 How Much Does Stick on Tiles Cost?
There are many different vinyl stick-on flooring options right now and most of them range from $1.50-$3.00 a square foot. When we purchased and installed ours back in 2013, there weren't very many options. We paid $1.50 a square foot.
Peel and stick bathroom floor tile usually ends up being MUCH cheaper than traditional tile because of the cost of the flooring itself AND the fact that you don't have to have many other supplies to lay it. For example, with traditional floor tile, you also need to install an underlayment (such as cement board), purchase mortar, rent or buy tile saws, etc.
Since we didn't expect to have this bathroom layout forever, the cost combined with the fact that we could learn to DIY a floor by ourselves made stick on vinyl tiles seem like a perfect fit.
Affiliate links below. Thanks for supporting me. Click to read my privacy and disclosure statement.
Peel and Stick Floor Tile Installation
Supplies Needed for Groutable Peel and Stick Tile
Vinyl Tile* (similar)
Vinyl Tile Grout
Grout Float
Sponge and Bucket
Grout sealer

How to Lay Peel and Stick Bathroom Tile
Prep your space by ripping up the carpet, taking all the tack strips out and making sure there aren't any staples or nails that are sticking up.
Make sure you have a good base flooring (no excessive water damage to your plywood floors).
Vacuum plywood and then dry brush it. We didn't use any chemical cleaning agents but if you have water damage or think you're flooring is on the bad side of things, definitely check into this.
Decide how you want to place your vinyl tile. Do you want a brick pattern or some other kind of pattern?
Decide where you want to start with your first tile. For us, I knew I didn't want a cut tile to be the transition tile from the bedroom, so we started with a full tile there.
Draw a chalk line or use a laser level to keep you tiles straight.
Peel the backing off of your first tile and lay it. Press firmly on the tile. We used a rolling pin to roll the tile down even more firmly and then made sure to step on them on each side as well. You can rent a rolling tool if you have a larger space (my dad and I borrowed a large rolling tool when we laid the stick-on flooring at the cabin and, for that large of space, it was a great tool to have). For a small bathroom, the rolling pin and stepping on each tile worked great.
For tiles that need to be cut, you can make a paper template to help but it's really not that hard to just cut them. Use a utility knife to cut the vinyl tile. You'll need a few blades, but it's pretty easy. The blades dull quickly and it's a lot easier with sharp blades.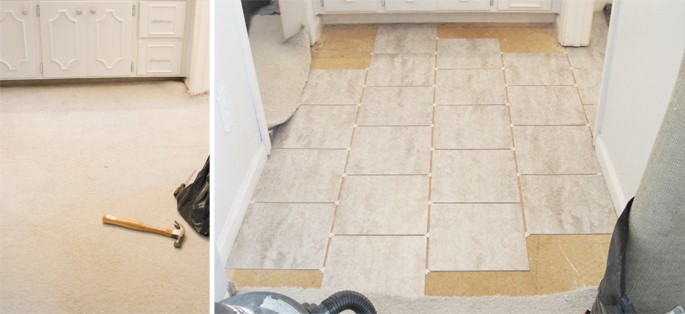 Grouting Stick on Tiles
I wanted our stick on flooring to look like real ceramic tile, so we decided to grout it. To do that, as you are laying the vinyl tile, you just need to lay it with tile spacers.
Once you have the vinyl floor tiles laid, take up the spacers and grout the peel n' stick tile, just like you would with traditional tile.
There are definitely a few extra steps because you have to let the grout dry, then get rid of the grout fog by cleaning and then seal the grout. So, definitely extra steps to grout the vinyl tile but not hard at all. I think it really helped our tile look nice, so I'd definitely recommend it.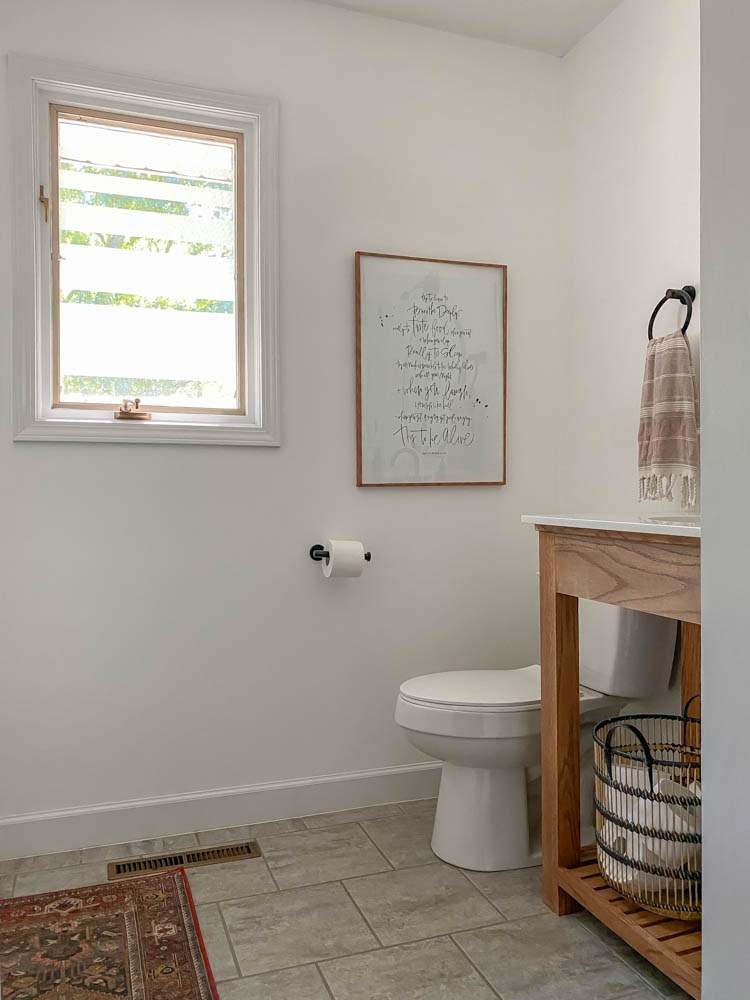 So, let's answer a few questions that I've gotten about this process.
What Can You Use To Cut Vinyl Tile?
Like I mentioned up above, vinyl tile is really easy to cut with a utility knife and a straight edge. You'll want to have a few blades on hand but, other than that, it's super easy to cut.
Does peel and stick flooring last?
Sometimes a temporary project that you think will only last you two years or so, ends up lasting 6 years and is still going strong! When we replaced our carpet with peel and stick tile from Lowe's, I thought we'd be ripping it back up after a few years. I didn't think it would hold up all that well longterm and I thought we'd be making a move to completely cut our master bathroom sooner rather than later. Products surprise you though and plans change.
One thing has led to another and we still have the peel and stick floor tile in our bathroom 6 years after we installed it and it's looking just as good as the day we laid it.
Is Peel and Stick Floor Tile Any Good?
Yes! We've now had the peel and stick bathroom tile over 6 years and it looks just as good as it did when we laid it. It's super durable.
We are very happy with how the cheap peel and stick tiles have held up. I know that vinyl tile isn't for everyone but it definitely fit our needs and gave us confidence to tackle more flooring jobs.
Our bathroom still has a long ways to go, but lots of progress has been made since move-in day. The $87 bathroom nook reveal was the biggest help in getting this space to a blank slate. I still can't believe that $87 changed it so much. Next up on the list is refreshing the medicine cabinet. This DIY medicine cabinet makeover is giving me all the inspiration to just get it done!