Are you excited about today's post, How to Cope Baseboards? Ha! The funny thing about it is that baseboards are one of those projects that tends to be put off, when in reality they don't take that long, don't cost that much to install and add so much to a space. For some reason though, we (and I know some of you) put them off still. Weird, right?!
Well, today for those of you who are scared about cutting, installing and finishing your baseboards, I have a how-to for you.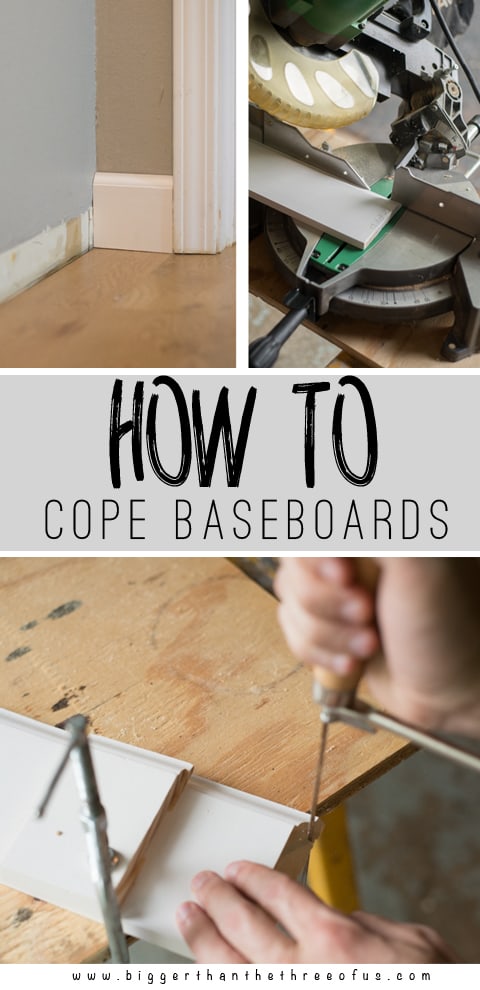 Every time we upgrade baseboards in a new room, we feel like it's a great investment and adds value to the house. It's been a natural fit for us because we've replaced a ton of our floors but even if you were keeping your floors… adding a chunky baseboard instead of a 3″ baseboard can drastically "up" the modern appeal in a space.
This is the 3rd post in our Baseboard Series. If you missed the other two posts, check them out:
Tips for Installing Baseboards (with a photo difference of the 3″ compared to the 5″)
How to Install Baseboards using a Scarf Joint (for uneven flooring)
 How to Cope Baseboards
When you have two walls that meet in a corner (an inside corner), one baseboard should be "coped" to fit into the other baseboard so that you have a seamless look.
Here's how to do that.
First things first, gather your supplies.
Supply List:
*Affiliate links below. Thanks for supporting this blog. Click to read my disclosure policy.
Step 1: Install ½ of the Corner
Measure and cut one baseboard so that it fits on your wall and meets up with the corner. No fancy cuts on this one. Just end it flush against the wall with a straight cut.

Step 2: Measure and Mark Where to Cope
We're going to cope the board first, and then measure it for length on the wall. To do this, just make sure your board is a couple inches longer than what you actually need on the wall. This will give us a couple inches of grace to do the coping without having to worry about exact measurements. Optionally, you can mark the end of the board that needs to be coped (in case you can forget that sort of thing while walking to the saw; like Luke can).


Step 3: Make First Cut Using Miter Saw
Using a miter saw on a 45° angle, cut the end of the baseboard off on the end you want to cope. The 45° angle should show more wood on the face of the board. See the third picture, below, for a good example.



Step 4: Clamp
Clamp the baseboard down to a sturdy surface to get it ready to be cut again.
*Tip: Use a baseboard scrap or another wood scrap to clamp the baseboard down. You usually want to do this so that you don't indent your baseboard with your clamp.

Step 5: Cope Using a Coping Saw
Grab your coping saw and start cutting. We use the coping saw for the decorative piece on the baseboard and then use a jigsaw for the straight part. We find this to be easiest and definitely the fastest way to go.
If you've never used a coping saw before, practice on a scrap piece. You'll get the hang of it, just make fast small, up and down movements (it's very similar to a drywall saw if you have used one of those). The tip my Grandpa gave Luke was: "Focus on moving the saw up and down without pushing it. The saw will move itself in the right direction." Sounds a little crazy, but works for us.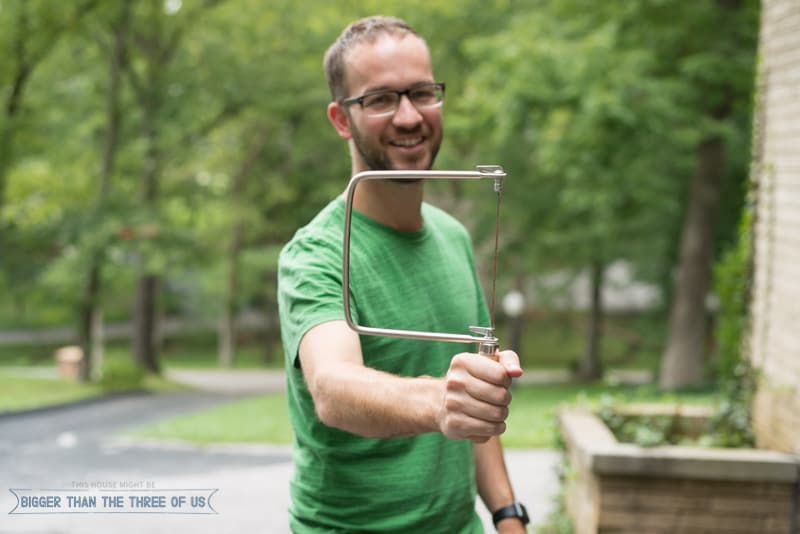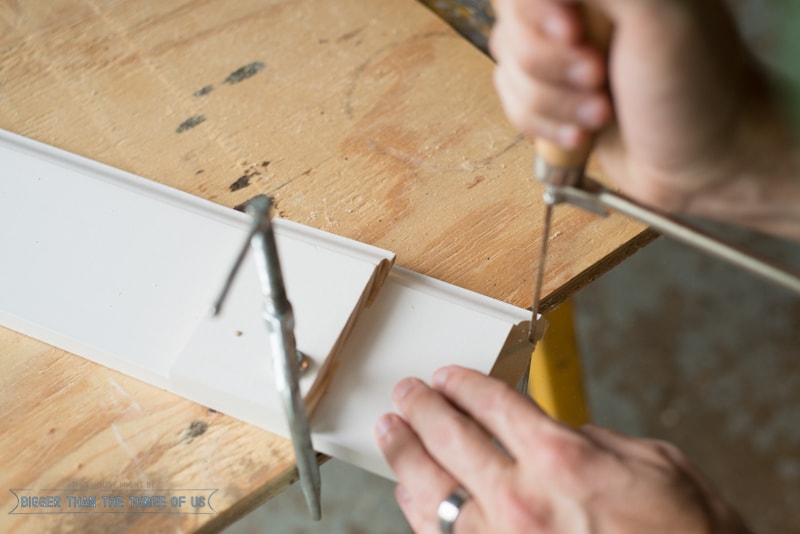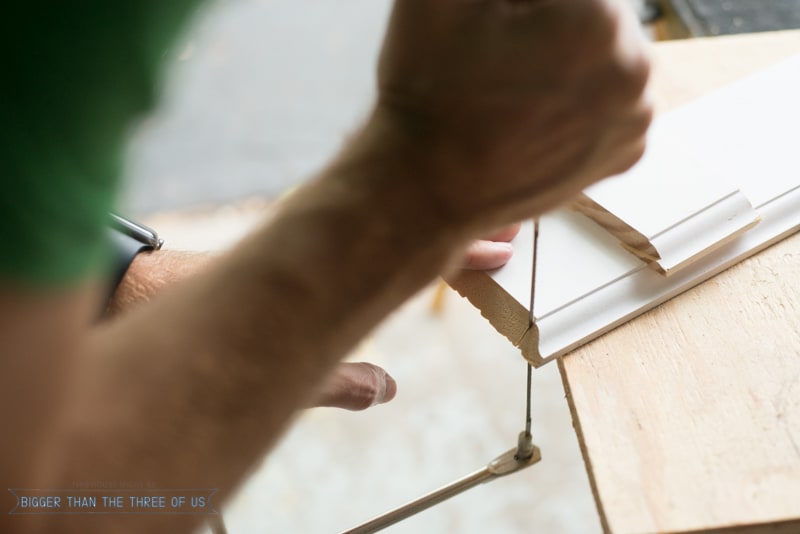 It can help to make a few little cuts up towards any sharp angles or curves on the trim.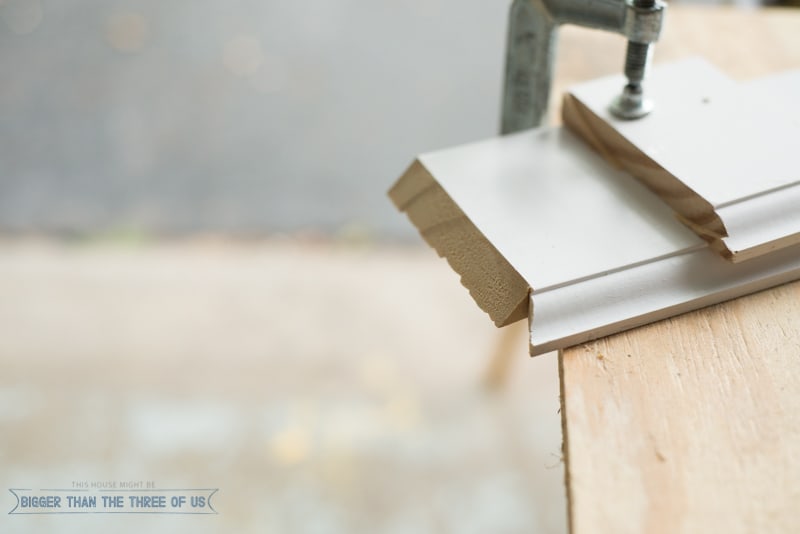 Step 6: Finish Cope with Jigsaw
Grab your jigsaw and finish the line of the area to be coped. When you're done, there should be no wood-grain showing on the face of the board.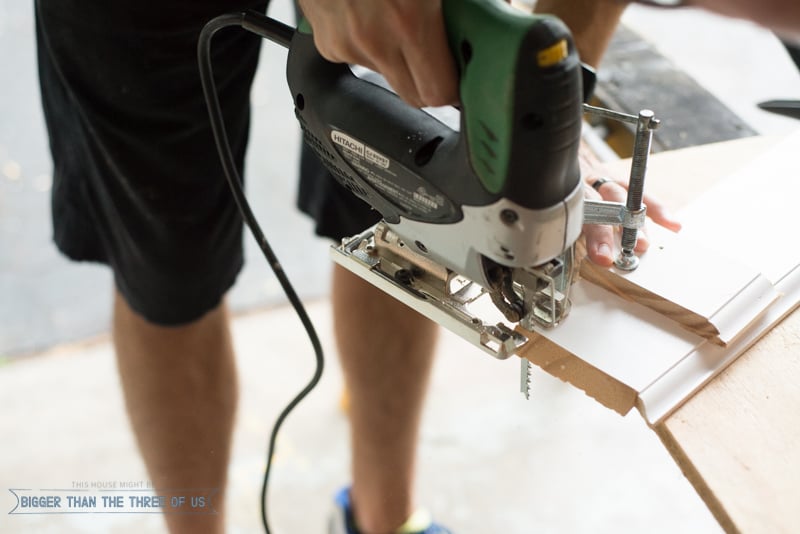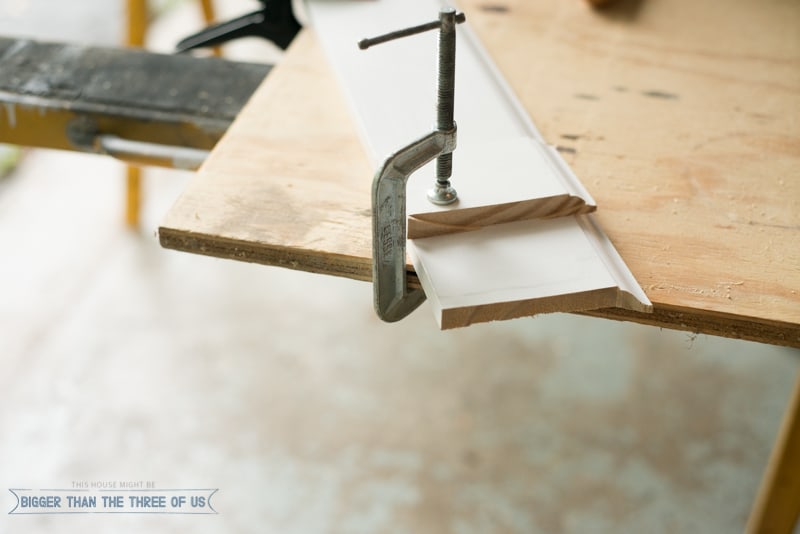 Step 7: Install
Install the baseboard like you usually install baseboards. We like to use this air compressor and nail gun. Add wood filler and paint.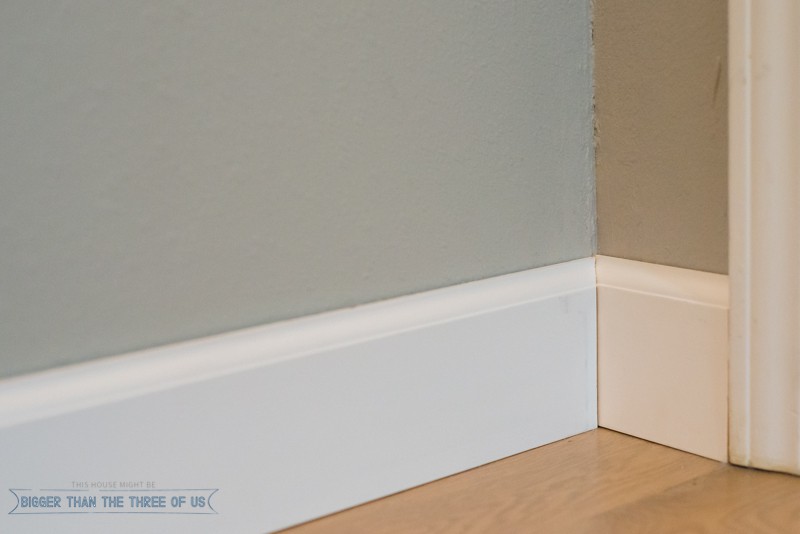 Shop Our Supplies

Pin For Later: