Today is the day! It's the reveal of the $100 challenge. If you are new here and have no idea what I'm talking about then let me catch you up. Erin from Lemons, Lavender and Laundry has challenged herself for a few years now to refresh a room for under $100. This year, she decided to see who wanted to tackle a room with her and blog about it together. Being the crazy person that I am, I said yes! =)
So, I decided to tackle our Master Bathroom Nook.
Play catch up on : Week 1, The Bathroom Nook / Week 2, The Design Plan /Bathroom Nook - All The Progress
Are you ready to see the Minimal Modern Bathroom Nook Reveal?
First, we have to take a quick look back.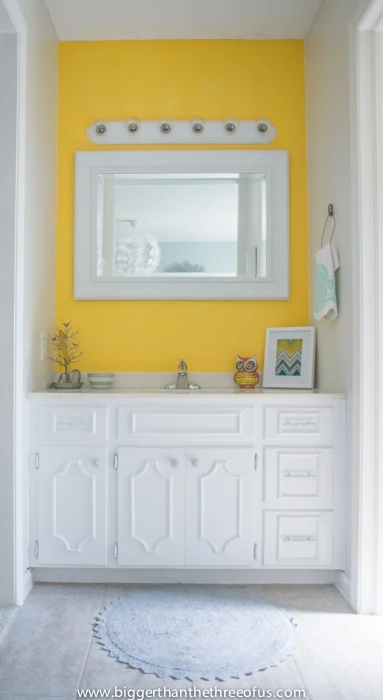 Although that picture doesn't look bad, the painted cabinets were starting to chip and the yellow wall was dirty. It had all just seen better days and wasn't at all going with the design of our master bedroom.
So, here we are now: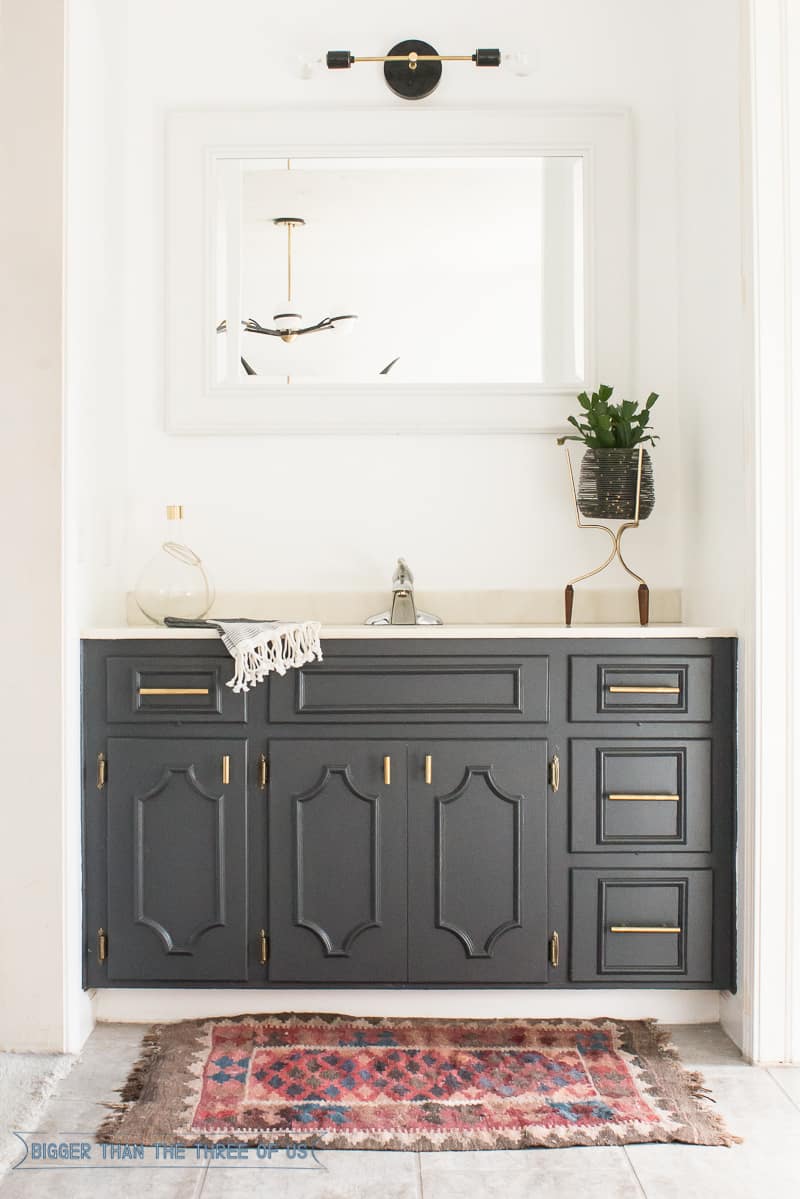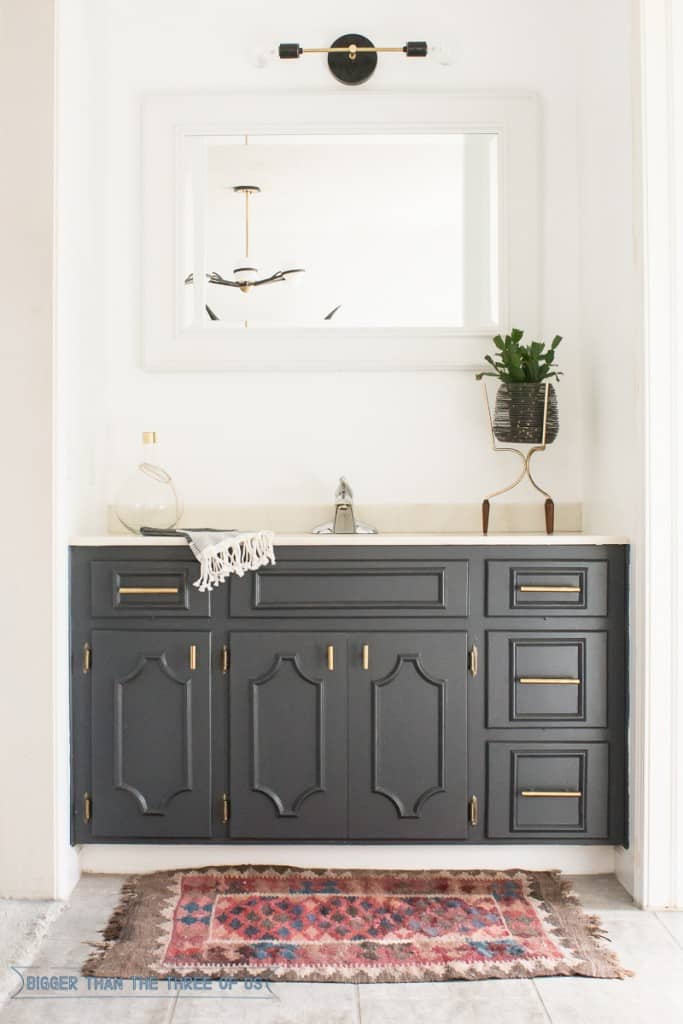 So, what did we change? What did we not get to? What do we love?
We had a lengthy to-do list that included: painting the cabinets, replacing and fixing the trim, stripping the hardware, painting the walls, replacing the mirror, DIYing a light, replacing the rug and adding some decor.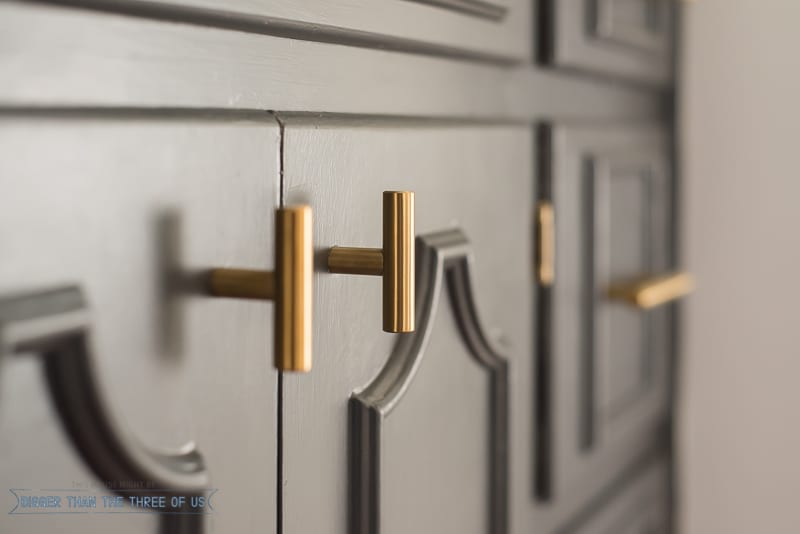 We finished most of the list but ran into a few snags. The hardware stripping did not go as planned so I ended up buying all new hardware. That cut in to my budget pretty drastically.
*Affiliate Links Below. Thanks for supporting this blog. Click to read my disclosure policy.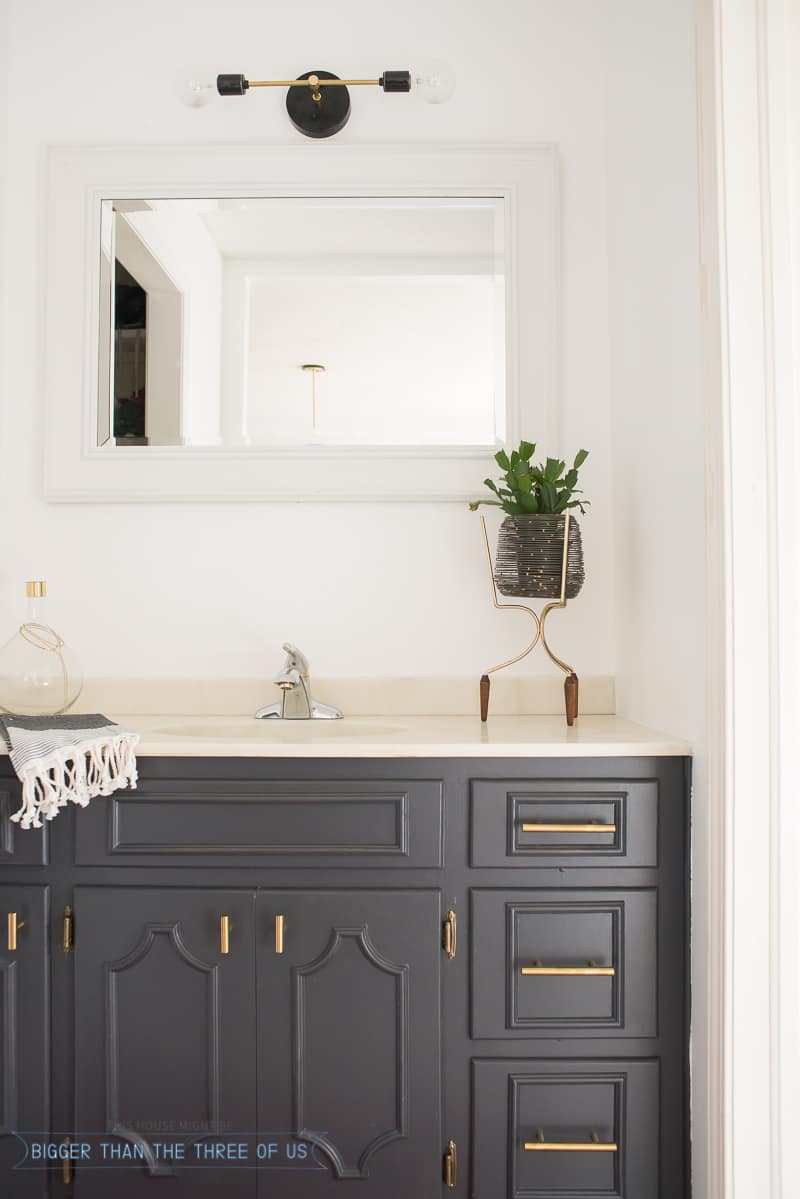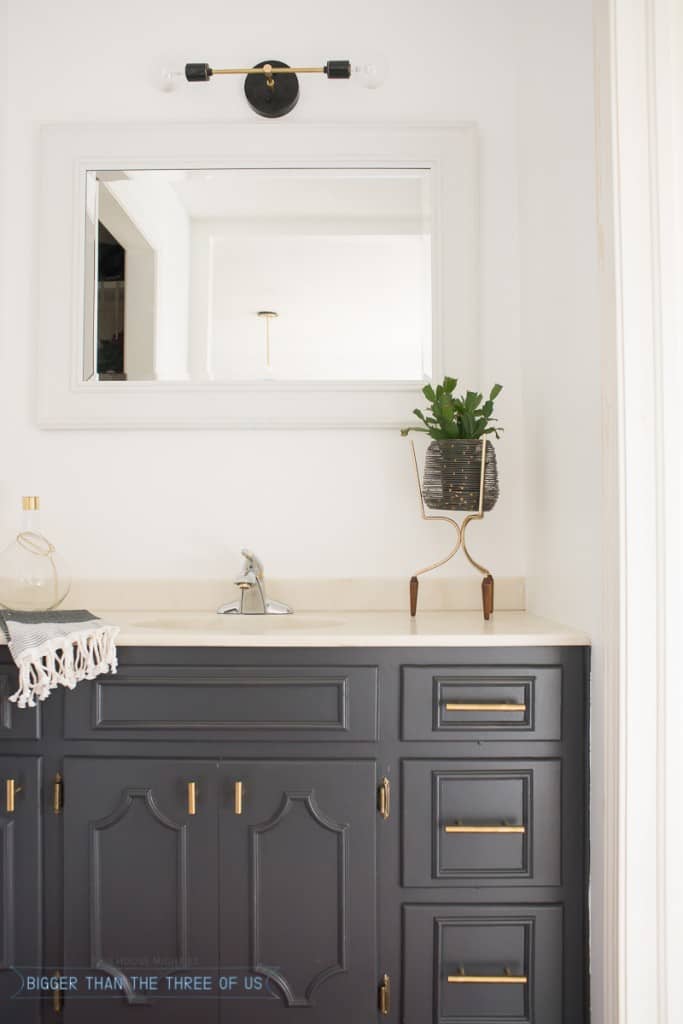 We wanted to replace the door jams but we ran out of time. We did get the baseboards cut and added quarter round to account for the slope of the wood flooring to laminate flooring (by the way, our groutable peel and stick tile is still holding up! Make sure to catch the old blog post for details on it).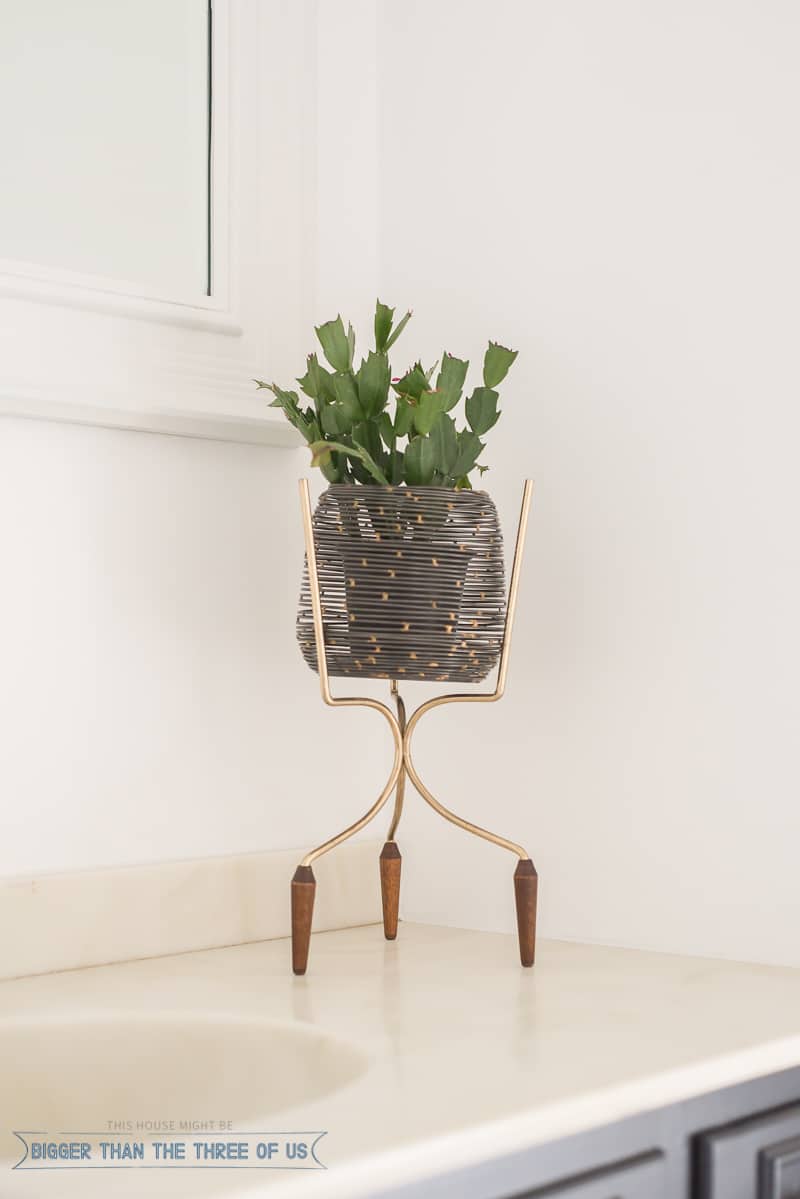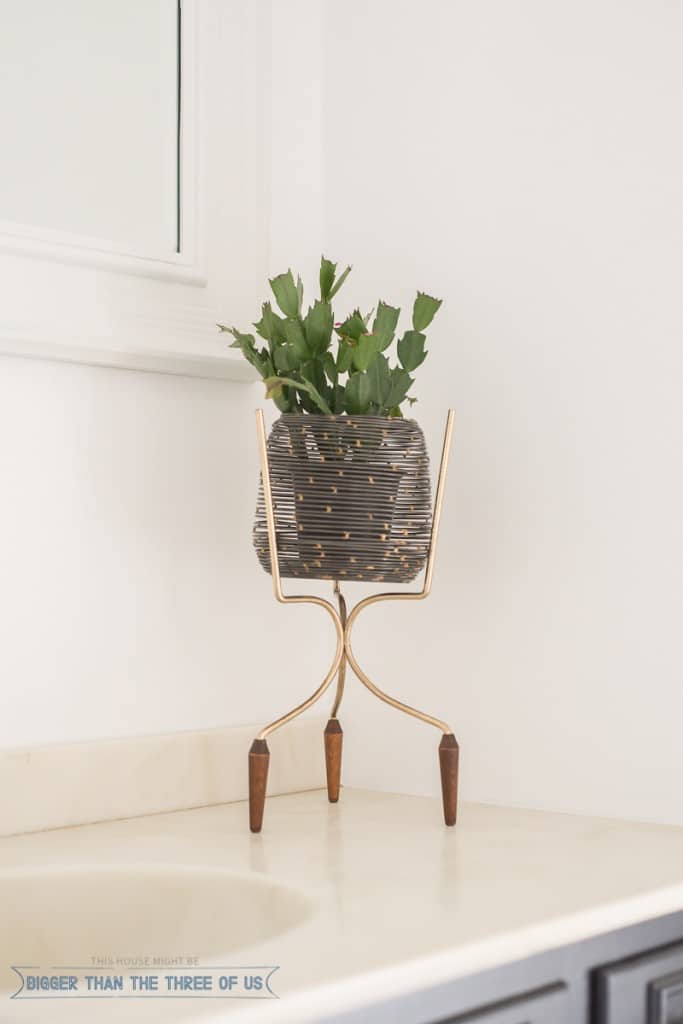 Because of some of the unforeseen purchases (light box, extra trim, hardware, etc.), I had to forgo the circle mirror. That was a huge bummer - and eventually, I hope to put one in - but for now... progress is progress!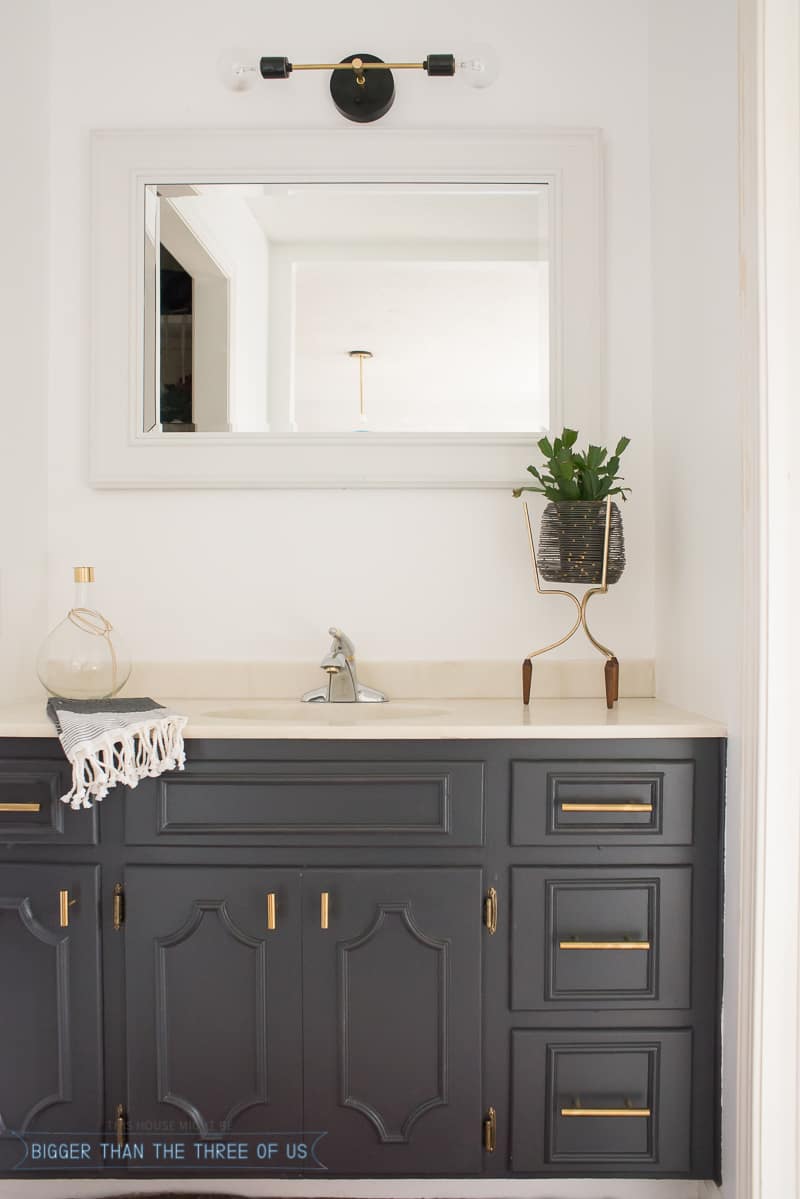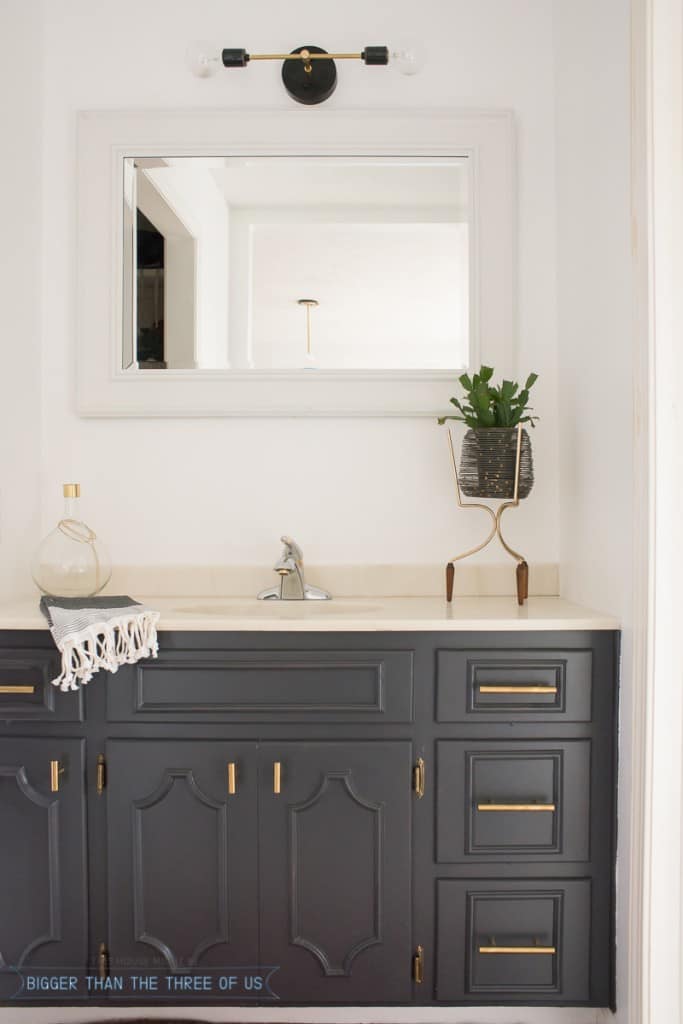 The DIY light went as smoothly as possible. Seriously, it was simple. I'll share more details on this next week.
*Edited 02/15: See the DIY Modern Brass Light.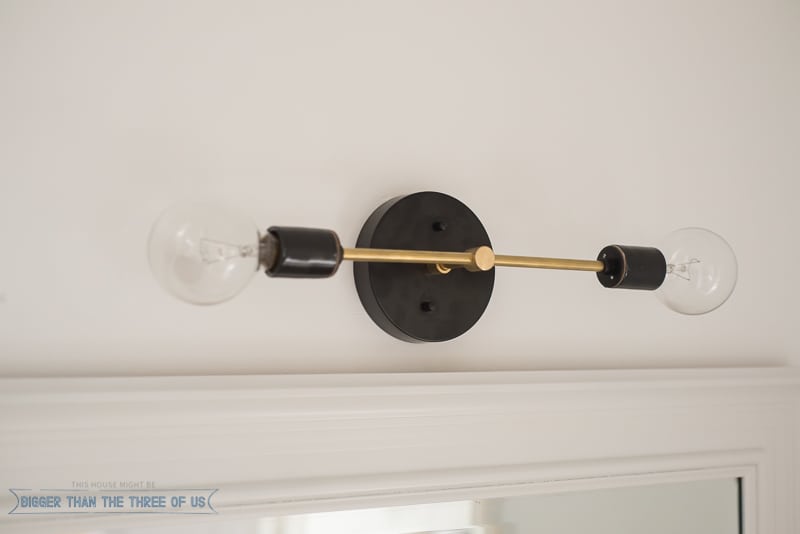 I had this rug in my stash. It wouldn't be my number one choice but I do think it goes fine. I found a really similar one if you love it and want the same look.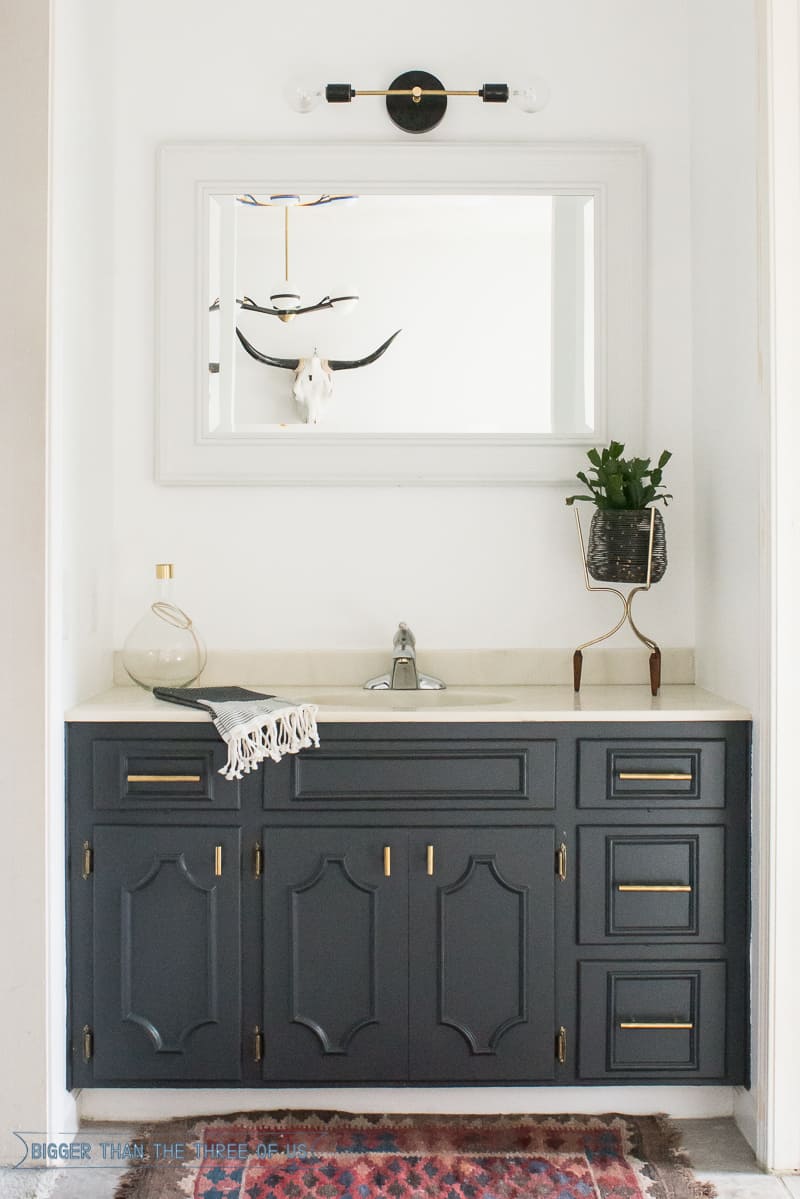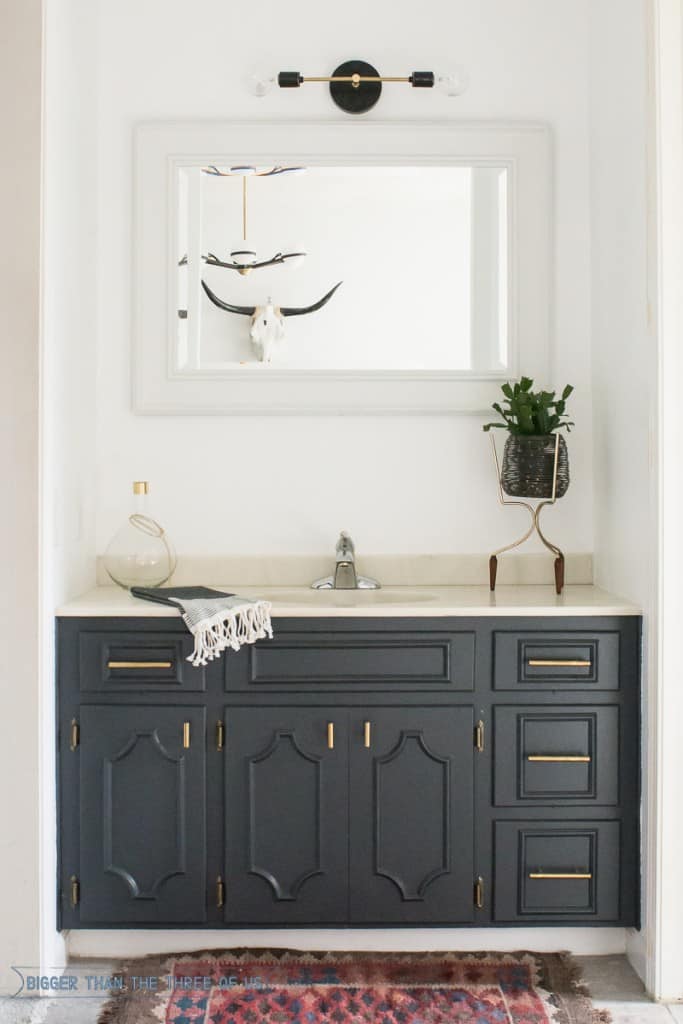 I picked up the cute little towel from Hobby Lobby.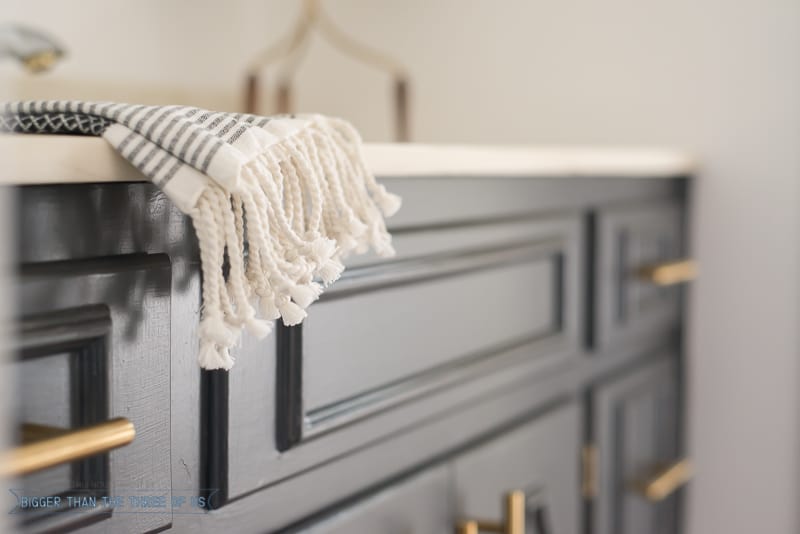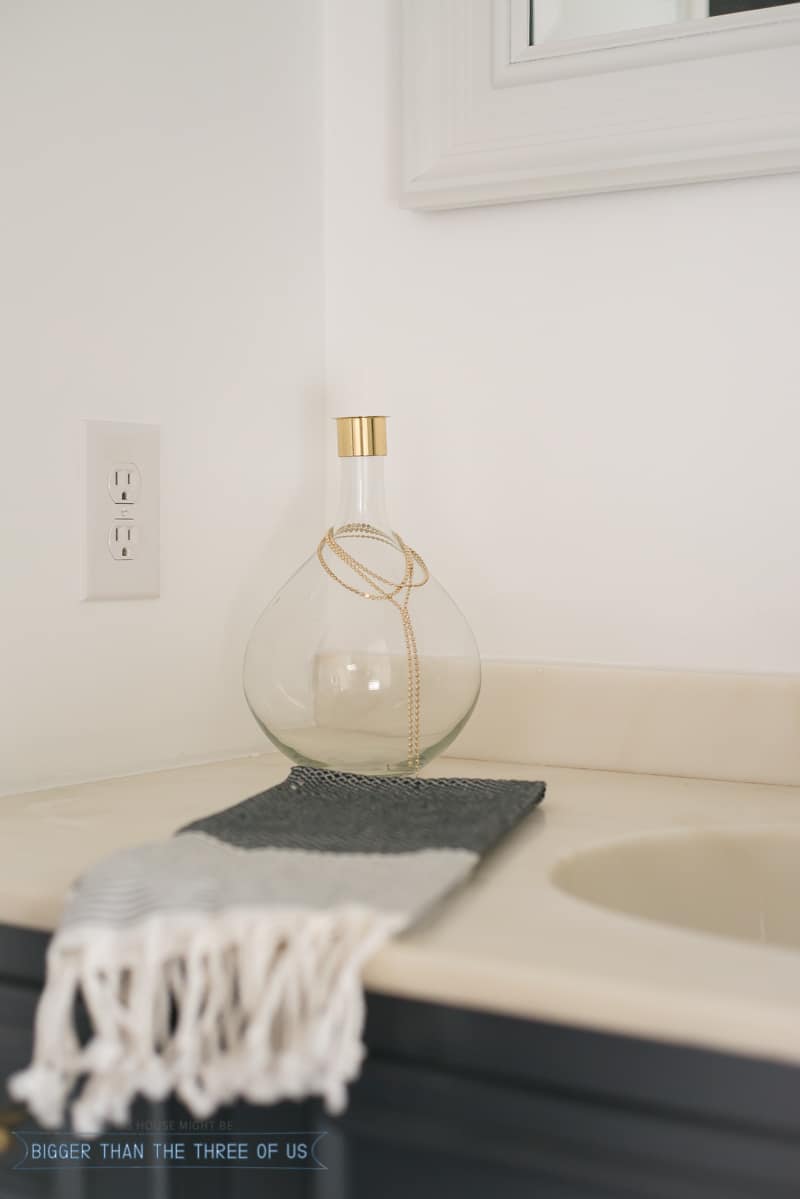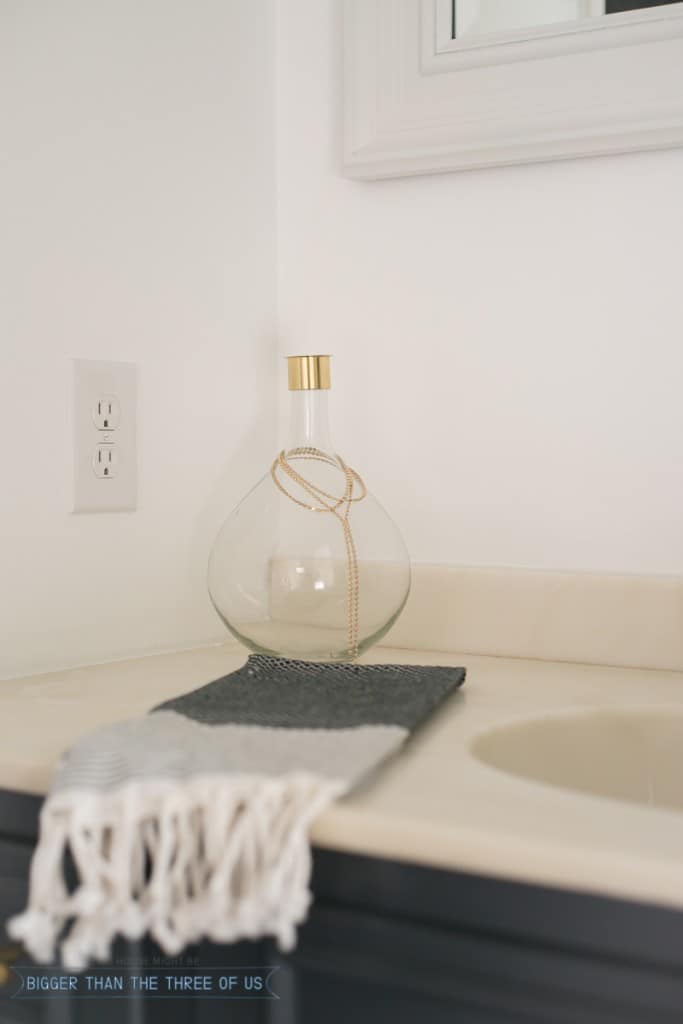 Overall, the bathroom caused some frustration but I think that was mainly due to being on a deadline. However, I think now that we see how it plays with our space... it's all smiles over here.
Here's the budget breakdown:
Paint bathroom cabinets dark (Used leftover paint from kitchen) – $0
Thrifted crockpot to strip paint - $6
DIY a Light – SPENT $40.51
Fix Baseboards (Have extras on hand) – $0
Quarter Round - $6.64
Paint Door Trim and Baseboards (have paint on hand) – $0
Hobby Lobby Towel – $4.29
Hinges - $8.31
Pulls and Knobs - 21.54
= $87.29
Yay! We made it right under budget.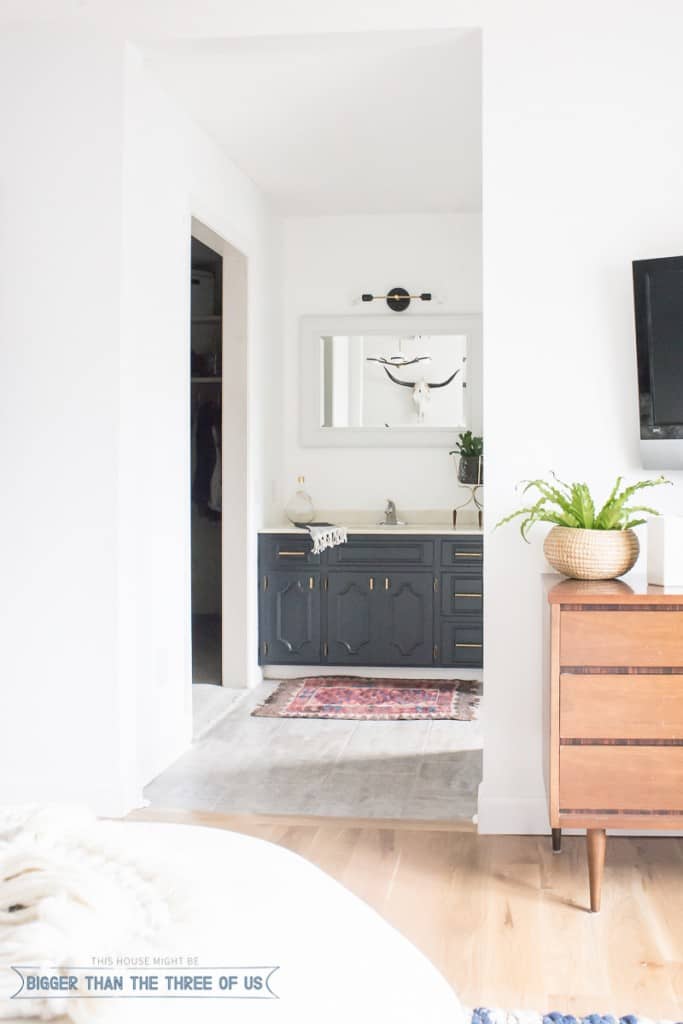 Next week, I'm revealing our master bedroom. Make sure to stop back by to see that!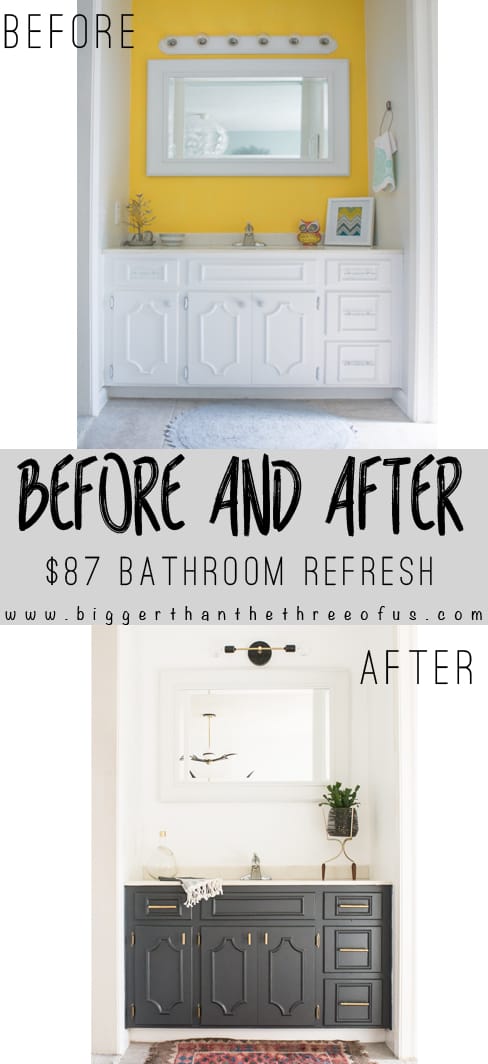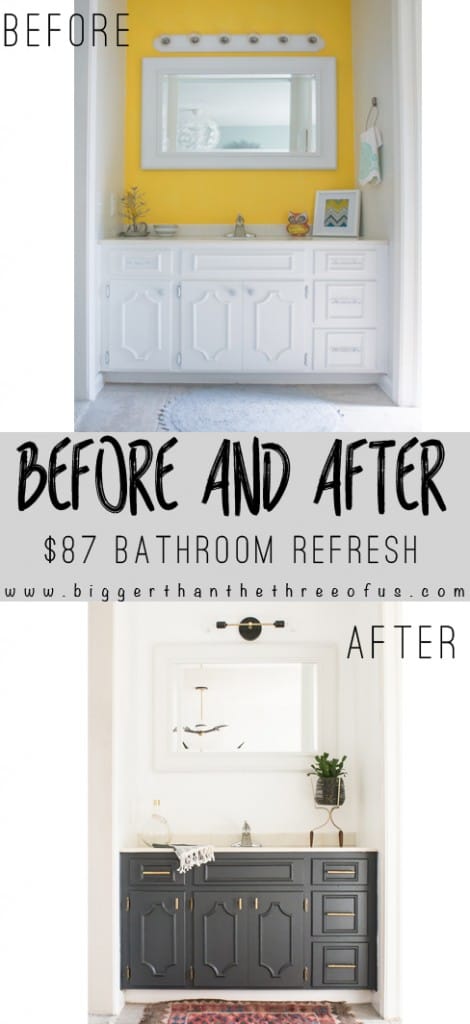 Shop our Space