This is week three of the $100 challenge! It's all about progress this week. If you are new here and have no idea what I'm talking about then let me catch you up. Erin from Lemons, Lavender and Laundry has challenged herself for a few years now to refresh a room for under $100. This year, she decided to see who wanted to tackle a room with her and blog about it together. Being the crazy person that I am, I said yes! =)
So, I'm tackling our master bathroom nook for under $100.
Play catch up on : Week 1, The Bathroom Nook and Week 2, The Design Plan
So, this week we made progress but also stalled a bit too.
First up, I prepped the walls for paint.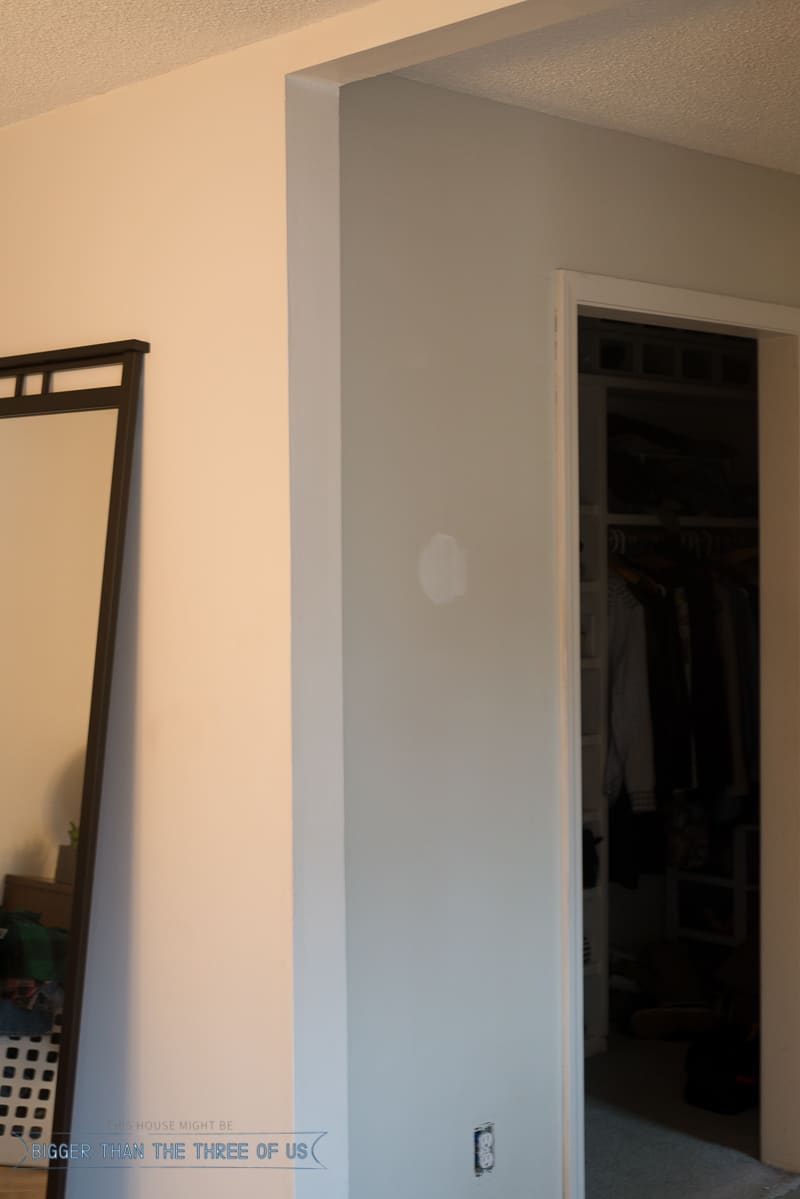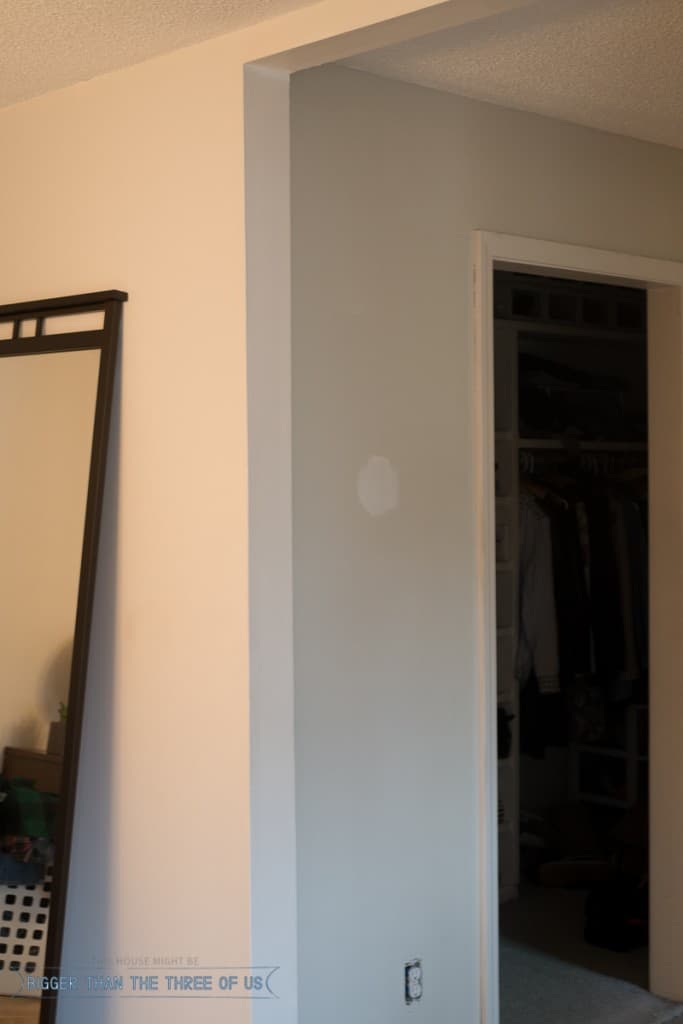 You would have thought the walls were bright white, but compared to our bedroom they were super murky looking. Look at that bright white swatch! It's going to look so good.
I took off the baseboard (to the left) so that we can install bigger baseboards that match our bedroom. I did this to both sides.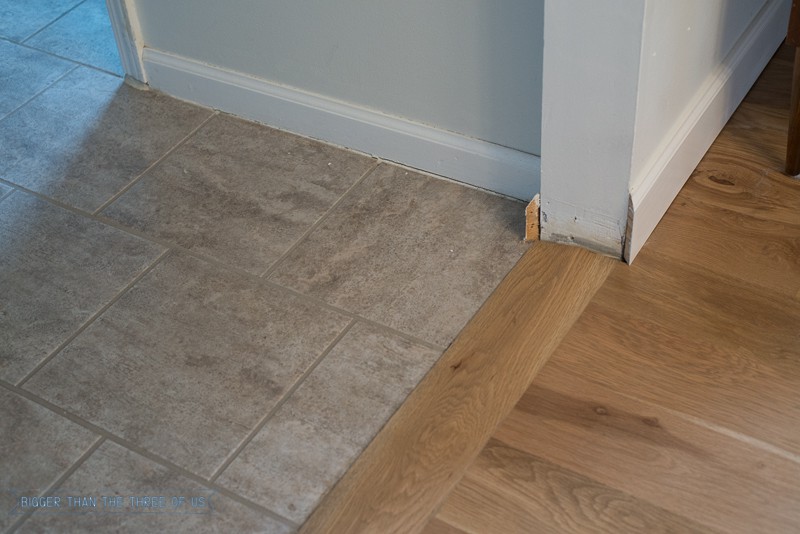 I tried to strip the spray paint from the hardware with the crockpot method. Basically, you drop it all in a crockpot and cook it on low for hours and hours. It kinda worked, but not really. So, I blew quite a bit of my budget and ordered hinges, knobs and pulls.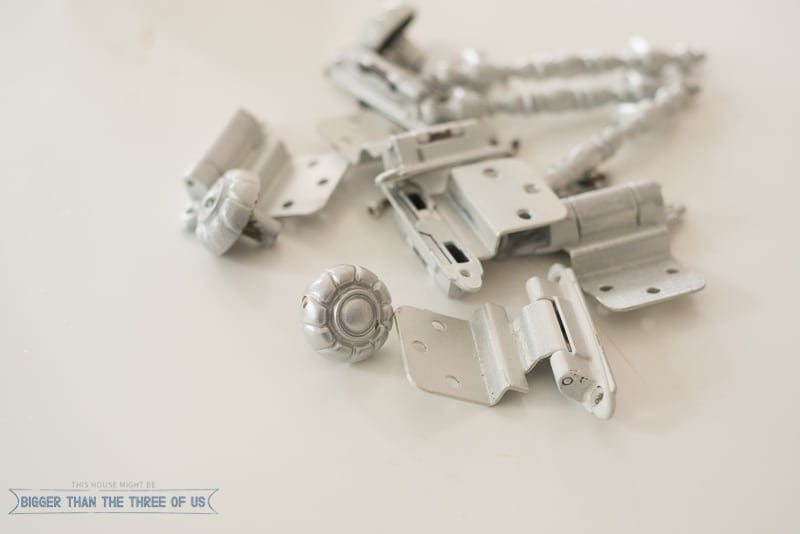 Other than that, I started prepping the wall for a new light. While doing that, we found that the original light was installed without a light box (meaning the connection wires are just inside of the drywall). So, I added another thing to my list to do (install a lightbox first).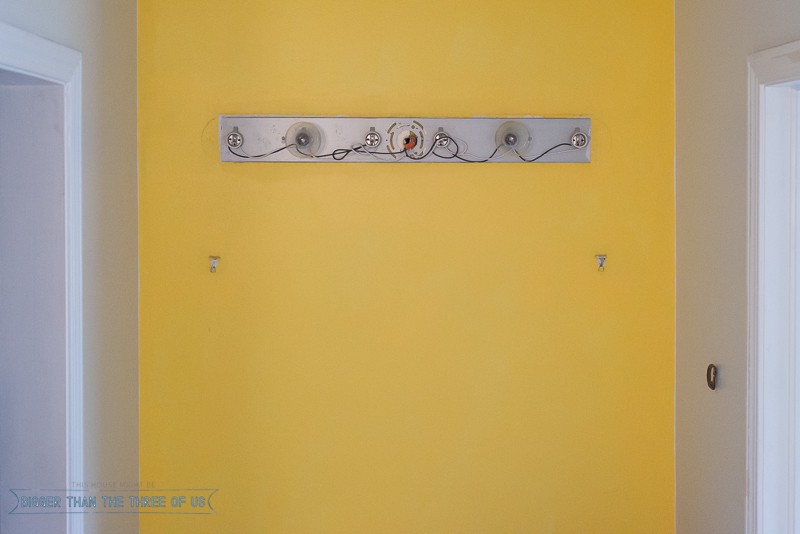 So, lots of things have been started but nothing's been finished and we only have a week left! Am I going to make it?
Bathroom Design Plan and To Dos
Paint bathroom cabinets dark (Use leftover paint from kitchen) - $0
See about stripping hardware - $3 Acetone (SPENT $6 on a crockpot)
New Rug - $20
DIY a Light - $50 (SPENT $40.51)
Fix Baseboards (Have extras on hand) - $0
Replace Door Trim $20
Paint Door Trim and Baseboards (have paint on hand) - $0
Random Accessories (New soap container or towel) - $7
= $100
*Affiliate links below. Thanks for supporting this blog. Click to read my disclosure policy.

See all the rooms that are being made over for the $100 challenge: