I'm excited to say that I'm participating in a $100 Room Challenge over the next few weeks. Say what?! Yep, our Master Bathroom Nook is going to get a little update. But first, here's the backstory... Erin from Lemons, Lavender and Laundry has challenged herself (I believe 10 times) to makeover a room on a $100 budget. Crazy, right? Well, apparently we all love a little crazy in our lives because this time around... there's quite a few bloggers that are joining with her and challenging each other to makeover or update a room all under $100.
 I really love the idea of trying to work with what you have first, repurpose things, etc., so that you end up with a room that you love or like a ton better than what you started with and by only spending a maximum of $100!
We can all fall in love with rooms that we see in magazines or on Pinterest but, realistically, we can't afford to redecorate or buy everything we love. I know that I'm not the only one out there that feels like this. So, with this $100 challenge; challenge yourself to see how far you can make $100 go with a room reveal too!
Ok, so let's get to the space that I'm going to tackle... the Master Bathroom Nook.
To be honest, I couldn't decide which room to tackle. It was between the Master Bathroom Nook (I call it a nook - tell me what you'd call it when you see it), the entryway, the powder room (hello, ugly wallpaper and carpet!), etc. We have so many spaces that would benefit from a little love (or a LOT of love). I just had to pick one so I picked the Master Bathroom Nook.
Cover your eyes...
On move-in day: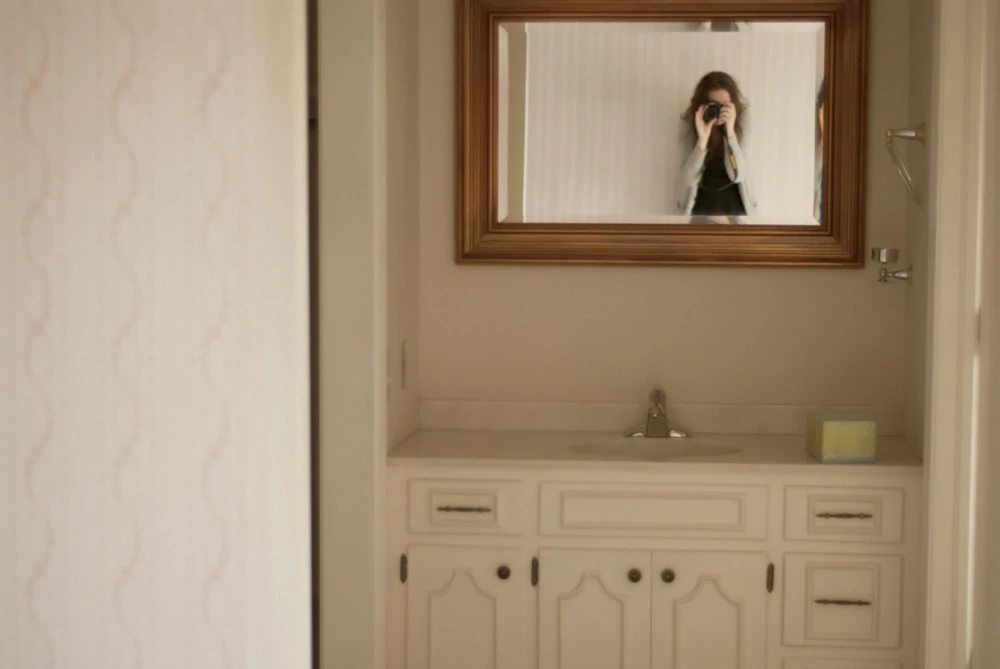 Sometime after move-in: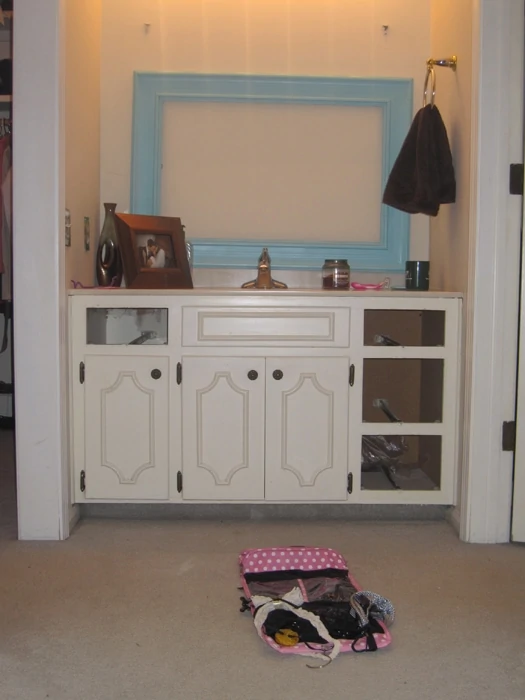 Late 2013: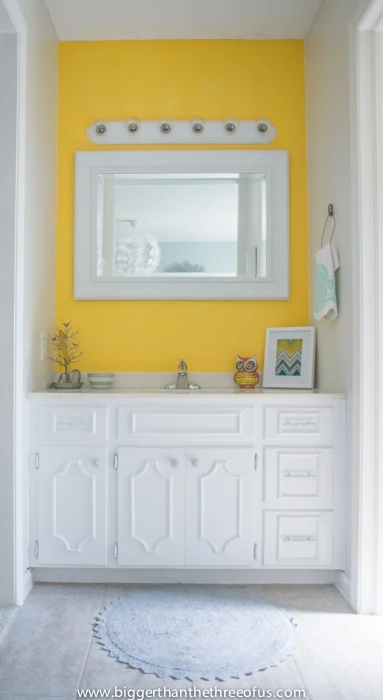 Why would I have ever painted a wall bright yellow? I have no idea what I was thinking.
I basically spray painted the hardware, painted the cabinets, we put in and grouted peel and stick tile and we painted the walls.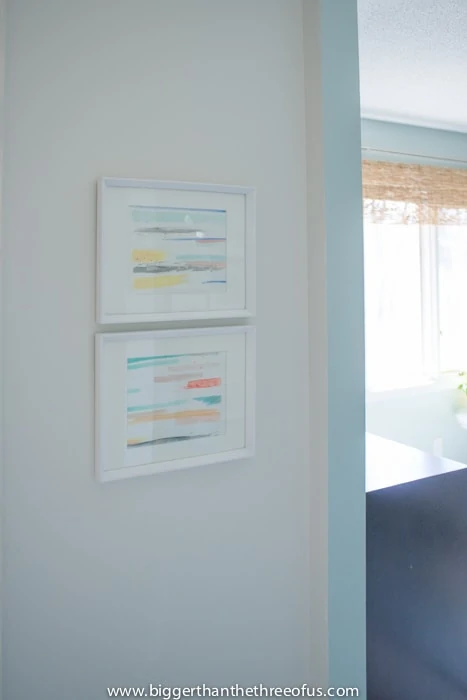 Luke did some simple watercolor art and I added a few accessories. It's pretty much stayed the same since I shared it back in 2013.
To be honest, it went with our bedroom when our bedroom looked like this: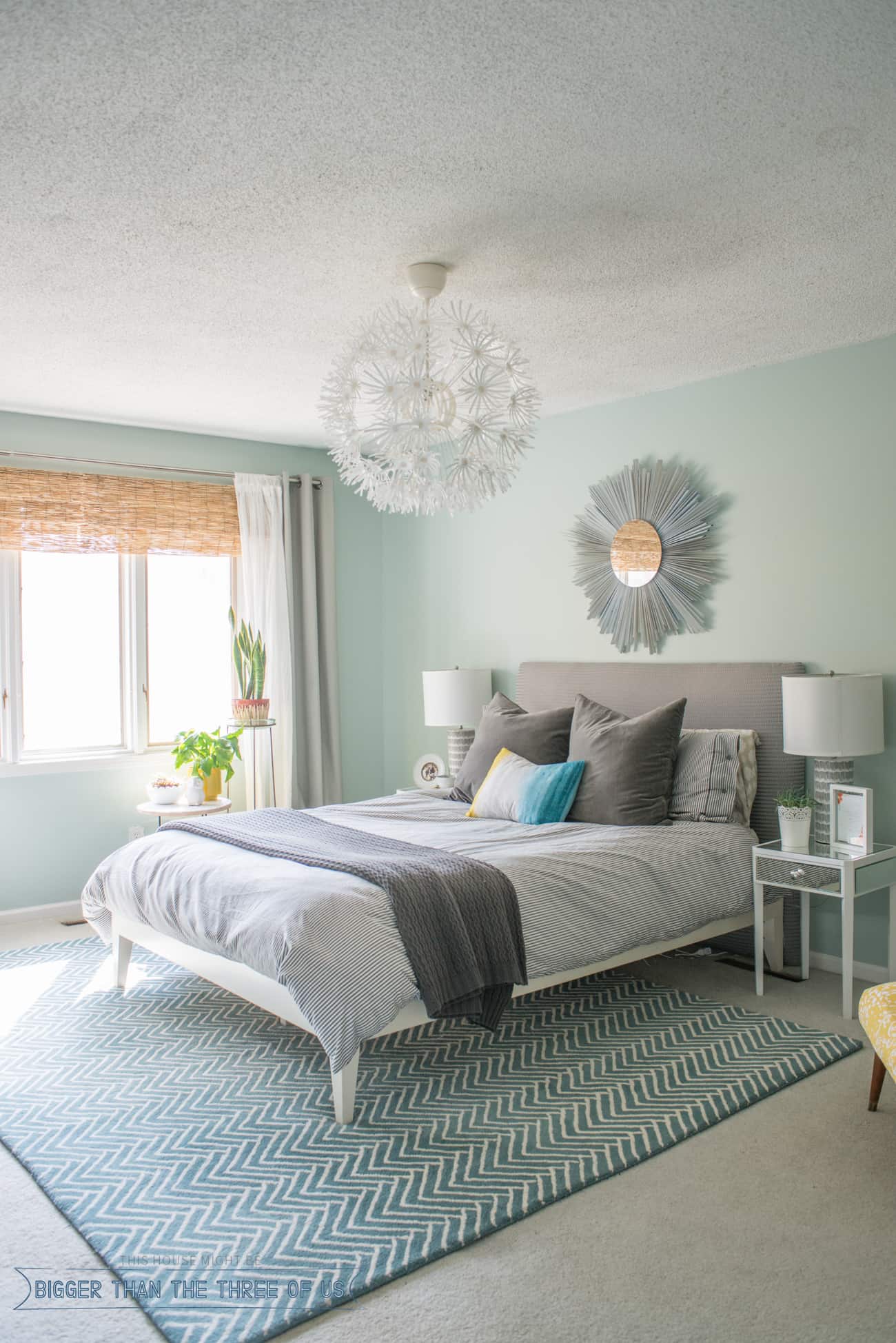 See the old master bedroom reveal if you missed it.
But, our style has totally changed and the nook no longer even slightly goes with our bedroom.
So, the goal of this update is to not renovate the space because, that's not possible on a $100 budget. The goal is to refresh the space though! Make it more inviting, make it feel like us and make it match with our bedroom.
I haven't posted about our bedroom in awhile (and it's almost completely done!) but here's a pretty close look at the general vibe of the space.
So, are you excited to follow along? Do you think I'm crazy? If you were me and had $100 to spend on the space, what would you do?
Just as a reminder, this is where I'm at: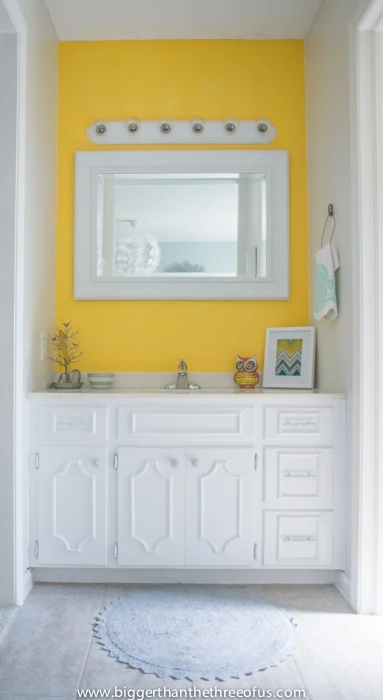 I hope you are as excited about this as I am! Make sure to hop around in the links below to see more $100 challenge bloggers. I can't wait to be inspired by all of them.