This is week two with the $100 challenge and it's all about the Bathroom Design Plan today. If you are new here and have no idea what I'm talking about then let me catch you up. Erin from Lemons, Lavender and Laundry has challenged herself for a few years now to refresh a room for under $100. This year, she decided to see who wanted to tackle a room with her and blog about it together. Being the crazy person that I am, I said yes! =)
So, I'm tackling our master bathroom nook for under $100.
Let's be honest here, $100 doesn't go far at all. So, this is not going to be a remodel... what this is going to be is a refresh. I actually love the requirements around this challenge - spend under $100 because I think this is doable for most of us.
Ok, so real quick... here's where the bathroom was last week. Or, check out last week's post for more pictures and details.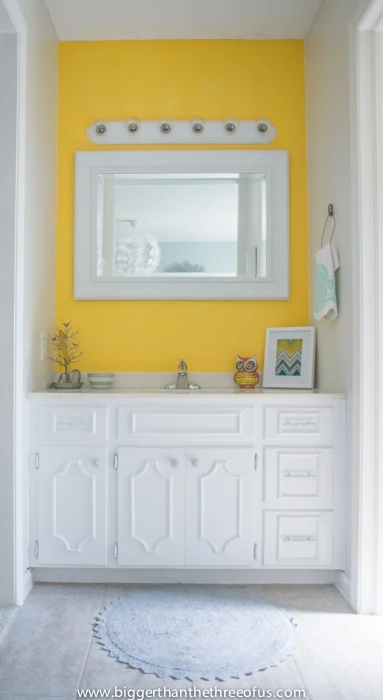 Not ugly per say, but totally not me.
My current style is definitely not the same as it was a few years ago.
I posted on Facebook (hey, hop over there and like me if you haven't already!), this image:
I asked which one everyone liked. I was happy to hear that everyone liked the left side better. I do too!
So, that help firm up my plan for the space.
Bathroom Design Plan and To Dos
Paint bathroom cabinets dark (Use leftover paint from kitchen) - $0
See about stripping hardware - $3 Acetone
New Rug - $20
DIY a Light - $50
Fix Baseboards (Have extras on hand) - $0
Replace Door Trim $20
Paint Door Trim and Baseboards (have paint on hand) - $0
Random Accessories (New soap container or towel) - $7
= $100
See all the rooms that are being made over for the $100 challenge: