How to Clean a Vintage rug, or really, how to clean a rug at home. This simple method of rug cleaning will work for lots of different rugs! I've used this method over and over again, and have had great success.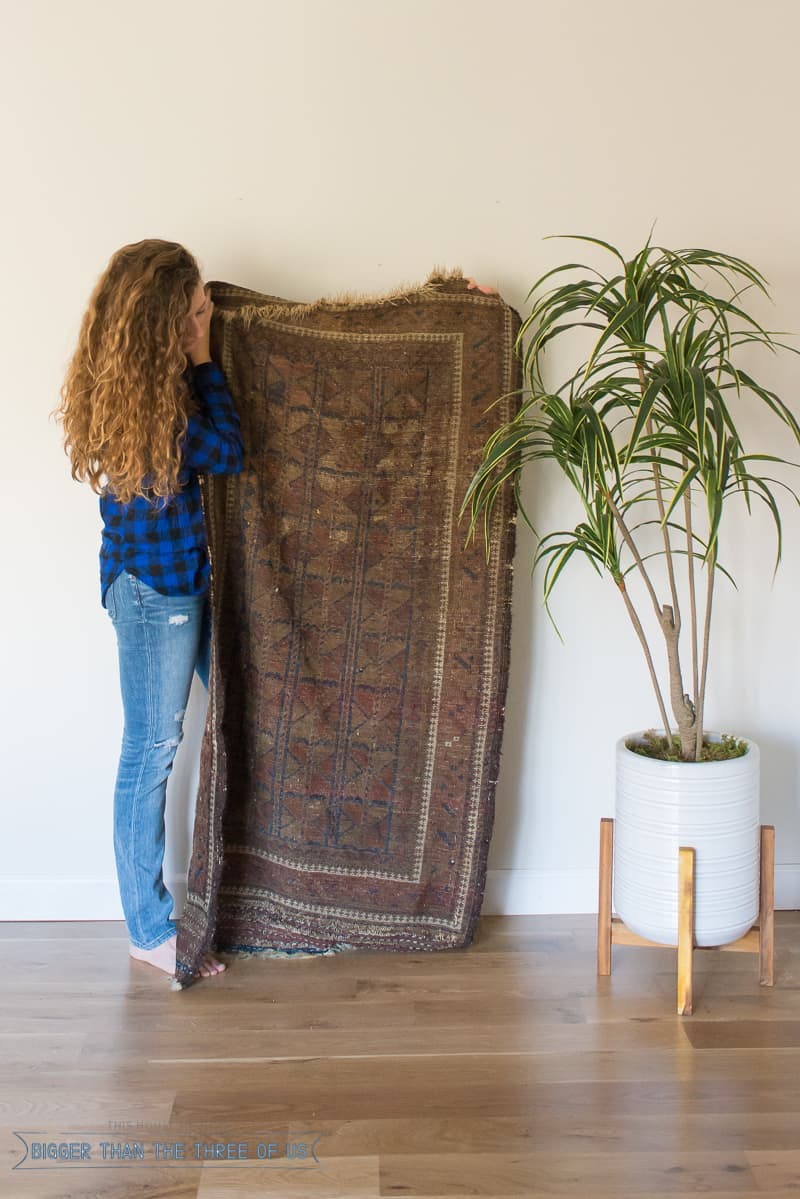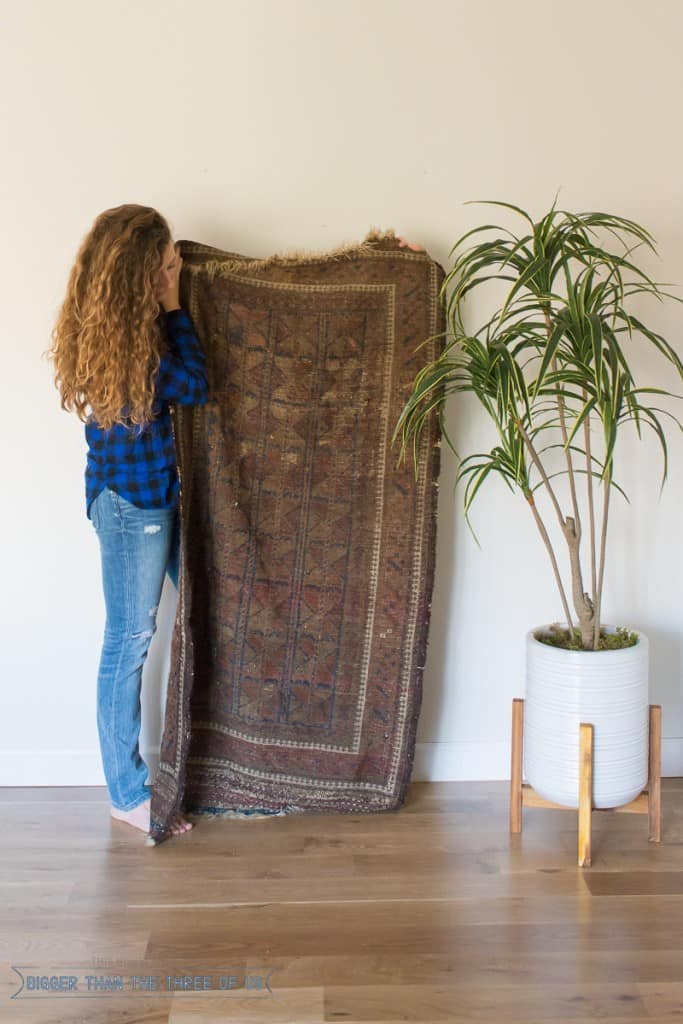 As you all know, I'm a HUGE lover of vintage rugs. If you don't know that already, where have you been?! =)
But seriously, if you love vintage rugs like me then definitely check out:
With all my vintage rug purchases, I've noticed that some sellers will list that the rug has been "professionally cleaned" and other's won't list that at all. To be quite honest, we walk on rugs and unless they smell weird or have a big stain, I don't think to clean them. But, my newest (old) rug purchase made me think about how to actually clean a rug at home.
Here's the backstory on the rug. I got the rug on eBay using the tips that I shared in the post on How to Buy Affordable Vintage Rugs. In the description of the rug, it said something about the rug having moth damage and being dirty.
When it arrived, it smelled like mothballs, for sure.
I thought about taking it to a rug cleaning company but I hated to spend the money on that when I was kinda curious to see if I could just clean the rug at home. I thought about it for a few days and then just decided to go for it. Spoiler alert, I'm so HAPPY that I went for it and since this rug, I've cleaned a bunch of rugs at home.
How to Clean a Vintage Rug
Test your rug to see if the color will bleed with water. To do this, grab a paper towel and get it wet.
Press the paper towel firmly into the rug for 2o seconds or so.
Release the pressure and check the paper towel to see if the rug colors bled. If no color bleeding has occurred, then continue with the steps below.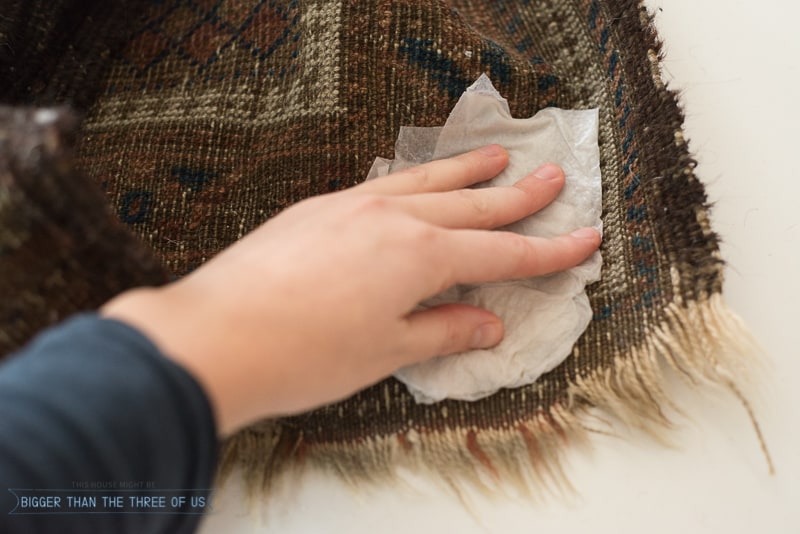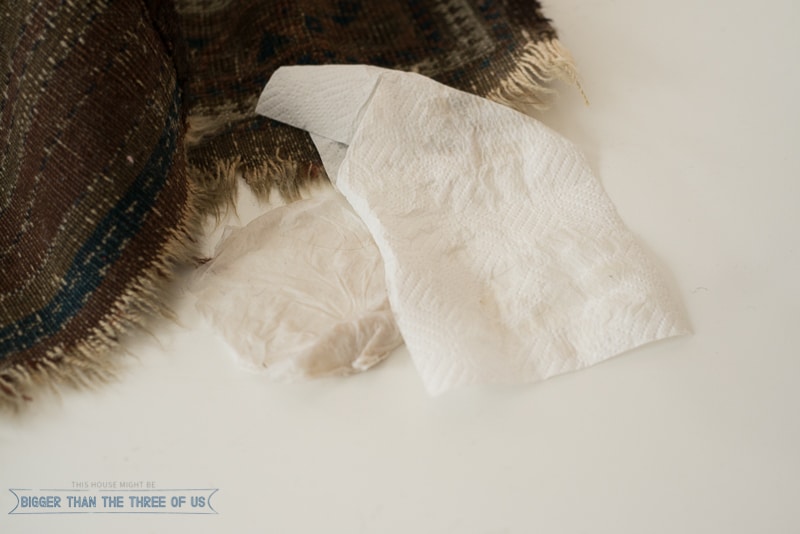 Cleaning a Rug in the Washing Machine
If you followed the steps above and your rug didn't bleed colors, then grab your rug and throw it in the washing machine.
Turn the washing machine to cold
Use the Handwash Cycle
I make my own laundry soap so I added some of the homemade laundry soap to the water while it was filling up. If you don't make your own laundry soap, you could add some gentle detergent (just a small amount to the water before adding your rug).
Hang to dry (I use a wood drying rack)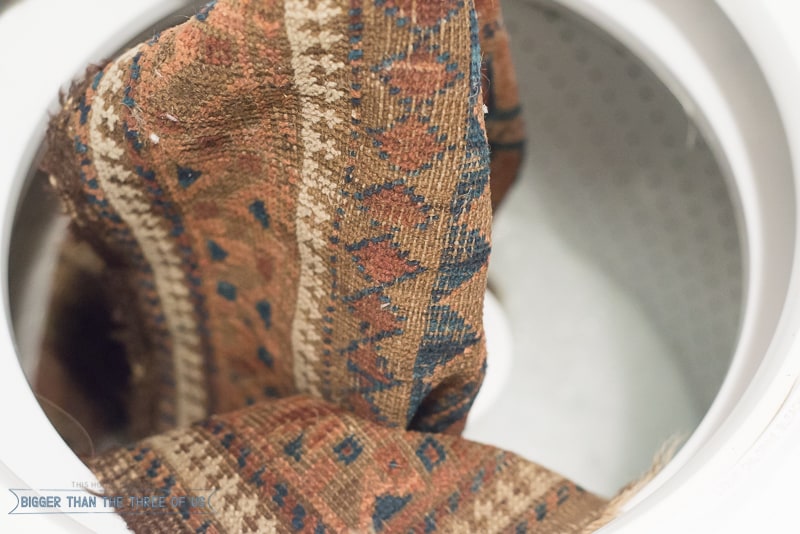 When to Use the Laundromat to Wash Rugs?
If you have a standard size washer, you are generally safe to wash rugs under 4x6'. Over that, I would definitely use a laundromat to clean your rug.
I hope this was helpful! I know I'm specifically writing about vintage rugs, but I've had great success in cleaning my indoor/outdoor rugs using this same method. Also, I recently read Pro Tips for Cleaning Your Vintage Rug which includes a few other methods if you don't want to try the washing machine method!
Pin this to remember: