Looking for the best way to clean rugs? From wool rug cleaning to cleaning oriental rugs, get my tips for how to clean a rug at home.
I've been obsessed with vintage rugs for years. If you are new to vintage rugs, then let me share that, depending on who you are buying your antique rugs from, a rug may or may not be cleaned before it's shipped to you. Typically, the cheaper the vintage rug is, the less likely it's been cleaned before shipping.
Don't be scared off by a vintage rug if it doesn't mention that the rug was cleaned. Let's chat about how to clean a rug at home so you can just do it when it ships to you!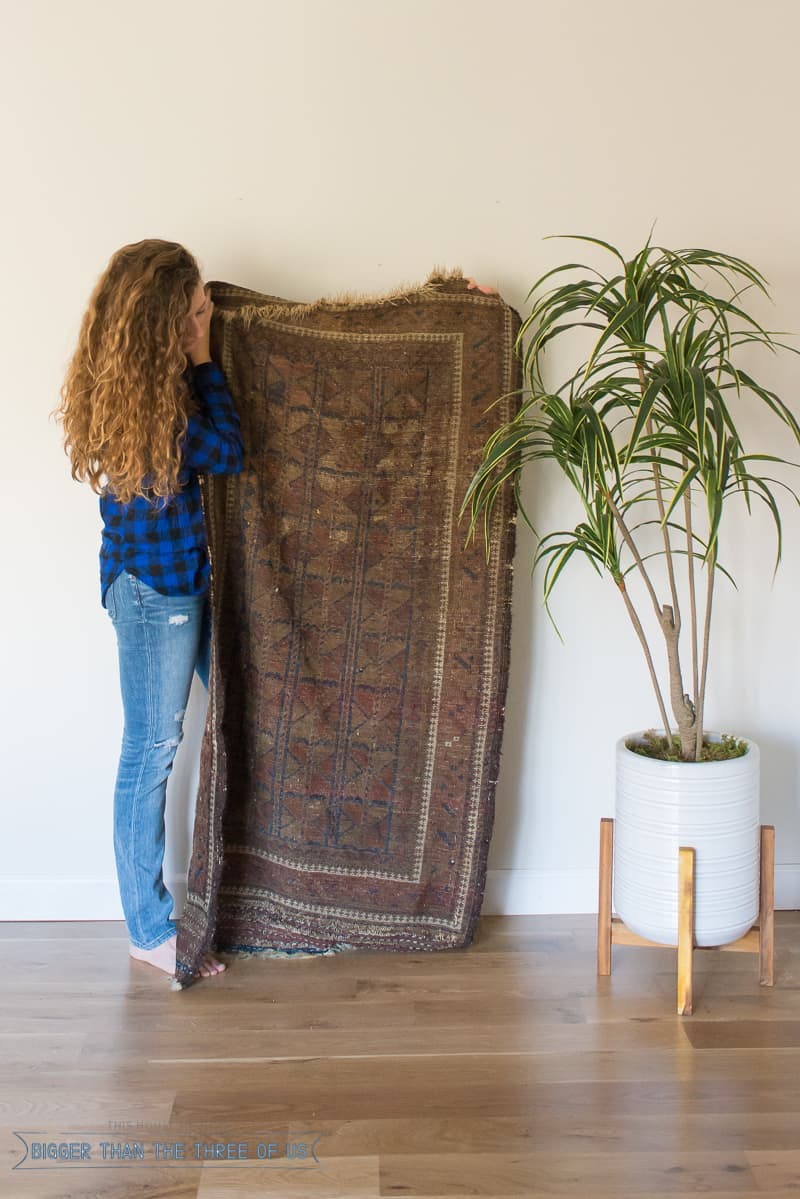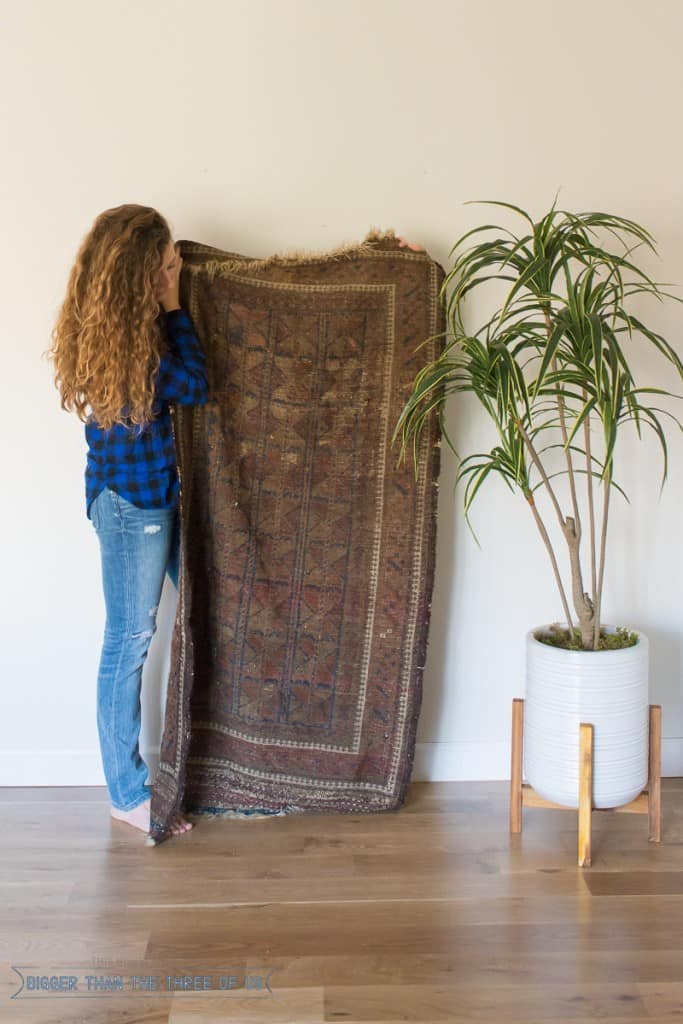 This simple method of rug cleaning will work for lots of different rugs! I've used this method over and over again, and have had great success.
Affiliate links below. Thanks for supporting this website. Click to read my privacy and disclosure statement.
How To Clean Rugs At Home
There's different methods for cleaning rugs at home depending on the size, blend and style of rug you have. If you have a 4x6' non-wool rug, cleaning your rug in the washing machine is typically easiest.
How to wash a rug in the washing machine
Test your rug to see if the color will bleed with water. To do this, grab a paper towel and get it wet.
Press the paper towel firmly into the rug for 10 seconds or so.
Release the pressure and check the paper towel to see if the rug colors bled. If no color bleeding has occurred, then continue with the steps below.
Place your rug in the washing machine.
Turn the washing machine to cold.
Use the hand-wash cycle.
I make my own laundry soap so I added some of the homemade laundry soap to the water while it was filling up. If you don't make your own laundry soap, you could add some gentle detergent (just a small amount to the water before adding your rug).
Hang to dry (I use a wood drying rack)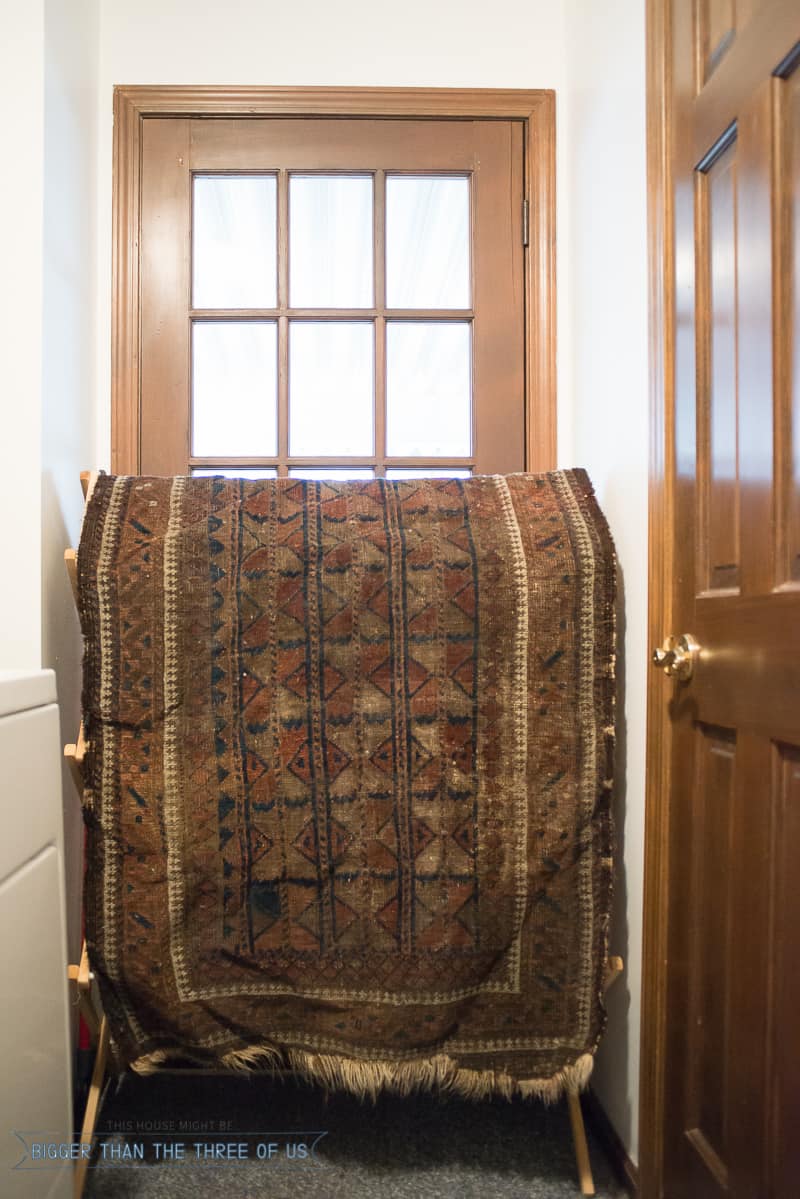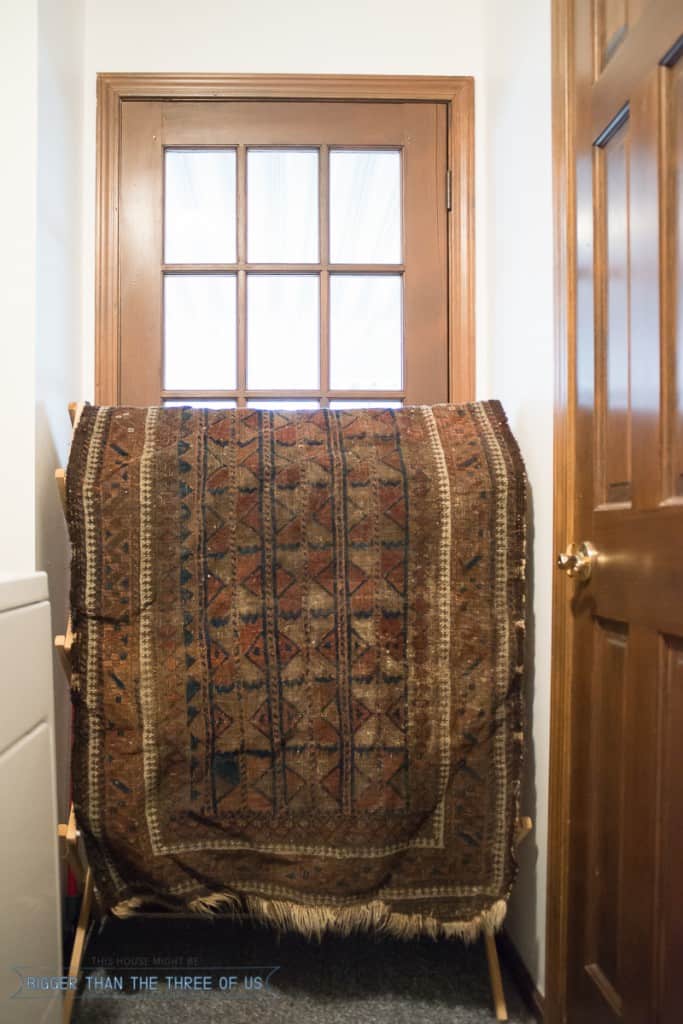 By the way, our laundry room looks NOTHING like that photo above any longer! Wow, if you haven't seen our hand-painted wall pattern laundry room, check it out.
OK... Let's chat about wool rugs.
Wool rug cleaning
Learning how to clean a wool rug isn't much different than another type of rug. The one thing with wool that would be different is that you want to use a gentle wool cleaner instead of detergent. A product like Woolite works well. You can still follow the steps above for how to wash a rug in the washing machine if you have a rug that will fit, but just sub out the traditional detergent for a wool-safe option.
How to clean large rugs?
To keep with the DIY method for cleaning rugs at home, you can clean and soak rugs in the bathtub instead of cleaning rugs in your washing machine. Rug cleaning in a bathtub requires a bit more work but it's definitely doable.
There's definitely articles out there that show cleaning oriental rugs and other types of rugs with a brush on a driveway and a power washer. I've never personally tried that, but it sounds like it would definitely be easy enough.
No matter how you want to try washing your rugs, don't forget to check for color bleeding first!
Using a white rag or paper towel, test for color bleeding.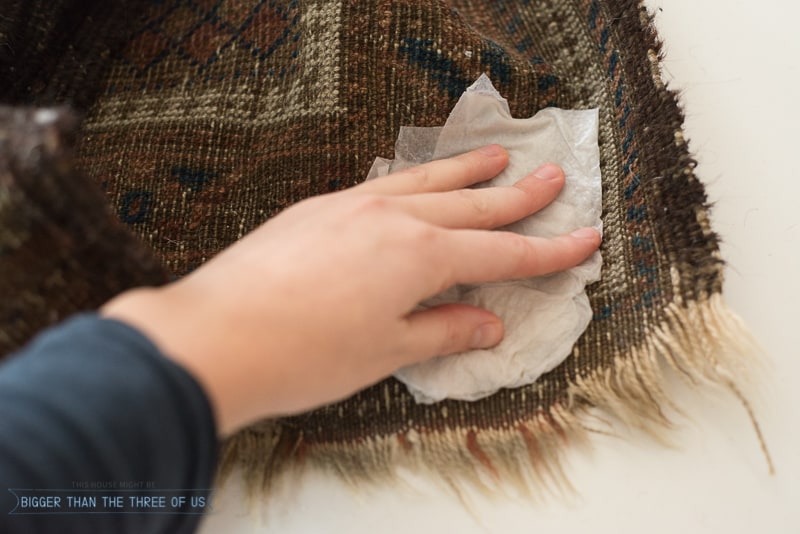 If no color bleeds on your towel, then you are ready to wash!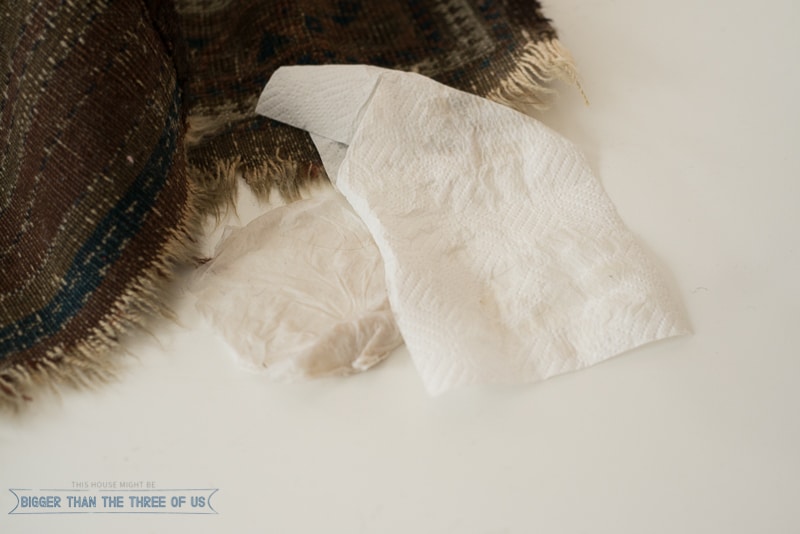 Washing a rug in the washing machine is so easy.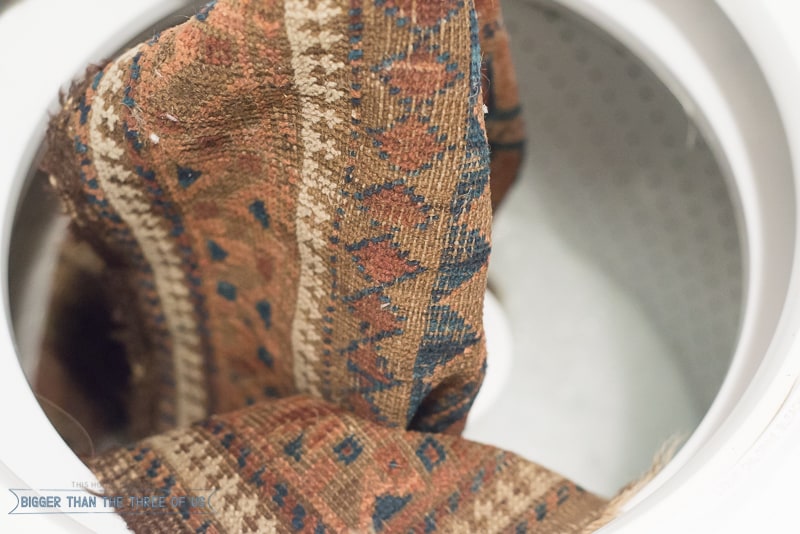 I hope this was helpful! I know I'm specifically writing about vintage rugs, but I've had great success in cleaning my indoor/outdoor rugs using this same method.
Yield: 1
How To Clean Rugs At Home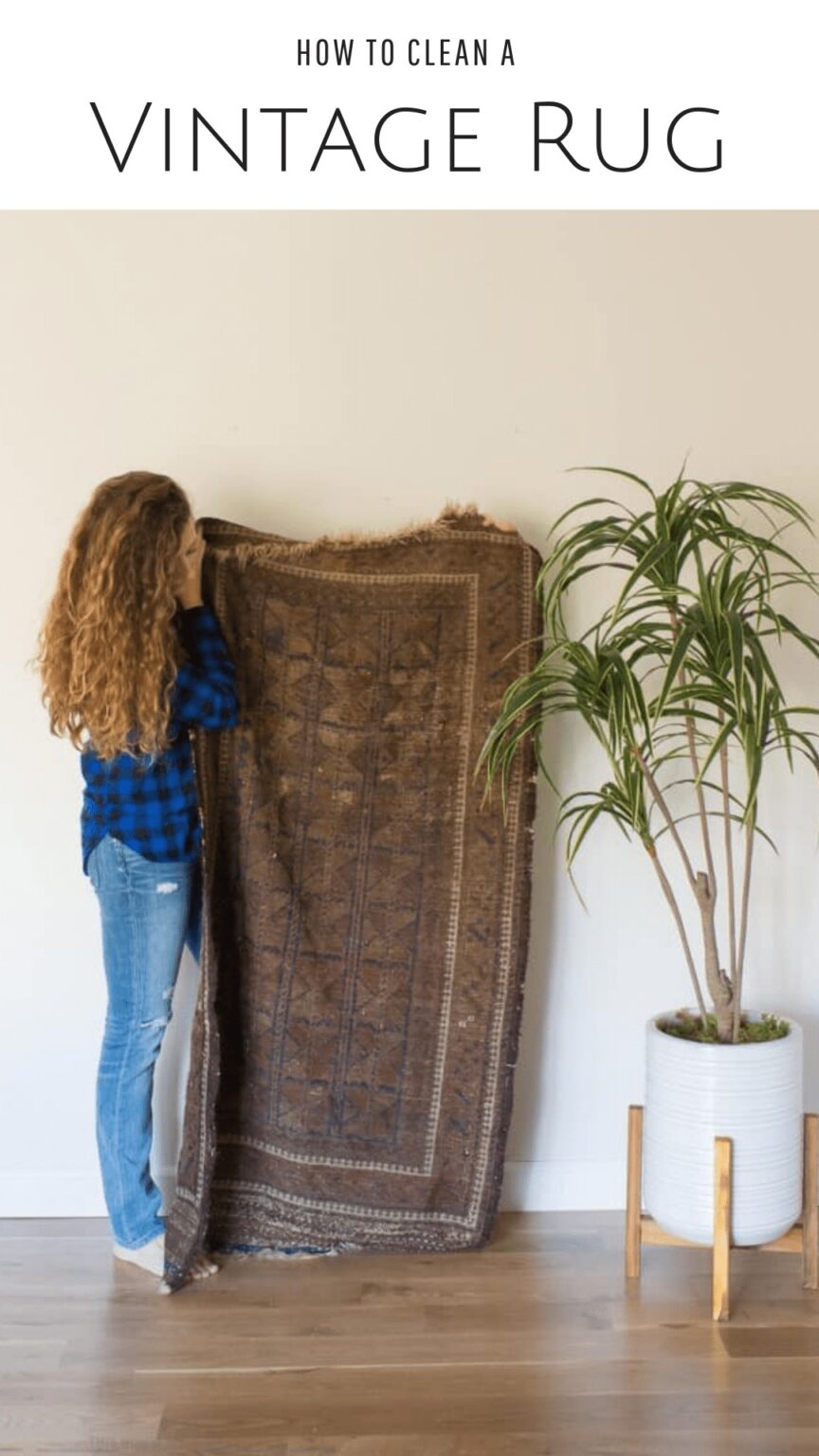 Total Time
3 hours
10 minutes
Materials
Rug
Soap
White towel
Drying rack
Instructions
Test your rug to see if the color will bleed with water. To do this, grab a paper towel and get it wet.
Press the paper towel firmly into the rug for 10 seconds or so.
Release the pressure and check the paper towel to see if the rug colors bled. If no color bleeding has occurred, then continue with the steps below.
Place your rug in the washing machine.
Turn the washing machine to cold.
Use the hand-wash cycle.
I make my own laundry soap so I added some of the homemade laundry soap to the water while it was filling up. If you don't make your own laundry soap, you could add some gentle detergent (just a small amount to the water before adding your rug).
Hang to dry (I use a wood drying rack)
But seriously, if you love vintage rugs like me then definitely check out: