Do you remember when I made the homemade laundry soap? Well, I'm back (10+ months later) with my thoughts about it.
Just to rehash you memory. Here's what the jar looked like before: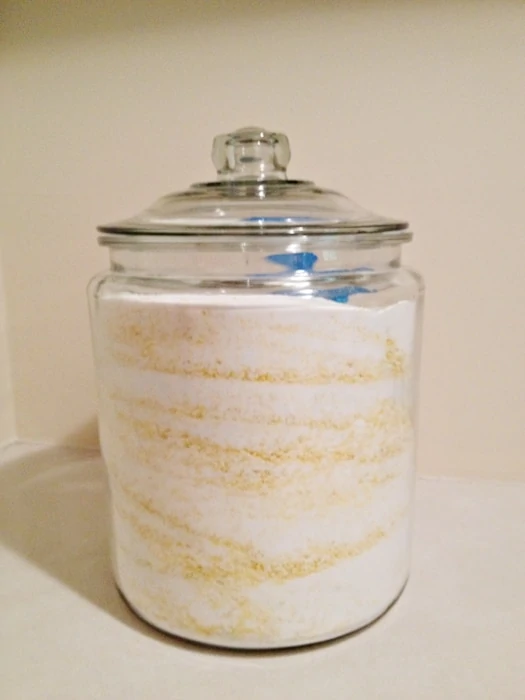 It cost me $27.88 for the soap.
Here I am 10+ months later: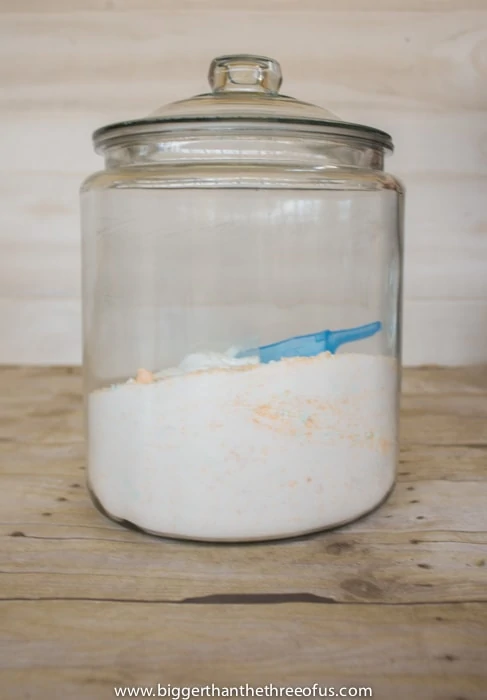 I averaged 16.5 loads (wow, call me crazy but this seems like a lot!) a month. 166 loads for the last 10.5 months. I now know why I always feel like I'm doing laundry.
I went ahead and scooped out the remaining soap to see how many loads I was going to get out of it. I'm going to get 85 more loads (or about 4.5 months more).
So, the recipe made enough for 251 loads. Now, this all depends on how much you use per load. When I made the recipe (the OxyClean came with a scoop in it and I use that scoop at the 2 line). Sometimes, if it's a smaller load then I use a bit less or if it's muddy clothes then I use a bit more.
$0.11 was the final cost per load.
I had been using Tide which I know is one of the most expensive (at around .18 per load). So, compared to the tide this is a pretty big savings.
Ok, so onto what I think about it. I think it cleans our clothes the same as, if not better than, the Tide. I love the fact that I don't have to pick up laundry soap at the store. I haven't had any problems with the mixture getting hard, but I did put a small mesh bag in the bottom filled with a bit of rice (to absorb moisture).
I added the scent beads to the mixture when I made it. I haven't noticed a difference in the smell of the clothes (they smell clean but I don't necessarily smell the scent), so I will probably save myself the $6 and skip the beads next time. When I skip the scent beads, the total per load will go down to .08 a load. Which is pretty substantial, especially if you compare it to the original .18 for the Tide.
Would I make it again? Yep, definitely.
Have you ever made laundry soap or would you? I'm thinking about making some other cleaning-type products. So, if you have one you love... make sure to let me know!