I couldn't let January get away from me before I wrote down our plans for this year. I meant to do this weeks ago, but better late than never, right? We started and finished quite a few projects last year. I'm so proud of the loft, magnetic wall, Greyson's room, eat-in kitchen and guest bedroom. Those rooms feel like us and feel fresh compared to the other non-tackled rooms in the house. So, what's on the agenda for this year?
I've told Luke over and over that this is going to be the 'year of bigs.' What does that mean exactly? Well, it's our 10 year anniversary so I want to take a really cool trip, get a really cool gift (not kidding! #unfortunately), buy seating for the living room, install wood flooring and buy a zero turn with a bagger!
Luke asked me if I was going to win the lottery. I told him he just needed to pick up a few programming side jobs and we would be fine. lol.
Actually, to be honest, if we cut down on all the little decor items and 'extra' things that we spend money on… then that list probably isn't too far off.
Let's get on to what is on our house renovation list.
1 :: The kitchen absolutely tops the list.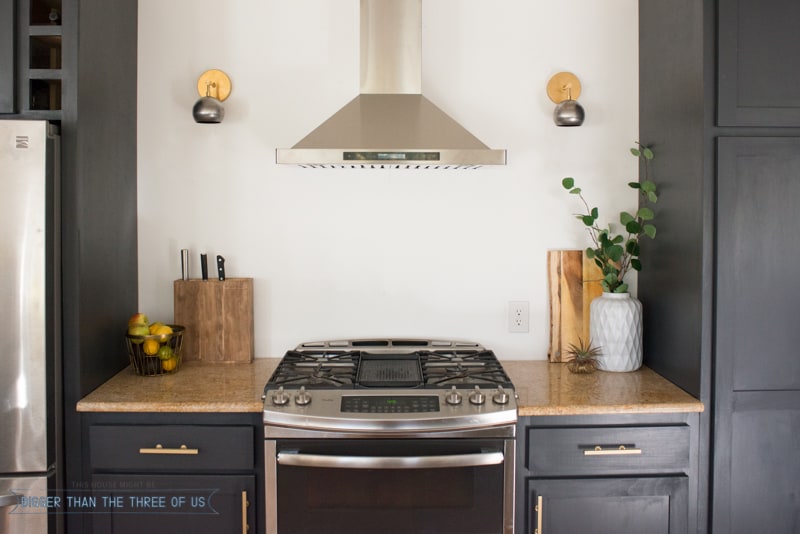 We still have to tile, replace the dishwasher, replace the sink/faucet, install open shelving, replace the flooring and figure out the ceiling issue. It doesn't seem like a lot, but it will probably take us 'till summer to get it all finished.
I'm excited because, today, we are going to a custom wood store to look at shelving options. I've gone back and forth on wanting something live edge (see this inspiration for what I'm talking about) or something more stream-lined (see this example). I guess we shall see once we see some in person.
2 :: Flooring
I'm bound and determined to get my flooring this year. One way or another it's going to happen. If you've been here for long, then you know what I'm talking about. If not, we are going to replace all of our dingy carpet (about 2800 sq ft) with natural white oak wood flooring. We aren't going to install this ourselves. This project is just too big for us. The cost estimate for this was about $13,000 which included our funky circle stairs and a few extra little issues. We've had most of the money to do this project for about a year, but not quite all of it. I keep stealing the money for the kitchen remodel. #truestory So, finish saving for the floors and get them installed. Time estimate for this is probably by the end of summer.
3 :: Living Room
I've finally figured out how to make the living room work for us. It needs some new seating, probably a larger rug, and table lamps. My goal for this year is to decide and buy the new seating. The rug and lighting will have to wait.
I kinda have my heart set on leather chairs. I love this leather chair-and-a-half (and the regular size), this daintier leather chair and this mid-century leather chair (although, not in this color). I'd get the chairs in a lighter brown color (similar to the leather pillows in my eat-in kitchen).
4 :: Flower Bed Planting / Possibly Dry Rock Stream Bed / Better Leaf Control
We'd like to have a professional landscaper come out and give us a great 3-5 year plan. Neither one of us has any interest in looking into garden stuff (what can grow with all of our trees and how to make it all look good). Give us a plan of attack though and we can implement it. So, we'd like to hire a landscaper to give us a plan for the yard and then start implementing it this year.
Specifically, the front area is looking really bare. So, we'd like to plant a few things here to start.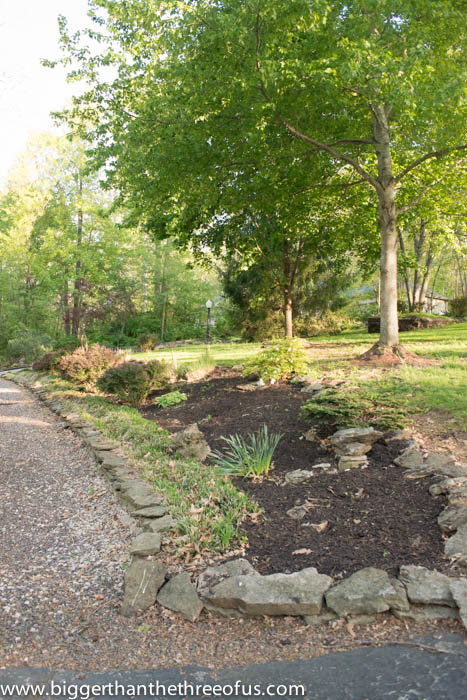 And then, this side area looks pretty good in this picture, but it needs color.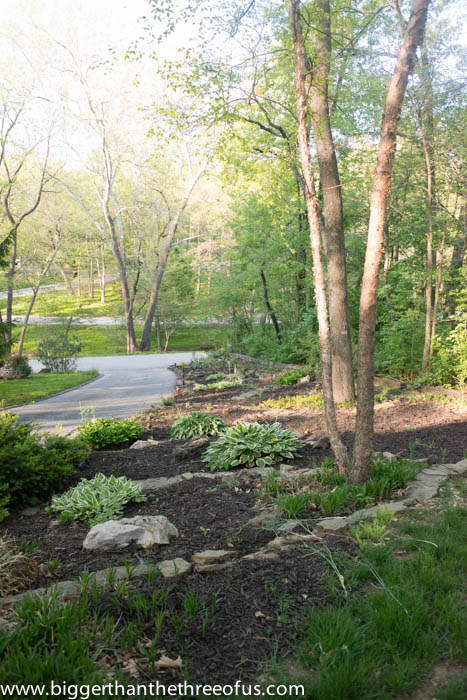 Also, lumped into this is buying a zero turn. We, basically, live in the woods, but in a neighborhood where people have huge lots and like to maintain their yards. Well, we have done as best as we can since we've lived here. The mowing and leaf work is the worst part of it and with having a yard with a huge incline… we just need to shell out the money for a zero turn that can handle the yard. It's not something that I want to spend money on, but it's something that we desperately need.
5:: Organize and Declutter
I really want to tackle all areas in my house and get rid of everything that we don't love. As I do this and find ways to keep it organized, I'll definitely be sharing.
…and that's all that falls on my 'big' list for this year. I'm sure little things will come up here and there and, if the budget allows… we may start working on the basement bathroom after the kitchen remodel finishes up. But, I'm not holding my breath on that one.