Get our tips for painting drywall. Including: thoughts on rolling versus spraying new drywall, drywall primer, what high build drywall primer is, and more!
Drywall and Painting
We were so excited when our drywall finishers got done with the drywall installation in our basement. Because I wanted a smooth finish on all the walls and the ceilings, the process did drag out a bit because of drying times.
During the drywall installation, Luke and I went back and forth about hiring out drywall painting in the basement because we knew that painting new drywall was definitely a process.
In the end, we decided to do the wall primer and drywall paint ourselves. We lived to tell the tale but let me be completely honest and say that we regretted not hiring out the drywall painting.
Honestly, it was just too large of a space for us to handle over the course of two weekends. The walls totaled about 900 square feet and then we had the ceilings to do as well. It was SUCH A JOB.
But, you didn't come here for me to complain, you came here to let me tell you about some tips that we learned about how to paint drywall and that starts with prepping drywall for paint!
Affiliate links below. Thanks for supporting this blog. Click to read my privacy and disclosure statement.
Tips for Painting Drywall
How do you prepare new drywall for painting?
Even with a great drywall installation and finishing, it is likely that you will need to give your new drywall a fast and gentle sanding. After standing, we found it easiest to use a shop vac to vacuum the drywall.
The key is to get all the drywall dust picked up so that you don't have flecks in your paint when you start painting. To do this, use a shop vac and make sure you are using bags meant for fine dust. We don't always use bags in our shop vac but they were definitely beneficial for containing all the drywall dust.
Preparing the new drywall for drywall paint took a few hours. As Luke was using the shop vac, I used a cloth and wiped down walls and corners as well.
After we got the fresh drywall prepped, we started getting our drywall primer and paint colors nailed down.
Our drywall contractor also contracts out painting drywall, so we peppered him with lots of questions so that we could get the smoothest finish on our walls and ceilings. We then double-checked at Spectrum (a paint speciality store near us) when we were buying primer and paint to make sure we knew exactly what we were doing.
I'll answer some specific questions at the end of the post, but I wanted to walk you through the process of how we painted all the drywall in the basement first.
How to Paint Drywall
We didn't have trim installed so we started with the ceiling. We painted two coats of high build primer on the ceiling and then walls.
After that dried, we put two coats of Benjamin Moore Ceiling Paint on the ceiling. On the walls, we rolled two coats of Benjamin Moore Ultra Spec 500.
We honestly couldn't believe how much paint the primed drywall soaked in.
We used Simply White by Benjamin Moore in the basement on the walls, ceiling and trim and really like how it looks.
Biggest tips for drywall painting
In a nutshell, our biggest drywall tips are making sure you are using the shop vac on the rolling chair to prep the drywall, use a high build drywall primer to make sure to get the smoothest wall finish and know that painting a lot of square footage is going to take forever. =)
Wall Primer FAQ's
Do you need to prime new drywall?
Yes, you definitely do. New drywall is very porous and soaks up paint.
How many coats of primer on new drywall?
You will need two coats of high build primer to prep for drywall paint.
As we were doing the primer coats, I shared on IG that we were doing two coats of the high build primer and someone wrote to me and said they made a mistake at their house and only used one. Because of that, she was noticing the sheen differences on the walls after the paint was applied.
Priming walls to paint, what primer to use?
A speciality paint store will have primer called "high build primer" and it's specifically meant for new drywall. From all the feedback we sourced, high build primer is the best primer for new drywall.
What kind of paint do you use on a new drywall ceiling?
For the regular topcoats, it's up to you, but we bought Benjamin Moore's Waterborne Ceiling Paint in flat.
What about painting new drywall with a sprayer versus a roller?
You can do either. A sprayer will go faster but takes a lot more to prep. A roller is slower but uses less paint.
We chose to paint the drywall ourselves with a roller but I know a lot of people choose to paint new drywall with a sprayer. We did upgrade our roller to an 18" roller and tray setup, which definitely helped us speed up our walls which are (20ft+ in length).
The bigger rollers are definitely heavy and I felt like they used more paint, but they were faster and, for bigger areas, I'd definitely choose to use them again.
Any other drywall painting questions? Drop 'em below and I'll do my best to answer.
p.s. Check out this post on our favorite interior paint colors for more paint inspiration.
How to Paint Drywall including Drywall Primer and Tips!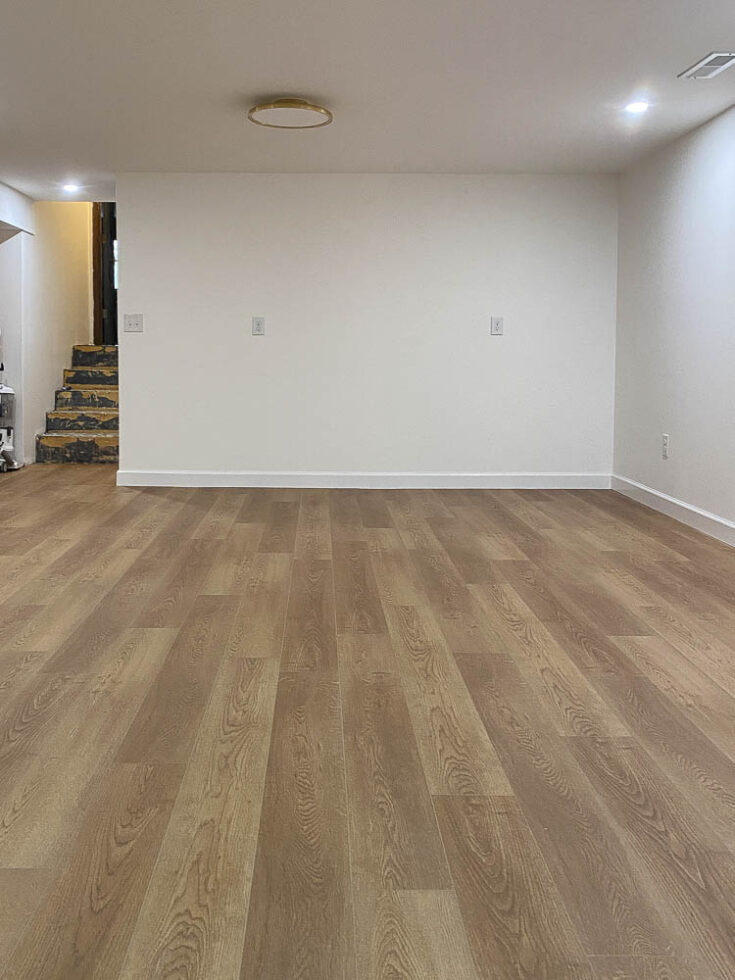 Get our tips for painting drywall. Including: thoughts on rolling versus spraying new drywall, drywall primer, what high build drywall primer is, and more!
Materials
High Build Drywall Primer (Speedhide Max Prime is what we used)
Ceiling Paint
Wall Paint
Painter's Tape
Tools
Drop Cloths
Roller
Paint Brush
Instructions
Prep drywall for paint by gently sanding.
Shop vac the walls and then use a damp cloth to clean.
Let walls fully dry before painting.
Roll or spray on your drywall primer.
Let dry.
Roll or spray a second coat of prier.
Let dry.
Paint on your top coat.
Let dry.
Paint on one more coat.
Let dry.
Notes
For large spaces, an oversized roller makes the job go faster.