How much does it cost to install drywall? I'm sharing our exact drywall cost in our basement, and what was included in the drywall cost per square foot.
Renovations are expensive but it's so helpful when preparing for them to know how much each piece of the renovation will cost. I've always found that type of information hard to find online, so whenever we've hired a project out, I've tried to be really forthcoming with cost of the project so that YOU don't have to struggle to find the same information.
Before we jump into the cost of drywall, let me share that we had this project completed in the summer of 2020 and we are located in Missouri. I realize that the labor cost to hang and finish drywall will be different throughout the US, but hopefully, this will give you a baseline number to work off of.
At the very end of this post, you'll find some other projects that we've hired out (gutter installation cost, cost to buy and install wood flooring, etc.) where I provided pricing information so make sure to stick around and check those out.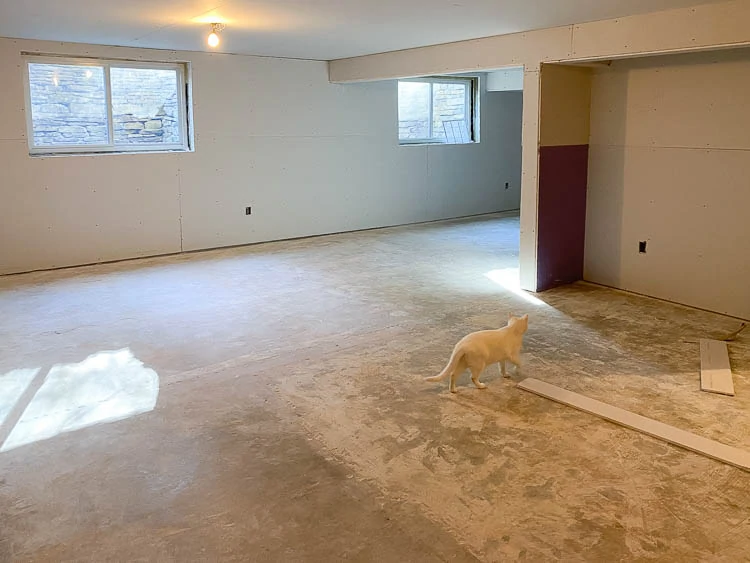 All the Details on the Cost to Install Drywall
So today, I'm sharing drywall installation cost for our basement which we had both ceilings and walls with done. We installed our own drywall in the kitchen for the kitchen renovation. Because of the scope of this project, we knew that we wanted to hire out the basement drywall.
It's pretty easy to find the average cost to install drywall in the US but what does the "average cost to install drywall" actually include? Does it include the drywall sheets itself? How about delivery and trash pick-up afterwards? What level of drywall finishing does it include? It's not so easy to find all of that information.
When we were ready to have drywall installed; I'll be honest and say that finding drywall installers near me was hard! Actually, what was hard was finding drywall installers who would answer your phone call, provide a time to get an estimate, actually show up for the estimate and then provide the estimate to you. Seriously, we had the hardest time getting all of that done. We probably called around fifteen different drywall companies to find just a few that would set up a date to give us a quote. It was a struggle.
When I'm hiring out projects, I like to have three quotes to compare. For this project, we ended up with exactly three quotes. One tip for finding drywall installers in your area is to contact the commercial drywall supplier in you area and ask for recommendations! That's how we found who we actually went with.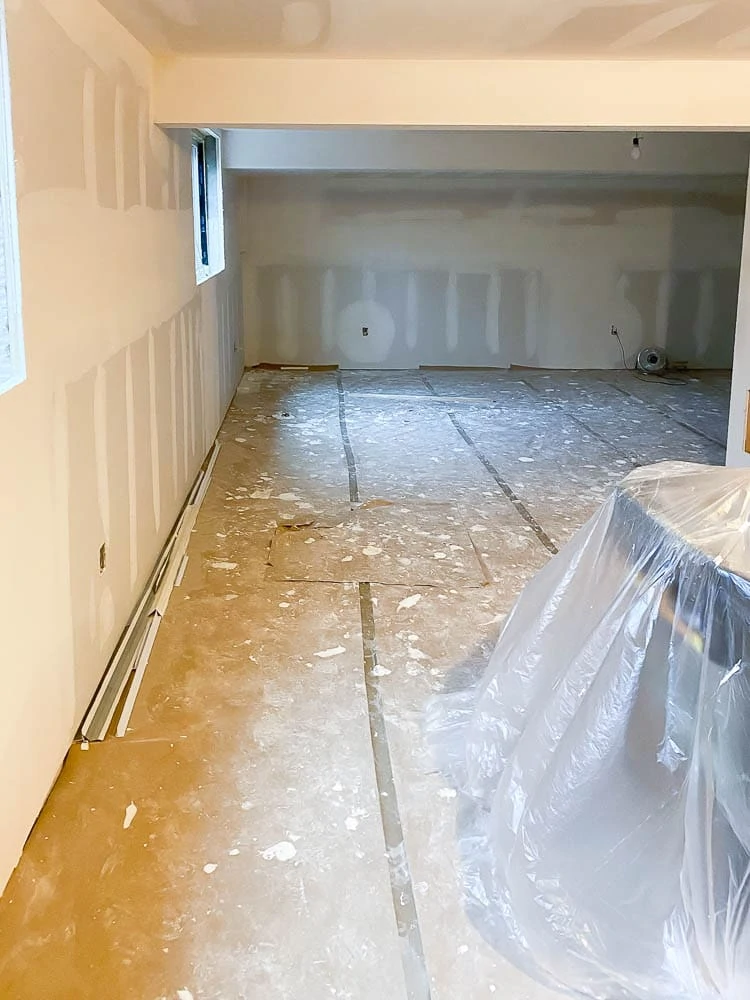 How Much Is Drywall?
Like I mentioned earlier, drywall installation has a lot of variance for cost depending on what is included. If you want an average though, I'd say $2-3 per square foot is pretty standard. What you get for that average though, definitely varies.
Let's talk details and exactly what we paid for drywall installation in our basement.
How Much To Install Drywall
Our space is approximately 1600 square feet when you account for the walls and the ceiling. We wanted a completely smooth drywall finish but not a level five finish (which is what we've been told when the installers completely mud over the raw drywall and not just the seams).
We paid $5500 which is $3.44 per square foot. If you look above, you'll see that the nationwide average for drywall install is $2-3 per square foot. So, our drywall install cost was over the average.
Like I mentioned earlier, we got three quotes. The $5500 was the highest quote but also included the most and the company was by far the most professional.
The middle quote that we got was $4500 but didn't include trash removal.
So, we paid $5500 for sheetrock sheets to be dropped off in our basement, drywall installed and mudded, sanded and finished and then the area roughly cleaned up after. The install process took about a day and a half with a crew of three men. The finishing process took place over four days.
What's the cost for sheetrock?
Honestly, I don't know the breakdown of each of the sheetrock sheets. I do know that the contractor supply store had a longer length and better deal than Home Depot and Lowe's.
Extra's that Might Make the Cost To Install Drywall Higher
Our basement has some duct work that made installing the drywall ceiling probably annoying so I'm not sure if we paid a tad more for that particular issue or not.
So, why did we pay more than average? Well, honestly, I prefer to work with more "type a" contractors. I'm happy to pay more for good communication and attention to detail. I'm not a laid-back person so, for me, it just works best to find a contractor that is going to not stress me out. Another more concrete reason we paid more, was because I wanted a super smooth finish. This requires more work, more product and more expertise. I feel like in most things, you get for what you pay for and we paid more than the average but I feel like what we got was better than average as well.
For smaller drywall jobs, you can definitely try your hand at doing it yourself. We've done a few different drywall installs at our house. You can see some of our tips on how to install drywall when we did it in our kitchen. Or if you feel like sheetrock installation is just not your thing and your job is small, I did find drywall installers who would do small jobs on NextDoor (which is like a neighborhood app) as well as on Google (definitely read the reviews!).
Finished Sheetrock in Basement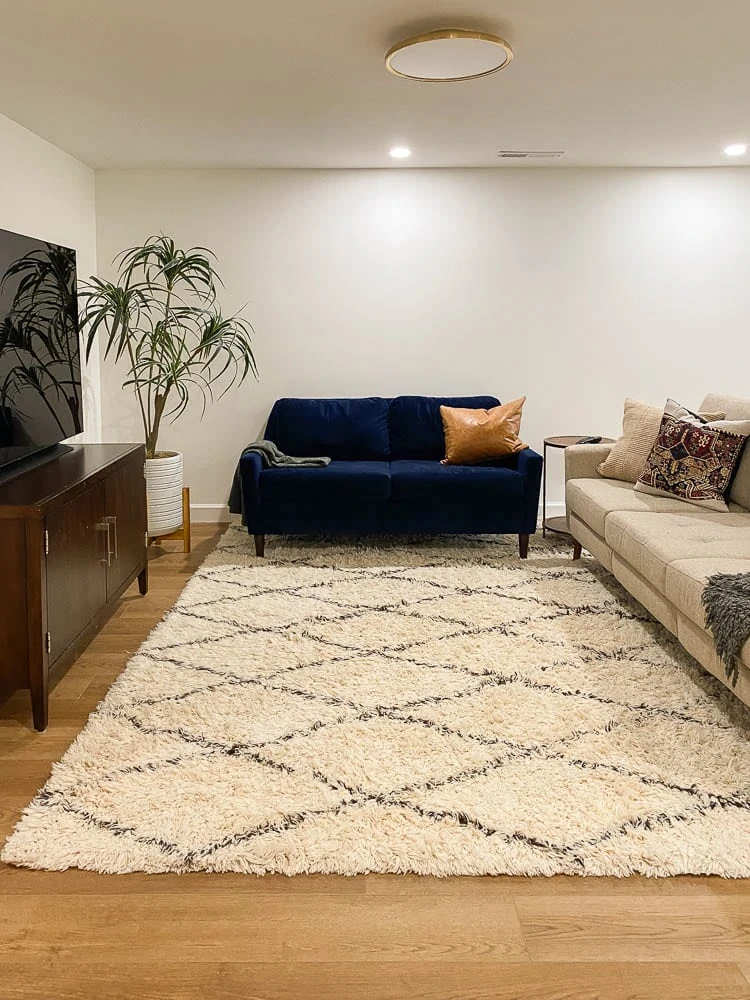 We opted to paint our fresh drywall ourselves and I'll definitely be sharing some tips and recommendations that we got from our drywall installer for that, soon! But, until then, doesn't this one corner (believe me, it's only this corner that looks put together) in our basement look pretty nice? We are so enjoying this space.
If you want to know real numbers on other types of projects, I've shared numbers on:
More on the basement renovation coming soon!
Pin for later: