Sharing our asbestos removal cost and the process for drywalling our kitchen ceiling. We've dealt with asbestos in drywall a few times now so feel like we have a pretty good handle on what the cost to remove asbestos is.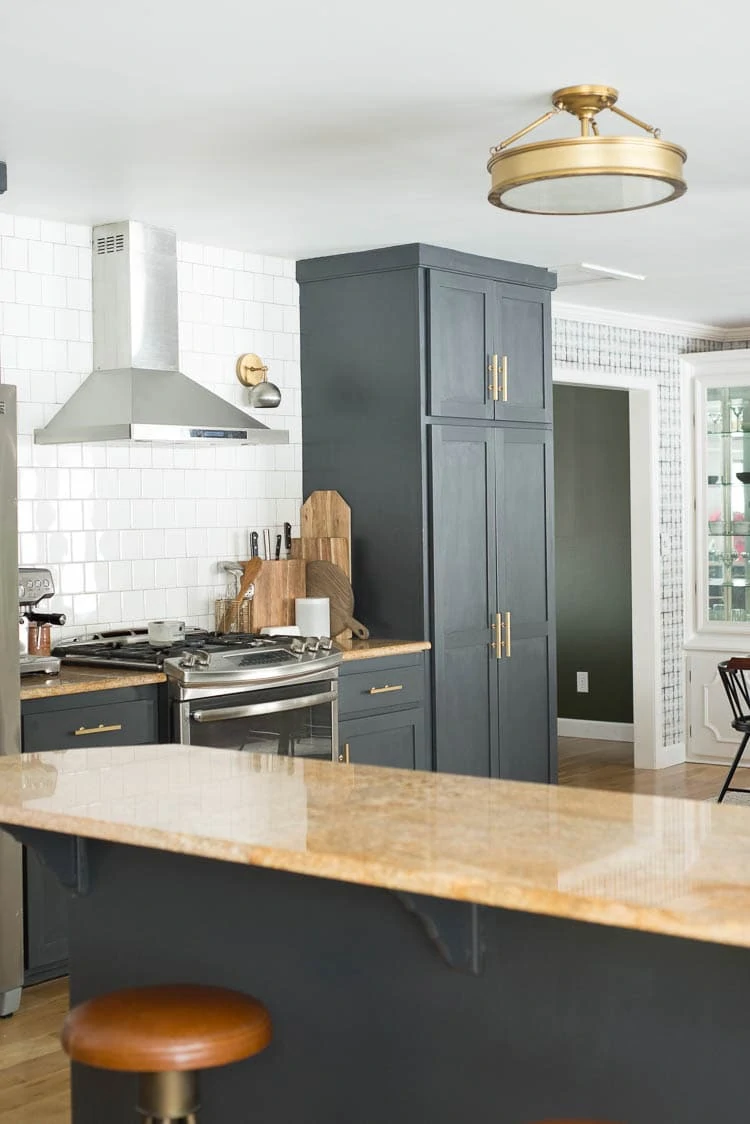 The backstory on sharing cost to abate asbestos
We've dealt with asbestos drywall twice now, once in the kitchen and once in the basement. All of that is to say that the cost for asbestos removal is expensive and drywall installation is much cheaper. Ha! But seriously, asbestos can be a scary thing so, definitely keep reading for more insight..
For many years, I've shared price breakdowns on harder to find home improvements or DIY projects, such as all the details on the cost for our kitchen cabinets and drawers, enlarging a window in an outside wall or adding egress windows in your basement.
It's funny, because there are lots and lots of blog posts out there that explain how to do things for the homeowner. There are not many that tell you what to expect for pricing. It's pretty easy to get an idea on pricing for, say, replacing your kitchen sink and faucet. But, as a homeowner, it's so tough to know if we have gotten a fair or good deal on many other items.
My hope, with these types of posts, is that they will help you know what to expect in terms of pricing - or at least have a baseline for pricing. That said, I do understand that pricing will change depending on where you live. Still, I believe it's great to have a ballpark number.
Before I get into the nitty gritty details of dealing with asbestos sheetrock, I do want to mention that U.S. law varies state-by-state when it comes to asbestos testing, removal, and disposal. It's some serious stuff, so you definitely want to do your homework on it; specifically, for the state you are in. Depending on what state you are in, you might have wiggle room for doing part of the abatement yourself. This is up to your discretion if you live in a state that allows it.
Ok, let's talk more about asbestos.
What is asbestos?
Asbestos is basically a group of fibrous minerals that is found, naturally, in the environment. It was thought to be an amazing find because you could use it for so many things. At one time, it's was used for weaving in clothing, insulation, mixed with cement for building, in flooring, etc. It was a great find until it was directly linked to mesothelioma.
Now, since we are educated on what it causes, we don't use it the way we used it before. But, lots of us still have it in our homes (popcorn ceilings, flooring, walls, insulation, etc.).
When was asbestos used?
You have a very high chance of having it if you live in a house that was built before 1975.
When we bought our house, we had never heard of asbestos, or if we had, we had no idea what it really was. When we were walking around the house to decide if we wanted to purchase it, our realtor made an off-hand comment that we might want to test the popcorn ceiling before we start renovating.
Asbestos Testing Cost
We bought the house and then decided to have the popcorn tested. We didn't do any research on what a homeowner could/couldn't do back in 2012. We called the asbestos testing service that our realtor recommended. The associate wetted three spots on the ceiling, in three different rooms and scraped the samples into different plastic bags. From there, he sent the bags to an asbestos testing lab. We paid $120 for the asbestos testing and lab fee. It took about a week to get our results and unfortunately, we did have asbestos in the drywall ceilings we tested.
Now that we are more educated with asbestos in drywall and what it involves, we have tested asbestos ourselves. It's definitely an easy project and one that I would recommend doing yourselves to save some money.
No matter who does the asbestos test, you can expect to see a lab report with the results.
5% Chrysotile - Acoustic Texture (Our Results on the First Test)
This is one sheet of a 5 page spread, but, you get the idea. Under the column "Asbestos Content" you see "5% Chrysotile - Acoustic Texture." That means there is 5% asbestos in the popcorn ceiling. I think it's common to wonder does 2% chrysotile require abatement or, in our case, does 5% chrysotile require abatement. Again, I really think that's a personal question but I did find this article to be helpful if you want to learn more.
When our house had the popcorn ceiling installed, workers just poured a bit of the asbestos into the mixture for the sprayer. At that time, it was totally normal to do that. It acted like a bonding agent and was basically thought to be a perfect ingredient.
Back to the results. The results came back positive. Now what do you do?
Deciding for Asbestos Abatement or Not
You can leave it as-is or have asbestos remediation done (or abate it yourself - depending on your state law and how comfortable you are with this).
We chose to leave it as-is originally. Then, a few years later, we noticed the popcorn texture in our bathroom ceiling was peeling off (probably due to my excessively scalding hot showers; or at least this is what Luke says).  This is definitely where you want to have the asbestos remediation done. The fibers in the ceiling can be disturbed and go airborne and this would cause asbestos exposure. You can't see them, smell them or feel them. You'd never know they were there, but they are dangerous nonetheless.
So, the bathroom needed to be done. It's this bathroom by the way: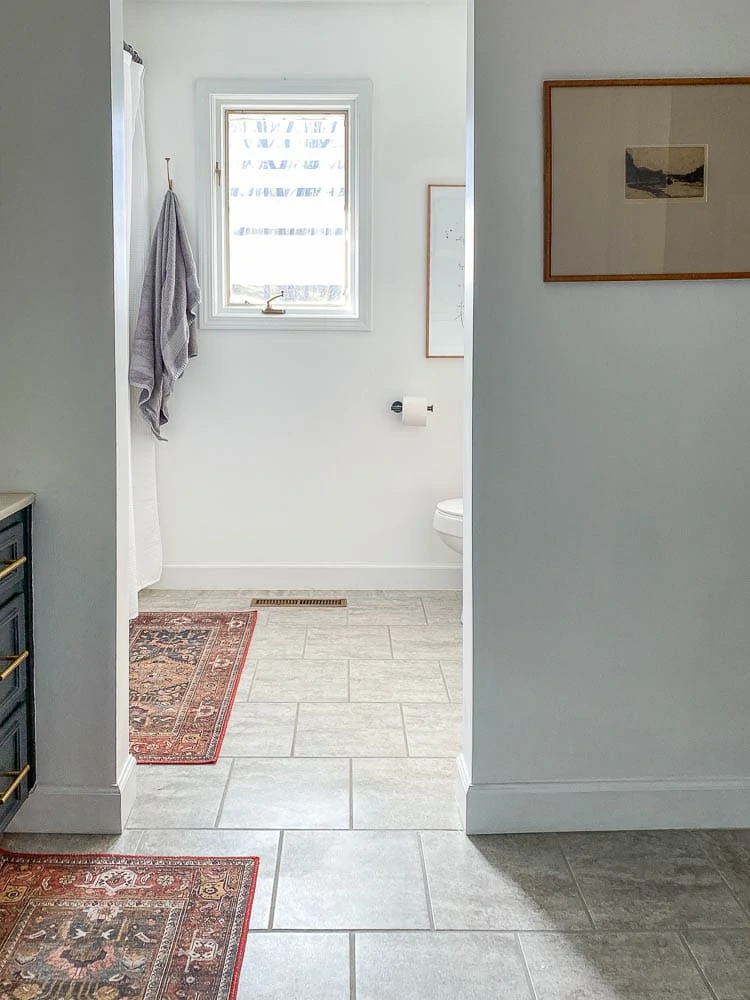 When we started renovating our kitchen, the goal was to spray more popcorn texture on the ceiling where we took down cabinets (to keep the small makeover budget friendly). We didn't want to do this, but we didn't want to shell out money to take down the ceiling either.
So, we tried spraying popcorn ceiling texture to match the original asbestos ceiling and it didn't match. Here's a few phone pictures for you to see the differences in ceiling texture and color.
The white part is the part with asbestos and the cream tinged popcorn is where we tried to match.
As the kitchen renovation progressed, it honestly started to exceed our expectations and we just couldn't leave the ceiling as it was. We knew we needed to shell out some money to have asbestos abatement contractors get rid of the ceiling for us.
Asbestos Removal Cost
So, let's talk about our options. Well, in the state of MO, a homeowner can remove their own asbestos. There are rules around it, of course, and rules about disposing of it, but the homeowner can abate it themselves. After reading through multiple state's guidelines and removal processes, we (or mainly me - Luke isn't quite as conservative about this particular issue) decided that we would have the asbestos drywall removed professionally.
The next step was to get asbestos removal cost breakdowns from a few companies.
We had three quotes done for our kitchen back in 2016. Here's one of them (I took out all the contact details for privacy):
How much does asbestos abatement cost?
An average cost to to remove asbestos is $11-$11.50 a square foot.
In our kitchen, we got three quotes and there was an $1800 swing in prices between the three quotes, but the average cost was $11 per square foot.
All three of the contractors came and said it would be hard to scrape the ceilings in the kitchen because it had been painted and was basically well-adhered. The bathroom had a possibility of being scraped and still having the drywall intact.
What does this mean exactly? Well, this means that the drywall ceiling itself would have to be removed in the kitchen and dining room. This would incur an extra cost because we would have to have all new drywall.
In 2020, we had part of our basement ceiling removed because it contained asbestos as well. The asbestos remediation was just over $11.25 a square foot.
How to Prep For Asbestos Removal in Drywall
In our basement, it was easy because there wasn't attic space above the ceiling. All we did was remove everything in the basement so that the asbestos abatement professionals could come in and tape everything off.
In our kitchen, dining, eat-in and bathroom, it was a completely different story and was quite the process.
Remove all insulation above ceiling (if they are going to be removing drywall). *We had this quoted out and it was $750 to have this done.
Remove all lights
Remove all decor, furniture, curtains, etc.
Just prepping for the whole process was insane. In hindsight, we probably should have just paid the $750 to have the insulation removed and put back in, but I'm cheap. We were already spending so much that I just couldn't stomach another thing.
The asbestos abatement company came in and enclosed the whole space (seriously everything!) with heavy duty plastic. They used two layers and it took most of the day, for the two days, just to prep the area.
Here's a peek at what it looked like from the top of the basement stairs when we got the basement ceiling abated.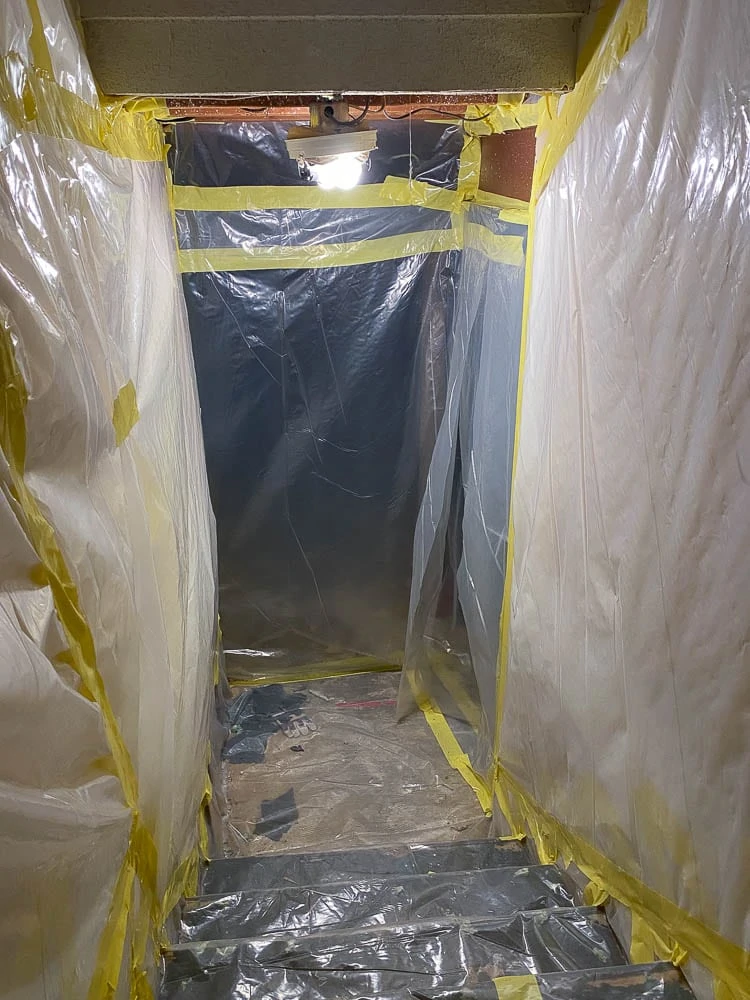 Both times we had the professional asbestos removal done, it was an all-day event where they ran negative air machines and more. Because everything was in a capsule, I didn't see much of what was going on. Everything was bagged up and taken off for proper disposal.
After we got all the work done upstairs, we had a drywall company come in and redo all the ceilings. They had to hang drywall and finish it.
Cost To Replace Drywall Ceiling
You pay for drywall finishing based on what type of ceiling texture you want. I wanted smooth finishes. So, of course, that requires the most work; therefore costing the most. For the kitchen (2016), we paid about $2.10 a square foot to finish the drywall. In the basement (a few years later), we paid about $3.20 per square foot.
We had been quoted 3-4 days for the drywall company to do their work. But, it turned into 7 days. The mud didn't dry the way it was supposed to, so we ended up needing extra coats on the seams and the whole ceiling.
By this time, we had been out of a kitchen for 10 days. Dust was everywhere from the sandings and I was getting extremely annoyed by living out of a cooler (and eating out!).
I kept reminding myself that the end was going to be great, and it was. After two coats of primer and two coats of paint, we arrived here:
So great, right? I didn't touch up the shadows in photoshop or anything, so you are seeing the shadows. In person though, it's smooth and gorgeous.
All in all, we are thrilled with our choices and thankful that we don't have to worry about the drywall asbestos any longer! Let me know if you have any other questions regarding our asbestos removal cost or drywall installation. I'm so happy we were able to abate the asbestos and hope that you find it a fit to do so as well.
Asbestos Removal Cost : Pin For Later